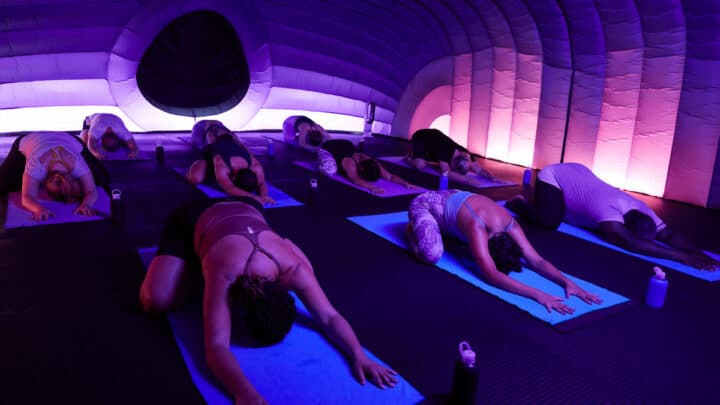 Discover the best yoga studios London has to offer with our insider's guide.
The stresses of big city life are numerous and complex. Some people choose to alleviate themselves of that stress by blasting it out of their system at weekend-long raves, others choose yoga.
If you're in the latter camp you're in the right place. We've put together a guide of all the best yoga classes and studios in London. Whether you're in this to really sweat it, achieve enlightenment or just pick up some sexy yoga hunk or honey, here are the best places for it.
London Yoga Studios
Mission
Spitalfields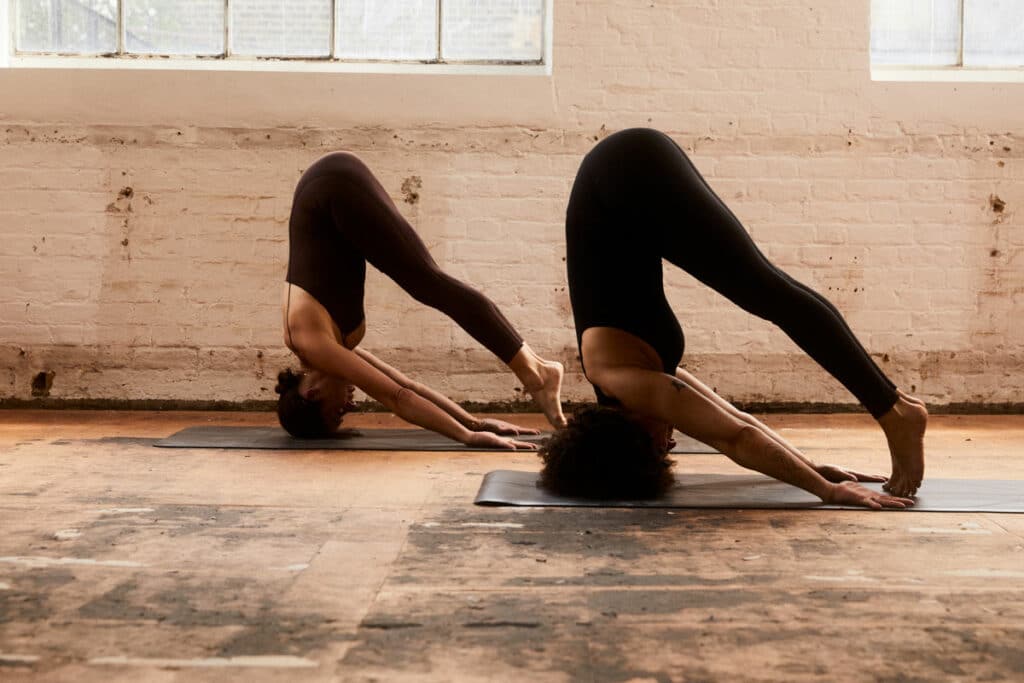 Mission changed the London yoga game with the opening of their frankly enormous yoga studios.
They're the biggest yoga studio London has to offer. And even the largest such space in Europe, with a floor plan of over 14,000 square footage, five separate studios, expansive changing spaces with saunas and a restaurant for after-work-out meals.
The space was set up by students and practitioners of yoga, so they knew what sort of things they'd need to make the space a success. And a success it is, boasting some of the best yoga instructors in the UK teaching from their rooms and a heap of different classes and styles to choose from.
Puppy Yoga
Location varies, but always inside zone 1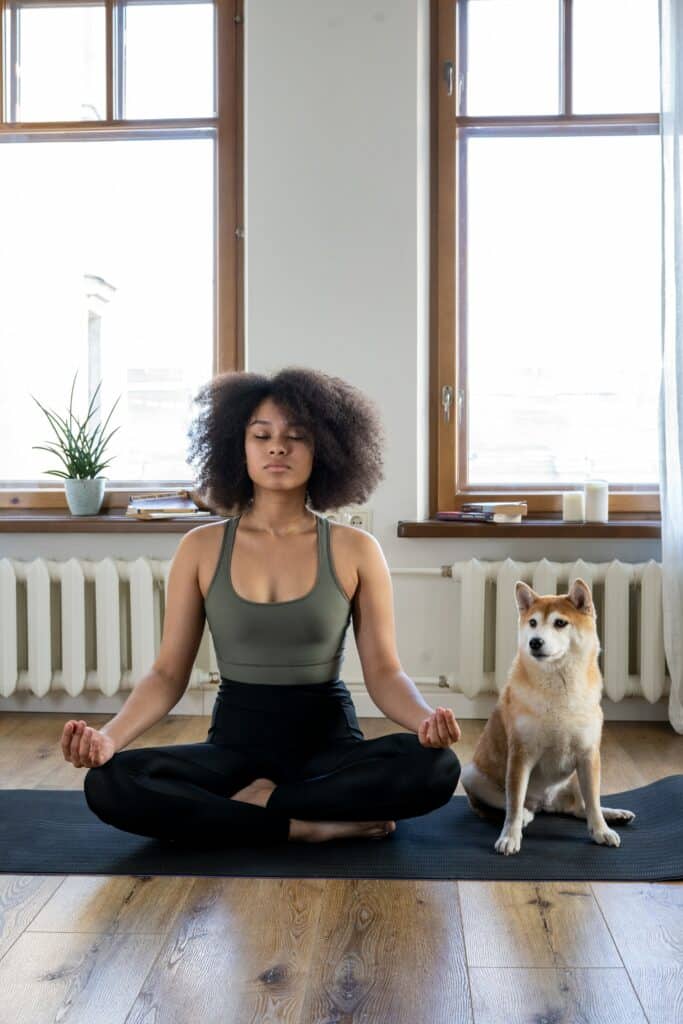 Whoever came up with this idea must have been slightly mad and probably a bit of a genius. At Puppy Yoga, you'll be taking yoga classes surrounded by the sweetest, most adorable puppies. The only problem is that they can get mischievous.
Classes tend to start with a straight-up yoga session so you definitely get your money's worth in terms of stretching and sun salutations. Then the dogs are let loose.
Your next session is the hard part. Can you manage a full yoga class with cute baby dogs running around on the mats beneath you, licking your face as you try to remain zen as a monk on a vow of silence? It's not easy, but it certainly is fun.
More Yoga
Citywide
More Yoga is a citywide yoga company with a commitment to providing affordable yoga classes around the city, a noble pursuit as learning yoga in London can often be off-puttingly expensive.
They have studios at 35 locations across London and that number keeps growing. With that much space, they offer over 1000 classes every week so you're sure to find something on their schedule that fits your time and the style of yoga you want to get down with.
Hotpod Yoga
Citywide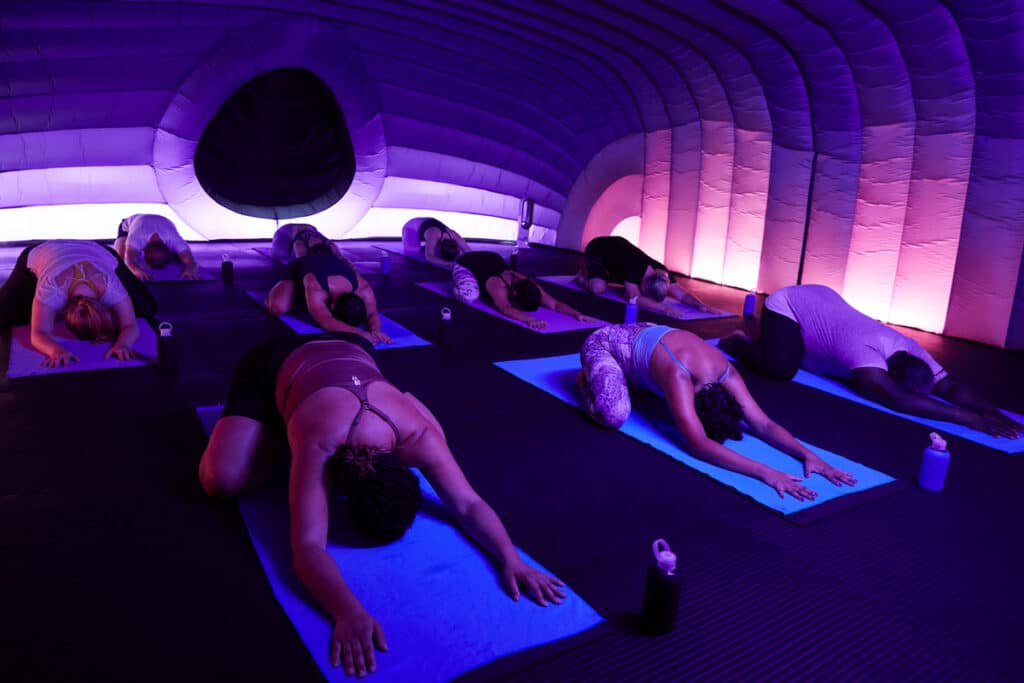 If you're looking for Bikram yoga, London has plenty of choices. One of our top picks for what is sometimes known as hot yoga, is Hotpod Yoga.
Gone are the mats and wooden studio floors of your regular yoga joint. At Hotpod you'll be doing hot yoga in an inflatable pod kept at a stable 37°C, flooded with ambient lighting and music paired to the rhythms of the class.
They've been tried and tested by plenty of reputable sources and are regularly voted one of the best yoga classes London has to offer. It may not be everyone's first choice but for hot yoga, you can't do much better.
Ashtanga Yoga London
Euston
Ashtanga yoga is a pretty popular form of yoga to study so you've got quite a lot of choice in London if that's the style you want to learn. You should, though, consider Ashtanga Yoga London.
They are a small community that is dedicated to spreading the philosophy of yoga. They do that by teaching yoga in its traditional forms, maintaining a strong link to Indian teaching but doing so in an inclusive way that's welcome for all – and that includes all abilities.
The classes are small and personal, and above all, peaceful.
Yogarise
Peckham & Streatham
If you're looking for free yoga classes, London will be tough on you. It's rare that you find anything more than a taster session for free in this city. It's also rare that you find yoga classes as cheap as they come at Yogarise.
The organisation was set up as a community yoga program with the goal of making the practice more widely accessible to people who can really benefit from it. In that respect, they do a lot of charity work and outreach, so you can assure your money will go to the right places.
Classes are run out of Peckham and Streatham with multiple teachers and styles of yoga to choose from. Best of all you'll rarely have to pay more than a tenner for a class, and it's easy to find classes for as little as two or three quid.
London Buddhist Centre
One complaint we often hear chucked around about yoga in London is that it's so far removed from any of the spirituality that the practice has roots in. When looking about at all the business-types in expensive yoga gear flexing to EDM-techno-yoga, it's not hard to see these complaints come from a pretty real place.
If you're looking for a return to something a bit more in touch with the spiritual side you can't do better than the classes on offer at London Buddhist Centre.
They don't have the range of classes on offer that some of the other places in our guide do, but what you'll get is teaching from people who're in this for all of the health benefits and none of the insta' flex. As well as access to what we can only assume is the single most relaxing yoga retreat London can offer.
Flying Fantastic
Peckham, Bankside, Wimbledon
If you're after aerial yoga London has, you'll be pleased to know, plenty on offer. One place that does it exceptionally well is Flying Fantastic. They actually teach all sorts of aerial sports and exercises, and one of them happens to be aerial yoga.
They offer classes to practitioners of all levels, whether you're just starting out or already a flying ace. The benefits are many and include all of that good stuff like increased spinal health and core strength. In spite of being hung, often upside down, aerial yoga is actually very relaxing.
Don't believe us? There's only one way to find out.
Iyengar Yoga London
Maida Vale
As a more niche style of yoga – one that prioritises strength and alignment over the need to fly or stretch out with puppies – finding a good Iyengar yoga class in London can be a touch difficult.
If that's what you're looking for though, you need to be heading to the very centre of it all: Iyengar Yoga London. They've been running classes for over thirty years, ever since the original practitioner B.K.S Iyengar first taught in this very same school.
They only have one studio – in Maida Vale – so it may not be ideal for people looking for yoga classes nearby, but what you do get is a range of classes for all levels and some teachers that are very serious about what they do.
Practical Tips for Yoga in London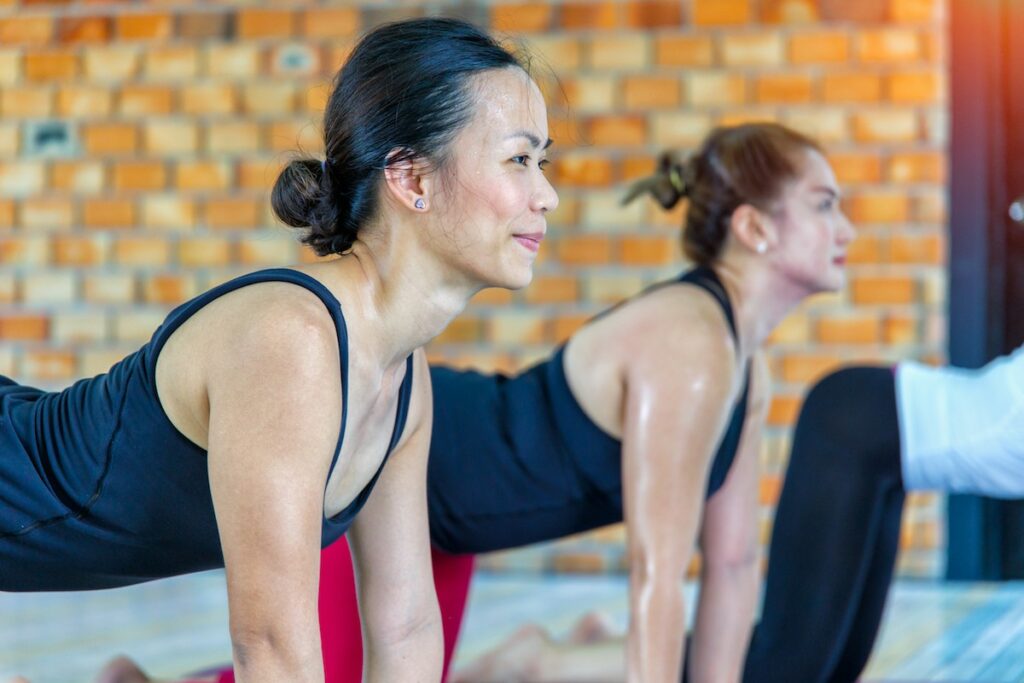 You should shop around a bit. To really get into yoga and reap all the benefits you'll have to find the class that suits you. That might be one that's intensive or one that prioritises the more relaxing elements, it might be flying or puppy yoga, it might even be the one closest to your front door.
Give the schools a call before you start. The instructors should be able to give you a bit more information about their styles of yoga than we can.
The above point is especially important if you've got any injuries. You should always let your teacher know so that they can work around you with the stretches and activities. You don't want to hurt yourself any further.
Read the room. As you can probably see, London offers yoga classes for every kind of occasion. Some of them are more serious than others. If your goal is mostly social or to pick up phone numbers for your next fling, it's probably not best to begin training under someone at, for example, the London Buddhist Centre.
Best London Yoga Studios: Map