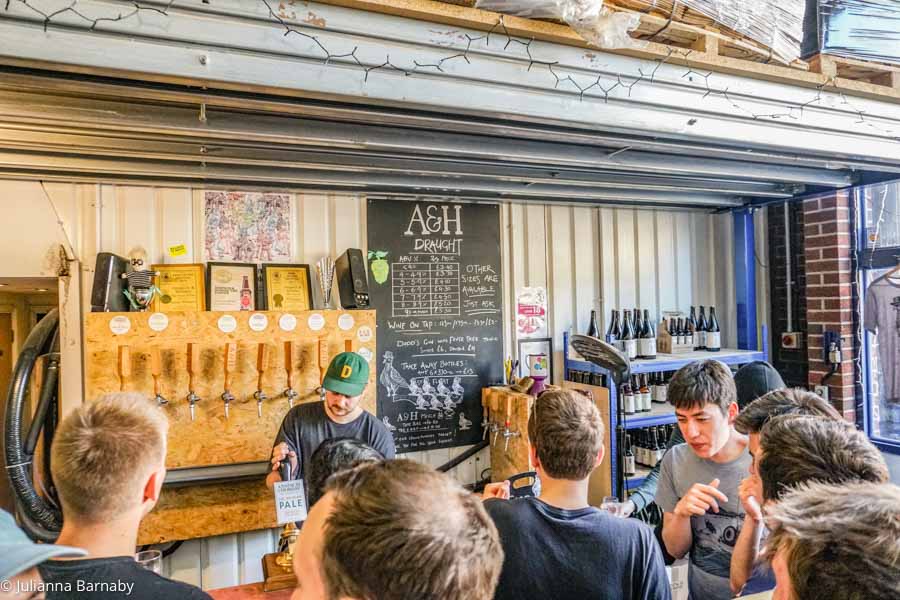 It wasn't so long ago that London's brewery scene was, well, a little flat.
Luckily for all of us, those times are gone – these days you're spoilt for choice when it comes to discovering the city's ever-growing map of craft breweries.
Need proof? These are the breweries in London you shouldn't miss. Split out by area – there's no reason for you not to find your next favourite pint.
Best London Breweries
Breweries Central London
Two Tribes Brewing
King's Cross
One of just a handful of breweries in Central London, Two Tribes certainly pulls its weight. The brewery serves both their own and guest brews on tap, including Metroland Session IPA and Dream Factory Pale Ale, all from bars made from shipping containers.
There are BBQs planned this summer, along with live DJs and musical guests, and long nights around the brand new fire pit in the centre of the courtyard.
Battersea Brewery
Battersea
Tucked close enough to the south side of the river to just squeak into the Central London breweries category of our guide, Battersea Brewery is run by the team behind Mosaic (great beer in itself).
The brewery and taproom are both located in the old Battersea power station, so surroundings are pretty impressive and industrial. And you can feel good about how the beautiful old building finally has a new lease of life as you sip on delights like Battersea Brewery Best Bitter and Battersea Brewery Scotch Ale.
Brewdog
Seven Dials
Okay, so we struggled a little with Central London breweries. But, while Brewdog in Seven Dials isn't technically a brewery in itself, all Brewdog beers are made by the company up near Aberdeen. And what's a list of London craft breweries without including the company that truly got the masses into fancy beer?
This Brewdog, like all of them, serves favourites like Punk IPA and Hazy Jane alongside guest brews and adventurous experiments. It's conveniently located for the sights of Covent Garden, and the food is really good too (especially if you have a veggie or vegan in your party who doesn't want to be mugged off by another risotto or nonspecific curry).
Breweries East London
London Fields Brewery
Hackney
London Fields brewery is just moments away from the usually riotous (in summer, at least) London Fields, and down the road from buzzing broadway market. In other word, it's in a fantastic location.
This is one of only a few London Breweries with tours available, as well as a tap room and, at the moment at least, takeaway beer. Perfect for a cheeky drink on London fields. Beers from these guys are innovative, with a belgium brown and a rice lager both released recently. Don't worry though, there are less adventurous options available too, like a Hackney Hopster IPA, a half-strength small beer, and Broadway Boss Pils Lager.
Five Points
Hackney
Hackney has a lot of old industrial buildings, and once upon a time, long ago, it was cheap. Well, cheap for London anyway. And that's why so many London breweries made their home there!
Five Points let you get a real feel for their story with a brewery tour, and they use their yard for community events. In the summer, the huge back area is also an extension of the tap room, with ACE pizza served hot from the pizza oven. Five Points' beers are varied, with a great Juicy IPA and a few really interesting small-batch and microbrew options always available too.
Hackney Brewery
Walthamstow
Somewhat confusingly, this London brewery is actually in Walthamstow. But, it's a big city. Close enough.
The tap room is at High Hill, Black Horse Lane, which is a brand new and bigger location for this up and coming craft beer company. Their beers may have caught your eye for some creative naming. Best sellers include Boogie Van (an IPA, obviously), and Kapow! Pale ale.
Meantime
Greenwich
Another London Brewery that wouldn't be out of place in the states, Meantime offer brewery tours, a taproom, and a menu of excellent burgers and wings. Named after… well… Greenwich Meantime, Aka, the time, these guys have been brewing in the East End for over twenty years.
You'll probably recognise their London Pale Ale and London Lager, as both have been a favourite at any pub with even a passing interest in good craft beer for years now.
CRATE Brewery and taproom
Hackney Wick
Crate is a London brewery favourite. And that's partly about the beer, partly about the huge warehouse location in the heart of Hackney Wick, and quite a lot about the really, really good stonebaked pizza they serve.
As it's right by the RIver Lea, you have the option sit outside next to the water to enjoy your Crate lager, pale ale or IPA, and of course that excellent pizza. There's plenty of space inside too, on the first floor of the White Building, which is about as Hackney Wick as it is possible to get without physically transforming into an extra from Nathan Barley.
Breweries South London
Brixton Brewery
Brixton
Probably one of the most famous London breweries we're covering in this piece, Brixton Brewery is well known for its Atlantic pale ale, and its Low Voltage session ale. Both can be found in pubs across London and beyond.
The taproom is well positioned by Brixton market, which means it's within easy tipsy-walking distance of all the delights of food, drink and music this corner of South London has to offer.
Cronx
Croydon
Yes, Croydon has craft beer now. In fact, Croydon has its own craft brewery in the form of Cronx. Their canned lagers are particularly lovely due to a real attention to detail in design. The Pop Up! IPA has a fun Brit Pop, cool Britannia thing going on. So, even if you're drinking pints in the taproom of this London microbrewery, grab yourself a few extra for home from the attached bottle shop!
Anspach & Hobday
Bermondsey and Croydon
This South London craft brewery is anything but ordinary. They make exceptional beer with really lovely packaging, including classics like a really popular pale ale, a whole load of exciting collaborations with other breweries, and specials like a sloe and juniper sour.
Anspach & Hobday are a Bermondsey company making beer in Croydon. Their main taproom is on the iconic beer mile in Bermondsey, and they have another bar at their brewery in Croydon. Essentially, wherever you are in South London, you're not far from Anspach & Hobday.
BBNo
Bermondsey
Another Bermondsey classic, this craft brewery in South London make fantastic beer including extremely fancy farmhouse ales and a lovely double mosaic IPA.
Although the tap room is based in Bermondsey, you can also grab BBNo beers at the Peckham barrel store and, of course, online. Peckham is all about sours and aged beers, so it's definitely a destination for brave beer drinkers. But if you just want to hang out and drink great beer with friends, then head to Bermondsey.
Gipsy Hill
Gipsy Hill
Gipsy Hill Brewery have had a bumper year, and as of just a few months ago are the only brewery in this guide to be totally employee owned. As those employees are the people who brought this brewery success with beers like Hepcat IPA and Hunter helles lager over the last few years, we have no doubt they'll continue to go from strength to strength.
The taproom at their Gipsy Hill location features ever-changing guest food vendors, a yard for outdoor drinking, and six taps of delicious Gipsy Hill beer. So, what are you waiting for? Get down there while the sun is shining.
Brick Brewery
Peckham
Under the arches at Peckham Rye, Brick is one of London's best breweries. It can become a bit of a party spot at weekends and on summer evenings, which isn't a surprise given its position pretty much across from the Bussey Building and a stone's throw (if you're really good at throwing) from Peckham Rye.
Brick serves sop-it-all-up food like loaded fries out the front of the taproom, and both their IPA and their sour are really fantastic.
Breweries North London
Redemption Brewing Company
Tottenham
Redemption Brewing Company are more hard-edged than many London breweries. Their Tottenham taproom is somewhat rough and ready, but that's how their customers like it, and it doesn't take away from the quality of beers like their Rhinelander Lager. Yes, perhaps they could learn a little about marketing and packaging from their neighbours in Hackney, but then everyone would find out about this diamond in the rough and you wouldn't be able to get a seat on a Friday night to sip beer and chow down on street food.
Hammerton Brewery
Islington
Hammerton Brewery in Islington is pretty much exactly what you would probably imagine if someone said, 'think about a brewery'. While that would be strange, you'd probably conjure up an image of an ex-industrial building, concrete floors, long benches, fussball, food trucks….
Well, this London brewery ticks all those boxes and more! At the moment, the food is by Turo Turo, who make Fillipino BBQ and street food, but it rotates regularly. Both kids and dogs are welcome at Hammerton, but though it's a large space it can fill up on Fridays and Saturdays so book ahead if you can.
Beavertown Brewery
Tottenham
Perhaps it's silly to recommend a London craft brewery that's so great when the sun is shining, but at London x London we have faith in the British summer!
Beavertown are best known for their Neck Oil IPA, which you can get in pretty much every pub worth its salt in the country. At their Tottenham taproom they also offer their lager, Beavo, several other IPAs, and even a couple of sours. The huge outdoor space is great for socially distanced drinking, so it should be a summer 2021 hit. And they even have visiting street food vendors on a rotating basis, so you can get cajun food or chips and pitta to soak up all the beer.
Breweries West London
Portobello Brewing
Kensal Town
This West London brewery has been making beer since 2012, and supplies trendy pubs all over the city. The brewery has no taproom – there's a reason most breweries in this guide are in the southern and eastern reaches of London. Well, two reasons. Money and space. – but you can try their London Pilsner, Stiff Lip American IPA, and more at The Hack & Hop in Whitefriars, or King & Co in Clapham.
London Brewery Map