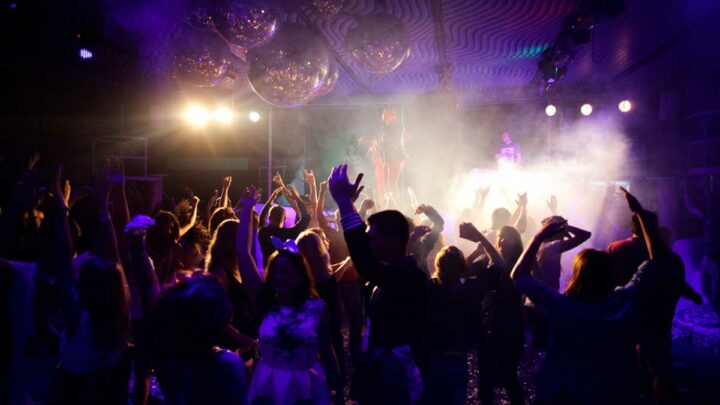 Looking for the best Shoreditch Clubs? You're in the right place. Here's 12 of the best.
Shoreditch is without a doubt one of London's hippest areas, and no hip area would be complete without a good nightlife scene. When Shoreditch isn't pulling in the punters for its great restaurants and bars, it's doing it with its nightclubs.
There are heaps of good ones to choose from in the area, and an option for every mood. Want to rave to house and techno till the early hours of the morning, you can do it here. How about bopping to R&B on a swanky rooftop, that can be done too. You'll find it all in our guide to the best nightclubs in Shoreditch.
Best Clubs in Shoreditch
Village Underground
Village Underground is the quintessential Shoreditch club: an old red-brick warehouse that's been converted into a nightclub. Shipping containers and graffitied tube carriages add to the location that's pretty much the king of nightlife in the neighbourhood.
The space is actually a kind of creative hub with artists' studios and workstations for freelancers, but they're known best for their regular club night – wild parties that don't usually end before 4am.
On the weekends you'll find the dancefloor charges up on techno and house, big-name DJs laying on the tunes. Throughout the week you'll likely be able to catch live music by local bands and musicians on nights that are a little less wild but no less fun.
XOYO
If there's one place that could rival Village Underground for the top spot on the Shoreditch nightlife scene it's XOYO. They run great nights out pretty much seven days a week and have pretty much done away with sticking to one genre of music.
Across the club's two floors and myriad events you might find events dedicated to disco or dancefloors of garage heads getting down to it. It probably doesn't need to be said that techno and house make common appearances.
Whatever they're doing, the party is always a goodun. There's pretty much never a dull moment at XOYO.
25 Paul Street
25 Paul Street is a gorgeous townhouse turned louche disco. Spread over multiple floors, you'll find loungy bar spaces serving disco-era drinks and laying on plenty of mirror-balled glam vibes and one hell of a club.
That space turns the energy up to 12 over the weekends with themed nights in things like house music and 80s classics. The club can be as glad as the bar, with gold confetti shot over crowds and monstrous light shows accompanying the music.
The party at no. 25 doesn't just kick off at the weekend either. They've got a regularly full schedule of events for anyone trying to lock in a mid-week night out.
The Blues Kitchen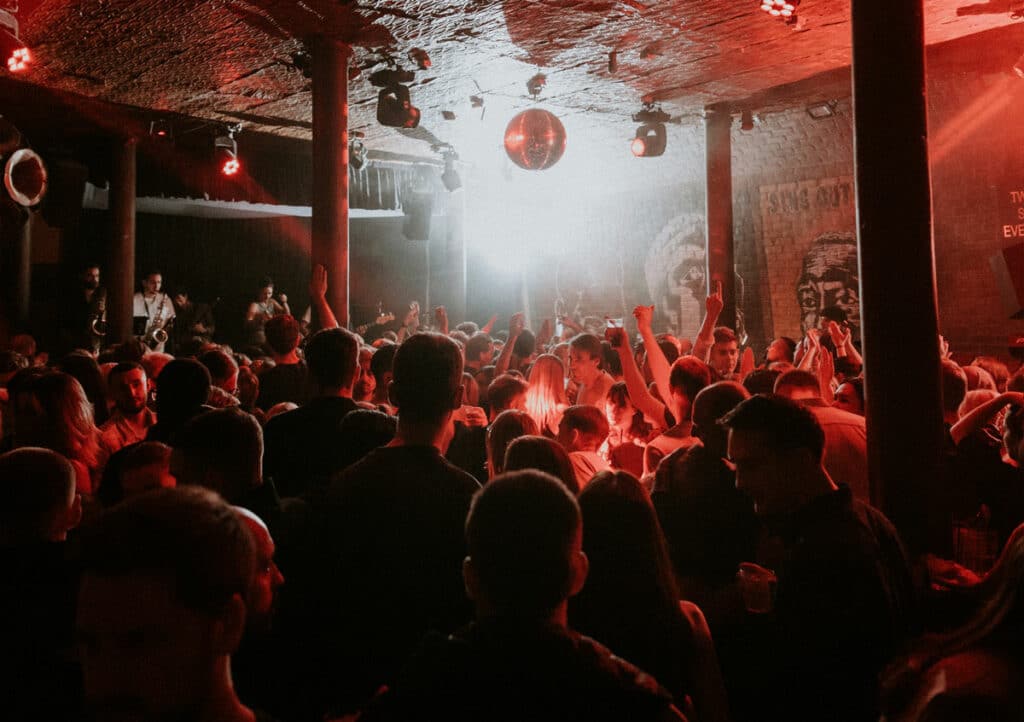 Bar and kitchen by day, one of the most pumping Shoreditch nightclubs by night, The Blues Kitchen is a spot you don't want to miss. While things are usually a little calm during the week, with regular live soul nights and the introduction of a little blues, come the weekend the place transforms.
Staying open till 2:30am on Friday and 3am on Saturdays, the main room pumps to any of the live musicians ready to pick the vibe up and then a run of DJs that play till doors close. The parties get wild and often sell out. If you want in, best to arrive early.
Golden Bee
Arguably the best of the Old Street clubs, The Golden Bee does things with a little more class than the rest of its Shoreditch contemporaries. The night here begins with the mood of a sleek cocktail lounge, people dress well and sip drinks that make them look like they belong on the cover of a glamour magazine.
Moving towards midnight the place takes on a new vibe with people hitting the dance floor to cut shapes into the early hours. One of the biggest selling points of The Golden Bee is its rooftop terrace, the location of many of the parties they organise throughout the week (and a pretty flashy place to shake a leg.
The Lighthouse
Taking a turn a touch more for the mainstream, The Lighthouse is a massive draw for many on a Shoreditch night out. On the dancefloor here you'll find the vibe drift away from techno and house and into the afrobeats, soca, and dancehall realms.
Drinks are straight-up classics designed to be knocked back at pace and as such the mood is always upbeat. Need to take some time out from the dance floor? Head to the bar area and you'll find plenty of comfy seating to lounge about on while you recharge.
Queen of Hoxton
Perhaps the most hilarity we've had at a club in Shoreditch is at the Queen of Hoxton. The venue is spread over three floors, plus a rooftop. Each room has a different vibe on the night and you can have lots of (and sometimes a bit too much) fun zipping between each of them and then nipping up to the rooftop for a breath of fresh air.
They throw regular events throughout the weekday nights but their best-known event is likely their weekly drag brunch, Drag and Waffle. It kicks off every Saturday morning with bottomless options and some pretty outrageous performances.
The Book Club
Another one of those Shoreditch clubbing spots that takes it easy during the week, then turns up the heat over the weekend is The Book Club.
Head there on a Wednesday or Thursday (they're closed Sunday to Tuesday) and you'll find it a sophisticated cocktail bar with some killer deals, but come on a Friday or Saturday night and the place will be wall-to-wall clubbers.
DJs stay on until 3am and the vibe gets loose. However, those sophisticated cocktails don't let their morals slide – they stay classy (and delicious) right the way through.
Trapeze
No clubbing scene would be complete without a venue in the circus theme. In Shoreditch, we find it in Trapeze – one of the most popular places for a big night out in the area.
Things get wild. You can buy trees of pornstar martinis – a dozen cocktails arrive hanging at various heights from a central trunk – themes are regularly introduced in the nights (cabaret being a popular choice) and you shouldn't be surprised to see people dancing on tables.
As a cherry on top of all that grandeur and excess, the bar area plays host to actual circus performers over the weekend. It's wild. You should check it out.
Trafik
If you want to take a turn away from the house and disco that you'll find at many of the nightclubs Shoreditch has to offer, head to Trafik. You'll find a bar/club that won't close its doors before 2am any day of the week except Sunday, bumping R&B, hip-hop and afrobeats.
They throw good nights and bring in a crowd of party animals with a killer drinks deal that runs every day until 10pm: £5 singles and £7.50 doubles on all spirits.
Colours
With a great brunch offering, karaoke rooms and a dedicated club, Colours has really got a lot going on. The venue has been part of the nightlife scene since well before Shoreditch was a cool place to hang out and has a history stretching back over 100 years.
The events these days take on different themes. A quick flick through their what's on page shows up R&B sessions, neon nights, rotating DJ sets and special occasions for things like bank holidays.
As such, no two nights at this place are likely to be the same. The one thing that does remain constant, though, are the good vibes.
Floripa
We've covered the best of the nightlife Shoreditch has to offer, but one bar and club we can't forget is Floripa. This spot blurs the line between beach bar and nightclub. They shake up some great drinks and don't charge through the nose for them, and when all's said and done, lay on the kind of music you just want to get up and dance to.
The music can be anything from house and afrobeats to chart toppers so you're never quite sure what you're walking into, which is part of the fun. One thing you can guarantee though, is that it'll be playing seven nights a week.
Practical Tips for Exploring the Best Clubs in Shoreditch
If you're looking at going to a ticketed event as opposed to just a regular night, you should book the tickets as far in advance as possible. This isn't just because they might sell out, but also because you can snap up things like early-bird or group deals by being organised.
Getting to Shoreditch on public transportation can be done by heading to Liverpool Street or Old Street and walking a short way into the action.
It's never a bad idea to see if these nightclubs have a dress code policy before you go. Some places will turn you away if you don't fit the style.
Clubs in Shoreditch: Map