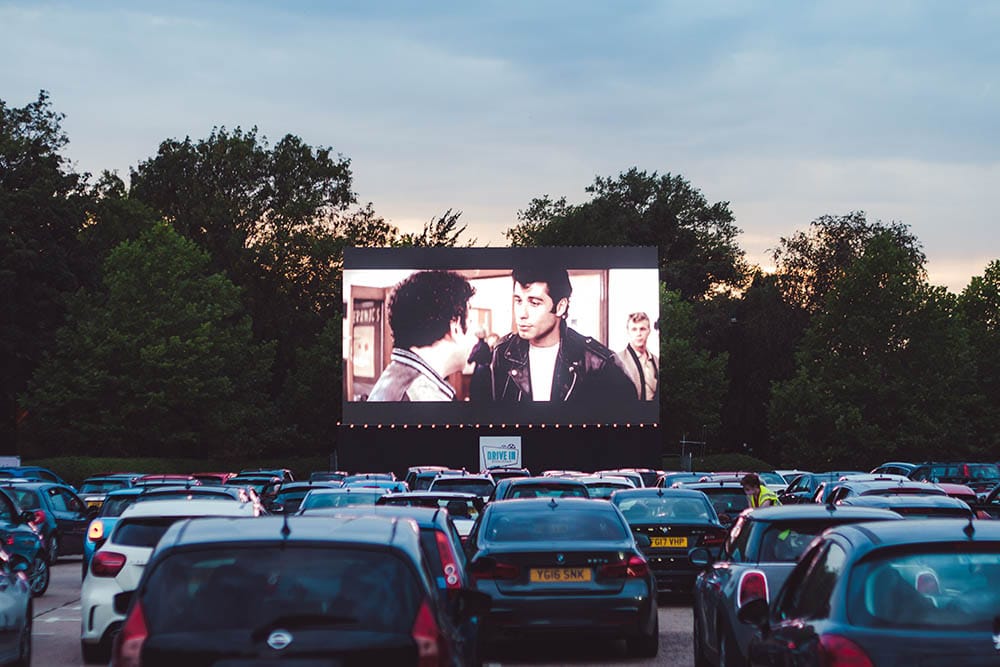 Ready to catch a film in one of London's outdoor cinemas? Of course, you are – these are our favourites.
We'll make a bold statement. Outdoor cinemas in London are one of the great joys of summer.
Whether you're watching classics in an open-air cinema in your local London park, or drinking cocktails at an East London rooftop cinema, there's something special about a movie screening in the night air.
In fact, you might be surprised by the options for outdoor cinemas in London this year. Fancy settling in for a cinema experience with live music and performers? How about drive-ins, rooftop cinemas, and even a floating cinema?
Sounds like it's time to book some tickets.
Rooftop Film Club at the Bussey Building
Tickets: £16.95
We make no secret of how much we love Peckham's Bussey Building here at London x London, and their rooftop film club is no exception.
This Summer, the open air cinema is showing a mixture of current releases like Elvis, Top Gun: Maverick, and Thor: Love and Thunder and stone-cold classics from I Know What You Did Last Summer to The Breakfast Club and Ferris Bueller's Day Off.
And, because it's the Bussey building, you can pair your film with amazing views and great cocktails, natch.
Luna Cinema
Various London locations
Tickets: Adults £16.50, Children £11
The Luna Cinema are London outdoor cinema trailblazers. They've been putting on movie nights in the capital's green spaces, from Brockwell Park, to Clapham Common, to Hampton Court Gardens, for 14 Summers now.
As you would imagine after all that experience their events are incredibly streamlined and high-spec, with the UK's highest definition outdoor screens, food and drink available onsite (usually from local gourmet partners), and impeccable film selections.
This summer, the program includes feel-good movies and recent blockbusters, perfect for taking your mind off… well… everything.
Black Cinema
Surrey
Tickets: £39.99 per car
So, technically Black Cinema's screenings are in Surrey and therefore a bit of a drive from London. But as it's a drive in, your car will be useful! And this not-quite-London outdoor cinema experience is unique in showing only movies made by black creatives.
Films range from modern favourites and new releases to classics like House Party.
The best part? You can order food and drinks right to your car during the movies – which just adds to the luxe experience.
Secret Cinema
Secret Central London Locations
Tickets: £49
Secret Cinema is back, and this time the movie-nights heavyweight is open air in London.
Rooftop? Park? Riverside?
We don't know yet, but we do know that this immersive cinema experience will be one of the best nights at the cinema you could possibly imagine.
It's Dirty Dancing-themed this time around, so expect dance classes, a steamy atmosphere, and potentially… watermelons?
No doubt they'll work it out, Secret Cinema has been a London and LA favourite for years after all.
All you need to think about is what you're going to wear for this 80s-does-60s extravaganza. And maybe who you're going to take with you to dance with.
The question is, how many of your friends can lift you over their head?
Pure Cinema Experience
Stratford
Tickets: £25 for one person to £70 for four people
Despite its name, Pure Cinema delivers more than just cinema. Usually, they tour the UK creating immersive cinema experiences with music and performers both inside and outside.
This summer, though, Pure Cinema presents Nostalgia, and it's a London outdoor cinema adventure.
All movies being shone are in some way nostalgic, from Jaws to Pulp Fiction to The Bodyguard. Tickets get you entry, popcorn and a drink, but expect some surprises when you step into Pitch's amazing outdoor space.
Summer by the River
London Bridge City
Tickets: Free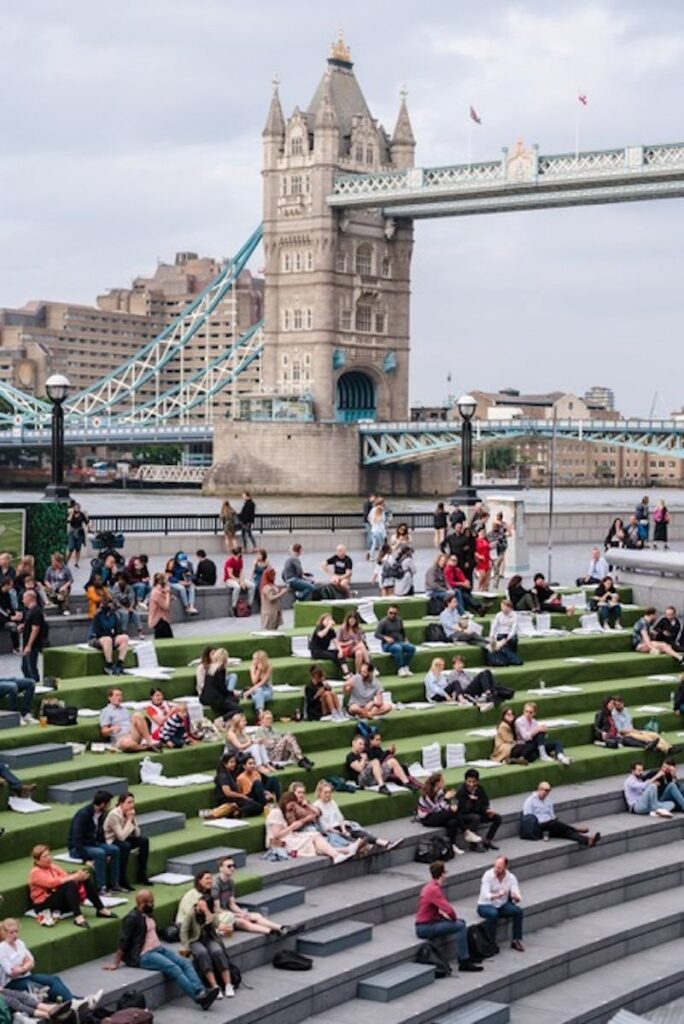 Running until the beginning of September, Summer by the River is the best place to watch new movies (and classics) for FREE. That's right – just turn up and take a seat.
Head to the outdoor amphitheatre next to The Scoop – but arrive early to guarantee a good view. Bring snacks and drinks along with you and prepare for a wonderful evening.
Expect Spider-Man: No Way Home, Encanto, West Side Story, and more to be shown – check out the full lineup here.
Outdoor Film Festival at Greenwich Design District
Tickets: From £6
Greenwich has such a special place in our hearts – and the Outdoor Film Festival only makes us love it more. This festival is running until the end of August and sees the likes of King Richard, Cruella, and West Side Story on the big screen.
The best bit? There's plenty of delicious street food and cocktails available on site, too. Go hungry and prepare to be entertained.
Kew the Movies at Kew Gardens
Tickets: £14.75 adults, £12.50 children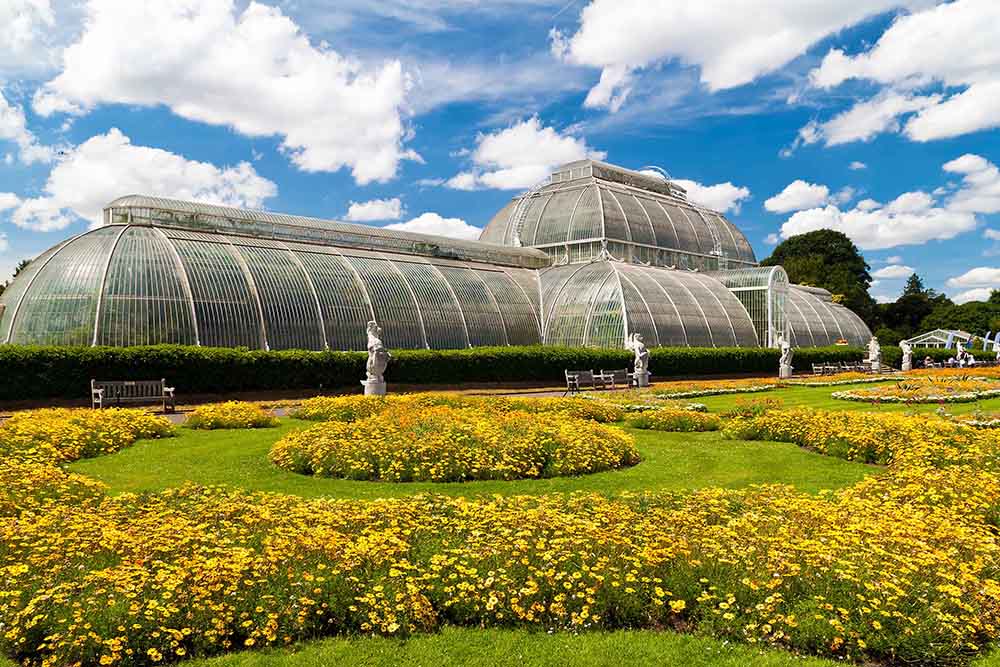 You'll have to be quick if you fancy catching a film at Kew Gardens, as their 2022 season is only running for 5 days: From 31st August until 4th September.
How does watching a movie surrounded by a lush botanical garden sound? Pretty cool we think – date night is sorted.
Matinee shows for the little ones include Encanto and Aladdin (though, you'll find us in the crowd singing along), while evening screenings include West Side Story and No Time to Die.
The Drive In
Chingford
Tickets: £19.99 per car
It's definitely worth heading out to Chingford for this somewhat dreamlike American-style drive-in, complete with diner food. In fact, the diner is a real draw – there are even vegan hotdogs on the menu!
Although The Drive In is, as advertised, a drive-in, you can book a car free bay and view the film like you would at any other outdoor cinema.
As prices are per car or per bay, The Drive In works out to be one of the best value outdoor cinemas in London. So, you'll have plenty of cash to spare for those hotdogs and cheese fries.
They play new releases and, while they are currently closed, they plan to reopen later this year – keep your eyes peeled.
Summer Screen
Vauxhall
Tickets: Free
Vauxhall Pleasure Gardens cranks up the pleasure over the summer – though not in the same way they used to (this used to be a site of murder and debauchery in the Victorian ages).
They whip out a big screen thats free for anyone to come and enjoy. They run a handful of films over the month of July when the weather is right for this sort of thing.
This summer they've got Black Panther, Grease, Frozen and Ferris Bueler's Day Off. See the dates and times here.
Screen By the Canal
King's Cross
Tickets: Free
Each summer the riverside at King's Cross' Coal Drops Yard is turned cinema with punters lined up on tiered astroturf seating and a big screen set up on the opposite bank. It's a lovely occasion for a hangout with friends or to meet some new film-obsessed people.
This summer is no exception. They're running screenings from June 22nd until the 6th of August with classics like Roman Holiday, Mamma Mia and Moonrise Kingdom making the cut as well as more recent releases: Elvis and Top Gun Maverick to name a few.
The full lineup can be found here
Waterloo Singalong Screen
Waterloo
Tickets: Free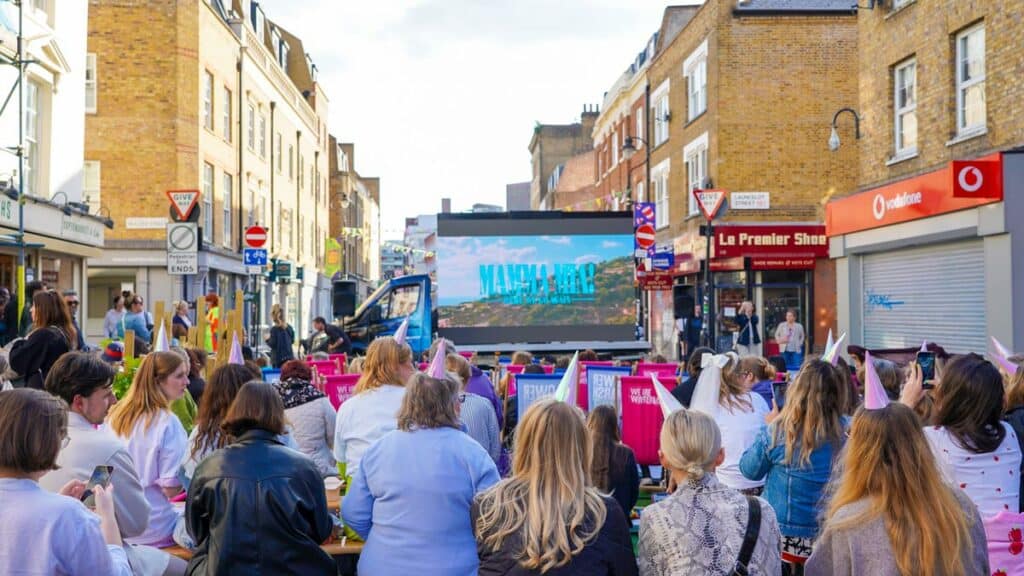 Waterloo's Lower marshes is also throwing its hat in the ring with an outdoors screen for summer. It's not just any screen though. This one's a singalong screen.
From the 29th of June to the 28th of September they're showing Mean Girls, Little Shop of Horrors, Hairspray and Grease. Tickets can be booked with drinks deals to loosen up those vocal chords – we know we'd need a few of those – but the tickets themselves are totally free.
You can see the full schedule here
Merchant's Square Screen
Paddington
Tickets: Free
Another great outdoor screen is the one at Merchant's Square in Paddington. They run a summer schedule of Wednesday night movies from the 2nd of August to the 13th of September.
There's a few gooduns in there too. Anchorman, Mean Girls and Dodgeball are just a couple we've got our eyes on. Best of all the screenings are free. Just turn up and grab a deck chair or bean bag and you're set for film night.
London's Outdoor Cinemas: Practical Tips
For some of the paid screenings you have the option to move your ticket to another night if the weather isn't playing ball.
Most of these places will provide blankets and seating but some of the larger ones may not. Have a poke around on their websites for more information and maybe bring a blanket of your own if you're worried about getting cold.
Don't be afraid to bring your own snacks. Most of the free events will encourage it. Some of the paid ones will probably prefer you buy theirs though.
Map of London's Outdoor Cinemas
Outdoor Cinemas in London: Read Next