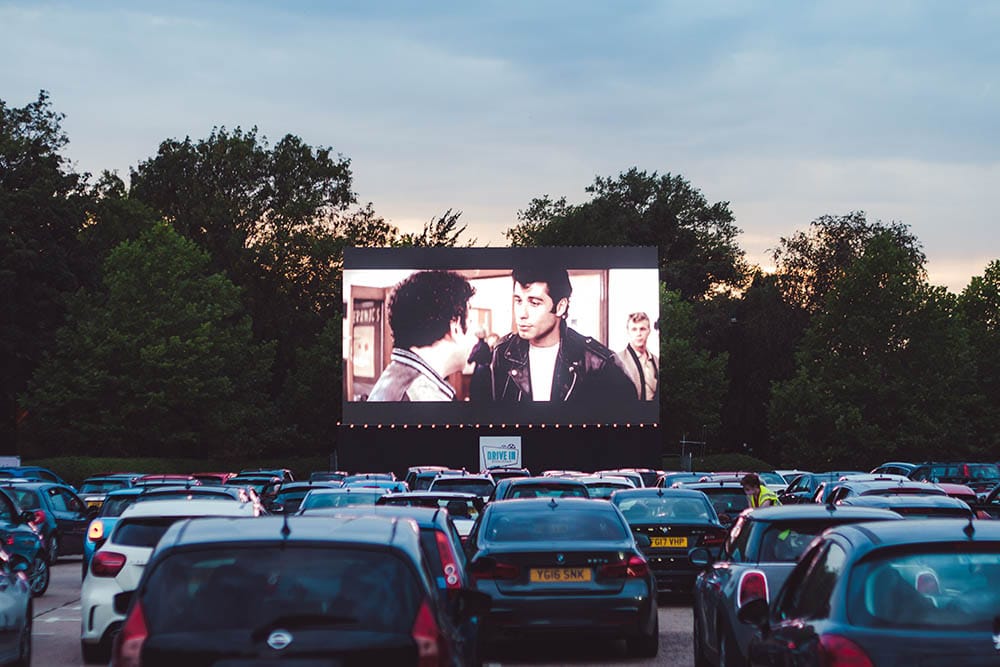 I'll make a bold statement. Outdoor cinemas in London are one of the great joys of summer.
Whether you're watching classics in an open air cinema in your local London park, or drinking cocktails at an East London rooftop cinema, there's something special about a movie screening in the night air.
Plus, outdoor cinemas are naturally covid safe, so perfect for summer 2021.
In fact, you might be surprised by the options for outdoor cinemas in London this year. Fancy settling in for a cinema experience with live music and performers? How about drive-ins, rooftop cinemas, and even London's first floating cinema?
Sounds like it's time to book some tickets.
Rooftop Film Club at the Bussey Building
Peckham
Sound of Metal, Billie Eilish: A Little Blurry, and 90s classics – tickets £15.95
We make no secret of how much we love Peckham's Bussey Building here at London x London, and their rooftop film club is no exception.
This Summer, the open air cinema is showing a mixture of current releases like Sound of Metal, Barb and Star and Nomadland, and stone cold classics from Dirty Dancing to Clueless and Almost Famous.
And, because it's the Bussey building, you can pair your film with amazing views and great cocktails, natch.
The Drive In
Meridian Way, Chingford
New releases, regularly updated, £19.99 per car
It's definitely worth heading out to Chingford for this somewhat dreamlike American-style drive in, complete with diner food. In fact, the diner is a real draw – there are even vegan hotdogs on the menu!
Although The Drive In is, as advertised, a drive-in you can book a car free bay and view the film like you would at any other outdoor cinema.
They play new releases, and at the moment are showing Godzilla vs King Kong, Judas and the Black Messiah, and Tom and Jerry. Which pretty much covers all bases, we think.
As prices are per car or per bay, The Drive In works out to be one of the best value outdoor cinemas in London. So, you'll have plenty of cash to spare for those hotdogs and cheese fries.
Openaire Float Cinema
Paddington, Regent's Canal
Releases from the last two decades, including Mama Mia and Anchorman, £19.25 for deckchairs, £248.40 for a boat that holds up to 8 guests
Openaire, the UK's first floating cinema was the lockdown brainwave of the three brothers who run it, but with a second summer season beginning in 2021 it looks like it's here to stay. Which is great, because this unique London open air cinema is a gem!
You just hop in a boat (for up to 8 people) or grab a deckchair if you're more of a dry land kind of a person, sit back, relax and enjoy the movie.
Food is on deck, too, provided by pasta pop-up RaviOllie and the cinema's main sponsor, Haagen Daaz.
Black Cinema
Apps Court Farm, Surrey
Films by black creatives, £39.99 per car
So, technically Black Cinema's screenings are in Surrey and therefore a bit of a drive from London. But as it's a drive in, your car will be useful! And this not-quite-London outdoor cinema experience is unique in showing only movies made by black creatives.
Films range from modern favourites and new releases like Black Panther and Judas and the Black Messiah to classics like House Party.
You can order food and drinks right to your car during the movies, making sure everyone stays totally Covid safe during this Summer 2021 cinema experience.
Drive In Film Club
Alexandra Palace, Brent Cross
A mixture of new releases and classics/cult films, with children's films at weekends, £27.50 per car, £24.50 for children's films
The brains behind Rooftop Film Club at the Bussey Building have now dreamed up two drive-in film clubs, too. The whole experience is safe and contactless, and the Alexandra Palace location feels pretty iconic.
Both locations show kids' films at the weekends, with a mixture of classics and relatively new releases for adults in the evenings.
What's more, there are also special themed seasons, like the Pyjama Party screenings over the May bank holiday weekend.
The drive in experience is completed with junk food delivered straight to your car. The burgers are particularly great.
Rooftop Movies at Bar Elba
Bar Elba, Waterloo
Black Panther, Call me by Your Name, Pretty Woman, Matinees on Saturdays, all tickets £5
With all tickets a fiver, Bar Elba is one of the cheapest open air cinemas in London. Definitely in central London. The rooftop cinema offers views of the city if you get bored of the mixture of modern classics and regular classics shown at Elba, but why would you?
The bar also serves decent cocktails, including frozen ones for that slushy-at-the-cinema feeling, but grown up. In fact, check out their website and join their mailing list to get your first cocktail free.
That will definitely make Bar Elba the cheapest open air cinema in London.
Secret Cinema
Secret Central London Locations
Dirty Dancing, tickets from £49
Secret Cinema is back, and this time the movie-nights heavyweight is open air in London.
Rooftop? Park? Riverside?
We don't know yet, but we do know that this immersive cinema experience will be one of the best nights at the cinema you could possibly imagine.
It's Dirty Dancing themed this time around, so expect dance classes, a steamy atmosphere, and potentially… watermelons?
No doubt they'll work it out, Secret Cinema has been a London and LA favourite for years after all.
All you need to think about is what you're going to wear for this 80s-does-60s extravaganza. And maybe who you're going to take with you to dance with.
The question is, how many of your friends can lift you over their head?
The Alfresco Theatre
Syon Park, 9th-13th June
Jo Jo Rabbit, Bohemian Rhapsody, Grease and more, tickets from £18 for adults and £8 for kids
The Alfresco Theatre is visiting London this Summer, and it will be making its home in the gorgeous Syon Park beside Kew Gardens.
A live comedy show from Mark Watson and guests, and The Gruffalo Live will both be performed on stage over the weekend and projected onto the big screen.
On top of that, there will be drive in and dine tickets available for a whole bunch of films at this temporary London outdoor cinema, including Jo Jo Rabbit and Bohemian Rhapsody, plus a Grease sing-a-long.
Hideaway Cinema
Various locations, in London: HAC Shoreditch and Kew Gardens
Grease, Dirty Dancing, Wonder Woman 1984, and kids' classics, tickets from £16.99
Hideaway Cinema are travelling the country in Summer 2021, delivering movies to the masses.
The London open air cinema locations are Kew Gardens and HAC Shoreditch, both of which are incredibly beautiful.
In Shoreditch, you'll be able to watch classics and kids' films from 20th-23rd May with the backdrop of an amazing 18th Century manor, all just minutes from Liverpool Street Station. At Kew, you'll watch in the world-class botanical gardens 7th-11th July.
Pure Cinema Experience
Pitch, Stratford
Nostalgic movies, tickets from £25 for one person to £70 for four people
Despite its name, Pure Cinema delivers more than just cinema. Usually, they tour the UK creating immersive cinema experiences with music and performers both inside and outside.
This summer, though, Pure Cinema presents Nostalgia, and it's a London outdoor cinema adventure.
All movies being shone are in some way nostalgic, from Jaws to Pulp Fiction to The Bodyguard. Tickets get you entry, popcorn and a drink, but expect some surprises when you step into Pitch's amazing outdoor space.
Luna Cinema
Various London locations, July to October, Adults £16.50, Children £11
Recent blockbusters and comfort movies, including Knives Out, Black Panther, Pretty Woman, and, Grease
The Luna Cinema are London outdoor cinema trailblazers. They've been putting on movie nights in the capital's green spaces, from Brockwell Park, to Clapham Common, to Hampton Court Gardens, for 13 Summers now.
As you would imagine after all that experience their events are incredibly streamlined and high-spec, with the UK's highest definition outdoor screens, food and drink available onsite (usually from local gourmet partners), and impeccable film selections.
This summer, the program includes feel-good movies and recent blockbusters, perfect for taking your mind off… well… everything.
Map of London's Outdoor Cinemas
Looking for More London Culture Guides?
Check these out…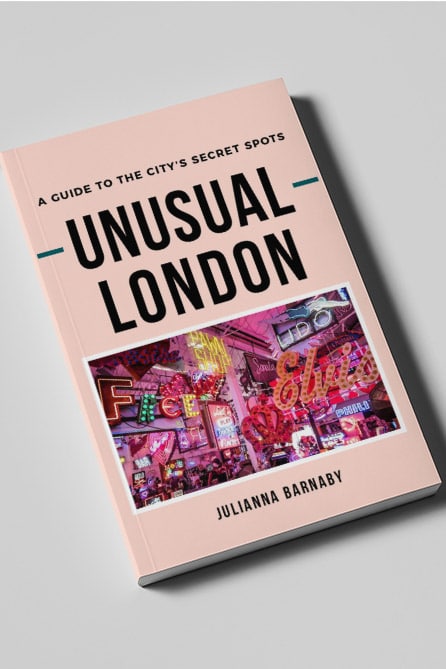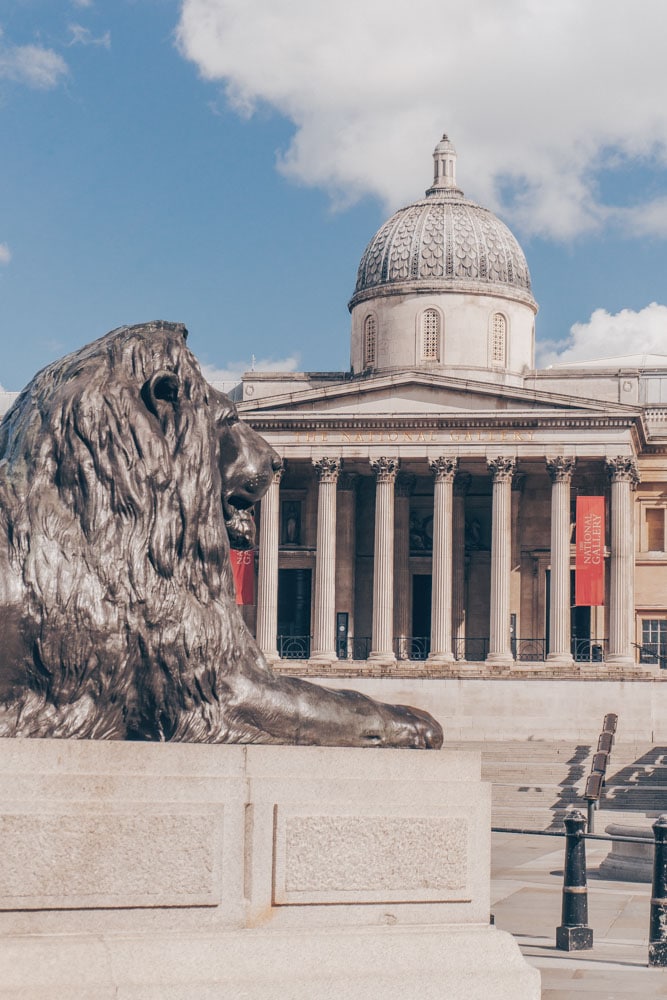 The Best Art Galleries in London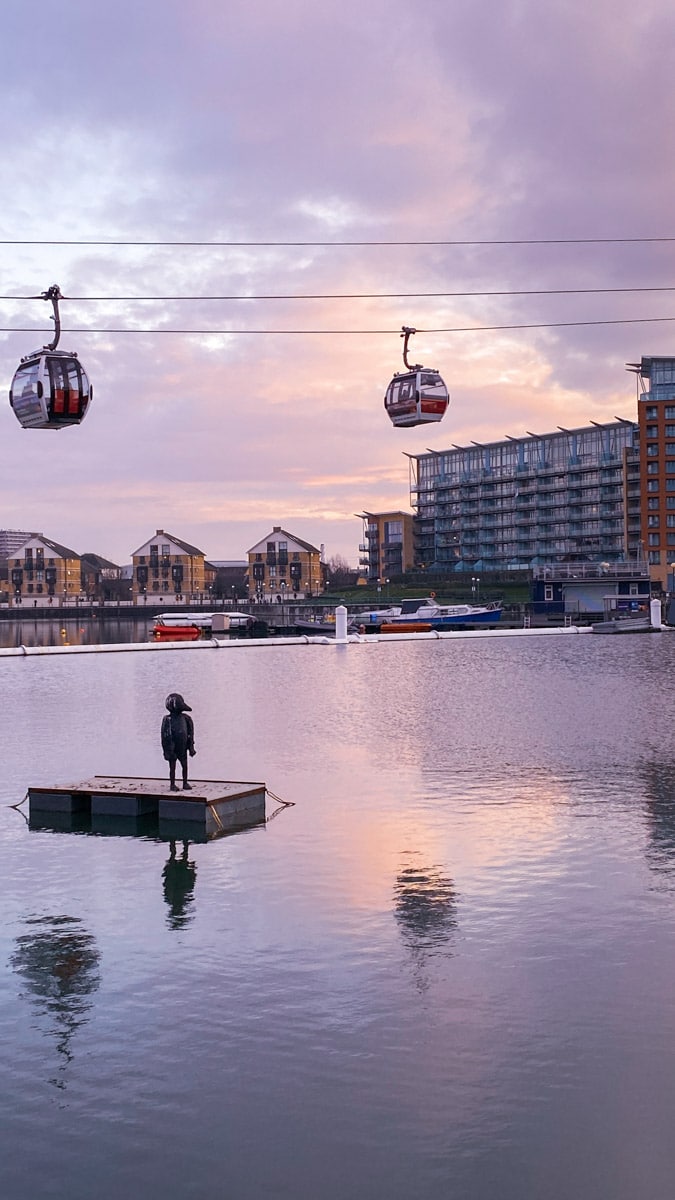 The Line: London's First Sculpture Walk