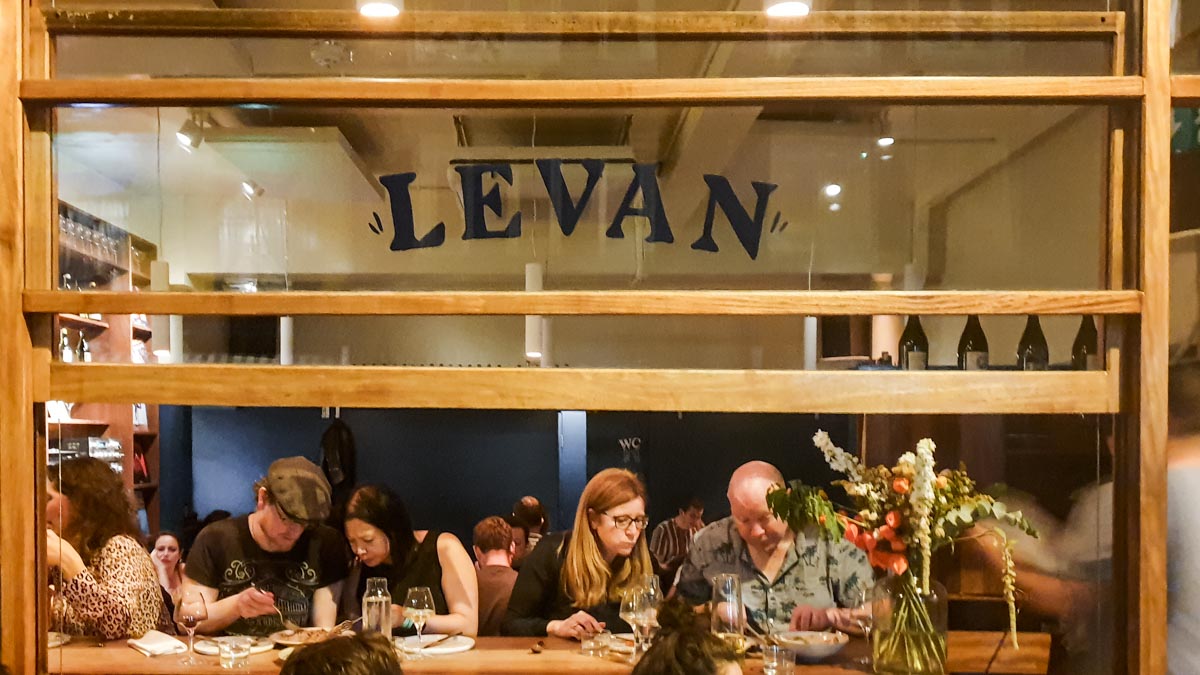 There have always been plenty of cool restaurants in Peckham – and locals have long tried to keep their little foodie heaven a secret.
However, in recent years, Peckham's reputation seems to have skyrocketed. From family-run joints serving up hearty meals to stylish rooftop spots, a whole host of cool eateries have popped up in the area.
Wondering where to eat in Peckham? Look no further than our brilliant guide to the area's best restaurants.
Price Guide:
£ – Under £10 for a main
££ – Between £10 and £20 for a main
£££ – Over £20 for a main
Best Restaurants in Peckham
Levan
£££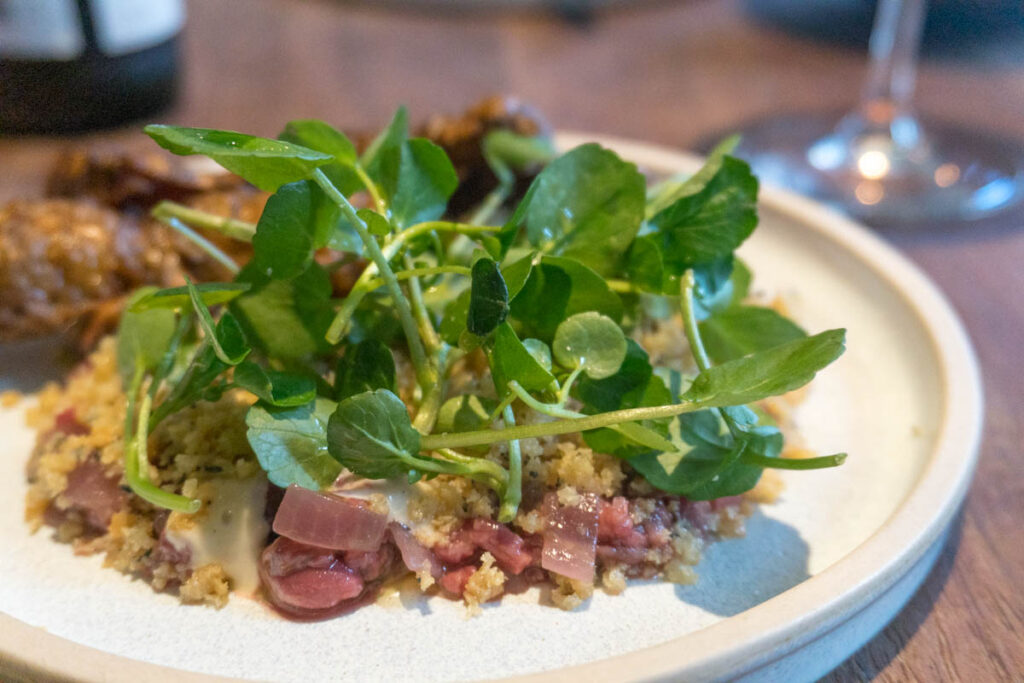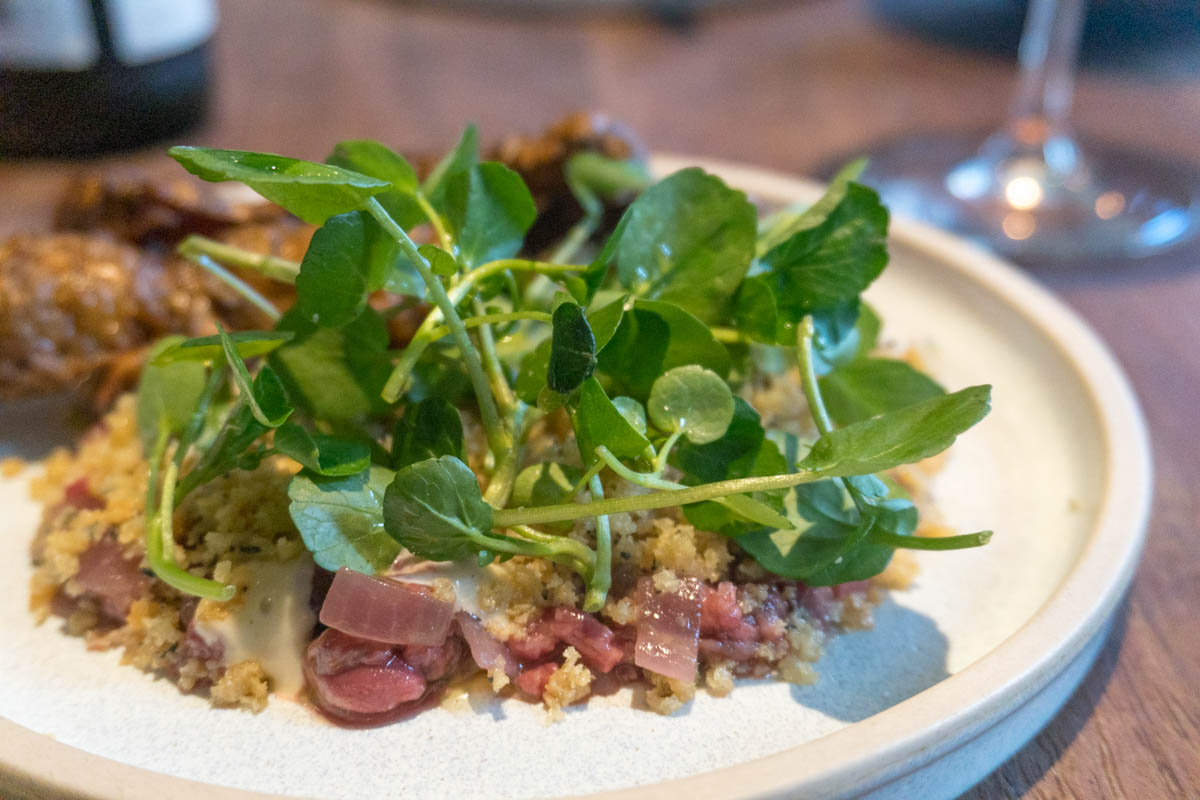 It's no secret that we're huge fans of Levan – we've even raved about it endlessly here.
The seasonal menu changes on an almost daily basis, which is perfect if you love the thrill of turning up to a restaurant and not knowing what to expect. Although, if that fills you with dread, rest assured that everything we've tried on our (multiple) visits has been a winner.
Past offerings have included a pine nut burrata starter, beef tartare blanketed in an anchovy crumb, and a melt-in-the-mouth Pork Belly with plum compote and steamed greens.
Take some time to ponder the wine list too; the 2018 Chateau Barouillet goes down oh-so-smoothly.
Skylight
££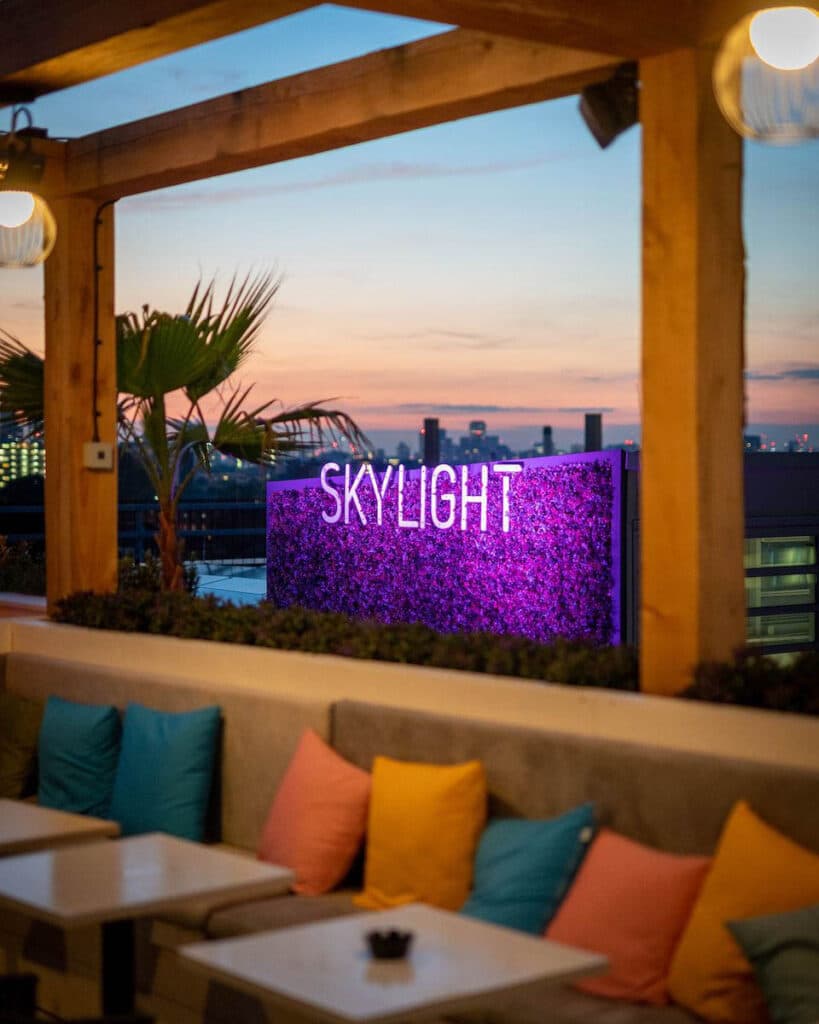 With a menu based around locally-sourced ingredients, Skylight Peckham serves up small plates and platters to share with friends as you sip cocktails. Think dippy burrata, smoked meats, and toasted sourdough.
Bottomless brunch is available during the weekends, which gives you access to unlimited bubbles and Bloody Mary's alongside a selection of classic brunch dishes.
Heated igloos appear on the terrace during the Winter, which means that you can enjoy the views from this rooftop restaurant all year round.
Slow Richies
£
No fuss, just good grub. That's what Slow Richies offers. Since 2014, the restaurant has been rustling up some of the filthiest burgers in London, along with the best sauces to match.
You won't go too wrong with their classic beef burger option. Well we say classic, but it involves a beef patty topped with BBQ pulled pork and a cheddar and chilli lime dressing – as you can see, you'll need to go hungry.
If you're feeling brave, take a trip to the Highlands: beef patty is topped with haggis and drizzled in BBQ sauce. Ordering cheesy potato croquettes on the side is non-negotiable.
Forza Wine
££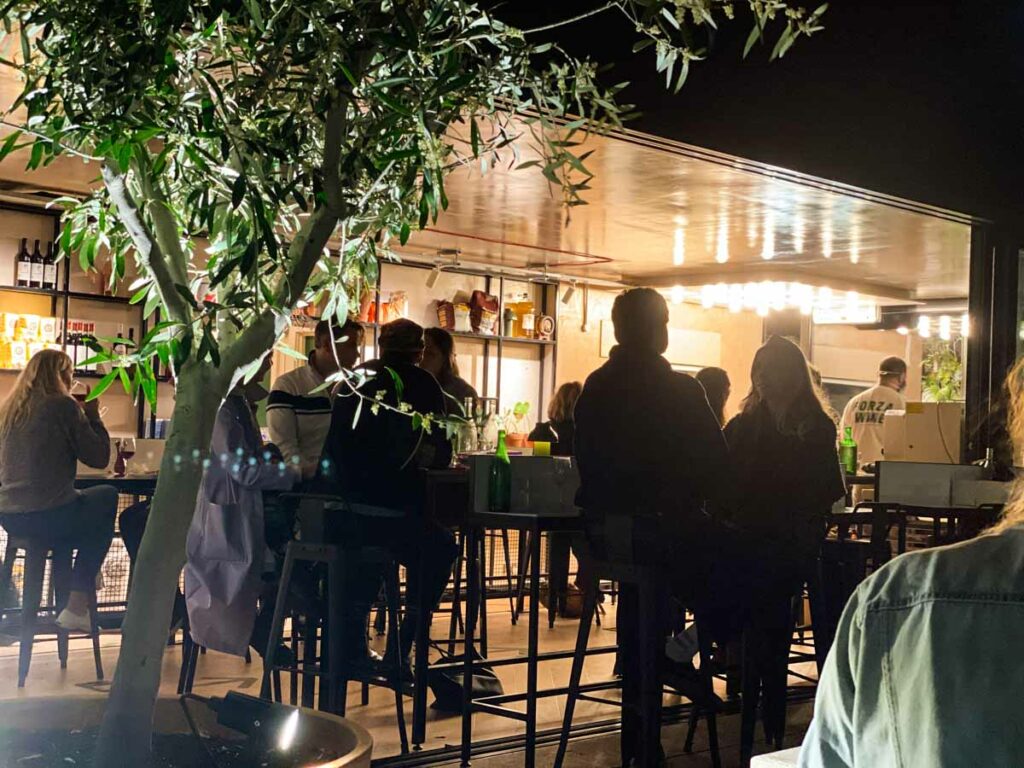 If you thought that Forza Wine only offered booze, you'd be sorely mistaken. The kitchen is open from 12-10:30pm every day and, oh boy, you best believe it's brilliant.
The Italian-inspired menu spans casual bites to eat in the form of flatbreads and sausage and onion ragu, to the more high-brow offering of clams with white wine and butter. Chow down whilst enjoying panoramic views of Peckham.
And it would be totally rude of you to visit and not order a wine – though the peppercorn martini is all too tempting.
Peckham Bazaar
££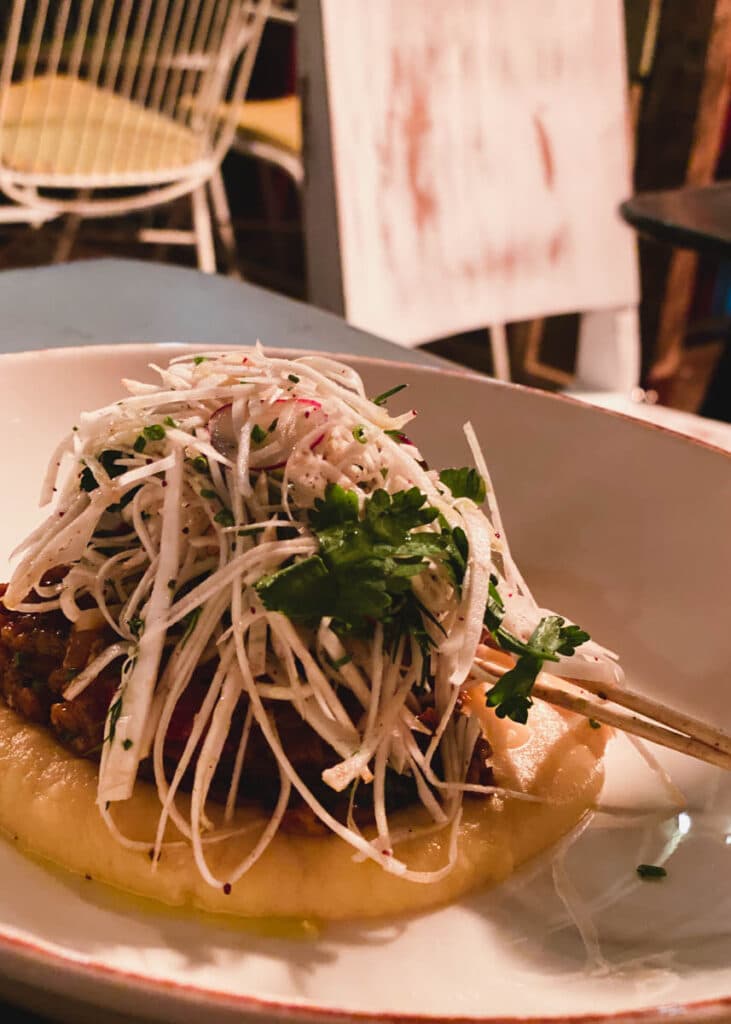 Drawing inspiration from the Med, Peckham Bazaar is a stylish restaurant serving up dishes from the four Ottoman lands.
An abundance of mezze and grilled items make the cut – rack of lamb with artichoke, sirloin kebabs, and the standout Rye scallops in yoghurt dough. The wine list is not to be sniffed at either.
The Begging Bowl
££
Relax and reset with a hearty Thai dish at The Begging Bowl. Asian salads, curries, stir frys, and more are served in a light and airy restaurant.
Vegans are well-catered for – though even the keenest of meat eaters will be tempted by the likes of Charcoal grilled celeriac and golae peanut curry, or Pomelo, radicchio, cashew nut, and lemongrass salad tossed in a toasted chilli dressing.
Pair with unlimited jasmine rice to get real bang for your buck.
Artusi
££
Italian food in Peckham doesn't come much better than the dishes on offer at Artusi.
The menu is purposely kept simple, though it changes almost daily depending on the ingredients available and the fresh pasta to hand.
In terms of standout dishes, the Tagliatelle and Ox Cheek Ragu, and the Rack of Lamb with Borlotti Beans and Cavolo Nero go down a treat. Especially when paired with the chocolatey-rich Lama di Pietra.
Remember to leave some room for the salted almond ice cream, or you'll leave with mad regrets.
TOLA
££
Don't be put off that TOLA is a bar and club: Passa Passa is the resident kitchen, serving up flavourful Afro-Caribbean dishes using authentic ingredients.
Born and bred in Hackney, Zana Millen felt inspired by her heritage, and used this to create exciting small plates. The menu is ever-changing, but expect to find plenty of traditional options – the previous jerk chicken was to die for.
Yada's Green Kitchen
£
Have you ever tried Kurdish food? No? We hadn't either until we ventured into Yada's Green Kitchen. Then we tried the Razziana stew and it was like a film – all slow motion and fireworks.
Fussy restaurants can be great, but sometimes all you want is a local spot that feels homely. Yada's in that very spot. The indoor area can get pretty cramped, but the two-tier outdoor seating is perfect for a summer evening.
Add to that generous portions for a reasonable price, and we are completely sold.
Lolak Afrique
££
If you're looking for a Nigerian restaurant, Peckham's Lolak Afrique needs to be at the very top of your list. You won't be able to miss the bright red exterior of the restaurant – that is, if the tasty smells that waft out the entrance don't draw you in,
The eatery was opened in 1996 by Mama Lolak, who is a little bit of a superstar amongst London's Nigerian community. Jollof rice and stew, ayamashe (green pepper stew), and shukshuk (coconut balls) have all been tried and tested by Mama herself.
28 Well Hung
££
28 Well Hung stands out against other Nunhead restaurants, and not just for its memorable name. With a whole menu page dedicated to the ethos of the restaurant, it's easy to see that the chefs really care about putting locally-sourced, sustainable, and wholesome food in front of you.
It has to be said that the menu feels a little bit random, but go with it – the food is delicious. The main vibe is British dishes with a twist, i.e. bavette steak with Chimichurri and smoked mac and cheese.
Deserted Cactus
£
Whilst you'll be very lucky to get a seat in this tiny joint (no bother, grab a takeout and head to the nearby common for lunch al fresco) Deserted Cactus is easily the best vegan restaurant Peckham has to offer.
The one-woman spot was set up by vegan influencer Esme (a.k.a @london_afro_vegan) and rustles up hearty dishes with Caribbean and African influence. There's no fixed menu, but expect rice and peas alongside the likes of plantain dumplings and jerk tofu.
Peckham Restaurants: Map