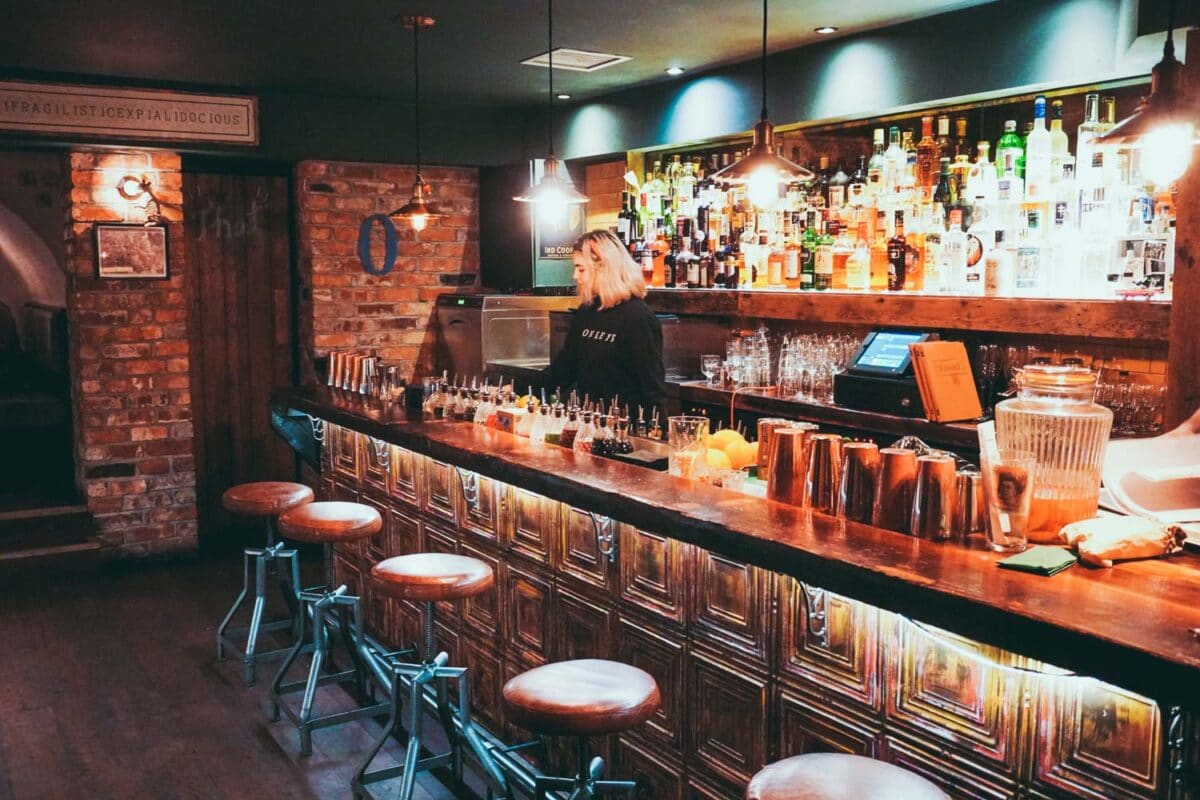 We love a secret bar in London. From Alice in Wonderland-themed bars to chic drinking dens where you can listen to jazz and sip on inventive concoctions, finding a hidden bar in London is a laughably simple task. Finding the very best secret bars is a different matter entirely – these are the ones that you shouldn't miss.
It's no secret that us Londoners love a speakeasy.
There simply can't be any other explanation for the fact that each week seems to see a new hidden bar popping up somewhere in the city.
Still. There's a wide chasm between the hidden bars in London that blow your mind (and your tastebuds) and those that fail to live up to the hype leaving nothing but a hole in your wallet and a sense of disappointment in your heart.
Skip the mediocre bars. Here are 17 of the best secret bars in London that you need to add to your little black book.

Speakeasies and Secret Bars in London
Oriole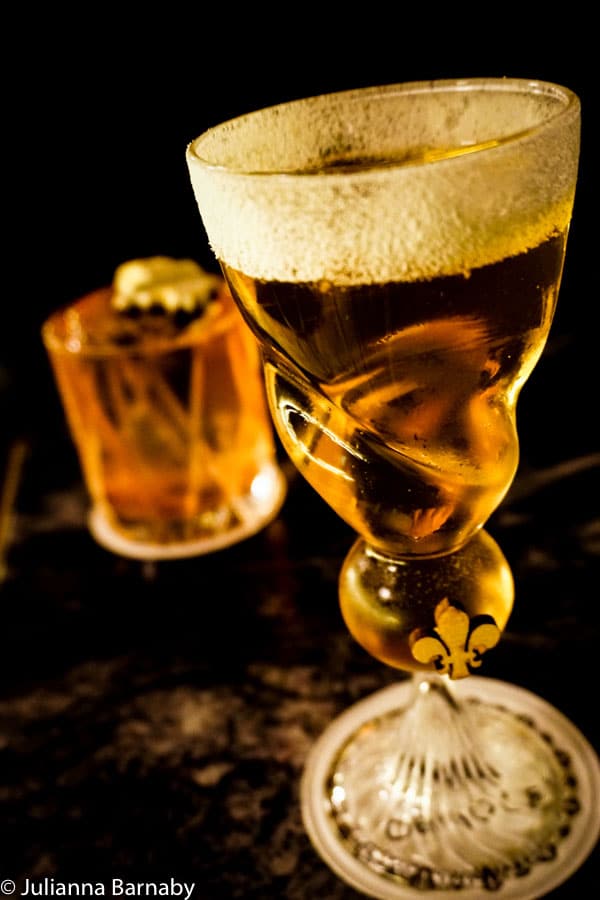 Oriole is one of the best speakeasies in London.
There's nothing that this glamorous cocktail bar, hidden in the unlikely location of a transformed pub underneath Smithfield Meat Market in Farringdon, doesn't excel at.
Whether that's serving incredible cocktails made by mixologists at the top of their game or hosting a roster of cool live music gigs (largely jazz) – a trip to Oriole is an experience. One you're unlikely to forget in a hurry.
Area: Farringdon
Price Guide: ££
Happiness Forgets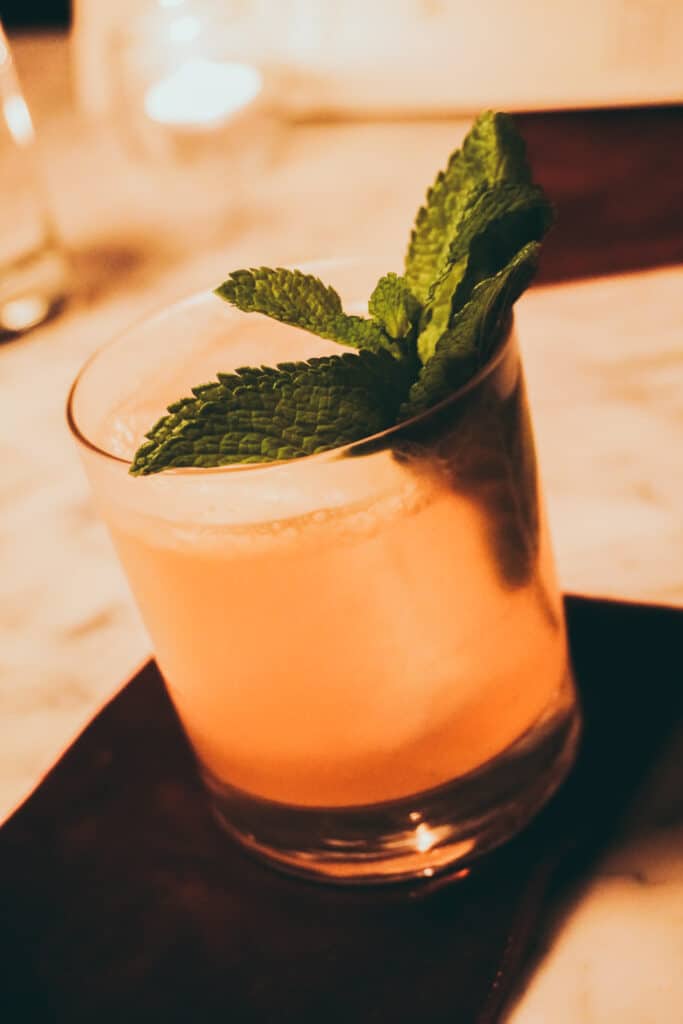 Get your elbows out or your booking fingers at the ready, Happiness Forgets is a secret bar in London, so naturally it's no secret at all.
What do you get when you combine a tiny cocktail bar with a lot of Londoners eager to imbibe its stellar cocktails? The answer is one of the hottest tables in town.
All of that means that you book ahead, get there early or prepare to be disappointed.
It's worth the hassle though – the cocktail list, while small, is packed with the kind of palate-pleasing drinks you wish you could make at home but you can't.
Area:Shoreditch
Price Guide: £
Nine Lives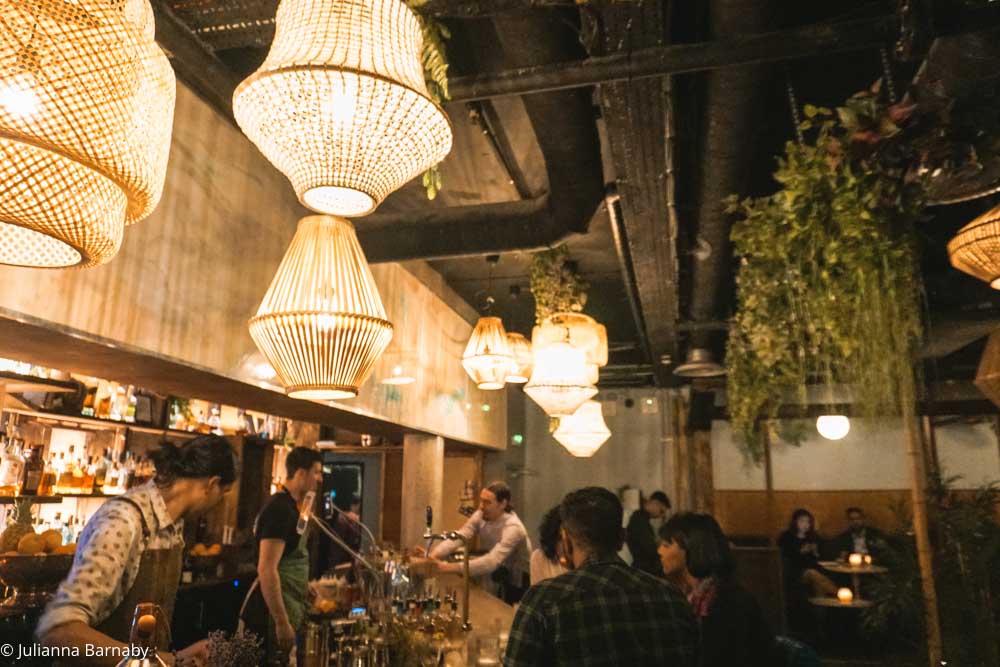 Nine Lives might fly a little lower under the radar than some of the other bars on this list, but that doesn't stop it from getting rather busy, even on a Tuesday night.
What looks like a nondescript entrance across from the railway arches a little further along from London Bridge station reveals itself as a surprisingly large tropical-chic bar downstairs.
There's a lot to appeal at Nine Lives – the interior, hand-picked playlists and not least the cocktails – a mix of classics and in-house inventions that will have you ordering drink after drink.
Area: London Bridge
Price Guide: £££
Found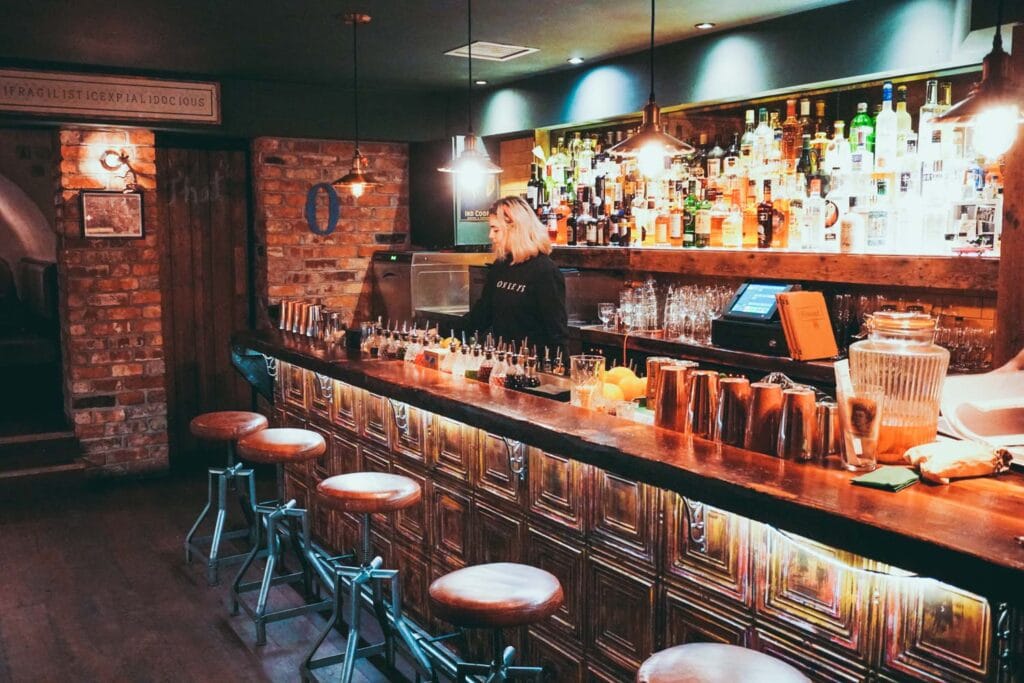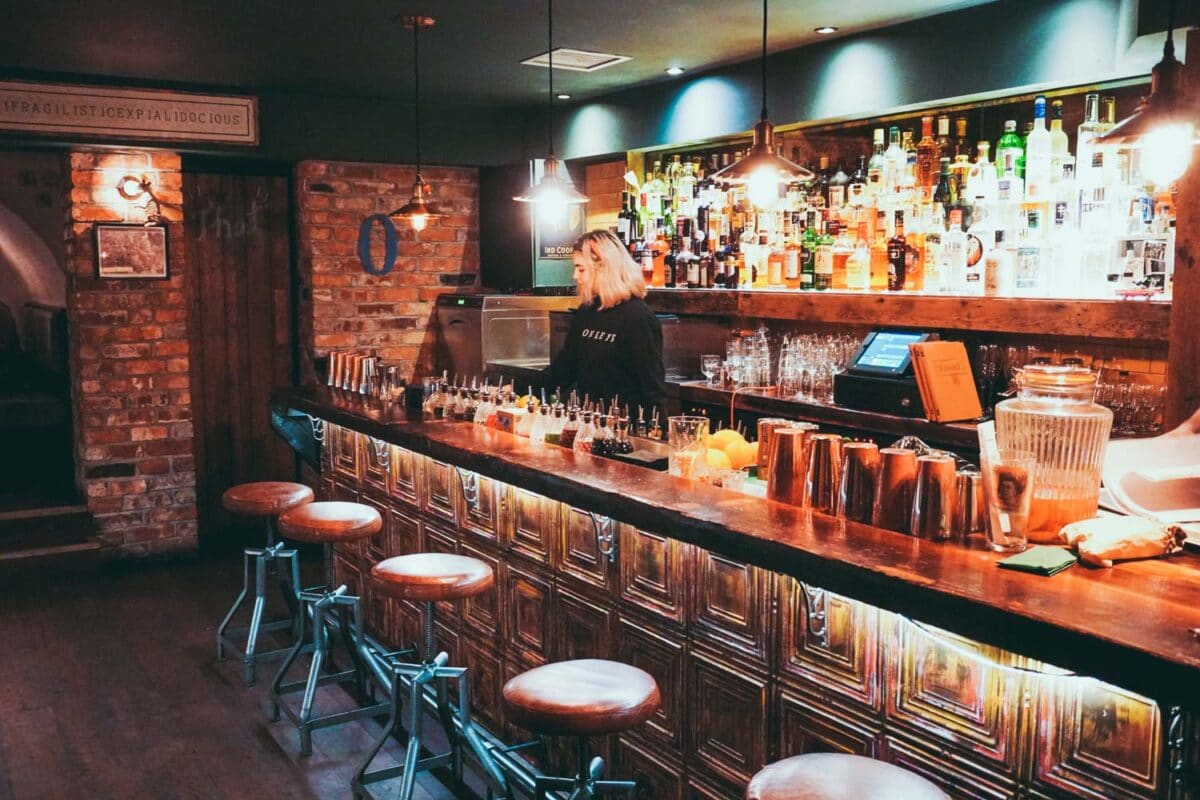 It's not likely that you'll stumble across Found without knowing where to look. This hidden London bar is tucked away down a narrow flight of stairs.
It's not large, but what Found lacks in size it more than makes up for in substance. The small cocktail list features a changing lineup of seasonal drinks, each good enough to make you pause mid-conversation to take a second and appreciate it.
Full of cosy nooks and candlelit tables, Found just so happens to be the perfect bar for a romantic date too.
Area: Shoreditch
Price Guide: ££
By Appointment Only
What's great about By Appointment Only is the stark contradiction between the building you enter through and the space you find behind the door.
The first is a little one-story Turkish-looking building (it actually was a Turkish bathhouse at one point in its life). The second, a giant hall bedecked with opulence and grandeur.
The space will impress, there's no denying it. The drinks may be a bit more hit and miss.
Die hard cocktail drinkers may not love them, but if you're into a bit of showmanship with your drinks – you'll get a kick out of this bar.
Area: The City of London
Price Guide: ££
Upstairs at Rules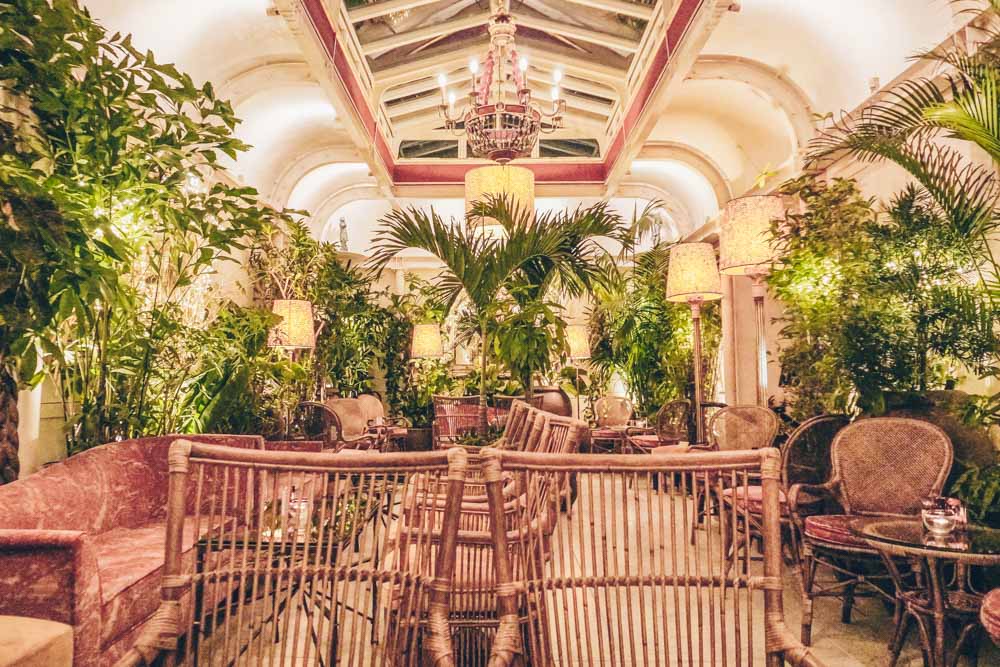 Not every secret bar in London has to be a speakeasy.
Rules is hidden upstairs and out of sight from the crowds that throng Covent Garden and its surroundings, making it the perfect place to take five (minutes or hours, you decide) to reset with a stellar cocktail in hand.
The bar is impressive enough, but Rules' new winter terrace is a jaw-dropping setting for your afternoon or evening libations.
Filled with palms and all manner of indoor plants between which a selection of ridiculously comfortable seats are nestled – it's the secret cocktail bar in London that you won't want anyone else to know about.
Area: Covent Garden
Price Guide: £££
BYOC
Hidden behind a black door near Mornington Crescent Station you'll find this novel idea for a cocktail bar.
Instead of ordering drinks the conventional way, you bring a bottle of your choice liquor, pay a flat rate of £30 per person and the bartenders will mix it into five rounds of bespoke cocktails.
Just to make BYOC even cooler, seating comes around sets of old poker tables. They suit the speakeasy vibe here to a T.
Area: Camden
Price Guide: ££
The Mayor of Scaredy Cat Town
Despite having one of the lamest names, The Mayor of Scaredy Cat Town has one of the cooler features of all these secret bars. To find it you should head to The Breakfast Club on Artillery Lane, Old Street and tell a member of staff that you're here to "see the mayor".
They will then lead you through a door hidden behind one of those old Smeg (also terribly named) fridges to a basement bar. The place is full of whacky decor and the bits and bobs of old vintage markets, as well as people dining out on their bottomless brunches.
Area: Shoreditch
Price Guide: ££
Cahoots
As secret bars go, this one isn't so secret – you'd be hard pressed to find a cocktail drinker in London that hasn't at least heard of it. Cahoots is hidden away though.
Once you find the door you'll be greeted by a man in uniform who'll guide you to your table.
The table, by the way, is inside a bar designed like a sort of fancy tube train. That guy's uniform = some kinda fancy tube driver's.
It's gimmicky but the drinks are actually pretty good. We suppose it's not for nothing that Cahoots is a badly kept secret.
Area: Oxford Circus
Price Guide: ££
Disrepute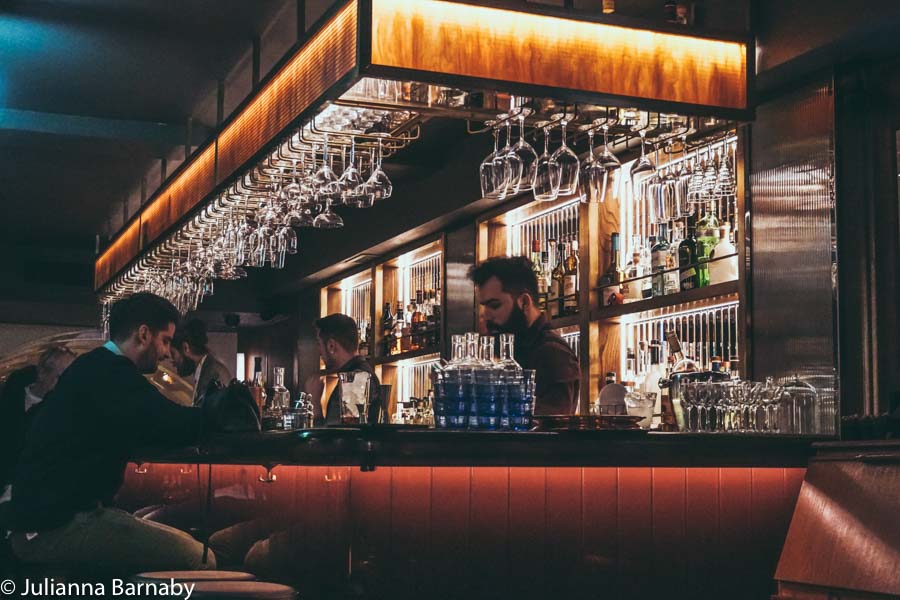 Disrepute by name, anything but disrepute by nature.
Disrepute's tongue-in-cheek name may refer to the venue's brow-raising past (it was the setting for the famous Profumo affair of the sixties) or the secretive after dark drinks that take place within its walls – it certainly does not refer to the quality of the establishment.
An evening at Disrepute is not unlike those played out in Mad Men – Don Draper figures sipping boozy cocktails on plush velvet sofas.
Yet somehow, it doesn't take itself too seriously – with a playful menu and friendly staff contributing to the overall sense of illicit fun.
Area: Soho
Price Guide: £££
Blind Spot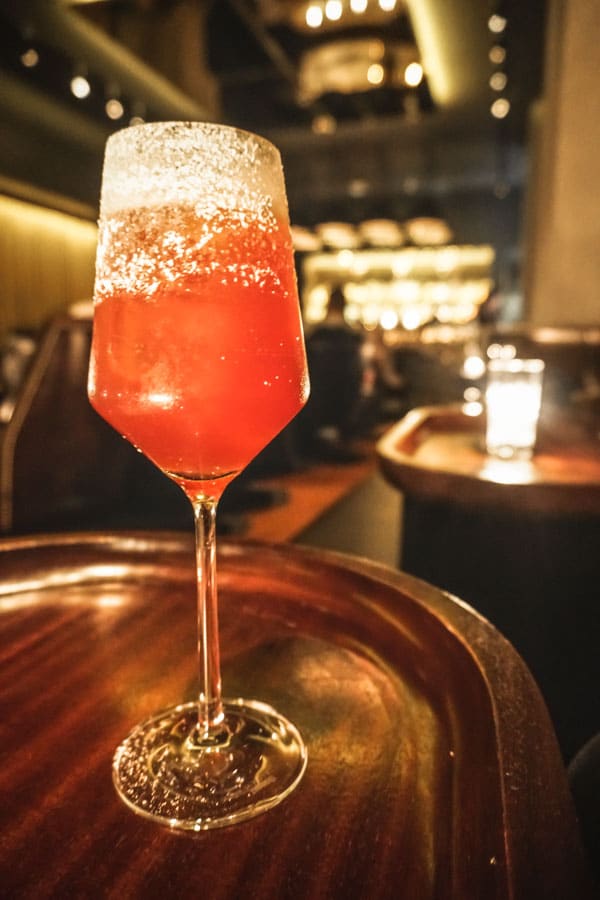 Nip behind the tea counter in swanky St Martin's Lane Hotel, your eyes searching for a door with a golden hand as its handle.
This innocuous-looking hand is the gateway to Blind Spot, a secret London cocktail bar / irresistible drinking lair that may just result in a rather boozy night.
Jazz aficionados shouldn't miss the weekly live band – because we all know that cocktails and jazz go together like two things that… well, go together rather spectacularly.
Area: Covent Garden
Price Guide: £££
Nightjar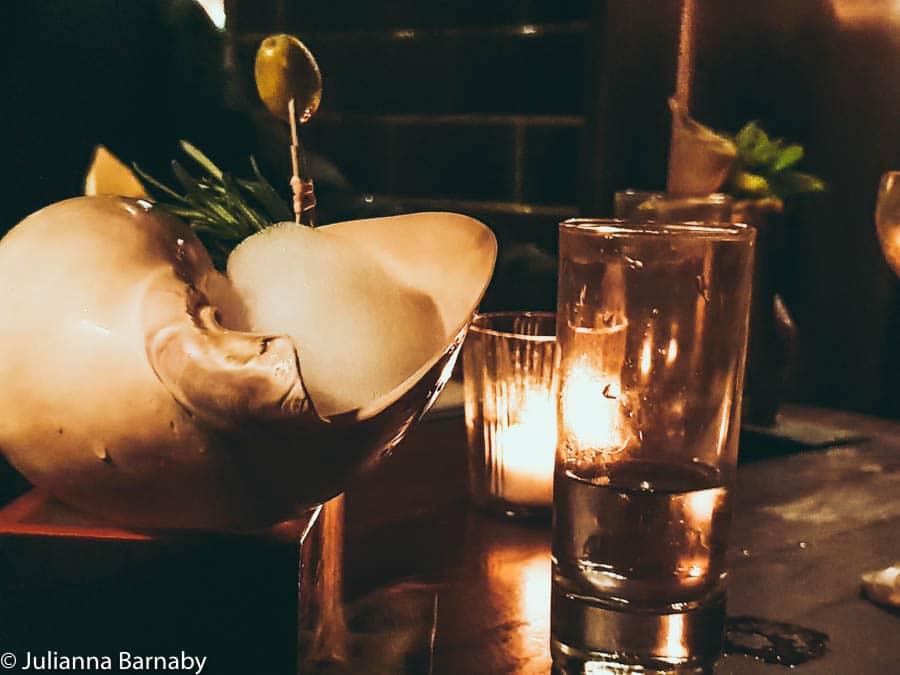 Yes, Nightjar is about as secret as Facebook's tinkering in political events of recent years – but it's so well known because it ticks all the boxes for the quintessential secret cocktail bar in London.
First of all, there's the place itself – a speakeasy in the truest sense of the word (if you suspend belief and transport yourself back to Prohibition America) – dark and moody, with some of London's finest live jazz most nights of the week.
Then there are the cocktails. A few standard classics (albeit with a twist) are likely to be the only familiar faces in a cocktail menu that is part thrilling adventure, part code-breaking exercise. Go along for the ride, it's absolutely worth it.
Area: Shoreditch
Price Guide: £££
Callooh Callay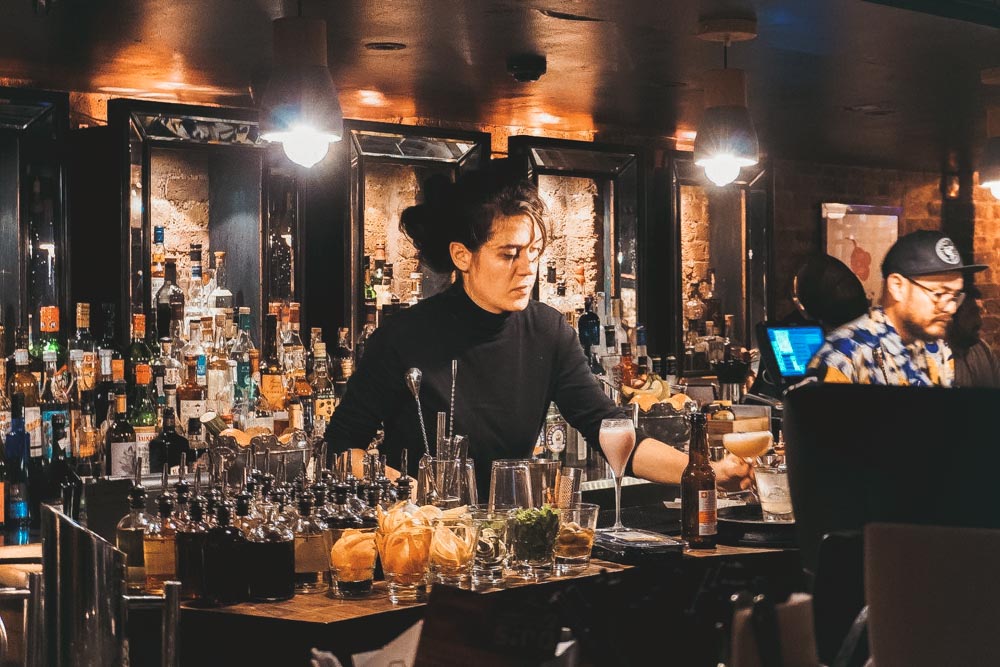 Immerse yourself into the fantastical world of Alice in Wonderland in Callooh Callay, one of Shoreditch's original speakeasies. The front bar is pleasant enough (with cocktails that merit exploring throughout the course of the evening. But that's not the half of it.
Make your way to the back bar (for which you may need a reservation) for a cheeky drink or two.
If you're very lucky, you'll be invited to make your way upstairs to the Jubjub Bar – a member's only bar where the mixologists really go to town with the drinks.
Area: Shoreditch
Price Guide: ££
Swift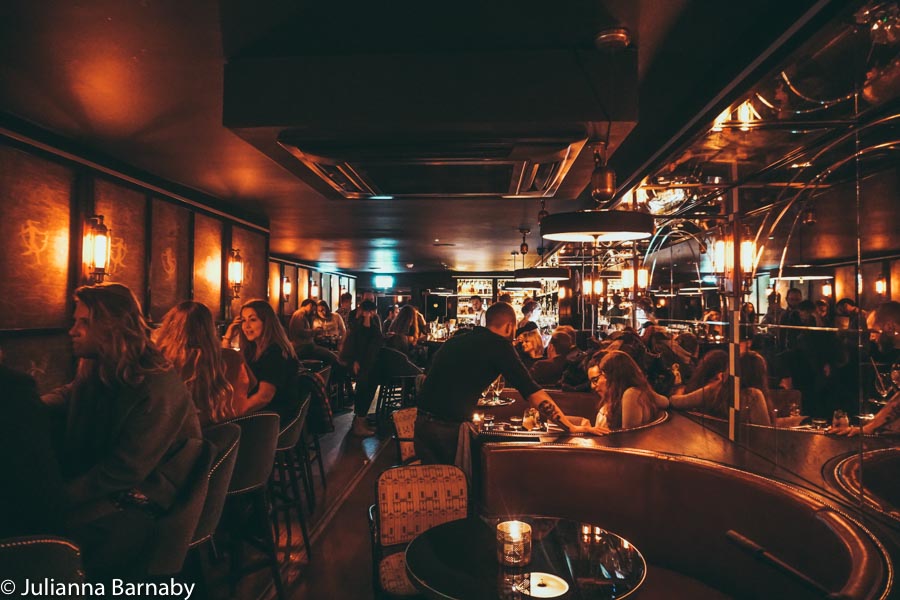 What happens when London's cocktail power couple combine their respective superpowers to open a bar in Soho? The answer is Swift.
Once upon a time, it was a difficult task finding a nice stiff cocktail in Soho. Those days are, praise be, long gone. In no small part down to Swift.
There are two bars – the upstairs walk-in only bar serving lighter cocktails and snacks (think martinis and oysters and you're firmly on the right track), and a lounge-style downstairs bar with live music.
It's hard to pick a favourite – the only reasonable thing for you to do is to spend a significant amount of time in both – by which point you're unlikely to care about the answer.
Area: Soho
Price Guide: ££
Experimental Cocktail Club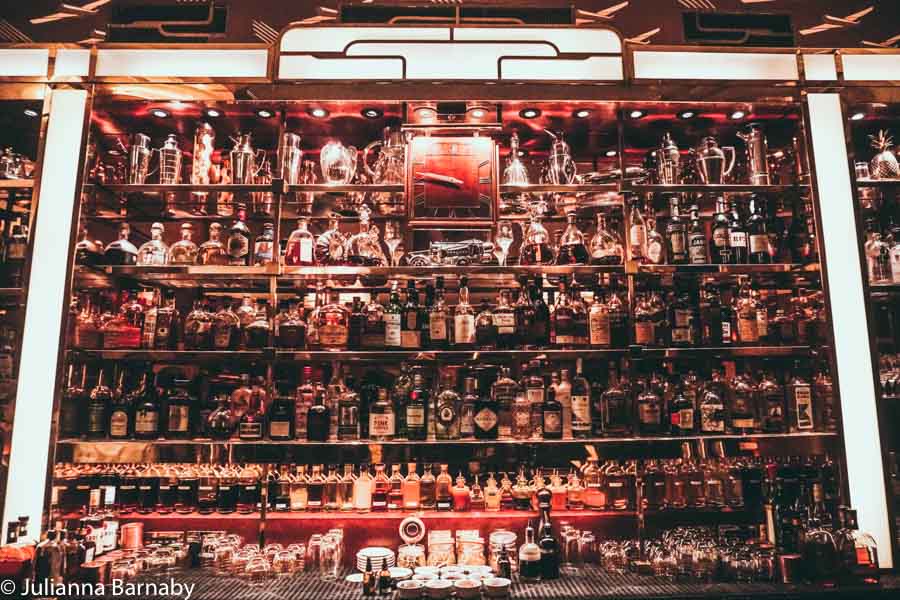 Is there any point in a speakeasy that's near impossible to find? You'd never think it, but the answer is yes – drum up enough hype and serve a selection of exceptional cocktails in a congenial atmosphere and people will make it their business to get themselves into your bar.
That's the experience of the Experimental Cocktail Club anyway. It's a grand-dame in London years – it opened in 2010 back in the days when no one was going to Chinatown to drink cocktails.
Yet it's thrived – firmly maintaining its spot on any list of the best speakeasies. Let's raise a glass to many years more.
Area: Chinatown
Price Guide: ££ (although, there's a £5 cover charge after 11pm)
CellarDoor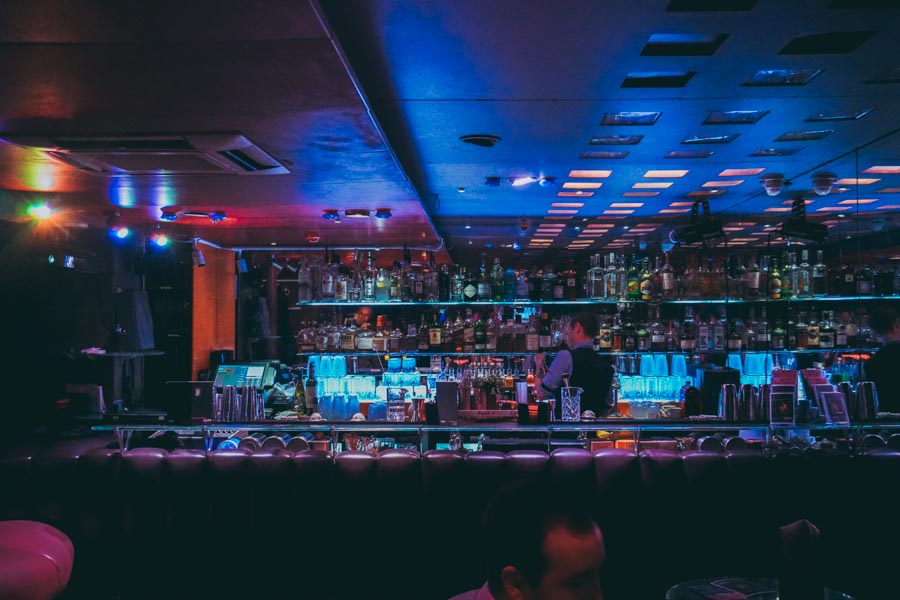 If there was a competition between the hidden bars in London for the weirdest location, CellarDoor would win.
You can theme your bar all you like but the question we are really asking is this. Is your contender in a former public loo in Covent Garden.
Not just any public loo, but toilets that used to have a rather risque reputation for attracting cottagers of the highest elite (including a reputed Oscar Wilde)? If the answer's no, then pipe down because CellarDoor is the clear champion.
Scandalous history aside, CellarDoor is a fun little bar – with burlesque and drag nights throughout the week and splendid drinks to go with.
Area: Covent Garden
Price Guide: £
Bandra Bhai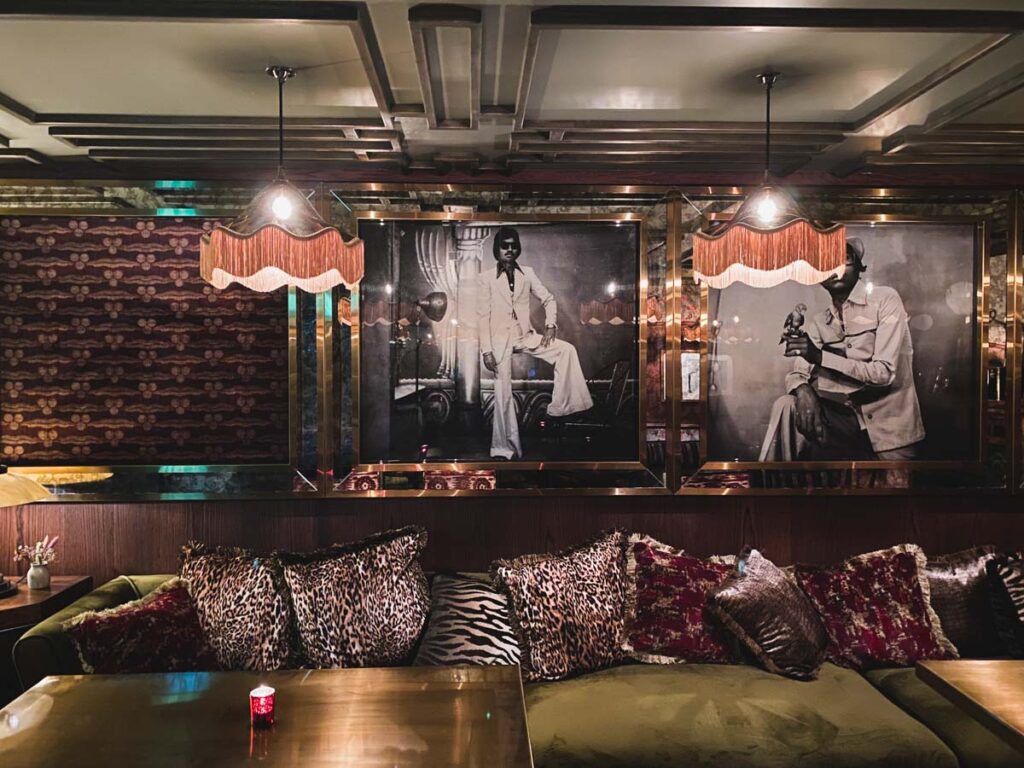 As a recent addition to the Fitzrovia bar scene, think of Bandra Bhai as Pali Hill's cooler little brother. An Indian-inspired speakeasy nestled in a basement location, you're transported straight to a delightfully-tacky Mumbai bar.
The menu is heavy on the south Eastern flavours, with just enough pizazz to suit a western palette – a spicy Indo-Irish Coffee and a fruity Jimmy Jimmy Jimmy are just two of the cocktails that make the cut.
There's also a range of tempting small plates to chobble on while you sip your cocktails, with the likes of Bandra chilli paneer and Kerala prawns pairing perfectly with the alcohol.
Area: Fitzrovia
Price Guide: ££
Iceberg Lounge
If, like me, you've been patiently counting down the days until Park Row opened its many restaurant and bar offerings, wait no longer, Iceberg Lounge is officially open.
The Batman-themed bar boasts cocktails dedicated to the DC hero and his gang, all whilst overlooked by the Penguin himself.
Love Me, Love My Umbrella, the house cocktail, is the star of the show here – a tantalising concoction of grey goose, vermouth, and strawberry syrup. A drink fit for a superhero.
Area: Soho
Price Guide: ££
Discount Suit Company
A former tailor shop has been transformed into an underground cocktail bar blasting northern soul and nostalgic rock at Discount Suit Company.
Peel back the black curtain and you'll find DSC's vintage bar – wooden decor and beamed ceiling makes it feel like you've found yourself a secret dive. And you really have.
Most of the cocktails here are around the £7.50 mark, which as well as being an absolute steal in London, means you can enjoy double the amount of Charlie Chaplins and the gin-based bebbo cocktails as usual. You're getting serious bang for your buck.
Area: Spitalfields
Price Guide: £
Kol Mezcaleria
Kol Mezcaleria brings an exciting Mexican take on a speakeasy to London. Not only is the interior immaculate, with natural textiles and rustic touches transforming you far, far away to Tulum, but the drinks pack a real punch.
The mezcal-based menu includes a delicious sour cocktail, as well as a rejuvenated sling and a lowball. If mezcal's not your liquor of choice, you've got classics like a martini and Americano to choose from.
The Antojitos, or 'little cravings', menu is as delightful as the drinks – tiny Mexican plates using the finest ingredients.
Area: Marylebone
Price Guide: ££
Blind Pig
Blind Pig is one of those fun bars you need to figure out how to get into. Luckily, I can spill all the secrets.
Underneath the unsuspecting opticians sign outside you'll find a pig-shaped door knocker – this is the door that leads you to Blind Pig. The inside is like something out of a 1940's film: dim lighting, vintage red leather, and a copper-topped bar.
The broad selection of cocktails here are based on fictional lands, inspired by the likes of Wonderland, Springfield, and Far Far Away – prepare to be gobsmacked by the creative presentations.
Area: Soho
Price Guide: ££
Looking for More London Drink Guides?