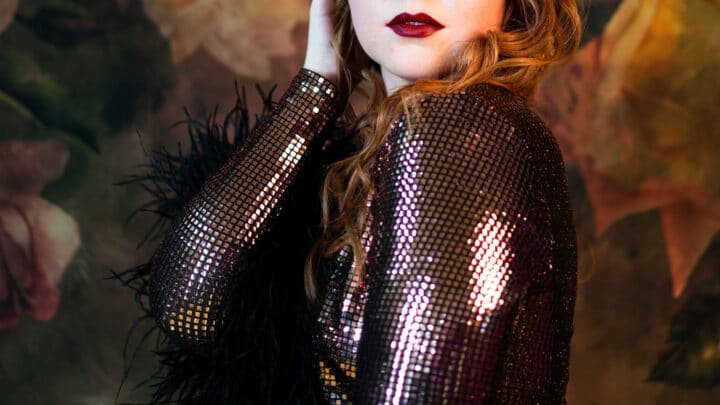 Looking for the best burlesque and cabaret shows in London? Discover these dazzlingly decadent destinations.
Burlesque and cabaret have bedded themselves as a core part of London's nightlife scene and it's easy to see why. The glitz, glamour, smooth voices and top-class choreography make for a sensory extravaganza.
The capital city boasts several top-class burlesque clubs where you can enjoy these amazing performances – these are the ones you shouldn't miss.
The Best Burlesque Shows in London
CellarDoor
CellarDoor, an intimate burlesque bar in London is in an old public convenience just across the road from the luxury Aldwych Hotel.
Descend into the club to find yourself transported to a 1930s-style world, complete with chic performances and a discerning crowd.
Sip on a handcrafted cocktail while enjoying a fantastic live performance. While it's best to reserve your space in advance, it might just be possible to nab a spot on the door – only if you're lucky.
Tickets: Reserved seats typically cost £21 and can be booked in advance here.
Proud Cabaret
Expect the unexpected at Proud Cabaret. You won't find any old performances here, but rather some of the best burlesque shows in London. With a mix of award-winning drag artists, classic burlesque elements, it's near-guaranteed to delight the senses.
Boasting three venues (two of which are in London), each with its own unique atmosphere, you'll almost always experience something new when visiting Proud Cabaret.
Now don't think the fun ends when the stage curtains close. When the show stops, the party starts with top-class DJs playing some of the hottest tracks until the early hours of the morning.
Tickets: Standard tickets start at approximately £70 and can be bought on their website.
Gin House Burlesque
In true burlesque style, this club thrusts straight into 'The Roaring 20s'.
Don't be put off by the mysterious and slightly ominous-looking exterior (some have been known to question whether they're at the right address), once you step through the doors, you'll find yourself in a world of swinging jazz, glamour and complete extravagance.
At this burlesque club in London, you don't only get to watch an outstanding show, but you can also witness a wide variety of other talents such as snake charmers, fire eaters and magicians. Oooooohhhhhh.
Tickets: Book a ticket in advance, which will cost between £50 – £60, depending on the event.
House of Burlesque
If you're looking for an extraordinary burlesque dinner show in London, then you've found it. Run by international showgirl Tempest Rose, this burlesque club makes it its mission to go against the status quo.
You can enjoy the scintillating Speakeasy show every Saturday, followed by a swinging dance party led by live DJs.
If watching the fabulous dancers makes you want to show 'em how you burlesque, then you can learn this dance form at the HOB academy too.
Tickets: General standing tickets start at £12, whilst VIP reserved seating costs £20. Tickets can be bought online here.
Bethnal Green Working Men's Club
Dating back to 1887, Bethel Green's was once a simple working men's club.
Today, you can enjoy much more than a pint of beer. Bethnal Green's is now a world of playful mischief where you can see one of the best London burlesque shows and let your inner disco diva thrive.
Tickets: Secure your spot by booking a ticket online. Tickets range from £7 – £11+.
The London Cabaret Club
Located in an art deco Victorian building from the 1920s, the London Cabaret Club oozes charm. The world-class act often features West-End stars and promises a night of sophisticated entertainment.
Apart from the performance, this club also offers top-class fine dining, featuring distinctly British-themed cuisine. One thing's for sure, the London Cabaret Club is certainly the place to go if you're looking for an excellent burlesque show and dinner in London.
Tickets: There are three categories of tickets – Silver, Gold and Diamond – ranging from £50 – £125. These tickets can be reserved on their website.
The Phoenix Arts Club
This historical club has an interesting history – once upon a time, this burlesque theatre show in London was used as a dressing and rehearsal room in the Phoenix Theatre.
Actors such as Laurence Olivier and Gertrude Lawrence once graced these rooms – what an incredible thought!
While burlesque and cabaret are certainly the main events to see here, the Phoenix Arts club also hosts a variety of other performances such as comedy shows, live music and drag performances.
Tickets: You can get tickets to this club for £10+. Alternatively, you can get a year membership for only £100.
Circus
Unique, eccentric, and extravagant is the perfect way to sum up this cabaret show and cocktail bar. As the name suggests, this is the place to be if you want to witness a burlesque circus in London.
Of course, what is a show without dinner? At Circus, you can treat your taste buds to a delicious vegetarian, Pan-Asian dinner experience.
All whilst being mesmerized by the entertainment fusion of traditional burlesque combined with the talents of aerialists, contortionists, fire-breathers and more.
Tickets: You can reserve a table with a deposit of £25 per person. Only patrons aged 21 years and older may enter.
Louche Soho
Soho
Louche is certainly a word that would accurately describe what goes on at this sordid Soho spot. The three-story venue hosts some of the most glamorous parties in the capital, including many that revolve around burlesque shows.
The venue looks fantastic too. There's small and pokey rooms that feel deeply intimate and a large performance space. Furniture is decked out in maroons and lighting is never anything but low. Basically it's the ultimate location for a burlesque show.
Tickets: Check their instagram for what's going on each week. It's the best way to keep up to date with the shows they put on. Once you've found what you want, book a table here. There's no cover charge.
Courtesan
Brixton
Courtesan blends two unlikely concepts: Dim sum and burlesque. It might sound odd but the idea totally comes off.
Picture a dimly lit bar decked out to look like the chambers of the Chinese imperial palaces or some kind of uber luxurious tea house and you'll see where the two meet. They fill the place up with burlesque dancers most nights of the week to complete the vibe.
The food, we should mention, is as much of a draw as what's on stage. Their dim sum is all made in-house and only with organic, preservative-free ingredients. Make sure you try the XO Chicken Cress Dumplings and order a cocktail to wash it down with.
Tickets: Just book yourself a table on the night of a show. You can see the full list of upcoming events here, and make reservations here. Make sure you select the burlesque option so you get a table in front of the action.
Seeing Burlesque in London: Practical Tips
It's obviously important to book tickets for these in advance. It's also wise to book tables in the clubs. You can also ask in the booking notes to have a seat with a view of the performers to make sure they don't stick you at the back of the room or in some quiet corner.
Most clubs will require you to meet a dress code. Check with the website of each place before you go so you don't get turned away.
Where to See Burlesque in London: Map
Looking for More London Nightlife Guides?