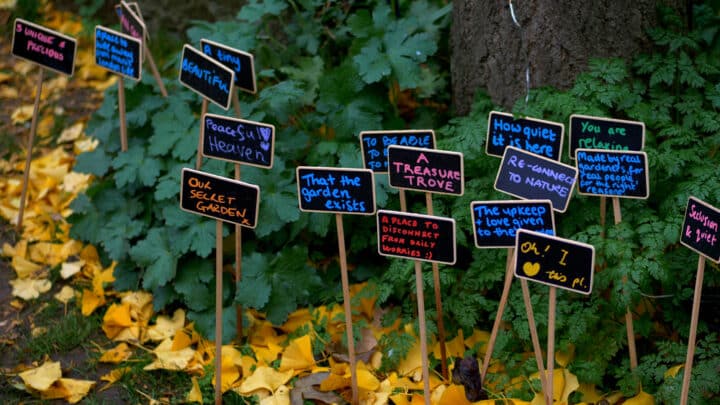 The Phoenix Garden is a rare green space embedded in London's busy West End – here's a sneak preview of its secrets and why you need to see it for yourself.
Words by Sam Jean
We hear a lot about London's grandiose green spaces like Regent's Park and Hyde Park – and we can't speak highly enough of them – but the Phoenix Garden is a lesser-known oasis nestled in the heart of Covent Garden.
With plenty of verdant greenery, a mural by street artist Stik, a beautiful wooden community building, and a smattering of semi-tropical plants, this tiny community garden is the best green space in Central London that you've almost definitely never heard of.
Why Visit The Phoenix Garden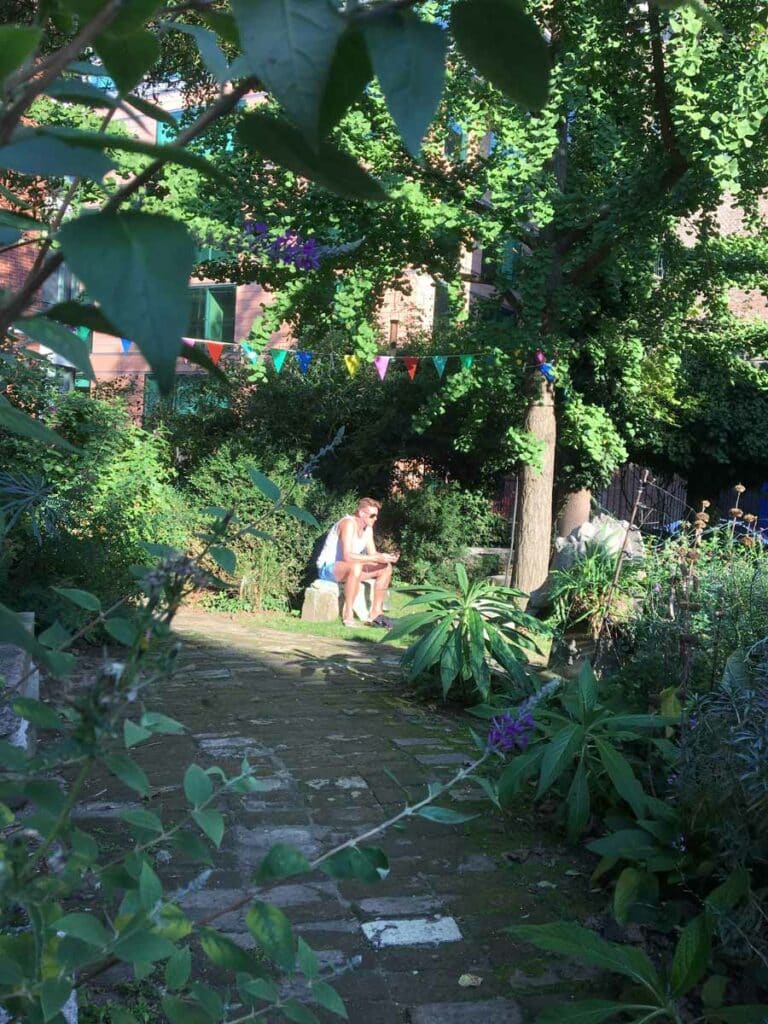 The Phoenix Garden is a small and compact community garden at just 0.5 acres, but it has a big heart and is lovingly tendered by a team of dedicated volunteers.
You'll find the main entrance on St Giles Passage and Stacey Street, minutes from Shaftesbury Avenue and just east of Charing Cross Road.
Besides its quirky location, the garden is calm and enchanting with funky benches with inscriptions like "I like worms and woodlice" and "100,000 greenfly = 1 blue tit". We're not quite sure what the second one means but moving swiftly on…
The garden is truly trying to support and protect plants and wildlife, with a wide range of shrubs, flowerbeds, log pile habitats, bug hotels, nesting boxes, and even a pond with (probably) the West End's only frogs.
You'll also discover a graffiti mural by popular street artist Stik peering between trees and tower blocks, as well as plenty of gram-worthy views that juxtapose the built and natural environments perfectly – a photographer's dream.
Spot Local Wildlife
With frogs, 10 species of birds, and around 15 species of bees, The Phoenix Garden near Soho is jam-packed with urban wildlife.
London has remained faithful to its wildlife, but every green space counts – especially in the heart of the city. The pond is home to dragonflies and damselflies, a rare sight outside of London's larger parks.
Awesome Semi-Tropical Plants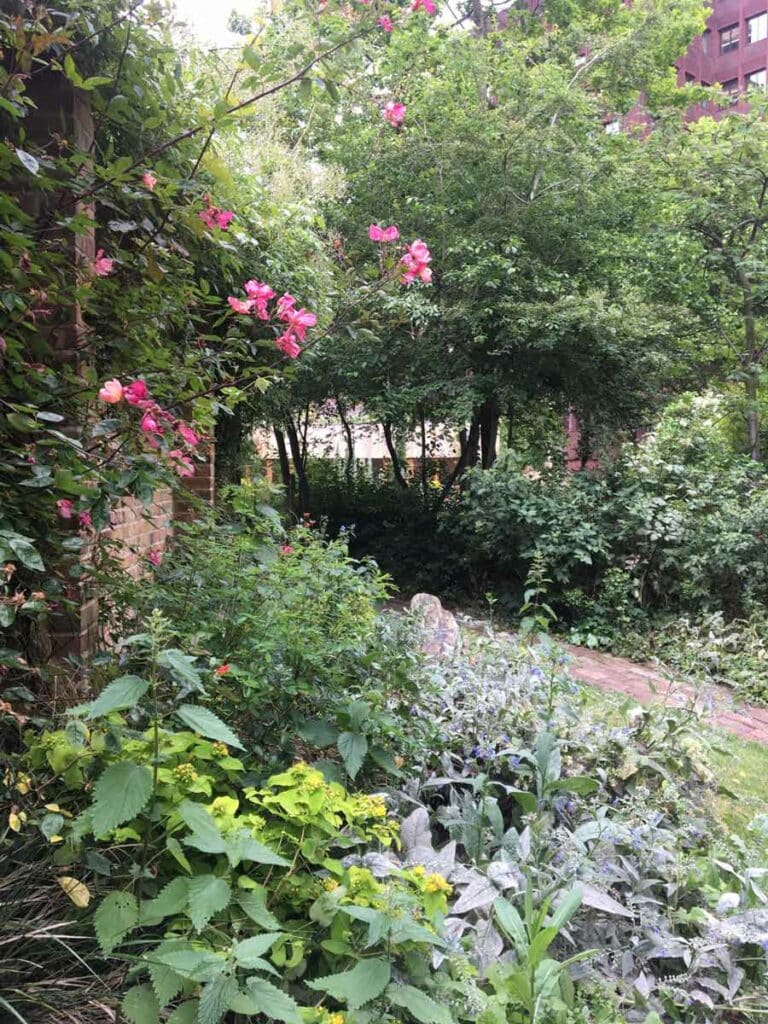 Due to the urban heat island effect, which elevates inner London's temperatures to higher average temperatures than surrounding areas, you'll find similar plants here to what you'd find in the Mediterranean or Algarve.
This includes plants such as the colossal Giant Viper's Bugloss (native to La Palma), which can grow a massive 4m tall.
Spring and summer naturally see the garden blossom into its full potential when the wisteria, lupins, salvias, clematis, and other flowering plants burst into life.
A Multi Award-Winning Garden
The Phoenix Garden itself has won the 1st prize for Best Environmental Garden in the Camden in Bloom competition six times, from 2004 to 2010. And its community building, designed by architect Gurmeet Sian, won the RIBA award for architecture in 2021.
There were once seven community gardens; this is the only one left, so it's a rarity worth exploring, experiencing, and supporting if you can.
And Breathe…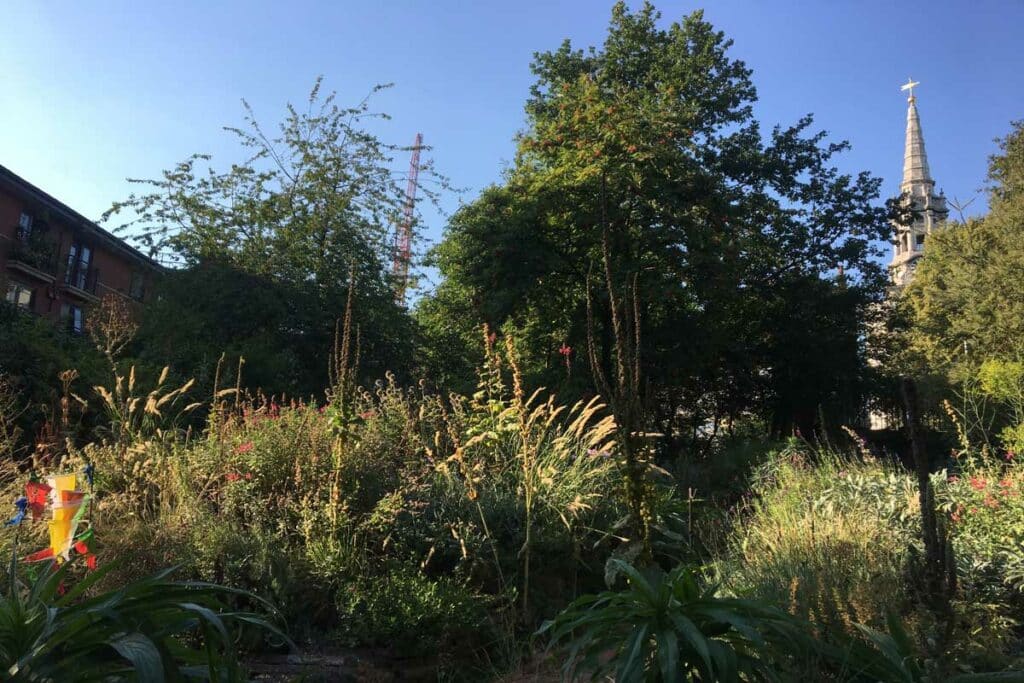 Just minutes from The Phoenix Garden, Soho, and Chancery Lane are absolutely brimming with life – and noise.
The garden gives Londoners somewhere to just breathe and take a minute or two – perfect for recharging your battery before cracking on with your day.
The History of The Phoenix Garden
The Phoenix Garden is a quaint garden oasis that rose from the ashes of a bomb site in London's West End. The garden is named as such as it sits behind The Phoenix Theatre.
After the old site was levelled, it was turned into a car park but was subsequently reclaimed by local residents in the 70s and gradually converted into a garden.
A Former Bomb Site
As a former bomb site, the soil was extremely thin and dusty, and because it's embedded deep into the city, rainfall is low and average temperatures are high.
These quirky environmental factors helped gardeners grow exotic and semi-hardy plants that Londoners weren't accustomed to seeing outside of Kew.
After a series of negotiations with the local council, the site was officially handed to volunteers in 1981 and later became a registered charity, some of whom have been working with the garden for over 20 years.
Construction of The Phoenix Garden Community Building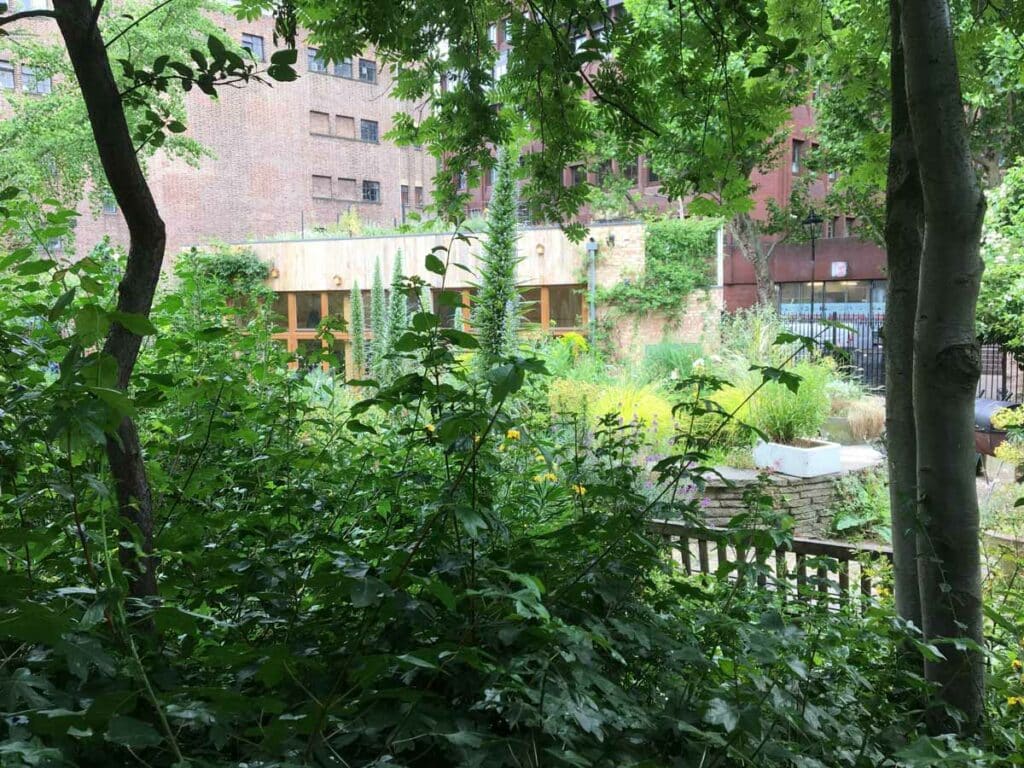 In 2016, works began on a wooden community building at the rear of the garden. The all-new building, designed by award-winning architect Gurmeet Sian, has become a means for the garden charity to raise income through private hire events.
Hosting everything from weddings to yoga classes and school trips, the community building is yet another feather to the cap of this wonderful community space.
Today, the garden is a popular spot for locals and tourists alike and is also used as a space for community events and educational programs.
So there we have it, The Phoenix Garden in Soho, London, is a testament to the power of community spirit and the ability of people to come together to create something beautiful out of next-to-nothing.
The Phoenix Garden: Practical Information
Address: 21 Stacey St, London WC2H 8DG
Opening Times: 9 am to 6 pm (4pm in winter)
Tickets: Free to enter, just turn up
The Phoenix Garden: Map
The Phoenix Garden, London: Read Next