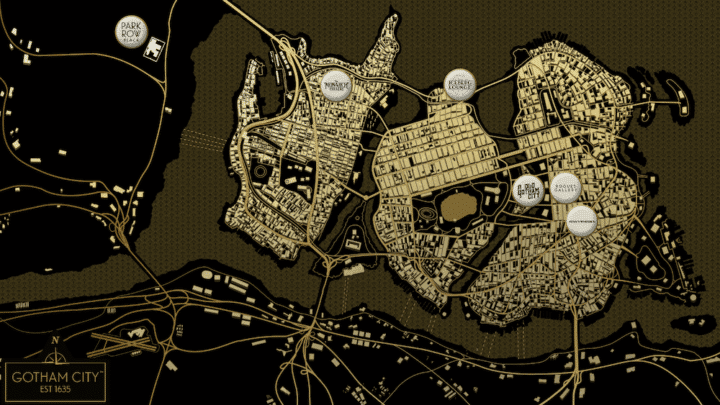 Ever fancied dipping into Gotham City a la Batman for the night? Who hasn't? Park Row – London's newest restaurant experience – allows you to do just that.
Opening on the 10th August, it's one of a slew of cool restaurant spots gracing the capital this month. With five restaurants and bars, this bougie experience based on the DC world promises to be one of Soho's quirkiest spots.
What is The Park Row Experience?
Park Row promises more than just your average restaurant – its classy art-deco theming makes this a brilliant dinner-date location, whether you're a Batman fan or not.
The most anticipated spot here is the Monarch Theatre – think dinner but with a theatrical twist.
Boasting floor to ceiling screens and projection mapping on the walls it throws you into the world of Batman, the Joker, and Harley Quinn… all whilst you scoff tasty dishes.
You'll also find the Gotham City speakeasy at Park Row, a swanky, dimly lit bar serving an array of classic cocktails.
Or head to The Iceberg Lounge, which pays homage to The Penguin in the form of an ultra-cool dinner and drinks spot – what else would you expect from a joint run by Oswald Cobblepot himself?
Pennyworth's Bar is dedicated to the Wayne family butler, promising complete elegance and Park Row's favourite Inishtree whisky.
And if you're an art lover you'll want to visit Rogue's Gallery, where world-class food and art combine to create a totally-immersive restaurant experience.
What About the Food?
Prepare to indulge in truffled wagyu, scallops, and even some edible gold-leaf jewellery, although the caviar and Batman-themed cocktails are the real showstoppers on the menus at Park Row.
If you're really looking to splurge, there's a decadent tasting menu on offer at the Monarch Theatre for £195 – expect international fine-dining with a dramatic twist on this secret menu.
Practical Information for Park Row
Do I Need to Book?
Walk-ins for Park Row's Gotham City bar are available from the 10th August (although, I recommend booking as it's set to be very busy). For the Monarch Theatre you will need to book in advance.
How to Get There
Park Row is handily located just a two-minute walk from Piccadilly Circus tube station.
Address
77 Brewer Street, London W1F 9ZN
Looking for More Soho Guides?
Check these out…