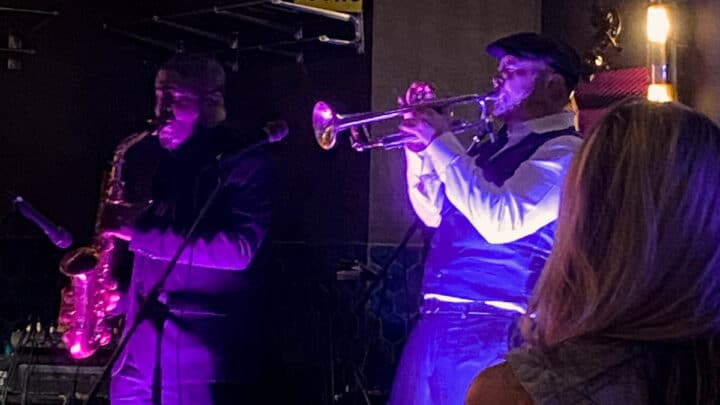 Our (major jazz fan's) guide to all the best jazz bars and clubs in London.
Looking for the best jazz clubs in London? London's packed with spots to showcase the best of traditional jazz and the city's thriving contemporary jazz scene.
Whether you want to visit the famous Ronnie Scott's or delve into somewhere lesser-known, these are the places you shouldn't miss.
Best Jazz Clubs in London
28°-50° by Night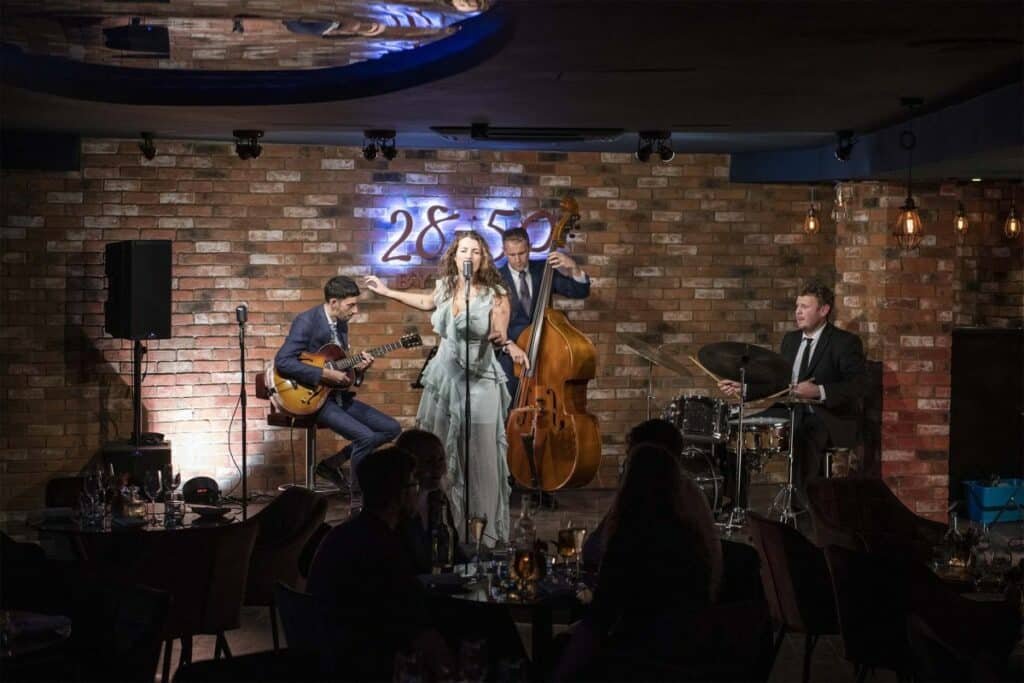 Tucked away in Marylebone, next to 28°-50°'s stellar restaurant offering, is their very own jazz club: 28°-50° by Night. And it's every bit as cool and intimate as you would expect – oozing fun 1920s vibes and an underground New Orleans atmosphere.
Serving up all of the excellent wine and food you can find next door at 28°-50°, with the addition of live jazz performances, this is one of our favourite London jazz clubs. From Tuesday to Saturday, 8pm until 2am, expect your ears to be caressed with jazz, soul, and blues from the capital's top artists.
Whilst the performances very much take centre stage, the food is equally as wonderful.
In fact, the a la carte menu is served until midnight so you can enjoy light bites or some heartier options (we'll take the seafood platter, please) until the early hours. And of course, the friendly sommeliers are always on hand to help you find the perfect bottle to pair with your meal.
28°-50° by Night might be a newbie on the London jazz club scene, but they've already established themselves as one of the top spots for live music and late-night dining in the capital.
Ronnie Scott's
Soho
As, arguably, the most iconic of all London jazz clubs, Ronnie Scott's is an institution that has boasted plenty of high-profile jazz performances throughout the years.
The main room works through reservation only – you'll need to book a ticket and you'll be allocated a table where you can order drinks and food all night. So sit back and enjoy the show while you chow down.
Once you've enjoyed a performance in the main club, head towards the historical staircase and make your way to Upstairs @ Ronnie's: a 50s-inspired speakeasy with a chilled vibe for a late-night cocktail.
Tickets: Make sure to book your ticket to Ronnie Scott's Jazz Club in advance – prices start at £37.50.
Crazy Coqs
Soho
From the snug seating in front of the red curtain to the classy cocktails poured at the impressive bar and delivered straight to your table, every inch of Brasserie Zedel's secret next door jaunt, Crazy Coqs, oozes Parisian glamour.
Pair this setting with incredible live music and cabaret shows and you're in for a total treat.
Famous faces who frequently play shows here include the jazz artist, food critic, and journalist extraordinaire, Jay Rayner, as well as the (by no means less impressive) Mario Bakuna Band.
Tickets: Book a spot in advance through their website.
Jazz After Dark
Soho
Jazz After Dark is one of those spots that you accidentally stumble across when looking for somewhere to drink in Soho. But don't just stare – let the soft sounds of jazz lure you in and relax in this cosy jazz club with a drink or two.
Amy Winehouse is the most famous name to have performed here, and they often have nights dedicated to the late artist. Other nights, up-and-coming jazz artists, trios, and acoustic performers spend the evening entertaining you with their wonderful sounds.
Tickets: Live music plays most evenings and you can book a table here.
Pizza Express Jazz Club
Soho
While it's perhaps the strangest music venue in London, the Pizza Express Jazz Club has been hosting world-class performers in its dimly lit, underground bar for decades. There are actually a few locations dotted across the capital, but Soho's offering is the most popular.
The Israel Varela Group, Jackson Mathod and Tom Ford, and the Alex Wilson Trio are just some of the modern jazz trailblazers to take to the stage in recent years.
If you're looking to attend jazz shows regularly, you can become a member of the Pizza Express Jazz Club for £120 and you'll get free tickets and discounts throughout the year, as well as a 10% discount on Pizza Express food.
Tickets: Tickets range in price – check out upcoming shows here.
The Jazz Cafe
Camden
The Jazz Cafe in Camden is no stranger to a famous face, since opening in 1990 it has hosted shows by the biggest artists in jazz and soul music – Amy Winehouse, D'Angelo, and Bobby Womack to name just a few.
Head to The Jazz Cafe in the week if you want to grab a bite to eat and drink with live jazz music in the background, or pay a visit on Fridays and Saturdays and you'll find the crowd is a lot livelier on their club evenings.
Tickets: Prices vary depending on the show – you can check upcoming events and book your tickets here.
Barbican
The Barbican Estate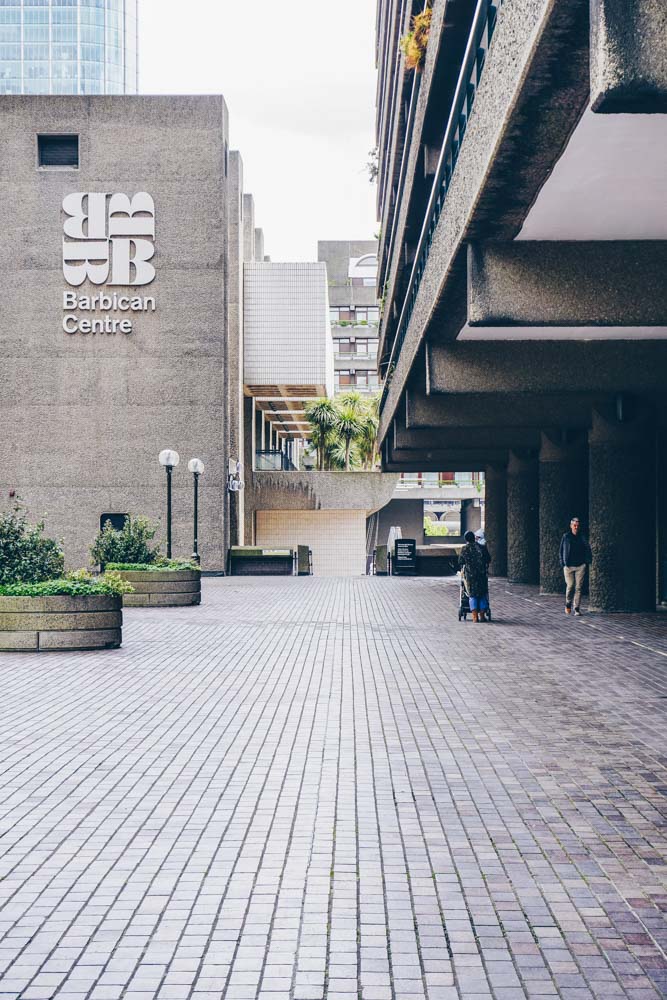 Ok, disclaimer: the Barbican is not exactly a jazz club, but it is host to some really brilliant performances throughout the year.
Guildhall School of Music and Drama often holds their jazz showcases here, which means not only do you get treated to impressive shows, but you also get to catch a glimpse of undiscovered performers before they tip over into global stardom.
Expect a mix of classic performances and some rather unusual jazz-fusion groups – the eccentric Speaker's Corner Quartet will even be making their highly anticipated return to the London jazz scene at the Barbican.
Tickets: You can filter through upcoming events and book tickets here.
Hideaway
Streatham
Venture down a backstreet in Streatham and you'll soon find yourself at the much-loved home of jazz and comedy, Hideaway. The smart club serves up a decent selection of drinks and cocktails for you to sip as you listen to the sounds of jazz coming from the stage.
Sadly, Hideaway is currently looking for a new location and is set to stay closed until the end of 2021 at least, but hopefully, 2022 will see the return of this wonderful venue.
Tickets: Keep an eye out here for reopening updates.
Nightjar
Shoreditch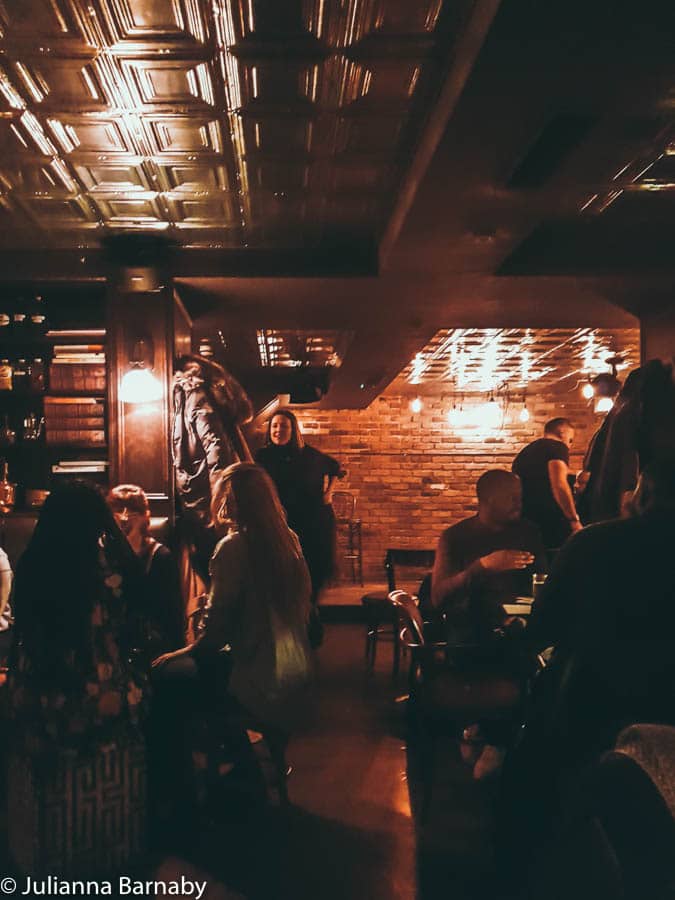 As you can read all about here, we are teetering on the fence about Nightjar.
We're big fans of the drinks and the vibe… but what we aren't fans of, however, is the military operation required to nab yourself a table inside (and the cover charge for seats where you have no chance of hearing, let alone seeing the music).
Perseverance is key with this cool Shoreditch bar, though. Once you've swallowed the cover charge and got yourself a seat close to the stage, it's a brilliant place to listen to live jazz music in the capital.
Tickets: Getting in is quite the process – we've broken it down for you here.
Jack Solomons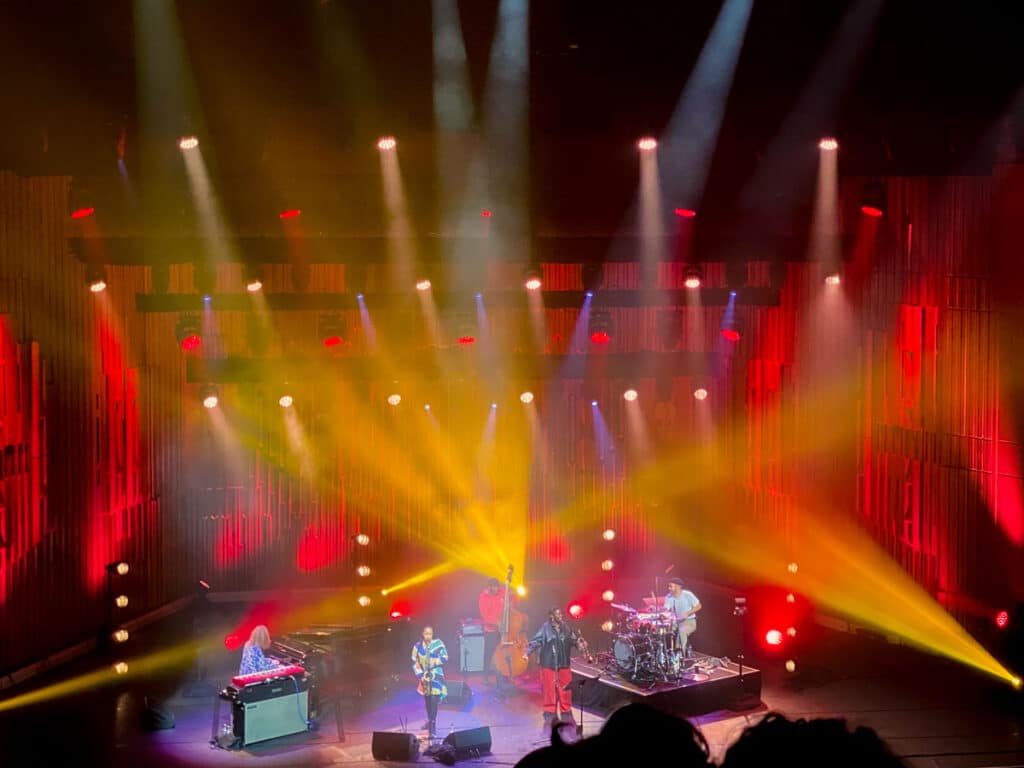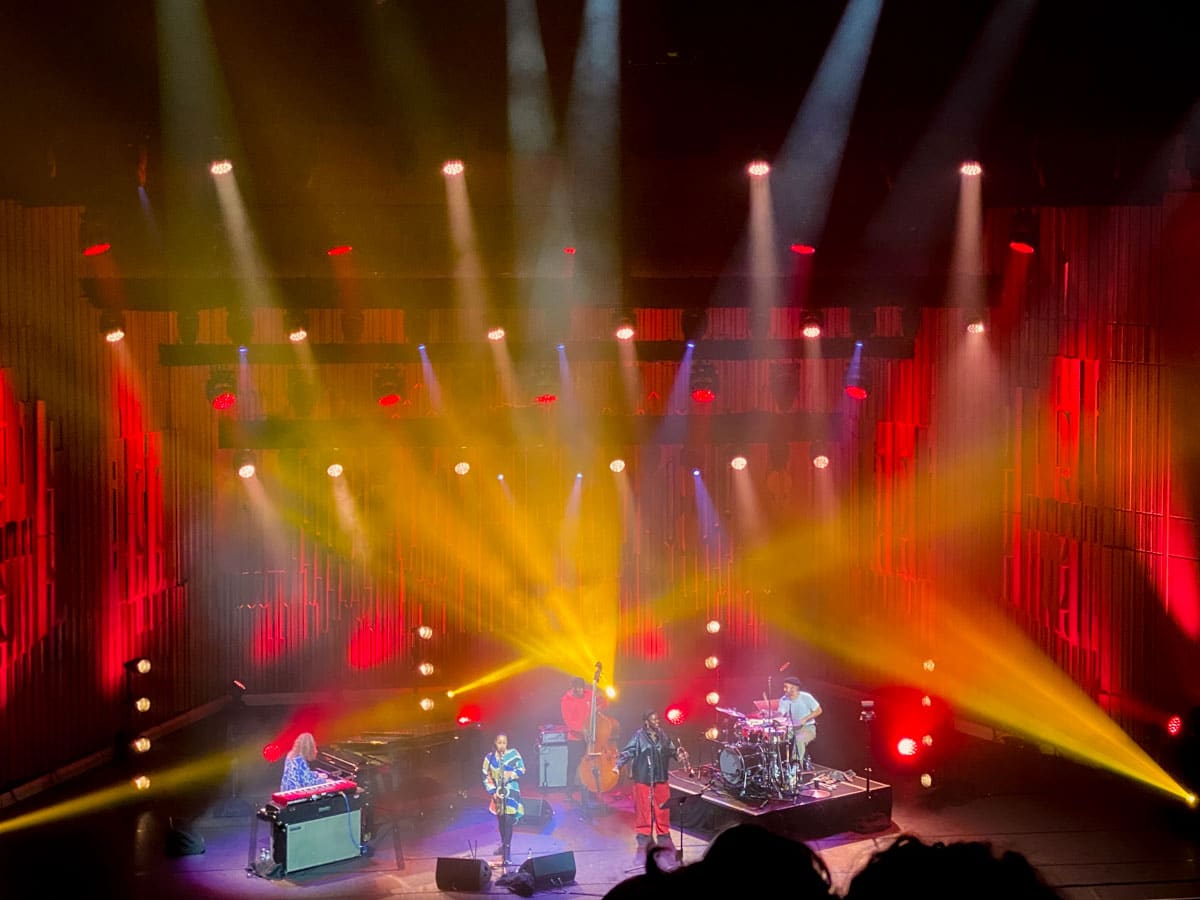 Tucked underneath a restaurant on Windmill Street, Jack Solomons is not only a cool Soho speakeasy but also one of the best jazz bars in London.
The intimate space is the perfect setting for an eclectic programme of gigs and small festivals, with the added benefit that it's much easier to nab tickets than some of the bigger venues in the area.
Not only do Jack Solomons host some of the best musicians on the scene, they also make some of the best cocktails you can lay your hands on in Soho. If that's not a winning combination, we don't know what is.
Tickets: You can find upcoming events and book tickets here.
Hidden Jazz Bar
Waterloo
For an evening of secret prohibition-style fun, head to Waterloo's Hidden Jazz Bar in the Vaults. The entire venue is dedicated to alternative arts, but you'll want to head to the hidden jazz bar for the smoothest of sounds.
The venue is completely artist-run, with the likes of Denys Baptiste and Vimala Rowe regulars on the stage. The idea is that the audience can chill out with world-class performers in between their sets, creating a totally intimate experience that's found at no other jazz club.
Tickets: You can grab the £20 tickets from here.
Toulouse Lautrec
Elephant and Castle
1920s Paris comes to life at Toulouse Lautrec. Not only does this restaurant and jazz club serve up delectable French dishes, but the art deco theming is reminiscent of the prime romantic Paris era without being too garish.
Peel yourself away from the menu to appreciate the intimate jazz club upstairs. Nightly performances are guaranteed, and the recurring L'art de Jazz and Eddy Smith are huge favourites amongst regular visitors.
Tickets: Check out the events here – tickets start at £16.
The Blues Kitchen
Camden
Blues and jazz is the name of the game in The Blues Kitchen in Camden. This is another spot that technically doesn't count as a jazz club, but the atmosphere, music, and drinks are just too good not to mention.
The restaurant and bar is decorated in a vintage American style, serving hearty food and cocktails that you can enjoy as the likes of live performers and DJs bring Americana to the heart of the capital.
Tickets: Entry is free, but you can check out the upcoming events here.
Ricco Lounge
West Kensington
Tucked away in West Kensington Ricco Lounge is an art-deco cocktail bar decorated in warm-toned velvet and gilded accents.
Fridays are dedicated to jazz and soul music, with live performers rotating on a weekly basis. Kedma and Mo, as well as Natalie Duncan are popular regulars, often blessing the crowd with their honey-like voices.
Ricco also serves up elegant cocktails and wines, as well as a small menu of delicious bites to nibble on as you enjoy live jazz.
Tickets: Tickets can be booked online through their website.
606 Club
Chelsea
A classic jazz club might sound slightly out of place in the expensive Chelsea neighbourhood, but 606 Club manages to tread the line of upmarket club and down-to-earth jazz spot pretty successfully.
If it wasn't for the illuminated 606 sign perched on top of the brick wall, Club 606 would be tricky to find, though that only adds to its elusive nature. And 606 Club doesn't just stick to jazz either – it branches out into Latin and soul music, too.
Performances span genres and ages, with primarily British musicians taking to the stage each evening. The venue also hosts performances during the EFG London Jazz Festival… but more on that later.
Tickets: Check out the upcoming lineup and book tickets here (performances are also live-streamed in case you can't make it in person).
Kansas Smitty's
London Fields
Whereas many jazz clubs in London tend to lean towards a more Parisian theme, Kansas Smitty's (the club is run by the band of the same name, FYI) transports you straight to the bohemian Kansas City in the 30s.
The band (and club) is fronted by American-Italian alto-saxophonist and clarinettist Giacomo Smith, with a talented bunch of British jazz musicians alongside him. And the bar's range of classic cocktails make for the perfect accompaniment to a night of curated smooth jazz.
Tickets: You can check out upcoming events here.
Dalston Jazz Bar
Dalston
Dalston has long been crowned one of the hottest areas for jazz in London, and the Dalston Jazz Bar is a dreamy vintage spot (and a criminally underrated one at that) that transports you back to the 50s heyday when artists like Ella Fitzgerald and Louis Armstrong ruled.
Decorated in old transport signs and retro posters, the restaurant transforms into a vibrant bar on Thursday, Friday, and Saturday nights that is free to enter – a rarity in the London jazz scene. Or perch on one of the outdoor seats and admire the sounds of jazz in a slightly less busy (read: rammed) atmosphere.
Food-wise, it's an interesting concept. There's no menu, only a choice between meat or veggie plates. And the waiters soon return with a much-welcomed ambush of surprise dishes.
Tickets: Entry is free and there's no cover charge to eat or drink here. Keep up to date with the latest events here.
Boisdale of Canary Wharf
Canary Wharf
When the legend that is Jools Holland is a regular performer, you know it's got to be a brilliant jazz club. Boisdale of Canary Wharf is a tartan-clad Gentlemen's Club, featuring the biggest names in showbiz.
Not only does Jools Holland take to the stage often, he's also the patron in charge of curating the music – and anyone who watches his annual hootenanny will know that his taste is impeccable.
Head here for a mix of big names and rising talent blessing your ears whilst you scoff modern British cuisine.
Tickets: You'll need to reserve a spot in advance – be quick as shows sell out fast.
Vortex Jazz Club
Dalston
Dalston boasts another jazz gem: Vortex Jazz Club. It might be slightly more famous than Dalston Jazz Bar, but the 100-seat club still manages to maintain a fairly intimate atmosphere.
The line up at Vortex Jazz Club changes often, but ranges from classical jazz trios to improvised scat and big band swing. In other words, there's something for everyone to enjoy.
The Downstairs Bar at Vortex is far more chilled than the main club – stop by during the day for a casual coffee or tuck in to some of the delicious Thai food on offer.
Tickets: Book tickets in advance here.
Brilliant Corners
Dalston
Brilliant Corners is typically Japanese: cut-back interior design that's as sleek as it is minimal, a strong range of drinks – many that take inspiration from Japanese ingredients, and a killer menu of izakaya to nibble on as you soak in the vibes.
The groovy little bar lays on music of all kinds, generally in the form of DJ sets by DJs that have strong leanings toward the neo-jazz/contemporary jazz scene.
It's not exactly the spot you want to go to for classic, live jazz shows. But if you want something new, fun and on the cutting edge of contemporary, Brilliant Corners will do you well.
Ruby's Bar and Lounge
Dalston
Ruby's Bar and Lounge has been a hotspot on our Dalston nights out since, well, longer than we can actually remember (in part due to the fact we often get a bit wild in there).
They do great live jazz shows every night in their cocktail bar. The vibe can swing from mellow and moody to totally popping depending on the night, then things usually slide on through to their main room where they have DJs at the weekends and select weeknights.
There's not heaps of space for seating so you might end up bopping on your feet for a bit. You can always call ahead (actually you should probably call ahead) if you want to lock in a table for the show.
The Palm Tree
Mile End
This fantastic pub out in east London is a fav watering hole of ours, and that's without the great jazz sessions that they put on over the weekends.
The vibe inside is a nice mix of bohemian salvaged-looking furniture and faded Victorian grandeur and is a lovely place for a quiet pint any night of the week. Turn up on a Friday or Saturday though, and the place is far from quiet.
On those nights the owners invite a group of local jazz musicians over to reel off a bunch of classics from the cannon of the Great American Songbook – it's especially nice as you'll probably recognise a lot of the tunes even if you're more of a pubgoer than a hardened jazz fan.
Practical Tips for Seeing Live Jazz in London
The easiest way to see live jazz in London is by attending the largest festival dedicated to the genre in the UK: EFG London Jazz Festival. The festival takes place in November and sees the likes of the Southbank Centre and Cadogan Hall hosting shows from well-known and undiscovered jazz artists over a couple of weeks.
Ronnie Scott's is the most famous and the best (although Dalston Jazz Bar is a close second) – if you've only got time to visit one jazz club, make it this one.
Map of Jazz Bars in London