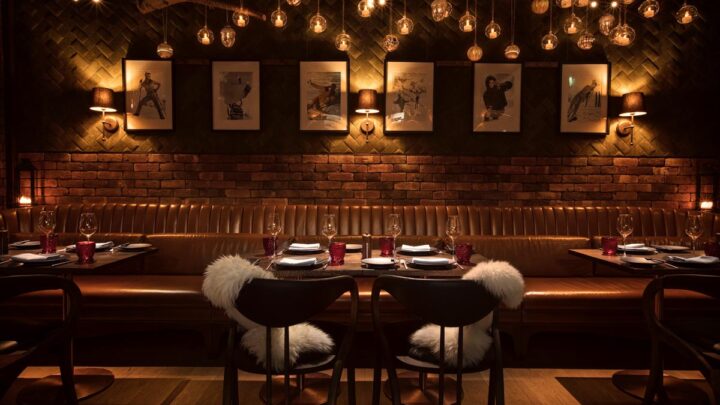 Looking for the best pre-theatre dinners in London? Luckily for you, the capital is filled with brilliant restaurants that serving up impressive menus.
Nothing quite beats getting dressed up for an evening at the theatre – and, if you're anything like us, planning out your meal beforehand is a key part of the occasion.
That said, not all pre-theatre dinners are created equal. That's why we've rounded up our favourites to save you the trouble (and regret) of a bad meal.
Ready? Let's tuck in.
London's Best Pre-Theatre Dinners
Heritage Bar & Restaurant
Ultra-cool Alpine bar and restaurant Heritage is our top pick for a delicious pre-theatre dinner experience in London.
They serve up a gourmet selection of modern European cuisine with roots in the Alps, running the pre-theatre tasting-menu from Monday to Friday, between 5pm and 6:30pm, and starting at a very reasonable £24 for two courses and £27.50 for a three-course set.
Things kick off with a complimentary glass of bubbly (though you've got the option to choose wine or beer if you would prefer), followed by an excellent selection of dishes. Standouts include the steak tartare and lobster dumpling starters, while the crispy skin-fried duck breast and raclette plate are the stellar main choices.
Whatever you do, save room for the authentic black sesame strudel dessert – layers of crisp pastry envelop a perfectly-balanced black sesame filling. Drool.
Stepping into this restaurant feels as though you've entered into a wooden chalet in the Swiss countryside, though the vintage Keith Haring artwork on the walls brings a funky touch to the traditional-looking spot.
Pivot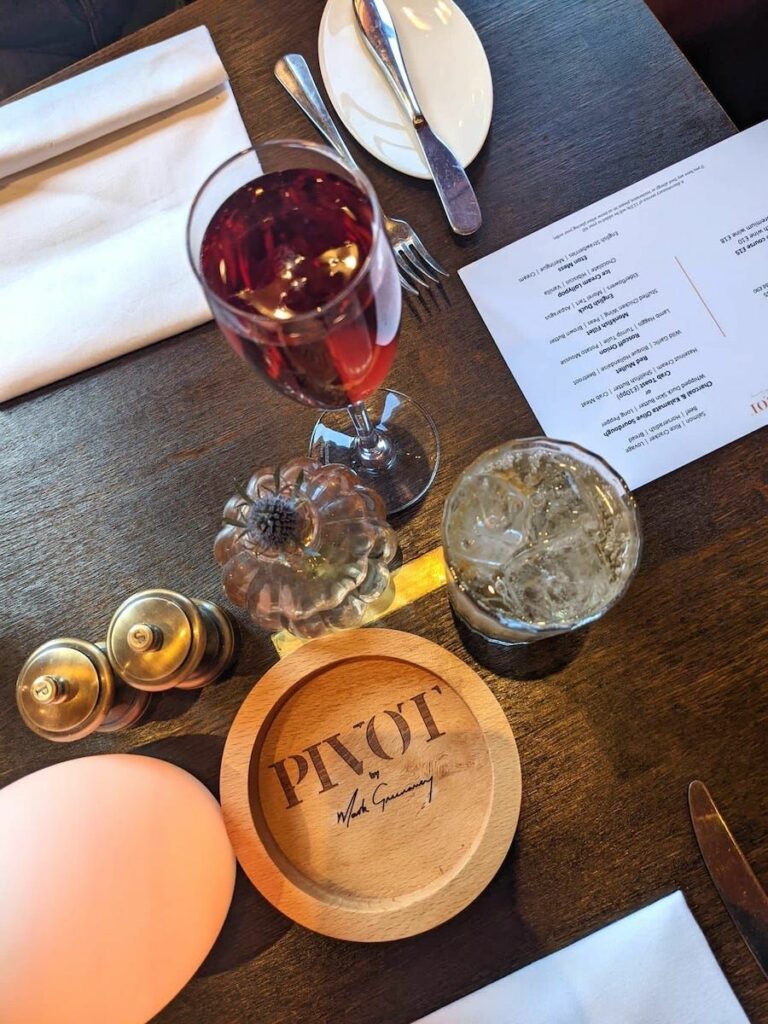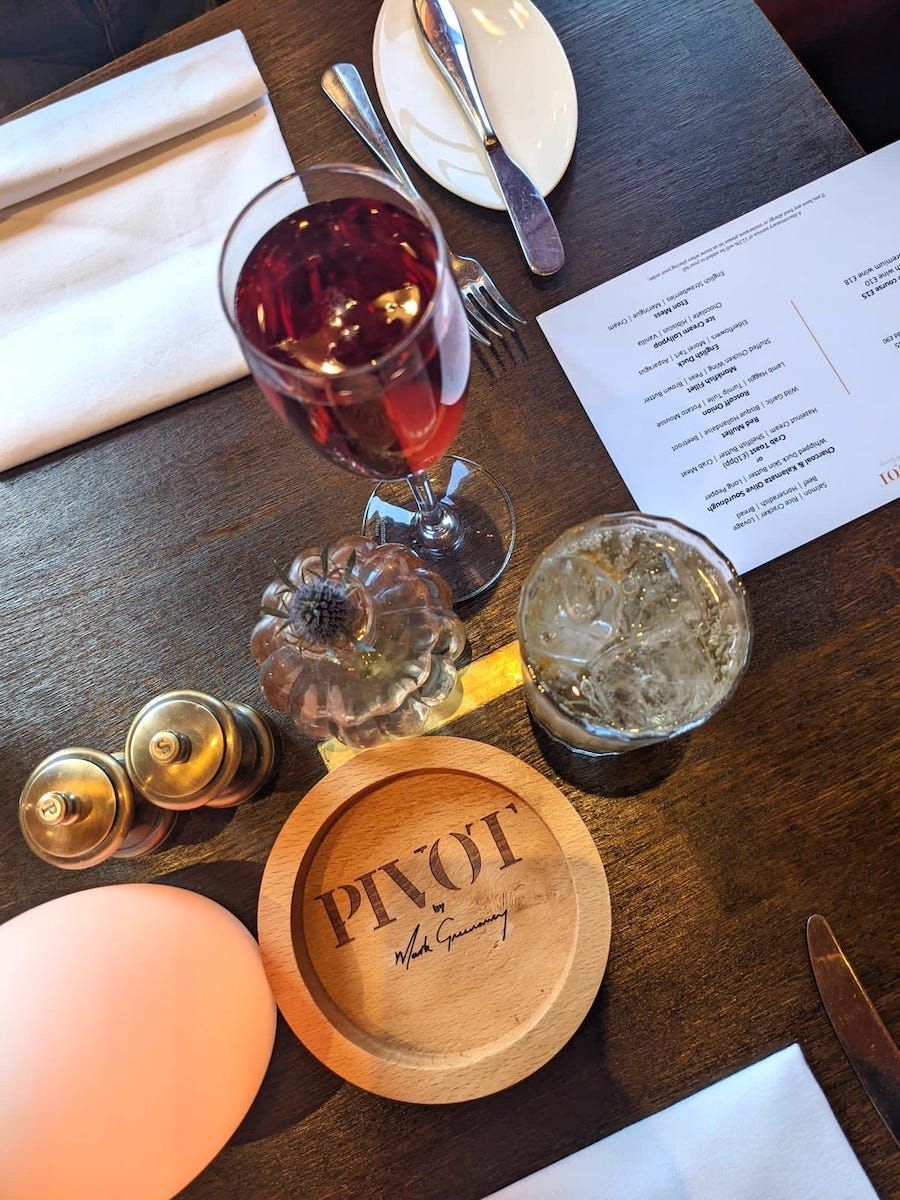 We are low-key obsessed with Pivot, Mark Greenaway's modern European restaurant in Covent Garden.
The pre-theatre menu runs during the week between 5pm and 6:30pm, costing £29 per person for three courses. Or £39 with a carafe of wine – go on, treat yourself.
Dishes range from a zingy pork and apple terrine, as well as a roasted cod fillet with a warm tartare sauce and chicken with a mushroom and tarragon sauce.
For dessert, choose between an indulgent chocolate mousse with cherries and clotted cream or a raspberry pavlova with caramel and lemon cream. Trust us when we say that this is the best pre-theatre dinner Covent Garden has to offer.
Clos Maggiore
Covent Garden
Clos Maggiore is one of the best pre theatre restaurants London has to boast. Not only because the menu is impressive, but they also offer a weekend London pre-theatre menu. Though, Clos Maggiore is on the pricier side of this guide to pre-theatre restaurants.
The set menu runs between 5pm and 6pm, featuring the likes of a steak tartare starter, asparagus and pea risotto, and a wholesome lamb rump with goat's curd and fresh peas.
Drinks-wise, Clos Maggiore boasts more than 2500 types of wine spanning the globe, so there's no excuse not to quaff a pre-theatre glass or two.
Bocca di Lupo
Tucked away behind Shaftesbury Avenue, Bocca di Lupo is among the top spots in London for pre-theatre dinner. With a fresh daily menu and a theatre dinner available between 5pm and 6:30pm and 9:30pm and 11pm, this Italian joint is among our favourite places to dine.
Better yet? It's just £15 for starter, main, and a salad.
The Bocca di Lupo pre theatre menu options include a delicious tagliatelle with chicken gizzard ragu (we can vouch that this is sublime), clams with borlotti beans and basil, and a mouthwatering honey-marinated pork chop topped with lemon and rosemary.
Cora Pearl
Covent Garden
What do you get when you mix super chic decor, handcrafted cocktails, and an elevated British menu? Answer: Cora Pearl.
The pre-theatre menu is only available between 5:30pm and 6:15pm, so you'll need to be quick (or book a table, we advise) but when it costs just £23 for two courses and £27 for three, who cares?
The menu changes often and is based around seasonal ingredients, but expect the likes of a Cora Pearl cheeseburger and chips, a creamy burrata with olive tapenade, and a seasonal sorbet for dessert.
Brasserie Zedel
Soho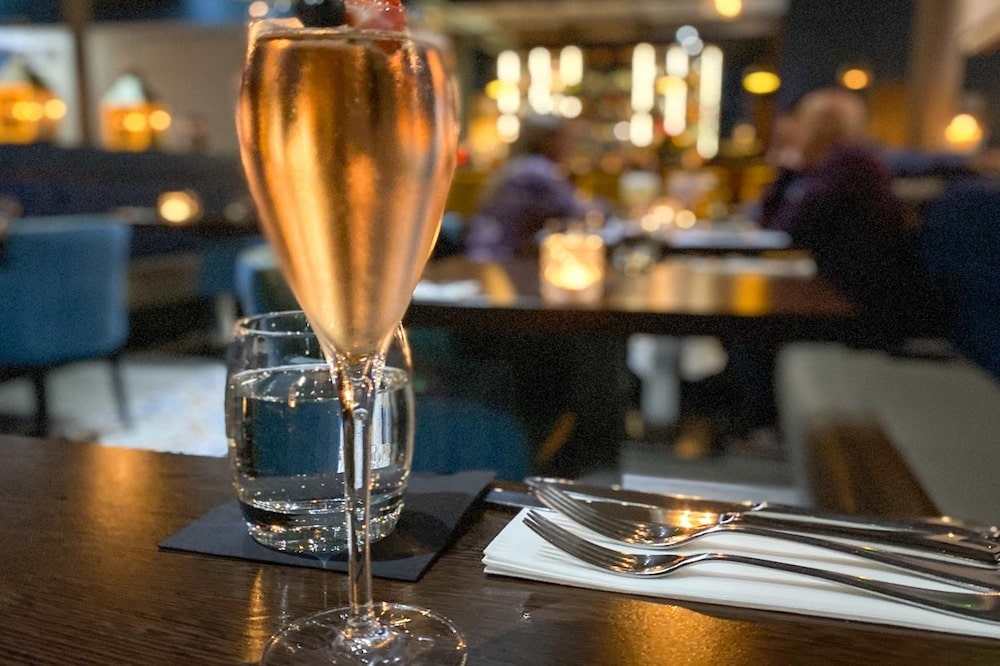 It's no secret that Brasserie Zedel is one of our favourite spots in the capital, the Parisian-American restaurant and bar is the ultimate cool spot before a show.
Not to mention that the drinks menu is sublime – we'll take the Bohemian Gimlet (a heady concoction of tequila, mezcal, lime, agave, red and yellow pepper, and coriander), cheers.
Whilst Brasserie Zedel doesn't have a fixed pre-theatre menu, it does boast a very reasonable two-course offering for just £13.
That said, you don't get much of a choice between dishes. But if you're in the mood for deliciously tender steak rounded off with a chocolate caramel tart (who isn't?), this makes the perfect pre-theatre treat.
Joe Allen
Covent Garden
Joe Allen is a classy New York-inspired joint that makes for the perfect sophisticated pit stop before the theatre (particularly as a live pianist takes to the stage each night).
The menu features a range of pimped-up American classics, spanning from 'Joe's style' slow braised smoked baby back ribs to a Big Apple hot dog and a roasted chicken smothered in barbecue glaze. In other words, it's total comfort food taken up a notch.
While the food takes you on a trip around The States, the eclectic wine and champagne menu takes you on a trip around the globe – we're particularly huge fans of their French reds selection.
Wild Honey
St James's
Not only is Wild Honey one of the most beautiful restaurants in the capital, but it also boasts a Michelin Star, so heading here for pre-theatre dinner is a no brainer.
With ten of London's top theatres just a short walk away, there's no better place to dine surrounded by elegant decor and chic furniture.
The pre-theatre menu is available between 5pm and 6:45pm at £35 for three courses. The menu changes regularly but has previously included the likes of a Shetland Isle mussels, blood orange, and sea purslane starter, a slow cooked ox cheek with winter veggies and red wine sauce, and a tart clementine sorbet for pudding.
Prix Fixe Brasserie
Soho
French dining in Soho isn't exactly revolutionary, but Prix Fixe Brasserie serves up a wallet-friendly pre-theatre menu that seriously impresses. Not to mention that the restaurant is tucked away on Dean Street, offering a laid back yet atmospheric place to dine.
If there was an award for best London pre-theatre menu, it would be going to Prix Fixe.
Costing just £14.90 for 2 courses, dishes change weekly but include the likes of beef stroganoff with garden peas and mashed potatoes, roasted skate wing with crispy capers, and a rogue masala marinated chicken option that is seriously delish.
Add to this an impressive wine list and chilled-out atmosphere and you've got yourself a wonderful pre-theatre meal.
Lahpet
Soho
Burmese Cuisine is fairly hard to come by in the capital, though you'll wonder why when you taste the offerings from Lahpet.
The restaurant is kitted out in bamboo and light, earthy tones, promoting a sense of total zen – much needed before you head into the carnage of theatreland.
The menu is made up of a colourful selection of noodle dishes, grilled skewers, and large plates – of which we highly recommend the pork belly and sour bamboo curry and all its deliciousness. This is the place to be for the most unique pre theatre menu Soho boasts.
You'll be glad to know that their cocktails are also decently-priced – and incredibly delicious – including the likes of a Goji Fizz and Mar-Tea-Ni (ten points if you can guess the star of the show in that one).
Barrafina
Soho + Covent Garden
Pre-theatre tapas is never a bad idea and, luckily, Barrafina has got you covered.
Transporting you far, far away from London and onto a sun-drenched terrace in Madrid, the food served at Barrafina is authentic, delicious, and hearty.
What do we order when we visit? Easy. The octopus with capers, Fideuà, and Pluma Iberica with confit potatoes are non-negotiable. Though, we've eaten our way through a fair chunk of the menu and are happy to report that it's all stellar.
Wash down with a litre of Sangria and you'll be ready for the evening, we promise.
A Wong
Victoria
Fancy something a little bit different to your regular French cuisine, pre-theatre? A Wong's offering of sumptuous Chinese cuisine is perfect if you're heading to the Apollo or Victoria Palace theatres. Boasting two Michelin Stars, the set menus on offer here are very pricey, but excellent value for money.
The Touch of The Heart Set Menu is our recommendation – meaty dumplings, Peking duck, scallop puffs, and a Xian lamb burger are all on the menu, alongside plenty of other treats.
This makes for a magical experience if you're celebrating a special occasion – or just want to treat yourself. Go on, you deserve it,
Le Garrick
Covent Garden
Not just content with serving up one of the capital's best pre-theatre dinners, but Le Garrick also extend their offerings to post-theatre. Available from midday until 6:30pm and then after 10pm, two courses will set you back £14.95 or three courses is a very decent £18.90.
As you may have noticed from this guide, it seems like French restaurants in London offer up pre-theatre deals in abundance. But Le Garrick is our favourite. We think.
Why? Well, not only do they rustle up the best French onion soup outside of Paris (facts), but the rest of the menu includes the likes of moules frites and steak frites. And we simply cannot say no to any of these dishes.
Add to this a hefty French wine list and we are practically swooning – it's the best pre theatre dinner London has to offer.
Practical Tips for Booking a Pre-Theatre Menu in London
It's worth checking what time pre-theatre dinners are running and booking in advance. It gets especially busy during these slots (usually between 5pm and 6pm) and you'll likely need a reservation to snag a table.
Make sure you book pre-theatre at a restaurant near the theatre you are visiting. Nobody wants to shlepp across the city, turning up to the theatre a sweaty mess with moments to spare.
Best Pre-Theatre Dinners in London: Map
Discover More London Restaurant Guides
Brilliant Restaurants in Soho
Love this? Save and share on Pinterest.