Looking for the best West End shows in London right now? Don't miss this handy guide to all the unmissable shows in 2022.
Fancy a night out at the theatre? London's West End is rather legendary, and catching a show is a magical way to spend an evening in London. There's always plenty of shows to go and see, but how do you pick the best one for you?
From famous book adaptations, award-winning musicals and re-telling of stories you've always loved, we're certain this guide has just what you're looking for.
These are the best West End shows in London right now.
The Best West End Shows in London in 2022
The Woman in Black
Fortune Theatre
Are you brave enough to watch the most terrifying West End show? The Woman in Black is based on Susan Hill's 1983 book of the same name.
This spooktacular show is captivating with a minimal stage featuring just a few props and eerie sound effects – this one isn't for the faint hearted.
The chilling atmosphere is enough to make the hairs on the back of your neck stand up and we're certain you won't be taking any bathroom breaks during the show… The Woman in Black might be lurking.
Les Miserables
Sondheim Theatre
West End's longest running musical, Les Miserables, is one of the most unmissable West End shows in London.
Even if you've seen the show, the rotating cast and breathtaking staging means that you should see it multiple times. It's that good.
The immersive show is performed to the backdrop of paintings by Victor Hugo, Les Miserables author. The highly emotive performances from each and every single actor is phenomenal, they truly bring the story to life.
Hamilton
Victoria Palace Theatre
Lin Manuel Miranda's Hamilton is the winner of 11 Tony Awards, the 2016 Pulitzer Prize for Drama and the 2016 Grammy Award for Best Musical theatre Album.
The award winning musical blends jazz, hip hop, blues, rap, R&B and Broadway whilst telling the story of Alexander Hamilton, one of America's founding fathers and George Washington's right hand man.
Catch the show at West End's Victoria Palace Theatre– it's one of the best West End shows in London right now. Trust us – you want to be in the room where it happens.
Get Up Stand Up
Lyric Theatre
If you're a Bob Marley fan, and let's face it, we all are, then you need to watch Get Up Stand Up.
Playing at the Lyric Theatre on the iconic Shaftesbury Avenue, Get Up Stand Up is a lively musical that celebrates Bob Marley's extraordinary life as he battled to take his message of love, unity and peace around the world.
Of course the musical is adorned by Bob Marley's electrifying songs including Jamming, Exodus, Waiting in Vain and Three Little Birds.
Matilda The Musical
Cambridge Theatre
If you're a Roald Dahl fan, make sure you catch Matilda The Musical showing at the Cambridge Theatre. The much-loved children's book has been adapted for the West End and it is a show that all the family will enjoy.
The live-stage adaptation will have you hanging on the edge of your seat as Matilda Wormwood follows her dreams of escaping her neglectful parents through her love of literature– but will she get her happy ever after?
Upstart Crow
London Apollo Theatre
Starring David Mitchell of Peep Show fame as William Shakespeare, Upstart Crow first debuted in 2020 and is now returning to the West End.
This fantastic West End show is being shown at London Apollo Theatre for 10 weeks only, starting now until just before Christmas 2022.
You'll also probably recognise another famous actor from our silver screens, Gemma Whelen stars as Kate (yes, she's from Game of Thrones – no biggie).
Wicked
Apollo Victoria Theatre
Wicked is the prequel to the Wizard of Oz and it tells the story of Elphaba (the future Wicked Witch of The West) and her friendship with Glinda (the Good Witch of the South).
Showing at the Apollo Victoria Theatre, the popular show has been nominated for six Tony Awards and has been described as being one of the best musicals of our time. It's a truly magical show brimming with imagination and emotion that will keep you on the edge of your seat the whole way through.
Harry Potter and the Cursed Child
Palace Theatre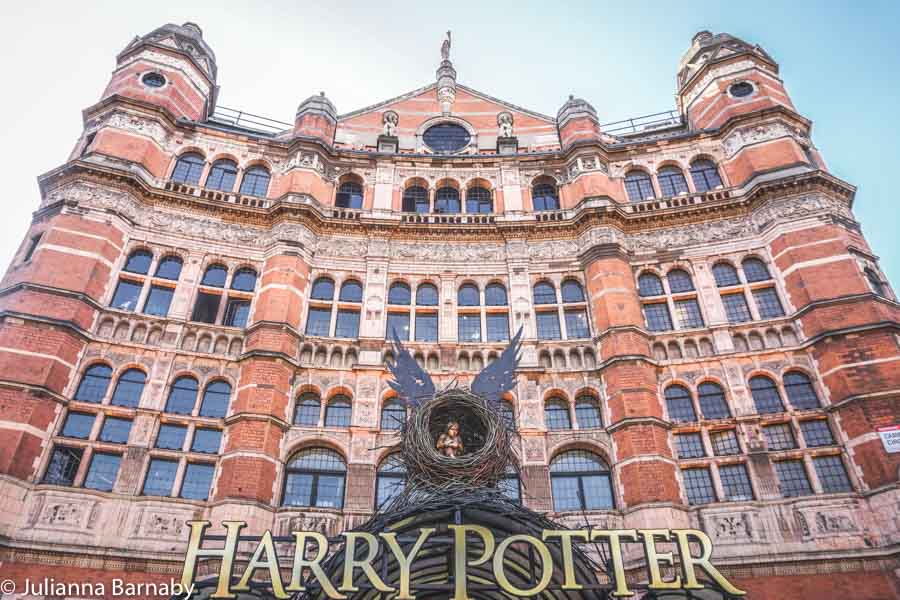 Calling all Witches and Wizards! You need to watch Harry Potter and the Cursed Child– muggles need not attend.
We're sure that this iconic franchise needs no introduction, but this two part play follows Harry, Ron and Herminone 19 years after they saved the wizarding world. They've joined a new generation of wizards and witches to expelliarmus mysterious evil forces once and for all.
The Lion King
Lyceum Theatre
A long-time favourite on the London theatre scene, The Lion King is one of the most outstanding shows in London. Not sure which one to watch? This is our top pick.
It's one of the most riveting London West End shows and is based on the 1994 Walt Disney movie – and the West End musical show features music from Elton John. The Lion King is entertaining from start to finish with outlandish animal costumes and giant hollow puppets.
The show has been singing Hakuna Matata in the Lyceum Theatre since 1999 and with 7,500 shows, it's safe to say that this is a must see West End show.
Dear Evan Hansen
Noel Coward Theatre
A must watch! Showing in the Noel Coward theatre, Dear Evan Hansen is a coming-of-age musical about a teenager, Evan, who's suffering with social anxiety and his therapist encourages him to write letters in order to help his mental health.
The smash hit Broadway musical is a turbulent masterpiece that sees Evan in a sticky situation when his letter finds its way to classmate Connor, who later takes his own life.
The show explores the way we live life and exposes it for all its dark secrets, it's also one of many unmissable West End London shows.
& Juliet
Shaftesbury Theatre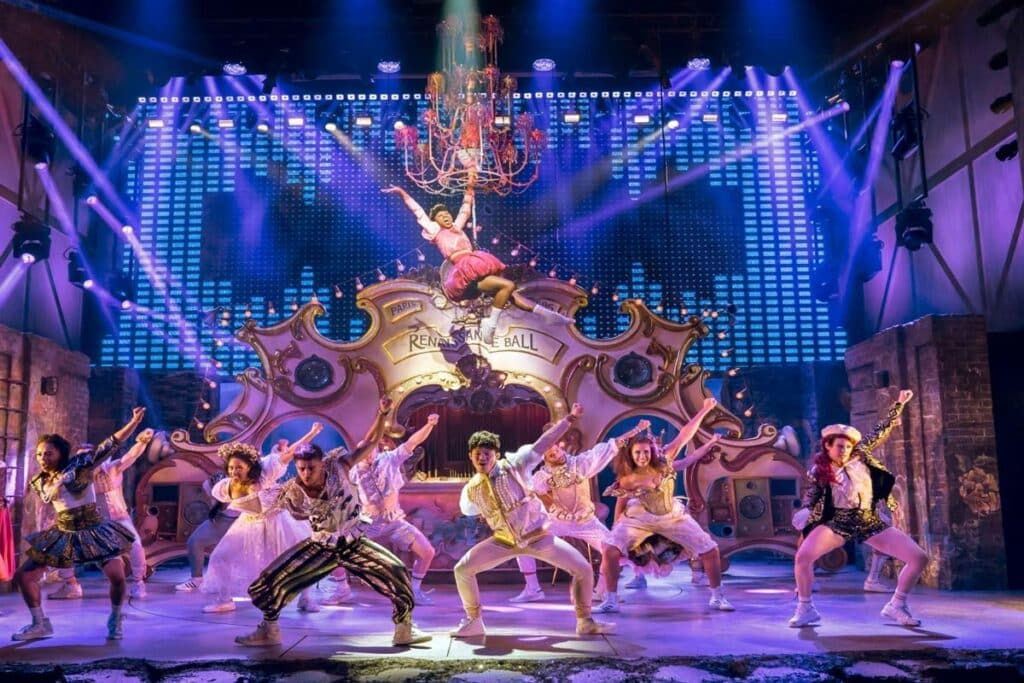 The greatest love story of all time has been given a new and modern twist, & Juliet redefines what Juliet's life could have been like if the well-known Shakespeare play Romeo and Juliet didn't end in tragedy.
From the writer of Schitt's Creek, this comedic musical is packed with laughter, and takes a contemporary view of retelling the famous story from Juliet's perspective. We follow Juliet's heartbreak as she is ready to leave Verona, bags packed, as she dances the night away and rediscovers herself.
The Book of Mormon
Prince of Wales Theatre
Watch The Book of Mormon at the Prince of Wales Theatre for a truly remarkable West End production.
From the creators of South Park (warning: the comedy is very on-the-nose), comes this hilarious musical about two Latter-Day Missionaries who have been posted to a remote Ugandan village.
Whilst there, the Missionaries are supposed to preach about faith to the church and convert the villagers to Mormonism. This doesn't exactly go to plan as the imminent threat from HIV, FGM and opression from their warlord precedes.
Back to The Future: The Musical
Adelphi Theatre
If you've ever seen the film (and if not, why not?), you'll already know that Back to The Future has a truly imaginative storyline that is gripping from the get go.
To crank it up a notch, Back to The Future: The Musical takes us on an electrifying journey back in time when Marty McFly finds himself transported back to 1955.
He accidentally changes the course of history, but can he fix the present, escape the past and send himself back to the present day in time?
Bat Out Of Hell – The Musical
Peacock Theatre
Jim Steinman's award winning musical, Bat Out Of Hell-The Musical is centred around a tricky love affair when Strat, the immortal leader of The Lost, falls madly and deeply in love with Raven, the daughter of the oppressive ruler, Falco.
This electrifying musical has entertained audiences across the globe, and that comes as no surprise with an impressive Meat Loaf soundtrack including I'd Do Anything For Love (But I Won't Do That), Paradise By The Dashboard Light and Two Out Of Three Ain't Bad. You can watch this powerful musical at Peacock Theatre in Holborn.
Good
Harold Pinter Theatre
Starring one of the best Doctors from Doctor Who there ever was (don't argue that with us), David Tennant, Good is a must see West End show in London.
The play has two acts and is written by British playwright Cecil Phillip Taylor – it was first published in 1982 and originally commissioned by the Shakespeare company.
Alongside David Tennant, Elliot Levy and Shannon Small star in this C.P Taylor adaptation. As the world faces World War II, Professor John Halder finds himself pulled into a movement with unthinkable consequences.
Phantom Of The Opera
Her Majesty's Theatre
The West End's most haunting love story, Phantom of the Opera returns to Her Majesty's Theatre. Andrew Lloyd Webber's sensational long-running musical stars double Olivier Award nominee Killian Donnely at The Phantom, Lucy St Louis as Christine Daae and Thys Whitfield as Raoul.
The Phantom awaits in this masterpiece with outlandish costumes and some of the West End's best theatrical performances.
Mary Poppins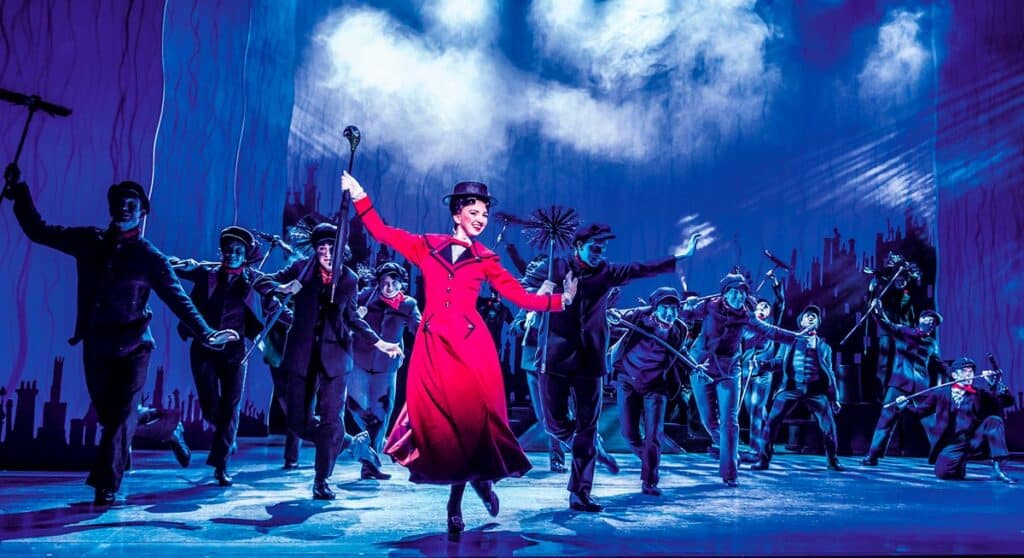 We all know just how magical Mary Poppins is, so a chance to see it performed live on stage is a real treat.
At the Prince Edward Theatre, everyone's favourite nanny takes centre stage and it's fun for all the family.
The lively show features all the classic songs from the film so be sure to have a good sing-a-long as Mary Poppins, Mr Banks and the children go on a fun filled adventure around London.
Mamma Mia
Novello Theatre
Join in on the Mamma Mia fun at the Novello Theatre and watch the live adaptation of the
world's sunniest smash-hit musical.
Mamma Mia follows a mother, a daughter and three potential dads as they take an unforgettable trip down the aisle. Since premiering in London over 23 years ago, this well-loved feel good musical has transported us to the sunny Greek island with a soundtrack of ABBA's timeless songs.
Tina – The Tina Turner Musical
Aldwych Theatre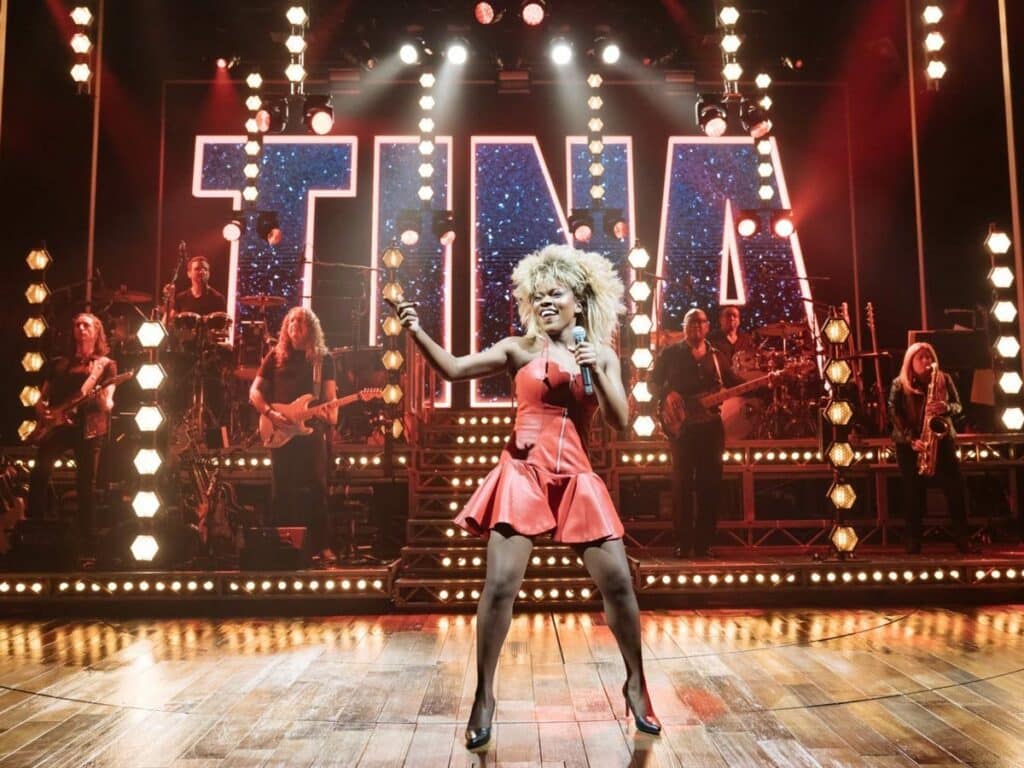 At the Aldwych Theatre, discover Tina Turner's life story in the Grammy Award-Winning musical: Tina – The Tina Turner Musical.
The jukebox musical, featuring the music of Tina Turner showcases her life from her humble beginnings to rock n' roll star.
Her inspiring journey to becoming one of the most successful recording artists of all time is a riveting watch. The musical is not just about Tina Turner's fame but the trials and tribulations she faced in order to succeed.
Pretty Woman
Savoy Theatre
Celebrate the 30 year anniversary of one of the most romantic films of all time, Pretty Woman.
This West End hit is showing at the Savoy Theatre, and follows the successful businessman Edward and sex worker Vivian as they fall head over heels for eachother.
The musical features original music and lyrics by Bryan Adams and Jim Vallence, whilst not straying too far from the movie classic.
Practical Tips for Booking West End Theatre Tickets in London
It's usually best to book your ticket online before you go, you're more likely to get the best deals. Though, you can chance it and head to the box office on the day, where you might get a huge discount.
Be careful not to book tickets on any websites that are not credible. London Theatre Direct and Ticketmaster are two of the best sites to book theatre tickets.
If you don't want to purchase your tickets online, then head to the London TKTS booth in Leicester Square for last minute tickets that are sometimes shelf price or discounted up to a week in advance.
West End Shows in London: Map
West End Shows in London: Read Next