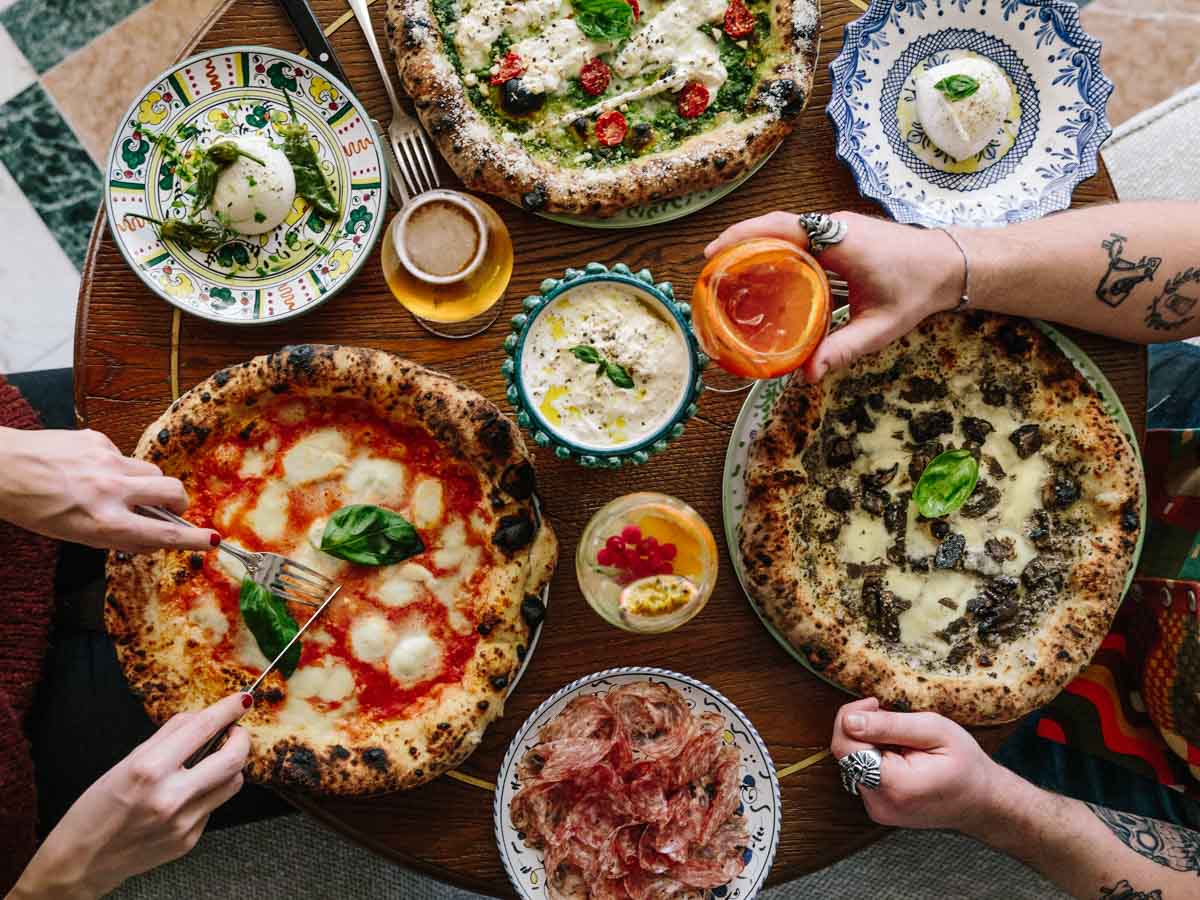 Looking for the best brunches in London? Look no further – we've eaten our way around the capital.
Nothing beats a good old London brunch.
Whether you're gossiping about what happened on Friday night, or gearing up to go out later on Saturday, there's nothing better than a casual (or not so casual) brunch date with your besties… and the bottomless brunches in London are some of the best in the world.
Looking for an amazing London brunch spot? We've got you covered.
This guide includes pretty much every corner of the city, and a surprising number of cuisines. So, whatever your tastes, you'll find somewhere perfect.
Price Guide
£ 20-30
££ 30-40
£££ 40-50
££££ 50-60
Best Bottomless Brunches in Central London
Bon Vivant
Bloomsbury
££
Saturdays, 10:30-16:00 £24.95 for bottomless bubbles, bellinis and mimosas, plus a minimum £10 spend per customer. Most brunch mains are £7.95-£9.95
Bon Vivant is the perfect place to spend way too much of your weekend over your boozy brunch in the heart of London. The food is contemporary European, with a classic French heart.
Start with a basket of pastries, and move on to eggs Benedict or pancakes, and even the rarest of things, a brunch dessert! The restaurant's decor is all chic Parisian luxury with a Millennial flourish, the terrace, plain gorgeous, and the bubbles? Well, endless of course!
Megan's
Fulham, Kensington, Clapham, Chelsea
££
Saturdays, Sundays and bank holidays 09:00 to 18:30
Bottomless bubbles are £20, with a full day menu covering breakfast and lunch mains at around £10-15 each.
This classic Brunch spot regularly tops lists of best brunches in London. So, it's not surprising Megan's has now expanded to have several locations both within and outside the capital.
Brunch plates range from classics like sourdough toast and poached eggs to scrambled tofu, or our personal favourite, the amazing Turkish brunch feast for two.
Ninety minutes of bottomless bubbles will set you back only twenty quid per person at Saturday or Sunday brunch, and Megan's is dog friendly. So the whole fam can sit back, relax and enjoy a long morning of brunch and booze.
Chotto Matte
Soho
££££
Sharing brunch of small plates, large plates and sides, £40 pp. Brunch with unlimited sparking wine and beer, £65, and unlimited champagne and cocktails, £85.
Saturday, 11:00-16:00
Okay, hear us out… Peruvian-Japanese fusion cuisine, and as much sparkling wine and Asahi beer as you can drink during your two hour slot.
Admittedly, Chotto Matte isn't your average brunch spot, but that's what makes their £65 per head bottomless brunch so much fun.
Did someone say smoked lamb chops with Peruvian chili miso? Sea Bass fillet tempura? Yes please. It might be unusual, but it's a strong contender for best brunch in London.
With a very central Soho location, everyone should be able to make it to Chotto Matte for Saturday brunch service (which begins at 12pm), no matter how good Friday night was.
Salvador and Amanda
Covent Garden
££
Every Saturday. 90min of bottomless drinks & 3-course lunch with live entertainment £42.50.
Getting mind-bendingly drunk on a Saturday morning is rarely done better than in a restaurant themed like a Salvador Dali painting. Nor is it rarely done better than with a feast of Spanish tapas to soften the blow of that vision-blurring fifth peach bellini.
Salvador and Amanda have got brunch down to a fine art. Bring in the punters, throw a live band into the mix. Serve some delicious catalan finger food, and offer a range of freeflow alcoholic beverages too extensive to be reproduced here. It's a winner.
Heritage Restaurant & Cocktail Bar
Soho
£££
Bottomless brunch starts from £49 per person, includes 2 hours of bottomless drinks, fondue, and desserts.
Weekends, 11:00-17:00.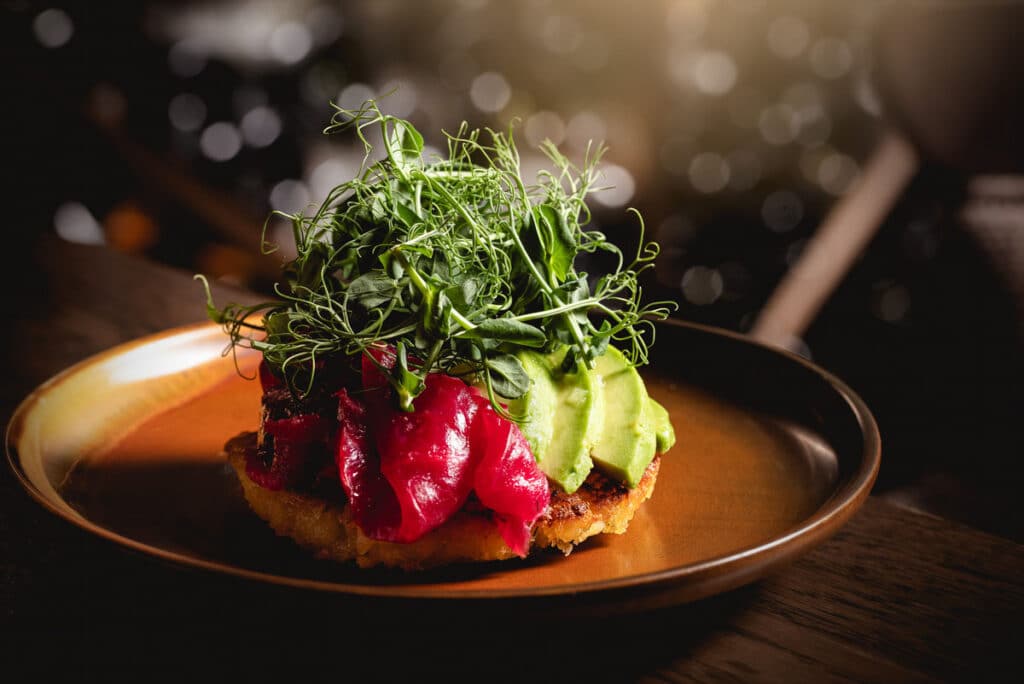 The only thing that could possibly top bottomless brunch is a bottomless brunch that involves cheese fondue.
You heard me right. Heritage Restaurant & Cocktail Bar is an Alps-inspired Soho spot that serves up dunkable delights alongside gooey cheese as part of their brunch offering on weekends, between 11am and 5pm.
For just £49 per person, get your weekend off to a cracking start at Heritage with two hours of bottomless Mimosa, Prosecco, and Aperol Spritz alongside tasty rostï and as much fondue and desserts as you can put away.
And if that doesn't sound incredible enough, you can indulge even further in Luxury Brunch at £79. This swaps Prosecco and regular fondue for bottomless Moët Chandon Imperial Brut Champagne and Truffle Cheese Fondue on top of the classic brunch food options.
Darcie & May Green
Paddington
££
£39.50 for one sweet and one savoury dish, plus bottomless fizz for two hours.
Daily, 8:00 to 16:00.
Darcie & May Green serve pretty classic brunch dishes in a decidedly unusual location. Their delicious brunch is described as Ozzie style, which I can only assume means loads of booze, and the restaurant itself is on a canal boat.
Darcie & May is moored just outside Paddington station, so easy to find, but as it's a small space (and you know, might sink if you tried to shove too many brunch-hungry people on) it's best to turn up as early as possible at this walk-ins only London Brunch barge.
Bocconcino
£££
Saturday and Sunday. Bottomless pizza and prosecco £55.
We, at London x London, love pizza. It's something of a religion for us. So when we heard that Bocconcino's weekend brunch consisted of unlimited pizza and prosecco we were, to say the least, very keen.
It's not just any old restaurant either. This is a classy Mayfair joint that oozes sophistication. Outside of brunch hours (yes those hours do exist) they'll be shaving truffles on to your pasta dish, but when the weekend comes around they bring in a DJ and the prosecco starts to flow, things get wild.
In fact, brunch runs until 7.30pm Saturdays, making it less of a boozy brunch in London, and more of a boozy brunner in London. That's a breakfast, lunch and dinner combo, coined by us. It will definitely catch on.
Salsa
Soho
££
Every Saturday. £44.95 for a brunch dish and bottomless.
Classy brunches aren't for everyone. There's a time and a place for everything. Sometimes you just need to let your hair down.
Sometimes you need to do that with the addition of enough alcohol to knock out a horse. And sometimes you need a full squad of drag queens to entertain you while you knock those drinks back.
You'll find all of the above at Salsa every Saturday, and for everything it lacks in class it makes up for with the bougie. Things get more than a bit crazy. You have been warned.
Best Bottomless Brunches in East London
Hotbox
Spitalfields
£££
Unlimited prosecco, mimosas and selected cocktails, £25, mains £9-£19.
Last food orders are 14:15 on Saturdays, and 14:45 Sundays.
You would be forgiven for assuming that the bottomless brunch offered by smoked meat experts Hotbox in Spitalfields would be a no-go zone for vegetarians and vegans.
Surprisingly, though, that's far from the case, with hearty options like mushroom rarebit and a vegan jackfruit burger, and even vegan sweet treats like oatmeal pancakes, rounding out a menu of brisket, pork belly and beef ribs.
Adding bottomless bloodies, bellinis and spritzes to your brunch at this East London BBQ joint will only set you back twenty-five quid, so… why not?
Barge East
Hackney Wick
£££
£20 for bottomless bubbly and bloodies, two courses for £25 or 3 for £30
Saturdays, 12:00 to 16:15.
The second brunch barge on my list, Barge East serves seasonal, British fare with a modern twist alongside bottomless bubbly. You can sit out in the lovely garden looking over the river, or in the heart of the vintage barge itself.
The boat is 114 years old, and was sailed from Holland to London just a few years ago, so there's plenty of interesting history to mull over as you enjoy one of the most sought after boozy brunches in London.
Roka
Canary Wharf
££££
Buffet of sharing plates £43 pp dry, £59 with unlimited wine and a bellini on arrival.
Roka is a classy affair, and regularly tops lists of the best bottomless brunches in London. You're handed a bellini on arrival, choose from a buffet of starters, and then pick brunch mains fresh from a robata grill.
Your wine is topped up throughout brunch, but don't go mad, the clean lines and Japanese-inspired design of this restaurant inspire a sedate approach to a boozy brunch in London's Canary Wharf.
Big Easy
£
Unlimited prosecco and one brunch main for £29.50. Two-hour time limit.
Saturday and Sunday, 11:30-16:00.
The Big Easy BBQ and Crab Shack in Canary Wharf is their largest location yet. It also has a phenomenal 150-seater patio for al-fresco (covid-safe) dining, a 10-metre bar, and incredible boozy weekend brunch deals.
It's not just prosecco, wine and frozen mojitos that are bottomless at Big Easy during brunch, either. You can chow down on bottomless BBQ if you fancy the 'turf' side of the menu, or treat yourself to a half lobster in garlic butter if that's more your speed. Whatever you choose, portions are Southern-style generous, so you'll probably need your entire two-hour slot to finish your plate.
Best Bottomless Brunches in South London
Mr Bao
Peckham
£
Bottomless cocktails, £18 pp for one hour. Brunch mains £5.50-£10
Saturday and Sunday, 11:00-14:15
If you're looking for the best bottomless brunch in London's South, you might just find it at Mr Bao.
Sure, it's a little unusual to chow down on bao buns at brunch, but Mr Bao's brunch buns are filled with things like smoked salmon and poached eggs. That's rather classic brunch fare, and it's delicious to boot.
If you're feeling particularly peckish you could go for the Full Taiwanese: Taiwanese sausages, spiced eggs, spring onion pancake, smoke bacon, asian beans and a soy dressing, but whatever you eat it'll be accompanied by free-flowing bottomless cocktails for a full hour.
Linnaean
Vauxhall
££
£35 pp, including three courses and unlimited fizzy wine.
Tuesday-Saturday, 11:00-16:00.
A vegan bottomless brunch won't be everyone's idea of the perfect Sunday brunch in London, but it's such a rare find I just had to include it in this list.
Linnaean cafe provides brunch guests with a set menu of superfoods and nourishing, veganised breakfast classics like a middle eastern salad with pomegranate and tahini dressing, or tofu scramble on sourdough toast. Plus unlimited bubbles, of course. Overall it's all very healthy… if you don't focus too hard on the fizzy wine, that is.
Brixton Courtyard
£
£27 for bottomless fizz for 90 minutes and a brunch main.
Selected Saturdays.
Brixton Courtyard's brunch on the beach is a London brunch event rather than just a bottomless brunch.
The music-focused brunches are held most weekends through summer, and are returning post-lockdown at the end of May 2021. The prosecco runs free for an hour and a half, the tunes keep going much longer, and everyone gets a brunch main too.
There's usually a vegan option, with twists on classics like chicken and waffles from Only Jerkin's Caribbean-inspired brunch menu.
Canova Hall
Brixton
££
Standard bottomless brunch, £26, Boujee bottomless brunch, £30. Brunch mains, £10-15.
Saturdays and Sundays, from 9:00.
Canova Hall is one of those brunch places in London I find myself returning to time and again.
Wood-fired pizzas are available all through brunch (which runs from 9am at weekends), but there are plenty of more breakfast dishes too, from chicken and waffles to avo toast. Personally, though, I don't think canova hall's pasta dishes can be beaten!
On top of that, you can pick between a plain old bottomless brunch and, for a mere 4 quid extra, a boujee bottomless brunch including a make-your-own fizzy cocktails tray.
Best Bottomless Brunches in North London
Arenella at The Chapel Bar
Islington
££
£40 pp with prosecco and spritzes, £69 to upgrade to champagne. All come with a starter and main course per person.
Saturday and Sunday, 12:00-21:00.
Arenella is the Chapel Bar's Italian eatery, and they offer weekend bottomless lunch. No word on why they've bucked the 'brunch' label, but food definitely falls on the lunchy end of the spectrum with mains like lemon and ricotta ravioli, asparagus and garden pea risotto, and chicken Milanese.
With the covered, heated terrace open all year, you can enjoy an al fresco brunch at The Chapel all year round.
Fish Cafe
Hampstead
£££
Bottomless prosecco and oysters, £50. Side dishes available.
Saturdays, 12pm-3.30pm. Ticketed events.
Brunch at a seafood restaurant? Well, sort of. In this case, brunch is actually unlimited oysters and prosecco, with the option of adding sides like chips, mac and cheese and even lobster rolls if you want something that will actually soak up that fizz.
Fish Cafe is located in the heart of Hampstead, so you can follow brunch with a tipsy stroll around the village or the Heath.
Ma Petite Jamaica
££
Saturdays and Sundays from 12pm, £34.50 for three courses and bottomless rum punch or prosecco.
Ma Petite has become a big name on the boozy brunch scene for scoring high on the good vibes chart and serving a menu of very decent food.
The brunch is a full three courses of zingy Jamaican classics washed down with a choice of rum punch or prosecco. You don't need to stick to the jerk chicken if that's not your flavour. They also do a pretty banging full english for those that can't hack the spice.
Tai Pan Alley
Camden
££
Saturday and Sunday. 3-course brunch & 90 minutes of bottomless Cosmopolitan, prosecco or Langkawi Island Iced Tea for £27.50.
For a steal of a deal look no further than Tai Pan Alley in Camden. They serve up a brunch menu of delicious street-food-inspired Asian food for both days of the weekend.
It's a three-course run through of some classics you'll recognise, and a few dishes that you might not. Perhaps brunch is the time to experiment?
What we expect you don't need any introduction to, though, is a bottomless booze deal. Tai Pan Alley's comes with cosmos, prosecco, and their own, lethal, Langkawi Island Iced Tea.
Best Bottomless Brunches in West London
144 on the Hill
££
Just steps from Richmond Park, 144 on the Hill serves classic brunch dishes and unlimited fizz on its beautiful terrace daily 8:00-midday. Dishes vary from hearty and comforting pancake stacks and eggs benedict, to light and healthy granola or yogurt bowls.
You can also grab a picnic from 144 on the Hill to take to the park or riverside with you, but be careful of the local deer, they might want in on your bagels!
The Cellar at Kindred
Hammersmith
£
Bottomless fizz, £20pp. Mains £6-£10.
Saturdays 12:00-16:00.
The Cellar is the on-site restaurant for Hammersmith's modern-day social club, Kindred. But don't worry, you don't have to be a member to enjoy the London fusion menu that has made its name.
Brunch offerings include vegan rancheros, buttermilk pancakes, and shakshuka, and, whether you choose to enjoy your food and free-flowing fizz inside the grade II listed building or out in the garden you're guaranteed a fantastic view.
The Wild Card
UK Garage Brunch
Secret Location
££
Party entry with 1 hour of food and drink: £40.95
For the wildest brunch in the city, look no further than the UKG Brunch. They turn the city's best-loved meal into a filthy day rave with freeflow food and drinks. Don't expect white table clothes and good behaviour.
You'll likely have your fingers around a chicken wing and a can of beer while some of the UK garage scene's best DJs drop old school bangers on the sound system. Just like back in the day, the location is kept secret until the last minute.
Best Brunch in London: Map