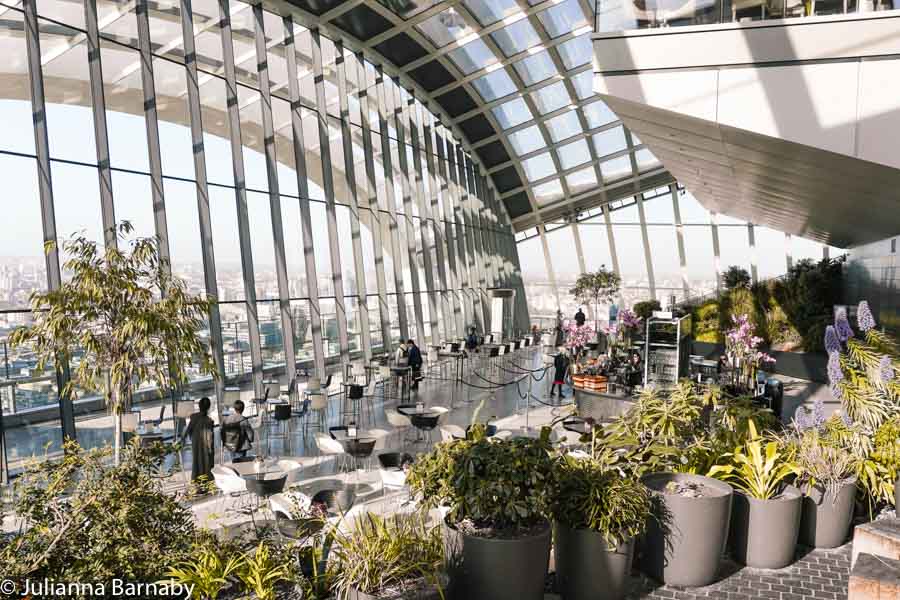 Looking for the best restaurants in London with a view? You're in good company.
We're lucky to have a whole host of restaurants with fantastic views in London, from high-end modern cooking in landmark buildings like the Shard and the Walkie Talkie to countless riverside pubs serving stick-to-your-ribs grub and pints.
And the views themselves? They're incredibly varied. In some you might be fooled into thinking you're in a quiet English village, while others are a celebration of that city skyline we love so much.
Here are a few of the best restaurants with amazing views in London, with spots to discover in all four corners of the city.
£ mains mostly £10 and under
££ mains mostly £10-£20
£££ mains mostly £20-30
££££ mains mostly £30+
Best Restaurants with a View in London
Central London
Fenchurch Restaurant
Fenchurch Street
££££
Perched at the top of the Walkie Talkie is Sky Garden, a lush covered garden that catches the sun (what there is of it in London) all day long. And inside Sky Garden is the Fenchurch Restaurant.
The restaurant serves modern British cuisine along with an award-winning wine list. Mains include pan braised halibut, baby artichokes, confit garlic, and monks beard, or aged beef fillet, braised cheek, truffle, bone marrow, carrot purée with a thyme jus.
Fenchurch Restaurant is all about great ingredients showcased on a brilliant menu – though we'll admit, the gorgeous location doesn't hurt either.
Want one of the best restaurant experiences with a view in London? Book the Fenchurch for sunset.
Aqua Shard
London Bridge
££££
Aqua Shard serves Modern British cuisine in an iconic modern British building. On level 31 of the Shard, in fact, where panoramic windows and impossibly high ceilings offer views of the city, the river, and the East End.
Menus at Aqua include a fancy weekend brunch, and lunch and dinner the rest of the time. The kitchen likes to showcase British ingredients, from Cornish mackerel, to Hereford 28 day dry-aged beef, to a Neal's Yard cheese board.
Can you think of a better way to end an evening after watching the sun set over London?
Galvin at Windows
Park Lane
££££
Galvin at Windows is a classic upmarket London restaurant with a view. It's located high up in the Hyde Park Hilton, and offers 360 degree views of the city and the park.
Muted decor allows the panorama to really sing, and a modern French, unfussy menu does the same for the food.
The service at Galvin is always impeccable, and the food, whether it's a beef wellington, a whole dover sole, or gnocchi with peas, morels, summer truffle and ricotta, doesn't disappoint.
Marsha
Gabriel's Wharf, Southbank
££
Marsha serves chicken cooked with passion, amongst a few other options. Sitting at the edge of the Thames in Gabriel's Wharf, this is a restaurant with a view of London that is almost unparalleled.
You can look over the Thames from Marsha's terrace, and do some classic South Bank people watching to boot.
The food is comforting and classic, with a twist. There are great buttermilk fried chicken tenders, for example, something it's hard to find in the UK and a grilled chicken menu that includes a spatchcock with black garlic, mustard and fennel seeds.
Additionally, there are some veg forward large plates if that's more your thing, like a beetroot quinoa salad, and a vegan burger.
Finally, there's a full cocktail menu, perfect if you want to while away an evening relaxing and watching the South Bank pass you by.
City Social
The City of London
££££
If you've dined in London enough, you've probably come across the name Jason Atherton. He's behind a string of restaurants that have garnered much attention, respect and even the odd Michelin star.
As for killer views, City Social has some of the best – 24 floors up in Tower 42 you can see London sprawling away in front of you.
As for the food. Atherton's modern European cooking takes on the Josper grill to cook reasonably sourced, British ingredients to a fine art. The cooking is very unlikely to let you down, but would you expect anything less from a protege of Gordon Ramsey?
East London
The Duck and Waffle
Bishopsgate
£££
The Duck and Waffle routinely makes it close to the top of 'best London restaurant with a view' lists, and for good reason.
For one thing, it's one of the only 24/hour London restaurants, meaning you can watch the sun rise from your table in Heron Tower if the mood takes you, chowing down on the famous duck and waffle that gave the restaurant its name, or any of the huge variety of both large and small plates that make up the only all day menu in London that is genuinely served all day (and night).
Boundary Rooftop
Shoreditch
££
Boundary hotel's rooftop bar and grill offers views of East London and the City, but the menu is reminiscent of warmer climates.
Food is Mediterranean-inspired, with grilled brochettes of vegetables, cheeses, glazed duck breast, and even octopus on offer. Mains include chicken cassoulet with nduja, and grilled asparagus with pine nuts, parmesan, and a soft egg.
Complete your meal with one of a selection of Boundary spritzes and you'll have to sneak a look at the view to remind yourself you're still in the UK.
London in the Sky
The O2 Arena
££££
While London in the Sky could also be classed as an experience, it definitely fits the bill for restaurants in London with a view.
Guests at London in the Sky are suspended high above the O2 Arena, with views over the Thames and beyond.
Don't worry, they're strapped in!
Offering breakfast, brunch, lunch, afternoon tea, dinner and cocktails, all the menus are curated by top London chefs, and assembled and served in front of guests.
Dinner includes options like Rump & Shoulder of Lamb, Pickled Heritage Carrot, Pea Puree, Sweet Potato Pave & Watercress Salsa Verde, Rosemary Jus, or for vegetarians, a seared cauliflower steak with dukkah.
Basically, it's restaurant quality food served in the sky, and one of the most unique ways there is to see the city.
Scoff and Banter
Canary Wharf
£
Scoff and Banter is located opposite the O2 arena, on the edge of the Thames, with views across the water. It offers modern (mostly) British fare that's described in the menu as 'British Soul Food'. Essentially, it's elevated pub food.
A big multigenerational family party here would work well – there's even a vegan menu, so while grandad is having steak and the kids are having burgers, vegetarians and vegans can tuck into mushroom wellington or Thai green curry.
You can hop on the ferry to the O2 just outside the restaurant, which is useful if you're grabbing a bite before a show, but is also a pleasant activity in itself, and lets you see the city from a new point of view.
Bokan
Canary Wharf
££££
Looking for sky-high dining in Canary Wharf? Bokan is the place to go. It's sat slightly off the main action, 37 floors in the air. From there you can see the office workers burning the midnight oil and all of London with the Thames snaking through it.
None of that would be worth much without some good service – which you have here in the form of European waiters that know a thing or two about wine and are happy to recommend – and some decent food.
That comes in the form of contemporary European cooking, experimental at times. Bokan has all the makings of a stiff, fine-dining establishment, but in spite of that, it still remains pretty casual.
South London
The Mayflower
Rotherhithe
££
The Mayflower is a pub and restaurant with a view of London that's almost stuck in time. In fact, tripping along the cobbled streets to the Mayflower, or sitting on its wooden deck overlooking the Thames, feels a little like you've slipped through a wormhole into the 1600s. Of course, the modern pub food brings you quickly back to the present. I'm not sure William Shakespeare ever tried a pulled pork burger, but he'd probably enjoy the one on offer at the Mayflower!
As you would expect from a traditional London boozer, even one with a great restaurant, The Mayflower serves a particularly excellent Sunday roast.
Imagine settling down to river views through leaded windows with a big lamb roast and a pint of ale in front of you. Dreamy.
Frank's Cafe
Peckham
££
It's no secret that we love Frank's Cafe, and this is certainly not the first time it has featured on the site, but that's because it's such a great experience whether you're dining, or just drinking.
The views from this rooftop eatery are second to none, and the ex-carpark itself is a canvas for a huge weather-reflecting painting by Richard Wentworth.
Basically, there's an awful lot to look at when you have dinner at Frank's! And the dinner itself isn't bad either, with small plates like mackerel, labneh and charred peppers, and BBQ lamb's ribs with tzatziki on offer for under a tenner each.
Forza Wines
Peckham
££
As usual, Peckham puts in a strong showing when it comes to the best restaurants in London with a view. The hills south of the river mean you get some of the best views of London from SE and SW postcodes, and Forza Wine on Rye Lane is no exception.
Essentially a fancy wine bar, Forza nonetheless serves some pretty amazing small plates. Burrata and raw artichoke abuts taleggio and pickle toasties, and charred asparagus, crab mayonnaise with lemon.
You're likely to want everything on offer. The good news? That's an option for just 99 quid. You might need a couple of friends to share with, though.
Skylon
The Southbank
£££
Royal Festival Hall has a few nice bars and restaurants with views. But it's first floor dining room Skylon takes the biscuit for us. From the windows you'll be able to see down onto the river and the Southbank between you.
The food they serve here is probably best described as contemporary European. Items like foie gras will find its way onto the menu but you'll also find things as down to earth as burgers and steaks.
But what about that name? Skylon's nomenclature comes from a spindly futuristic object sculpture that first appeared in the Festival of Britain back in 1951.
North London
Beit El Zaytoun
Harlesden
£
A North London restaurant with a view of the river Brent, and a sweep of garden leading to it, this Lebanese restaurant is an unexpected gem.
The breakfast offerings are particularly excellent, with a full morning feast including labneh, hummus, Turkish coffee, and much, much more available for only £17 per person.
Later in the day, you can enjoy wonderful mezze plates and chicken shawarma often accompanied by live music, and, always, incredibly friendly and efficient service.
Rotunda Bar and Restaurant
York Way
£££
The Rotunda's terrace is set along Regents' Canal, so you can eat with a view of narrowboats, the water, and probably quite a few passing ducks.
The terrace itself was designed by London sculpture garden at Pangolin, so not only is this a London restaurant with a view, but the restaurant itself is also a treat for the eyes.
Food is modern international and focused on British ingredients, with mains including hand cut pasta, sorrel cream and rainbow chard, and tandoori spatchcock, cumin red rice and white daal.
Perfect for a blowout lunch by the canal.
Lockside Camden
Camden
££
This isn't fine dining, rather Lockside Camden is a great casual restaurant with a view in London.
In the heart of Camden, in fact, so you can look out over the lock and enjoy a hearty burger, excellent battered haddock, chips and mushy peas, or a buddha bowl if you're not feeling like red meat or fried food. Portions are generous, prices are reasonable, and the views of the canal are second to none.
West London
Fenn Restaurant
Fulham
£££
Fenn is a new venture from the team behind Nest at the Treehouse Hotel in Fitzrovia. Ingredients at Fenn are all sourced from UK producers, and they also work with 120 wineries to curate an ever rotating wine list that compliments whatever is on the menu.
The set menu features Fenn fried chicken, beef tartare and smoked oil, and halibut, Cornish crabs and sea herbs amongst other fantastic dishes – and it'll set you back a very reasonable 50 quid. There's also a full vegetarian set menu, which is always great to see.
The dining space is intimate, with windows on every wall for some perfect people watching opportunities.
Rick Stein Barnes
Richmond
££££
A trip to Richmond always feels quite bucolic, with the borough's ramshackle lanes, tumbledown old pubs, population of deer, and the fat, slowly winding Thames at the centre of things.
That's never more true than at Rick Stein's Barnes restaurant, where you can sit in the courtyard or at a window table and watch the world roll by. It's almost like you aren't even in London anymore.
As always with Rick Stein ventures, the menu is based around excellent seafood.
Why not start with Dorset oysters in shallot dressing, before moving on to a far more substantial main of fish and chips with tartar sauce? Or, if you're feeling fancy, you could plump for the lobster thermidor.
Whatever you choose, this is a London restaurant with a view you won't forget in a hurry.
The Skylark Cafe
Wandsworth Common
£
Though it describes itself as a cafe, The Skylark Cafe undoubtedly qualifies as a London restaurant with a view.
First, there's the food. The meat is all carefully sourced, as are the Cacklebean eggs. Then, there's the wine list. It's perfectly, seasonally curated, and includes some great lesser known wineries.
You can grab a breakfast bap from The Skylark and take in the gorgeous views of Wandsworth Common and the 150-year-old farmhouse beside the Skylark, sure, but you can also sit down to a freekeh, baby artichoke and pickled courgette brunch bowl and a mimosa. That definitely sounds more well-priced restaurant than a park cafe!
Map of London Restaurants with a View
Looking for More London Restaurant Guides?