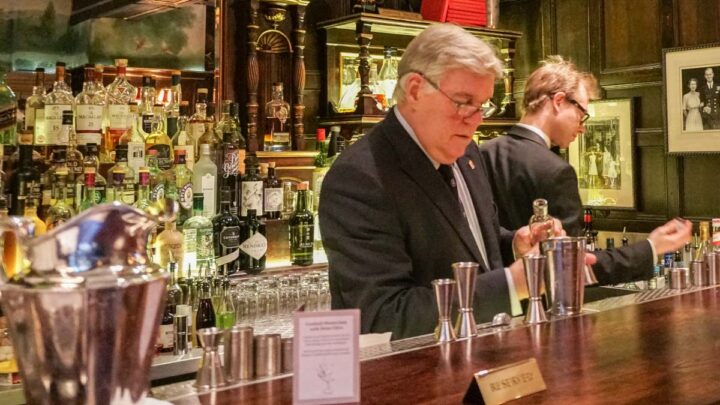 Impress your party guests with wild cocktails after picking up the tricks of the trade at these cocktail masterclasses.
Whether you're new to the cocktail cosmos or quite the connoisseur, classic tipples are being reinvented all over the city. It's time to stir things up with 10 of the best cocktail making classes in London.
London has a thriving cocktail bar scene, but wouldn't you like to recreate those divine concoctions at home? A masterclass will teach you the tricks of the trade. It's also the perfect experience gift for avid cocktail lovers. All that's left to ask is, what's your poison?
Best Cocktail Making Classes in London
Upstairs at Rules Cocktail Class with Brian Silva
Covent Garden
Rules in Covent Garden is said to be the oldest restaurant in London. It was established in 1798 initially as an oyster bar by Thomas Rule and stayed in the Rule family until World War One. Rules has appeared in novels by several literary greats. Along with patrons such as Charles Dickens and Charlie Chaplin, you can imagine its world-famous reputation.
As well as the restaurant, a visit to the brilliant upstairs bar – fondly nicknamed Upstairs at Rules – is an absolute treat. The bar interior feels like a private members' club (and is still a regular haunt for theatre glitterati). They have also recently opened the Winter Terrace, a stunning, plant-filled glass atrium.
With an expanded cocktail menu, Upstairs at Rules is THE place to come for a mixology masterclass in London. For £95pp, they offer classes for up to 4 people with the legendary head bartender, Brian Silva who has unparalleled knowledge and wisdom.
You'll learn basic bar techniques for at least four classic cocktails. Each person will also learn to make a cocktail or two of their own choosing, making every class unique
Cocktail and Gin Masterclasses at Pacifica Burger & Cocktail Bar
Brixton
Fun times await at Pacifica's cocktail masterclass (£60pp). Warm up with a welcome Prosecco before learning how to make three cocktails. You'll compete in groups for the best cocktail (prizes included) before ending on a goodbye Sicily Sloe gin. The class is 1.5 hours.
Gin lover? You might also be interested in the Gin Blending Class (£90pp). Taste different tonics and discover which botanicals you love the most before making your own small-batch gins to take home.
Cocktail Making Masterclass at Harvey Nichols
Knightsbridge
The only place to shop according to Patsy and Eddie, you can always rely on Harvey Nichols to come up with something good. They offer a food and drink bonanza at their cocktail experience (£70pp).
Kicking things off with 9.30am with a mocktail (very sensible) and a fabulous breakfast spread, you then move onto the main event.
You'll then receive some expert insight on the dos and don'ts of cocktails before making and tasting your own creations. This is all followed up with a 2-course meal and a glass of wine at 12pm.
Prefer gin to vodka? Each workshop is based around a particular spirit, so check the website to find out which themes are scheduled over the next few months.
Cocktail Making Experiences at TT Liquor
Shoreditch
TT Liquor is the perfect setting for an unbeatable cocktail-making class in London to show you the ropes.
They hold 2-hour mixology masterclasses at their flagship venue at 17b Kingsland Road ( £75pp). After a welcome cocktail on entry, they teach you how to make four different cocktails with your own ingredients and equipment behind a custom-built bar.
Shakeeoke at London Cocktail Club
Oxford Circus and Shoreditch
A few cocktails in, and you start singing. Sound familiar? Then you'll love Shakeeoke at the London Cocktail Club.
It'll bring out your competitive side as this cocktail masterclass takes the form of a gameshow, with prizes up for grabs.
You'll get to drink all the cocktails you make over the 3 hours, feast on Pizza Pilgrims pizza and belt out those tunes as you whip up a Pornstar Martini.
Themed Cocktail Making Classes at The Goat
Chelsea
Every Thursday there's a cocktail masterclass at The Goat gastropub in Chelsea (£16pp). Each week, they pick a different theme, which could be anything from 'Tequila' to 'Great Gatsby'.
The class runs 7.30-9 pm, and you'll receive a welcome cocktail on arrival. After that, each person gets to go behind a real bar and shake up a cocktail, so you'll also get to sample 4-5 other drinks throughout the class.
Goat Chelsea also offers private masterclasses for groups and corporate events and online masterclasses where you can choose your bespoke theme. A 'Tom Cruise 80's Kind of Evening' for us, please.
Cocktail Masterclasses at The Alchemist
London-wide
The Alchemist chain knows a thing or two about the theatre of cocktail making, so you can expect to create some pretty dazzling concoctions at one of their cocktail experiences.
For a minimum of 6 guests, you pay around £35 pp (£40pp with sharing platters and nibbles) for a 60-90 minute class. Enjoy a cocktail on arrival before learning to make two more.
Examples include the Screwball, which consists of Absolut Raspberry Vodka, Briottet Blue Curacao, Giffard Bubblegum, Apple, Lime and White Chocolate Cream Foam. Undoubtedly a great place to come with your cocktail-loving companions.
Bootlegger Breakout at Cahoots
Oxford Circus
Cahoots is a 1940s-themed speakeasy bar set inside an abandoned train station – somewhere to try 'spiffing' cocktails and watch live swing entertainment.
Therefore, Bootlegger Breakout (£52pp every Saturday 1-4pm) is an immersive cocktail-making class like no other.
The Old Bill have nicked the Scoundrels of Cahoots and you've been recruited to join the production line for the next batch of bevvies. But there are puzzles to solve along the way.
Warm up with a welcome cocktail before embarking on fast-paced escape room-style tasks, unlocking ingredients and discovering allies. A guided masterclass will follow which includes two cocktails. All in all, the perfect excuse to dress up in vintage and victory rolls.
Cocktail Masterclass at Opium
Soho
There's something beyond the jade-coloured door on Gerrard Street in Chinatown. It's Opium – the place to sample a vast selection of epic cocktails, served in a 1920s Shanghai speakeasy. Don't forget the delicious Dim Sum, either.
At Opium, each cocktail is art in a glass. The menu offers an array of mouth-watering ingredients, including some Eastern flavours such as goji berry, osmanthus, yuzu pearls, genmaicha and persimmon.
You can expect great things from their cocktail masterclasses (£50-75pp). Hear about the history of bartending, spirits and cocktails over Dim Sum and get the chance to make some Opium style cocktails yourself.
Cocktail Masterclass at The Lucky Pig
Fitzrovia
Another great cocktail masterclass in London you should have on your radar is the one that they do at The Lucky Pig. This moody cocktail bar is a fine establishment for a drink, and as such, a fine establishment to learn how to make and shake one.
The class begins with a brief history of the cocktail and its evolution so that you can get a good background knowledge before starting your class. You'll then learn the tricks of the trade on a choice of three cocktails, aided by a professional mixologist.
This two-hour class costs £40 per head but you need to book a minimum of two slots.
Aquum Cocktail Masterclasses
Clapham
The ever-classy Aquum offers a great option for cocktail-making classes in London. First of all you should know that these guys make some seriously good drinks, so if you're looking to up your cocktail-making game, this is the right place to be.
Second of all, the price is near unbeatable. One class costs £30 per person, but you can up the stakes and get a package with nibbles for an extra £9 – that's a yes from us please, chef.
Once the class begins you'll be instructed in the dark arts of elevating classic cocktails to give them a more modern twist. Perhaps best of all though, is that should you be teetotal, they can work around you, teaching the skills to make delicious mocktails instead.
The Folly by Drake and Morgan
The City of London
With a reputation for mean bottomless brunches and cocktails that slip down a little too easily The Folly isn't a bad place to get to know the ropes of cocktail making.
Classes here cost either £35 for the knowledge on two drinks or £45 for three. For £57.50 though, you can crown your experience with a post-class sit-down meal from the restaurant's set menu.
They also offer private events where you can book out the masterclass for you and your friends, perfect for birthdays, work parties, and all other sorts of group-based tomfoolery.
Cocktail Making Classes in London: Practical Tips
Have a think about what kind of cocktails you'd like to learn how to make. There's so much variety. You could learn the classics or you could learn to get creative with your drinks, mixing up light, refreshing cocktails that you won't find in most other bars.
Should you want the classics, somewhere like Rules would be perfect for you, as would Harvey Nichols. If you fancy something a bit newer and contemporary, try out Shakeeoke or Pacifica.
You'll need to book your classes in advance.
Going with a group of friends is probably the best way to do this, though some places, like The Goat do offer slots in public classes for one.