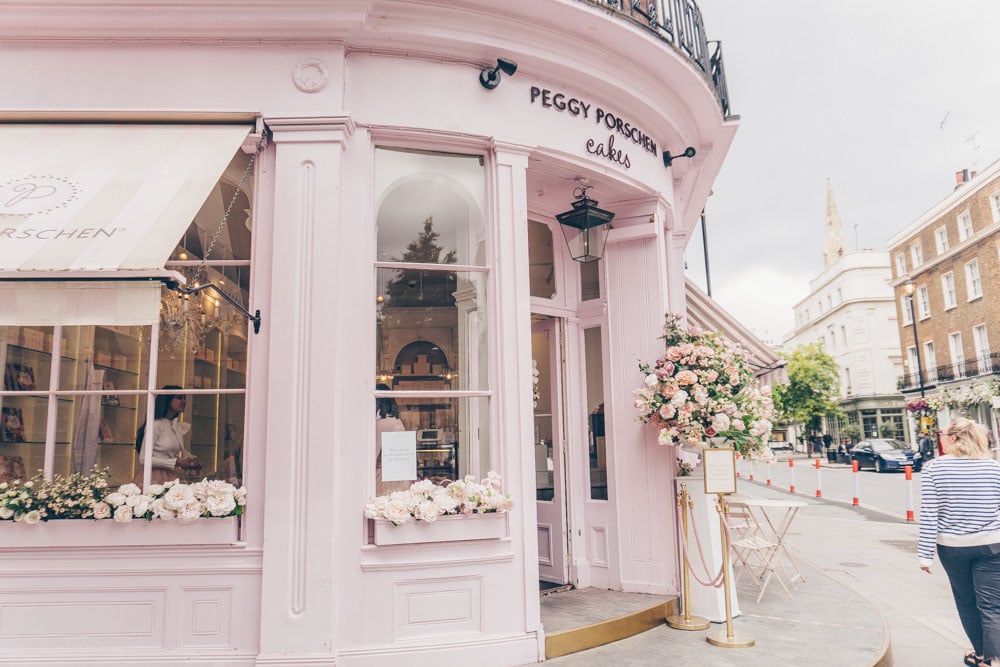 Looking for cute cafes in London? The city is jam-packed full of pretty coffee shops that are just waiting to be explored. These are the spots you shouldn't miss.
Look, you're either the kind of person that buys into the pretty cafe vibes or just rolls your eyes and walks on by. If you're the latter – this article isn't for you.
However, if you're in search of London's most beautiful cafes (and ones that also happen to serve up delicious food and drink too) then read on, friends.
Pretty Cafes in London
Biscuiteers
Situated in the romantic Notting Hill area, Biscuiteers has got to be one of the most beautiful cafes in London. Its black and white theme gives it an old fashioned twist that makes it even more photographable.
But this cafe is not just about aesthetics, they make a variety of customised, hand-iced biscuits that are almost too pretty to eat.
Grab a beautifully decorated biscuit, or ask for a custom order to take away while you sip back a delicious cup of joe.
Opening hours: Tuesday – Saturday: 10 am – 6 pm
Sunday: 11 am – 5 pm
Address: 194 Kensington Park Road, London, United Kingdom
PS, You'll also love our guide to the prettiest spots in London
Farm Girl Cafe
Farm Girl Cafe is looking to bridge the gap between a coffee shop and a healthy restaurant.
It brings London a nutritious, farm-fresh brunch option in the heart of Notting Hill. Plants hang around the restaurant making it look like an inviting indoor jungle.
Try their gluten-free buckwheat pancakes topped with cacao nibs, sour cherry jam, cocoa shavings, and Greek yoghurt if you're really looking for a treat!
Opening hours: Monday – Friday: 8:30 am – 5 pm
Saturday and Sunday: 9 am – 6 pm
Address: 59A Portobello Rd, Notting Hill, London W11 3DB, United Kingdom
Peggy Porschen
Walking into Peggy Porschen can only be described as entering a pastel pink, dreamlike state. It's impossible to scroll through Instagram for long before coming across one of London's many influencers indulging in a slice of heaven at this cute cafe.
This is the place to be if you're really in the mood for a girly atmosphere and craving a sweet treat. Cakes, cupcakes and biscuits are just a few of the delights you'll get the opportunity to indulge in at this heavenly pink paradise.
It's the perfect place to bring your friend for the ultimate birthday treat – she's sure to snap the picture she deserves on her special day.
Opening hours: Monday – Saturday: 9 am – 6 pm
Sunday: 9 am – 6 pm
Address: 116 Ebury St, Belgravia, London SW1W 9QQ
Daisy Green Collection
If there's one thing this Daisy Green cafe does well, it's an Instagrammable meal. Take a seat at their spacious window tables while you watch the world go by. The downstairs and outside section of this cafe has been completely transformed into an otherworldly experience.
It has an Alice in Wonderland type feel to it, making it the perfect place to snap a few pics. If not of your exquisite meal, then of the beauty that surrounds you.
The walls are covered in floor to ceiling artwork that make it stand out from many of the other cute coffee shops in the area. Try out some of their signature nibbles, or tuck into a bottomless brunch, depending on your hunger levels.
Opening hours: Monday – Friday: 7:30 am – 5 pm
Saturday and Sunday: 7:30 am – 7 pm
Address: 20 Seymour St, Marylebone, London W1H 7HX
Aubaine
Marylebone
If you're a flower lover, you'll go absolutely crazy for the beautiful lilac wisteria that hangs from the ceiling of Aubaine. And the best part? They won't give you allergies and they bloom all year round because they're not real – but they ARE pretty convincing.
This cafe serves delectable French cuisine in the heart of Selfridges. Indulge in a delicious meal along with French wine, or a cup of coffee.
The eye-catching flowers might draw you in, but the relaxed ambience and delicious food will keep you there for hours.
Opening hours: Monday – Saturday: 10 am – 9 pm
Sunday: 11:30 am – 6 pm
Address: 2nd floor, 400 Oxford St, Marylebone, London W1A 1AB, United Kingdom
Saint Aymes
Saint Aymes is yet another floral paradise. Seasonal flowers hang in the window displays making this cafe ever so inviting all year round.
Indulge in a decadent selection of patisserie desserts or savoury snacks. But whatever you do, snap a pic before putting it into your mouth.
If you're just popping in and out, be sure to add a lovely strong takeaway coffee to your order. It's sure to perk you up along with a crispy croissant on the side.
Opening hour: Thursday – Monday: 10 am – 6 pm
Closed Tuesday and Wednesday
Address: 59 Connaught St, St George's Fields, London W2 2BB, United Kingdom
Milk Beach
Queen's Park
Despite the name, don't expect to have sandy toes when you leave this spotlessly clean cafe. If you're looking for an aesthetically pleasing cafe, where everything seems to be a subtle shade of white – you've just found it.
Milk Beach in Queen's Park serves a variety of specialty coffees and organic wines. Tuck into their all-day brunch, or bring a couple of friends to enjoy their wonderful sharing platters in the evening.
Be sure to check their website for events as they often host live bands in the evenings which creates a vibrant atmosphere.
Opening hours: Sunday – Friday (closed Mondays): 8:30 am – 11 pm
Saturday: 8:30 am – 12 am
Address: 19 Lonsdale Road Queen's Park NW6 6RA, United Kingdom
Fait Maison
Fait Maison is undoubtedly one of the prettiest cafes in London. Its floral decorations are certainly a sight to behold, and the pastel pink theme makes it easy on the eyes.
Their cakes, cupcakes and biscuits are all major drawing cards, but they serve delicious main meals too.
Relax in their French style furniture with a steaming hot cup of coffee, in this beautiful setting it's sure to go down a treat.
Opening hours: Monday – Friday: 8 am – 8 pm
Saturday and Sunday: 8 am – 9 pm
Address: 50 Gloucester Rd, South Kensington, London SW7 4QT, United Kingdom
Read Next: The Kensington Cafe Guide
Paper and Cup
This rustic cafe in Shoreditch has recently gone viral on Instagram for its simplicity and quaint, cosy feel.
Influencers from all over London are visiting Paper and Cup for its aesthetic appeal as well as for the fact that its a non-profit cafe looking to do good for the community.
The cafe is stocked with ethical snacks and cakes, as well as books from local creatives. The old-fashioned feel keeps people coming back, if not for the coffee, then at least for a photograph.
Opening hours: Monday – Saturday: 10 am – 6 pm
Sunday: 11 am – 5 pm
Address: 18 Calvert Ave, London E2 7JP
El&n Cafe
You'll struggle to find a more photographed cafe in London than this absolute gem! El&n is a haven for Instagram influencers, and the photo opportunities in this joint are absolutely endless. Just check out their Instagram to see why.
From their pink cushioned seats to a pink sweet selection that could make Willy Wonka jealous, everything is picture perfect at this cafe.
What's better? They have a few branches in London to choose from. These are located in Belgravia, Regent Street, Bicester Village, Oxford Circus, Knightsbridge, Selfridges, Mayfair and South Kensington.
Opening hours: Monday – Sunday: 8 am – 11 pm
Address: 239 Brompton Rd, Chelsea, London SW3 2EP, United Kingdom
Monocle Cafe
Marylebone
Monocle Cafe is not only pretty from the outside, but this cute London cafe serves a delightful selection of treats. Order one of their hearty pasta dishes, a toasted sandwich to go, or satisfy your sweet tooth with churros and dipping chocolate (drool).
This cafe serves as an arty backdrop to any photograph with its signature black and white awning, and their meals are just as photo-worthy.
This picturesque cafe should be on any Instagrammer's list of places to go in London.
Opening hours: Monday – Friday: 7 am – 7 pm
Saturday and Sunday: 8 am – 7 pm
Address: 18 Chiltern St, Marylebone, London W1U 7QA, United Kingdom
Minnow
Clapham
Step through another of London's flower-adorned doors and enter into Minow, a charming cafe and restaurant decorated with pastel colours and vintage touches.
This independent cafe in Clapham overlooks the common, and you can even opt for an outdoor table which feels oh-so-European on warmer days.
If you're celebrating a special occasion, make sure to book the semi-private Garden Room. Floral installations and fairy lights loom above you as you sip coffee and make your way through Minnow's classic brunch options (served until 4pm).
Opening hours: Monday – Friday: 8 am – 11 pm
Saturday and Sunday: 9 am – 11 pm
Address: 21 The Pavement, London SW4 0HY
Sketch
Boasting potentially the most Instagrammable toilets in the world (the egg-like structures you've definitely seen on the 'gram), Sketch is a weird and wonderful alternate universe filled with Michelin-star treats.
Afternoon tea is the star here and the French Chefs have crafted a delightful menu which features the likes of a truffle brioche bun and cherry and pistachio battenberg alongside more traditional fare.
There are a few rooms to choose from, depending on what you want to photograph: The Glade is a renaissance-style floral space, The Gallery is a Scandinavian pink delight, and The Lecture Room and the Parlour are classier affairs.
Our favourite is The Gallery, but check out their wacky website to browse through pictures of them all.
Opening hours: Monday: 9 am – 7 pm
Tuesday – Thursday and Friday: 9 am – 12 pm
Friday and Saturday: 9am – 2am
Address: 9 Conduit St, London W1S 2XG
Jimmy Choo Cafe
If there's one place in our cute cafe guide that could rival Sketch for over-the-top aesthetics it's the Jimmy Choo Cafe.
The famed brand branches out here creating an all pink (and very fluffy) cafe that will practically pop out of your friend's instagram feeds. Naturally all this style needs a little substance and there is a decent selection of artfully prepared cakes on offer.
Where do you find this wonderful cafe? Well there's pretty much only one place in London that could handle being a home for a cafe like this, and that's Harrods.
Opening hours: Monday-Saturday: 10am – 8pm, Sunday: 12pm -18pm
Address: 87-135 Brompton Rd, London SW1X 7XL
Feya Cafe
Multiple Locations
Feya has several locations around central London, each with their own unique style. Those styles range from plush and plastic-flow laden, to mural bedecked walls that look like they could have been nabbed from an alleyway in Shoreditch.
The constant in the business is the guarantee of good coffee – the option to trick your brew out with marshmallows and cream an ever-present temptation – and food. Feya does some really nice all-day brunch dishes. Think avo toast and eggs benny and you're on the right line.
Our favourite location is the Knightsbridge cafe, primarily for the people watching.
Opening hours: 9.30am – 6pm all week.
Address: 146 Brompton Rd, London SW3 1HX
Cute Cafes in London: Practical Tips
There are cute coffee shops in London tucked around every corner and, quite frankly, it's simply impossible to see them all. If you're looking for the most instagramable, it's definitely Elan Cafe. If you just want a quiet coffee, try the Monocle Cafe.
Naturally these cafes are super popular. Be prepared to have trouble getting a seat in the crowds of instagrammers. To beat the crowds, try visiting the cafes during the week if possible. Early in the morning is always a good idea too.
We've covered cafes in pretty much every area of London. If you're unable to find space at any of these spots search on our site for cafes and the area you're in. You're sure to find some more recommendations.
Map of Cute Cafes in London
---