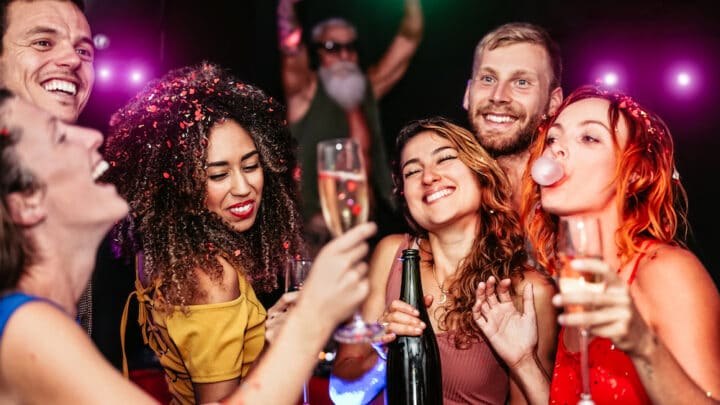 Celebrating your birthday in London? Lucky you. London knows how to do a party right.
With all these options, it can feel impossible to decide which one to plump for. Should you go for themed drinks? A chilled spa day? (PS: the answer is always both).
From floating down the Thames in a hot tub to disco brunches and fancy afternoon teas – these are the birthday ideas in London you didn't know you needed… until now.
Ready to celebrate in style?
Brilliant Birthday Ideas in London
Float Down the Thames in a Hot Tub Boat
Sure, spas are fun. But, floating down the Thames in a giant hot tub is more fun. 100% fact.
How cool is it then that Skuna Boats offer that exact experience? Turn up the bubbles as you navigate your bougie vessel down the river, all whilst you take in the sights of the city.
The experience starts at £225 in total and includes 75 minutes on board for up to 7 people. Gather your pals and bring some drinks to enjoy as you soak.
Mix Bowling With Booze at The Croc
Long gone are the days of run-down bowling alleys and dingy arcade games, London has really stepped up its bowling game and now has plenty of places where you can play.
The most impressive of the bunch is located in the Ham Yard Hotel. The Croc Bowling Alley takes everything you think you know about bowling and flips it on its head.
Plastic lanes are swapped for solid maple, neon balls have been shunned in favour of monochrome, and vintage bowling shoes complete the classy experience. A birthday bowling party has never looked this good.
After you've won a couple of games, head to the stylish lounge where you can sip cocktails until late into the evening.
Channel Walter White at Hackney Funhouse
Housed under a railway arch in Hackney is the Funhouse – a one stop destination for a good time.
ABQ can be found on the bottom floor of the venue, and upon entry to the caravan you'll be given a lab suit – a la Breaking Bad – so you can cook up some molecules.
Cocktails include Walter Junior's Brekkie (a combo of rum, blueberry pancake sherbert, and vodka orange chaser) and the iconic 420 that sees you creating CBD-infused champagne foam along with baked brownie sherry.
Sink Cocktails at a Boozy Drag Queen Brunch
Kick off your birthday in style with lip sync battles, fierce performances, and delicious food at a Bougie Drag Queen Brunch.
The line up of Queens includes Tayce, Cara Melle, and Honey The Foxx, though you won't know who's actually there until you turn up… which is all part of the excitement.
For £43, you'll get two courses and as many drinks as you can sink in 90 minutes, as well as the chance to mingle with the Drag Queens afterwards. A live DJ will also be pumping the hottest pop tunes between performances to sustain the high energy atmosphere.
Sip Champagne in a Beautiful Bar
We can't think of a better excuse to guzzle champagne than to celebrate a birthday in London. Luckily for you, the capital is full of stunning champagne bars where you can do just that.
Moet & Chandon's London Calling bar in Selfridges is a good place to start. Designed to look like a telephone box (let's be real, what kind of telephone box looks that bougie?), you'll enjoy the finest champagne and exclusive cocktails in style.
Another top pick is Searcys Champagne Bar in St Pancras. Enjoy the likes of Veuve Clicquot, Laurent-Perrier, and Taittinger as you relax under the glass-topped roof – although the food is also highly recommended.
Unleash your Competitive Side in a Games Bar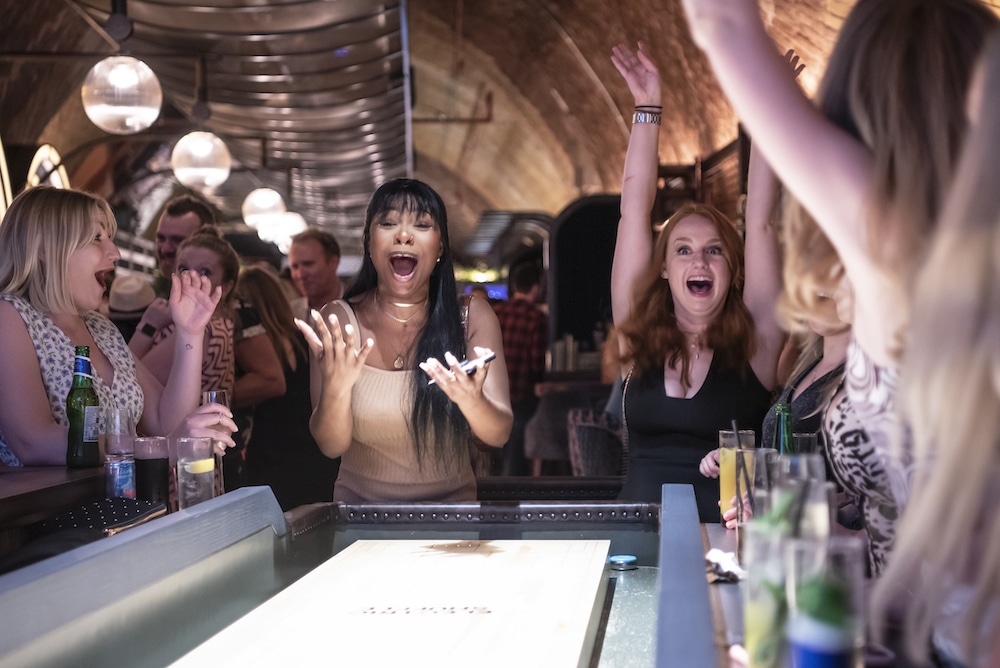 Nothing feels better than getting dressed up, necking a few cocktails, and absolutely thrashing your mates at a game of something… right?
The beauty of the capital is that there's a games bar for pretty much everything. Darts? Head to Flight Club. Shuffleboard? Electric Shuffle. Table tennis? Ping Pong is your best bet. Not to mention that these places have locations dotted all over the capital.
And if you're after something a little bit more wild, Ballie Ballerson is a great shout.
You can chow down on pizza and cocktails before diving head first (maybe not, actually) into an adult ball pit. Hilarious times ensue.
Drink Gin at an Underground Burlesque Club
Shhh. Break all the rules of the prohibition era and head to Gin House Burlesque to party.
You'll enter a secret world where four floors of burlesque, gin, and magic await. Throughout the evening you will be escorted from room to room, so you have a chance to watch each show, completely undisturbed.
The vintage cabaret experience also includes snakes, taxidermy, and vaudeville entertainment – in other words, it's not for the faint hearted.
Guests are highly encouraged to dress the part, so don your finest flapper dress or tux and prepare to spend an evening indulging in the sauciest shows and beautiful gins.
Sing Your Heart Out in a Private Karaoke Booth
Gather your nearest and dearest to let loose and unleash your inner Mariah in a private karaoke booth in the capital.
Forget cringe pub karaoke, these rooms are stocked with loads of songs, brilliant props, and copious amounts of alcohol to kick things off.
Lucky Voice Karaoke is one of the big names, with locations in Soho, Holborn, and Islington to choose from. The rooms here are pure luxe, with velvet sofas and poster-lined walls setting the scene for a power ballad or two.
Lan Kwai Fong in Camden is less about luxury and more about the gritty East Asian vibes, recreating a cool spot that wouldn't be out of place on the backstreets of Hong Kong.
Once you've worked up an appetite, head to the main bar area for small bites and craft beer with your besties.
Dance All Day at a Disco Brunch
A notoriously fun spot in the capital, Blame Gloria is a retro-chic bar oozing in personality. And the bar also rustles up a pretty banging Disco Brunch.
Enter into boogie wonderland and you'll soon find yourself transported to a glitter-filled brunch where dance-offs and lip syncs are expected, and the alcohol is free-flowing.
Brunch dishes range from smashed avo on toast to harissa chicken, inspired by Miss Gloria's extensive travels around the globe.
The bonanza of hosts means that it's impossible to sit still, from high-energy DJ's to sassy Drag Queens and Disco singers – you should be dancing!
Take on the City with Outscape Games
Everyone's heard of an escape room… but how about an escape city?
Outscape Games have turned London into one giant escape room filled with puzzles and clues that you'll need to solve as you dash around.
There are two games to choose from: The Wren Code, which sees you collaborate with Her Maj's Secret Service to protect the city from a potential heist; and Drake's Secret, where you're tasked with finding the source of a mysterious scroll within the actual V&A Museum.
How does it work? You'll meet the staff in a secret location 15 minutes before the game starts, and you'll be given the low down of how to use an iPad's AR and map to follow the clues to solve the game.
You can even track random people who will be competing against your own squad… let the competitive team building commence.
Take Things Up a Notch With a Sophisticated Wine Tasting
Start your new chapter with a sophisticated wine tasting session in one of London's top wineries.
Humble Grape balances value with great wines, costing just £45 per person for a pared back experience.
After a welcome prosecco, you'll be given six modern wines to sample with nibbles. The sommelier will be on hand with an insightful (and usually hilarious) commentary to assist with tasting notes.
If you're after something really special – perhaps a gift – wine tasting at Berry Bros & Rudd is delightful.
The French-wine specialists invite guests into their London cellar to sample their latest wines and learn all about the history of the Burgundy and Bordeaux regions.
For the price you could literally pick the grapes from the south of France yourself (expect to pay north of £160 for in-person tastings), though the experience is magical and totally worth it.
Unwind with a Spa day
Let life's stresses melt away in one of the capital's many spas. Opt for just a treatment or grab a day pass and split your time between the hot tub, sauna, and steam rooms.
Aire's ancient baths are rather special. Descend into the Romanesque temple below and immediately you'll be relaxed through the scent of orange blossom and the obvious lack of technology.
Forget the outside world and spend an hour or two soaking in the ancient baths before your masseuse grabs you when it's time for your massage.
Urban Retreat is brilliant if you want to gather a bigger group of friends for a wellness retreat.
Book a whole bunch of treatments or spend some time in the wellness therapy pod, which helps to invigorate the body by using light therapy to penetrate the transdermal layer.
Or, why not go the whole hog and book into one of these gorgeous spa hotels?
Take a Cookery Class
One of our favourite birthday ideas in London is taking a cookery class – perfect if you already fancy yourself a dab hand in the kitchen, but want to take it to the next level. Go alone, or with friends, it's totally up to you.
Celebrate your birthday by learning to fold, bake, roast, and saute with Borough Kitchen. And best of all, you'll end the class by chowing down on your efforts.
There are plenty of specific classes available at a range of price points, so whether you want to make pasta from scratch, perfect your choux pastry, or master a knife, there'll be a class that takes your fancy.
The Jamie Oliver Cookery School is another great spot (though a bit pricey). Here you'll be able to make your way through 5-ingredient dishes or get tips on how to cook sumptuous steak in a fun and relaxed environment.
Splurge on Fancy Afternoon Tea
It's only right that the capital is bursting with brilliant afternoon tea spots.
From wacky-themed high tea to traditional scones and cucumber sandwiches, the places where you can celebrate your birthday are endless.
If you want all-out wow, tea at The Ritz is the best option. They've actually been serving afternoon tea here since 1906 in the beautiful Palm Court, and have 18 types of tea to choose from.
This is a traditional afternoon tea experience, so expect all the usual suspects when it comes to sandwiches and scones. You'll need to dress smart though, as The Ritz has a strict dress code (any excuse to dress up fancy is a winner!).
Why not combine high tea with a tour of the city? Hop into this afternoon tea bus by Brigit's Bakery, which is actually served on a vintage double decker bus, and see the city in a new, crumb-covered light.
Prêt-à-Portea at The Berkeley is another fabulous option, combining a passion for fashion with a visually impressive spread.
The chefs manage to recreate high-fashion pieces in edible form, with previous standouts Emilia Wickstead's red velvet gown reimagined as a choux pastry and that impractical (but oh-so-beautiful) Jacquemus bag.
Board a Seafood Cruise on Prince Regent
One of the most unusual birthday ideas London has to offer is a seafood cruise along Regent's Canal. You'll get to indulge in a fine dining experience while you're treated to beautiful views from the capital's waterways.
You've got two options: A dinner cruise between Wednesday and Saturday, or a weekend lunchtime cruise. Both are five courses and cost £65 per person.
With simple menus that change daily depending on what's fresh, this is a seafood lover's paradise.
Try Your Hand at a Pottery class
It's never too late to pick up a new hobby. If there's something you've been dying to try out for years, when's a better time than a new birthday?
Pottery has taken off in the capital lately – what once was a niche interest now has new concept stores and workshops popping up each month.
Skandihus is among the most popular, with the likes of Nigella Lawson and Ottolenghi supposedly huge fans of the minimalistic design house. You can get involved in a taster session, or go full-out and enrol in a 12 week course where you can hone your pottery skills.
Indulge in a Michelin Star Meal
Whilst we are firm believers that many of London's best dishes can be found at street food markets, sometimes splashing out a little bit is well worth it.
You don't need to look too hard for a wonderful Michelin Star meal in London; there are 66 restaurants that boast at least one Michelin Star.
Core by Clare Smyth is among the highest ranked, with a whopping three Michelin Stars under her belt (she's an ex-Gordon Ramsey Chef, so it's no wonder really).
This Notting Hill restaurant serves up elevated British fare – think wagyu beef with oysters and braised land with sheep's milk youghurt.
A Wong in Pimlico has two stars and their decadent take on Cantonese dim sum is incredibly impressive, take the pork and prawn dumpling with pork crackling and black bean relish for example. Divine.
For a restaurant held in such high esteem, the dishes are also reasonably priced. The beauty of dim sum is that you can have as little, or as much, as you like. A meal here is likely to only set you back around £35.
Practical Tips For Celebrating Your Birthday in London
Spontaneity is a thing of the past – make sure you book bars and classes beforehand or you might be very disappointed when they politely turn you away.
Milk your birthday! Let wherever you're going know in advance if you're celebrating and, who knows, they might just throw in a free drink or surprise,
18th Birthday Ideas in London
Channel Walter White at Hackney Funhouse
Take on the City with Outscape Games
Sink Cocktails at a Boozy Drag Queen Brunch
21st Birthday Ideas in London
Unleash your Competitive Side in a Games Bar
Dance All Day at a Disco Brunch
Float Down the Thames in a Hot Tub Boat
30th Birthday Ideas in London
Sing Your Heart Out in a Private Karaoke Booth
Drink Gin at an Underground Burlesque Club
Take Things Up a Notch With a Sophisticated Wine Tasting
40th Birthday Ideas in London
Unwind with a Spa day
Indulge in a Michelin Star Meal
Mix Bowling With Booze at The Croc
50th Birthday Ideas in London
Take a Cookery Class
Splurge on Fancy Afternoon Tea
Sip Champagne in a Beautiful Bar
60th Birthday Ideas in London
Board a Seafood Cruise on Prince Regent
Try Your Hand at a Pottery class