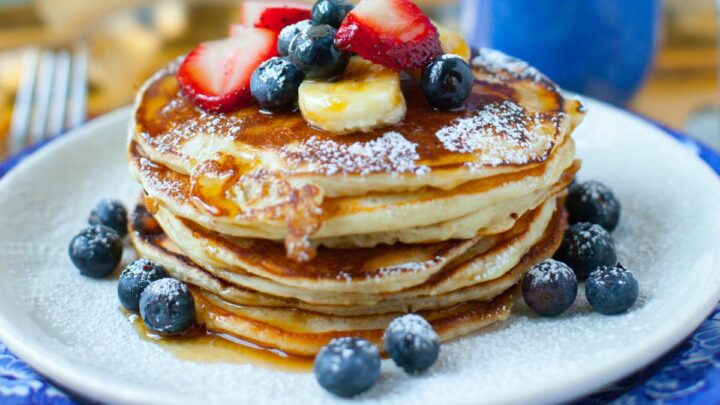 Looking for the best pancakes in London? The good news is that you don't need to look very far for your Pancake Day treat (Shrove Tuesday is on March 1st this year, in case you needed a reminder).
There's nothing we Londoners love more than an excuse for a pancake-fuelled feast – luckily for us, the capital is filled with flippin' brilliant spots where we can settle down for a stack.
Whether you fancy the fluffy Japanese option doused in cream or prefer to go for an American plate with maple syrup and bacon, these are the London pancake restaurants that you need to sniff out…
Best Pancakes in London
My Old Dutch
Multiple Locations
London's OG pancake house has to be at the top of your list when it comes to getting your dose of pancakes in the capital.
Since 1958, this small chain has been serving up fluffy pancakes to those in the capital for decades and are still as popular (and wonderful) as ever.
The menu is huge – almost overwhelmingly so – and filled with over 50 sweet and savoury options. And that's without even considering the limitless 'choose your own' combos, FYI.
From Hawaiian and scrambled eggs to Nutella, ice cream, and berries, there's something to suit everyone on the menu.
Or you can opt for a plate filled with tiny Dutch Pojertjes smothered in a variety of sweet toppings. 'Cos food tastes better when it's cuter, right?
Fuwa Fuwa
When it comes to Japanese souffle pancakes, London has finally started catching up with the rest of the world. Head to Fuwa Fuwa and you'll realise it was worth the wait.
This kind of pancake is notoriously tricky to get right – all too often we've found ourselves taking a bite only to be met with scrambled egg – but this Bloomsbury cafe has nailed it.
Whether you're a classic syrup kind of person, or fancy indulging in their honeycomb chocolate stack, these are the best Japanese pancakes London boasts.
Where the Pancakes Are
Southwark + Fitzrovia
Look no further: this is Where the Pancakes Are.
Their original location is in Southwark, though WTPA has recently opened a sparkling new restaurant in Fitzrovia and broadened their reach of brilliant pancakes.
You can grab yourself a plate at any time of the day – the menu boasts classic savoury options like an eggs royale version, sweet banana marshmallow, and even some more unique options (the Welsh Rarebit is surprisingly delicious).
The Breakfast Club
Multiple Locations
80s-esque American cafe The Breakfast Club is an iconic London chain with a few locations dotted around the capital. And no American breakfast menu is complete without a tasty stack or three.
Opt for the blueberry pancakes with bacon – it's a classic for a reason. Or, if you're ready to put away some serious brunch, the bacon, egg, and cheese Mclovin' is heavy but delicious.
Sunday in Brooklyn
For the best pancakes in London, look no further than the indulgent offering at Sunday in Brooklyn.
There's only one pancake option on the menu, but they're so famous that SIB often has queues for their fluffy goodness (and don't even bother trying to snag a table anything less than a month in advance).
These ultra chunky pancakes are topped with a hazelnut maple praline and brown butter – they're ridiculously naughty, but well worth it.
Farm Girl
Multiple Locations
Though Australian cafe Farm Girl has a couple of spots across the capital, we love the Notting Hill location for its lively atmosphere and dreamy interior.
Pancake-wise, you've got two options: apple and pear – which is our favourite – or ripe cherry. Both come decorated with edible flowers and are (almost) too pretty to eat. Resist diving straight in and snap a pic for the 'Gram.
The menu also boasts plenty of unique hot drink options, from a CBD-infused hot chocolate to a turmeric latte branded with a bulldog, to wash it all down with.
Coppa Club
Coppa Club may only have two variations of their Buckwheat and Rye pancakes, but they're so brilliant that you need to know about them. Not to mention how gorgeous this cosy restaurant is.
The sweet option consists of berries, granola, seeds, and heaped coconut yoghurt, while the classic savoury dish comes with bacon, maple syrup, and Netherend Farm butter.
If you can't decide between the two versions (which is totally understandable) we recommend ordering both and splitting with a friend.
Granger & Co.
Multiple Locations
Bill Granger's ricotta hotcakes with banana and honeycomb butter are so famous that brunch time at Granger & Co. is kind of a BIG deal.
The restaurant has locations in Chelsea, King's Cross, Clerkenwell, and Notting Hill, so no matter where you are in the capital, you're never too far away from a plate of delicious pancakes.
Crème de la Crêpe
Crème de la Crêpe has been a Covent Garden South Hall staple for years, gathering attention from locals and tourists alike for their deliciously chewy crepes.
As you would expect from a London pancake restaurant, the menu is huge and filled with a mix of classics and inventive plates.
Our faves? Our sweet tooths cannot resist the Banoffee Pie and The Milky Bar Kid (white chocolate and strawberries), though, if you're more into savoury dishes, the Love Hate Thing has marmite and cheese and is divisively brilliant.
Balans
Multiple Locations
Balans has a few locations, though the Number 60 Soho is their biggie and a great place to head for a lazy weekend brunch.
The vegan pancakes (drizzled in maple syrup and banana or berries) are as brilliant as their American counterparts which come with maple syrup and a choice of bacon, banana, and berries. Add all three if you're feeling adventurous.
Or with any dish, you can add on two pancakes and fruit for £6 – a great option if you fancy a savoury option to start.
Bad Egg
Finsbury
Trust us when we say there's nothing bad about these eggs.
Bad Egg's pancake offerings are available all day, all week, no matter when the craving hits. And they're some of the best fluffy pancakes London boasts.
The American style pancakes come with a choice of three toppings: blueberry jam, vanilla cream, and maple syrup; ​a traditional bacon and maple syrup; and the wild popcorn chicken with banana and syrup.
The latter sounds odd, but it's a combo that really works – we salute the brave person that was first to figure it out.
Christopher's
If you fancy your pancakes with a touch of elegance, Christopher's weekend brunch offering will, no doubt, be able to satisfy you.
This swanky restaurant and Martini bar was practically made for brunch dates – the huge stack of blueberry buttermilk pancakes are ideal for sharing (if you can bear the thought of it).
Pair with a Grand Mimosa or two and kick the weekend off in style.
The Little Blue Door
Fulham
Have you spotted The Little Blue Door on Fulham road? By week, this bar is an adult's playground, but by the weekend it transforms into brunch heaven.
With options like smoking hot thunder thigh pancakes, fried chicken with bacon and maple jam, and even a stack smothered in caramelised banana, maple, chocolate, and glazed nuts, you'll leave with the uncomfortably full feeling that all the best brunches provide.
Add a shot of rum syrup if you dare!
Cappadocia Cafe & Bistro
King's Cross
Tucked away in King's Cross, the totally underrated Cappadocia Cafe is one of our favourite pancake restaurants in London.
Their cheesy pancake combines halloumi and feta with walnuts and maple syrup in a Turkish take on the classic stack, while the multiple sweet options on offer combine the likes of Nutella, bananas, berries, and cream for an indulgent brunch dish.
Practical Tips for Hunting Out London's Best Pancakes
Pancakes are serious business – there are a few major differences between each style of pancake. You've got the thick, fluffy American variety that often comes drizzled in maple syrup and stacked with bacon. Tiny pancake discs are otherwise known as Dutch poffertjes. Souffle-style Japanese pancakes are super thick and wobbly, and have a slightly eggier taste with the texture of a mousse. Finally, there's the ultra-thin folded crêpe – which is basically a pancake's French cousin.
Pancake Restaurants London: Map