When it comes to cafes on the South Bank, you aren't short on options. Personally, the South Bank is one of my favourite spots for coffee in the city. 
The artsy vibe has resulted in some really quirky and unique spots, from curious tourists gathering outside Shakespeare's Globe, contemporary-art lovers flocking to the Tate Modern – all united in the quest for a good cup of coffee.
These are the best Southbank coffee shops for your caffeine fix.
The Best Cafes and Coffee Shops on the South Bank
Riverside Terrace Café
If you're a sucker for a good view, check out the Riverside Terrace Café at the South Bank Centre.
Offering unbeatable views of the River Thames in a really relaxed setting, this coffee shop is the perfect place to slowly sip away on a silky-smooth cappuccino whilst watching the world go by. It's particularly beautiful on a summer's evening, where you can watch the sun go down over the city.
Also serving up some indulgent dishes with a healthy kick, from quinoa herb salad, watermelon gazpacho to miso sesame glazed aubergine, this is a brilliant spot to enjoy a light bite to eat before heading to a show, or to simply enjoy a bit of people-watching and some good food.
Three Wheels Coffee
Located on London Bridge Street, Three Wheels Coffee is an independent coffee shop with a touching backstory.
After the owner of the café quit his day job six years ago to go traveling around South America, he fell in love with the sumptuous coffee grown there, and returned to the UK with his new-found wisdom.
After purchasing a tricycle and lugging round the weight of a 70kg coffee machine on it, Three Wheels Coffee was born, and has grown significantly ever since.
Sourcing the finest beans from South America, Three Wheels Coffee serves some of the best coffee on the South Bank, and the quality is truly incomparable; the passion for coffee radiates from the baristas, making this a really magical spot, and one of my personal favourites in the area.
Beany Green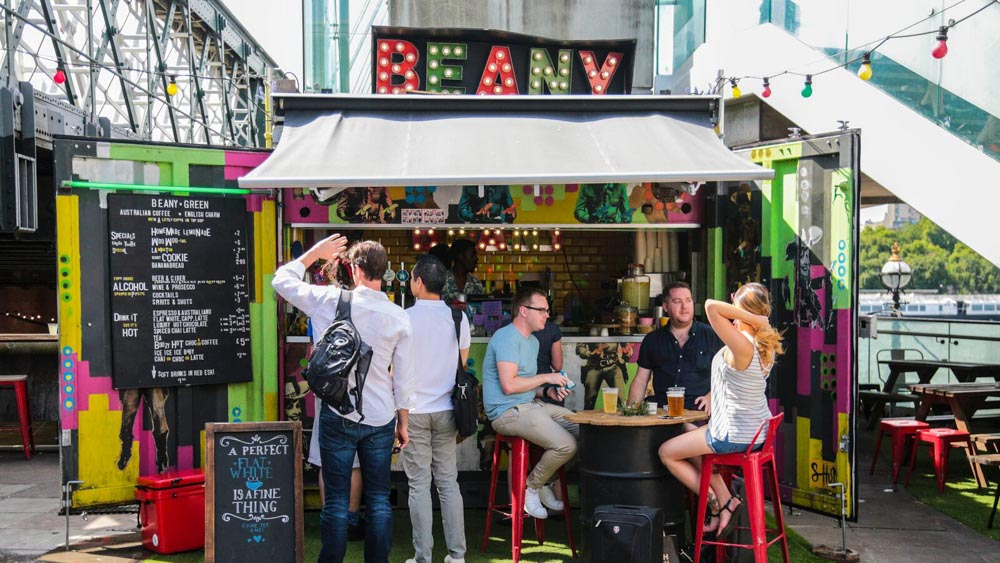 Nestled on the vibrant Festival Terrace in the heart of the South Bank, Beany Green is coffee-lover's fave.
This 10ft converted shipping container is an absolute powerhouse when it comes to producing exquisite coffee in a fun and quirky setting. Beany Green is part of the Australian-inspired Daisy Green Collection, and is renowned for creating brilliant Aussie Coffee; make sure to try the 'Beany Blend' for strong and rich flavours, perhaps even with a slice of the magical homemade banana bread.
As well as serving up delicious coffees throughout the day, Beany Green doubles up as a cocktail bar as well, and offers some innovative and delicious seasonal cocktails, as well as some fantastic local craft beers on tap, making it the perfect spot for any time of day.
Black Sheep Coffee
With the goal of ridding the world of bland and mediocre coffee, Black Sheep Coffee was established in 2013, and seamlessly combines passion with excellence; the brand is totally independent, despite having numerous and highly successful branches throughout the city, and the world.
Black Sheep Coffee use some of the most delicious beans and blends; there is a selection of four different speciality Arabica coffee beans on offer, which are Love Berries, Blue Volcano, Rebel Decaf, and Seasonal Limited-Editions, making it the perfect spot for you if you consider yourself a bit of a coffee connoisseur.
If you thought that Black Sheep Coffee couldn't get any more amazing, they also provide massive amounts of support to the homeless community, and are on a mission to rid the world of plastic.
Go for spectacular coffee in a cosy setting – safe in the knowledge you're supporting two very important causes.
Monmouth Coffee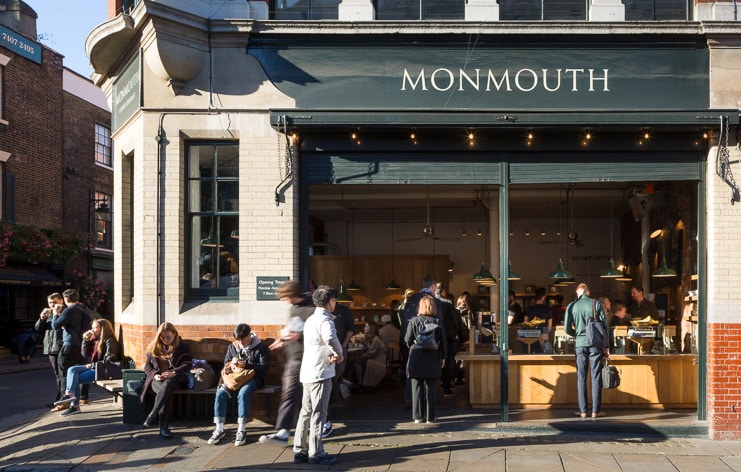 Having been roasting and retailing coffee since 1978, Monmouth Coffee have years of experience, and are in a league of their own when it comes to coffee.
Sourcing and roasting coffee from farms, cooperatives and estates, Monmouth takes the roots of their beans very seriously, and they work closely with the farmers and members to ensure that quality is guaranteed.
There are actually several branches of Monmouth across London, including Covent Garden, Bermondsey, and The Borough, on London's South Bank, which I personally believe is the best of the bunch.
It has such a wonderful atmosphere, and the exterior is so welcoming. In the summer, they lift the covers up for a fantastic indoor-outdoor feel.
Terrace Bar at the Tate Modern
The Tate Modern is one of the most popular tourist landmarks in London. That much we know. 
Schlepp up to the top floor of the Blavatnik Building in the Tate Modern for a peek from their fantastic viewing terrace, which also serves up some brilliant coffees, snacks, and alcoholic beverages.
Offering magical 360-degree panoramic views across London, including the River Thames, St Paul's Cathedral, and even Wembley Stadium and Canary Wharf, I really don't think there's a better place to sip away on a coffee (or something a little stronger) than the Terrace Bar at the iconic Tate Modern.
The Gentlemen Baristas
For a quirky, friendly and totally Instagrammable coffee on London's South Bank, head to The Gentlemen Baristas.
These guys ensure that they select only the very finest beans and blends, and inject love and passion into each and every cup. Their tagline is 'manners are key', and the whole identity of the coffee shop revolves around gentlemanly class, and this radiates as soon as you step foot inside.
The business has flourished in recent years, due to the growing popularity for unique and independent coffee shops, and arguably, the branch at London Bridge is the best of the best. With its deep blue exterior and understated yet stand-out presence in such a bustling and competitive area of the city, you can't help but feel sucked into it.
The Wall SE1
One for the artsy types, The Wall SE1 is part of the House of Vans, an enormous skate park nestled under Leake Street Arches, which is a top venue for creative and exciting events, such as exhibitions and gigs.
Bold and electrifying, the founders of The Wall SE1 fell head over heels in love with this New York style hotspot, and grabbed the opportunity to transform it into what is perhaps the most quirky and unique coffee shop on London's South Bank.
Designed like a proper American diner with a contemporary edge, this place also incorporates influences from the vibrant London art scene, and it's a real stand-out spot.
You can expect to pay a quid for a tea and around two for a coffee, which, for the quality and the incredible setting, is outstandingly good, especially when you'd be paying at least double to cram yourself into a loud and lifeless Starbucks.
Draughts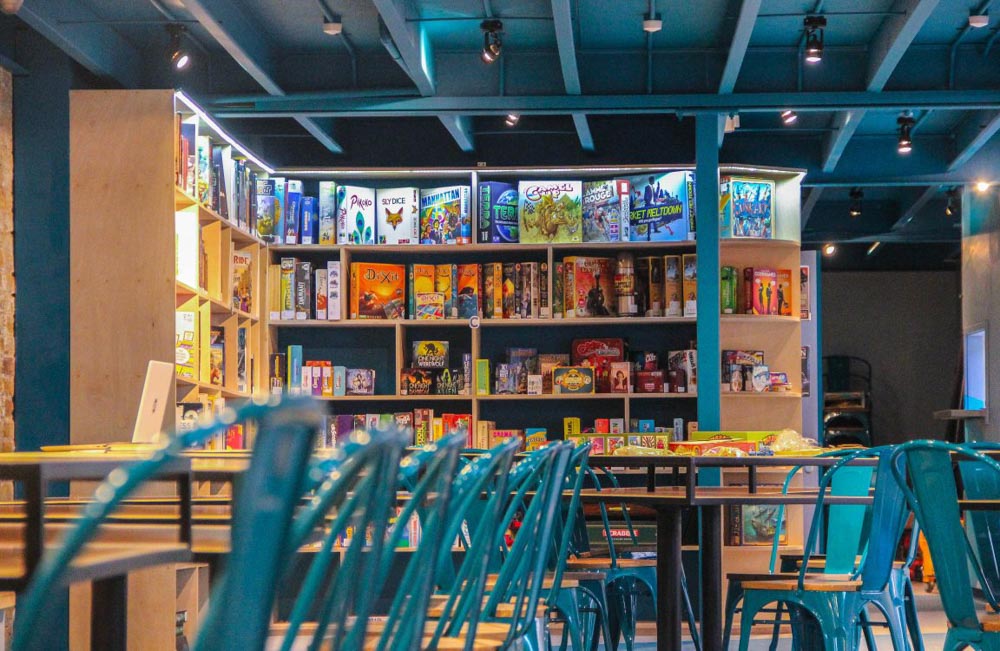 After it was launched in 2014, Draughts Board Game Café has continued to thrive; it brings a unique concept to the London coffee scene, as it has over 1,000 board games in its library, which guests can play whilst they enjoy a drink.
Each member of staff undergoes extensive game training, so that they can offer helpful advice to new gamers; there is a real mix of new gamers with those that have immense amounts of experience, which makes for a really interesting atmosphere and unique buzz.
The café also runs regular themed events, so it is well worth checking to see if there are any on when you plan on visiting.
Draughts is open from the morning until evening, so whether you fancy something softer or stronger in terms of beverages, it will always be there waiting for you.
South Bank Cafe Map
Looking for More South Bank Guides?
Check these out…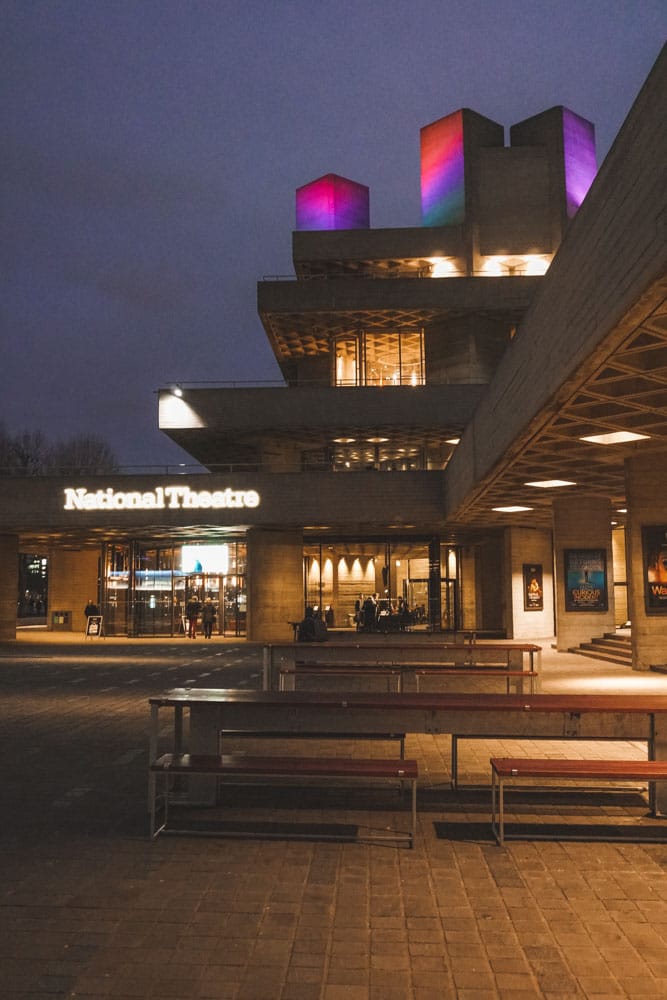 The South Bank Area Guide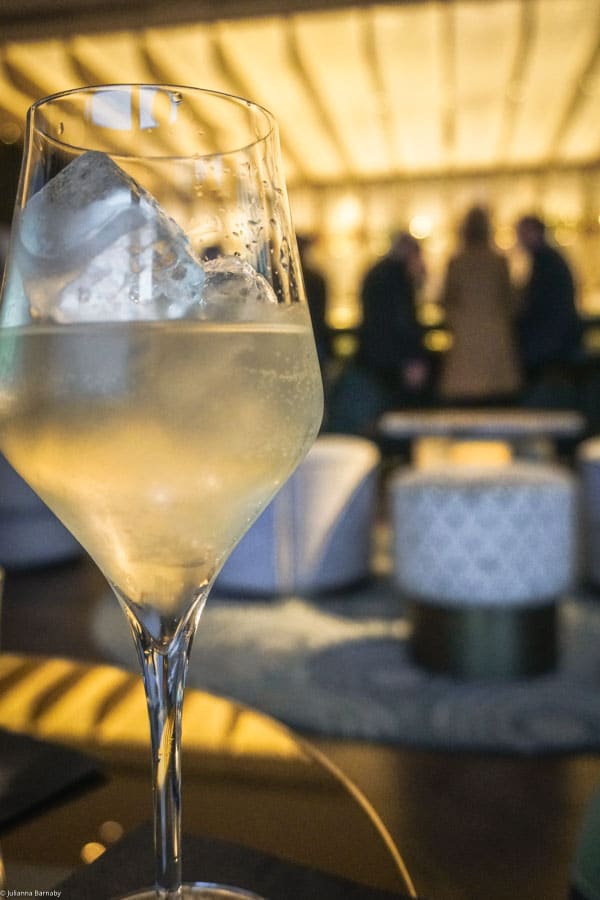 The Best Bars on the South Bank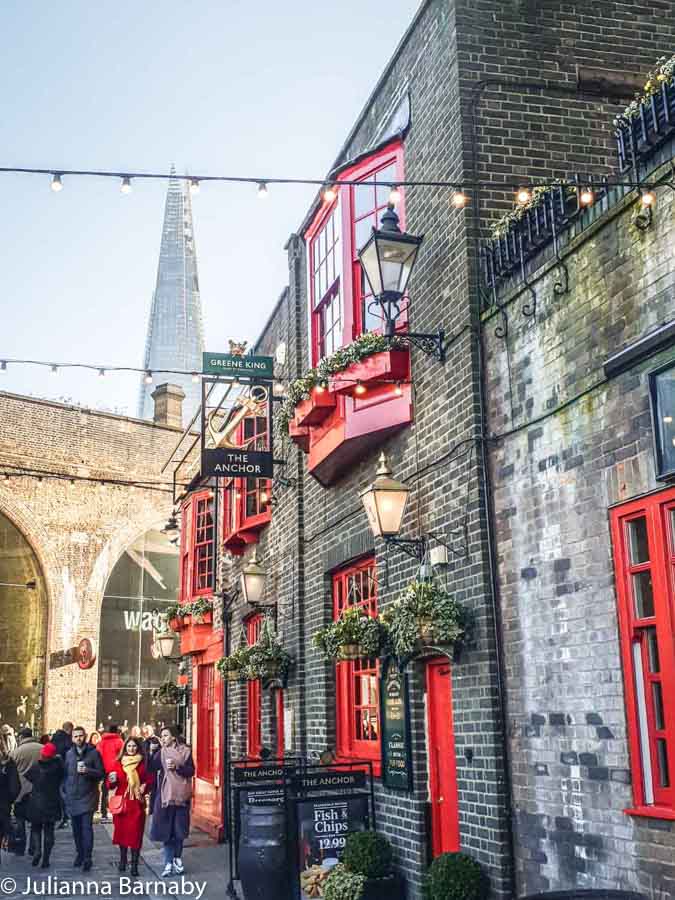 Brilliant South Bank Boozers