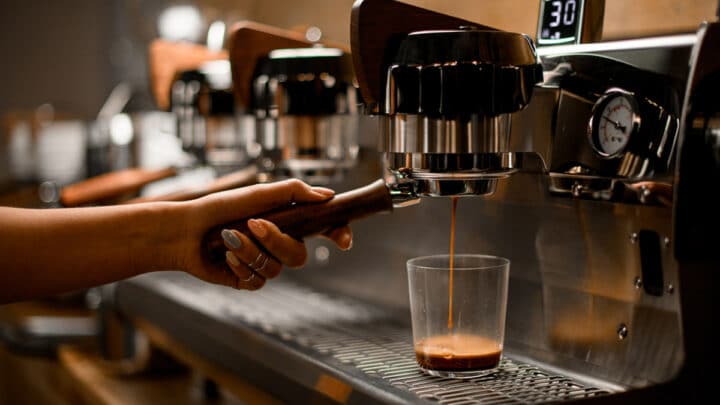 Coffee in Hackney = the perfect combination. Here are the very best cafes Hackney has to offer.
Hackney coffee shops fuse East-End charm with top-quality coffee, stunning baked goods, breakfasts, brunches and lunches to die for.
There are so many options – singling out the best cafes in Hackney is a nigh-impossible task.
One thing is for sure: you won't need to look far to satisfy your cravings.
The Best Cafes in Hackney
Dark Arts Coffee
Dark Arts Coffee is a proper roastery located east of Hackney Central.
With a cult reputation for its ethically-sourced coffee beans and expertly crafted drinks, this edgy venue has authentic coffee shop vibes with wicked branding throughout the shop.
Dark Arts offer a rotating selection of single-origin coffees and unique blends, which you can buy to take away or grab from their online shop.
The best coffee in Hackney? Easily a top-5 contender.
Palm Vaults London
Palm Vaults is an Instagram-worthy cafe situated on Mare Street. With its beautiful pastel colour scheme, wicked decor, and funky drinks, it has an awesome aesthetic. A partnership with Dee's Basement delivers sublime baked goods and treats.
Palm Vaults offers a range of speciality lattes, including their famous pink beetroot latte and lavender latte. They even have an apparel range.
Climpson & Sons Café
A wonderful artisanal Hackney cafe on Broadway Market, Climpson & Sons Café offers superb coffees, beautiful pastries, bread, and sweet treats.
Established in 2002, this longstanding coffee shop has established an excellent reputation with shed loads of good reviews.
They even have their own coffee liqueur, Midnight Oil, which won an IWSC Bronze medal.
21 SID
Italians aren't just culinary maestros – they also make superb coffee. 21 SID is an Italian coffee shop that offers a stunning array of treats, cakes – including delicious cookies – and quality baked goods.
21 SID are incredible bakers and craft sublime bespoke cakes, which you can see on their Instagram.
E5 Bakehouse
Among East London's myriad of wonderful coffee shops, Hackney's E5 Bakehouse is definitely one of the most renowned.
E5 Bakehouse is an artisan bakery and cafe located under the railway arches in London Fields. Opened in 2011, it quickly blossomed into a local staple, serving coffee, drinks, cakes and pastries galore, including the E5 croissant.
They even have their own farm – Fellows Farm, in Suffolk – and mill their own flour, so they can trace ingredients from the source.
If you're looking for something more substantial, the kitchen serves excellent breakfasts and lunches, all with fresh ingredients directly from the farm.
Grow
We could write an entire article on Hackney Wick cafes, but Hackney's is a big district, so we've got to be fair.
Grow is more than a cafe – it's a proper grassroots hangout spot, cafe, restaurant and cultural hub with gigs, open mic nights, Sunday Brunch n' Beats and art, creative and social events. It's a massive venue with a mezzanine, garden terrace, greenhouse and indoor warehouse.
The Middle-Eastern and Mediterranean-inspired menu is bursting with fresh, sustainably sourced dishes, with a plentiful selection of hot, cold and alcoholic beverages. Probably the coolest cafe in Hackney Wick, probably the coolest cafe in Hackney.
Bungalows Cafe London
A list of cafes in Hackney wouldn't be complete without a proper greasy spoon cafe. Bungalows Cafe doesn't mess about, with big breakfasts served with top-quality coffee.
The Full English and other breakfasts from the Set Breakfast menu are substantial and cooked to perfection – definitely better than your average greasy spoon coffee shop, but without compromising on fry-up breakfasts.
Well Street Kitchen London
If you're looking for a meal and coffee, Hackney's Well Street Kitchen is a lovely cafe and restaurant.
A top spot for breakfast, lunch and dinner, offering superb coffees with breakfast baps, then brunch, lunch/evening menu with fresh gnocchi, fish, lamb rump and mac and cheese.
They have tons of specials and rotating guest food, including the likes of Sobe Burger.
Pophams – London Fields
Right at the top of London Fields is Pophams, a small chain with insanely good pastries, artisan coffee and a pasta menu for lunch and dinner.
The savoury pastries and toasties are incredible, including a highly rated ham and cheese croissant, jalapeno toastie, and bacon and maple swirl.
Their new pasta menu offers fresh, homemade pasta like casoncelli, doppio ravioli, and cannelloni. With a warm, rustic venue in a great location, Pophams has quickly developed an outstanding reputation. Definitely among the best cafes in Hackney and a superb choice for something a little more substantial.
The Bodega 50
The Bodega 50 is a cosy Stoke Newington cafe, a family-run establishment, and local favourite for many years. They offer a range of ethically sourced coffee, homemade cakes, and sandwiches.
It's a no-frills cafe with reasonable prices and a wide assortment of breakfasts and happens to be dog-friendly too.
Ozone Coffee Roasters
Ozone Coffee Roasters is an established coffee roaster and cafe with a great venue in Hackney.
The Hackney venue is a little more than a coffee shop, though it still obviously provides Ozone's artisanal range of expertly brewed coffee drinks, made with beans roasted in-house.
The lunch menu is pretty substantial, with burgers, pasta, omelettes and plenty of other fresh, substantial and healthy dishes.
There's a nice buzz in this industrial-chic building, the perfect setting for chilling, working, meeting or kick-starting your day before heading out and about.
Hackney Cafe Guide: Practical Tips
These cafes will get busy on the weekends. You probably can't book a table at many of these spots. Don't be too disappointed if you end up ordering to take away.
Some of these cafes – the ones that take their coffee very seriously – will also sell beans. If you like what you're drinking you can always enquire about buying a bag to take home.
Hackney Cafe Guide: Map