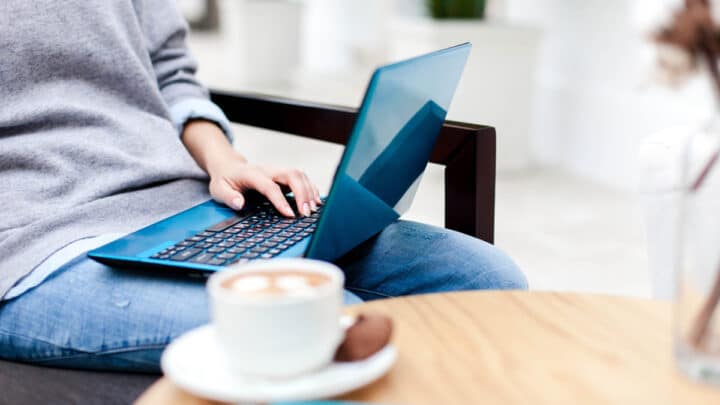 Looking for the best working cafes in London? We've got you covered with this handy guide.
Words by John Rogers
The number of people who WFH has rocketed in recent years (thanks to you know what). This has resulted in coffee shops and cosy cafes being transformed into portable workspaces.
Fortunately, London is well stocked with spots where people can rock up with their laptops and settle in for a few hours to work outside the home. All while enjoying mellow surroundings, excellent coffee, and the occasional culinary treat.
Whether you're a resident of London or just visiting and need to catch up on some pesky emails, here are the finest cafes for you to work from in town.
Best Laptop-Friendly Cafes in London
The Wren
The Wren is a delightful London cafe, named for Sir Christopher Wren, the architect of many of London's finest church buildings, including St Paul's Cathedral.
This charming coffee shop is located in St Nicholas Cole Abbey in the City of London, just down the road from Mansion House station.
The church itself hosts its main services midweek on a Thursday afternoon, while The Wren is open daily from 7 am until 4:30 pm during the week, closing only between 12:45 pm and 2 pm on Thursdays during the time of worship and closing at 3:30 pm on a Friday.
The beautiful surroundings of St Nicholas Cole Abbey make The Wren a peaceful place to open your laptop and tap away while enjoying some excellent coffee and homemade cakes as you work.
Grind
London Bridge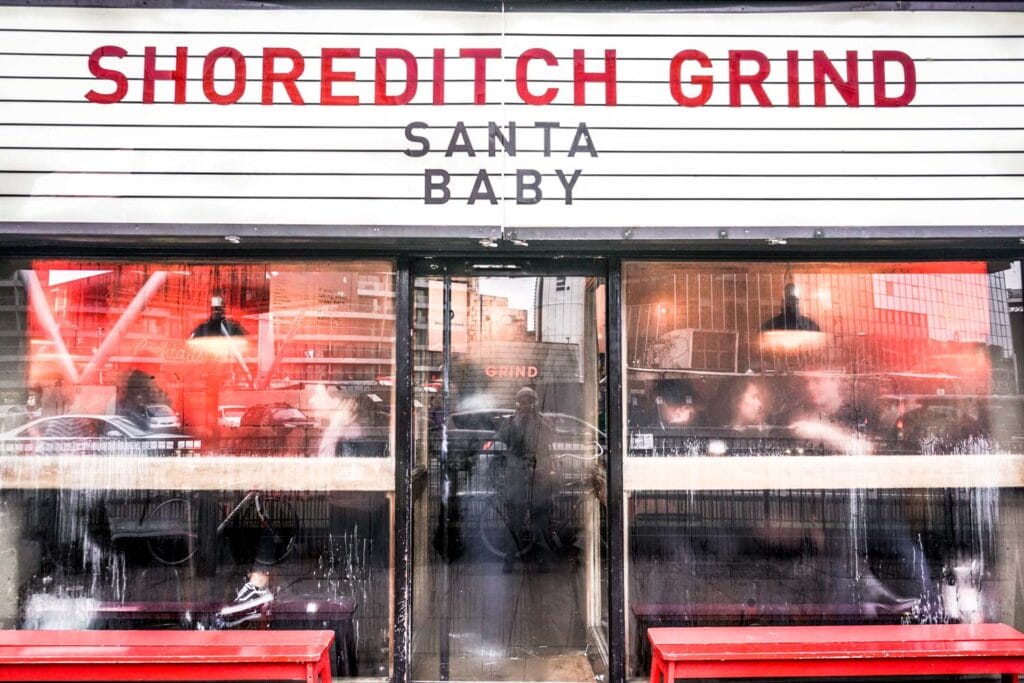 Grind is a hugely popular location for remote workers around London, and our favourite can is at London Bridge, above the fabulous Borough Market.
Open between 7 am until late in the evening during the week, it's the perfect spot to get an early start and enjoy some of the finest coffee and all-day food in the area.
Plenty of power sockets are available when you need to plug in and re-juice your machine, while the riverside views are sure to inspire when you most need them. The wi-fi is exceptionally stable, allowing you to be able to crack on with your to-do list without worrying about your connection dropping.
Better yet, the coffee shop becomes a thriving restaurant and cocktail bar as the sun drops, making it ideal for enjoying a few post-work drinks with mates.
Ole and Steen
Ole and Steen is a Danish bakery chain that creates some of the best pastries in London, freshly made throughout the day.
Although the brand has coffee shops across London, our favourite is the Canary Wharf offering, where high-powered suits come and go. Meanwhile, several others (that's you!) work more sedately at one of their many tables and power sockets.
We think you'll love their rich roasted coffee, which fills the shop with an enchanting aroma while noshing away at some of the finest, most delicately made cakes and pastries you'll find anywhere in the city. Getting a slice of Cinnamon Social is a no-brainer.
Ole and Steen is a layer cake house like no other in Canary Wharf, offering remote workers an oasis of calm among the maelstrom that overtakes the high rises around the peninsular.
WatchHouse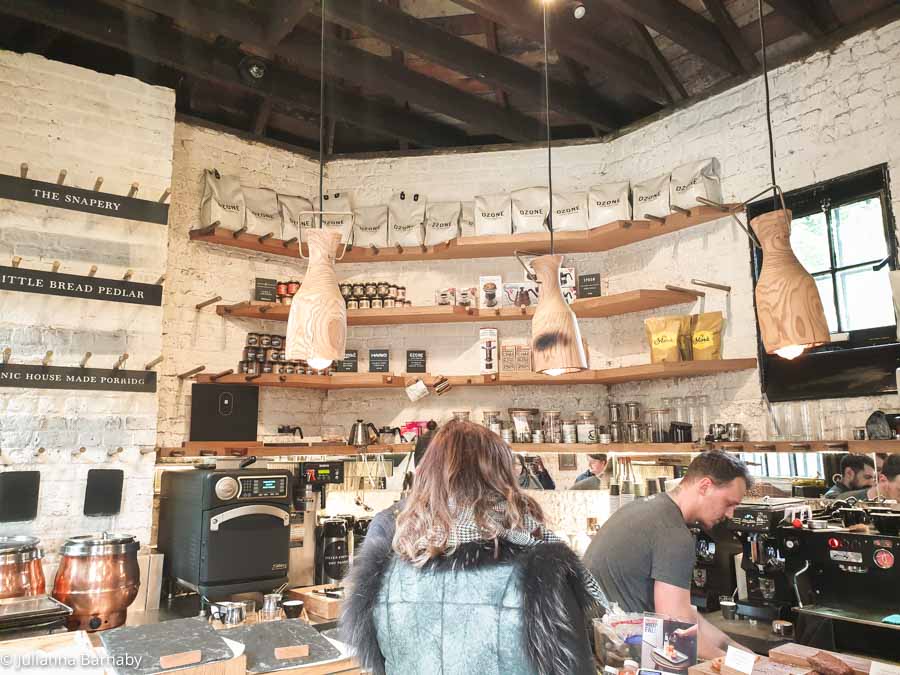 Somerset House was already one of our favourite London cultural hotspots – and now it's one of our most-loved remote working plots too.
WatchHouse boasts a superb coffee bar and the finest in cutting-edge coffee equipment, focusing on serving some of the best brews in London, along with excellent all-day brunches and a massive selection of artisan bakes.
WatchHouse, like many other coffee shops on this list, has branches all over London, providing plenty of light and space to set up your mobile office and work. Initially set up in Bermondsey, we find their Somerset House branch the most inspirational venue from which to work.
But take it from us, any of their beautifully designed locations across the city will provide you with the ideal space to work all day, every day.
The Terrace
Finsbury Park
The Terrace in North London's popular and evolving Finsbury Park area claims to make the "Best Cappuccino in London."
While we're strictly neutral and couldn't possibly comment on the veracity of that claim, we are prepared to confidently state that The Terrace is one of the best coffee shops in the area to take your laptop and work.
Easily accessible from anywhere in North London with its location on the Victoria and Piccadilly Lines, as well as mainline routes out of Kings Cross, The Terrace crosses the lines between the traditional greasy spoon and artisan coffee shops brilliantly.
We love their range of cooked brunches that stand out on their extensive menu, and if you want to stay all day, their lunch and dinner options are equally seductive.
Megan's
The only thing better than remote working is remote working with your faithful furry friend alongside you.
Megan's is a dog-friendly chain with several branches around London, and it's the one at Battersea Power Station that we have picked out as a prime remote working hotspot for anyone. Particularly if you love the idea of having your puppy keeping you company.
We love the Battersea Power Station branch because of its waterside location, the abundance of indoor and outdoor seating, and our favourite features, the stunning fairy-lit booths which provide a dreamy backdrop for a day's work.
Their coffee is smoother than silk, while the menu offers all of the traditional cafe favourites, from a fully-cooked brunch to healthy light plates to refuel midway through the day.
Notes Coffee Roasters
Notes is another London-based chain with branches all over London. Their Trafalgar Square branch does it for us though, with its beautifully curated all-day brunch menu providing something for people of all tastes.
Although often busy given its central location, we love the high ceilings and vast table space that provides you with as much space as you need to sit and work.
There are several plug sockets available within easy reach. However, if you struggle to work in noisy environments, you take your air pods or noise-cancelling headphones to aid your focus.
Open from 8 am during the week until 9 pm from Tuesday to Saturday, as the sun sets, Notes becomes a high-class wine bar with some tasty treats on offer.
Apple Butter Cafe
Situated a stone's throw from Covent Garden, Apple Butter Cafe is a haven of calm in the heart of the trendy Seven Dials district, home to several of London's culinary treats. We love the range of seating available here, from tables to comfy sofas, meaning you get to choose the best setup.
All your caffeine-filled favourites are on offer, including speciality lattes such as Turmeric, Charcoal, and Black Sesame, meaning you will not go short of options. Meanwhile, their range of cooked and cold brunch options always hits the spot.
There for lunch or working late at dinner time? No problem, you'll love their range of sandwiches and larger warm plates.
Vagabond
One of the most challenging parts of finding work-friendly coffee shop spots is finding somewhere that doesn't have distracting background noise that you need to drown out. Vagabond on North London's Holloway Road is a little bit different.
With the usual array of coffees, their delicious range of cakey treats will bring you back for more. The peaceful background ambiance Vagabond offers in their laptop-friendly, fast wi-fi shop is the best.
Ozone Coffee
A small, artisanal space within a short walk of Old Street Station in Shoreditch, Ozone Coffee may not be the cheapest of coffee shops in the area, but we reckon that's a price worth paying for their craft roasts and brews, sure to sate any need.
Their seating options include long bench tables within easy reach of plug sockets and small comfy sofas where you can settle down and begin writing that report or thesis with minimal disturbance. A real hidden East London gem.
The Attendant
Shoreditch
If Ozone does prove too costly, then The Attendant not only provides a cheaper, tasty alternative but also offers a calming environment to pitch up and work with its array of house plants dotted around the light and airy space.
Although The Attendant rarely gets too busy, except at peak times like the morning rush and breakfast, they operate on a first-come, first-served basis for anyone wishing to grab some table space for the day.
So we advise getting there early to avoid disappointment and allow yourself to revel in one of Shoreditch's most relaxing caffeine-fuelled environments.
Electric Coffee Co
An award-winning artisanal coffee shop in West London, the Electric Coffee Co in Shepherd's Bush is within sight of the barmy chaos of Westfield, yet on a different level entirely.
There's plenty of space for laptop users to spread out and work, even with notebooks if needed.
The wi-fi is fast and reliable, the coffee is incredibly rich and tasty, and the service always comes with a smile. If you find yourself in West London needing to work, this is the place for you.
Greenspeares
The food is the only thing more colourful than the decor of this charming coffee shop, Greenspeares, in Chelsea.
Their menu makes the best of the seasonal produce, most of which is locally sourced, while the vibe at this small but comfortable coffee shop is perfect for a hard day's grind at your laptop.
There are several tables and some comfortable armchairs to sink into to provide optimal levels of comfort. There is often plenty of space, and the shop rarely feels too busy. We recommend their veggie breakfast.
Stir Coffee
Brixton
Stir Coffee on Brixton Hill is one of the most popular local coffee shops, and as such, we love its range of coffees, craft drinks and food options as it provides the ideal location to pitch up your laptop and answer those crucial emails.
The shop is family-friendly, while choice tunes help the ambiance. Headphones are welcome, but we're not sure you'll need them. This is one of the most welcoming coffee shops south of the river.
Lumberjack
Camberwell
Lumberjack is a beautiful neighbourhood coffee shop in the heart of South London's green and pleasant area of Camberwell. Consisting of two floors, workers congregate in the downstairs basement area, with plenty of seating and top-notch wi-fi.
You may need to negotiate a little to ensure you can grab a power socket when you need one, as they're in relatively short supply. Everyone's extremely friendly, though, so this shouldn't be an issue.
Great coffee, excellent food and a terrific location – pretty much the holy trinity when it comes to the best cafes in London to work.
Bean & Hop
Wimbledon
A short walk from Earlsfield station, Bean & Hop combines excellent coffee with some wonderfully tasty middle-eastern grub and a wonderful environment to sit down and work quietly for a couple of hours.
This popular coffee shop has people regularly coming and going, and several small tables along with long shared tables. There are charging points on one of the walls, but it's probably best to ensure your laptop is fully juiced before you arrive.
We love the huge windows that provide tonnes of natural light, while their range of craft beers is worth trying as and when you approach the end of the day.
Prufrock Cafe
A simple yet comfortable coffee shop deep in the heart of London, Farringdon's Prufrock Cafe is ideally pitched for anyone that finds themselves in the City for client meetings.
With comfortable booth seating and bar-stool-style seats, you can choose the best setup for your needs while allowing their expert baristas to curate your coffee-drinking experience.
Their constantly evolving coffee options support local producers and small-scale growers, while the kitchen produces some of the area's finest seasonal home-cooked dishes. The beautifully laid-back atmosphere provides the perfect spot to tackle your task list.
Caravan
Chief among the many excellent features around the redeveloped Granary Square behind King's Cross station is the fiendishly popular Caravan.
Housed inside one of the many refurbished storehouses surrounding this trendy area, Caravan is arguably the best coffee shop in the area.
There is enormous space to sit and work and a vast range of coffees, pastries, cakes, lunches, and dinners to accompany your working day. The area often hosts exhibitions, so it may not always be available, so checking in advance is advisable. Aside from that, though, it's one of the coffee shops to work in London.
Practical Tips for Exploring the Best Cafes to Work in London
Wherever you are in London, a cafe that encourages and allows for remote working via laptops won't be far away. Most coffee shops work on a first-come, first-served basis, so you may need to arrive early to secure your spot in some of the more popular haunts.
Ensure your laptop is fully charged before you arrive to ensure you can work without delay. Waiting for a plug is never fun.
If you need somewhere to take meetings in London, it can be a good idea to look into co-working spaces. For a small fee you can rent rooms, chairs, and even entire offices for as little as an hour.
Laptop-Friendly Cafes in London: Map