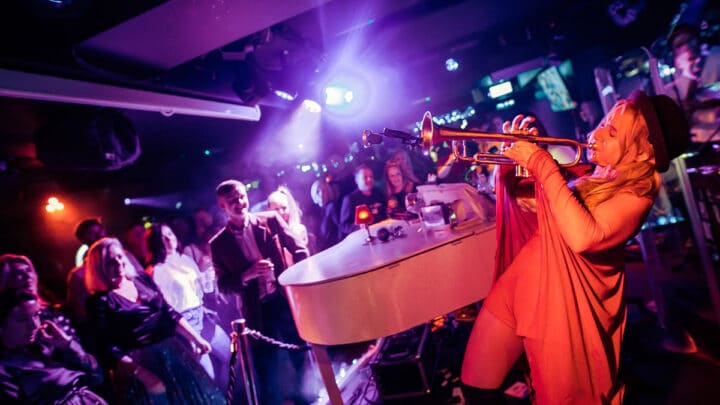 Planning the ultimate Christmas Party in the capital? These are the top venues in London for epic shindigs this festive season.
Christmas parties in London can go one of two ways. One is a sad affair with a few cocktail sausages and warm beer that leaves everyone with a sinking feeling of disappointment and feeling decidedly not festive.
The other? The kind of Christmas party you've always secretly wanted to host but haven't quite pulled off yet: one that's truly special, not just a droll evening of forced fun that leaves you wishing you were actually sat at home watching tele that night instead.
From renting out rooms in stunning ex-palaces or the top of iconic London skyscrapers, to venues at sophisticated members clubs we've got some great options for you. Or, if you fancy getting out and about, having a pub crawl, partying at a prohibition-era bash or going wild in an escape room we've figured out the best choices for that too.
Here's what you should know about getting that Christmas party right.
Venues for Throwing Best Christmas Parties in London
Make it Special at Somerset House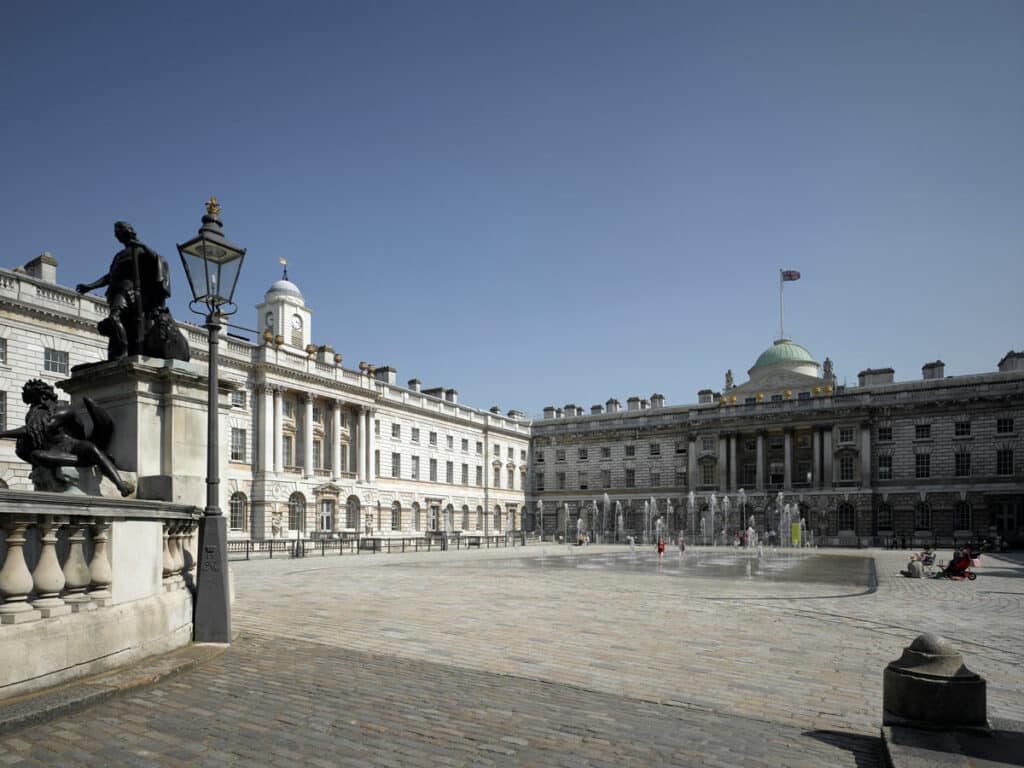 You really want to push the boat out and kick off Christmas in style? You can't do better than renting a room in a palace. Once the home of dukes, now a gallery and events space that boasts grand neoclassical architecture and a location in the centre of London, you probably can't get much better than Somerset House.

Each year at Christmas they open up a couple of their function rooms to host big office getogethers. The Lancaster Room is spacious enough to fit huge groups in, but you could opt for the smaller River Rooms if your team doesn't require so much space.
They're both beautiful, boasting large windows with riverside views, columns and flairs of design that give the space a truly palatial feel.
More information can be found here
Play Games Galore at Bounce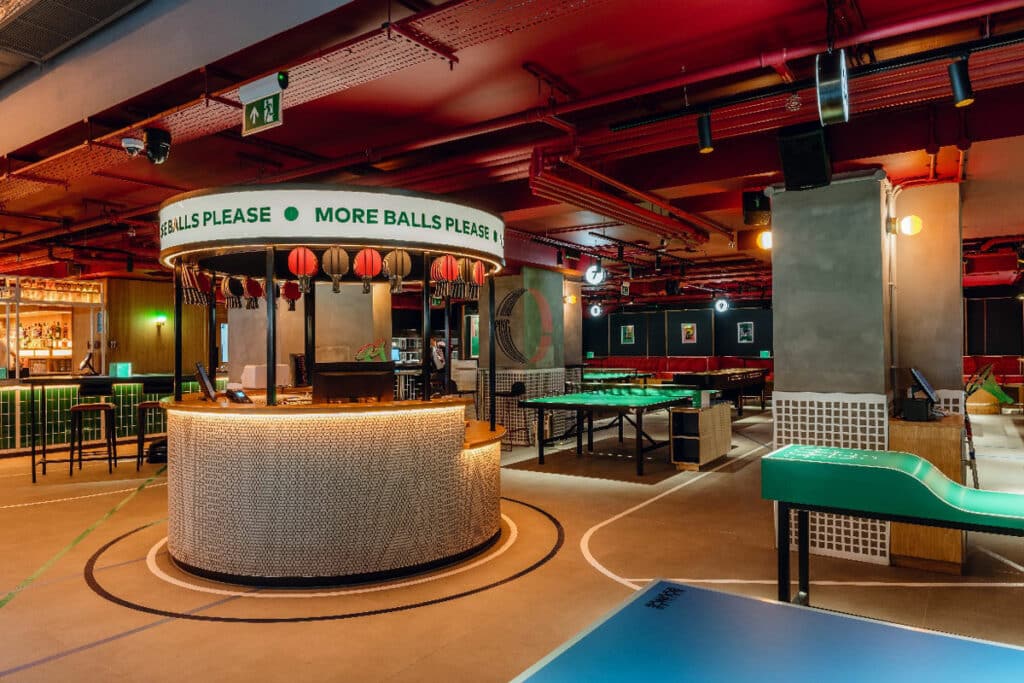 Bounce, a self-described "social entertainment venue," which we're taking as meaning "the perfect place for an Xmas party". They do ping pong, wonderball, shuffleboard, and, of course, beer pong.
If you're going for more of a casual vibe and where you can knock a few drinks back and have a good laugh, this is the place for you.
Bounce has an abundance of packages you can choose from. All you have to do is decide if you want to keep your party small or go all-out with a prosecco reception and unlimited pizza.
Bookings for Christmas parties at Bounce have already started, so book ASAP to avoid missing out. Packages start at £27 per person and come with drinks, activities and nibbles.
Skate the Night Away at Skylight Tobacco Dock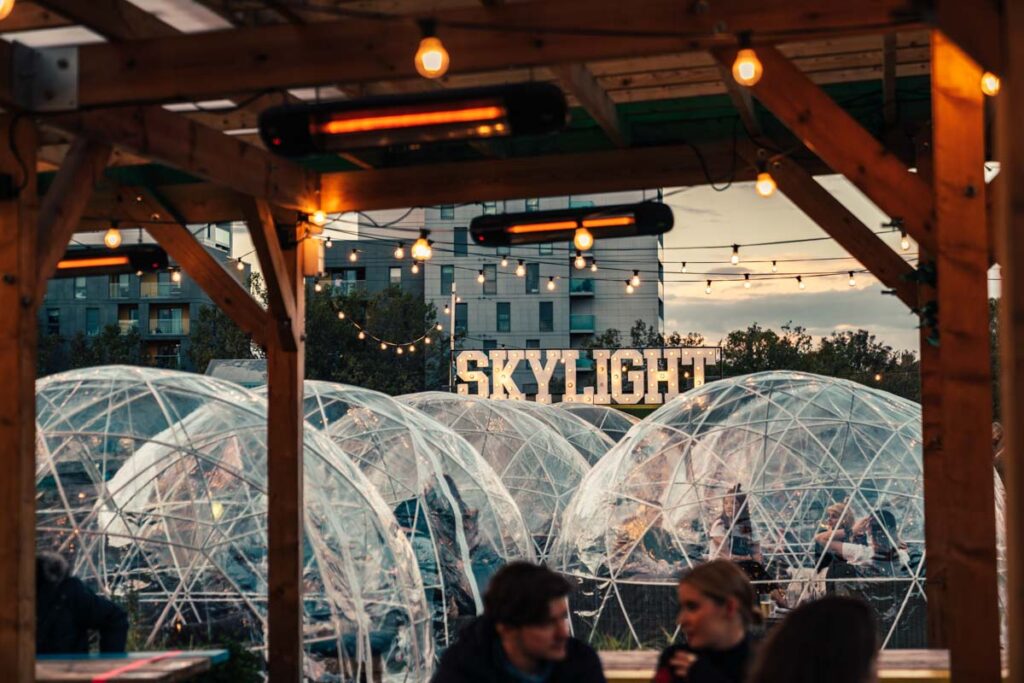 One of our favourite rooftop venues in London, Skylight at Tobacco Dock, has a mean Christmas party package on offer this year.
You'll have an ice rink at your disposal – and one that boasts a backdrop of London's skyscrapers lit up behind it – with the addition of igloo snow globes to keep warm in and a spread of après ski bars to get sloshed at.
Their packages are full-evening affairs that run from 5pm – 11pm and include food, drinks, DJs, skating and more.
Party Like a Boss at Searcys in the Gherkin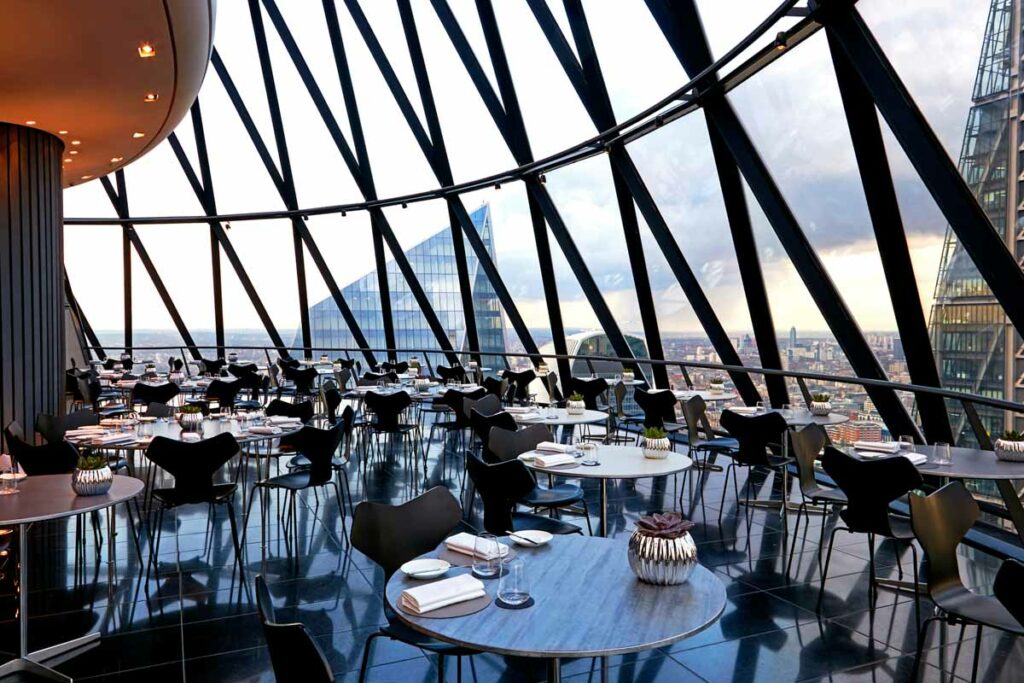 Ok, so it's been a good year, there's money in the coffers to splash and you want to make your team feel like they're getting a party worthy of their hard work. Here this for an option.
You can hire out Searcys at the Gherkin and throw your party in one of London's most iconic buildings, and better yet, perched right at the very top of it. Those views…
The package costs £99 – £145 per person for exclusive hire and £129 – £175 per person for private dining and includes a three-course meal with wine pairings and they can cater for upto 60 people.
Or Host a Swish Party in the Heart of Mayfair…
12 Hay Hill do a great menu for a sophistacted Christmas party. You can hire out their lounge up on the fourth floor, the bar, restaurant and selection of private dining rooms are all bookable too, and that's either for sit down dinners or drinks receptions where people mill about nibbling at canapes and sipping on classy cocktails.
The place is usually a members club so you also have the feels of exclusivity to throw in the mix with your team. At this time of year they deck the place out with festive decorations so it'll look the part not only feel it.
Dine in a Private Vault at Tuttons
Looking for somewhere to host a cosy dinner party with your work gang? Tuttons in Covent Garden has a very unique and atmospheric option for you.
You'll be tucked away in a subterranean vault – one decked out to be as warm and welcoming as can be. A choice of two luxe dining menus will be yours: the Jubilee Menu (47.50pp) and the Royal Menu (£55pp).
The latter is the more indulgent of the two, with the likes of smoked duck and aged ribeye steaks alongside traditional Christmas puds and cheeseboards for dessert.
You can see both the menus in full and find more information here.
Hire Out Hawksmoor
Christmas dinner doesn't have to be all about turkey and the trimmings. It could also be about, for example, excellent steak – some of the best steak in the city – in a setting that feels classy and exclusive. OK, we're sold.
We love Hawksmoor. We've never had a bad meal there, and it just so happens that they've got some great private dining spaces dotted around the capital.
They're full of the kind of sleek, sophisticated design and atmosphere that the brand is known for and they can even lay on sharing menus of all their best bits for your team, with festive elements there to bring out the Christmas spirit.
Book a Classy Cabaret Hall
Pulling out all the stops this Christmas? The London Cabaret Club have an offer that might tempt you.
You can hire out their stunning art-deco Bloomsbury ball room for dinner and a show. The dinner options come with a choice of three or five-courses which is all you'll need to worry about. The rest, they take care of themselves.
Oh and expect your hosts to be dressed to the nines and pretty much oozing glamour.
Fun Ideas Christmas Parties in London
Want to add a bit more entertainment to your night? Here are a few options to consider.
Celebrate the End of Prohibition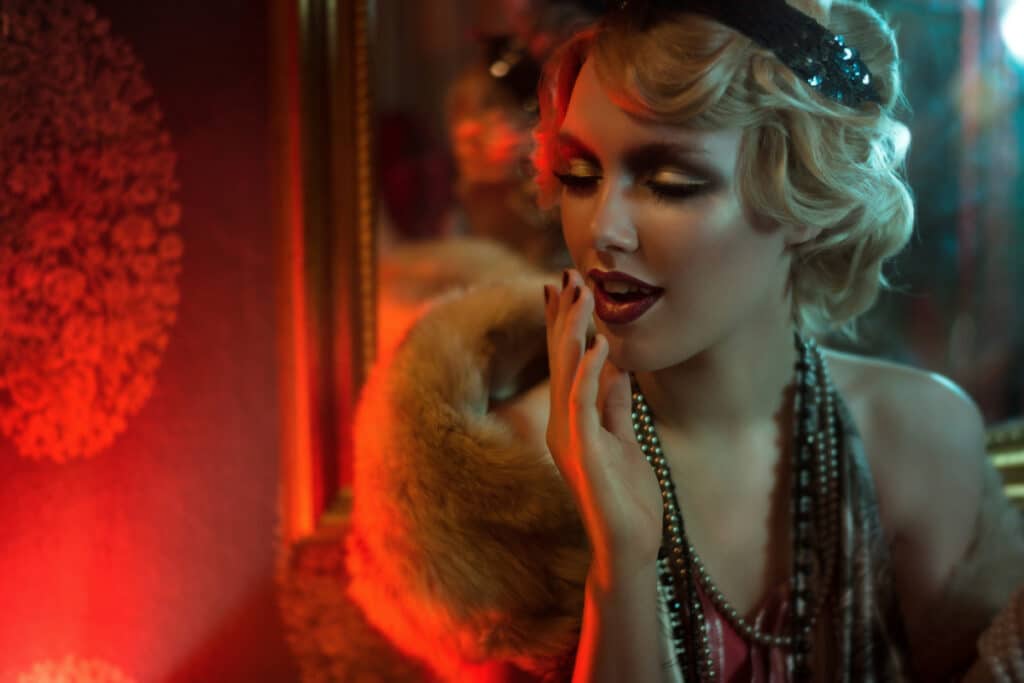 How about taking things right back to the roaring 20s this Xmas? This is an event that's got our interests piqued. You'll be going to a prohibition themed party at The Hilton where you'll be celebrating the end of the ban on booze.
It's a mixed affair, meaning you'll be sharing the ballroom with hundreds of other guests to create a scale you just won't find elsewhere. They hold a party on three separate nights in the run-up to Christmas (the 1st, 7th and 8th of December) and fill the space up with dancers, casino tables and lay on a three-course dinner.
Jay Gatsby is said to be in attendance. More info here.
Take a Cocktail Masterclass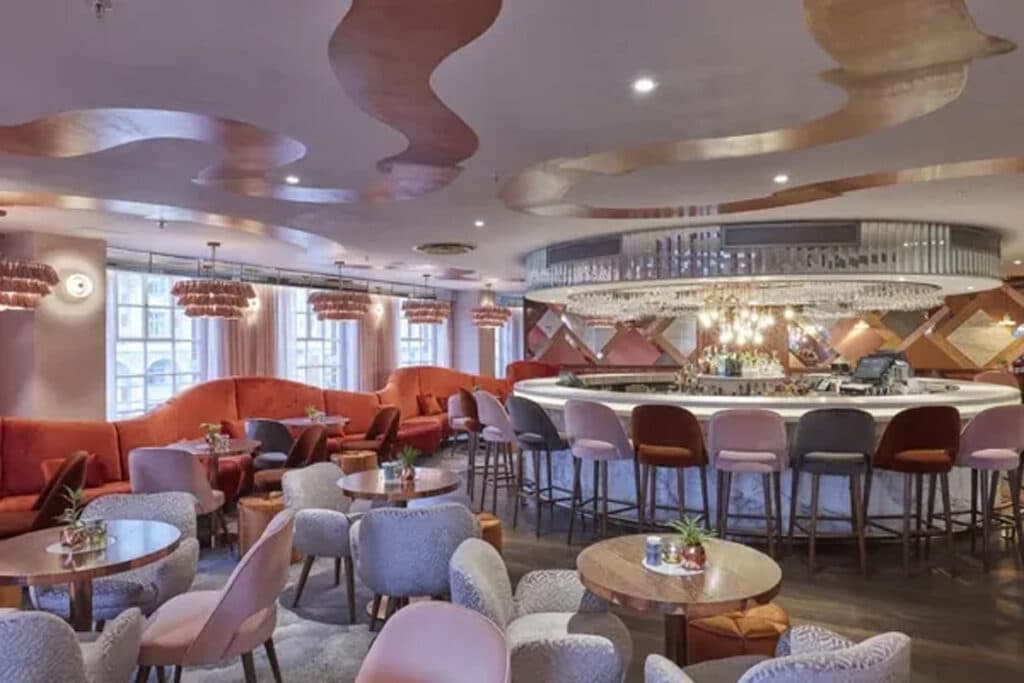 We all know that Christmas is a boozy time of year. The drinks do certainly flow. If you're looking for a fun way to gel that team you could take them on a course that will up their Xmas drink offerings.
Cocktail masterclasses are kicking off in London these days and you've got enough choice to find something that will suit your style. From fancy options at places like Harvey Nichols to more relaxed options where the focus is more on sampling your creations, the guide below has you covered.
Read More: Chin-Chin! 13 Fabulous Cocktail Making Classes in London
Go Crazy for Crazy Golf at Swingers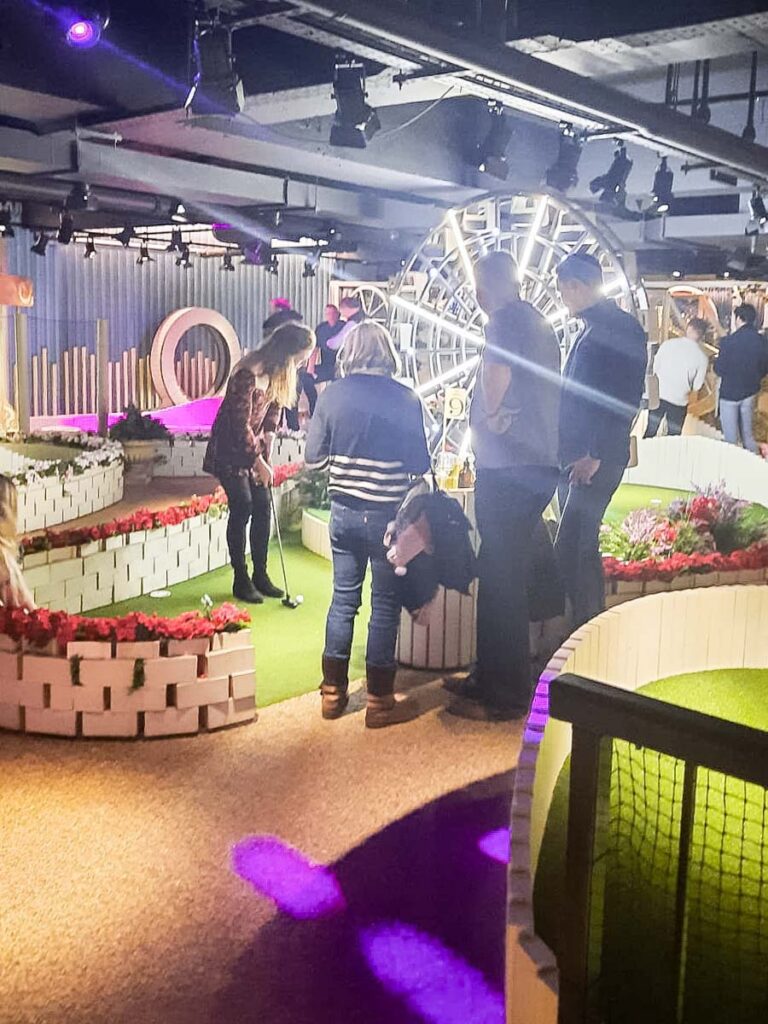 We love this spot, not just for its tongue-in-cheek name but for the creative way it knocks up crazy golf courses (they're full of genuinely crazy shots and all themed on elements of the quintessential 1920's British seaside crazy golf course.
They do a great spread of festive group packages that will be just right for an office team building. Their biggest, the Turkey Set, is £107 food and unlimited drinks, three hours on the holes and heaps more.
If you don't want to smash it so hard they scale the options all the way back to the Sprout Set at £35 per head which includes a couple of drinks and a round. Then of course there's everything in between.
Hit a Go-Kart Track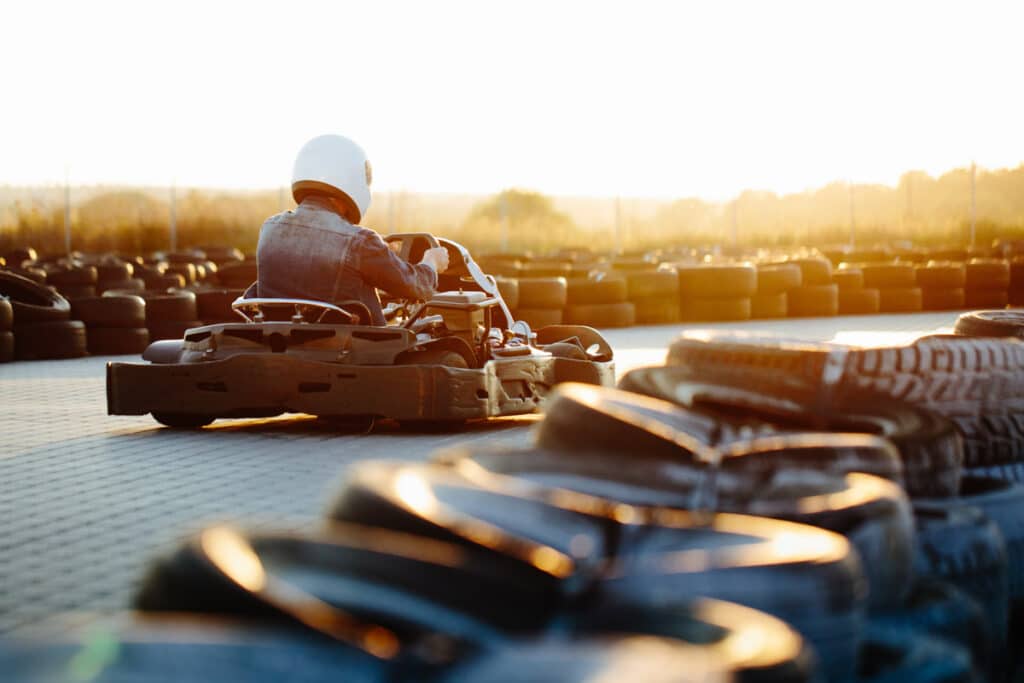 Go-karting is always a solid option when it comes to big events like this. They can cater for large groups, you've got the fun element to keep people entertained and probably best of all, there's plenty of space for bragging rights in the office come Monday morning.
There are heaps of tracks all around London you can choose from. You might want to choose one based on how close your workplace is to the action but we'll put in a good word for Teamsport Indoor Karting.
They've got tracks in a bunch of different London locations and best of all they're all indoors, meaning you don't have to worry about the winter weather.
Read More: Zoom Zoom! 9 Cool Go Karting Tracks in or near London
Dine and Dance to Live Music at The Piano Works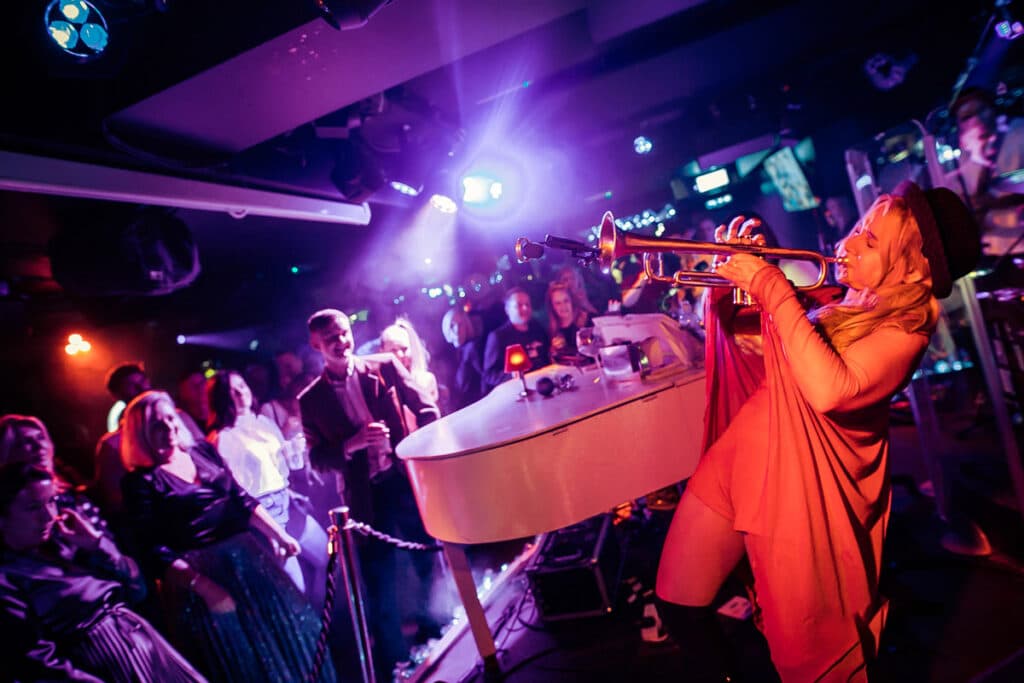 The Piano Works offers non-stop live music if you're into truly dancing the night away. And really, who isn't?
Christmas packages at The Piano Works include the option to hire out the venue for up to 400 people or to pack smaller groups in and dine from their seasonal menus. You can book for the middle of the day or the evening any day of the week but Monday.
They'll turn up the music and take care of all the rest.
Break Out at Escape London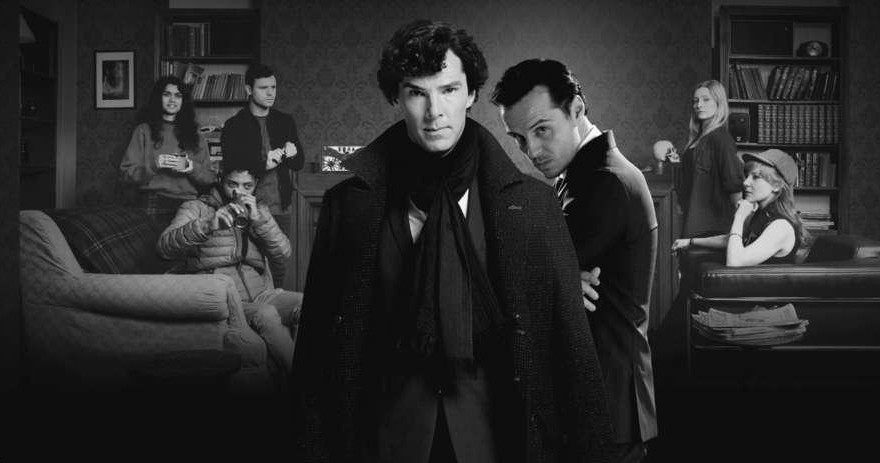 Escape rooms are all the rage these days, and London has some pretty solid offerings.
At Escape London they've got more choice than you need. Live through Taken 2 or a casino heist, exploring a Mayan temple (with all the death traps) is also on the cards.
Breakin' Escape Rooms are another one of our favs. They're great for corporate bookings and have a long list of big-name clients like HSBC and Maccy D's that have held parties there (you can see all that on their website).
They do a great Sherlock-themed murder mystery escape room that'll have you solving all sorts of clues against the clock. And if that's up your alley, The Mind of Moriarty might be a good option too.
Want to keep Christmas magical? Enigma Quests do a great take on Harry Potter called the School of Witchcraft and Wizardry.
Sing Like No One (or Everyone) is Listening at Karaoke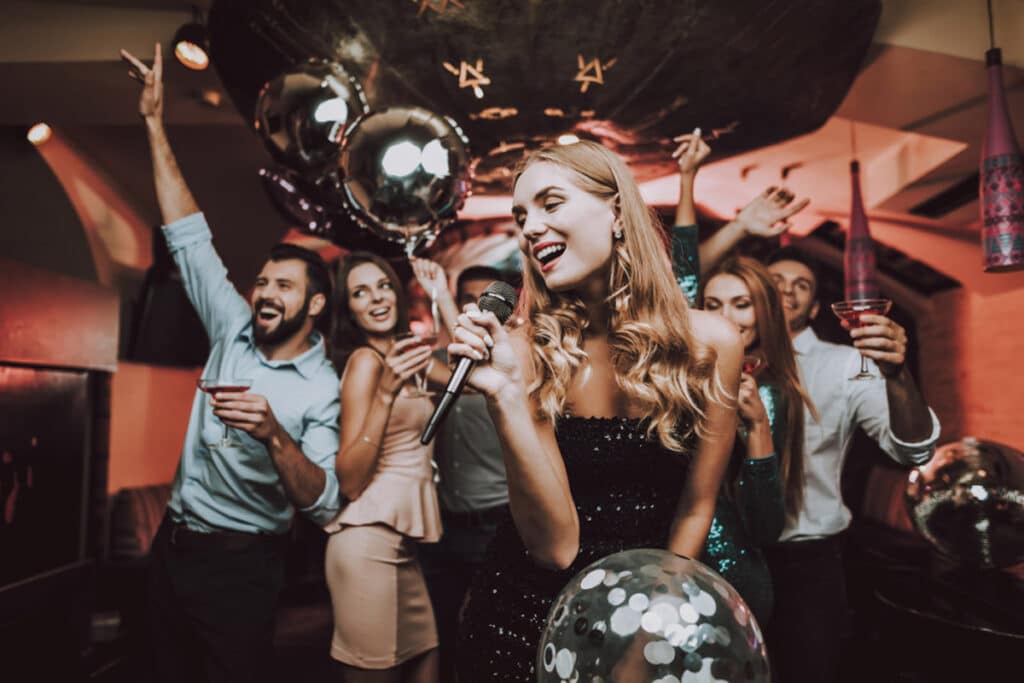 Karaoke, anyone? If you and your friends are looking to let loose and sing your pretty hearts out, Lucky Voice in Soho will be perfect. They cater really well to big teams and office events – stuffing you inside a private room and letting you go wild while plying you with drinks to give you the Dutch courage to get up and sing.
Huckster in Paddington does much the same and has heaps of rooms so you can make relatively last-minute bookings if need be.
Or if you fancy something a little more low key, The Star By Liverpool Street has five private karaoke rooms, they're a bit smaller than the above two venues' but they're a great place for a closer-knit group, especially if you work in the City.
Plan a Pub Crawl
Have a rowdy crew who just isn't up for staying in one place? Then a pub crawl is definitely the way to go. You can either plan it yourself and risk letting things slide out of control, or leave it up to a team of professionals.
London Party Pub Crawl offers entry to four bars and one club. Everyone gets a free shot at each bar 5 with drink deals along the way and a (for better or for worse) photographer to catch all your party hijinks on record.
In researching this piece we also turned up this gem, The Circle Line Pub Crawl. It's not an organised affair but more of a piece of London law that someone's taken time to make a website about (love it). It's 27 stops along the circle line.
We're assuming that's a half in every pub and that you'll be falling asleep on the tube at some point – it's just a matter of when.
Spend an Evening at Alcotraz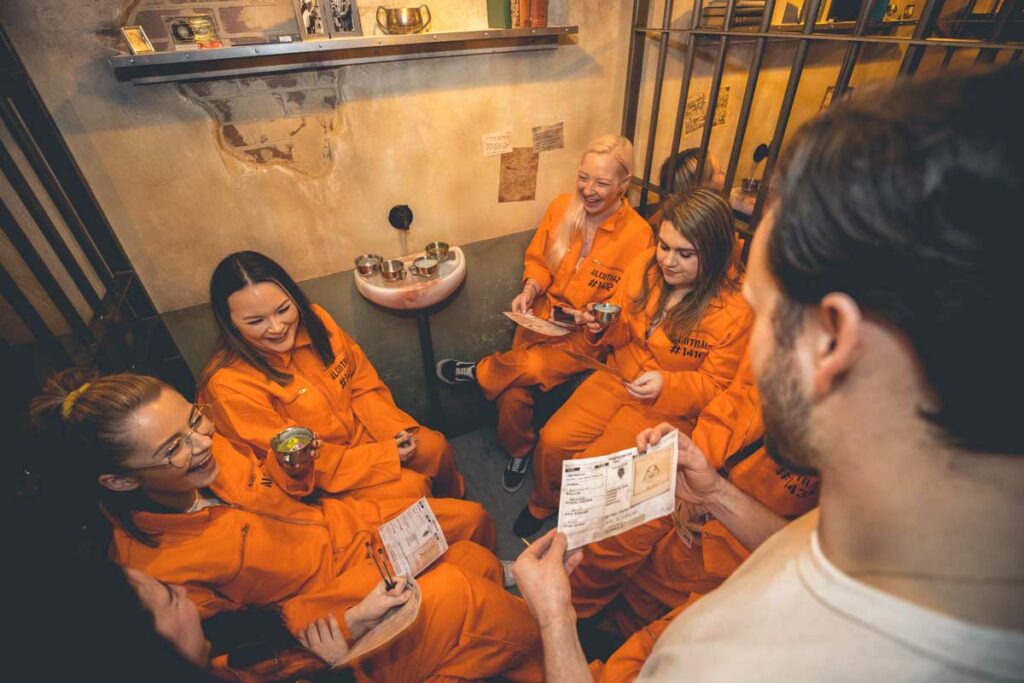 Getting banged up is probably the opposite of how you would want a night out to end… Unless, that is, you're spending an evening at Alcotraz, London's best boozy escape experience.
This one is definitely for smaller work groups – unless you fancy being squished behind bars – but, boy, is it one of the better ways to spend a Christmas work party.
A cast of talented actors will bring the storyline to life, combining world-class cocktails with a theatrical storyline. Drinkers (or 'inmates' as you'll be referred to) are tasked with smuggling liquor past the eagle-eyed guards.
Get the contraband through and you're in for an evening of wicked cocktails. This is one of the more quirky Christmas party ideas London has up its sleeve.
Get Competitive at the F1 Arcade
Speed demons, this one's for you. F1 Arcade is doing a package where you can eat, drink, and drive an F1 car simulator for your Xmas party.
For private groups, the venue opens up The Briefing Room – head here with up to 90 guests and get ready to unleash your competitive side as you marvel at views of St Pauls (and grab a few cocktails from the private bar).
This is the only time where drinking and (simulated) driving is a-ok. Just make sure you get an Uber home. Oh, and think of the bragging rights in the office for the winners.
Christmas Parties in London: Map