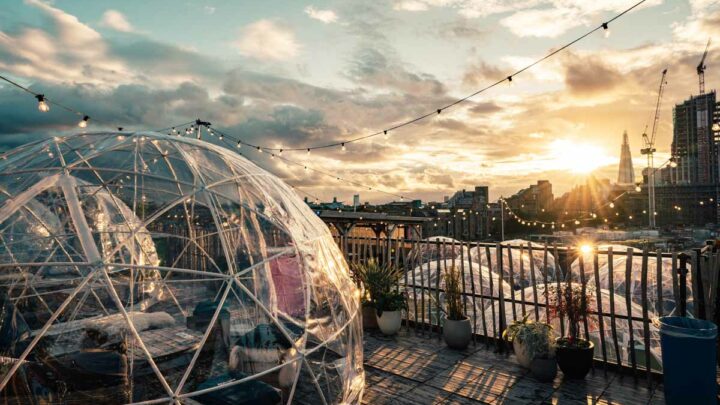 Christmas parties in London can go one of two ways.
One is a sad affair with a few cocktail sausages and warm beer that leaves everyone with a sinking feeling of disappointment and feeling decidedly not festive.
The other? The kind of Christmas party you've always secretly wanted to host but haven't quite pulled off yet: one that's genuinely fun, doesn't suck and has everyone rhapsodising about it over Zoom until the post new-year misery sets in.
From hours of beer pong, to stunning sunset views, to a dinner cruise down the Thames, there's no shortage of spots to party your heart out.
Discover the best of London's Christmas party venues – perfect spots for all the holiday festivities.
Venues for Throwing Best Christmas Parties in London
Work on Your Stroke at Swingers
Anyone up for a round of crazy golf? Swingers is the place for you.
All of Swingers' party packages include golf, drinks, and nosh. You can also add a Christmas cocktail, festive dessert, and even a souvenir golf visor, if you want. And really, who doesn't?
Packages at Swingers start at £35 per guest. You can book up to 20 guests using their website, but if you're aiming for a bigger bash, you can call or contact them here.
Bounce Into Games Galore
Bounce, a self-described "social entertainment venue," offers ping pong, wonderball, shuffleboard, and, of course, beer pong (ayyyyyyy).
If you're going for high-class casual and perhaps even want to indulge in a drinking game or two, this is the place for you.
Bounce has 3 packages you can choose from. All you have to do is decide if you want to keep your party small or go all-out with a prosecco reception and unlimited pizza.
Bookings for Christmas parties at Bounce start 29 November, so get started ASAP to avoid missing out. Packages start at £35 per person.
Skate the Night Away at Skylight Tobacco Dock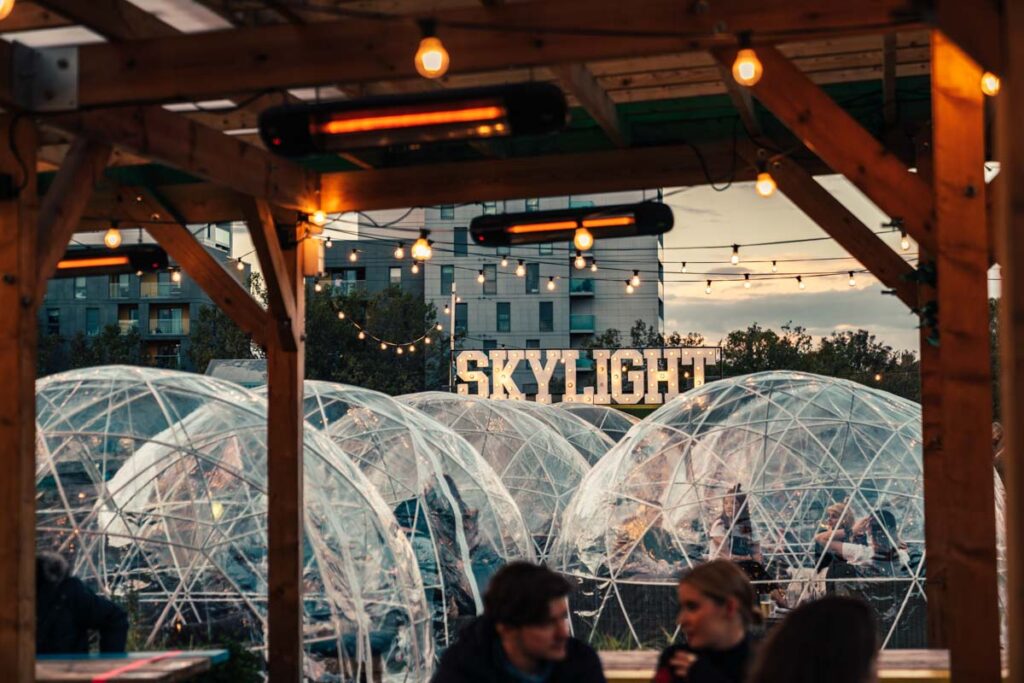 If you're looking to take the party outside but aren't fond of the cold, look no further than Skylight, London's premier rooftop venue.
This one-of-a-kind venue lets you and your guests skate the night away on their ice rink. When you're ready for a break, you can sip on mulled wine in stunning transparent igloos. All the festive feels.
And did we mention the view? On Skylight's Tobacco deck, you'll enjoy a full 360-degree view of London.
Igloos can be booked for 3-hour blocks for £60, and ice skating can be added on when you get there for £15.
All Aboard Bateaux London!
Check out Bateaux London if you and your crew want to check out London from the water.
Bateaux offers a fun-filled river tour featuring live music, food, and wine; a time-tested, winning combination.
Beginning 26 November and continuing every Friday and Saturday, you can plan a Festive Gold or Festive Platinum party that takes you on a 2 hour and 45 min ride down the Thames.
Looking for daytime festivities? No problem. Bateaux offers a Festive Lunch, too.
Dinner rates start at £139 and lunch starts at £69 per guest.
Take In the View From Above at Searcys
Perched high above the streets of London, Searcys is sure to give your holiday bash a stunning backdrop from the top floor of London's iconic tower, The Gherkin.
This amazing venue offers multi-course meal packages with a variety of options and would work perfectly if you're throwing a party with 120+ guests.
For a Christmas party to remember, Searcys is definitely worth putting on your list. Packages start at £99, and there are heaps of add-ons.
Host a Swish Dinner Party in the Heart of Mayfair
12 Hay Hill is the perfect choice when you want to throw a fabulous dinner party but don't want to get stuck with the cleanup at home.
Not only does 12 Hay Hill go all out with the Christmas decor, they offer 3, 4, and 10-course dining options. With desserts like Mulled Wine Poached Pear, you really can't go wrong.
If you want to book a space to toast with friends and nibble on hors d'oeuvres, 12 Hay Hill also offers standing receptions. For pricing, contact them here.
More Ideas for Cool Christmas Parties in London
Want to add a bit more entertainment to your night? Here are a few options to consider.
Take in Drag Brunch and a Show
Sometimes parties are better early in the day–especially when they involve some of the best drag queens London has to offer.
A drag brunch is the perfect solution if you're looking for a brunch mixed with a dose of singing, dancing, and comedy.
London has a ton of drag brunch options to choose from, but Bougie Drag Events is a great choice for a stellar party, including Buff Bingo and a Singalong Brunch.
The best part about this option is what's included. Not only do you get four hours of partying, you also get bottomless prosecco, a 2-course meal, not to mention an awesome show.
Tickets start at £23. Book now for a December 11th Christmas special.
Check Out a Cabaret Show
Are you looking to pull out all the stops this Christmas? Look no further than a Diamond Ticket to A Gatsby Christmas.
Starting 26 November, you and your fellow party goers can enjoy champagne, a 3-course gourmet dinner, and a professional Burlesque show from the VIP ballroom at London Cabaret.
Tickets start at £75. Want to take it a step further? Upgrade to a Royal Diamond ticket and get a 4-course meal and a half-bottle of Moet for everyone in your party.
Live Music and Dancing at The Piano Works
The Piano Works offers non-stop live music if you're into truly dancing the night away. And really, who isn't?
Christmas packages at The Piano Works include a 3-course meal and prosecco for each guest, so get ready to toast to an awesome night.
Packages start at £ 25 per person for a mid-day bash, but dinner and drink-only options are available, too.
Break Out at Escape London
Escape rooms are all the rage these days, and Escape London's offerings are no exception.
With choices like Taken 2 and Casino Heist, Escape London turns your favorite pop culture fodder into a room you have to think your way out of.
Since escape rooms are geared toward smaller groups, this would be a great choice to get a little friendly competition going between a few groups of friends.
Prices vary based on your group size, but here's a handy reference to help you out. If you book now and go within 60 days, you can even save 15%.
Once you're done, take your party to the historic George Tavern just down the street to celebrate your victory with a drink.
Sing Like No One (or Everyone) is Listening at Karaoke
Karaoke, anyone? If you and your friends are looking to let loose and sing your pretty hearts out, the karaoke room at the Chelsea Pensioner will be perfect.
You can book the karaoke room for film screenings or live sports, too, if you want to throw in some variety. All packages come with a private bar and bartender to suit all your beverage needs.
The karaoke room maxes out at 40 guests, but not to worry. The entire pub is open for rental for private parties. Prices start at £150 with a £400 minimum spend.
Throw a Beatles-Themed Party
If you're as big of a Beatles fan as we are but can't make it to Liverpool for a proper shindig, you absolutely have to put the private Beatles dining room at Beso on your short list.
Filled with heaps of Fab Four memorabilia, the room at this fabulous Italian restaurant where the Beatles once dined will give you a bit of the Beatles experience without having to leave town.
You can contact Beso using this form to get started on your party planning.
Plan a Pub Crawl
Have a rowdy crew who just isn't up for staying in one place? Then a pub crawl is definitely the way to go.
Hop on a bus or hit the sidewalks with a group of friends and flit from pub to pub.
London Party Pub Crawl offers entry to 5 bars, 5 free shots, drink deals, and a photographer to catch all your party hijinks on film.
Prices start at £13.75 for smaller groups and £12.50 per person for larger groups, which gives you a nice discount of up to 50%.
Want to make your pub crawl unique to your gang of partygoers? You can plan your own pub crawl… just don't forget to grab something to eat along the way.
Practical Tips for Throwing a London Xmas Party Like a Pro
Remember–choosing a venue is only the beginning. Don't forget these helpful tips when planning your party:
Plan, plan, plan. If you want to guarantee a good time for you and your friends, book your venue as far in advance as possible.
Seek out drink specials. Some venues offer Christmas drinks with their packages. These festive beverages will round out your party perfectly.
If you're partying into the night, consider booking a relaxing brunch or spa the next day for the perfect way to bounce back after a long night of fun.
Party on!
Christmas Parties in London: Map
Looking for More London Christmas Guides?