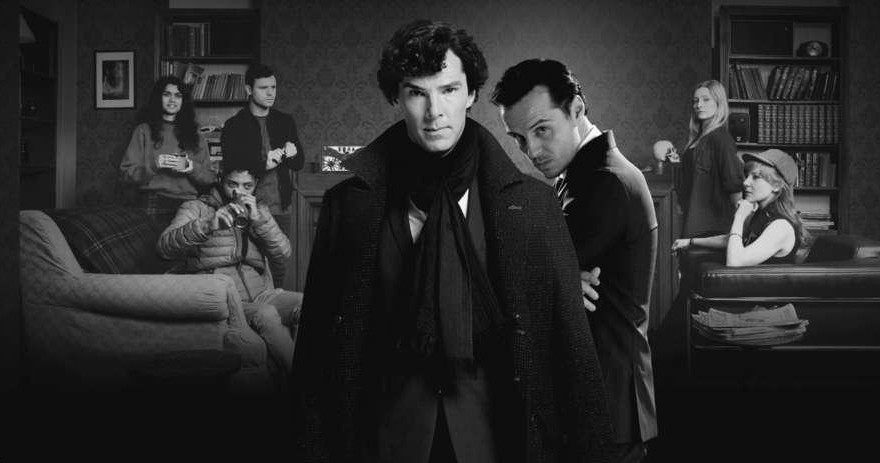 Serious question. What did we do in London before escape rooms were born?
Remember those bleak days when all we could do was go for a pint and stare into the distance, wishing, just wishing that there were some place where we could lock ourselves up in a small room and solve problems under pressure.
Escape rooms may be a relatively new phenomenon, but they've taken London by storm.
The concept is simple: a game in which a team of players have to work together to solve clues and riddles in order to escape within a certain time limit.
These days, there are so many escape rooms in the city that it can be difficult to sift through them.
No fear, we've picked the best escape rooms in London – for Sherlock Holmes-themed nights to 90s TV shows and Breaking Bad adventures.
The Best Escape Rooms in London
Sherlock: The Official Live Game
W12 Shopping Centre, Shepherd's Bush
Sherlock Holmes is the perfect literary character to base an escape room on and now you can delve into the world of Sherlock in real life at The Official Live Game. The team behind the popular show are also behind this escape room, so you know it's legit.
You're walked through a storyline and inevitably get stuck in a room where you have to solve puzzles, which are of course themed around the world of Sherlock. Holmes himself even pops up in helpful messages to get you through the game.
The game is indeed afoot.
Escape Alcotraz
Address: Unit 3B, 127 Hackney Rd, London E2 8GY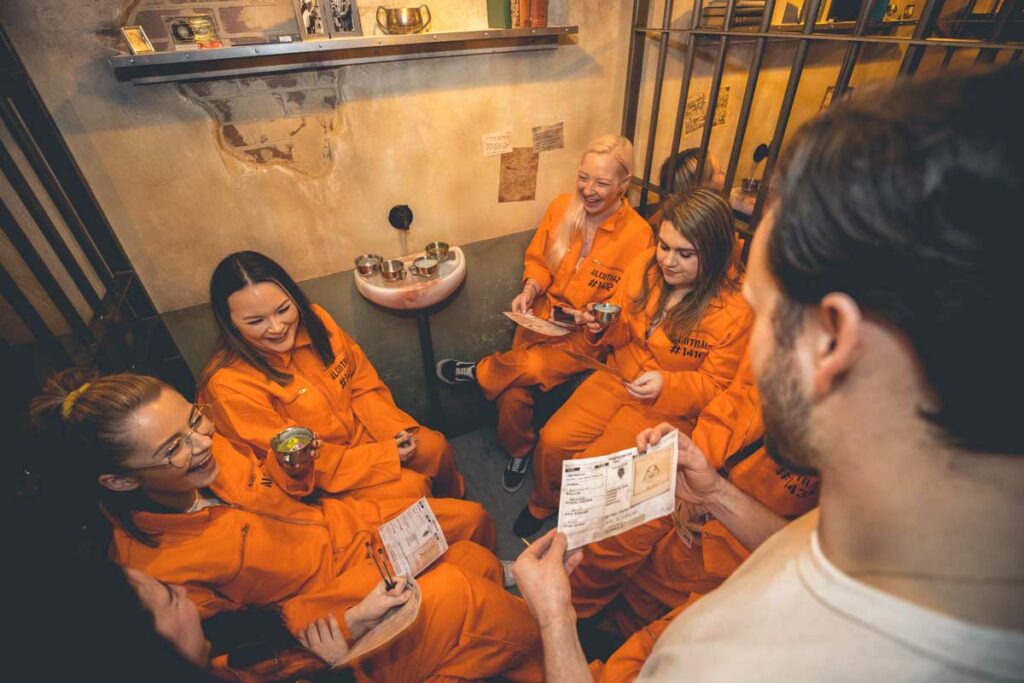 This one blurs the line between escape room and immersive experience slightly, but we're going to include it because it does still involve some problem solving. At Aloctraz you'll have to smuggle bottles of liquor past the guards into a prison.
Once you've succeeded, the other inmates will start to mix your contraband into a selection of delicious prison cocktails. You'll have to keep the guards from catching on to those too. They don't take kindly to drinking in this joint.
The Saw Experience
The world can comfortably be divided into two camps: Those that watched Saw and thought they could survive Jigsaw's puzzles, and those that knew they'd be screwed. Now, you can find out the answer for yourselves.
London's obsession with immersive experiences has morphed into something we never expected, but are very happy to see: The Saw Experience.
You'll be working against the clock to solve puzzles in a terrifying multi-room challenge where you'll have to put your heads together to outsmart the villain that's coming for your lives.
Time Travel at Escape Room London Bridge
134 Tooley St, London Bridge
It's not often you get the opportunity to travel through time is it? So when you do, you should grab it with both hands.
Hop to Escape Room London Bridge and pretend you're from the year 1675 in China and sent forward into present day London. Your mission? To enter (a replica of) Room 33 of the British Museum and find a missing vase to return to your Emperor.
With laser beams and strobe lighting, it'll be sure to have your heart pounding for 60 minutes as you try to find the treasure.
An Escape Room for Two at Clue Adventures
Coach & Horses, 391 High Rd Leyton
Want to try an escape room with just two people? No problem!
Most escape rooms require a minimum of three participants but at Clue Adventures they were the first to have a dedicated escape room in London for two.
The escape room game is called 2 Tickets 2 Ride and you have to race the clock as you solve the puzzles set by a madman who is threatening to destroy London and raze it to the ground. It's a great date night idea, although it's time to start hoping that your partner is a good problem solver.
Solve an Urban Legend at Mission: Breakout
141-145 Kentish Town Rd, Kentish Town
The location of Mission: Breakout is scary enough: it's set in the basement of the spooky abandoned South Kentish Town tube station.
If you're game enough to participate, their spine tingling escape game in London, Lost Passenger sees you set off in search of Mr Brackett – the last passenger to alight at the platform and who's never been seen since.
Blending paranormal activity, urban legend and a bit of good old-fashioned sleuthing, it's a brilliant escape room.
Harry Potter Themed Escape Room at Enigma Quests
2-12 Wilson St, Finsbury
Of course, there's a Harry Potter themed escape room in London. At Enigma Quests, you can enter into the School of Witchcraft and Wizardry and pitt your wizarding skills against a series of difficult tests.
OMG guys, did we mention that you even get to wear wizarding robes while you do it? The teams are between 3-5 players and you have 60 minutes to study for your Ordinary Wizarding Levels and pass with flying colours.
Virtual Reality Escape Room at Omescape
All Saints Church, Carnegie St, Islington
We'll warn you now – this escape room in north London is a bit dark and twisted.
Omescape's virtual reality escape room Mind Horror sees you take on the role of saving an innocent child from a serial killer. To do so, you have to enter the mind of the killer and work out the child's location. Gruesome stuff.
Save Hostages at Do Stuff Escape Games
279 Battersea Park Road, Battersea
What would an escape room experience be without a hostage crisis?
The first words you hear when you enter the Hostage Hideout escape room is "they've taken hostages". That's where the fun begins. Of course, it's up for you to save the hostages and get the hell out of the room.
Even better? It's one of the few escape rooms in London for two – though you can play with up to five players.
Fast & Furious-inspired Car Heist at Breakin' Escape Rooms
89 Holloway Rd, Canonbury
Let's face it, who hasn't wanted to play one of the moody leading men in the Fast and the Furious for at least a few hours of their lives? We have certainly spent too much time working out if we'd make a better Vin Diesel or Paul Walker in our angst-filled teenage years.
Step into Heist Plan where you are thrust into the midst of a gang of street racers who have to pull off a string of heists of five major banks in Manhattan in one night. You guessed it, it's loosely based on the Fast and Furious franchise and promises one hell of a ride.
Hangover Deja Brew at Aim Escape Rooms
Goodman's Fields, 8 Canter Way, Whitechapel
Naughty naughty. The raunchy escape room at Aim is strictly adults only.
Set in the aftermath of a stag night gone wrong, your team needs to piece together what happened during the night to save the groom before his wedding. It starts with a room of boozy bodies and no groom leaving you to work out what happened the night before, locate the groom and get him set for the wedding of the century.
Raunchy and exciting, this is the perfect activity to do on a real stag or hens night, or just a night out with your mates.
Crystal Maze Live
22 – 32 Shaftesbury Ave, West End
Remember the beloved 90s TV show The Crystal Maze? If the answer is yes, then you're going to love the real-life version Crystal Maze Live – hands down our favourite escape room in central London.
The Crystal Maze tapped into the concept of an escape room looooong before it was remotely fashionable or a thing we Londoners spend our weekends doing.
As a team, you'll be guided through four different zones – Aztec, Futuristic, Industrial and Medieval where you'll have to complete tasks to be rewarded with a crystal.
This is one where the emphasis is on having fun – no scary secrets, just cold hard logic and a few physical challenges.
Crack DaVinci's Code at Escape Land
37-39 Oxford Street, West End
Hard to believe it when you're shoving your way through the crowds in Oxford Street but step into Escape Land and you're immediately whisked away into a world of riddles and evil forces.
Escape Land has a great DaVinci-inspired escape room where you need to get to the Holy Grail before the bad guys, of course. It's not easy and you'll have to concentrate for the full 60 minutes to solve the puzzles. They recommend a team of around four to give yourself the best chance of cracking Da Vinci's code.
Flight 338 Escape Plane
338 Boord St, Greenwich Peninsula
You don't have to use your imagination too much for the Flight 338 Escape Plane game as… err it's set on a real-life plane.
Once you're on board, you're given the set-up. You're a former baddie who's settled into an uneventful retirement. Problem is, one of your mates has snitched you out and you're being flown to a life of imprisonment. You have this one chance to getaway – but only if you solve the puzzles left on the aircraft in order to orchestrate your getaway.
Escaping Bad – The Breaking Bad Inspired Escape Room
338 Boord St, Greenwich Peninsula
Another winning escape game in London from The Riddle Within, Escaping Bad is… you've guessed it, inspired by the popular TV show, Breaking Bad.
It all starts when you find an abandoned RV meth lab. Your task? Solve the recipe for the purest product before the Mexican cartel arrives. Simples right? What could possibly go wrong….
Crack the Enigma Code at The Bletchley
Address: 2 High St, Bletchingley, Redhill RH1 4PE
This one is a pretty novel idea, and one that also incorporates a bit of drinking into the escape room experience. At The Bletchley you'll get dressed up in the garb of a 40s-era code breaker and work on cracking Turin-esque codes.
The setting is based off of Churchill's library and in keeping with the man's habits there's much drinking to be done. Crack a code and you'll be rewarded with a personalised cocktail. Fail to crack the code and you'll be going dry, oh and the Nazi war machine will be rolling unhindered through Europe – just sayin'
Test the Mind of Moriarty
Address: The Marylebone Pub, 93 Marylebone High St, London W1U 4RE
One of the newer kids on the London escape room block, The Mind of Moriarty will have you put to the test against Sherlock Holmes' arch nemesis, the criminal mastermind Moriarty.
The experience draws on moments from the TV series to create its escape scenarios. It's also run by the people that made the aforementioned and award-winning Sherlock: The Official Live Game, so you can trust that these folks know a thing or two about creating some crazy fun puzzles to break out of.
Go Tomb Raiding with Lara Croft
Address: The Stables Market, Lower Basement & Upper Basement Atrium NW1 8AH
Should you like your escape rooms a little more adventurous, check out Camden's Tomb Raider Live Experience. For this game you'll join up with Lara Croft's dedicated team of helpers to track down hidden crystals that hold mystical powers.
The clues in the game lead you to a really cool set piece finale with some very Croftian feels to it, and getting there is super fun. You'll be taken through several stages, all based on levels from the early games, solving a lot of puzzles as you go.
Practical Tips for Booking Escape Rooms in London
Almost all escape rooms are limited to fewer than six people and there are differing rules on people from the same household / different households. Check before you book.
You'll have to book in advance. It goes without saying but don't turn up without a booking. You'll probably be turned away.
If you have epilepsy or other things that might cause you problems in the escape rooms, speak to a member of the team before booking. They might be able to change the experience around for you slightly, or at least give you some solid information on whether or not you should do the experience.