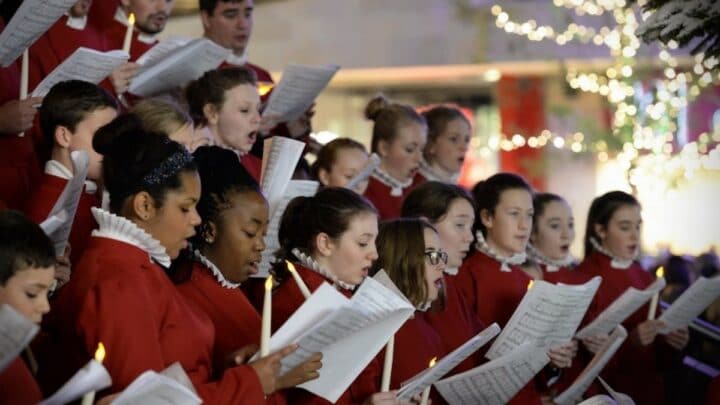 Dust off your choir books and get your vocal cords warmed up: it's that time of year where we can all indulge in a Christmas sing-song or two. Luckily the capital has got some cracking offerings this year – these are the Christmas carol concerts in London you shouldn't miss.
Jolly London Christmas Carols and Concerts
Freemasons Hall
18th December
It might seem like a rather unusual location, but not only is the Freemasons Hall one of London's best examples of Art Deco architecture, it's also home to one of the most wonderful carol concerts in the capital.
You'll be treated to a platter of seasonal songs performed by the English Chamber Choir. Expect Once in Royal David's City, Ding Dong Merrily on High, and plenty more to stir up some festive fun.
Royal Albert Hall
18th – 24th December
There's no better way to rouse the Christmas spirit than with a sing-along at the Royal Albert Hall.
A dull performance this is very much not. This year's concert features an exciting world premiere by composer Sally Beamish, as well as a whole host of exciting guests to help bolster the holiday cheer. The Royal Philharmonic Orchestra and Zara Mcfarlane are the ones we're most excited for.
Barbican
19 December
Carols by Candlelight is the dreamy title of Barbican Hall's offering this year. Mozart Festival Orchestra, led by conductor Stephen Devine, will perform classics underneath candlelight, whilst dressed in full 18th-Century costume.
Plus, there'll be carols for all to get involved with: Hark! The Herald Angels Sing, Good King Wenceslas – all the biggies are covered.
Central Hall Westminster
19th December
For a funky little twist on the old Christmas carol, join the Vespers Group and the Christ Church Highbury Jazz Choir for a festive ditty in a stunning venue. Dan Forshaw will be leading the concert, whilst special guest reader and Revd Dr Jongi Zihle will be speaking on goodwill and community.
Union Chapel
19th December
Free
Tucked away in Islington, Union Chapel is a hauntingly beautiful place for a Christmas carol concert. Lit only by candlelight, this service offers a calm reflection of the year, as well as a stunning retelling of the birth of Jesus Christ.
Whilst the congregation won't be invited to join in with the singing, a talented quartet will perform carols and a chorus from Handel's The Messiah.
Cadogan Hall
20th December
Join the Bach Choir in an angelic harmony at Chelsea's Cadogan Hall for a concert unlike no other. Traditional and new Christmas carols will be performed by the 100-strong group, as well as the winning entries from the annual Sir David Willcocks Carol Competition.
We guarantee you won't be able to resist belting out a few of the more popular songs yourself. Afterwards, go check out the Christmas lights in Duke of York Square and Sloane Square to get all the festive feels.
St Paul's Cathedral
23rd + 24th December
Free
St Paul's never disappoints. And the cathedral's 2021 Christmas concert looks set to be the perfect antidote to what, quite frankly, has been another naff year.
Kick-off the Christmas weekend with a re-telling of the birth of Christ through readings and song, with a little bit of help from the wonderful voices of St Paul's Cathedral Choir.
Christ Church Spitalfields
24th December
Free (Register Here)
Embrace the true meaning of Christmas and attend a Christmas carol concert full of seasonal goodwill – with the Richard Bridge Organ and Monteverdi Choir leading you through a series of joyous favourites.
The best bit? Money raised from the event will go straight towards fighting food poverty as part of the venue's Love Your Neighbour project.
Map: London Christmas Carols and Concerts
Read More London Christmas Guides