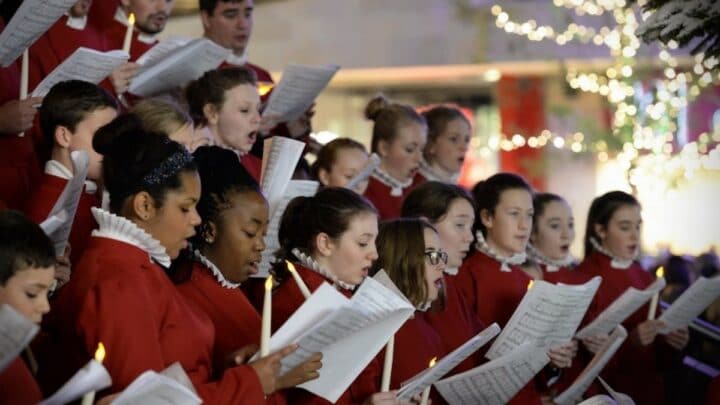 Discover the best Christmas carol concerts in London 2022. These are the Christmas concerts you shouldn't miss.
Dust off your choir books and get your vocal cords warmed up: it's that time of year where we can all indulge in a Christmas sing-song or two.
Luckily the capital has got some cracking offerings this year.
Whether you're more into the classics (Good King Wenceslas is our carol of choice) or like to shake things up with a little bit of Wham!, these concerts are sure to have you baubles-deep in the festive spirit.
Jolly London Christmas Carols and Concerts
A Trafalgar Square Christmas
1st December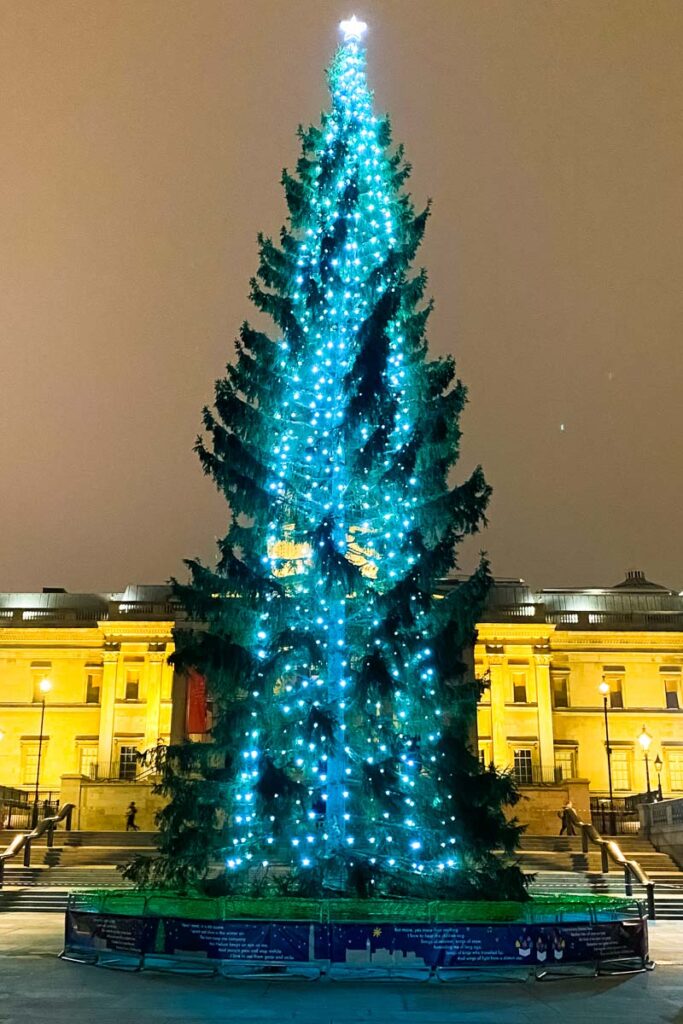 Let's start with the ultimate festive treat: A huge singalong in Trafalgar Square. As part of the Christmas tree lighting ceremony, St Martin in the Fields will be hosting A Trafalgar Square Christmas in order to kick off Christmas in London with a bang.
St Martin's Voices and Strings will be in charge of the music inside the stunning candlelit church – expect to belt out all the classics, including Silent Night, In the Bleak Midwinter and more.
The ultimate Christmas sing along London offers, we think.
Battersea Dogs and Cats Home Concerts
2nd + 9th December
A concert for an excellent cause, Battersea Dogs and Cats Home will be hosting two special carol concerts in London this year.
Head to St Luke's & Christ Church in Chelsea for an evening filled with generosity, dogs, and plenty of mulled wine and mince pies to bolster the festive spirit. Expect popular carols and music from Collegium Musicum of London Chamber Choir (CML) and West End singer, Nardia Ruth.
Better yet, all of the money raised will go towards the charity, ensuring that the animals can continue to be well looked after.
The Macmillan Carol Concert
8th December
One of the top places to sing along to Christmas carols in London 2022 is at St John's Smith Square for Macmillan's annual Christmas shindig.
In order to raise money for those affected by cancer, Macmillan will be hosting a wonderfully festive evening filled with joyous sing-song, fundraising, and even a celebrity reading or two.
This year, the concert will be led by the award-winning trumpet player Ryan Quigley, the Northern Lights Symphony Orchestra, Luci Briginshaw and Konya Kanneh-Mason. So warm up your vocals and get ready to belt out the classics in great company.
Carols By Candlelight at the Freemasons Hall
11th December
It might seem like a rather unusual location, but not only is the Freemasons Hall one of London's best examples of Art Deco architecture, it's also home to one of the most wonderful carol concerts in the capital.
You'll be treated to a platter of seasonal songs performed by an array of choirs. Expect Once in Royal David's City, Ding Dong Merrily on High, and plenty more to stir up some festive fun.
A Celebration of Christmas at St Paul's Cathedral
15th December
Free
St Paul's never disappoints. And the cathedral's 2022 Christmas concert looks set to be the perfect antidote to what, quite frankly, has been another naff year.
Kick-off the Christmas weekend with a re-telling of the birth of Christ through readings and song, with a little bit of help from the wonderful voices of St Paul's Cathedral Choir.
This is, without a doubt, one of our favourite christmas concerts in london.
Carols at the Royal Albert Hall
17th – 24th December
There's no better way to rouse the Christmas spirit than with a sing-along at the Royal Albert Hall.
A dull performance this is very much not. This year's concert features the likes of Richard Cooke and Vanessa Haynes, as well as a whole host of exciting guests to help bolster the holiday cheer.
The Royal Philharmonic Orchestra and the British Imperial Military Band are the ones we're most excited for.
Candlelight Christmas: Love Actually, Home Alone & More
17th December
If Christmas carols are not your style, how about listening to some of the most iconic Christmas music by candlelight at St Mary's Church? Sounds pretty dreamy, we think.
The City String Ensemble will be playing the likes of Glasgow Love Theme from Love Actually, Somewhere in my Memory from Home Alone, and Have Yourself a Merry Little Christmas from The Holiday. Cue all the toasty festive feels.
Oh, and Let it Go from Frozen will also be played. And yes, it is a Christmas song.
The Mystery of Christmas at Union Chapel
18th December
Free
Tucked away in Islington, Union Chapel is a hauntingly beautiful place for a Christmas carol concert. Lit only by candlelight, this service offers a calm reflection of the year, as well as a stunning retelling of the birth of Jesus Christ.
Whilst the congregation won't be invited to join in with the singing, a talented quartet will perform carols and a chorus from Handel's The Messiah.
The Bach Choir at Cadogan Hall
20th December
Join the Bach Choir in an angelic harmony at Chelsea's Cadogan Hall for a concert unlike no other. Traditional and new Christmas carols will be performed by the 100-strong group, as well as the winning entries from the annual Sir David Willcocks Carol Competition.
We guarantee you won't be able to resist belting out a few of the more popular songs yourself. Afterwards, go check out the Christmas lights in Duke of York Square and Sloane Square to get all the festive feels.
Carols at the Barbican
22nd December
Carols by Candlelight is the dreamy title of Barbican Hall's offering this year (we're sensing a theme here). Mozart Festival Orchestra, led by conductor Stephen Devine, will perform classics underneath candlelight, whilst dressed in full 18th-Century costume.
Plus, there'll be carols for all to get involved with: Hark! The Herald Angels Sing, Good King Wenceslas – all the biggies are covered.
Service of Lessons and Carols at Westminster Abbey
23rd + 24th December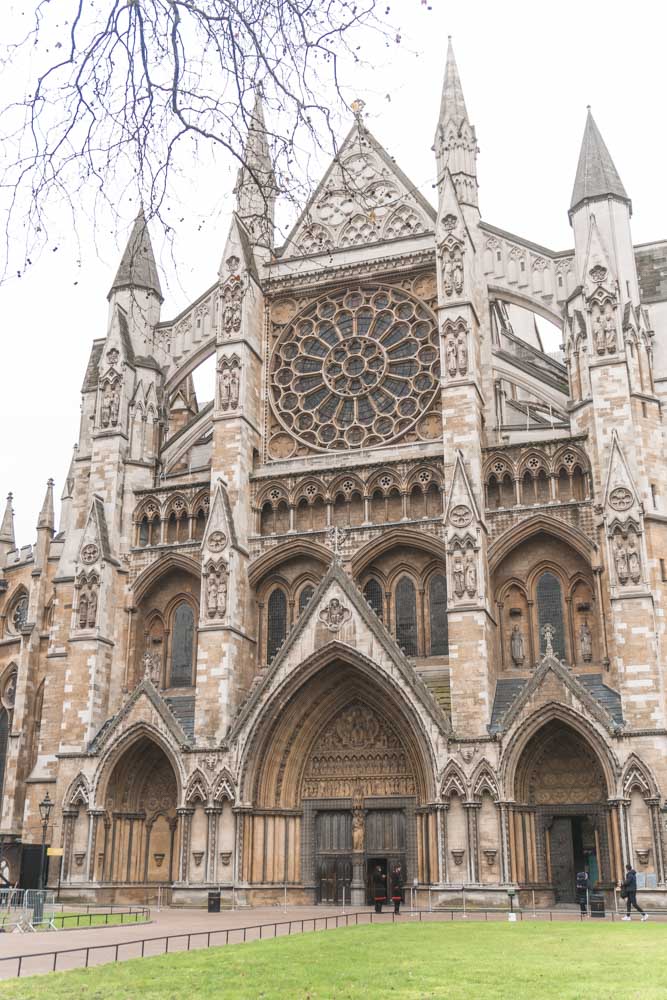 Possibly the most famous carol concert London boasts, this Westminster Abbey service is a classic option filled with readings, lessons, and joyous singing by the Abbey Choir.
Not the best one to bring younger children to, but perfect for those looking for a traditional carol concert. Keep your eyes peeled for a few celebrity faces in the audience, too.
Map: London Christmas Carols and Concerts
Read More London Christmas Guides