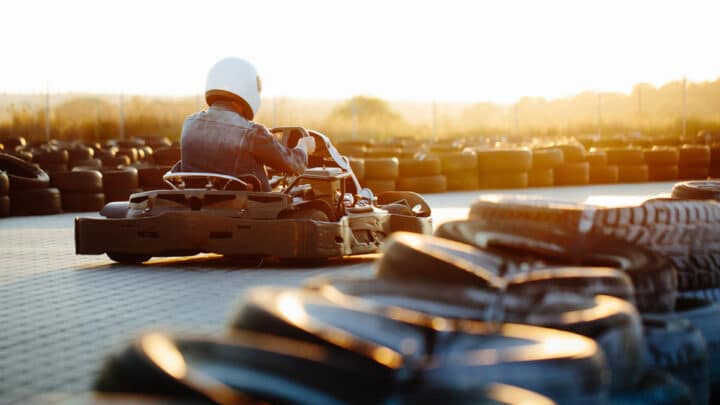 Want to try something a little different? Go karting in London might not be the obvious choice but there are some really cool tracks in the city. Discover now.
go karting offers all the exhilaration of car racing – without the need for a license or any previous driving experience.
Whether you're a newbie, a karting fanatic or perhaps even fancy yourself as the next Lewis Hamilton (maybe don't give up the day job just yet though), trying your hand at one of London's cool go karting tracks is a must.
Here are the most thrilling go karting tracks in the city.
Best Places for Go Karting in London
Teamsport Indoor Karting
Docklands, Edmonton, Acton, Mitcham, Watford
Teamsport has 35 indoor go-karting tracks around the UK and 5 of them are right here in London.
All are multi-level tracks. Docklands and Edmonton have the biggest at 800m. They also have branches in Acton and Mitcham, as well as a fairly new track in Watford which opened in 2020.
Choose from a range of different races for different ages. The minimum age for the adult racing experience is 13. If you're over 16, you can really rev up for a full on Formula 1 style race against your mates (and other drivers) in the 50 Lap Race. Groups can also have exclusive use of the track if desired.
Kids too get the chance to whiz around the track. Over 8s can hire the Cadet Karts and round up their friends for a birthday party.
Capital Karts
Barking
Capital Karts boasts not only the longest indoor karting track in London, but the whole of the UK at 1050 metres with 20 challenging corners.
The adult track allows you to race at a speed of up to 45mph. You can try a 20-minute Sprint Session or opt for the 50-minute Grand Prix race.
For kids who love their motorsports, there's racing for those aged 7+ (minimum height 125cm) and there are a number of packages available for kids parties.
Exclusive hire is an option for groups of 16 or more (20 or more on a Saturday) and whether you come first or last, treat yourself to a post-race pizza and drink at the licensed bar. Win-win.
If the adrenaline is still pumping, Capital Karts also has a new trampolining park under the same roof. There's activities for all ages at Jump London in their 100,000sq ft activity centre. We're exhausted just thinking about it.
Revolution Karting
Mile End
One of the most central go karting tracks in London is Revolution Karting. It's a 550m floodlit outdoor track where you can really pick up speed at over 45mph. They operate all year round – whatever the weather, for groups and individuals.
There's private track hire for groups of 8 or more. Enjoy 60 or 90 mins of practice laps, qualifying heats and a nail biting grand final.
You can also opt for 60 or 90 mins of a Le Mans style race where teams work together to get the most laps in.
Under 18s sessions are available too. All drivers must be over 16 and at least 5ft tall.
Formula Kidz
Battersea, Roehampton, Kensington and Dulwich
Formula Kidz was started by Enver Meyer and Gareth Howell in 2011, who both worked for an international karting company, pioneered by Gareth's father in the 1980s.
Enver set up a kids racing academy there, with some drivers moving up the ranks to race professionally.
Formula Kidz is specifically aimed at 4-11 year olds with four venues around London. They specialise in children's karting parties but pride themselves on being mobile. That's right – they can potentially bring an entire inflatable track to your back garden!
Their kids party packages offer the full shebang with party food, trophy presentations and party bags. Sounds like a blast to us.
Chaos Karts
Shoreditch
Augmented Reality meets go karting – Chaos Karts in East London offers something a little bit different.
The idea here is that you feel like you're racing in an actual video game. Surrounded by a projected virtual world, you ride around a beach one minute and zip through outer space the next.
The race is suitable for over 13s and because it has built in collision reduction, there's no helmets and overalls required.
Collect coins as you drive, get faster with 'power ups' and slow down other players with bombs, hammers and laser guns. All the exhilaration of indoor go karting with a Super Mario Kart twist. A great activity to do with a bunch of friends.
The Right Track
Stockwell
Oasisplay is a local charity that has been running outdoor play and learning facilities for both disabled and non-disabled young people since 1973.
If you're looking for outdoor karting in London, The Right Track is an outdoor petrol engine karting experience for those aged 8 and over.
They have experienced staff and specially adapted karts, making it an inclusive project that those with disabilities are encouraged to take part in.
Several packages are available for groups of up to 16. As well as having their own Karting Club (where you can race against other members) they run training courses and sessions that teach you all about track marshalling, kart maintenance and mechanics. Good times!
Go Karting in London: Practical Tips
In case you're wondering about the safety aspect of go karting, all centres have highly trained professionals that will give you a full safety briefing and all the guidance and training you need before you begin.
Helmets and overalls are provided, but some may charge a few pounds extra for special hygiene procedures – sanitizing equipment or providing you with your own balaclava and gloves.
Be aware that as well as minimum ages, they may also have minimum height or inside leg length. All this info will be on their websites.
Map of London's Go Kart Tracks