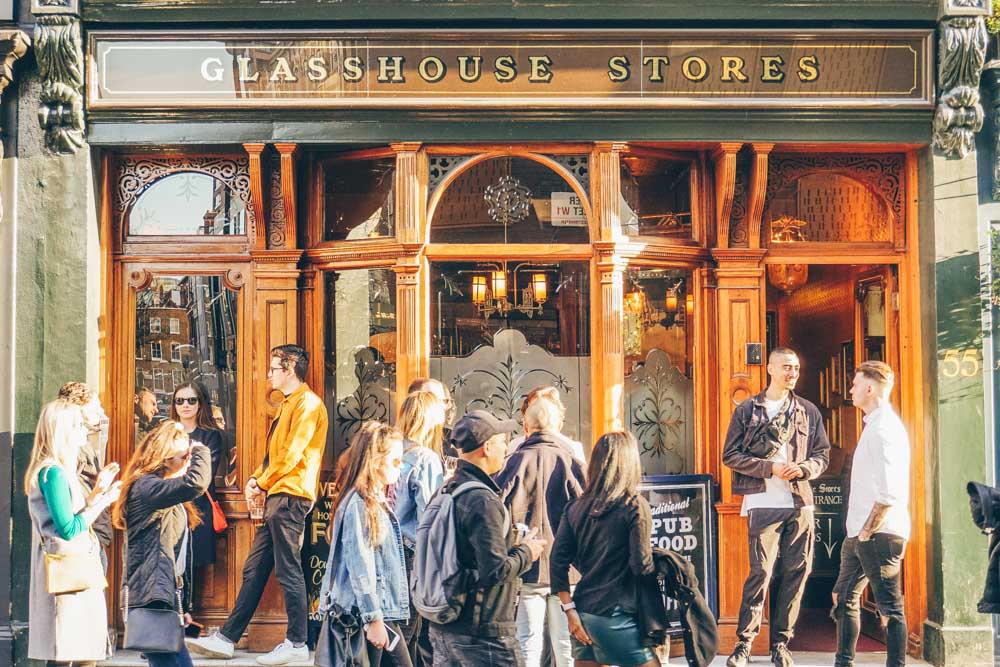 Soho is the pub-lover's dream. With so many cool little boozers for the perfect pint, it can be tough to choose where to go. Don't miss the best pubs in Soho for your next drink.
Soho doesn't do badly on the pub front at all.
It might be a relatively small area, but when it comes to cool pubs, there are few areas in London that can outshine Soho. Not surprising for an area packed with things to do (many of which do involve a fair bit of alcohol).
But where do you find the best pubs in Soho? Come this way friends, let us show you the way.
The French House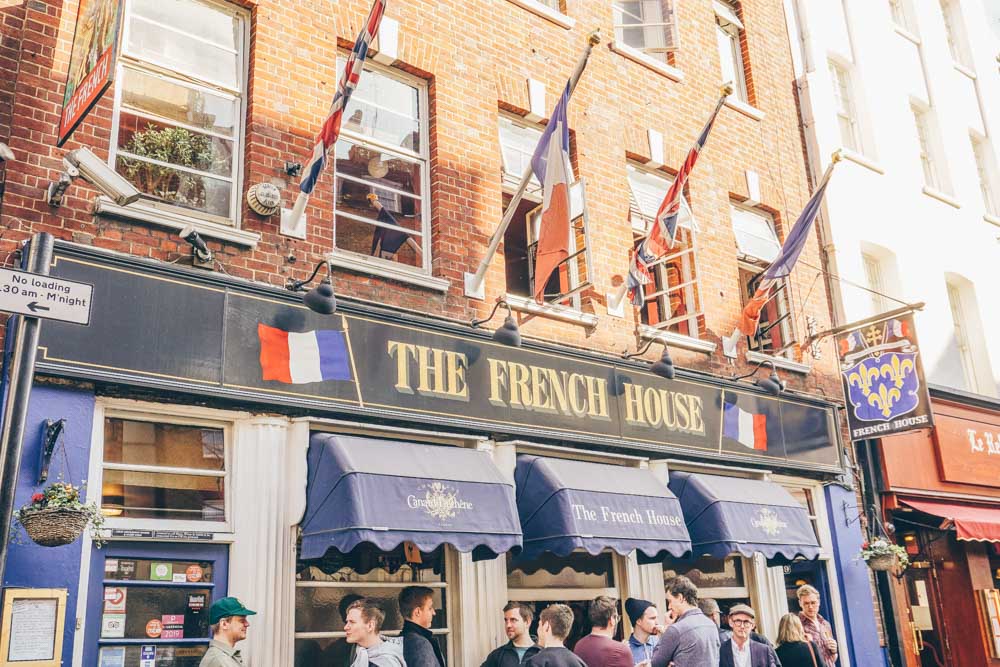 A 21st-century venue without mobile phones or laptops?! Mon dieu!
Stoically refusing to bend the rules was a gamble for the French House, the iconic haunt of writers such as Francis Bacon and Malcolm Lowry. However, it pays off and it's hands down one of the best of the Dean Street pubs.
Forget heading out with friends only to spend most of the time being reminded of your emails or drawn to read the latest news – the French House's disdain for electronics (some might call it a ban) means that conversation is where it's at.
Although there are a few beers on the menu, the pub also stands out in that it's mainly about the wine. There are more than 30 varieties available by the glass or bottle. In particular, there's a generous selection of sparkling wines to enjoy. Sante!
While there's nothing like the sound of enthusiastic chatter to build atmosphere, the excellent food (mostly French) and wine helps too.
Lunch is available Monday to Friday, while on Tuesdays, Wednesdays and Thursdays dinner is also served.
The Dog & Duck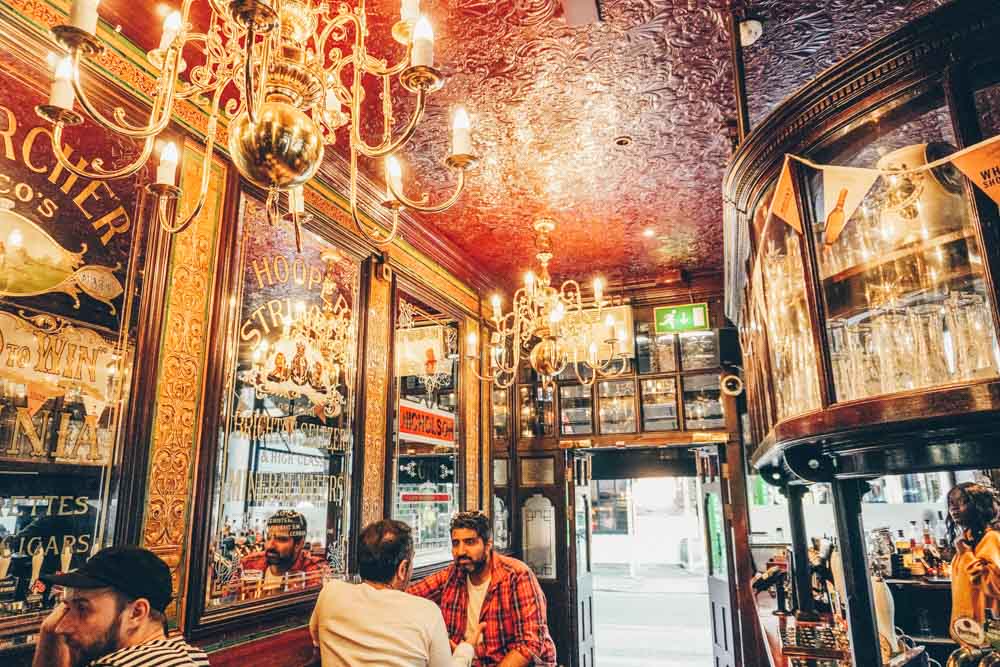 Yet another pub near Soho with plenty of literary connections, the Dog & Duck is a beautiful and ornate venue that dates back to the 18th century.
Any centuries-old pub is sure to have seen its fair share of interesting things, but the Dog & Duck has quite the claim to fame. This is where George Orwell sunk a celebratory drink (absinthe, no less) to celebrate the success of Animal Farm.
More recently, Madonna herself paid a visit to enjoy a beverage in the spectacular interior, perhaps to try a genuine British shepherd's pie.
The history really seems to hang in the air – the fact it's a bit scruffy around the edges only adds to its charms.
The selection of beer changes regularly, but there's an emphasis on hand-pulled real ales like Doom Bar and Shropshire Gold. Gin is a good alternative if it's more your style.
Read Next: Must-See Soho Spots
The Blue Posts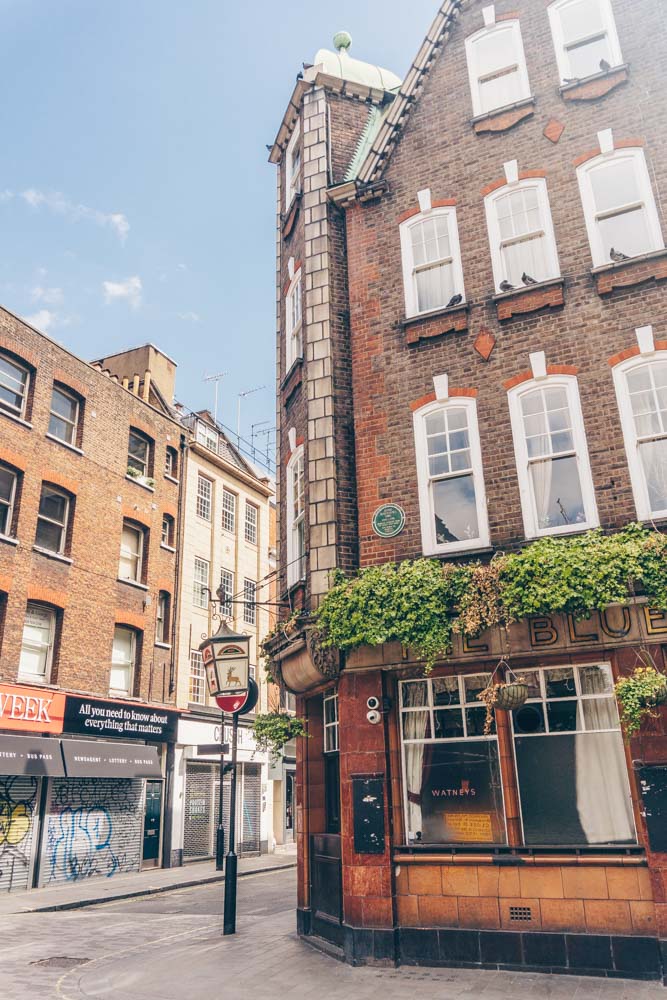 Stepping into a good pub in Soho is like stepping into your living room – just with more beer. We love the friendly, authentic vibe of the Blue Posts.
This classic Soho pub is located at 22 Berwick Street – make sure to note down the address because there are at least three pubs in Soho called "the Blue Posts".
This is one of our favourites because it's really not trying too hard – in fact, it's quite the opposite.
Once you step through the doorway it's like finding yourself back in the 1970s.
There's a faint musty smell that shows even years of a smoking ban can't quite get the scent out of the upholstery, as well as a collection of vintage plates on the wall.
There's a reasonable selection of beer, wine and spirits, as well as a classic British menu. The fish and chips are particularly delicious!
The Admiral Duncan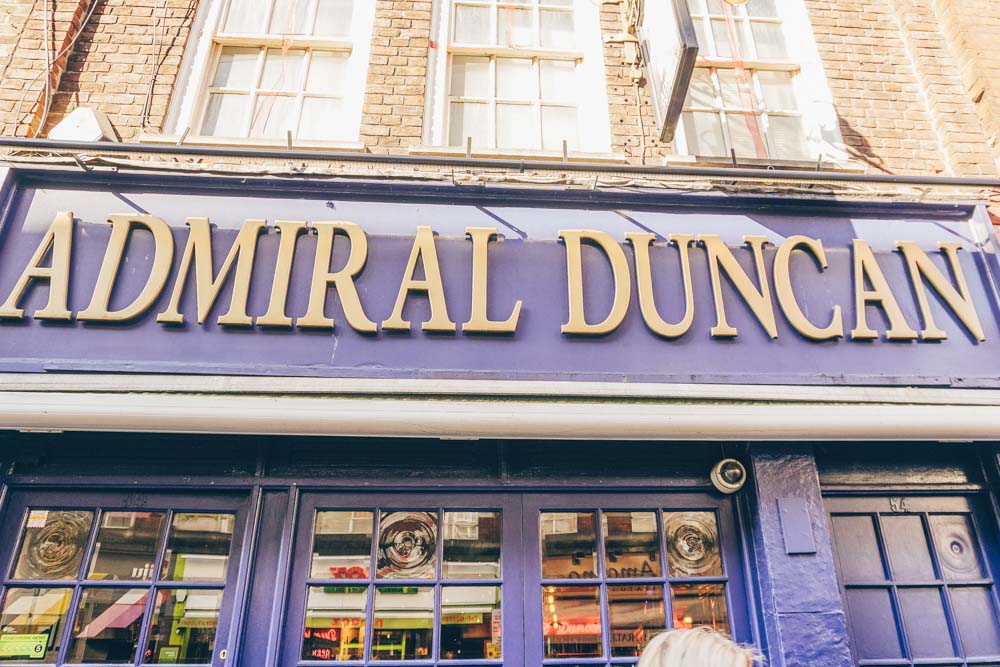 Located on Old Compton Street, widely considered London's LGBT+ epicentre lies the Admiral Duncan, one of the oldest gay pubs in Soho.
It's loud and proud, describing itself as "a triumph of brash fun over basic flirting". And a triumph it is.
All year round, it welcomes locals and visitors alike to an impressive calendar of vivacious events, with a focus on cabaret. Everyone is welcome and you know that you'll have an amazing time at the Admiral Duncan.
The drinks are tasty if not particularly groundbreaking, but it doesn't really matter – you're here for the vibes, the entertainment, and the good times.
Read Next: The Best Bars in Soho for Cocktails, Speakeasies and Quirky Drinks
The Lyric
While the interior of this gorgeous Victorian pub is cosy and intimate, the drinks list is expansive. Step inside the flower-laden exterior of The Lyric and prepare to be impressed.
There are more than 20 beers on tap alone, along with a carefully chosen selection of wine and spirits. Most of the beer is from local producers, like Camden Town Brewery – so it's a great spot to find craft beer in Soho.
The food is similarly local, with this Soho pub proudly serving up unpretentious British classics. It's the place to go for an authentic traditional Sunday roast, just like your mum would make.
Or, perhaps grab a fish finger sandwich – who needs gastro pubs in Soho when you can have a fish finger sandwich?
The decor strikes a nice balance between rustic Victorian and breezy, with beautiful wood panelling but plenty of natural light.
The Coach & Horses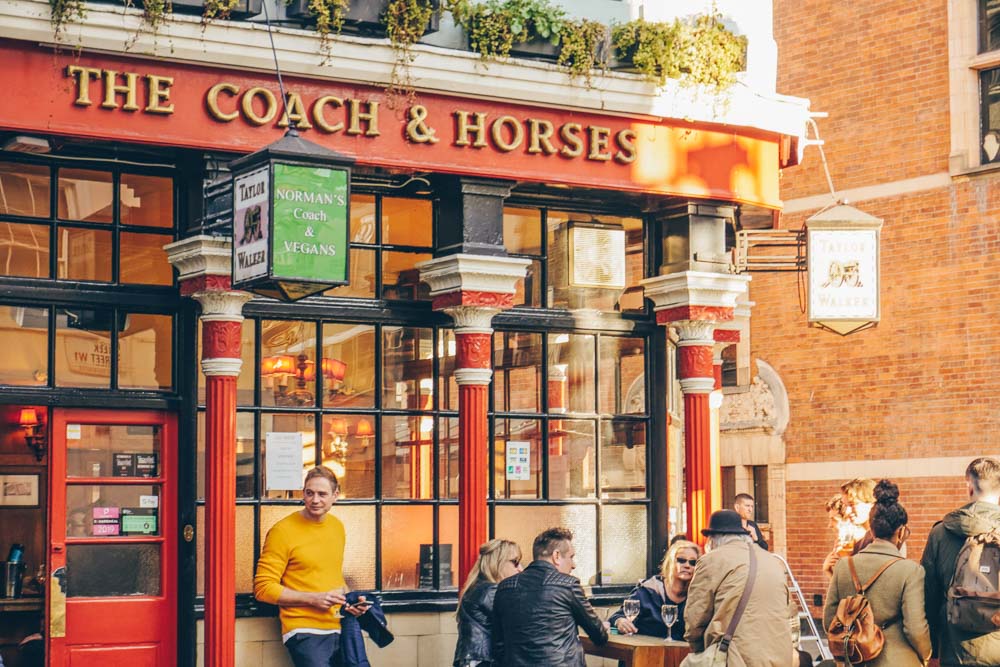 We love a charming British pub and the Coach & Horses has character in spades. Sure, it has great beer and the decor is nice, but its appeal is more unique.
Like many of the best pubs in Soho, The Coach & Horses has one hell of a story. In fact, it has many – but our favourite is that it was said to be home to 'London's rudest landlord'. His legendary grumpiness was well documented by the many writers who made up the pub's "regulars".
It couldn't be further from the Coach & Horses of today – it's well known to be very charitable and there are weekly sing-a-longs where all are welcome, no matter how off-key you are. It's on every Wednesday and Saturday between 8pm and 11pm, and is great fun.
The final thing that makes this pub unique is its strictly vegetarian and vegan menu – unusual even for a gastropub in Soho.
Yep, it's a classic British pub minus the meat – but its yummy dishes have managed to prove many doubting carnivores wrong.
Glasshouse Stores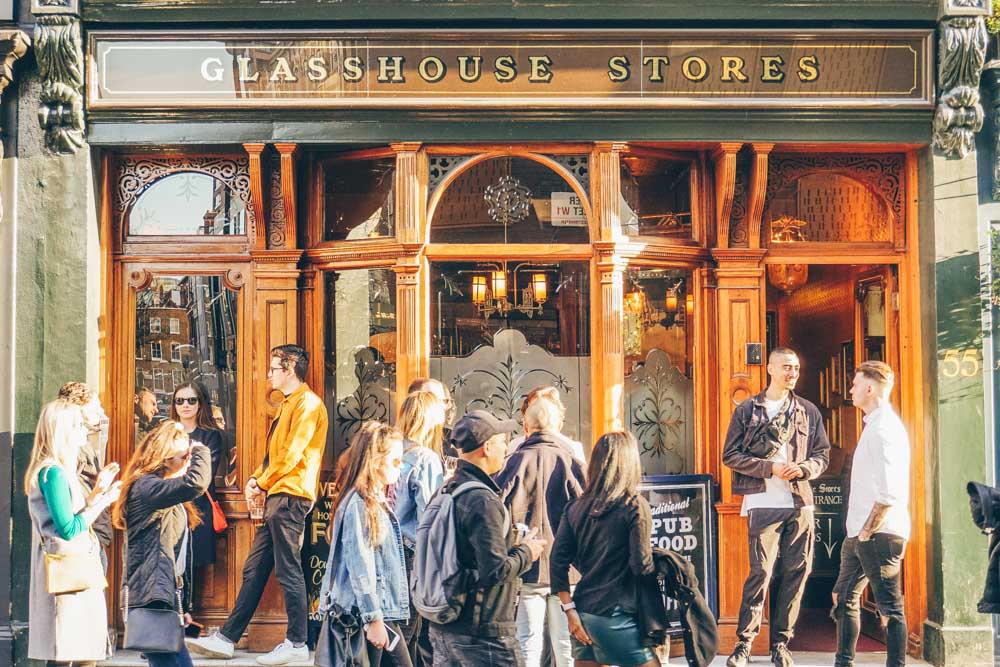 Glasshouse Stores is a Sam Smith pub in Soho, meaning it's part of a chain of over 200 pubs in England that were started by Yorkshire brewer Samuel Smith in 1758.
With a charming but understated exterior, Glasshouse Stores is a friendly pub frequented largely by locals with the odd tourist.
Those who do wander inside will be treated to a classic, honest British pub with a hearty menu and board games to keep you entertained. It's perfect for cosying up inside on a drizzly cold afternoon.
C'mon, who doesn't love board games? Plus, they're even better with beer.
Sam Smith pubs are known to be affordable, and this is no exception. If you're looking for a friendly and no-fuss pint, head for this Brewer Street venue.
The Old Coffee House
This is one of our favourite pubs in Soho, but don't go in and ask for a latte!
Despite its name, coffee is not on offer – or at least, it sure isn't advertised. No, the Old Coffee House is all about the beer.
Here, you'll find the usual big names like Guinness and Heineken as well as some more unique British varieties. In particular, Brodie's is a hoppy range of beers that are served in few other venues in London.
A pub has stood on this site since 1772 (although it was rebuilt in the late 19th century), so it's a fairly historic place to raise a glass! You'll certainly be joining a very long list of people who have enjoyed a pint at this Beak Street classic.
Looking for a Coffee? Check out my Guide to The Best Coffee Shops in Soho
Argyll Arms
Its location next to the ever-bustling Oxford Circus tube stop scares some drinkers away, but the Argyll Arms is worth the effort. Step off the busy London street, and into an authentic Victorian watering hole that's authentic charm defies its touristic location.
The Argyll Arms' interior is recognised as a stand-out in Victorian architecture, with ornate carvings and decorated mirrors running down the hallway.
There's even a hint of mystery about it all – there's said to be a secret passage that ran from the pub to the mansion of the Duke of Argyll himself.
Secret passage or no secret passage, it's a great place to stop for an authentic pub experience just a stone's throw from London's top attractions.
They also do plenty of different food with an emphasis on hearty favourites – we particularly love the range of delicious burgers.
De Hems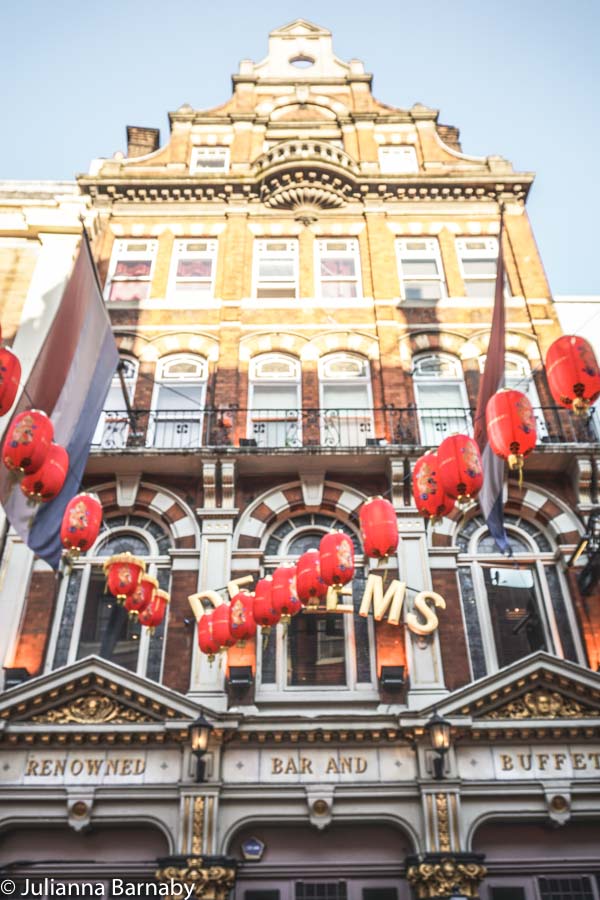 There's so much history wrapped up in this brilliant pub in Chinatown it's hard to know where to start. Fittingly, they're stories best told over a pint.
De Hems dates back to 1685 when it was a coaching house, eventually becoming owned by an American bare-knuckle fighter in the early 19th century.
By the turn of the 20th century, it had changed hands numerous times, eventually landing under the ownership of "Papa" de Hems.
A retired Dutch sea captain, he soon started a roaring trade serving oysters so delicious that George Sims wrote a poem about them. It was soon filled with actors, gangsters and writers, all drawn in by the incredible oysters.
Amongst other random claims to fame, De Hems was also a secret meeting spot for the Dutch resistance during World War II, a favourite hangout of the manager of the Rolling Stones, and the site of the debut of the offbeat comedy classic The Mighty Boosh.
At one stage, most of the walls were covered in oyster shells. Most of them are gone, but you can still see a few of them upstairs.
Unfortunately, the oysters are off the menu, but there are plenty of other delicious Dutch dishes including bitterballen, deep fried balls of crumbed ragout. Yum!
Phew. There's so much to say, and we haven't even mentioned the beer. It's good, with mostly Belgian and Dutch brews.
The Ship
The Ship might be small, but it's a mighty Fuller's pub worth dipping into for a pint or two.
This really is a Jekyll and Hyde kind of pub: by day it's a chilled out spot where you can relax with your pals, but by night the atmosphere ramps up and everyone is ready for a party.
Decor wise, it's pretty standard. Dark wood, a classic pub carpet, and everything that you would expect from the Fuller's chain. Still, we're huge fans.
Again, the drinks aren't anything crazy, but sometimes a classic British pint hits the spot.
Expect indie rock music blaring during the evenings. We recommend beginning a night out in London here.
The Crown and Two Chairmen
We'll level with you, we first stepped foot in The Crown and Two Chairmen because we loved the look of the sign outside. But it turns out that the inside is just as cool.
The blue bar is decorated with industrial style shelves and lighting, whilst the leather chairs make it oh-so-easy to spend an entire afternoon tucked away inside.
The Crown and Two Chairmen doubles up as a great daytime spot for lunch, as well as a brilliant Soho pub for evening drinks. Fish and chips, steak and ale pie, and a pimped up bangers and mash are on the menu here – in other words, it's pub grub done proper.
Choose between the annual resident craft beers (and limited editions on tap), cracking wines, and a wide range of soft drinks to wash everything down with.
The Toucan
The Toucan is arguably the king of Guinness in Soho. Not only do they serve a fantastic pint of the Irish stout, they also kit the pub out with more Guinness memorabilia than you thought there could actually be.
It's all a very nice touch. The other very nice touch about The Toucan is that the pub really hasn't changed much in what we assume is a time frame you'd measure in centuries.
Some things have changed though – the building has only housed this pub for a couple of decades. Before that it was a Greek restaurant widely known for serving up some top-notch grub and throwing music nights in its basement.
Like many of the pubs in our guide it attracted a fair few famed names. Those include Chas Chandler – drummer of The Animals – who actually managed the place for a while, and the legendary Jimi Hendrix of all people.
The John Snow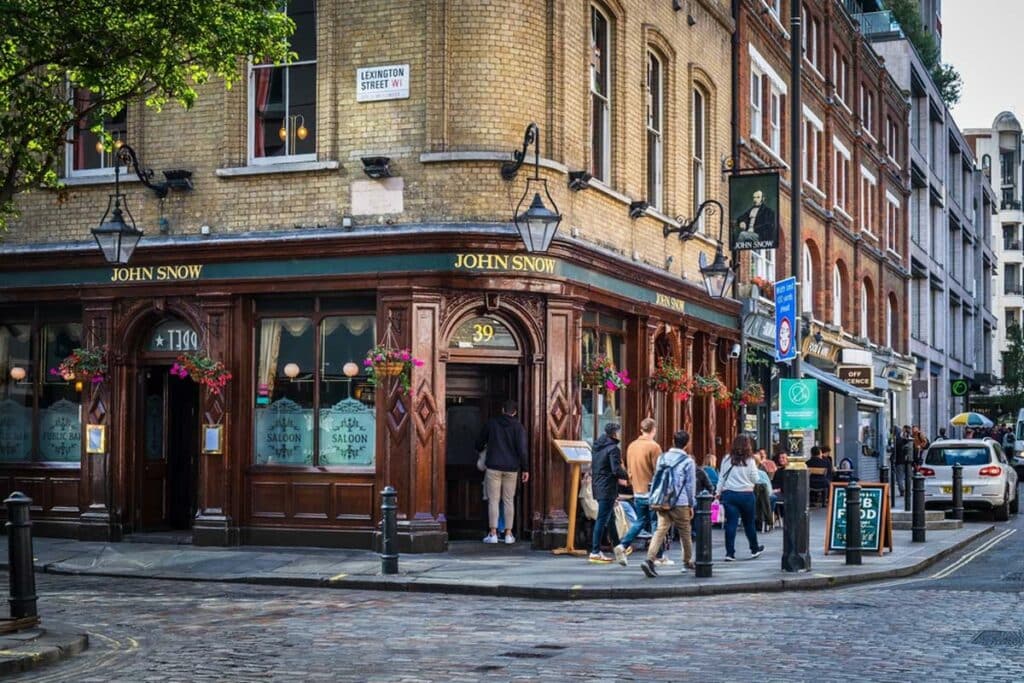 We love The John Snow for many reasons. A very large reason being the pub's fascinating history.
The pub gets its name from the hero of modern medicine John Snow. He's the guy who figured out cholera was waterborne and in doing so saved London from a death on a scale that would make you wince. The John Snow sits right opposite the very water pump that was instrumental to John Snow's discovery.
Inside you'll find the place as you'd expect from any Sam Smith's boozer: Nicely preserved with old Victorian charm and a good selection of beers behind the bar, mostly Tadcaster brews.
If you're hungry they do a solid menu of British pub grub. Expect the likes of fish and chips, burgers, pie and mash and gammon and chips, and many other combinations of meat and potato. It's not going to be the best meal of your life, but it will do the job of filling you up.
Best Soho Pubs: Map
Looking for More Soho Guides?