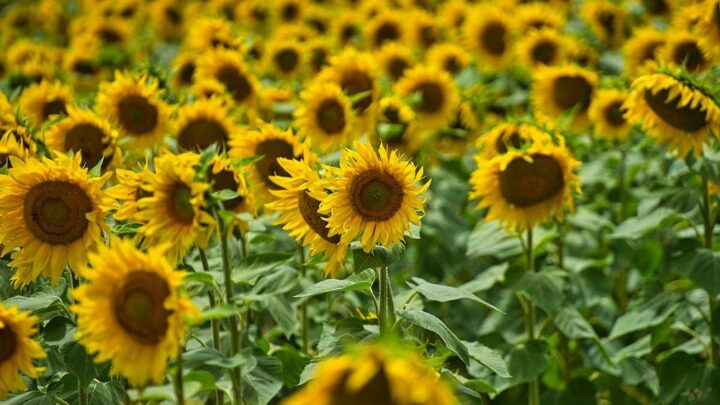 Looking for sunflower fields near London? Here's where you should be heading.
Looking for sunflower fields near London?
You'll be quite stretched to find a whole field in London dedicated to these gorgeous blooms (although, there are plenty of farm shops and garden centres where you can nab some). But venture slightly further afield and you'll be blessed with rows and rows of yellow delights.
Whether you want to snap that all-important shot for the 'gram or pick yourself a bunch of sunnies to take home with you, you'll find plenty of spots around the capital.
Beautiful Sunflower Fields in and Around London
Garsons Farm
Surrey
Garsons Farm is an all-rounder.
It's easily one of the most popular farms in the region, and for good reason – there's so much variety. Rows of sunflowers? Tick. Fruit picking? Tick. Pumpkins in Autumn? Massive tick.
The actual farm resembles something of a mini theme park, with huge blocks dedicated to over 20 different kinds of fruit, veg, and flowers. You actually need a map so you don't get lost.
Once you've taken a thousand photos of the sunflowers, there's also a charming farm shop and restaurant serving up delicious local fare.
Opening times: Monday – Saturday 9am-5pm, Sunday 10:30am-5pm
Price: Book your farm pass for £5 here
Address: Winterdown Rd, Esher KT10 8LS
Hitchin Lavender
Hertfordshire
Don't be fooled by the name, Hitchin Lavender is home to acres of pretty sunflowers that you won't be able to resist getting your mitts on.
While you're there though, it would be rude not to check out the lavender that makes Hitchin so, so famous. Rows and rows of purple just waiting to be explored.
They've also got a brilliant farm shop, selling everything from lavender-infused gin to body lotions and essential oils – a perfect souvenir for your sunflower picking trip.
Opening times: Weekdays and weekends 9am-8pm
Price: Book a slot in advance here, tickets cost £7 for general admission
Address: Cadwell Farm, Arlesey Rd, Ickleford, Hitchin SG5 3UA
The Patch MK
Milton Keynes
If it's a great photo you're after, look no further than The Patch MK. This is a family-run farm that goes the extra mile to ensure everyone has an exciting experience picking sunflowers.
Located just to the north of the capital, the rows of sunflowers here allow you to get fully submerged in all that yellowy goodness. They also run tractor rides around the patch, which is downright adorable.
Opening times: Monday to Friday 10am – 4pm, Saturday and Sunday 9:30am – 5pm
Price: Sunflowers are £1.50 each, or 6 for £6
Address: Mount Mill Farm, Milton Keynes MK19 6DG
Cotswold Farm Park
Gloucester
Ok, so Cotswold Farm Park is located a little bit further from the capital, BUT it's worth making the drive… promise.
This is the BBC's very own Adam Henson's farm (yes, the one from Countryfile), and while you can pick up some sunflowers here, it's basically an amusement park for animal enthusiasts.
If you've got kids, this is a must-do. Pony rides, animal petting opportunities, and plenty of outdoor play areas will keep the kids busy while you grab a coffee from Dolly's cafe.
Opening times: Weekdays and weekends 9:30am-5pm
Price: The sunflower fields are free for those who are entering the farm park
Address: Guiting Power, Cheltenham GL54 5FL
Meopham PYO
Kent
Family-run farm, Meopham PYO, is another brilliant place to find sunflowers near London.
The farm is also home to White Finch Tea Room, which serves up tea and coffee, homemade cakes, light lunches and a seriously good afternoon tea.
PYO season runs until the end of October, but it's worth getting in contact in advance to ensure they've got plenty of flowers available.
The best part? You can take your furry friend along for walkies amongst the sunflowers – prepare to snap the cutest pics.
Opening times: Open weekends 10am-4pm
Price: Just turn up and pay for what you pick
Address: Ifield Rd, Meopham, Gravesend DA13 0QH
Glebe Farm
Banbury
Head over Oxford way to Glebe Farm in Banbury, a family-run farm in a small local village. Dedicated to sunflowers, this farm has got you more than covered.
Glebe Farm is also opposite The George Pub, a cosy spot where you can settle for a pint afterwards, or take a coffee away to sip as you pick sunflowers.
There's plenty of benches on-site too, so why not bring a picnic along and make a day of it?
Opening times: Wednesday, Thursday, and Friday until 8pm
Price: Tickets are £7 per car and include 6 stems and parking
Address: Butchers Ln, Lower Brailes, Banbury OX15 5NB
Overstone Grange Farm
Northampton
Nestled in the picturesque Northamptonshire countryside, Overstone Grange Farm has got a cracking line up of summer 2021 events – including opening up their annual PYO sunflower field.
With the flowers expected to bloom mid-late August, their fields will soon be lined with sunflowers fresh for the picking.
They're also opening a Maize Maze for the first time ever this year, providing the LOLs for everyone in the family.
Opening times: Wednesday to Sunday 10am-4:30pm
Price: Sunflowers are pay for what you pick, Maize Maze tickets can be booked here
Address: Overstone Grange Farm, Kettering Rd, Northampton NN3 7XA
Stanhill Farm
Kent
Located just an hour from South London, Stanhill Farm has two smaller plots with sunflower offerings (if you're looking for a vast field, head to one of the other spots on this list!).
At just £1 per stem, this is a great place to head to in August and September if you just want to pick some sunflowers to brighten up your home.
Opening times: Monday to Saturday 9:30am-5pm, Sunday 10am-4pm
Price: Entry is £1 on the door, no need to book in advance
Address: The Farm House, Birchwood Rd, Dartford DA2 7HD
Blooming Green
Kent
After something a little more special? Blooming Green in Kent is a florist set on Loddington Farm, offering bespoke PYO slots for an abundance of flowers including sunflowers.
Probably not one for the whole family to get involved with, but a great option for dates or if you just want something a little bit therapeutic. If you're getting married, you can even pick your own wedding flowers days before the wedding.
For just £4 per person, you can book on for tea and cake after your PYO slot, turning it into a really lovely experience.
Opening times: PYO available on Saturdays
Price: You'll need to book an appointment, it's £25 for a bucket of flowers
Address: Loddington Farm, Linton, Maidstone ME17 4AG
Writtle Sunflowers
Chelmsford
Looking like something out of an indie film, Writtle Sunflowers is a popular PYO farm in Essex that's popular with families and local photographers alike.
This year, the farm's sunflower field has exploded in size and they've moved to a bigger location, meaning you've got plenty of flowers to choose between.
There's also a small maze for the kids to get stuck into, as well as other flowers available (although, their sunflowers are by far the biggest and best offering).
Opening times: 10am-5pm, closed Mondays and Fridays
Price: No need to book, just turn up and pay for what you pick
Address: Pooty Pools Farm, Chelmsford CM1 4NW
Rogate Farm
Petersfield
Also home to an impressive pumpkin patch come Autumn, summer sees Rogate Farm transform into a sea of yellow.
This is the best place to find sunflowers near London if you're after a truly rustic experience – hay climbing, tractor rides, and sunflower arranging activities are all on offer, as well as a selection of tasty local food courtesy of Wild Kite Coffee.
Opening times: Weekdays and weekends 10am-5pm
Price: Entry is free, 6 stalks will set you back £5
Address: ½ mile east of Rogate Village (A272), Rogate, GU31 5EG
The Real Flower Petal Confetti Co.
Pershore
Boasting possibly the most beautiful flowers in the UK, The Real Flower Petal Confetti Co.are opening up their multiple floral fields (including an impressive sunflower offering) once again in August.
Located just on the other side of the Cotswolds in Pershore, these flower fields are worth the drive – and Wyke Manor makes for a stunning backdrop.
In fact, the company primarily sells biodegradable floral confetti (the UK's first… no biggie), so if you've got a special occasion coming up, why not pick up some for yourself?
Opening times: tbc – check the website for more details
Price: tbc
Address: Wyke Manor, Wick, Pershore, Worcestershire, WR10 3NZ
The Pop-Up Farm
St. Albans
Don't be confused by The Pop-Up Farm's name, it's certainly a permanent fixture. The place is run by the Pigott family, done entirely with their outlook on being environmentally friendly and, where they can be, educational.
Dry weather in the region does mean that growing sunflowers can be difficult for them but in recent years they've managed to produce decent crops, and even throw the odd sunflower festival.
You can go down there and get stuck in with that and any of their other events. They welcome engagement from anyone who is keen to explore the farm.
Opening times: tbc – check the website for more details
Price: tbc
Address: M1 Junction 9, Flamstead, St Albans AL3 8HT
Tulley's Sunflowers
Crawley
Tulley's is a great spot for PYO sunflowers near London. That's because they specialise in doing exactly that. There's 12 acres of sunflower fields for you to roam and pick from which look absolutely stunning at the height of summer.
As if that wasn't enough of a reason they also lay on some excellent food to put you on after a big day in the fields. It's not just any old thing either: burgers and bao buns will be your choice of dinner, served from some trucks that could hold their own against some of London's finest.
Opening times: 10am – 5pm and 9pm on select sunset sessions
Price: £7- £9
Address: Tulleys Sunflower Fields, Turners Hill Road, Turners Hill, Crawley, West Sussex, RH10 4NA
Sunflower Fields Near London: Practical Tips
Make sure you check on each farm's website for the details about their sunflower picking sessions. Some require booking specific slots, others don't. Given that you might have to drive quite far to get to these places it's always best to have a solid plan before you set off.
You should bring water and sun cream. Being out in the fields is hot work. Don't underestimate the power of mother nature.
Sunflower Fields Near London: Map