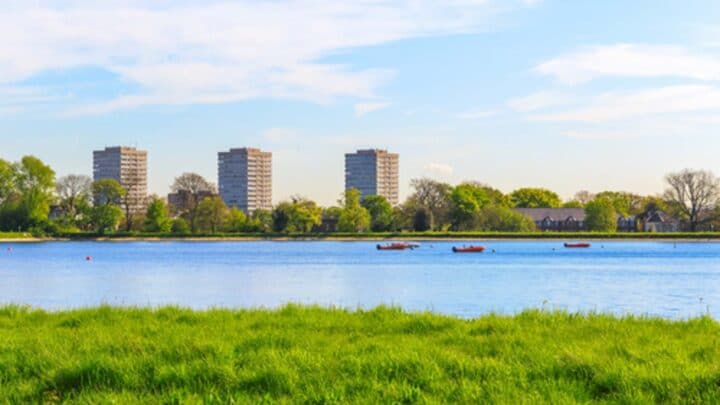 Planning a visit to Walthamstow? This lively East End town boasts a mix of markets, trendy warehouses, street art and Europe's largest urban nature reserve. Let's explore.
Walthamstow is an often-overlooked part of the capital – it used to be largely rural until its suburbanisation in the 19th-century and, since the 2012 Olympics, the area has been likened to Shoreditch.
In 2019 Waltham Forest was crowned the first London Borough of Culture and with E17 nestled inside the borough it's easy to see why.
Explore Walthamstow and you'll find neon lights, food markets in shipping containers, warehouses being used as bars and taprooms as well as Europe's longest outdoor market.
Let's explore the best things to do in Walthamstow.
Things to do in Walthamstow
Visit the William Morris Gallery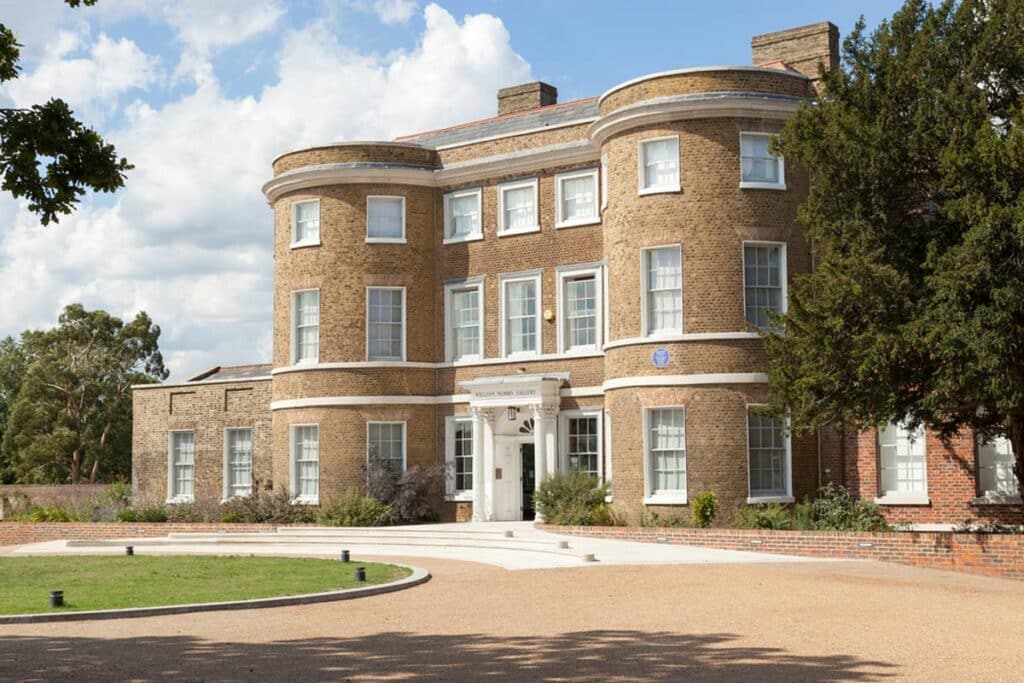 William Morris was an English arts and crafts socialist designer and the Morris Gallery is a Grade-II listed museum dedicated to his life.
The house is set in its own extensive grounds with displays of printed and woven fabrics, rugs and painted tiles by Morris and other members of the arts and craft movement. Parts of his life can also be seen in the museum like his coffee mug on display and a sachet he used to distribute his radical pamphlets.
There's two floors of free exhibitions inside as well as a cafe, gardens, ponds and gift shop.
Gawk at God's Own Junkyard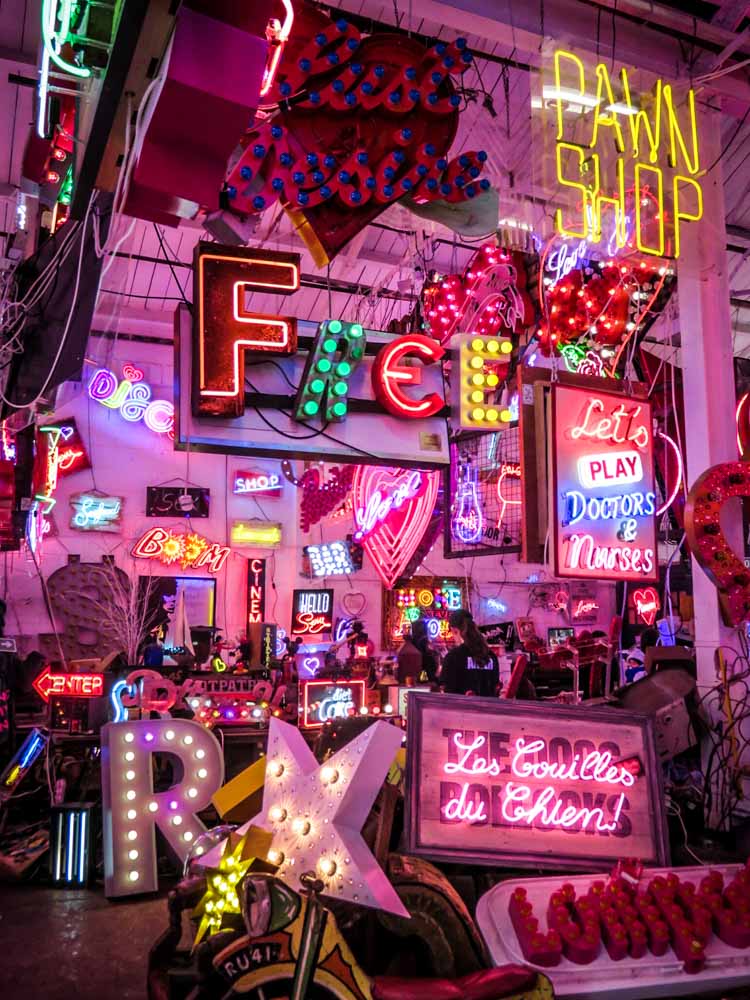 God's Own Junkyard is a neon Narnia that's completely free to visit. It's one of the coolest things to do in Walthamstow, and just so happens to be ones of the largest neon collections in Europe– now that's impressive.
This funky warehouse full of neon lights is only open on weekends and is more than just an Instagram spot. You could spend hours here scanning all of the different lights on display, from funny signs sprouting Sex, Drugs and Bacon Rolls to a cute neon sausage dog.
Even better, you can enjoy the neon glow with drinks and food from The Rolling Stones Cafe.
Check Out the Street Art
Did you know that some of the biggest street artists in the world have painted the streets of Walthamstow?
A fun thing to do in Walthamstow is wander the streets in search of street art. Your best bet is to start at Hoe Street and then venture out towards Wood street and St James street, once there you'll find lots of cool murals.
Much of the colourful street art in the area is from local organisations like Wood Street Walls.
Explore the Walthamstow Wetlands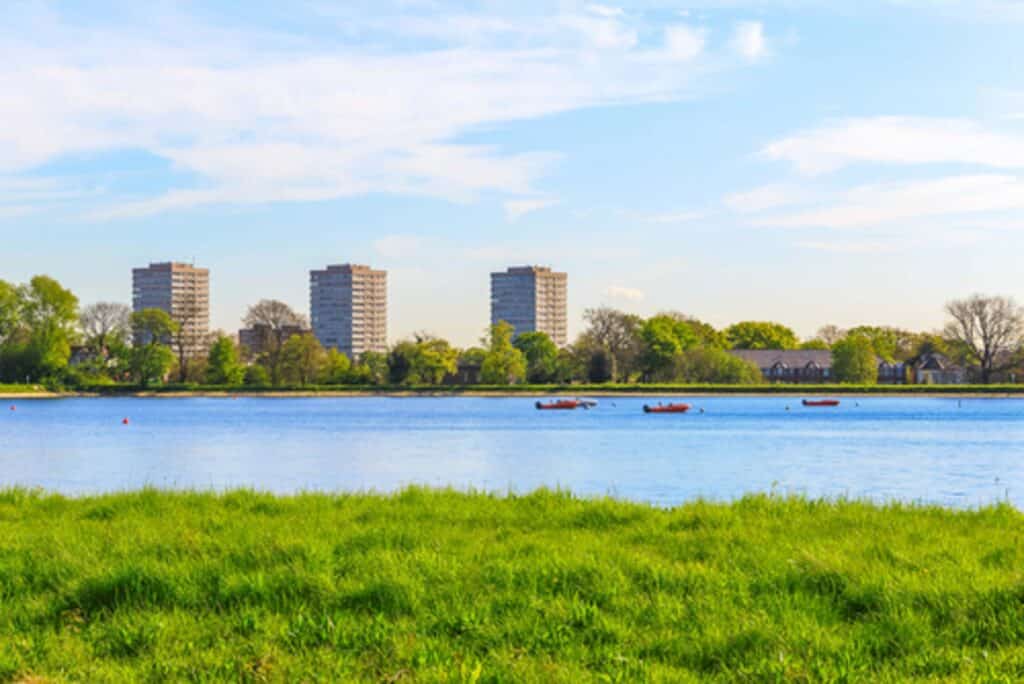 Spanning 211-hectares is the Walthamstow Wetlands, a beautiful nature reserve that's well worth a visit.
It's free to visit, and the Thames Water reservoir supplies 3.5 million people. As well as that, it provides home and shelter to a whole range of wildlife from rare waterfowl to majestic birds of prey.
Whilst reconnecting with nature at Walthamstow Wetlands, stop by the cafe housed in the locally-listed Engine House for breakfast, lunch or afternoon tea.
The Wetlands' shop is perfect for gifting or treats for you, all products are inspired by the unique nature of Europe's largest urban wetlands as well as the area's distinctive industrial heritage.
Giggle at the Red Imp Comedy Club
Have a laugh at Red Imp Comedy Club. Walthamstow's premier comedy club brings you comedians who are a work in progress as well as some of the biggest names in the business.
Alan Carr, Omid Djalili, Gina Yashere, Sara Pascoe and Stewart Lee are just some of the comedians who have passed through Red Imp Comedy Club.
At the Ye Olde Rose and Crown Theatre there's always plenty of comedians to see and it's the best place to see emerging talent– pints and a laugh sounds good to us.
Eat, Drink and Shop at CRATE
Walthamstow's answer to Boxpark, CRATE St James Street is a community for creatives, retail space and a street-food pop up market all in one space.
Housed in shipping containers, this is definitely the coolest area in Walthamstow. There's also a deck for eating and drinking, and it's all dog friendly too. Plenty of fun to be had at CRATE – as well as trying out all the food vendors, board games are available to play and big screens show football and rugby.
This space can be enjoyed all year round, in the winter cosy up next to indoor heaters under a temporary roof.
Things to do in Walthamstow: Eating & Drinking
Eat Dinner in a Denim Factory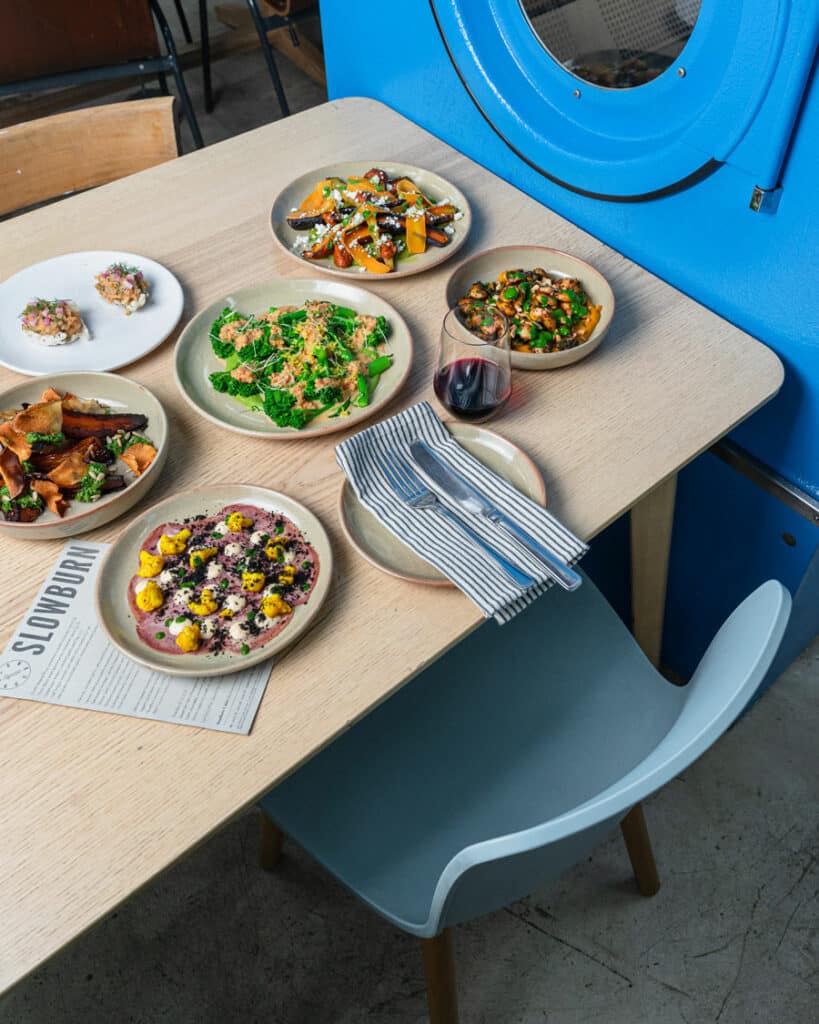 Yep, you read that right. One of the finest, and funnest (yeah, we made that a word) places to eat in Walthamstow is in a denim factory. SlowBurn made their home on a factory floor, and an operational one too.
That means you can only dine there from Friday to Sunday. It also means that you've got one of the most atmospheric backdrops for a dinner you can find, hanging reams of fabric and rolls of cloth stacked next to the machines of industry.
As you can imagine, the food has to pack a punch to keep up with the coolness of the setting. Let us tell you: it does. Small and big plates of expertly handled, fresh ingredients are the name of the game – go for the SlowBurn chicken. You won't regret it.
Yard Sale Pizza
The biggest Yard Sale Pizza to date is set in a beautiful old glass factory in Walthamstow on Hoe Street.
Serving up Yard Sales infamous pizza, you know the score, cheesy goodness and all the toppings please. Good for dine-in or takeaway and wander the streets in search of street art with a few slices.
On weekends except to find pizza lovers cheese drunk, sprawled out onto the streets outside E17's favourite pizza joint.
Mother's Ruin Gin Palace
Gin lovers assemble– Mother's Ruin Gin Palace is where it's at. Nestled in Ravenswood Industrial Estate, Mother's Ruin is a boutique gin palace that distiles and sells over seventy gins.
Housed in a former WW1 factory, sample all the botanicals and ingredients all taken from Mother Ruin's orchards or foraged from Walthamstows wilds. Friday through Sunday, Mother ruin's is open to revellers looking for the best gins around and trendy atmosphere.
Eat 17
Located in the heart of Walthamstow Village, Eat 17 serves up honest British food. It all began in 2006 with a neighbourhood grocery and bistro and since then Eat17 has created an award winning bacon jam that's a must try – as well as opening stores in three more locations.
Eat17's breakfast, lunch and dinner menus are expertly crafted from seasonal produce and include the likes of chicken wings Korean style, prawn linguine and the dry aged beef burger with that lip-smacking bacon jam.
Trap Taproom
Opposite Mother Ruin's, Trap Taproom (A.K.A that cider place) has a huge range of ciders, beers, natural wines, sodas and coffees. Its brightly painted warehouse building adds to its already hip atmosphere, you'll probably find Walthamstow's creatives hanging out here.
It's also Walthamstow's first cider taproom, it stocks The Real Al Company's Crafty Apple. Crafty Apple is fermented from 100% bitter sweet Hertfordshire cider fruit juice to give it that juicy apple flavour– it's a real hit with the locals and alike.
Top Shopping Spots in Walthamstow
Walthamstow Village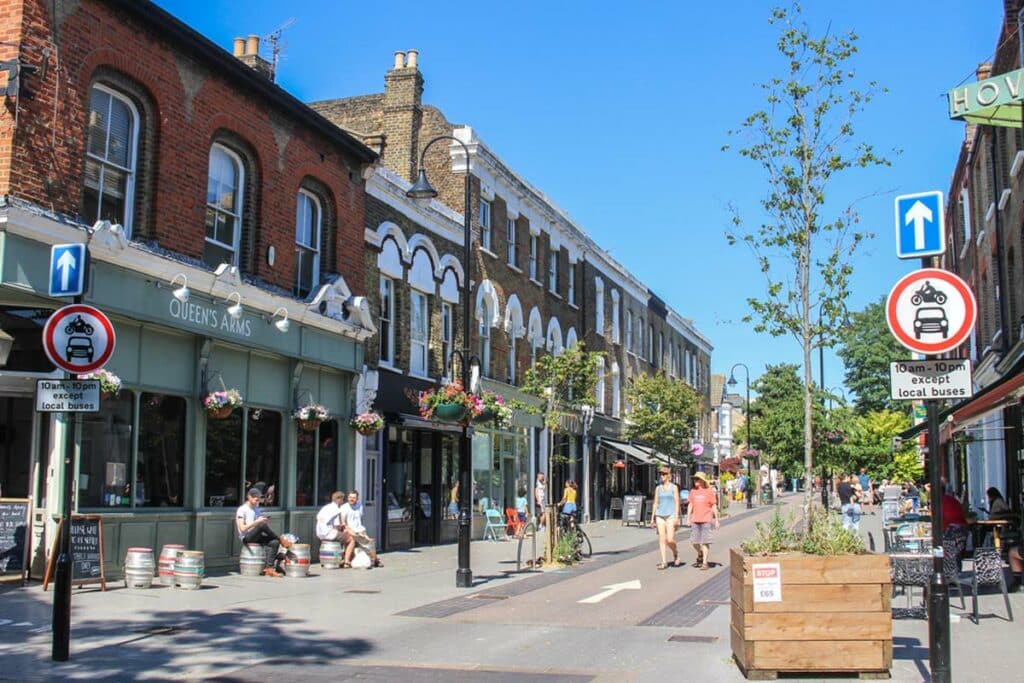 Wander through the colourful urban Walthamstow Village, adorned with boutique cafes, independent shops, restaurants, pubs, craft stores and wine shops.
It's the perfect thing to do in Walthamstow on a sunny day, wander in and out of shops, grabbing bites to eat as you go. Walthamstow Village can be found at Walthamstow Square, it's the oldest part of Walthamstow.
Walthamstow Market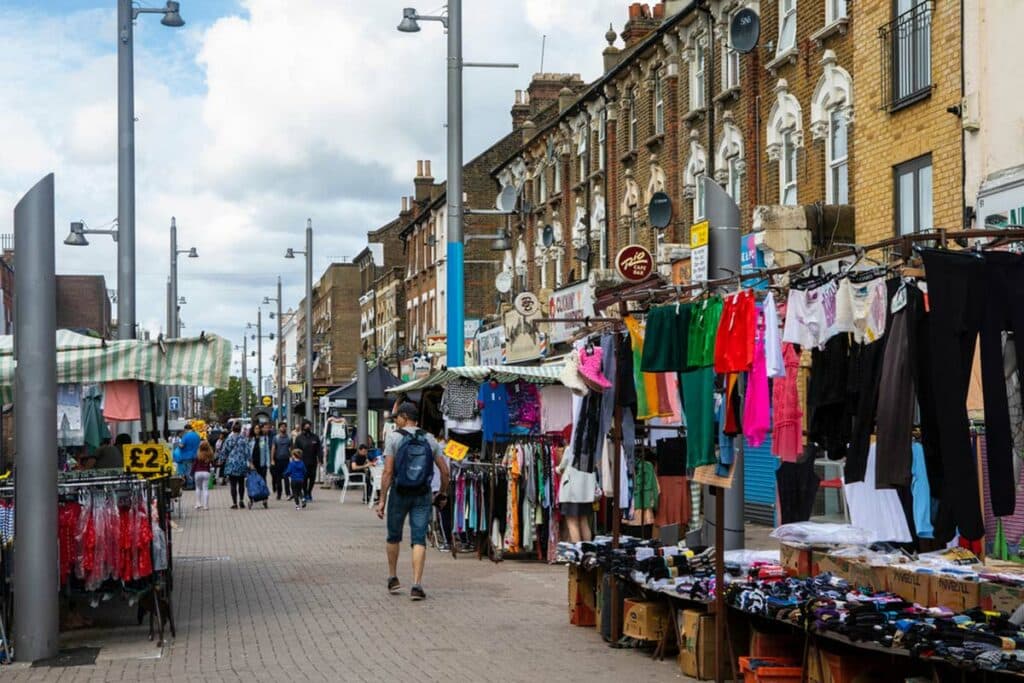 The best free thing to do in Walthamstow is to walk the kilometre-long Walthamstow Market. It's actually Europe's longest outdoor market, packed with stalls selling homeware, clothes, and heaps more to get your hands on.
The legendary market started in 1885 and is open Tuesday through Saturday. There's also lots of yummy treats to pick up along your way, expect everything from Caribbean curried goat to traditional cockney pie and mash and even jellied eels (we'll pass, thanks).
Wood Street Indoor Market
A short walk from Wood street overground station is Wood Street Indoor Market. Here you'll find a unique mix of 30 boutique shops selling vintage and retro clothing as well as homeware, records, crafts and jewellery.
A market is only as good as its food, let's be honest, and Wood Street Market's Homeys On Donkeys serves up some tasty Mexican food.
This is a great place to lose a few hours, browsing bohemian stores and sieving through vintage garments and retro toys.
Practical Tips for Exploring What to do in Walthamstow, London
Come HUNGRY – Walthamstow boasts so many brilliant food places, and you're going to want to try them all. We promise.
Check out our guide to Cockney Rhyming Slang – you'll likely hear it in the East End.
Things to do in Walthamstow: Read Next