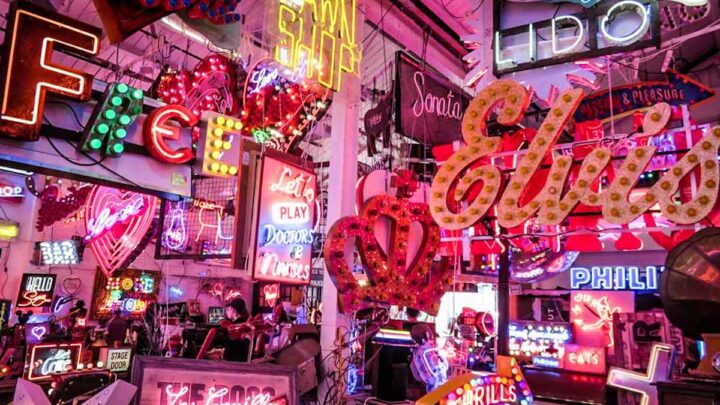 It's time to discover God's Own Junkyard – the fabulous hidden gem tucked away in Walthamstow.
Of all the random spots London boasts, few are as cool as God's Own Junkyard.
But what is God's Own Junkyard? Umm, the words visual feast, neon paradise and hella crazy lurid kaleidoscopic dream spring to mind. Just for starters.
Add to that a totally 'grammable setup (more on those here) and punny signs – we're sold.
Of course, we don't expect you to take our word for it… take a peek yourself.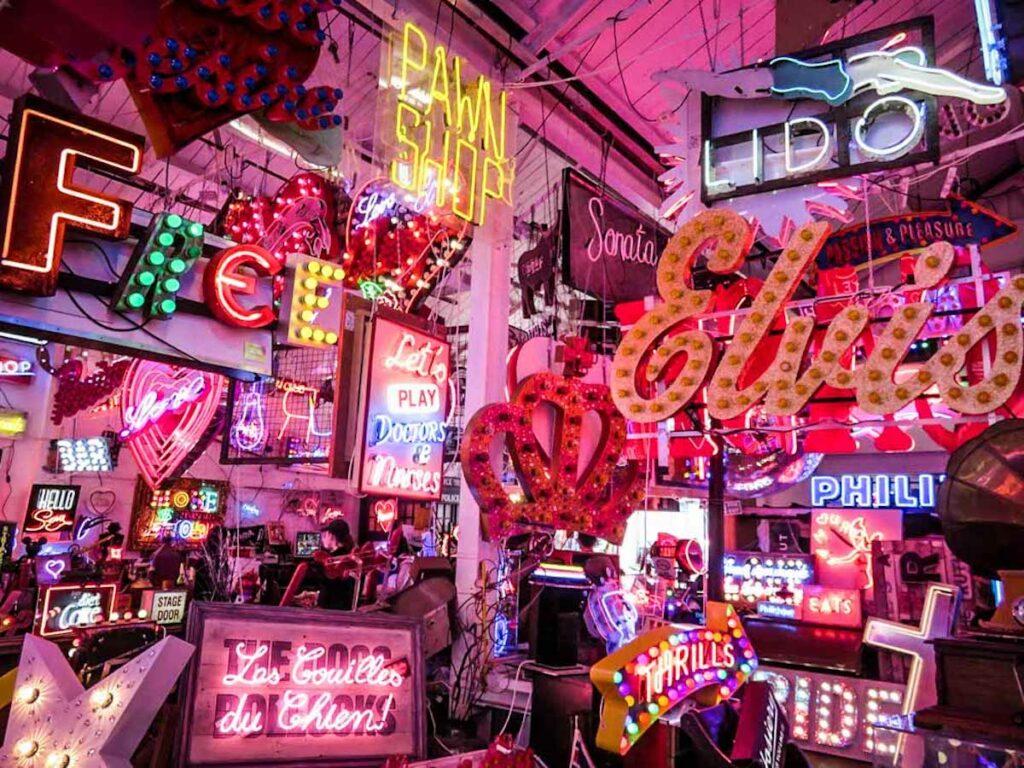 Why Visit God's Own Junkyard?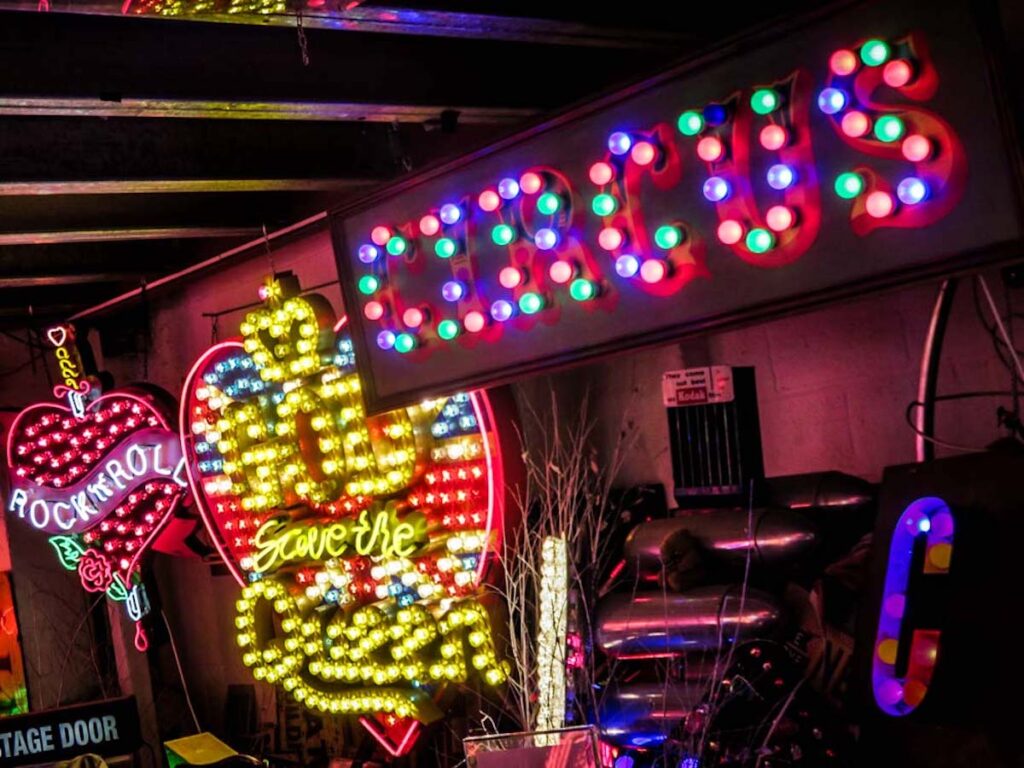 Did the pictures not convince you? Ok, we'll break it down for you a bit more.
If you haven't already seen images plastered over the internet, God's Own Junkyard is a warehouse in Walthamstow filled to the brim with neon signs. It's a collection of unique signs to rival the world's best.
The warehouse exists to display neon signs that are completely unique, and are available to rent or purchase. Do note that renting and buying these signs isn't a cheap affair, but that shouldn't stop you from window shopping.
Signs hang on every inch of the walls and are even stacked on the floor – these range from funky signs including cheeky catchphrases, images, and a combination of both.
The best bit? Wandering around is totally free. We recommend heading there early though, as TikTok and Instagram have played a role in the huge increase of footfall in recent years. Sneak in and out before the gaggles of trendy teens arrive.
Looking for more Offbeat Things to do in London? Don't Miss This Guide
A Potted History of God's Own Junkyard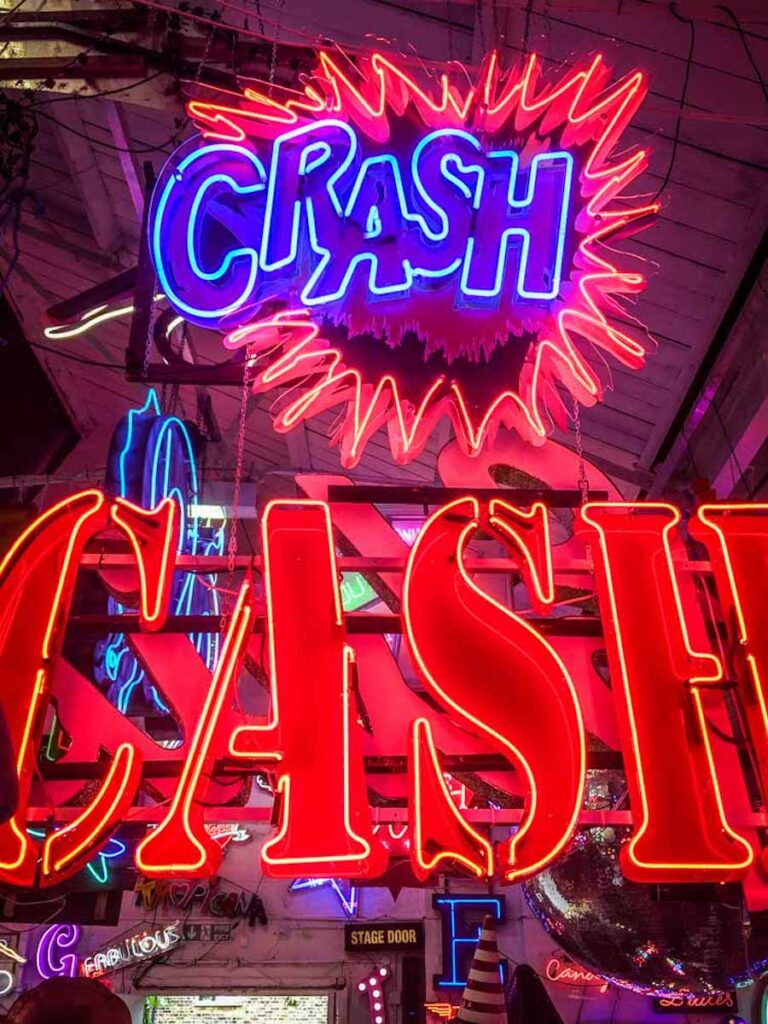 God's Own Junkyard has a very interesting history. It was started by Chris Bracey, also known as 'the neon man'. He started off his career by making neon signs for brothels and strip clubs in the Soho area. Saucy. I like it.
He was soon spotted for his incredible talent by movie producers in Hollywood and began making props and signs for some of the most famous sets. He's worked with famed directors such as Tim Burton, Christopher Nolan, and Stanley Kubrick.
The warehouse has become a collection of not only old movie props, but also unique signs fashioned for events and even those Bracey created just for the hell of it.
Bracey died a few years ago but he created an overwhelming number of signs during his life and a great deal of them can be found in God's Own Junkyard.
How to Visit God's Own Junkyard, London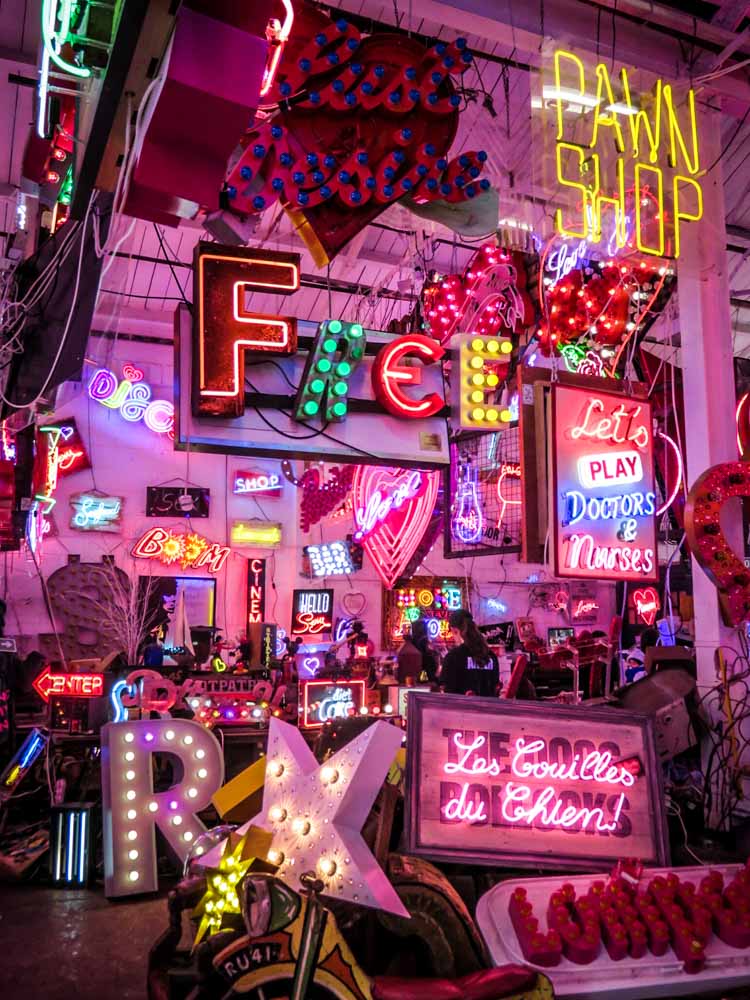 God's Own Junkyard is located at Unit 12, Ravenswood Industrial Estate, Shernhall Street, Walthamstow.
The easiest way to get there is by hopping off at Walthamstow Central Station. From there you'll find it's just a short walk to the industrial estate.
From the station take St Mary Road all the way to the end and then turn right into Shernhall Street and you'll soon see God's Own Junkyard on your right.
God's Own Junkyard: Location Map
Opening Hours
If you're looking for something to do on the weekend, this is the perfect activity. In fact, that's the only time it's open.
There's something about the fact that this attraction is only open during the weekends that adds to its out-of-the-ordinary charm.
Fridays and Saturdays: 11 am – 10 pm
Sundays: 11 am – 6 pm
If you're wanting to visit the Rolling Scones Cafe (punny… we love) located on the premises, they're open all weekend and serve a wonderful variety of food and beverages.
Final Thoughts on Visiting God's Own Junkyard
God's Own Junkyard is one of those places you simply have to see for yourself. It might not be so much of a hidden gem anymore, but it's one of London's more unusual spots and somewhere we'd recommend seeing at least once.
Who knows, you might even find a masterpiece to brighten up your home (though we'll warn you – like all well-crafted pieces of art, they are expensive).
Love this? Save and Share on Pinterest!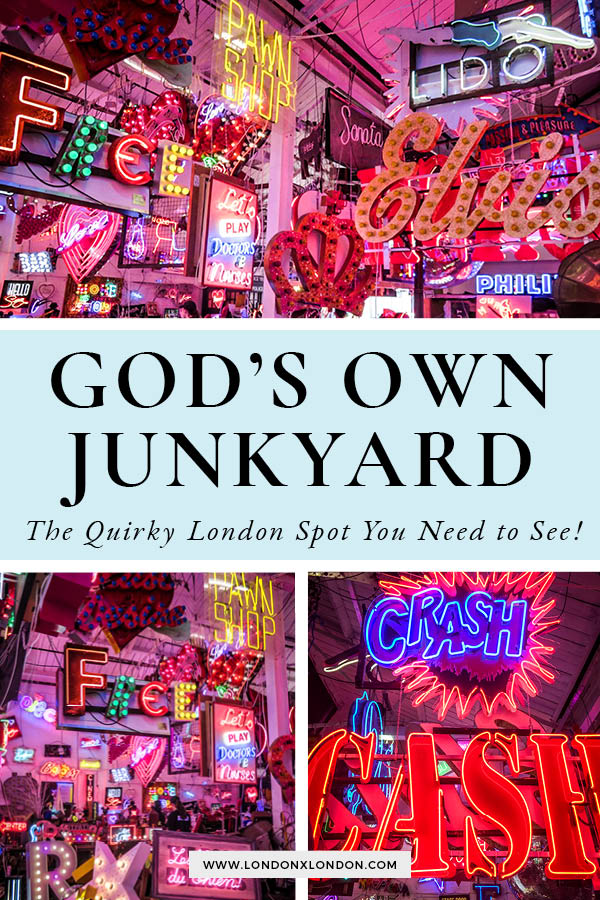 Looking for More Quirky Things to do in London?