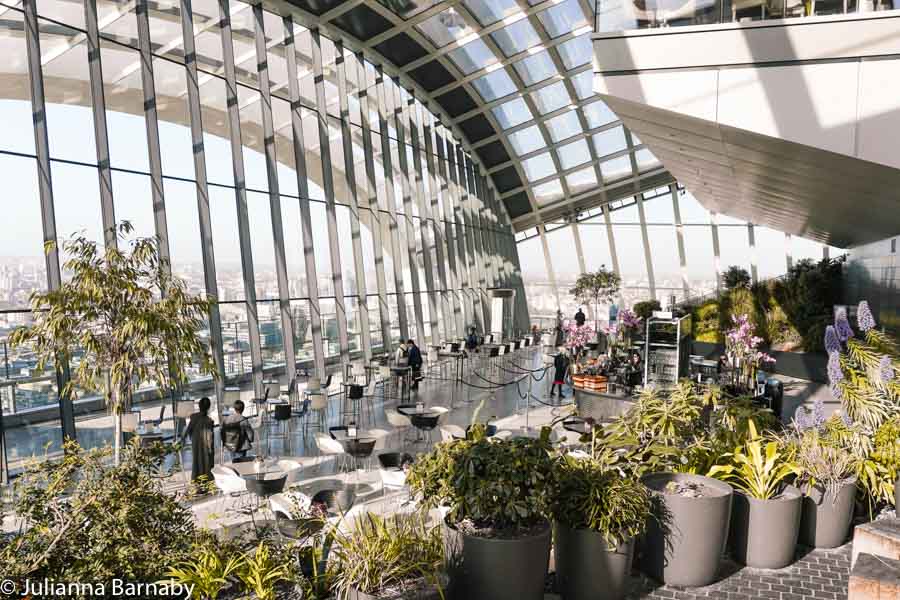 Perched at the top of the Walkie Talkie building, London's Sky Garden boasts some of the best views in the city. Here's why you need to go (and insider tips for beating the crowds while you're at it).
London is a very cool city, but sometimes it can feel like it's out to bleed you dry and strip you of all your hard-earned money. That's why when you find something brilliant that also happens to be free, you have to pay a lot of attention.
Guess what? The Sky Garden is both brilliant and free.
The only catch? Pretty much everybody knows it – so it can be tough to get into. Not to worry though. We're not only going to tell you why you should visit the Sky Garden but also exactly how to do it without the crowds. Win, win right?
First Up, Why Should I Visit the Sky Garden?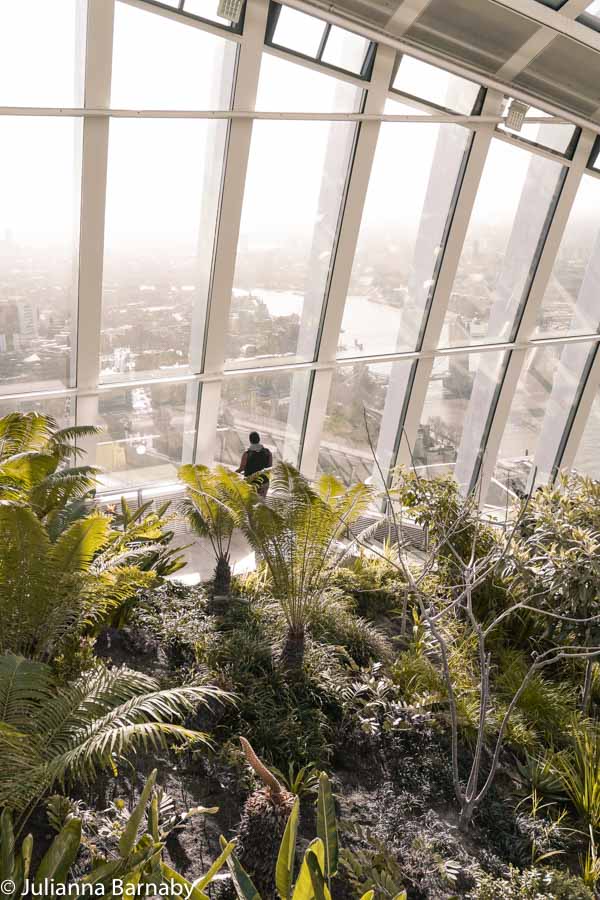 What if I told you that there was a sub-tropical garden hidden away between the 34th to 37th floor of 20 Fenchurch Street (affectionately nicknamed the Walkie Talkie building thanks to its unusual appearance – check out the location on my London tourist attractions map).
What if I also told you that the Walkie Talkie just so happens to command some of the best views in London.
It would sound like somewhere you'd want to go right? Right.
The question is how.
Read Next: Sightseeing in London – Places You Shouldn't Miss
How to Get into the Sky Garden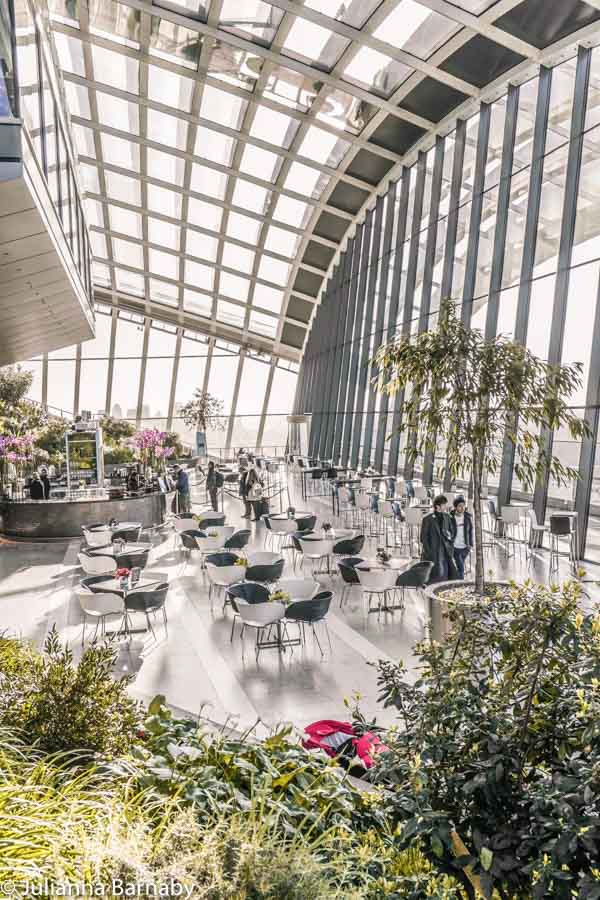 Now that we've worked out that popping in to the Sky Garden should be at the top of your London Instagram bucket list, the next question is how do you go about getting in.
How do you get into the Sky Garden? Let me count the ways…
In all honesty, it can be a bit of a mind melt going through their website and trying to work out how you can visit without booking years in advance: which is why I've put together a handy go-to guide walking you through all of your options below. You're welcome.
Read Next: Unmissable Things to do and Places to Visit in London That are Completely Free
Sky Garden Tickets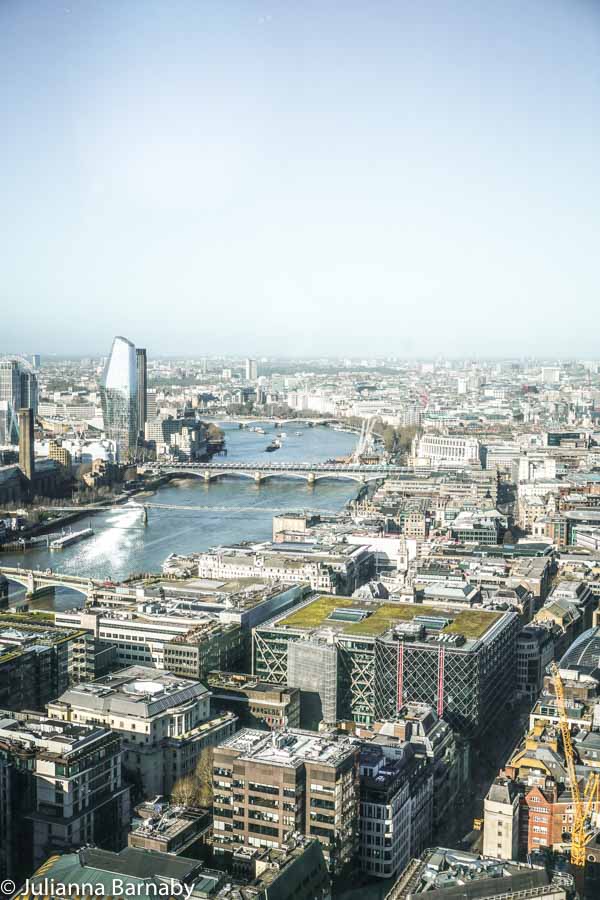 The best-known way to get in is to book yourself some tickets (which are free) on their website. Ticketed entry operates between 10am and 6pm on weekdays and 11am and 9pm at weekends.
New tickets are released on Mondays, so be quick.
Once booked, the tickets are valid for a particular date and time – you're allowed to stay one hour from your entry time. Just make sure that you have printed your ticket or have the PDF on your phone as you'll need it to get through the turnstiles at the bottom floor entrance.
It's fast, it's easy – the only snag is that you're unlikely to be able to grab a ticket for less than two weeks in advance (especially for those much-coveted Saturday evening slots). So you have to be pretty organised, particularly if you're only in town for a short period of time.
Bearing in mind that here in London, we can't even accurately forecast the weather for two to three days, so booking a ticket to a spot with some of the best views in London weeks and weeks in advance feels like playing with fire.
After all, who wants to schlepp up to the top of the building, only to find that the city is enveloped in a cloud of smog and looks more depressing than a train full of commuters on a Monday morning? Not us. Not you either. You're better than that.
That's why you're going to love the fact that there's a secret trick you can use to get into Sky Garden on the day WITHOUT ANY CROWDS. Yes, you heard us right. Sans crowds. Keep reading.
Read Next: One Day in London – The Perfect Itinerary
Walk-In Entry During the Pre-Designated Slots
So now we've established that the Sky Garden booking system is a bit of a pain, the next logical question is how to visit Sky Garden without booking?
The first is to try and nab one of the walk-in spots available between 10am and 11.30am and 2pm and 4.30pm each day.
I'll be honest, although I've had some luck getting into the garden this way, there have been a few times where the walk-in slots have been completely full. It is a gamble.
Visit for Breakfast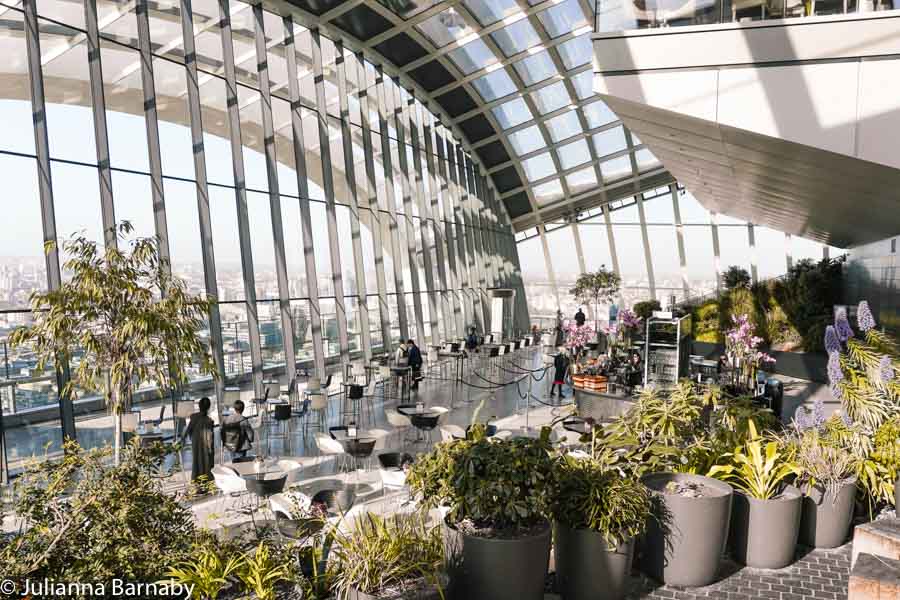 This way is so much better IMHO. Did you know that Sky Garden's Darwin Brasserie opens at 8:30am on weekends? No, neither do most people. That means you get to enter a whole 90 minutes before ticketed entry.
You'll definitely need to book a table, but there's no better way to start the day than chowing down on a hearty breakfast whilst overlooking London.
Obviously, it's not entirely free, but there's no minimum spend at the restaurant and prices are relatively reasonable.
Not convinced that going at breakfast is worth it? Well, I went for breakfast in the Sky Garden and it was empty – there were around five people wandering around the garden, though it started to get a little busier around 9.30am.
Turns out that the early bird really does catch the worm (and the photographs as it happens).
This is my secret trick. Just don't tell loads of other people – it's our rather brilliant little Sky Garden hack.
Visit for Cocktails
Sky Garden's bars: Sky Pod Bar and City Garden Bar are also open for walk-ins from 6.15pm onwards on weekdays or 9.15pm to 12.45am on Saturdays and 9.15pm to 10.30pm on Sundays if you'd rather pop in for an evening drink.
It is much busier for walk ins during the evening – but it is a pretty good view for your sundowner (and is significantly cheaper than the bars in The Shard so….).
The bars also host DJ nights, so if you fancy having a boogie whilst overlooking London, this is a pretty great option. You can book tickets for the events, which happen between Tuesday and Saturday, here.
Pop in for a Meal
Aside from the Sky Pod Bar and the City Garden Bar, Sky Garden also has two restaurants, Fenchurch and Brasserie where you can book for a meal.
They're not cheap, and weirdly, the views aren't as good as those from Sky Pod Bar below, but the food is brilliant and it's a special location for a meal out.
Book in for a Yoga Class at Sky Garden
Fancy perfecting your warrior pose from 36 floors high? There are also early morning yoga classes on the weekend between 8.30am and 9.30am (though you need to check the schedule as it changes).
You'll need to take along your own yoga mat as well as an extra layer as it gets a bit chilly up there. Prices start from £20 for the yoga class and you can book here.
PS: Here's why you should also visit The Barbican Conservatory around the corner too…
Cool Facts about the Sky Garden
It's London's Highest Public Garden
Located between floors 34 to 37 of the Walkie Talkie, Sky Garden is London's highest public garden.
It was originally meant to be 220 metres high, making it one of the tallest buildings in The City, but people were concerned about how it would affect the view of St Pauls. Because of this, the height was reduced in 2006, leaving it shorter and stumpier.
You can See Most of London's Biggest Landmarks from It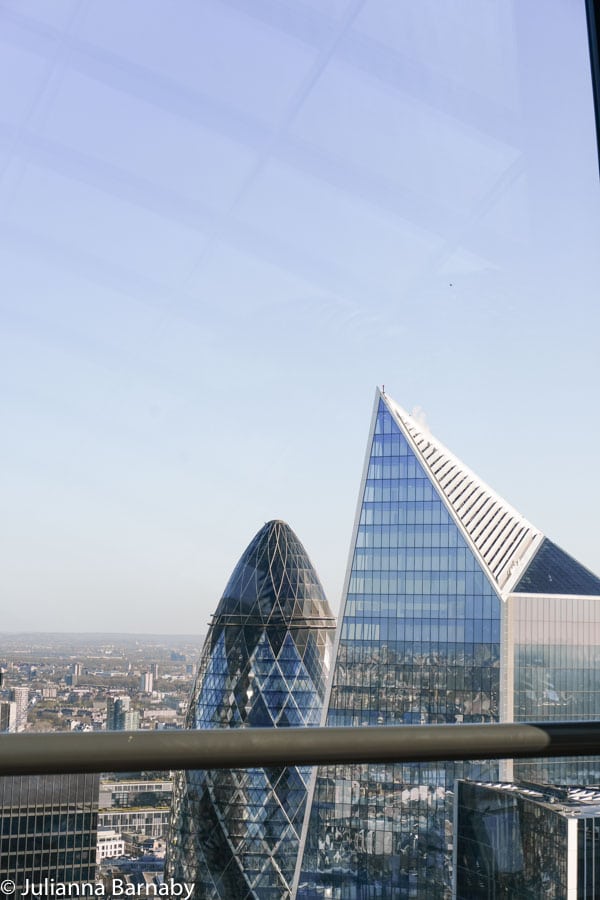 Handily, the Walkie Talkie is higher than most of the buildings nearby, so you get some pretty cool views of London spread out before you. You can spot many of the city's biggest landmarks, including The Shard, St Paul's Cathedral, Tower Bridge, The London Eye, The BT Tower and much more. Enjoy the free views of London without any reservations from any of those landmarks!
The Gardens Are Gorgeous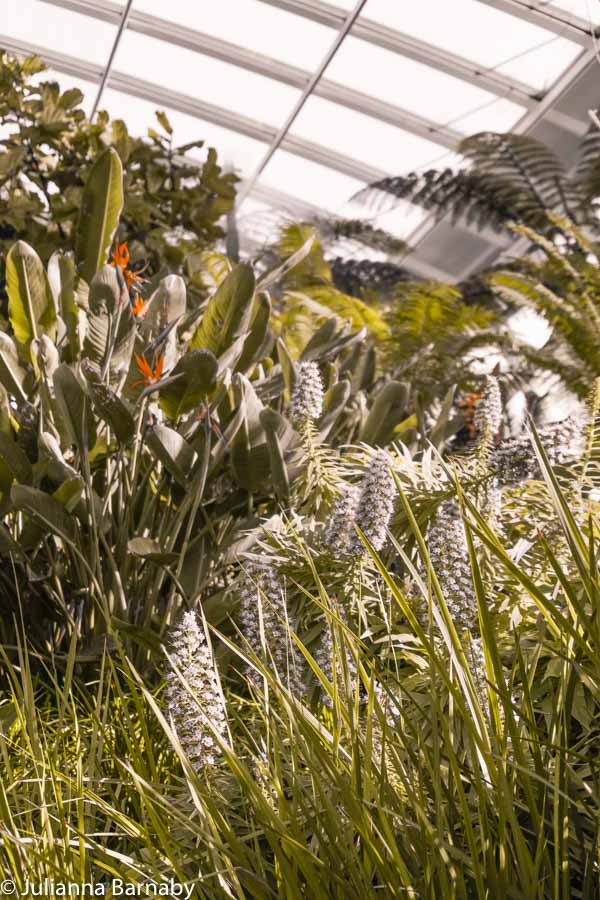 Much as the views are appealing, the gardens are absolutely gorgeous too. Filled primarily with Mediterranean and South African species, it's pretty much a world away from anything else you'll find in London.
The garden is spread out over three terraces, each representing a different kind of habitat.
Mounds of lush greenery are studded with bursts of colour from flowers such as Bird of Paradise and Red Hot Poker – with views of the city and the Thames peeking out from behind.
The best part? The flowers are actually in bloom all year round, so no need to worry about timing your visit to catch them.
The Building Once Melted a Car
Dubbed 'Scorchgate', the Sky Garden building actually once melted part of a Jaguar parked on Fenchurch Street below.
The glass panes gave off so much solar glare that the wing mirrors and side panels on the car began to melt off. Of course, this went viral on social media and Londoners quickly ran to the scene to try and fry eggs on the street using the heat from the Sky Garden.
A Quick Guide to Sky Garden's Restaurants and Bars
Fenchurch
Sitting 37 floors above the chaos that is London, Sky Garden's signature restaurant Fenchuch serves contemporary cuisine that's bursting with fresh flavours and one heck of an eyeful of view to go with.
The restaurant opens from 12pm – 9:45pm from Thursday to Sunday (when it closes at 8:30pm).
You can dine a la carte throughout the day but their set lunch menu is rather good value. You can indulge in their delicious menu for £34.50 or £39.50 for two and three courses respectively.
Alternatively, if you're looking to push the boat out, the restaurant's five and eight course tasting menus are a real treat.
The restaurant also boasts a brilliant cocktail menu, with drinks inspired by iconic London locations – think a fruity Borough Market and fresh Hampstead cocktail.
Darwin Brasserie
Darwin Brasserie is located on the 36th floor of the building. It serves an all-day menu (including a rather delicious breakfast) but also happens to be one of the best brunch spots in the city.
The three-course brunch features stellar dishes such as pressed ham hock terrine and classic eggs florentine (which comes atop caramelised onion hash and slow roast tomatoes) and costs £42.50 per person (drinks are additional and, for the record, aren't bottomless, even though they used to be).
Top tip: Indulge in a carafe of house wine for just £20 and sip slowly whilst you overlook the impressive skyline.
Sky Pod Bar
Sky Pod is the most relaxed of the food and beverage options in the Sky Garden. Because of this, it's also my favourite place to enjoy the views.
Opening at 10am (9am on weekends) and closing late, it offers a small range of all day dining options, as well as a rather fabulous array of cocktails in the evenings.
City Garden Bar
Located a floor up from the Sky Pod Bar, the City Garden bar is an alternative spot for a cheeky evening cocktail in the Sky Garden.
What better way to watch the sun go down than with a negroni in hand and a charcuterie board to share?
Larch
Ok, full disclaimer: Larch is not one of the fancy restaurants with a view like the others in this guide. It's actually on the ground floor, but that shouldn't put you off visiting.
The place serves up a menu of delicious Italian food made from seasonal British produce. The cooking is simple, and should be enjoyed with a glass of something from their extensive wine list. Though if vino's not your thing they do cocktails that rival any of the other sky garden venues.
The highlight? Without a doubt the terrace – a laid back spot for a bit of al fresco dining in the warmer months.
The Cafe Gift Shop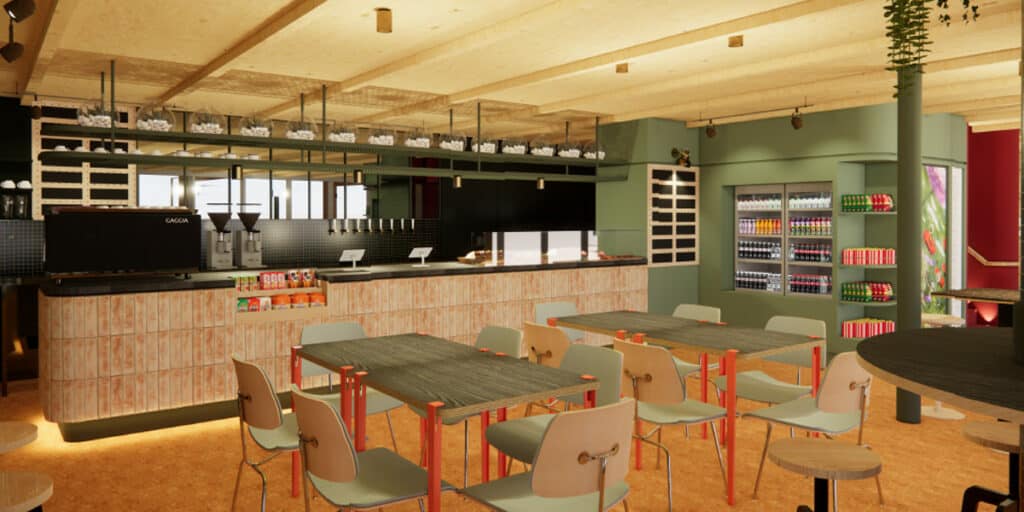 Ok, we sense that we're really straying away from the things you can here to read now but Sky Garden's Cafe and Gift Shop deserves a small mention at least.
That's partly because you may just want to grab a quick coffee to go (although if you're in no rush you can sip one on the top decks), and also because of the selection of fresh pastries that can accompany it.
Sky Garden London: Practical Information and Map
Address: Sky Garden, 1 Sky Garden Walk, London, EC3M 8AF
Telephone: 0207 337 2344
Map
Looking for More London Guides?