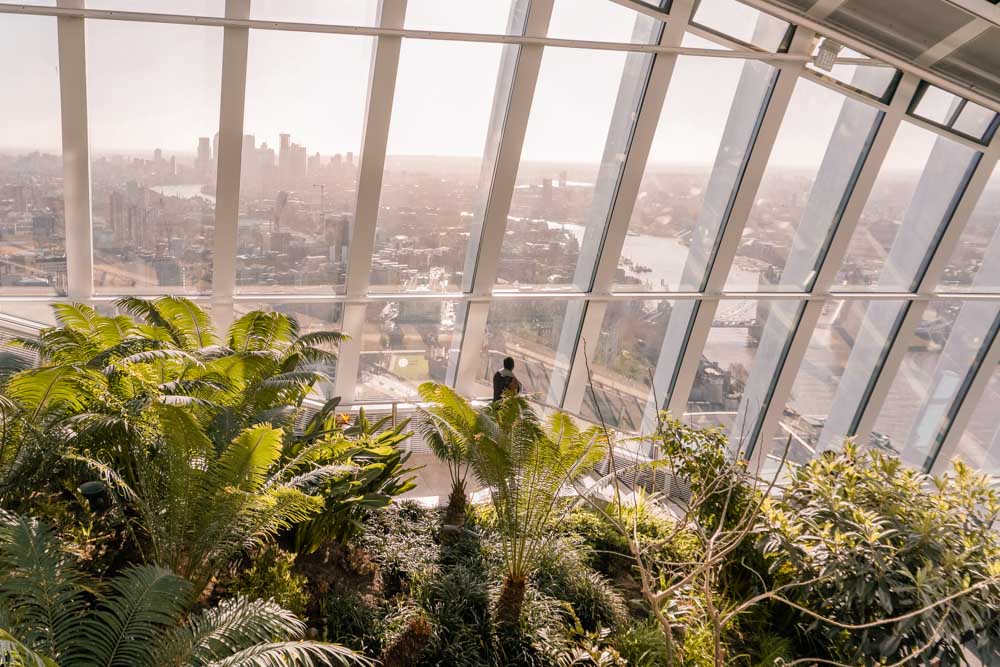 Looking for the most Instagrammable places in London? I've chosen 35 cool spots in my hometown that are guaranteed to blow up your feed.
I may be biased but London is one heck of a pretty city.
Sure, when it's bleak and grey it might not feel like it, but from its iconic skyline to its secret hideouts, it is packed with photo opportunities waiting to happen.
It's also huge – strolling around London in search of a photo location might sound like a nice idea, but it's not really that practical and your feet might fall off before you accomplish your mission.
That's why I've chosen the very best London Instagram spots for this guide – thirty-five cool attractions and secret finds to inspire your feed.
Take a sneak peek at London's cool photography spots with this video!
The Most Instagrammable Places in London
Sky Garden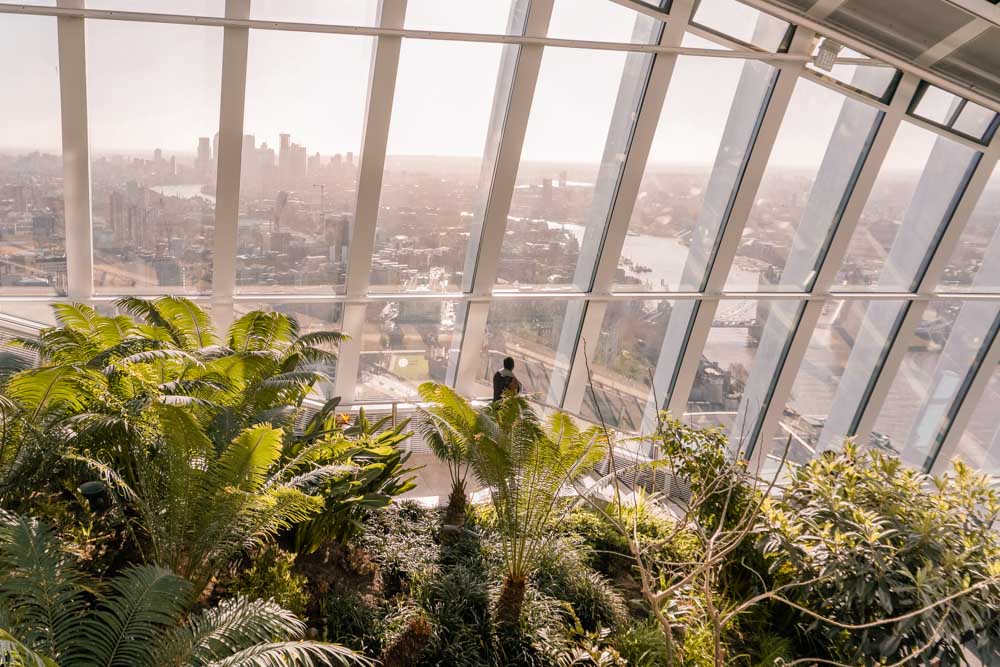 Address: 20 Fenchurch St, London EC3M 8AF
The Sky Garden – the gorgeous garden perched atop the "Walkie Talkie" building in Fenchurch Street isn't exactly a secret.
Just try to book one of the free tickets that book out weeks and weeks ahead will tell you that.
Very few people know that you can go up to the Sky Garden for breakfast without having to book ahead. Simply buy a cup of coffee or a croissant once you're up there and you're all good. Even better – there are zero crowds to mess up your photos.
Upstairs at Rules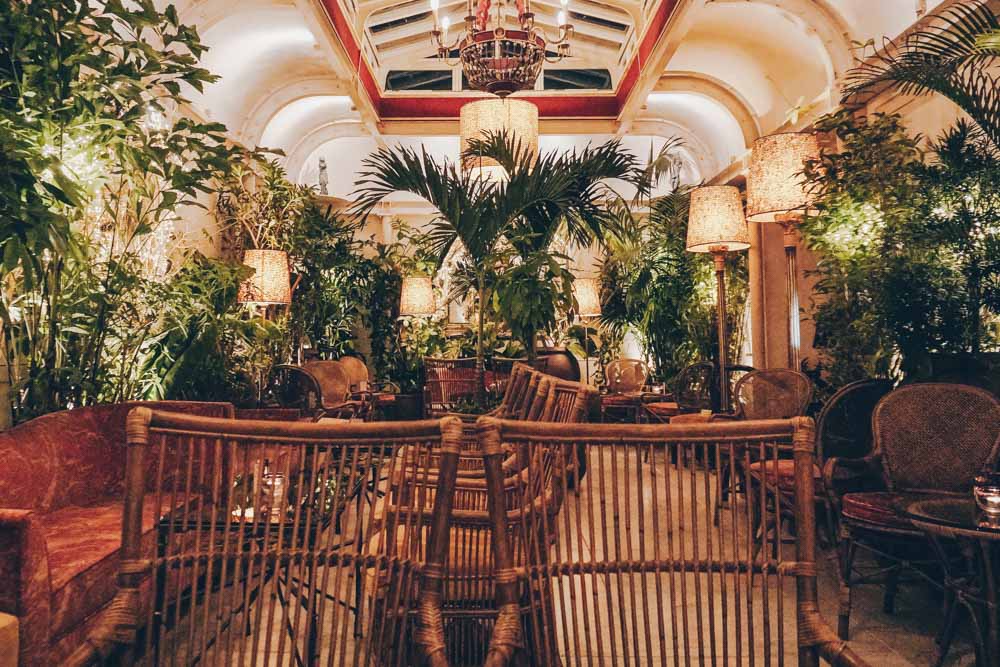 Address: 34-35 Maiden Ln, Covent Garden, London WC2E 7LB
I'm about to let you in on one of my most fiercely-guarded Instagram places in London (you can thank me later). Upstairs at Rules.
The upstairs bar of London's oldest restaurant recently underwent a transformation that saw it open the so-called Winter Garden – a huge conservatory dotted with chaise-lounges, tropical plants and beautiful flowers – all as you sip some of the best cocktails in town.
View of St Paul's from Millennium Bridge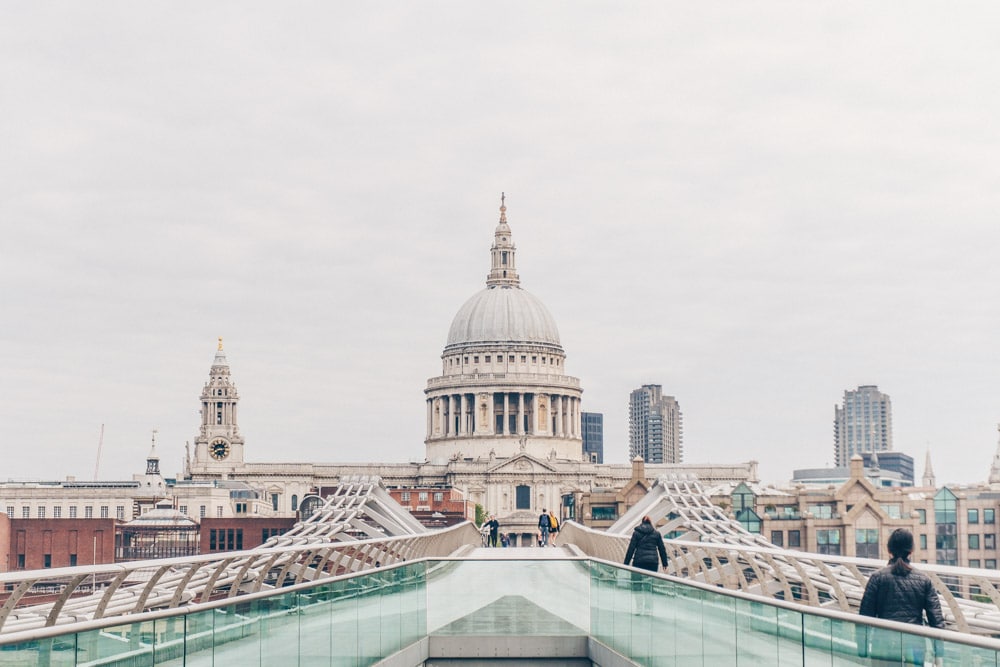 Address: Thames Embankment, London SE1 9JE
The view of St Paul's Cathedral from Millennium Bridge is one of the most London shots of London you can possibly take.
Standing on the bridge, you have the perfect framing and composition of the iconic St Paul's Cathedral ensconced cosily between the contemporary architecture of the City of London.

The Barbican Conservatory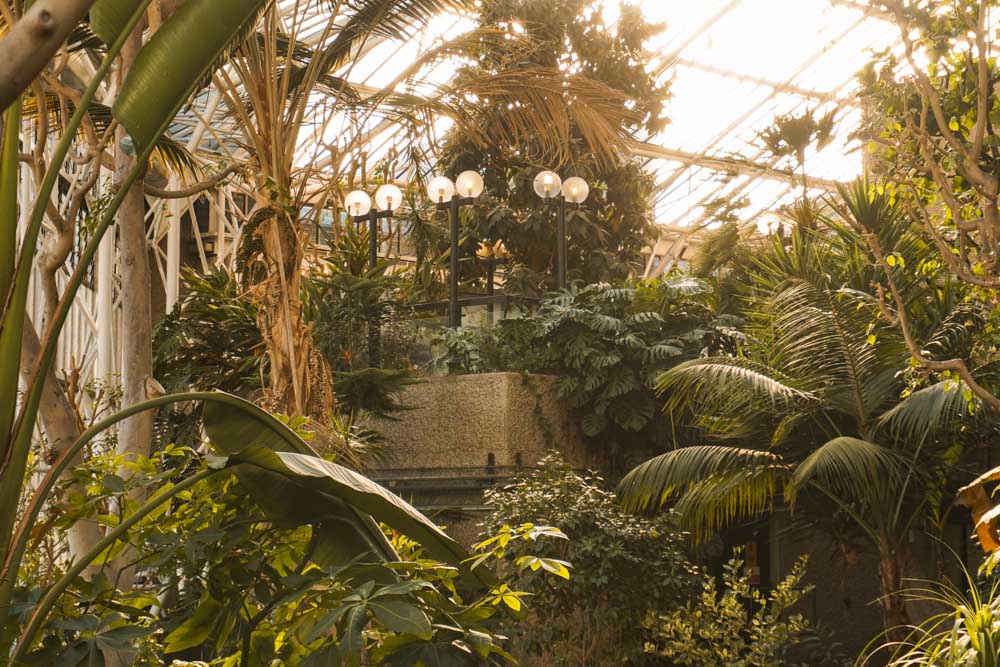 Address: Silk St, London EC2Y 8DS
It's tough to have favourites in a city where there are so many cool places to photograph, but I have no shame saying that The Barbican's drop-dead-gorgeous conservatory is one of my personal faves.
Even better, it's free to visit.
That's the good news – the bad is that you'll need to get there as early as possible to snag the best chance of being able to photograph in peace.
The K2 Telephone Boxes at the Back of Covent Garden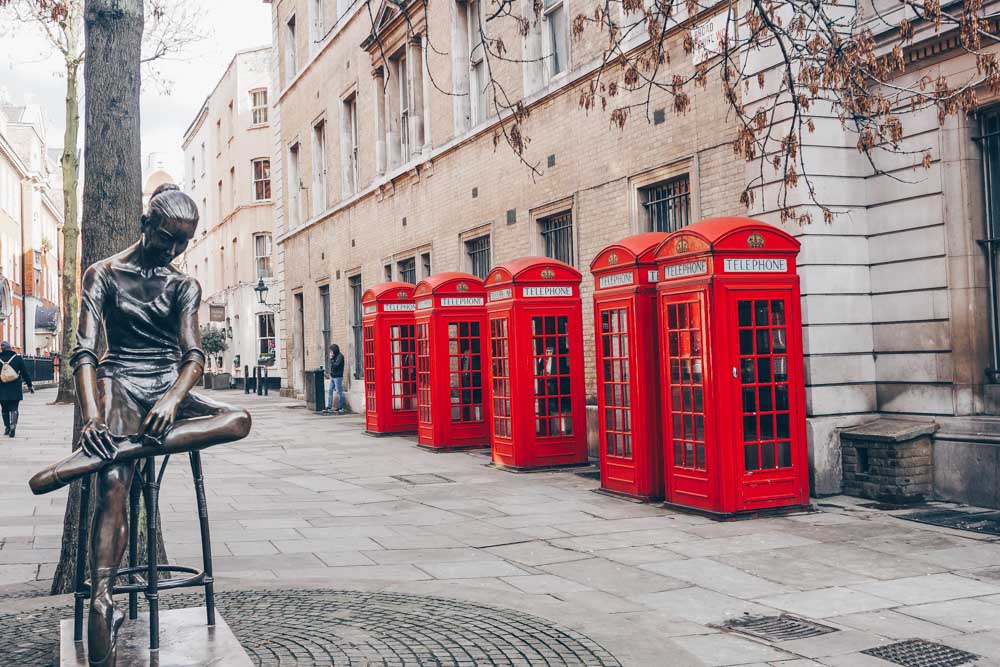 Address: 5 Broad Ct, Covent Garden, London WC2B 5QH
Nothing screams London Instagram spots like a good old red telephone box.
There aren't many of the K2 telephone boxes left in London, but this cute row, located around the back of Covent Garden, are the perfect place for taking that "London Calling" shot.
Aqua Shard in The Shard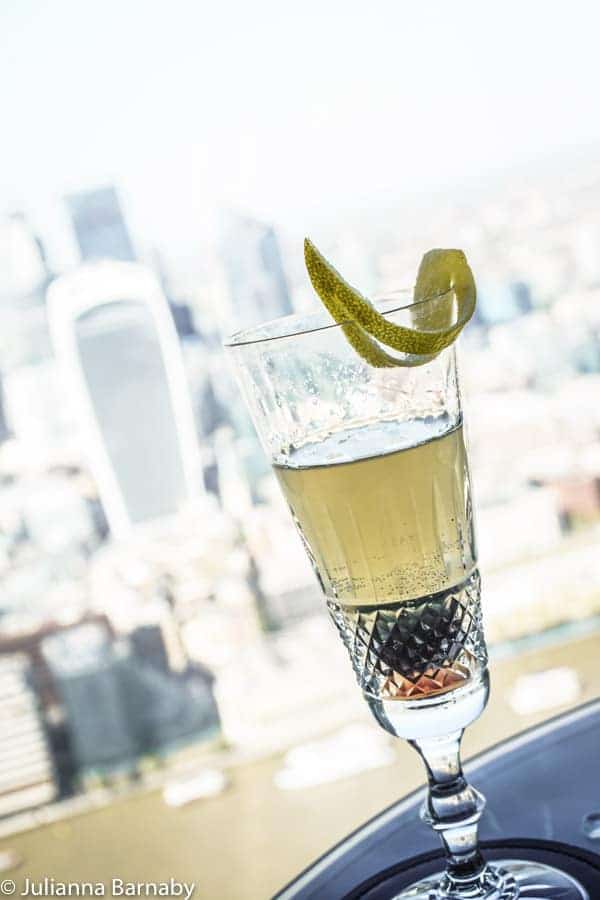 Address: 31 St Thomas St, London SE1 9QU
It's no secret that The Shard offers great views out over London – you'd expect nothing less from the city's tallest building. BUT.
Rather than paying to go and snap a photo amongst the masses at The View from the Shard, I have another sneaky trick to make the most of this Instagrammable London hotspot – go to one of the bars in the Shangri La Hotel that's located inside The Shard.
Aqua Shard Bar on Level 53 boasts rather spectacular views of the city, all at the cost of a cheeky cocktail or two. Be sure to book ahead to nab the best tables.
Peggy Porschen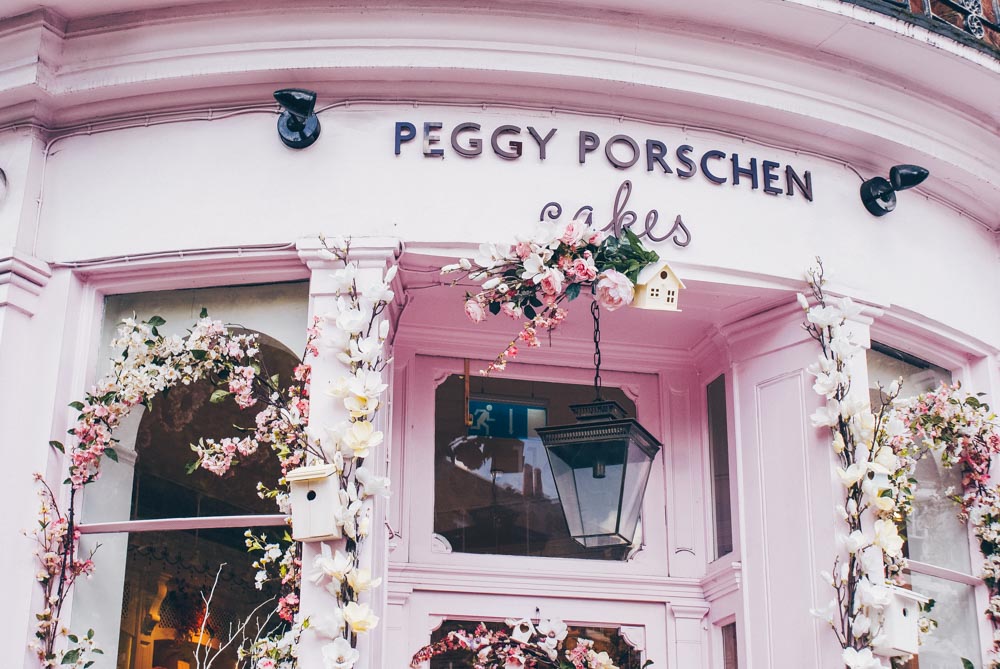 Address: 116 Ebury St, Belgravia, London SW1W 9QQ
Peggy Porschen redefines the idea of 'pretty in pink'. This Belgravia bakery not only caters for the royals and celebrities but has an attractive pastel pink facade that's lined with rose bushes. Charming, to say the least!
God's Own Junkyard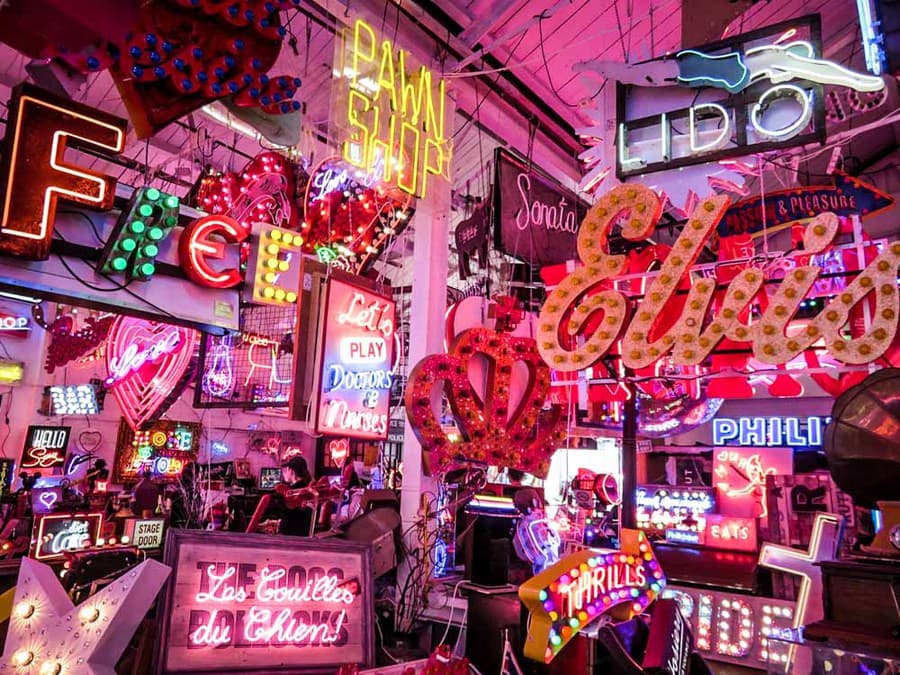 Address: Unit 12, Ravenswood Industrial Estate, Shernhall St, Walthamstow, London E17 9HQ
Walking into this treasure trove of neon signs is like walking into a retro seventies film on speed.
Bright colours, flashing lights, tongue-in-cheek messages – this is Instagrammable London at its most fun.
Big Ben and the Palace of Westminster from the South Bank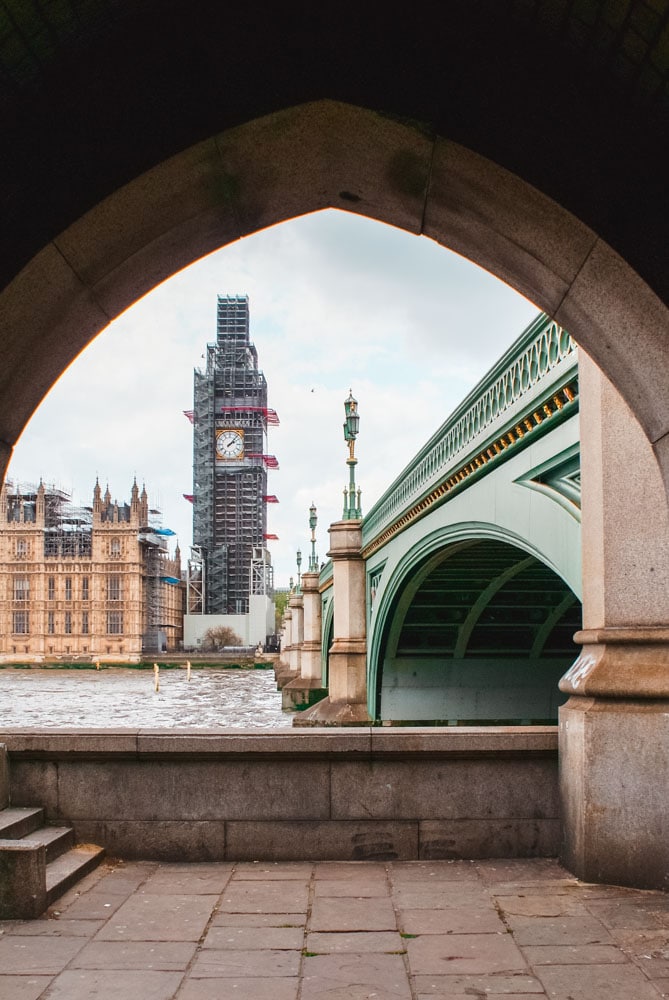 Address: Belvedere Rd, Bishop's, London SE1 7GA
Hidden away on the other side of Westminster Bridge to Big Ben and the Palace of Westminster is a small passage that leads under the bridge.
The entrance to the passage perfectly frames Big Ben and the Palace for a cool shot of some of the most iconic buildings in London.
NB: Both Big Ben and the Palace are undergoing renovation works that are due to complete in 2021, so expect scaffolding on them if you visit before then.
The Colourful Houses of Notting Hill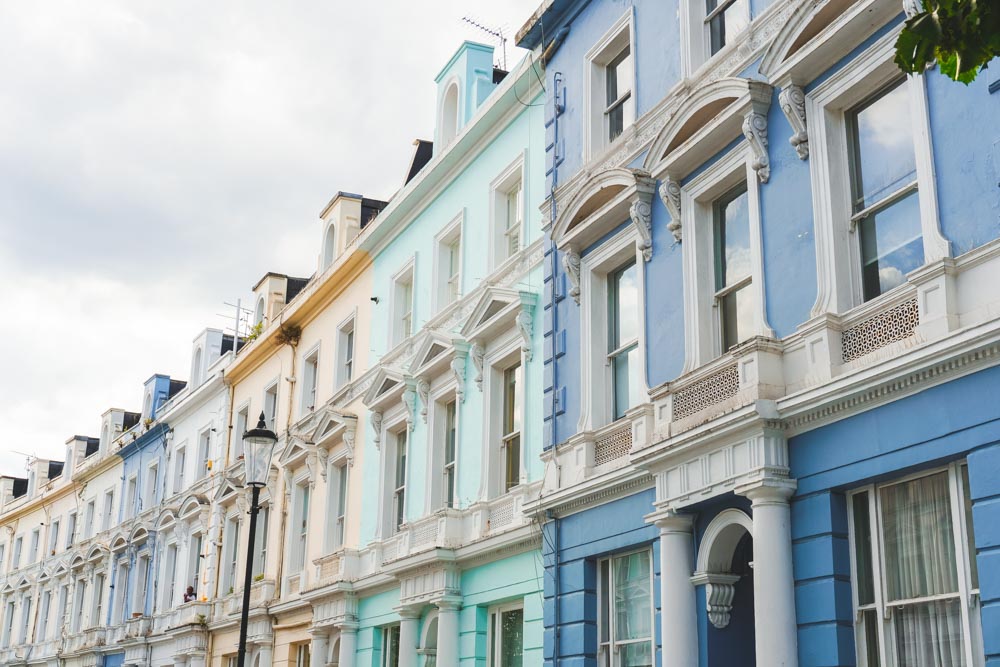 Address: 34C Lancaster Rd, Notting Hill, London W11 1QR
The area of Notting Hill is Instagrammable London to the core – packed with cute cafes and pretty boutiques – but its the rainbow-coloured houses of streets like Lancaster Road and Portobello Road that people come for.
I do feel duty bound to point out that these are people's actual homes, so please don't be posing in front of people's front doors like it's a film set and show a bit of consideration for others.
Neal's Yard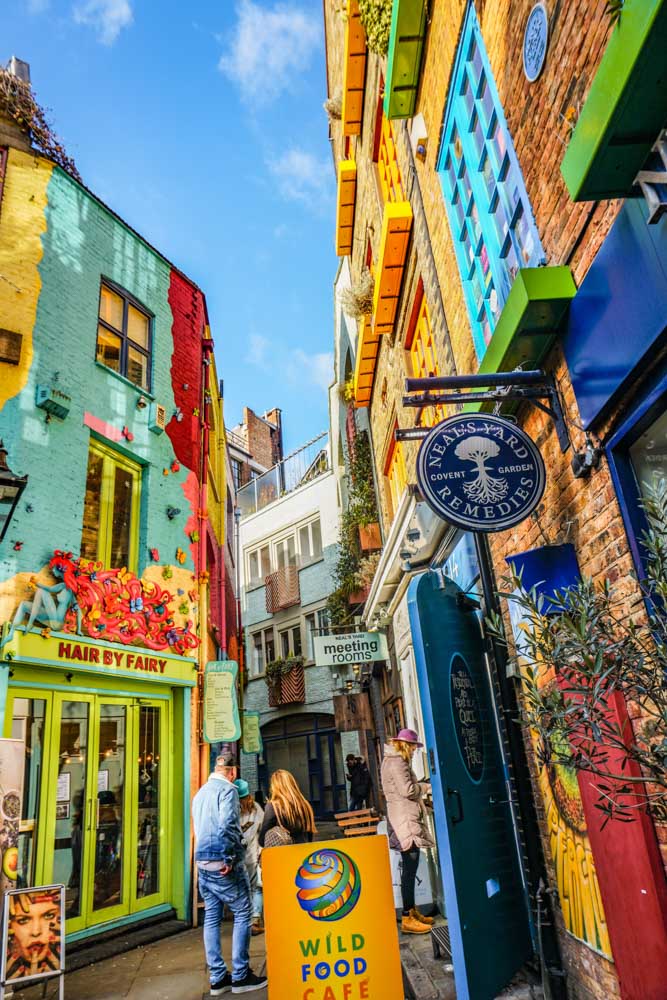 Address: Neal's Yard, London WC2H 9DP
Apart from being a personal favourite, Neal's Yard is one of the most interesting places to photograph in London.
Saved from demolition in the nineties, it's now home to a wealth of colourful buildings and greenery hidden down two secret passages near Covent Garden.
Radio Rooftop
Address: 336-337 Strand, London WC2R 1HA
I'll be brutally honest here – Radio Rooftop is not one of my favourite bars in Covent Garden – the queues to get in on a Friday evening can reach ridiculous levels and the service leaves a lot to be desired.
All that aside, there's a reason that Radio Rooftop is so popular – because it's got one of London's best-located rooftop bars.
For photos, you're best off calling in during the day when it's quieter and you can make the most of those views.
The Nelson Stairs at Somerset House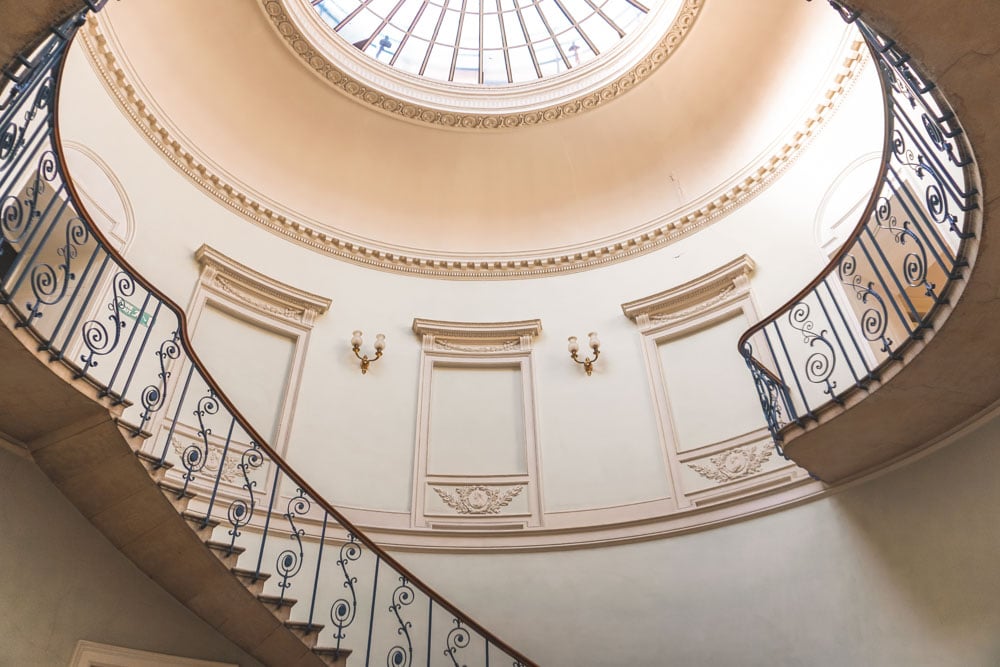 Address: Somerset House, Strand, London WC2R 1JA
Somerset House is one of the coolest Instagram spots in London.
This old palace, the last remaining of the row of palaces that used to line the Thames, is a cool arts venue and also houses some stellar restaurants and bars… but that's not what you're here for.
Make your way through the maze of corridors to find the Nelson Stairs – a set of beautifully winding stairs in a light atrium.
Street Art in Shoreditch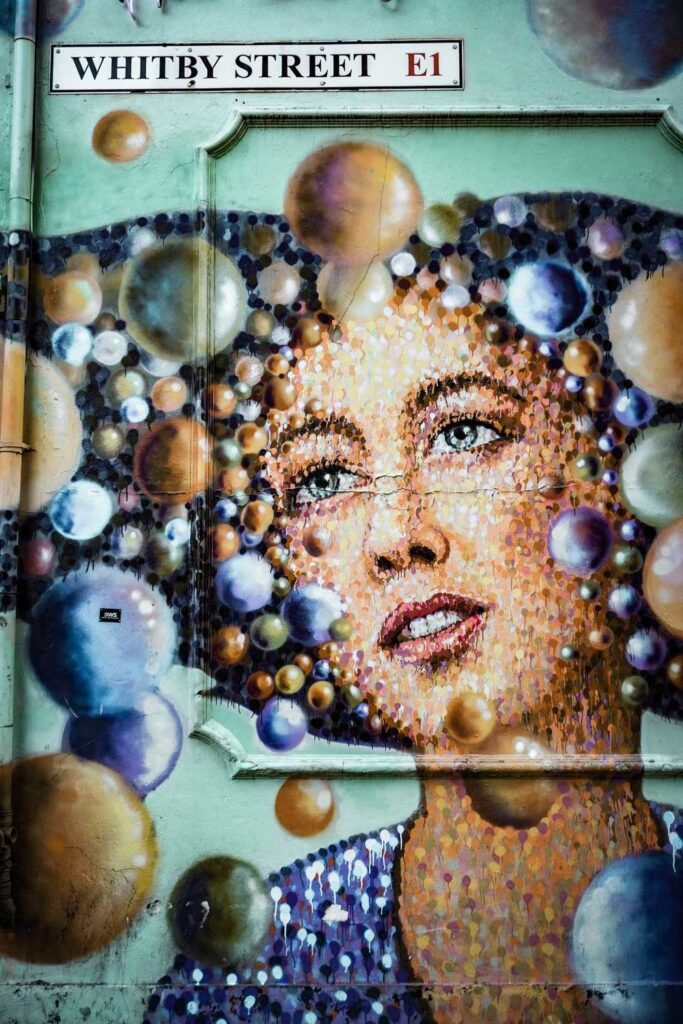 Address: Shoreditch, London N1 6BY
The street art in Shoreditch is world-class, with murals by the famous Banksy as well as others from leading street art names from around the world.
Not sure where to start?
The roads surrounding Brick Lane are bursting with all kinds of colourful pieces by Dale Grimshaw and Mr Cenz to name a few.
Be sure to set aside at least two hours to do the area justice, but you'll almost certainly need more time for the endless photos you simply have to take while you're there.
London Eye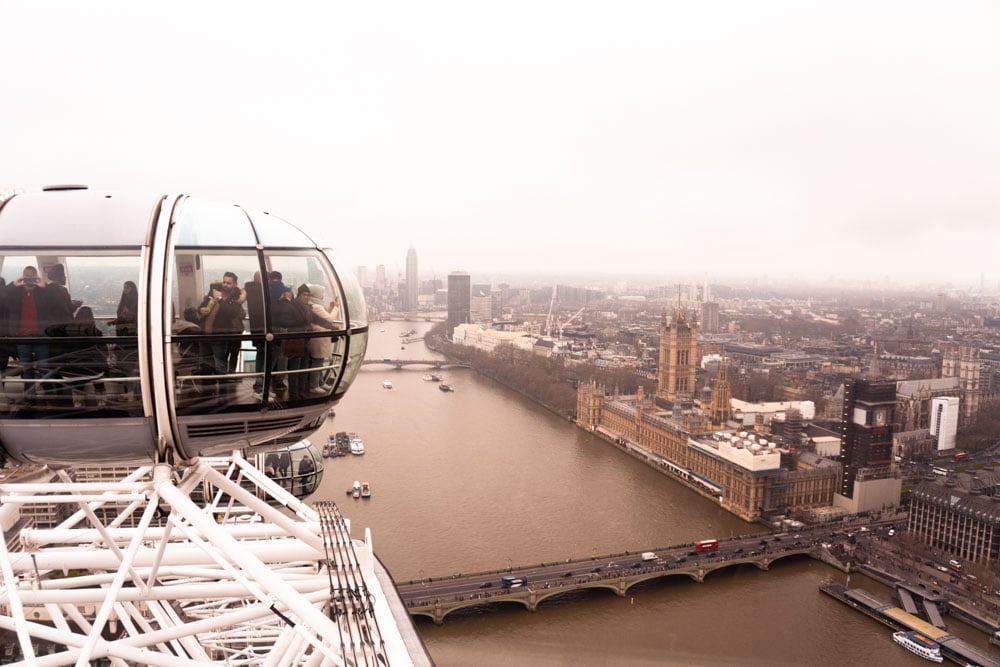 Address: The Queen's Walk, Bishop's, London SE1 7PB
The Coca Cola London Eye has been a must-visit since it opened at the start of the millennium.
It's also a fabulous place to take pictures of the River Thames and the Palace of Westminster.
Hop into your capsule and grab that iconic shot of the capsule in front of you, the River Thames and the Palace of Westminster just after you reach the apex of the journey.
St Dunstan's in the East Church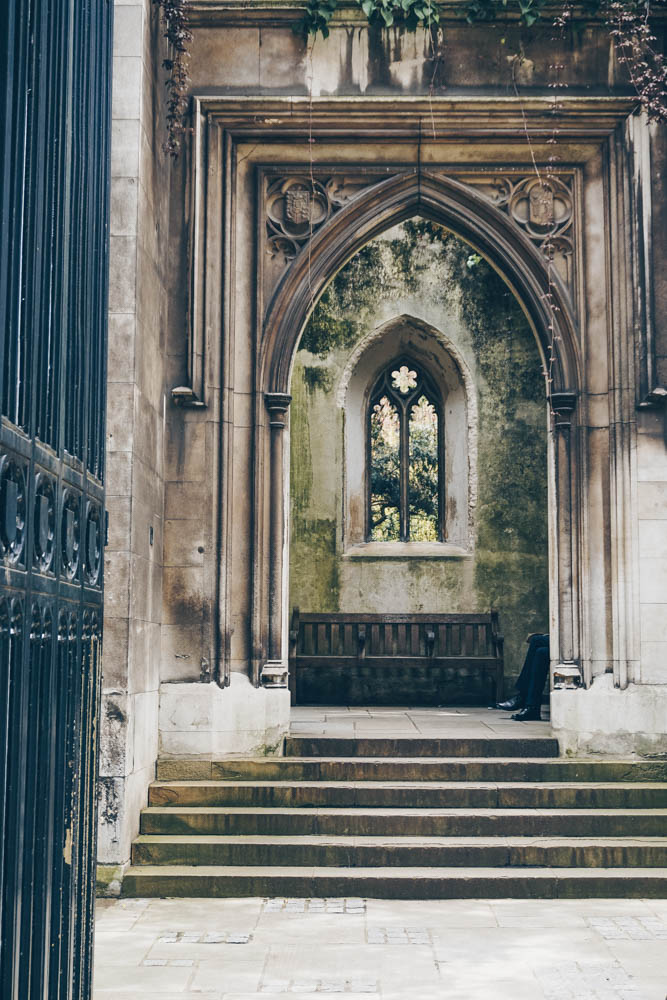 Address: St Dunstan's Hill, London EC3R 5DD
St Dunstan's stands testimony to the devastation of World War II when it was bombed.
Today, this ruined church has been overrun by plants and is now an enchanting public park. Where else would you get to take your photos complete with the aged ruins of a Grade I listed building poking out of the greenery behind you?
Leake Street Tunnel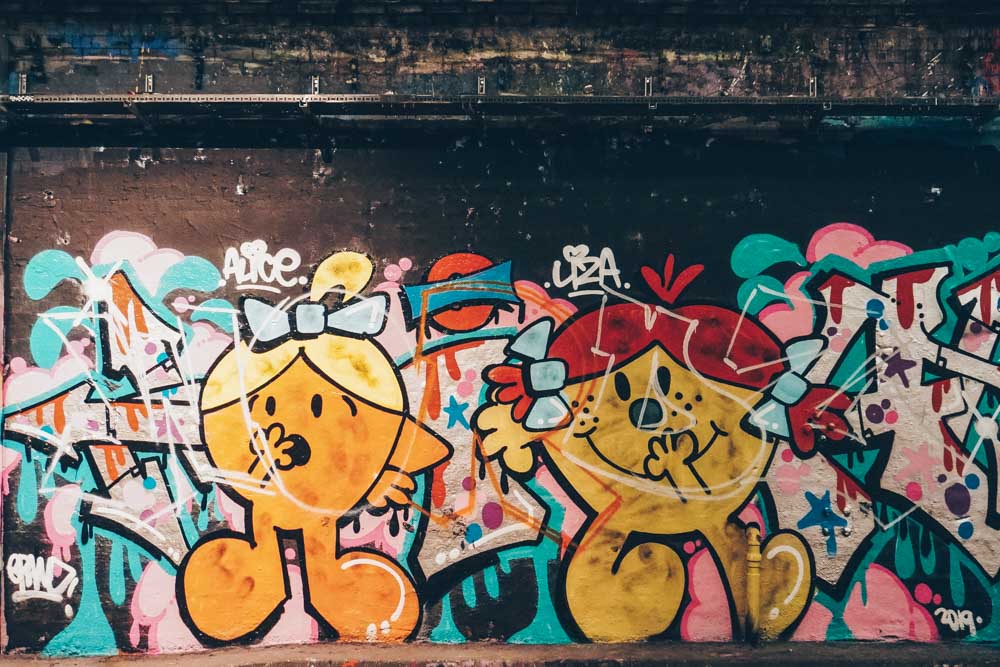 Address: Leake St, Bishop's, London SE1 7NN
As a Londoner, Leake Street Tunnel is one of my favourite places to photograph.
As London's largest legal graffiti wall, there's a never-ending flurry of cool new pieces of street art going up in the tunnel. Get your timing right and you can be the first to grab your photo in front of a newly-finished piece.
Tower Bridge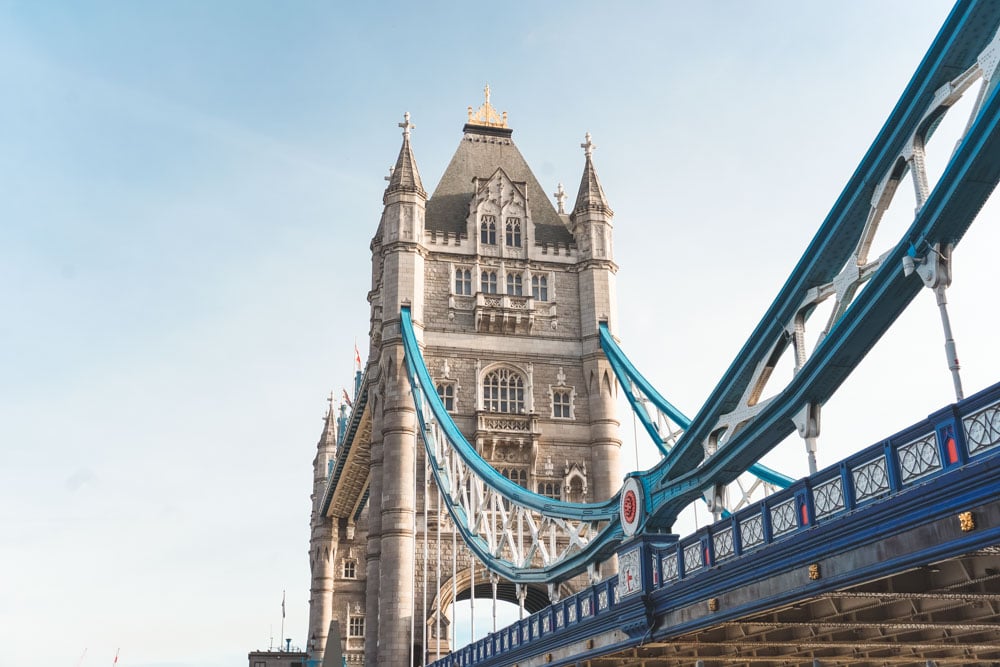 Address: Tower Bridge Rd, London SE1 2UP
Tower Bridge offers some incredible photo-ops for amateur and skilled photographers alike.
There's a traffic island in the middle of the road that's a great position for taking pictures. Or, head to a slightly different location – next to the Dolphin statue on St Katharine's Walk for another iconic London photo spot.
The Peep Show Sign at La Bodega Negra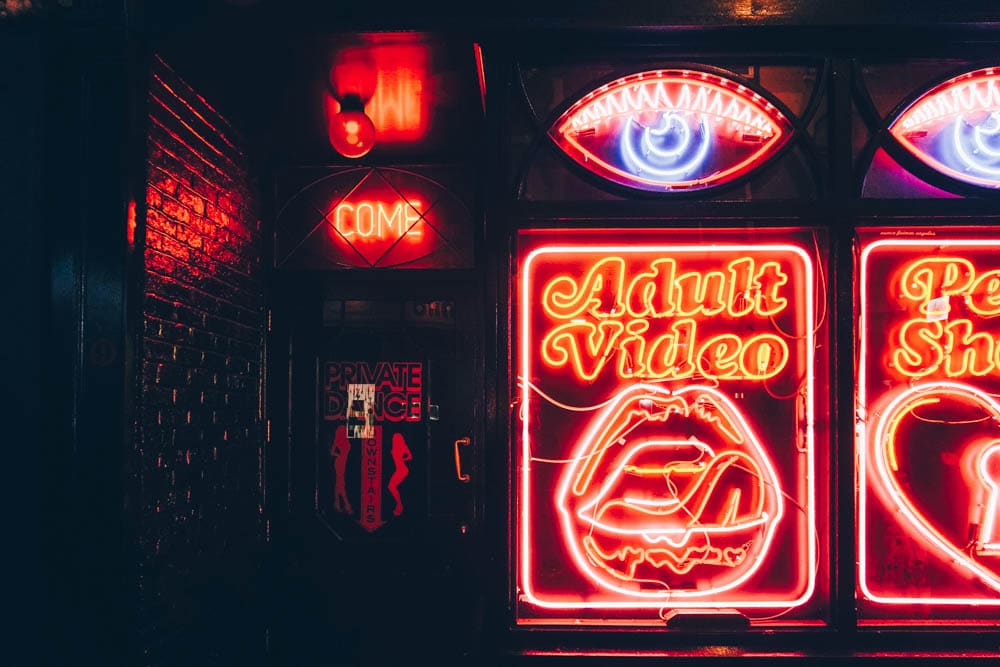 Address: 9 Old Compton St, Soho, London W1D 5JF
Feeling a bit cheeky? Light up (literally) your Instagram account with this neon sign at the entrance to Bodega Negra in Soho.
A little nod to Soho's seedy past, it's now one of Soho's coolest bar-come-restaurants.
Tate Britain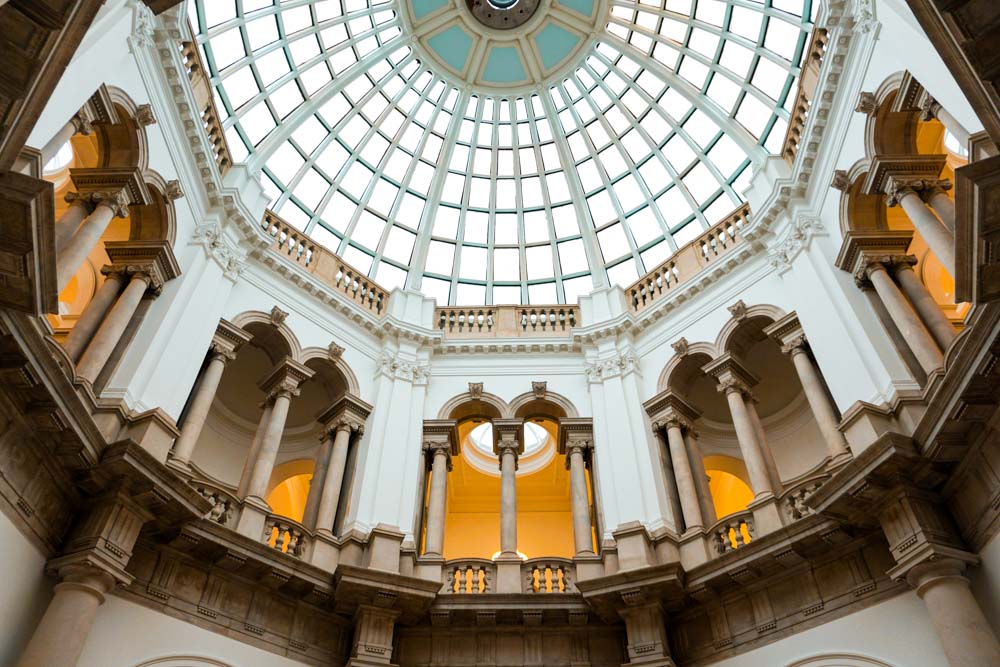 Address: Millbank, Westminster, London SW1P 4RG
The Tate Britain doesn't get as much attention as its younger sister The Tate Modern gallery, which is a shame. But its loss is your gain – the geometric tiles and light-filled atria are a photographer's dream.
The very best Instagram spot is in the member's lounge, but even if you're not a member, there's plenty to keep your camera clicking.
Hill Garden & Pergola in Hampstead Heath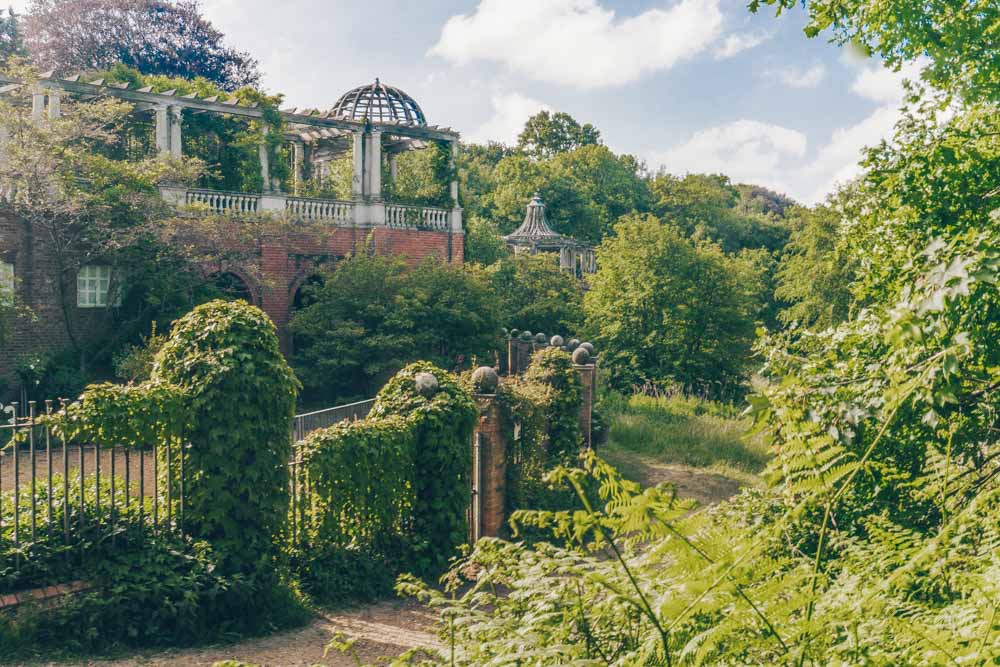 Address: The Pergola, Inverforth Cl, London NW3 7EX
Hampstead Heath is one of London's best-known parks – and with views out over the city, it's already got a reputation as one of the best places to take pictures in London.
That said, not so many people know about the pretty Pergola Gardens that are tucked away in the Golders Green section of the park.
Pretty pergolas and a well-kept garden spread out over several levels together combine to make this one of the most instagrammable places in London.
The Churchill Arms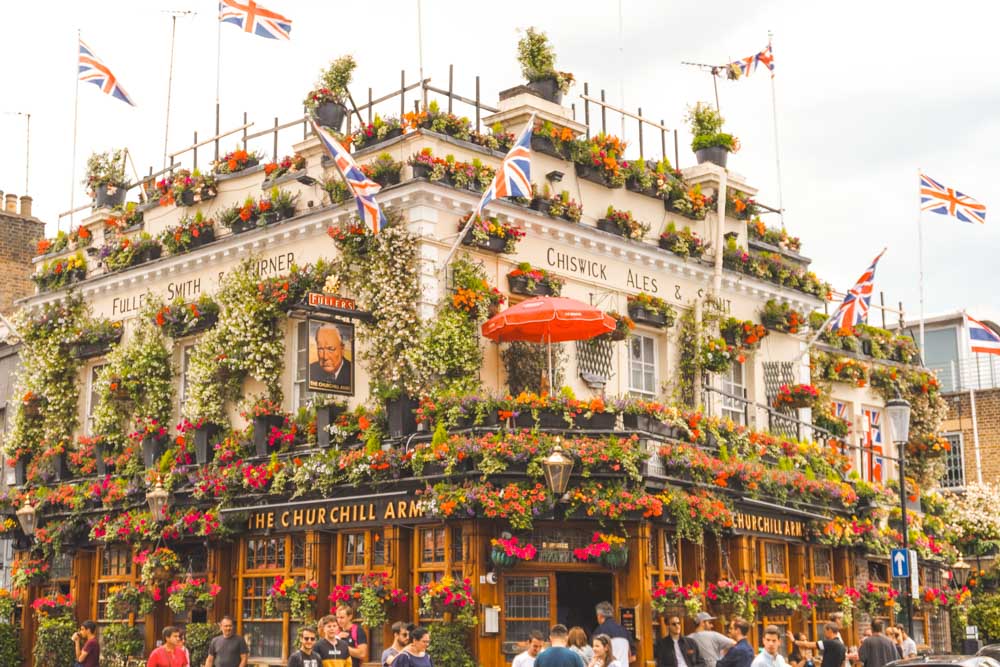 Address: 119 Kensington Church St, Kensington, London W8 7LN
Pubs are part and parcel of British culture but few are as overtly patriotic and out-and-out fabulous as the Churchill Arms in Kensington.
Bedecked in more flowers than nearby Kensington Gardens, Union Jacks and flowering plants seem to spurt out of the entire building. An absolute must-visit photography spot in the city.
Tulip Stairs, Queen's House Greenwich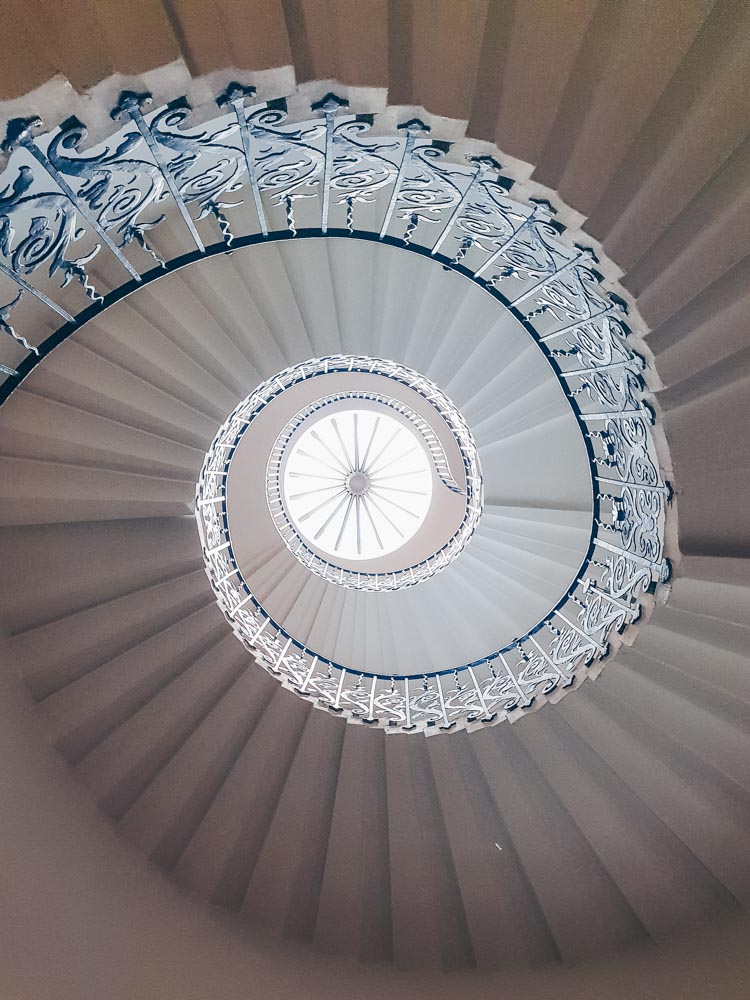 Address: Romney Rd, Greenwich, London SE10 9NF
The Queen's House is Greenwich's answer to secret photography spots in London.
There are so many opulently-decorated nooks and crannies that it's no wonder it's been popping up on many an Instagram feed.
Still, cute as it is, it's the winding Tulip Stairs that really steal the show – winding up to a central window, the light-filled stairwell is spot on for a photo or two.
Platform 9 ¾ at Kings Cross Station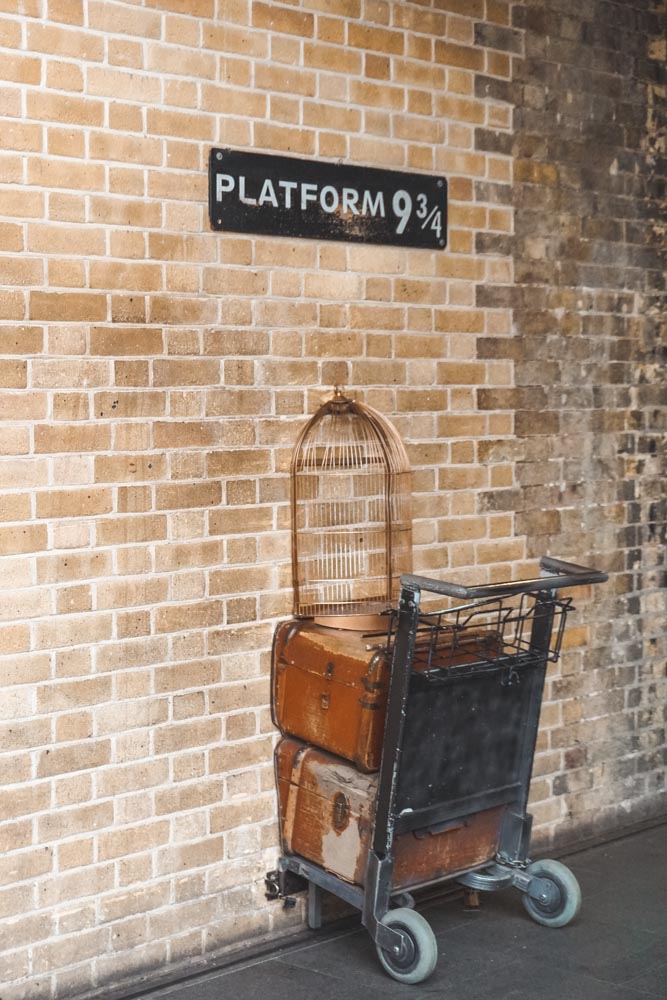 Address: Euston Rd, Kings Cross, London N1 9AL
King's Cross train station boasts the entrance to Platform 9 ¾ where Harry Potter boards the Hogwarts Express. Yes, really!
There is a plaque and even a trolley disappearing into the wall so you can take that iconic "going off to Hogwarts, hope the train hasn't left shot" – you know you want to.
Changing of the Guard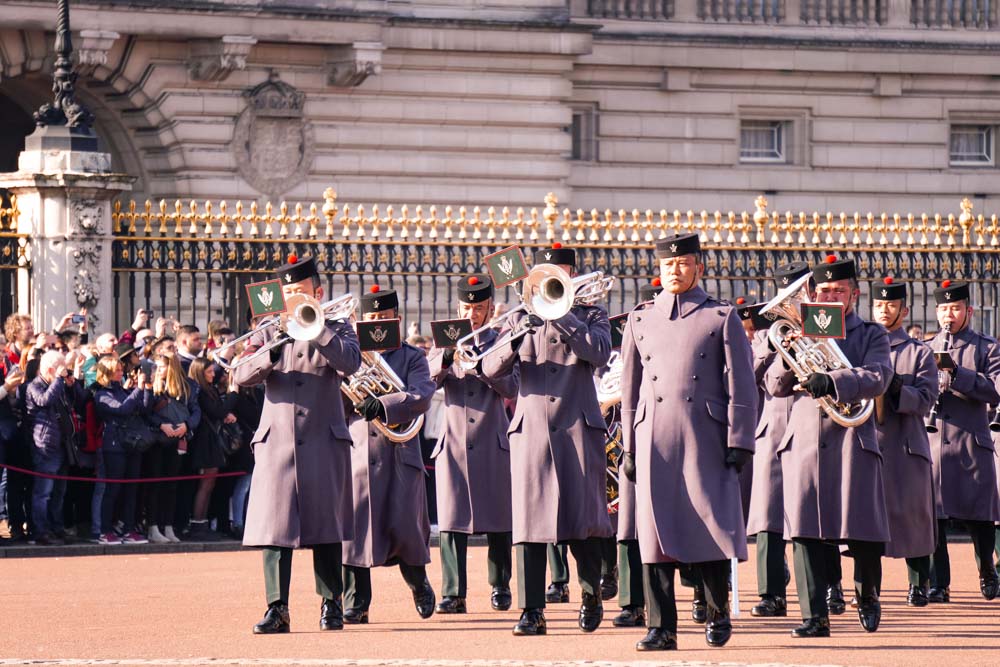 Address: Buckingham Palace, Westminster, London SW1A 1AA
The queen's official residence is another iconic London photography spot. The Changing of the Guard ceremony happens on the hour, every hour so there's plenty of opportunities to photograph it.
I would suggest you arrive as early as possible, to make sure you get a good viewing spot.
Greenwich Park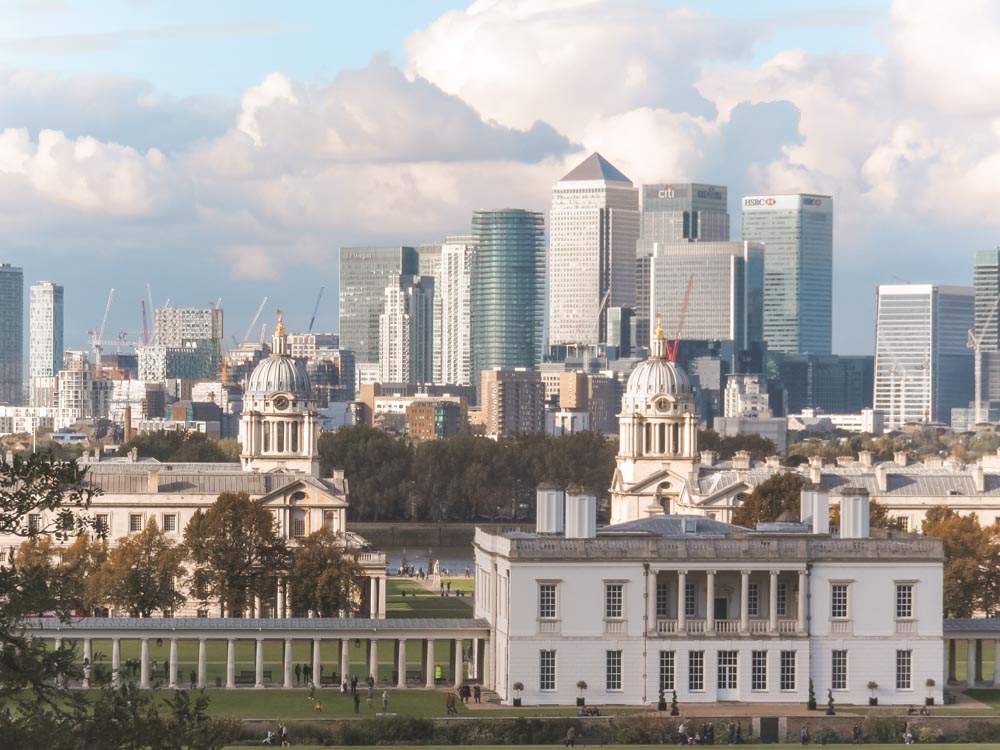 Address: Greenwich, London SE10 8QY
Greenwich Park is one of the most peaceful, yet picture-perfect places you'll find in London.
The lush greenery and architecture such as Queen's House (see entry above) make great backdrops for photographs in the city. Plus it offers a cool view of the towering skyscrapers of nearby Canary Wharf.
St James's Park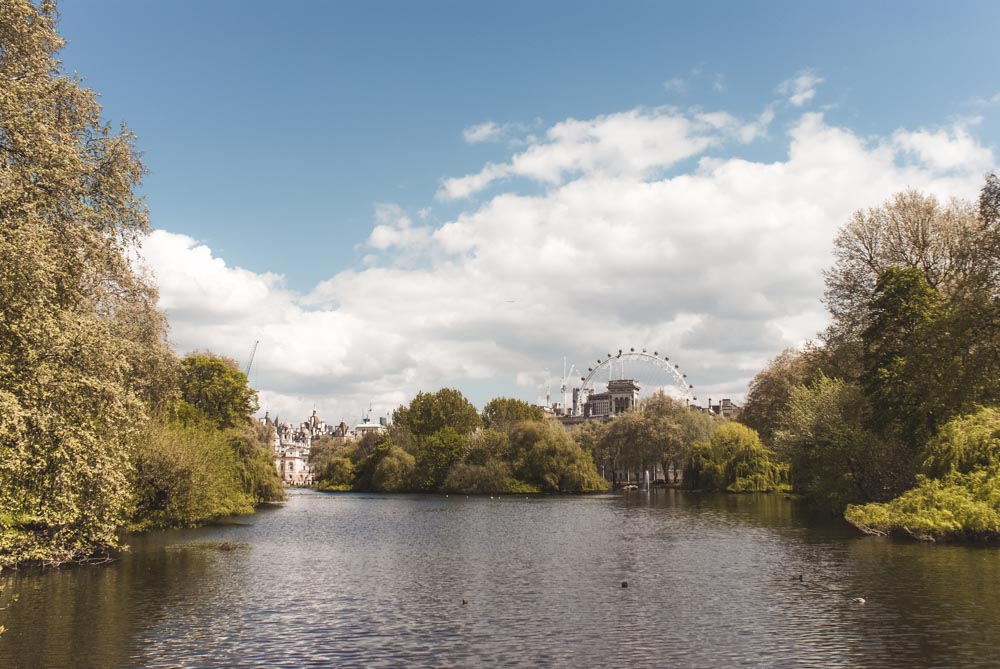 Address: London SW1A 2BJ
St James's Park is my go-to of London's many gorgeous oases. Getting up early for a morning stroll also makes for the perfect opportunity to photograph this public park as the sun rises.
Bob Bob Ricard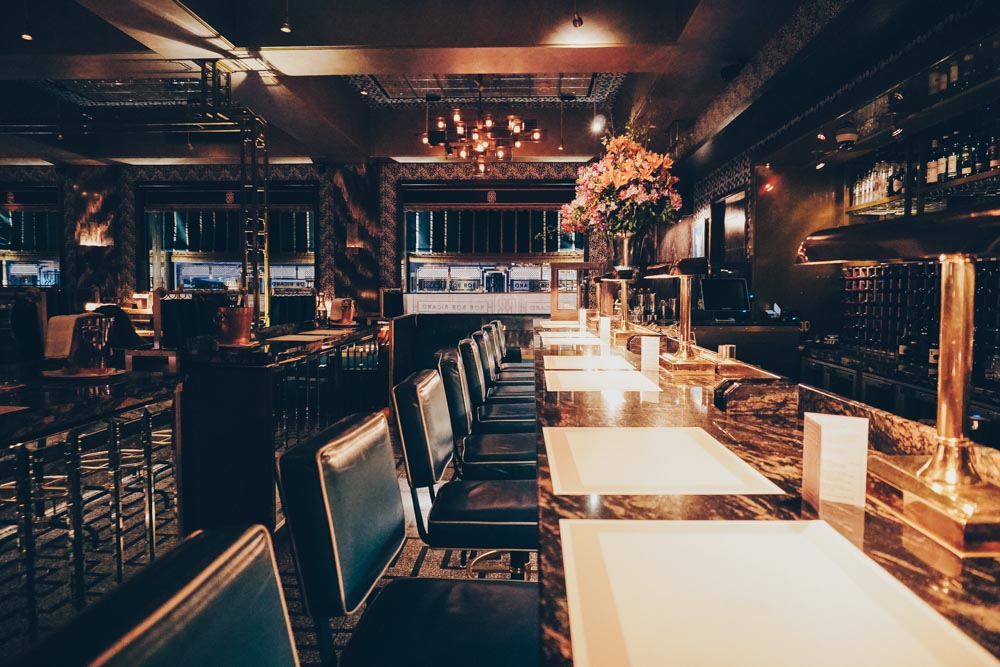 Address: 1 Upper James St, Soho, London W1F 9DF
Looking for an Instagrammable AF restaurant in London? May I present Bob Bob Ricard.
It's one of my favourite restaurants thanks to its delicious food and opulent Orient-Express style decor – how can you resist the cheeky Press for Champagne button?
Richmond Park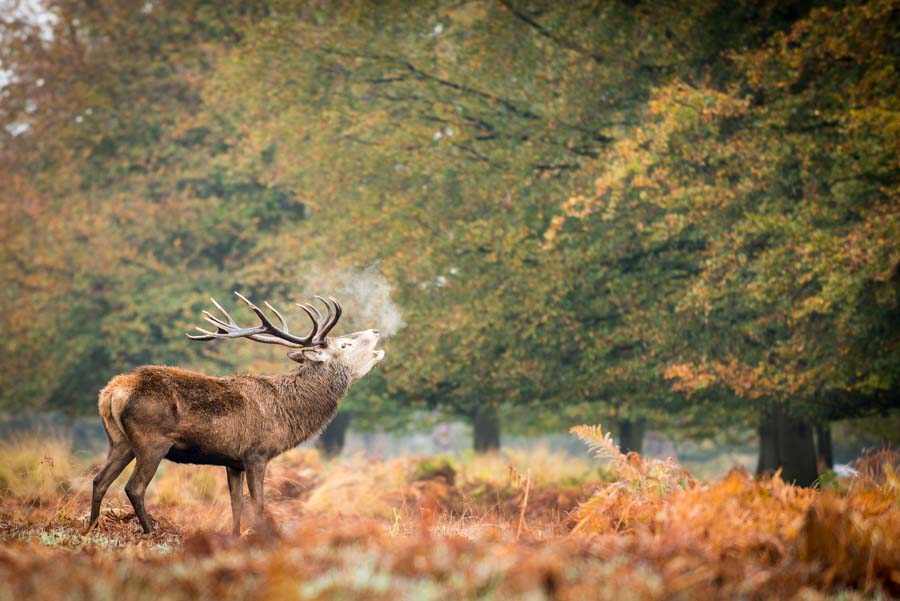 Address: Richmond, Kingston upon Thames TW10 5HS,

Richmond Park was originally a royal hunting ground, which explains why there are deer still roaming free around the park.
Not only is it one of the most peaceful places to photograph in London but it's also one of the most unusual.
Word of warning: don't get too close to the deer while you're trying to get your shot.
Little Venice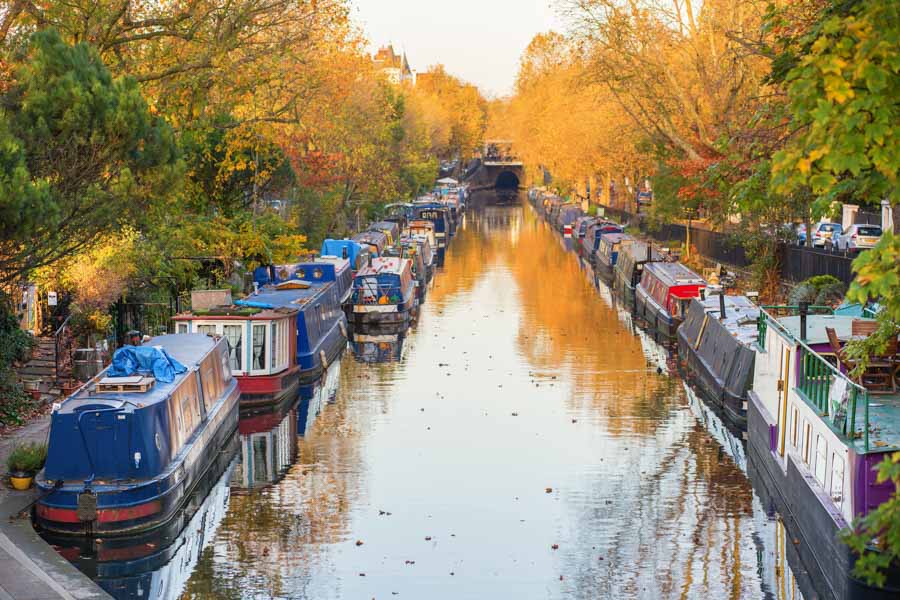 Address: Maida Ave, Little Venice, London W2 1ST
It may be nestled in North London but Little Venice certainly reminds me of the canals of Amsterdam and Venice (I guess the clue was really in the name).
Taking a boat ride along the river is a great opportunity to capture one of London's most unique neighbourhoods – not to mention providing a beautiful backdrop for your secret London Instagram photos.
Columbia Road Flower Market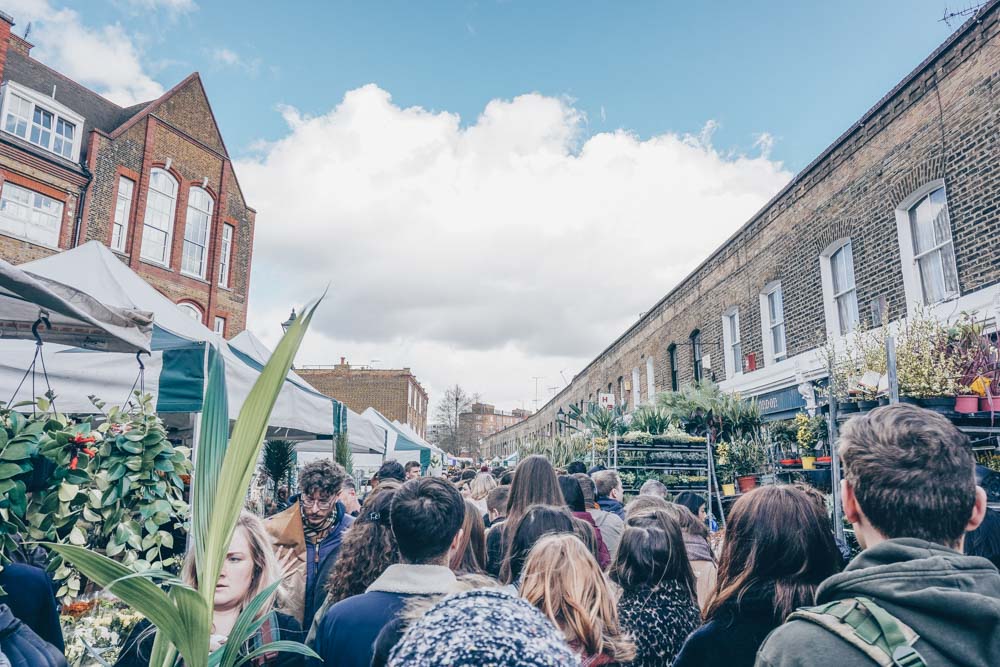 Address: Columbia Rd, London E2 7RG
Bustling stalls brimming with all kinds of flowers and plants, cute cafes and shops – it can only mean one thing Sunday morning at Columbia Road flower market.
The flowers brighten up the entire street – go early to capture the full effect.

Kew Gardens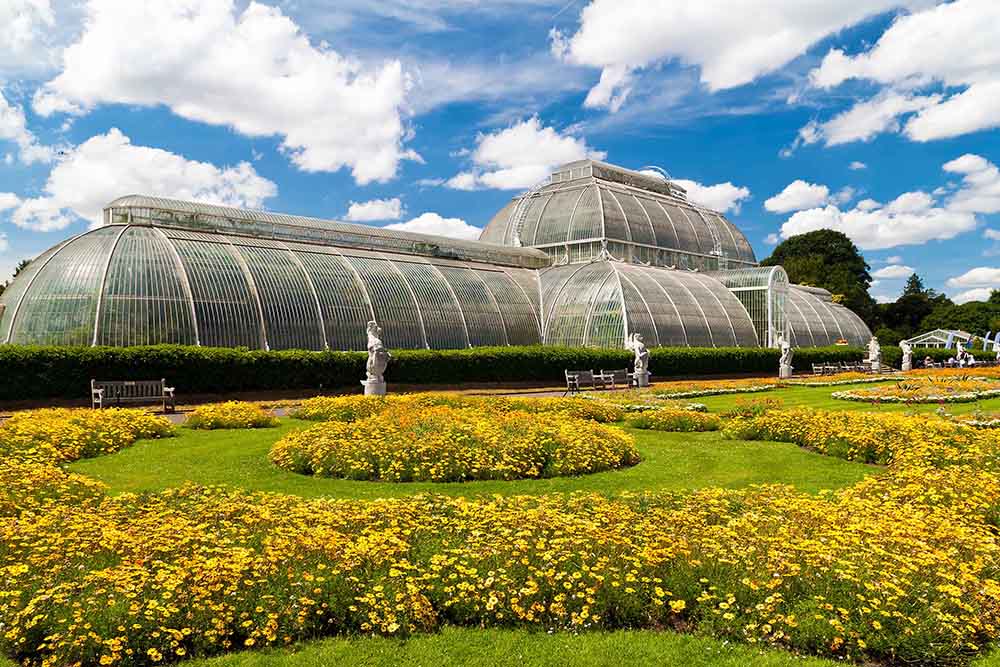 Address: Richmond TW9 3AB
Kew Gardens is the "world's largest collection of living plants", which ultimately means that it should go to the top of any Instagrammable London list.
Soaring glasshouses brim with a tangle of plants that wouldn't look out of place in a tropical rainforest and which provide the perfect backdrop for many a photo.
Leadenhall Market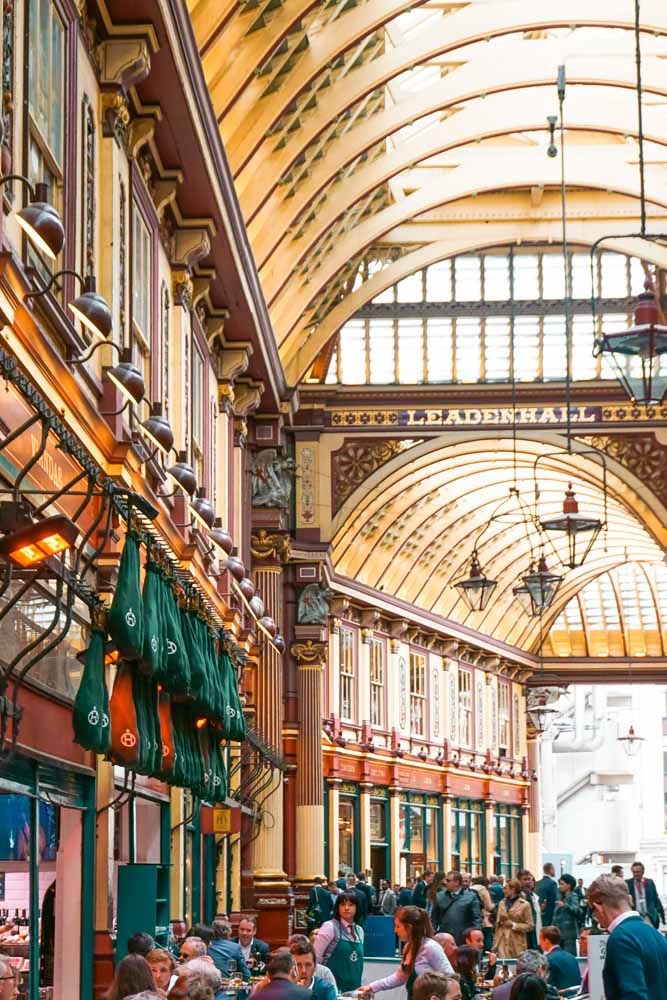 Address: Gracechurch St, Langbourn, London EC3V 1LT
Leadenhall Market is one of the better-known London photography spots, but don't let that put you off.
The market dates back to the 15th century – today the soaring ceilings, cobbled streets and ye olde shops are the perfect setup for a little shoot.
Interestingly, Leadenhall Market doubled up as Diagon Alley in some of the Harry Potter films too – a must-visit for anyone wanting to see London's many Harry Potter filming locations.
Wilton's Music Hall
Address: 1 Graces Alley, Whitechapel, London E1 8JB
Back in the day, London was filled with beautiful music halls where people would go and listen to their favourite musicians belt out a tune or two.
Today, the opulent Wilton's Music Hall is the last one of those music halls left in the city. You'll need to time your visit with a performance or ask for permission to shoot, but it's worth the effort.
Natural History Museum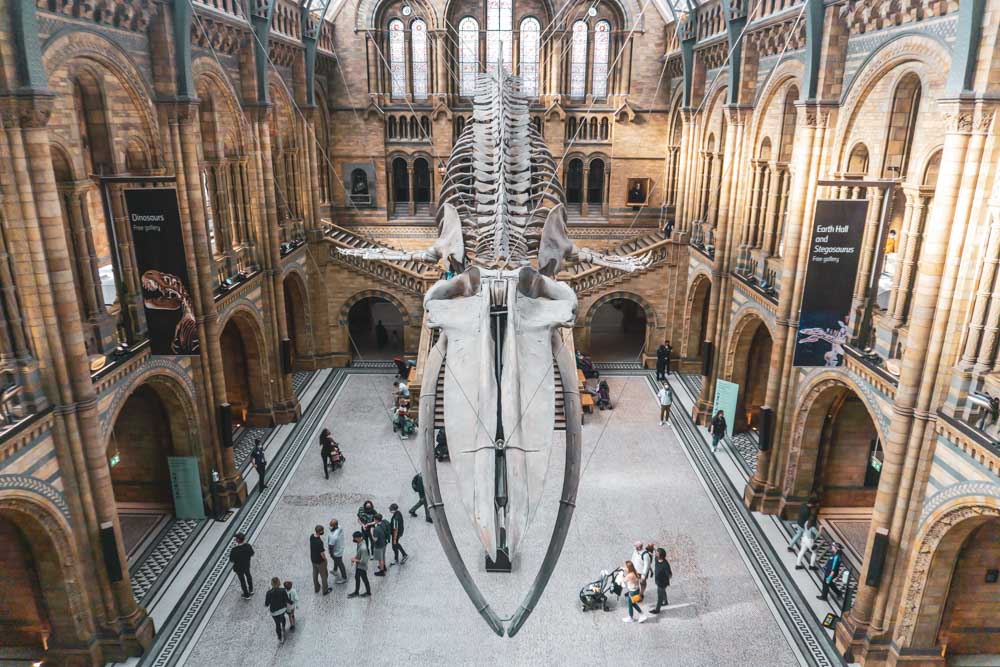 Address: Cromwell Rd, South Kensington, London SW7 5BD
The Natural History Museum is a long-time haunt of mine – I've been obsessed with it since I was about… four years old.
As I've grown older, I've come to appreciate the museum's stunning architecture as one of the most striking London photography spots almost as much as it's interesting exhibitions. Almost. Get there early to take pictures of the cavernous Hintz Hall, complete with its giant skeleton of a blue whale.
Map of London's Instagram Spots
Click here for a Google Map featuring all the locations mentioned in this guide.
Read More London Tips and Guides
Love this? Save and Share on Pinterest