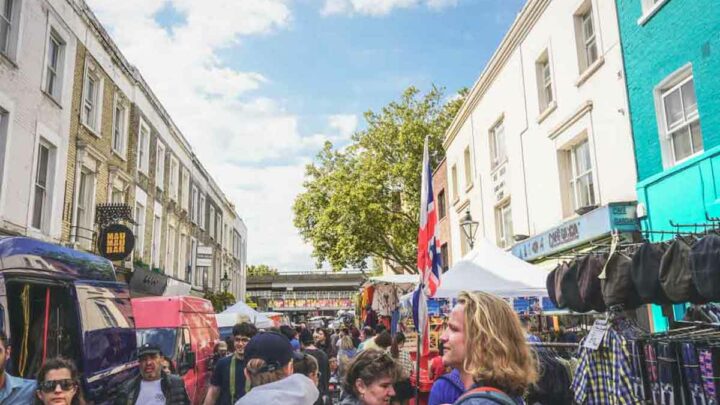 London is full of cool old markets where you can dig out your next great find. Looking for the best flea markets in London? These are the ones that should be at the top of your list.
How much do you love a flea market? That sense of never knowing what you're going to find, the haggling, coming home with a haul of new treasure and knowing you're reusing and recycling – we love it.
Lucky for us, London is packed with flea markets – and the growing emphasis on cutting down waste and being more environmentally friendly has seen a new wave of cool London flea markets opening each year.
Not sure where to start? We've chosen 24 of the best flea markets in London – dotted across the city and perfect for finding your next favourite piece.
The Best Flea Markets in London
Flea at Vinegar Yard
Vinegar Yard is one of our favourite spaces in London at any time, but things get particularly awesome during their weekend flea market, Flea.
This is also one of our favourite flea markets in London because it opens that bit later (and we always appreciate a sleep in).
Much of it is vintage, but there are also a few young designers making their cool stuff.
This vintage flea market in London Bridge tends to be pretty well-curated, so if you'd prefer not to go rummaging through piles and piles of junk it's a great choice.
Plus, it's all in the shadow of the Shard which makes for some pretty epic views while you shop.
Held: Every weekend, Saturdays and Sundays 11am – 5pm.
Address: Vinegar Yard, St Thomas Street, SE1
Portobello Road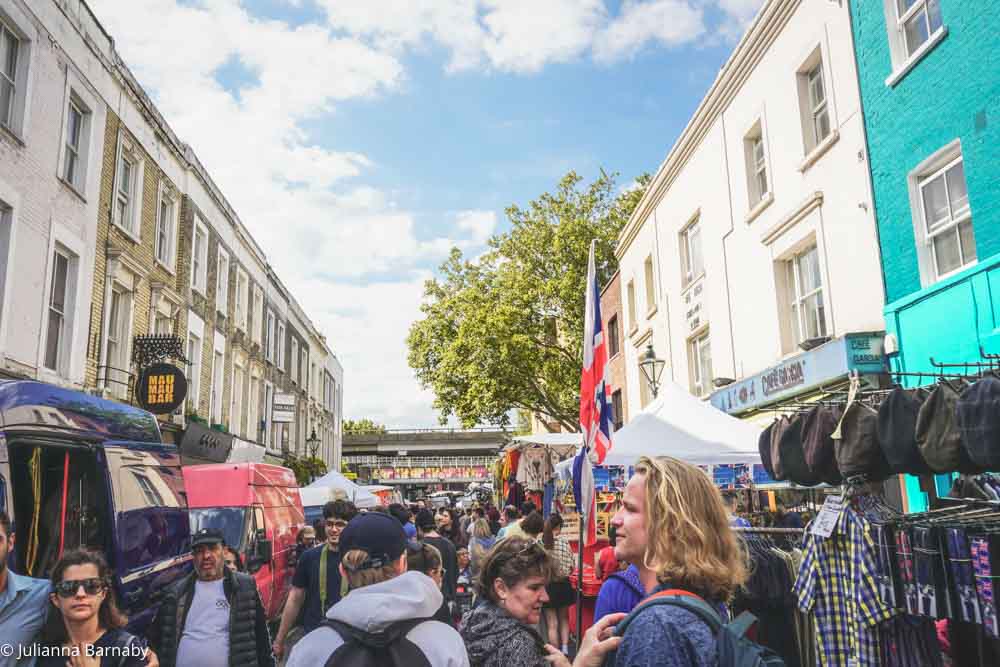 If you know anything about antiques (i.e. have watched a few reruns of Antiques Roadshow… and haven't we all), then you've probably heard of Portobello Road.
It is, after all, the world's largest antique market with over 1,000 stalls selling everything you could ever want (and so much more).
The market is actually made up of several sections, with some (like fashion & clothing) open through the week. The star attraction – the antique market – is only open on Fridays and Saturdays, however.
Held: Friday + Saturday, 9am – 7pm; Monday – Wednesday, 9am – 6pm; Thursdays, 9am – 1pm.
Address: Portobello Road, Notting Hill
Bermondsey Antiques Market
Join the serious antique collectors and snap-happy tourists alike at the Bermondsey Antiques Market.
Those in the know consider it one of Europe's best antique markets – we just think it's a super cool place to have a browse.
There's a bit of everything here, including some real gems. If you are on the hunt for some real treasures, We suggest going early.
And by early, we mean really early – keen-eyed bargain hunters are usually lining up by its opening time at 4am. Of course, if you're just going to have a look, a more leisurely start is totally fine.
Held: Every Friday, 4am – 2pm.
Address: Bermondsey Square London, SE1 3UN
Camden Passage
Camden Passage has long been a mecca for stylish Londoners, and it's at its best during its weekly outdoor market.
Held four days a week, stalls line the pedestrian street for this London flea market, offering up everything from super cool vintage clothing to retro chic homewares.
You'll also find a few bric-a-brac stalls as well as some accessories and jewellery. Really, it's everything you could possibly want.
Held: Wednesday and Saturday, 7:30am – 6pm; Sunday, 8am – 6pm.
Address: 1 Camden Passage, Angel, London N1 8EA
Deptford Market
Three times a week, the Deptford Market offers up a fabulous selection of antiques, clothing, bric-a-brac, fresh produce and more.
Deptford Market is one of the oldest flea markets in London, having started off as a cattle market back in 1872 (don't worry, that's long gone).
It's also probably one of the most unique – we mean, where else can you grab fresh fish and a pair of gorgeous vintage heels?
The market stalls can be found down many of the streets around the train station. Driving around here is a bit of a nightmare, so we highly recommend getting the train in.
Held: Everyday, 9am-6pm
Address: Deptford Market Yard, London SE8 4BX
Old Spitalfields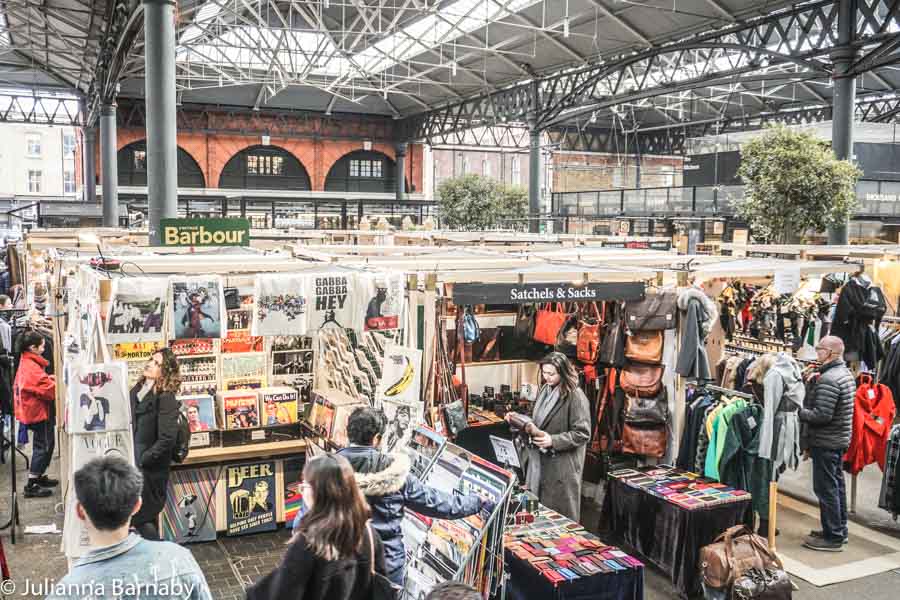 One of the great things about the Old Spitalfields market is that its held indoors – perfect for those (many) rainy London days.
Head inside the old Victorian building in Shoreditch and find a great selection of stalls at this cool and rather extensive flea market in London. There's plenty to choose from including the usual suspects like clothing and homewares.
In particular, there's an impressive selection of jewellery. This includes retro and vintage pieces, as well as new items by up-and-coming designers.
There's also heaps of old school vinyl if that's your thing.
Held: Monday to Wednesday + Friday, 10am – 8pm; Thursday, 8am-6pm; Saturday, 10am – 6pm; Sunday, 10am – 5pm.Address: 16 Horner Square, London E1 6EW
Wood Street Indoor Market
Another market that is ideal for a rainy day, the Wood Street Indoor Market is another of our favourite browsing spots.
I particularly love the quirky vibe of this market. As well as your usual offerings of clothes and antiques, they're also more offbeat options from wigs to children's toys.
If it's clothing you're after, then don't miss the market's "mod father" at Jimmy Mack Vintage, a real highlight of this flea market in East London.
Held: Monday – Saturday, 10am-5pm
Address: Wood Street, Walthamstow, E17
Hackney Flea Market
Hackney is one of the coolest boroughs in London so it's no surprise they have a pretty epic flea market.
You'll find all kinds of weird and wonderful things at the Hackney Flea Market, with an emphasis on the quirky. From little nick-nacks to vintage furniture, it's all here.
While much of it is vintage, new designers are also welcome as long as their goods aren't mass produced.
Pro tip: if you are prepared to haggle, you can get some pretty great discounts.
Held: Various weekends throughout the year. Check the website for dates for the usual market, as well as other special pop-ups that happen regularly.
Address: Abney Hall, Hackney
Brick Lane Sunday Market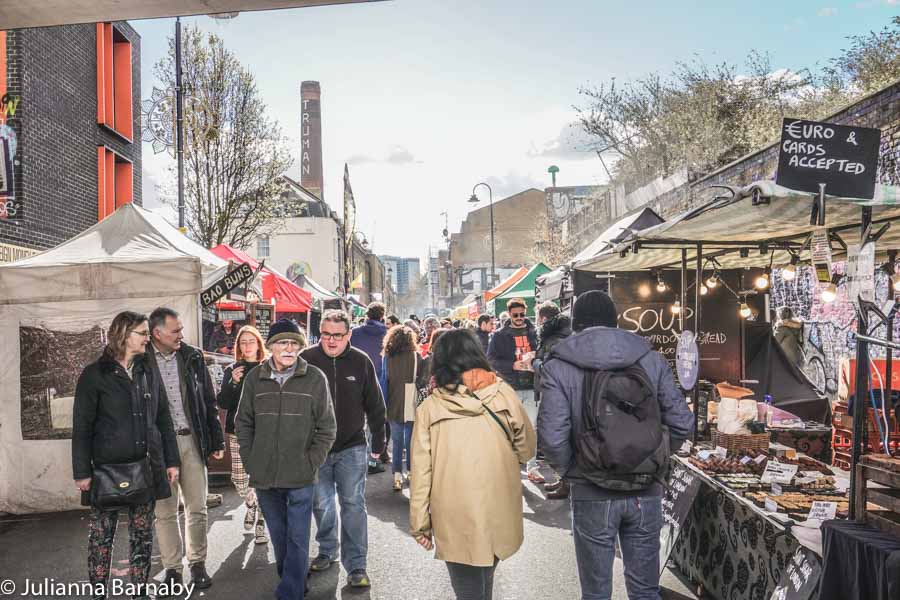 You'll be spoilt for choice when it comes to flea markets in London on Sunday, however this is one of our absolute faves.
Technically, the Brick Lane Market is actually five markets in one. So, we're sure it won't surprise you to hear that there's heaps of choice here.
From teensy succulents to amazing vintage clothing, don't be surprised if you walk away with a lighter wallet (yet more fabulous wardrobe).
Oh, and there's great multicultural food here too.
Held: Sundays, 10am – 5pm.
Address: Brick Lane, London E1 5HA
Greenwich Market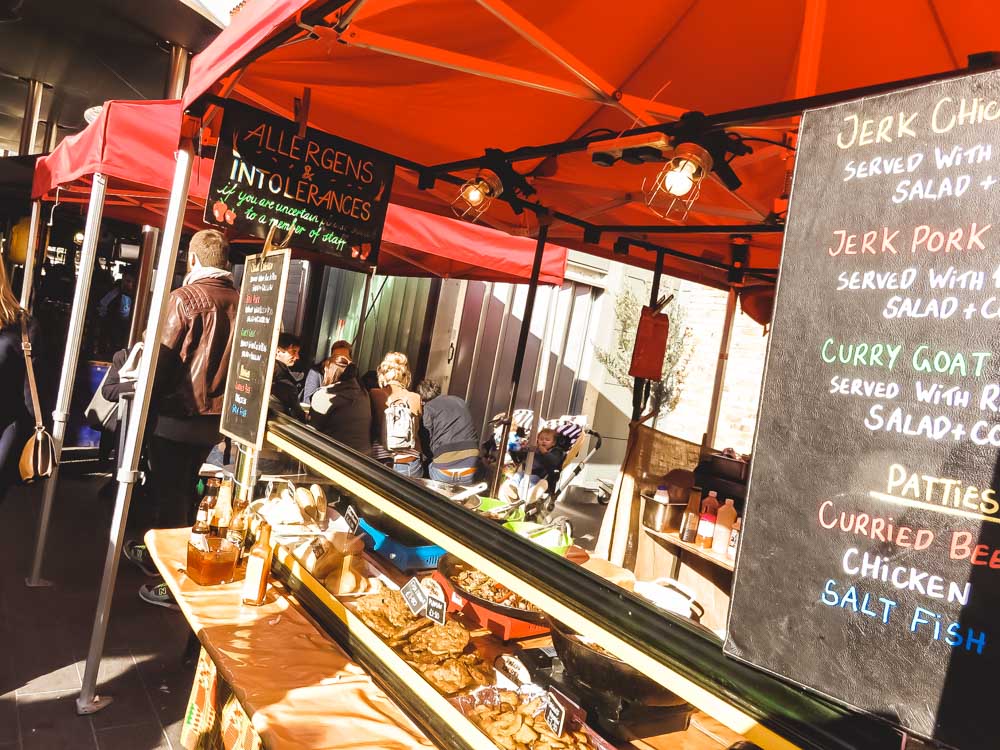 Located within a UNESCO World Heritage Site, settings don't come much more impressive than that of the Greenwich flea market.
Once you've finished checking out the gorgeous historic building, it's time to turn your attention to what's on offer.
You'll find over 50 stalls offering up antiques, bric-a-brac, clothing and more. Oh, and a few delicious food stalls thrown in for good measure.
Held: Every day (including bank holidays), 10am – 5:30pm.
Address: Greenwich Market London SE10 9HZ
Jubilee Market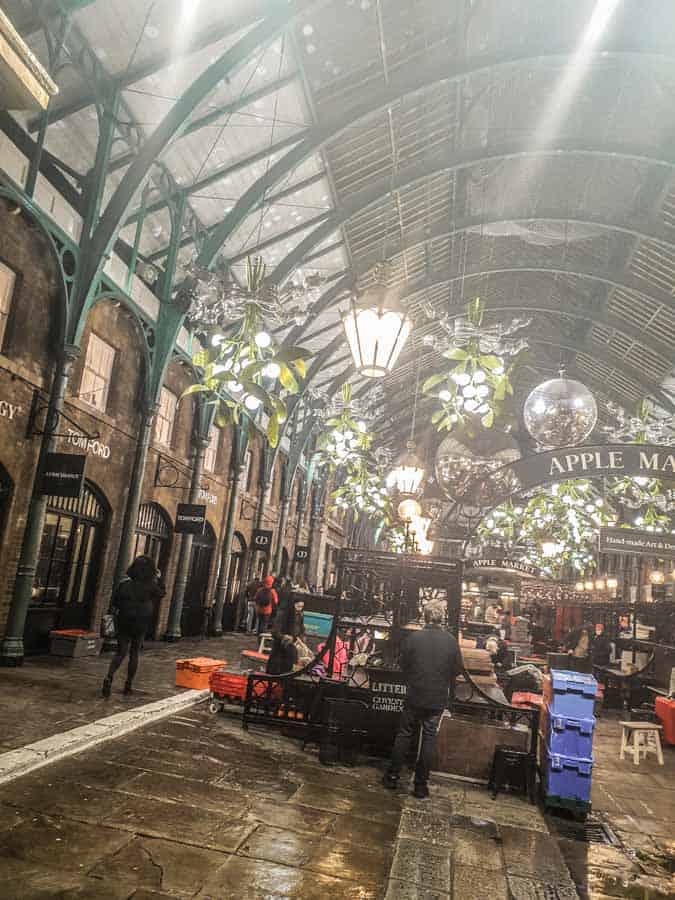 Located right in the heart of bustling Covent Garden, the Jubilee Market is another great option if you're looking to pick up some quirky wares.
The market is open seven days per week, however different stalls operate on different days (see more details below).
Whatever day you visit, you're sure to be impressed by the collection of weird and wonderful things for sale.
Be prepared to rummage a little for those hidden gems, and arrive early if you're planning to do some serious shopping at the antiques market.
Held: Antiques market on Monday, 5am – 5pm; general market on Tuesday to Friday, 10.30am – 7pm; arts and crafts market on Saturday.
Address: 1 Tavistock Court, The Piazza, Covent Garden WC2 E88D
Upmarket
Upmarket at Truman Brewery has been supporting small sellers and artisans through its Sunday flea market in east London since 2004.
In that time, it's established itself as a firm favourite of many a Londoner (including yours truly).
It's hard not to love it, what with over 140 awesome stalls selling all kinds of cool and quirky goods. This is a particularly great place to find some amazing threads by new designers – the kind that will really impress all your fashionable friends.
Held: Saturday, 11am – 5:30pm; Sunday, from 10am to 5pm.
Address: Old Truman Brewery, 91 Brick Lane, London E1 6QL
Netil Market
Live music? Check. Delicious food? Check. Fabulous stalls filled with quirky wares? A big check. All in all, sounds like a pretty sweet market if you ask us.
We're talking about Netil Market, one of London's coolest Saturday flea markets. They strongly support independent creators, and there's some seriously amazing designs on show.
Just as epic are the street food stalls. With options like Death by Pizza (sounds like a good way to go), you certainly won't go hungry here.
There's also a bar, if you like your flea market shopping experiences that little bit boozy.
Held: Tuesday, 12pm – 7pm; Wednesday – Sunday, 10am-10pm (brick and mortar shops are open every day).
Address: 13-23 Westgate Street, London E8 3RL
Chatsworth Road
In the 1930s, this Hackney flea market in London was the place to shop, however by the late 20th century it had closed down.
That was until a group of enterprising Londoners decided to restore it to its former glory. Chatsworth Road market was reborn.
Today, it offers up a selection of stalls with both goods to buy and amazing street food. We especially love the delicious meals on offer at Hanoi Kitchen.
It's only open for five hours on Sundays, so you'll need to be quick to get in and see it.
Held: Sunday, 10am – 4pm (some traders do arrive a bit early).
Address: 46-51 Chatsworth Rd, Lower Clapton, London E5 0LH
Battersea Boot
Ah, the good old British institution of a car boot sale. Yep, it's exactly what it sounds like – people selling secondhand goods from the back of their car.
It's all far less dodgy than it sounds. Battersea Boot started way back in 1999 and it's grown to be one of the best organised boot sales in England.
As with all boot sales, you'll need to be prepared to do some rummaging for the good stuff – and some haggling for a good price.
That said, this particular one does tend to attract pretty high quality items. So, if you're looking for a furniture flea market in London, check this out.
Held: Everyone is welcome every Sunday 1.30pm – 5pm (costs 50p). Antique dealers can enter from 11.30am.
Address: Battersea Park Road London SW11 5AP
Capital Car Boot
Done some Marie Kondo'ing? Or looking to pick up some trash and/or treasure? Either way you'd best head for the Capital Car Boot.
This one has all the charm of a regular boot with the added bonus of being partially inside. Perfect for when the weather is lousy and you don't feel like being out in a field.
This one tends to attract some pretty awesome stuff, and is especially known for some fabulous vintage clothing finds.
Held: Sunday, 11.30am – 2.30pm (£1), you can enter earlier (10.15am) for £7.
Address: The Pimlico Academy, Chichester Street Entrance, Lupus Street, Pimlico, London SW1V 3AT.
Alfies Antique Market
If you'd prefer to visit an antiques market where some of the weeding-out has already been done for you, we suggest Alfie's Antiques Market.
There are about 75 stallholders here, who carefully select their goods. The result is that it's one of the more curated antique flea markets in London.
Prices do reflect the fact that it's a little more fancy, however you'll still find plenty of items across price points (and looking is free).
It's also held indoors, which is great when the weather isn't cooperating.
Held: Tuesday to Saturday, 10am – 6pm.
Address: 13-25 Church Street, Marylebone, Londo, NW8 8DT
The Big London Flea
Technically part of the Hackney Market, the sub-market of the Big London Flea is so awesome it's worthy of its own inclusion on our list.
This market sees dozens and dozens of cool stallholders set up to sell their wares. Whether you're a local or just visiting, it's a great way to take home a piece of London's charm.
The stallholders are all handpicked, meaning overall the quality is really good. It does make it a tad pricier, but there's still plenty for everyone.
Held: Sporadically – it's best to check the website calendar for upcoming dates.
Address: EartH (Evolutionary Arts Hackney) 11-17 Stoke Newington Rd, N16 8BH London, United Kingdom
Sunbury Antiques Market
Sunbury Antiques Market has been around just a fraction under four decades, meaning they know a thing or two about holding a great antiques fair.
We just love paying a visit to the twice monthly market and poring over all the various treasures.
You'll be rubbing shoulders with antiques experts as well as curious visitors – it's established itself as one of the premier antiques markets in Europe.
Held: At the original Kempton site, the market is held every second and last Tuesday of the month (except in December), 6.30am – 2pm. There's also the Sandown site where markets are held periodically throughout the year – check the website for details.
Address:
Kempton Park Racecourse, Staines Road East, Sunbury On Thames, TW16 5AQ
Sandown Park Racecourse, Portsmouth Road, Esher, KT10 9AJ
Kingsland Market
Another of Hackney's brilliant markets is Kingsland. What started off as a junkyard for spare parts for everything – from bikes to car radios – soon transformed into one of the area's best places to snap up some bargains.
Today, the Saturday market is filled with vintage clothing, bric-a-brac, and retro collectables – even if you don't feel like splashing the cash, this is an interesting place to have a nose around.
Held: Saturday, 9am-5pm
Address: Kingsland Rd, London E8 4AA
Haynes Lane Market
Vintage items, antiques, and collectibles are the main draw to this Crystal Palace market. Set over two floors, the market is inside a small house with items sprawled all over the floors and walls – it gets pretty busy so get there early.
Our advice? Head there on a Saturday and stop by the food market afterwards for delicious street food from local vendors.
Held: Friday – Sunday, 11am – 5pm
Address: Haynes Ln, London SE19 3AN
North London Vintage Market
We're not gunna lie, you've got plenty of reasons to head up to North London Vintage Market. It's one of those eclectic flea markets where you can find a good bargain on pretty much anything under the sun.
They open infrequently, usually once or twice a month at Hornsey Parish Church Hall in Crouch End and sell everything from vintage fashion to vintage toys, old books and antique furniture.
Held: Dates vary each month. Check their instagram for more info.
Address: Hornsey Parish Church Hall, Cranley Gardens Crouch End London N103AH
Wembley Park Antiques Market
If you're looking for some top-quality antiques, Webley Vintage Market should be high on your list of flea markets to visit. This sprawling pop-up has such an eclectic range of items. You can find anything from beautiful old doors to period dressing tables in among their stands.
They meet once a month, always on Wednesdays and usually the last Wednesday of the month. Best of all, entry is free.
Held: Usually last Wednesday of the month, 7:30am – 4pm
Address: Wembley Park Antiques Market, Canada Lane, Wembley Park, HA90SG
Peckham Salvage Yard
What was originally an idea for a low-key second-hand fair by the people behind Hackney Flea Market has since grown into a bit of a south London institution.
Peckham Salvage Yard now runs regular events where over 40 well-established traders – some of whom come from Spitalfields and Bermondsey Markets – mix with people trying to shift unwanted goods for a massive sale of all things vintage, and a great spot to pick up some good deals.
It's popular though so you might want to arrive early.
Held: Irregular dates, but usually about once a month. Check their website for more details.
Address: Copeland Park, Peckham.
Practical Tips for Visiting London's Flea Markets
If you're on the hunt for a lost Faberge egg, then you'd better get to the antiques market super early. Dealers will arrive as soon as the gates open to swoop up the good stuff, and it's usually mostly gone within an hour or two. That said, If you're just looking for some cool stuff to take home, go at your leisure.
Although the easiest way to get to the markets is usually on the Tube, if you're on the lookout for something hefty you might prefer to drive. Some markets, like the Sunbury Antiques Market, do have free parking. They might be a better option than trying to wrestle an antique dresser onto the Tube (although we're sure it's been done before).
Most serious antiques markets do accept cards (some exclusively) however you might want to bring cash just in case. For car boot sales and stalls selling smaller items, cash is king.
Flea Market London Map
Looking For More London Market Guides?