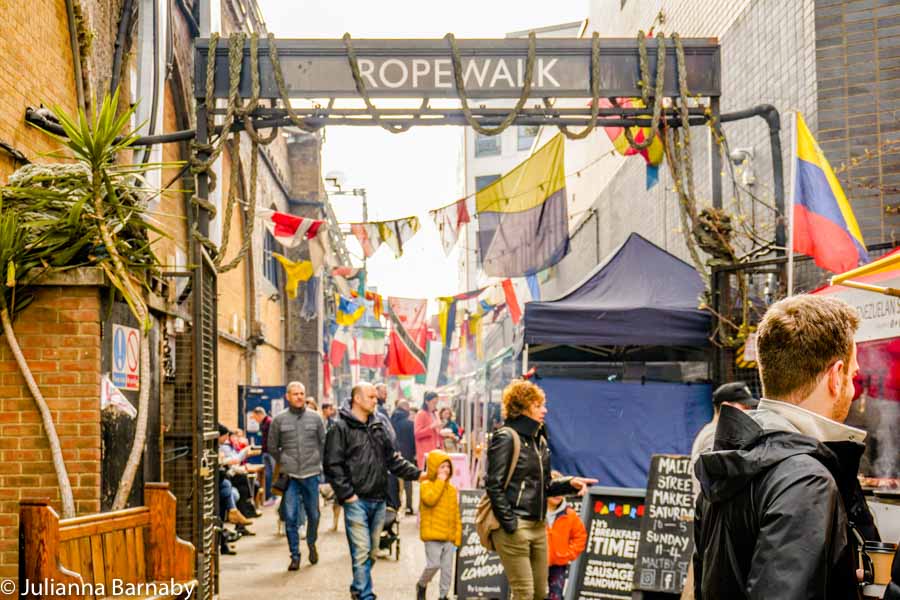 From food to fashion and everything in between. Your bumper guide to the best weekend markets in London
Looking for the best weekend markets in London? Luckily for you, the capital is full to the brim with cool markets just waiting to be discovered.
Whether you are on the lookout for vintage trinkets, bold and beautiful flowers, or cutting-edge fusion food, we have got you covered. With locations across the city, prepare to explore these top London weekend markets.
Cool Weekend Markets in London
Weekend Markets in Central London
Borough Market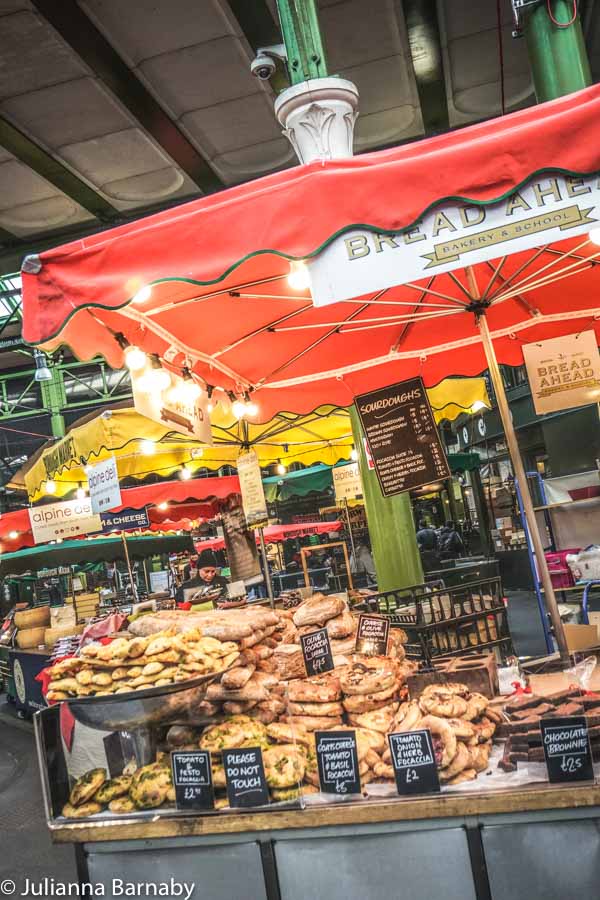 Nestled close to London Bridge, Borough Market is one of London's oldest food markets. This is a foodie's paradise – boasting a host of artisan food producers you won't find elsewhere in the city.
Cuisine-wise, you'll find offerings from all over the globe. Some of the top spots in Borough Market include Levant restaurant Arabica and home of traditional English fayre, Roast.
Borough Market is renowned for its focus on high quality and sustainably produced food. Alongside beautiful restaurants, there are several stalls selling the finest cheese, fish, and charcuterie.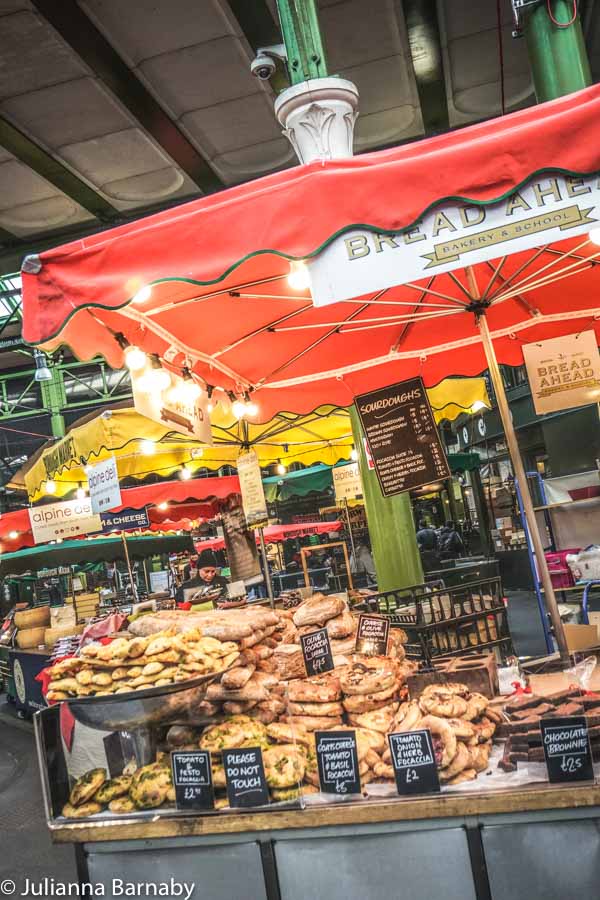 The market sports three main areas: the Three Crown Square which houses larger producers and merchants, Green Market with small, specialist produce traders, and Borough Market Kitchen where you can sample tasty treats from the street food traders.
Borough Market is open on Saturdays from 10am until 5pm, and on Sundays from 10am until 4pm.
Covent Garden Market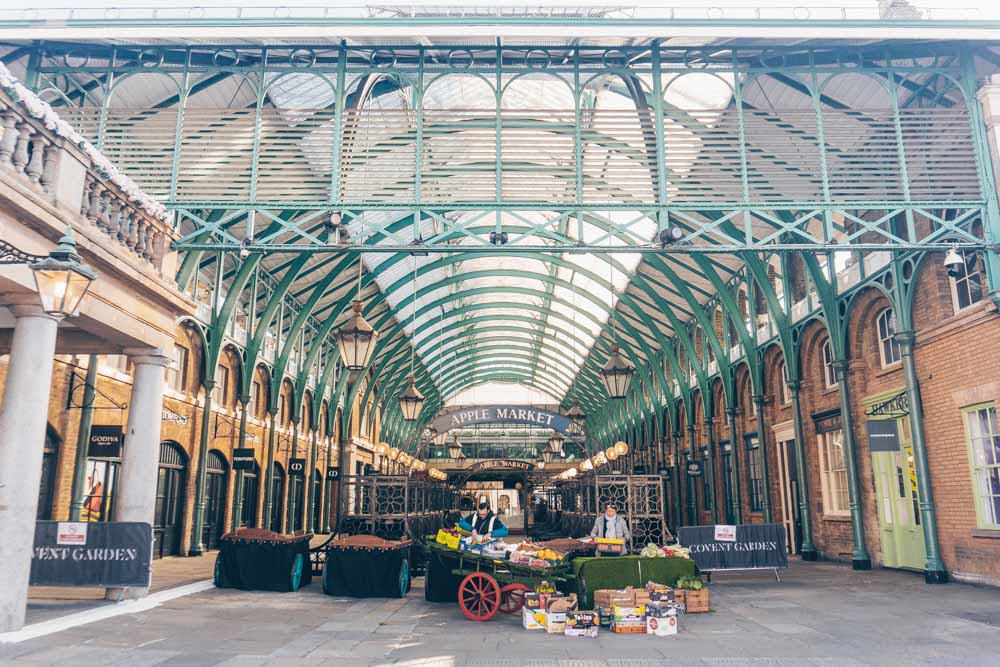 Starting off life as a world-famous fruit and vegetable market, Covent Garden's Apple Market has expanded over the years to become a vast affair. Throughout the weekend, the Apple Market is home to handmade jewellery, intricate crafts, and gorgeous art.
Also in the vicinity is the East Colonnade Market which features stalls selling homeware, adorable hand-knitted childrenswear, handbags, a selection of sweets, and even a magician's stall for some laid back weekend entertainment.
The offerings of the South Piazza's Jubilee Market change daily, and at weekends the focus is on arts and crafts. Here you will find unique pieces including candles, collectibles, and clocks—perfect gifts for the person who has everything.
Markets at Covent Garden are open Saturdays from 10am until 6pm and Sundays 12pm – 6pm.
Seven Dials Market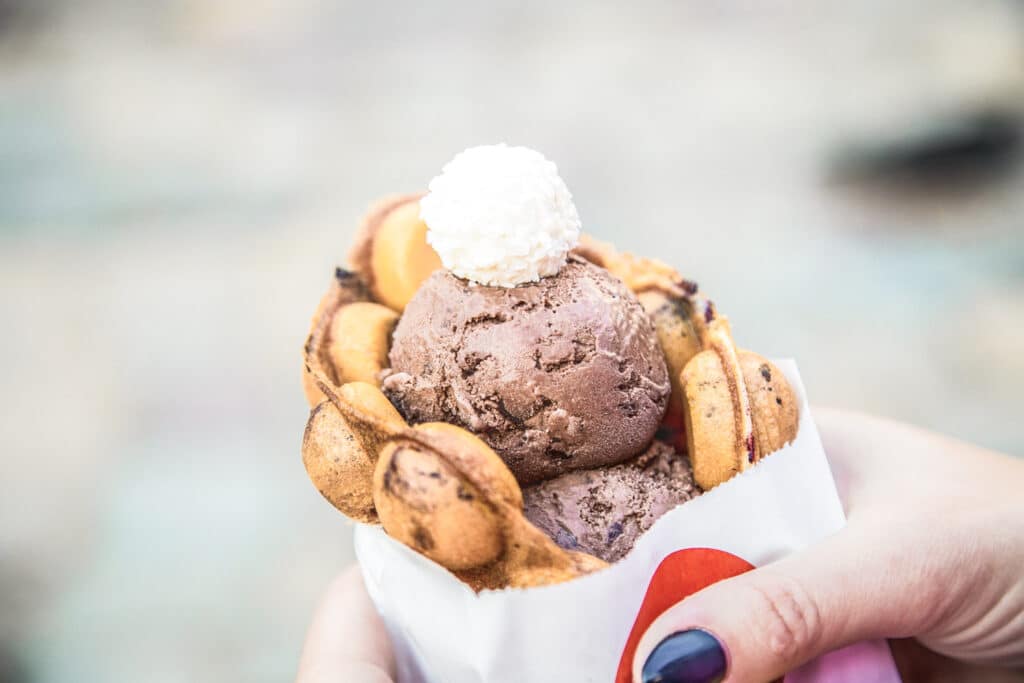 Head to Seven Dials for a market that is perfect for a post-shopping chill. It wins on location alone – the Seven Dials food court is actually a converted banana warehouse – complete with a stunning glass ceiling.
A trip to Seven Dials Market is a great way to sample some of London's finest food, as it is home to a plethora of independent food vendors each with something different on offer.
Go to taste dishes from all over the world. Our top picks include Curry On Naanstop – the "proper food" brainchild of South Indian brothers Swati and Karthikk – and Tom Bickers' Truffle. This restaurant's main event is burgers, with truffle incorporated into every item on the menu. If you are a fan of fast food done well, you will love this simple yet sumptuous vendor.
At Seven Dials you will also find the Market Bookshop: the perfect excuse to add to your TBR pile as you thumb through the latest publications.
Seven Dials Market is open 11pm-11pm on Saturdays and 11pm-9pm on Sundays.
Weekend Markets in East London
Columbia Road Flower Market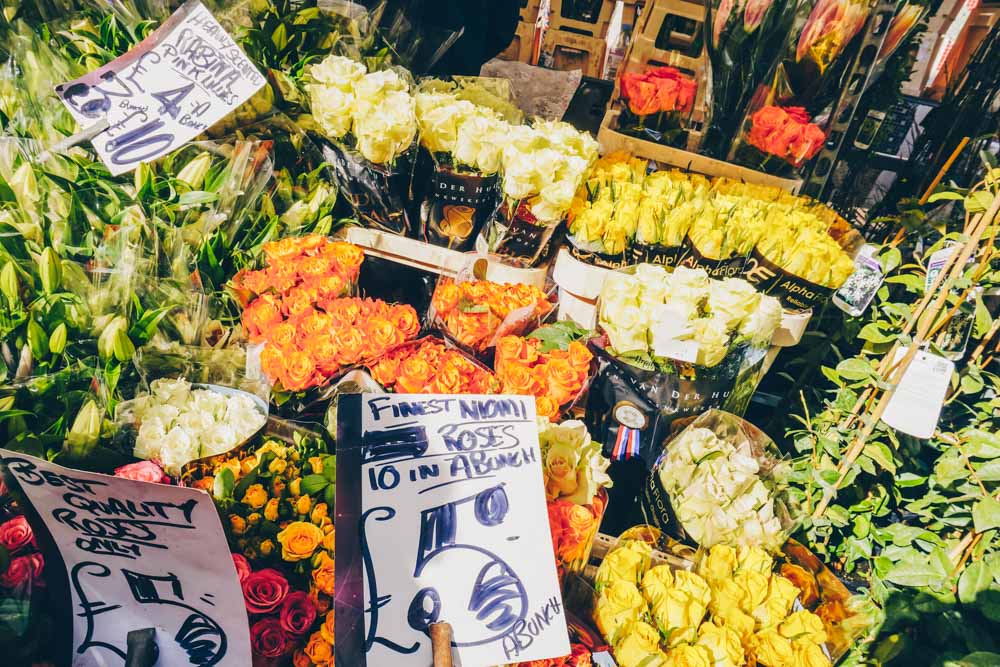 Take inspiration from Queen Lizzo and buy yourself flowers every Sunday. There's no better place to pick some peonies or grab a gerbera than Columbia Road Flower Market.
Bursting with colour and fresh scents, this Bethnal Green venue is one of London's most picturesque markets. Each weekend, the narrow Columbia Road is filled with flowers, houseplants, herbs and bulbs and shrubs.
This is a proper traditional market so don't be afraid to shop around the stalls and barter to scout out the pot plant of your dreams.
Columbia Road Flower Market is open every Sunday from 8am to 2pm.
Brick Lane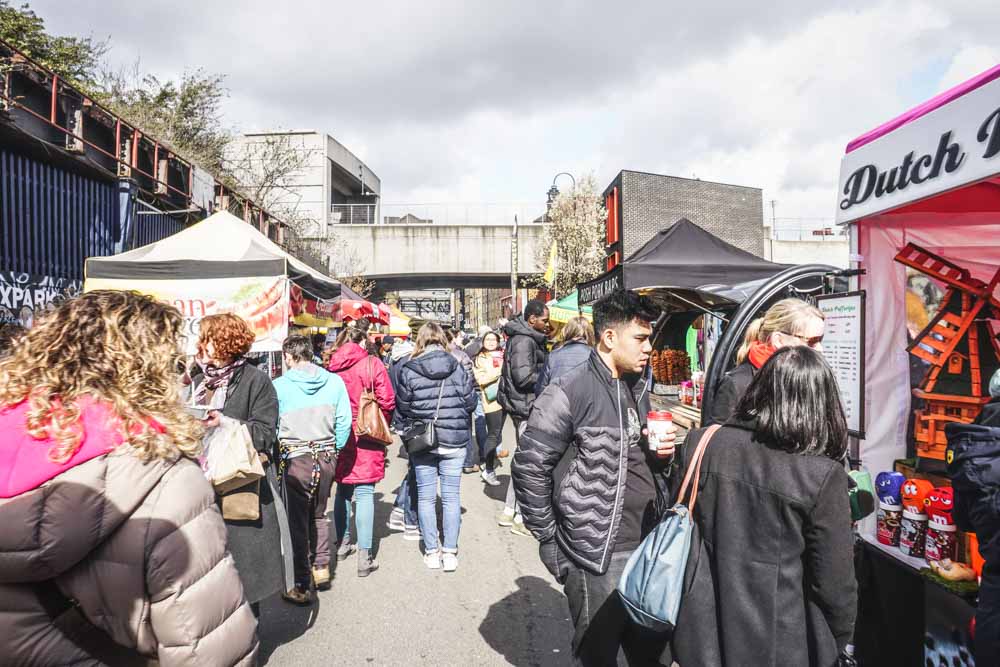 They do say that one man's trash is another man's treasure – Brick Lane being the perfect example. Drub around the stalls to find the true gems among a sea of vintage clothes, bric-a-brac, and preloved furniture.
Brick Lane's several markets offer many bargains all week round, but really come into their own on the day of rest.
The Sunday Upmarket features the Brick Lane Vintage Market—the UK's largest collection of independent vintage specialists, artisanal food traders selling produce from preserves to breads, and some of London's most innovative dessert creators.
The Vintage Market is open. Backyard Market, and Boiler House Market are open Saturdays 11am to 6pm, and Sundays 10am to 5pm
Brick Lane Market and Sunday UpMarket are open every Sunday from 10am to 6pm.
Old Spitalfields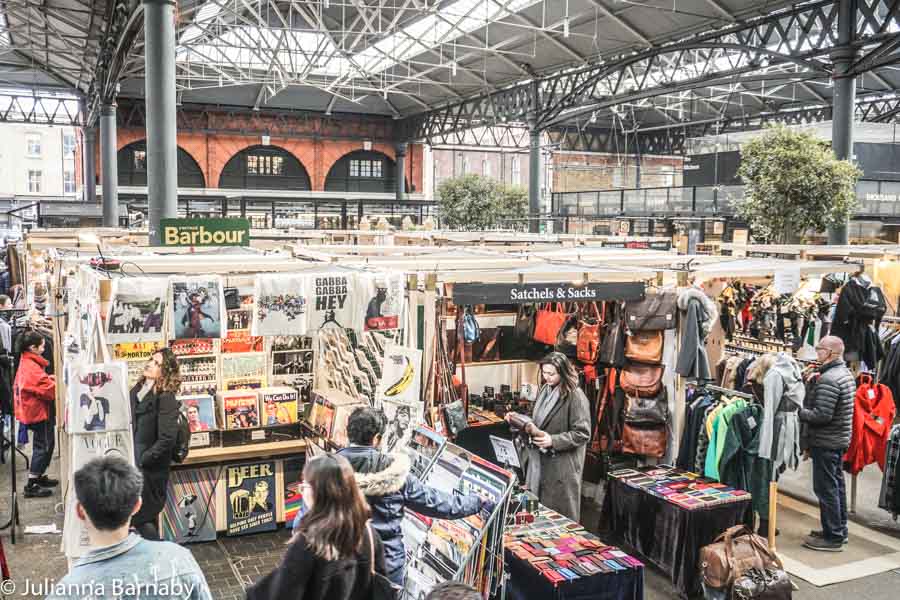 Your wardrobe in need of a refresh? You will find something to suit your taste at Old Spitalfields Market.
Close to Liverpool Street Station, this covered venue is filled with cutting-edge fashion and accessories from designer names as well as independent boutiques.
Visit on Saturday, when the Spitalfields Saturday Style Market is held. The sixth day of the week is dedicated to sartorial experience — so go and grab unique, one-off pieces that make a statement.
Need a bit of advice? The market's traders are on hand to answer questions to help you find a look you love.
When you have shopped up an appetite, indulge in some of the area's well-known street food. We recommend Bishops Square's Smokoloko and Ebby's Kitchen, and the Crispin Place vendors Mamma's Goodies and Bamboo House.
On Saturdays, Old Spitalfields Market is open 10am-6pm. The opening times on Sundays are 10am-5pm.
Hackney Wick Flea Market
Following the success of a pop-up event in 2013, this market has become the go-to place for one-of-a-kind treasures in East London. This goldmine is in the heart of the district on Shacklewell Lane.
The market's main offerings are vintage fashion, homeware, and handmade goods from independent creatives.
Hackney Wick Flea Market is more than just a shopping experience. It is home to art presentations, massage parlours, and even fortune tellers.
If you live in the area and fancy updating your decor, a trip to Hackney Wick Flea Market is a must. Flea traders from across the UK present a selection of salvaged furniture and lighting.
Common items for sale include storage, shelving, and even factory fittings saved from a life of landfill. You never know what you might find.
See website for dates and times.
Broadway Market
Broadway Market holds a special place in our hearts. That's due in part to the market's long history. It sits on an old (and we mean a thousand year old) trade route where people would have once traded in the items of their day.
The market as we know it rose to prominence in the Victorian era, faded out and was revived again. Now you'll find it full of traders slinging artisanal and handmade arts and crafts, trinkets and clothes.
Of course there's plenty to eat too. The top and bottom ends of the street market are given over to street-food vendors that sell food from all corners of the world. You'll also find some quality baked goods stalls dotted around throughout the market. The cakes on those will have you drooling.
Broadway Market is open from 9am – 5pm on Saturdays and 10am – 4pm on Sundays.
Victoria Park Sunday Market
One of our favourite spots to hit at the weekend is Victoria Park Sunday Market. The market only opens on Sundays and doesn't even stay open as long as some of the other places in this guide but what they have on their stalls is really great.
There's a good mixture of everything, from artisanal foods (check out the crepes from Crepes a la Carte) and fresh produce for you to take home and use to knock up your own dishes with.
The vibe is very nice and relaxed and once you've had your fill at the market you can take a nice stroll around the park. If you're feeling adventurous you can even walk along the canal to Broadway Market and carry on your day of stall hopping at another great London weekend market.
Victoria Park Sunday Market is open every Sunday from 10am – 4pm
Weekend Markets in South London
Brixton Village, Brixton Market and Market Row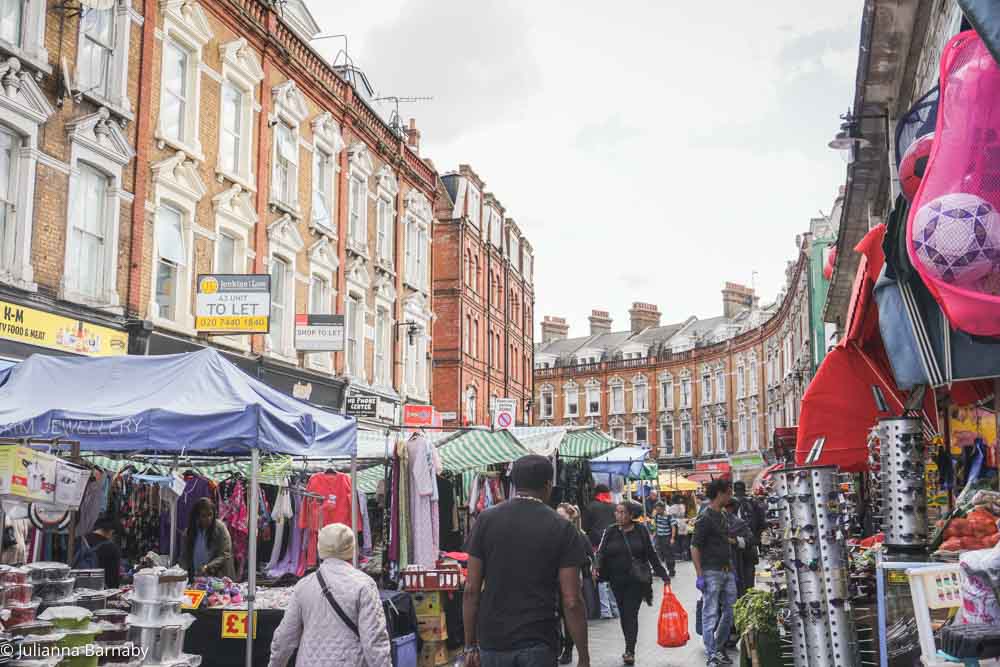 A weekend in South London wouldn't be complete without a trip to the thriving neighbourhood that is Brixton.
The iconic market on Coldharbour Street is home to a melting pot of all kinds of everything, from fresh produce to beauty supplies. This area has such a rich history, one that is woven into the tapestry of each and every trader.
Inside and situated under the area's recognisable railway arches is a bustling arcade full of goods. This bright space is home to independent shops that offer retro homewares and freshly-brewed Americanos.
For a bite to eat, we recommend Honest Burgers and Salon.
Brixton Market is open from 8am until 12pm each Saturday and Sunday.
Maltby Street Market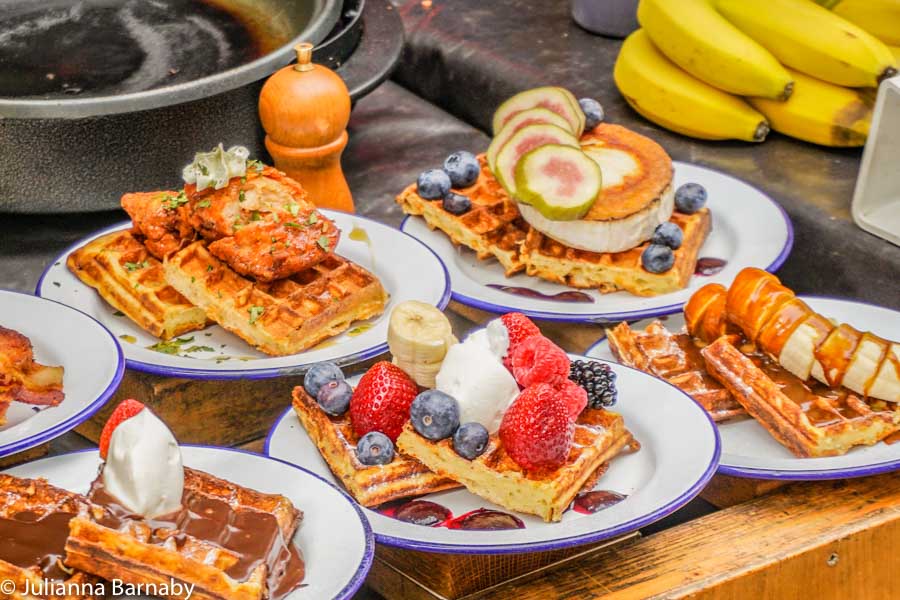 A kind of the new kid on the block – Maltby Street Market opened in 2010 and has established a sterling reputation over the last decade.
Come the weekend, this small stretch of Bermondsey's Ropewalk is packed with food and drink traders.
The small size means that the market only offers spaces to the best traders. Meaning you're treated to carefully-curated goodies that you often won't find anywhere else in the city.
Some of the market's food vendors include Bangers, who offer an innovative take on the humble sausage. Try it with buttery mashed potato, nestled in a bun, or squidged between two slices of bread.
Partial to some South American cuisine? You will love La Pepia. Tuck into the Rainbow Arepa, a versatile corn dish which often contains a variety of meats and vegetables and is served with cheese. There's a reason it's one of Venezuela's finest foods.
You can visit Maltby Street Market from 10am until 5pm on Saturdays, and 11am until 4pm on Sundays.
Weekend Markets in North London
Alexandra Palace Farmers Market
The famous Ally Pally entertainment venue plays host to some of the world's most talented musicians, and the Muswell Hill market is equally as special.
Encapsulated between rows of flourishing trees are thirty wonderful stalls that are worth sacrificing a Sunday lie-in for.
At the Alexandra Palace Farmers Market you will find all manner goods from local producers, including fruit and vegetables, bread, cakes, and meat. Not to mention a host of fresh dairy items such as cheese, eggs, and milk.
This family friendly market offers a great selection of local crafts, and hot food to satisfy rumbling tummies!
As a much-loved fixture for locals and visitors alike, the market is a perfect way to test your culinary skills while supporting local traders.
The Alexandra Palace Farmers Market is held every Sunday from 10am until 3pm.
Camden Market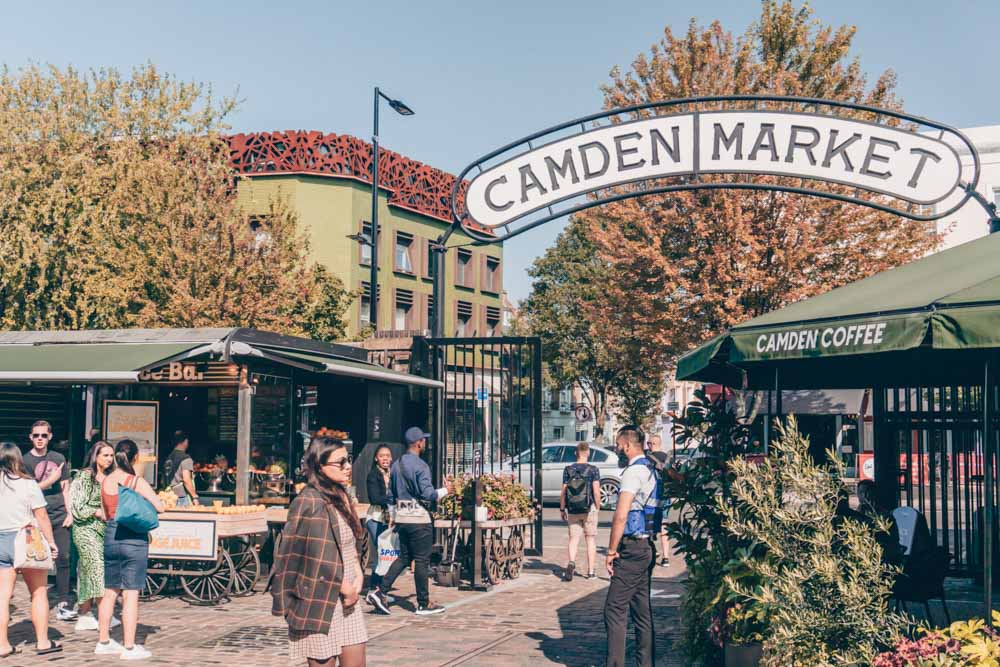 Camden's market stalls feature more than 1000 unique shops, stalls, cafes, and bars.
This fashionable district is at the forefront of cutting-edge style. At its famed market you will find an eclectic mix of original and vintage clothing, as well as hand-crafted accessories for a truly unique look.
Little Kathmandu is home to bohemian fashion, while you will find the finest cashmere at Manomay.
Camden Market is brimming with unusual trinkets that would make fantastic gifts. Check out handmade Scrabble art at To The Letter and handmade wax-based perfumes at Solid Cologne.
Camden Market is open on Saturdays and Sundays from 10am until 8pm.
Archway Market
It may be one of London's smallest markets, but it certainly packs a punch. This venue is in the heart of Archway on Navigator Square and features a collection of traders oozing allure and expertise.
Archway Market boasts specialist sellers showcasing the finest produce, street food, books, vinyl, vintage wares and jewellery.
Being small in size works in Archway Market's favour. The stalls are cosy and welcoming, enabling you to wander between tables and spot hidden treasures.
This is a place where you can unearth unique curiosities on one stall before sourcing delicious ingredients for dinner on the next. Alongside organic vegetables and sweet and spicy chorizo is a charming bookstall offering portals to another world.
If you believe that less is more and would like an altogether more relaxed market experience, Archway is the one for you. Make sure you treat yourself to gorgeous coffee and pastries as a reward for the hard job of shopping!
Archway Market is open on Saturdays from 10am until 5pm.
Weekend Markets in West London
Portobello Road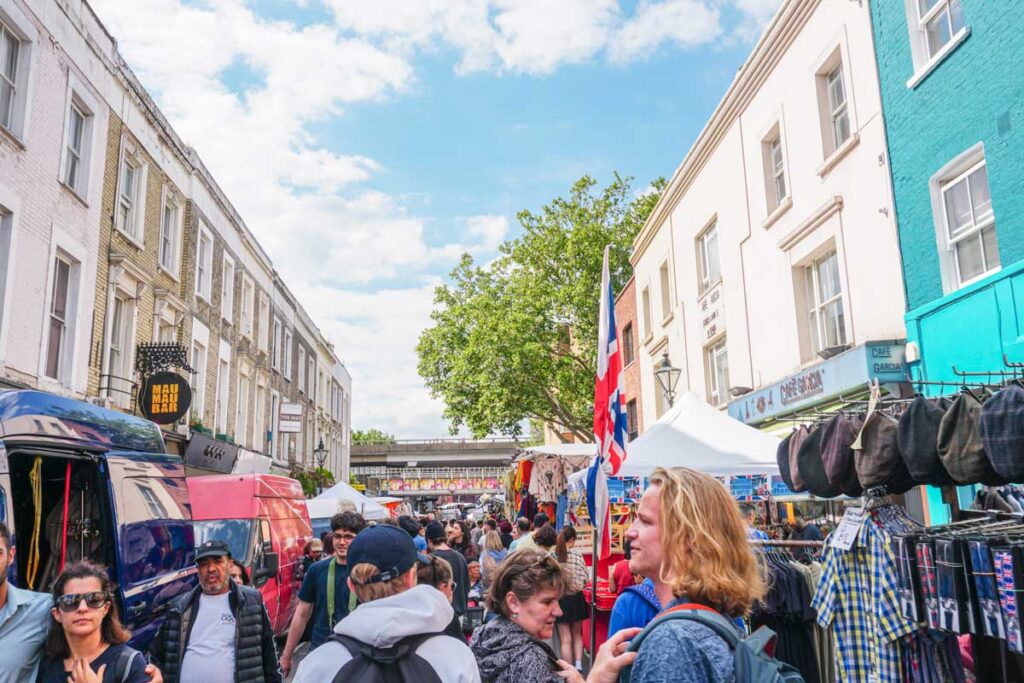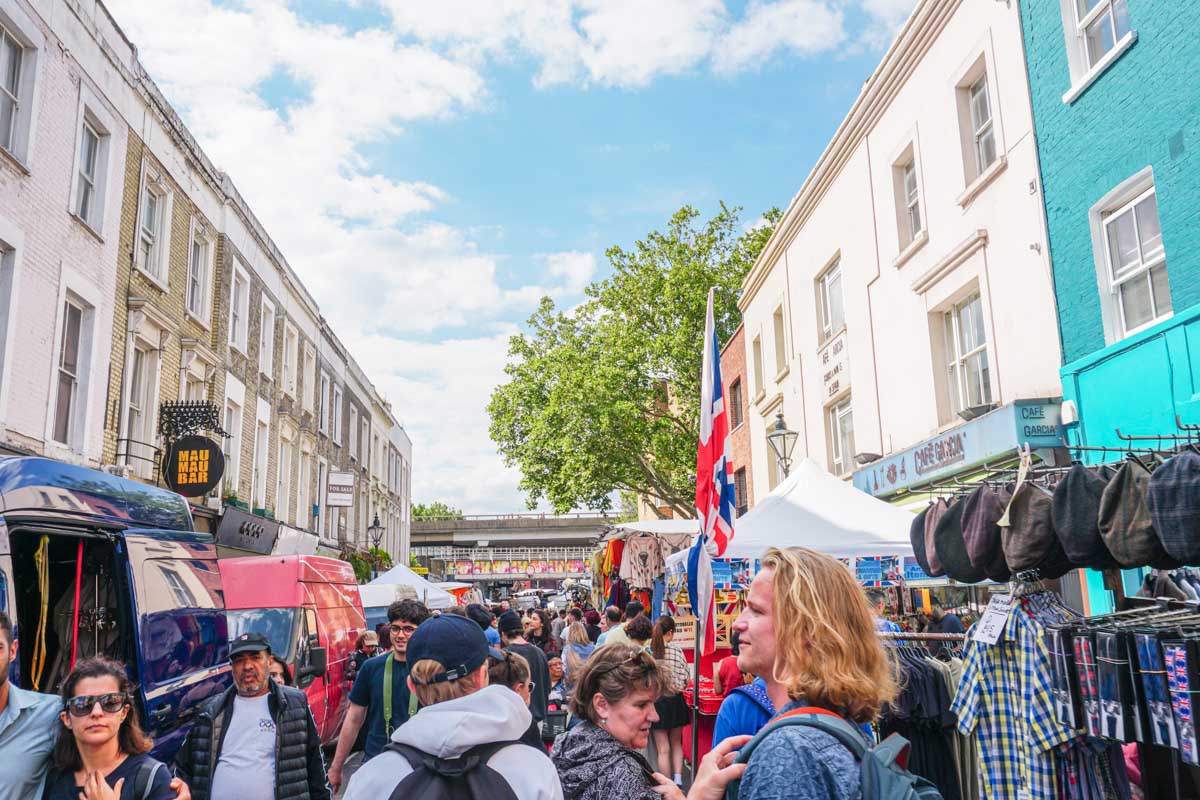 The picturesque Portobello Road in Notting Hill, with its brightly-coloured buildings, comprises several markets to form a bustling hub of activity.
With over a thousand dealers, Portobello Road is the largest antiques market in the world. Saturday is the main antiques day where you may just find that a rare item catches your eye!
If antiques aren't really your bag, Portobello Road has plenty more to offer. There are many stalls offering fresh fruit and vegetables, vintage fashion, household goods, and hot food.
You can visit the markets along Portobello Road on Saturdays from 8am until 7pm.
Cabbages & Frocks Market
Despite the name, at this Marylebone food market you will find far more than leafy greens and dresses.
The market is well known for its range of vintage clothes that feature sought-after designer names, as well as handmade jewellery.
If it is ingredients you're after, you will find a tempting selection of oils and vinegars, as well as olives, salami, and breads.
Cabbages & Frocks Market is open each Saturday from 11am to 5pm. Note: at the time of writing the market was temporarily closed, check back on their Facebook for more information.
Practical Tips and Maps for London's Weekend Markets
Whichever market you head to, you are sure to find some true charms. There are a few things you can do to maximise your chances of spotting the dress/handbag/necklace/antique of your dreams:
Preparation will be key. Do you know which Tube line to catch? How about where you should get off?
Do take some cash in case smaller traders don't take card payments.
Visit early. Get to your chosen market for the minute it opens and you can enjoy a leisurely stroll as you choose your goodies.