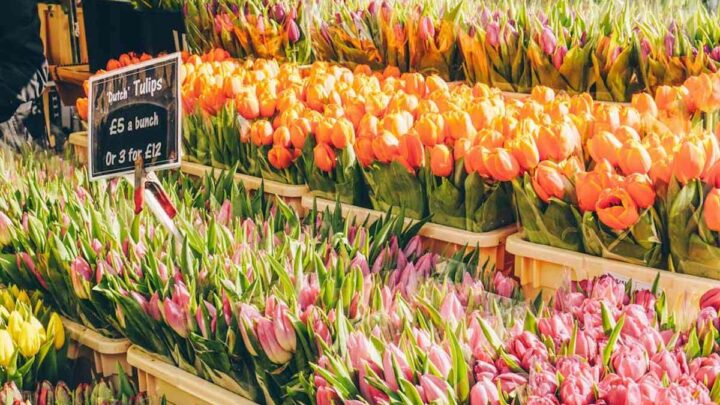 Whether you're looking for the perfect blooms for your home or office space or just browsing, take a trip to these London flower markets for all your floristry needs.
An afternoon spent browsing flower markets is an afternoon well spent, we say. Not only is bringing the outdoors into your home great for purifying the air, it also has plenty of mental health benefits too.
Not just pretty to look at, did you know that flowers are good for improving your mood and de-stressing? Luckily for us all, London is home to some of the best flower markets in the country – so prepare to reap all the benefits.
Ready to discover the best flower markets in London?
The Best Flower Markets in London
New Covent Garden Flower Market
If you're a flower fanatic then New Covent Garden Flower Market is the place to be. It's where most of London's professional florists source their flowers from and, with flowers from 20 wholesalers, it's easy to see why.
The market houses foliage, sundries, plants and of course blooming amazing flowers. New flowers arrive daily from Europe and beyond, meaning the flowers at Covent Garden are always fresh as a daisy.
The catch here is that the market is open daily to the public from 4am to 10am– so you really do need to be an early riser to get the best pick of the bunch.
Columbia Road Flower Market
Bethnal Green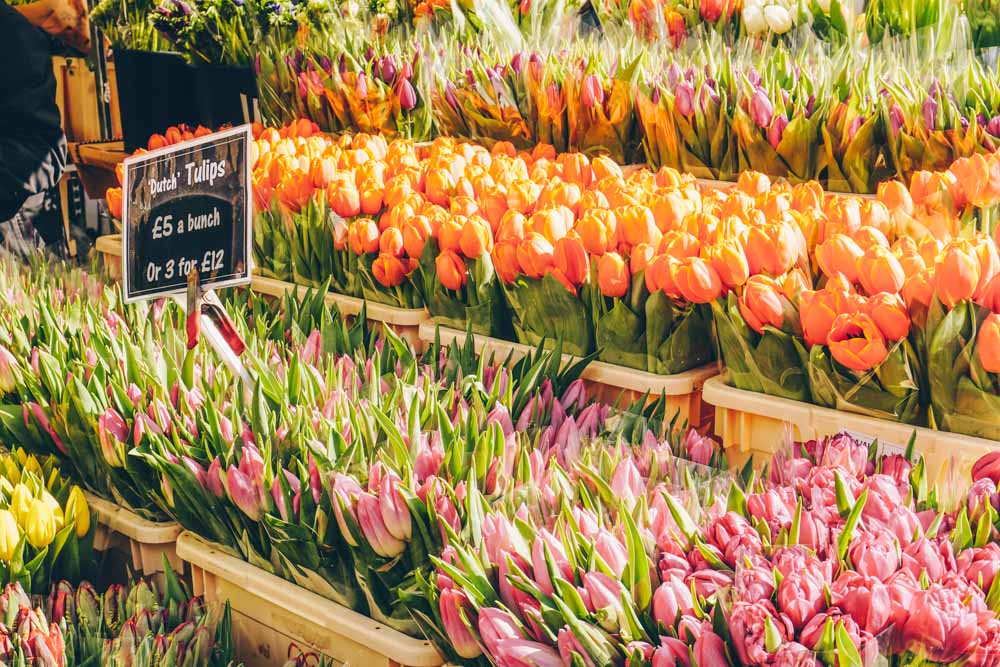 From house plants to cut and planted flowers and succulents, Columbia Road Flower Market is a street market in Bethnal Green that's sure to have the buds that you're after.
The famous Columbia Road is an East End treasure near Brick Lane. Many of the market traders have worked on the stalls all their lives and so generations of flower sellers are always happy to help you find the perfect bunch.
The stalls change with the seasons so that you can find your tulips in spring and Christmas trees in December.
The market is open on Sundays from 8am to 3pm(ish), but the later you go the less likely you will get the best flowers so best to head there from 8am.
Broadway Market
Hackney
Broadway Market in Hackney is home to over 120 regular stalls selling food, drink, clothing, and more importantly… vivid flowers that you'll want to purchase immediately.
Broadway Market sells everything from pretty blooms to potted plants that fit nicely on your desk. You'll find everything from bright yellow sunflowers to flamboyant tulips and garish lilies.
Make sure you grab a bite to eat afterwards – it's tiring work picking the right flowers.
Chiswick Flower Market
Chiswick
Open every first Sunday of the month from 9am, Chiswick Flower Market sells a wide variety of flowers from local sellers and house plants to help you decorate your home.
From blues, yellows and reds, there's not a colour you won't see at Chiswick Flower Market. This market is usually heaving with green fingers so be sure to arrive early to grab yourself a beautiful bunch.
You should make a morning of it, there's plenty of food and drink stalls for hungry shoppers to recharge after a busy morning shopping or browsing colourful flowers.
New Spitalfields Market
Leyton
If you're up for grabbing some late night flowers – between midnight and 9am, to be precise – then head to New Spitalfields Market. Because seriously, when else would you buy them?
Not to be confused with Old Spitalfields Market, New Spitalfields offers a wide array of beautiful blooms for every occasion, whether it be for gifting, special occasions or for house decor.
The flower market sellers offer plants and shrubs, foliage and sundries as well as traditional bouquets. What's more, you can also grab some fresh ingredients for a tasty brunch from the market.
Borough Market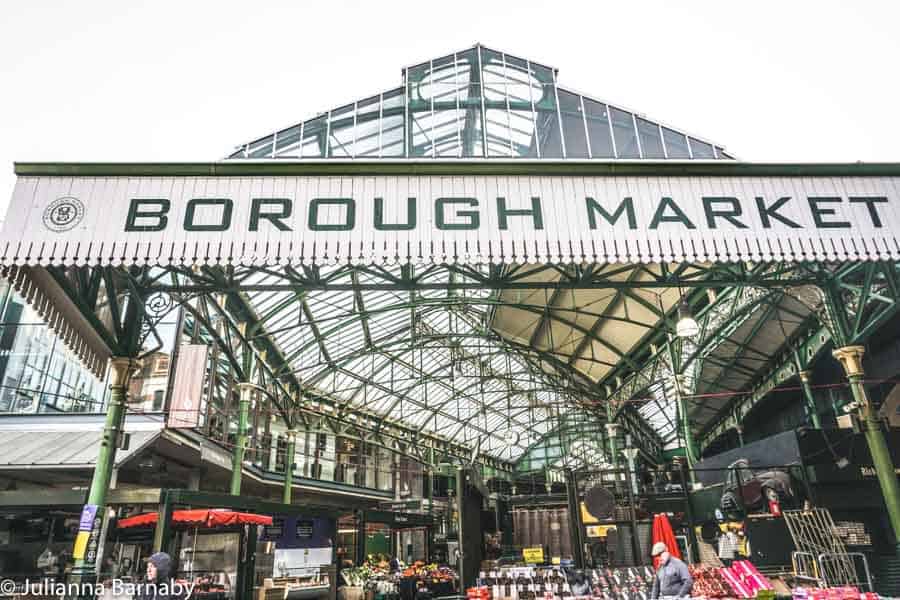 Borough Market is usually on our minds for all things food and drinks, but you should head to The Gate Garden for flowers, plants, and garden ornaments.
This quintessential flower shop has been a permanent stall since 2013 and is stacked high with delicate lilies, magnolias and carnations. There's also a wide offering of potted outdoor and indoor plants to choose from that are all locally grown. The market is open Monday through Sunday.
Mare Street Market
We're huge fans of Mare Street Market – it's home to a mix of independent businesses and the mini flower market is run by Rebel Rebel.
Seasonal flowers can be bought by the stem or bouquet which is perfect for all your floristry needs. The small but mighty market has vibrant green hanging baskets with indoor plants and a wide selection of eye-catching flowers dotted all around.
Rebel Rebel is kind of a big deal too, its client list includes Vogue, BBC, BAFTA and Dior– so you definitely know you can pick up a fashion-forward bunch here.
Berwick Street Market
One of London's oldest markets and just a stone's throw from Oxford Street in Soho, Berwick Market isa great location to pick up some sweet-smelling blooms. It's also home to one of London's oldest flower market stall, Ronnie's Flowers.
Here you'll find tulips, deliliahs, roses and everything in between – all at affordable prices. Berwick Street Market is open from Monday to Saturdays from 8am to 6pm so it's perfect for those before and after work flower runs.
Practical Tips for Visiting London's Flower Markets
Most flower markets open early, and that means in order to get the very best blooms you'll probably want to arrive early or you may be left with what other shoppers didn't want. Also, the earlier in the day you pick your blooms the fresher they'll be, florists tend to cut them early when they are cool and hydrated.
Make sure you ask your florist how to care for your flowers so that you can get the most lifespan out of your flowers.
It's probably a good idea to pick up some plant food too, although most good florists will give you this with every bunch but best to check before you leave the stall.
You'll want to get your flowers in water as quickly as possible once they're cut, especially on a warm sunny day.
London Flower Markets: Map