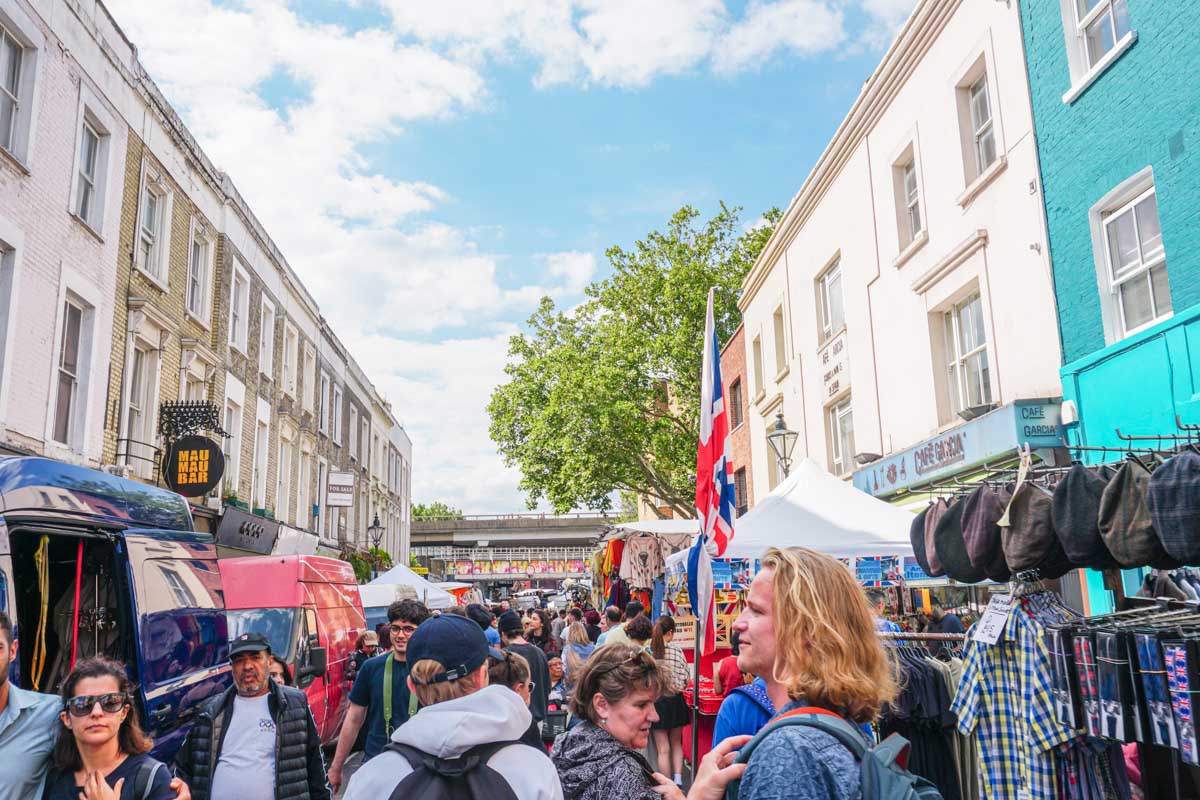 Looking for a good London market? From food to fashion, we've got you covered.
When it comes to London markets, you're spoiled for choice. The city boasts a diverse and lively market scene that ranges from gorgeous covered food emporia to markets bursting with antiques and flea finds.
Looking for the best markets in London? These are the ones you shouldn't miss.
The Best Markets in London
Borough Market
London Bridge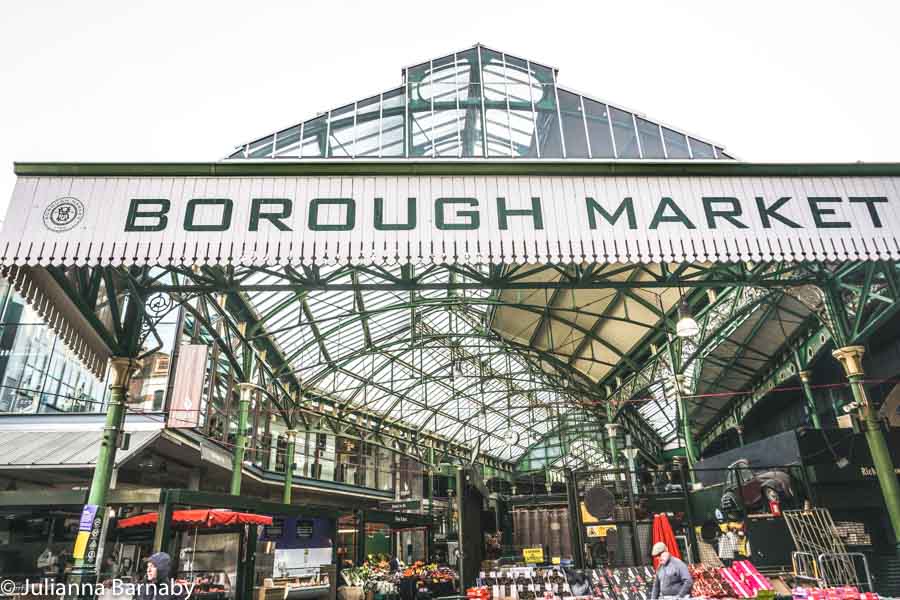 Borough Market needs little introduction. London's oldest market continues to go from strength to strength and has pride of place as the city's best-known food market.
The main market building is mainly the reserve of producers and fresh food – freshly-baked bread, fishmongers, cheesemongers, organic veg grocers – all inspiration enough for you to fill your bags and get cooking in the kitchen. Borough Market Kitchen, at the rear of the market, is the place to go for an array of street food dishes.
When to Visit: Monday to Thursday 10am – 5pm, Friday 10am – 6pm, Saturday 8am – 5pm, Sunday 8am-2pm.
Columbia Road Market
Shoreditch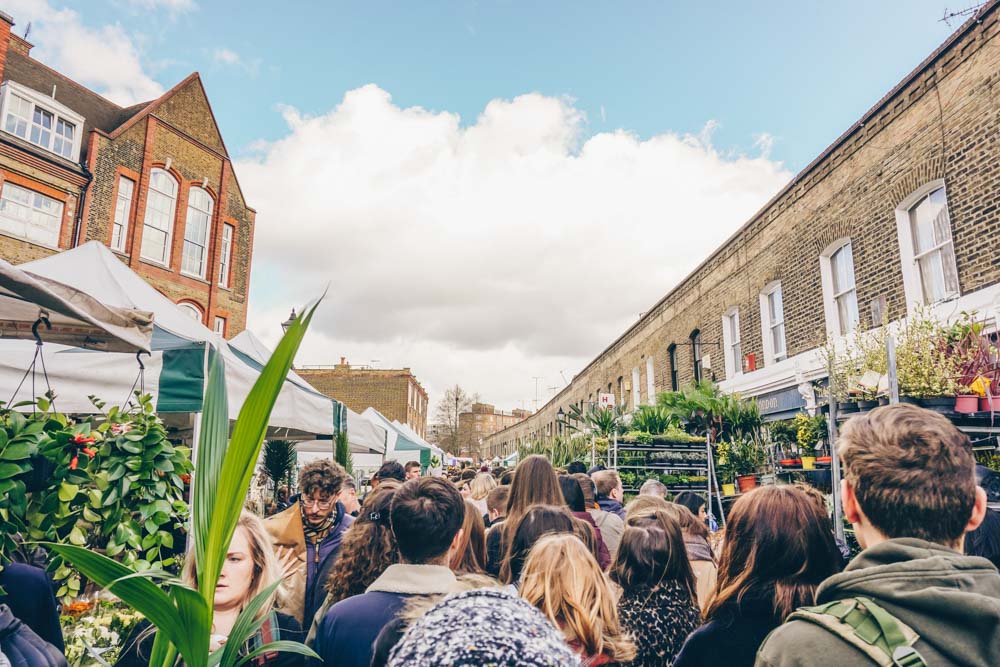 Columbia Road Flower Market is a must-visit Sunday market in London. Beloved by locals and visitors alike, it's not hard to see why this is a real favourite. After all, shopping for armfuls of blooms and perhaps a house plant or two is a pretty lovely way to spend part of your weekend.
Most of the traders have been here for decades – its friendly and convivial atmosphere is just as appealing as the flowers themselves. Go early to avoid the crowds or go late to snap up a few bargains.
When to Visit: 8am – 2pm Sunday.
Camden Market
Camden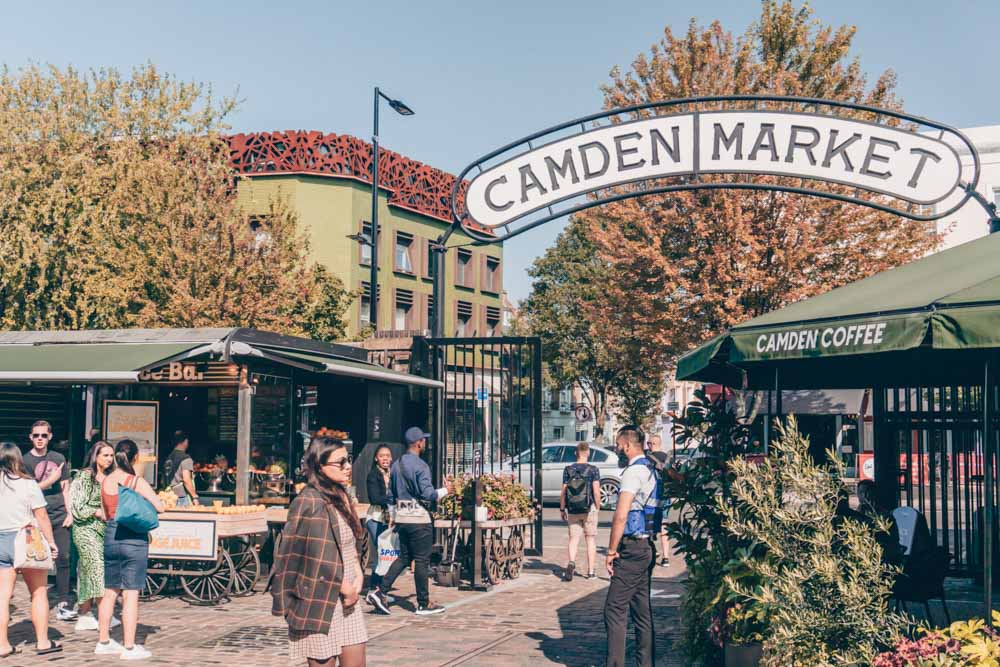 What people call Camden Market is actually a collection of five markets strung along the section of Camden between Camden Town and Chalk Farm.
Explore all of them – even smaller ones like Inverness Street Market have their own charms.
If you really only have time to dip into one or two, make it the neighbouring Camden Lock Market and Camden Stables Market. The Lock Market mixes independent makers and a small street food market on the water, while the Stables Market offers an offbeat selection with a more alternative bent.
All are furiously busy on a Saturday, so avoid unless you're willing to battle the crowds.
When to Visit: 10am to dusk daily (some traders only trade on Friday and Saturday).
Maltby Street Market
Bermondsey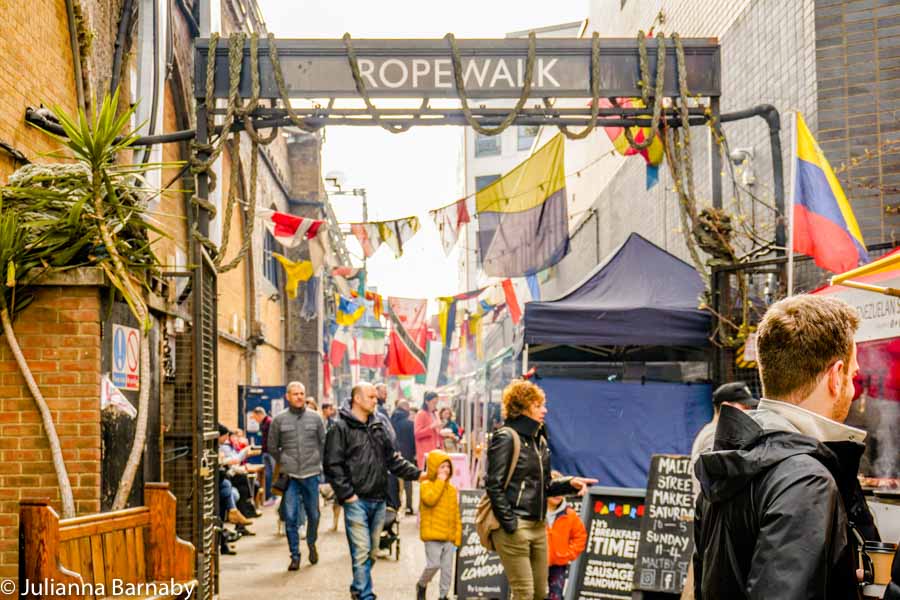 By London market terms, Maltby Street is a relative newcomer – having only opened in 2009. That hasn't stopped it from cementing its position as one of the go-to street food markets in London. It's largely down to the fact that the quality of the traders is unfailingly high: from the decadent sweet treats at Waffle On to the cheesy goodness of The Cheese Truck, it's a gastronome's paradise.
Let's put it this way: when you visit Maltby Street Market there's no question of whether you'll find something you want to eat, instead an agonising choice between which thing you want the most.
The vibe's a lot more local than nearby Borough, though it still gets tremendously busy on a sunny weekend.
When to Visit: Saturday 8am- 3pm, Sunday 10am – 4pm.
Covent Garden Market
Covent Garden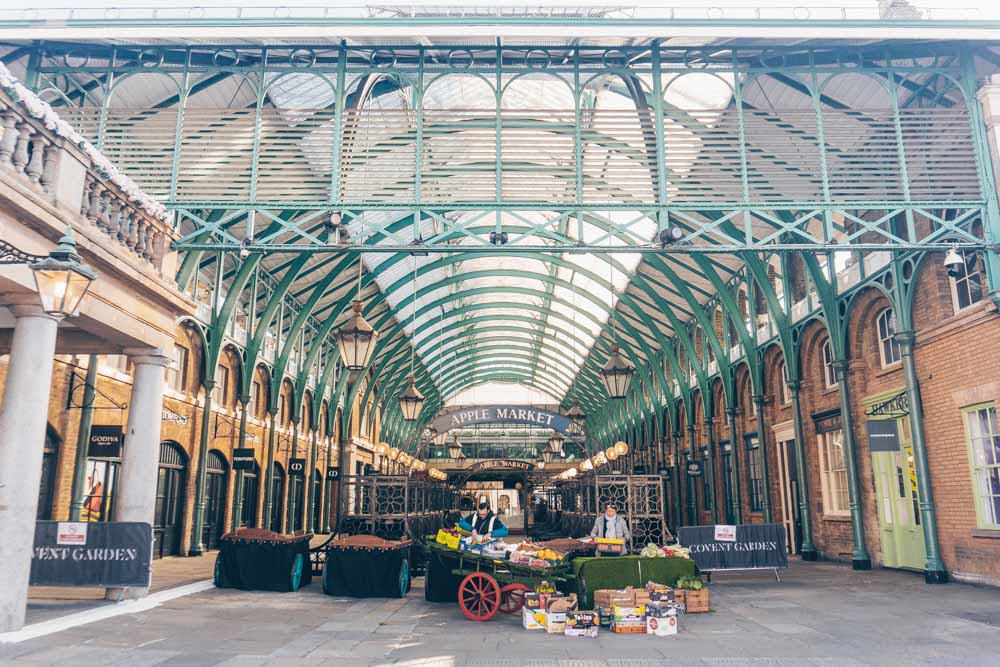 I'll level with you: the extent of Covent Garden's 'market' status is kind of questionable, despite it being one of the most famous markets in London. There are more shops selling designer bags here than there are market traders but that doesn't stop it from being a historic market spot in the centre of London.
Don't think it's all about the big names here either – there are independents and quirky finds if you poke around, particularly at the weekends when independent makers set up around the Apple Market.
When to Visit: Monday to Saturday 10am – 6pm, Sunday 12pm- 6pm.
Brick Lane Market
Shoreditch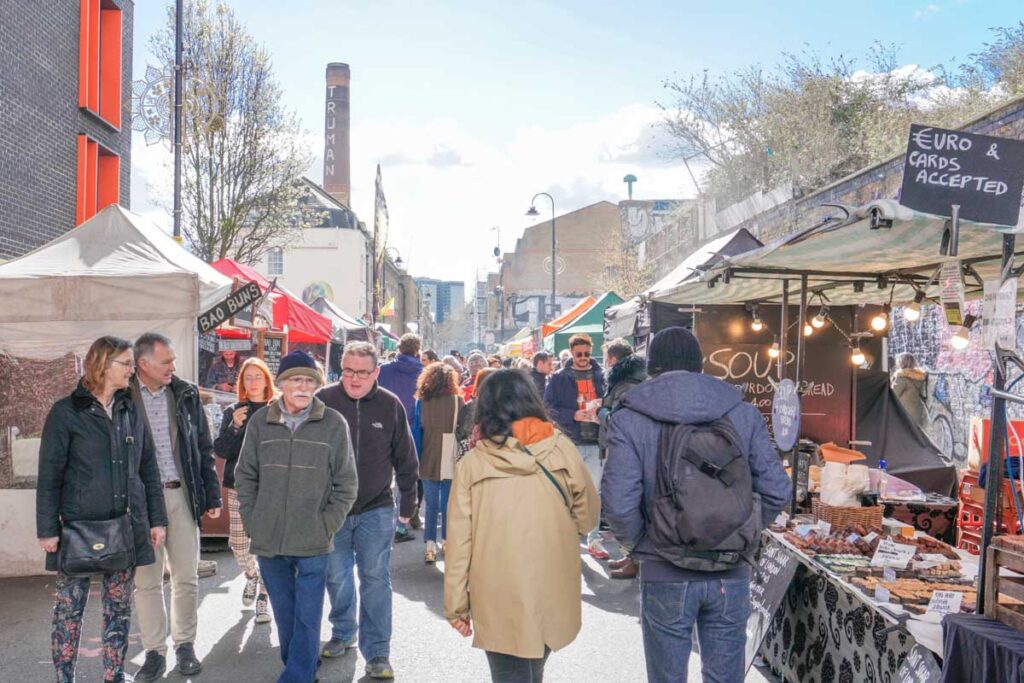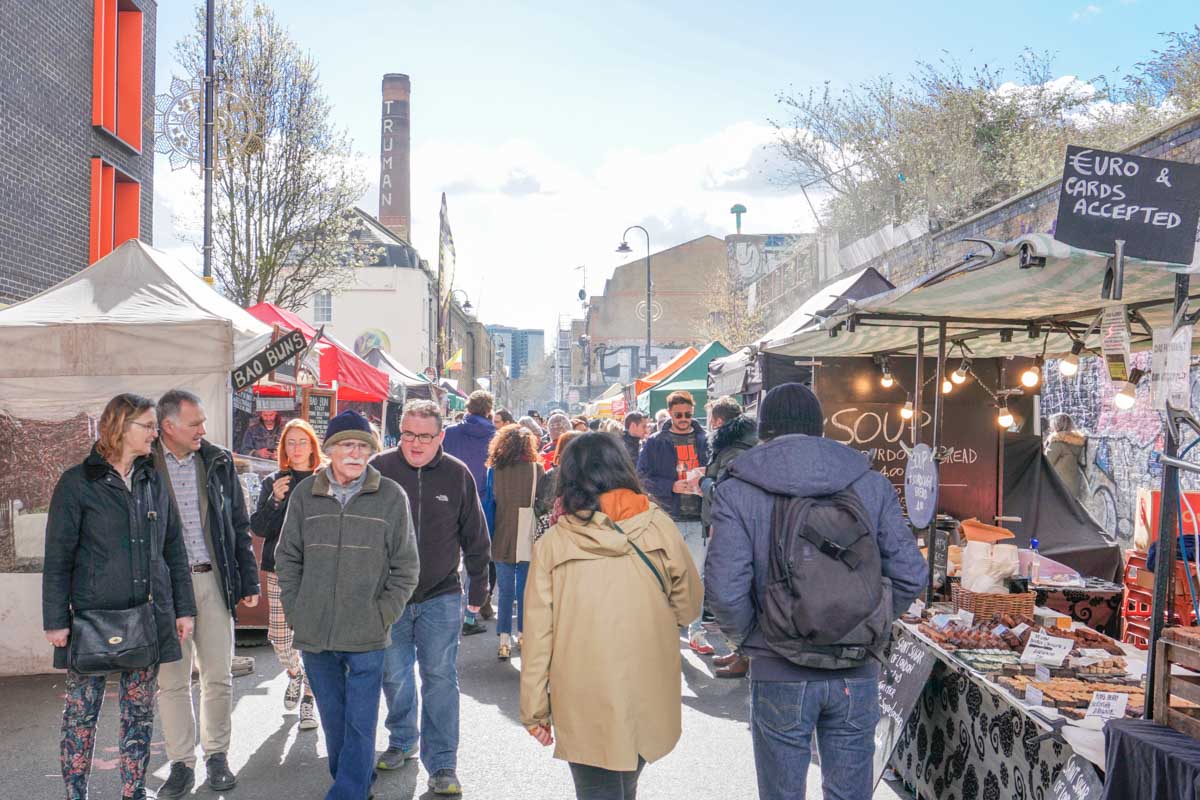 Sunday is the day when Brick Lane's cobweb of different markets really shine. Brick Lane itself transforms a cool street market in London – a jumble of stalls selling clothes, handmade items, household goods with a fair bit of tat for good measure.
Venture off the main drag for even more treats: the Sunday Upmarket brims with designer makers selling gorgeous jewellery and accessories and a similar vibe can also be found at the Backyard Market. Go to the Tea Rooms for vintage shops and quirky finds.
More concerned with filling your stomach? Head to the Boiler House Food Hall where you can (literally) eat your way around the globe if you have the space.
When to Visit: Sunday 10am – 5pm
Old Spitalfields Market
Spitalfields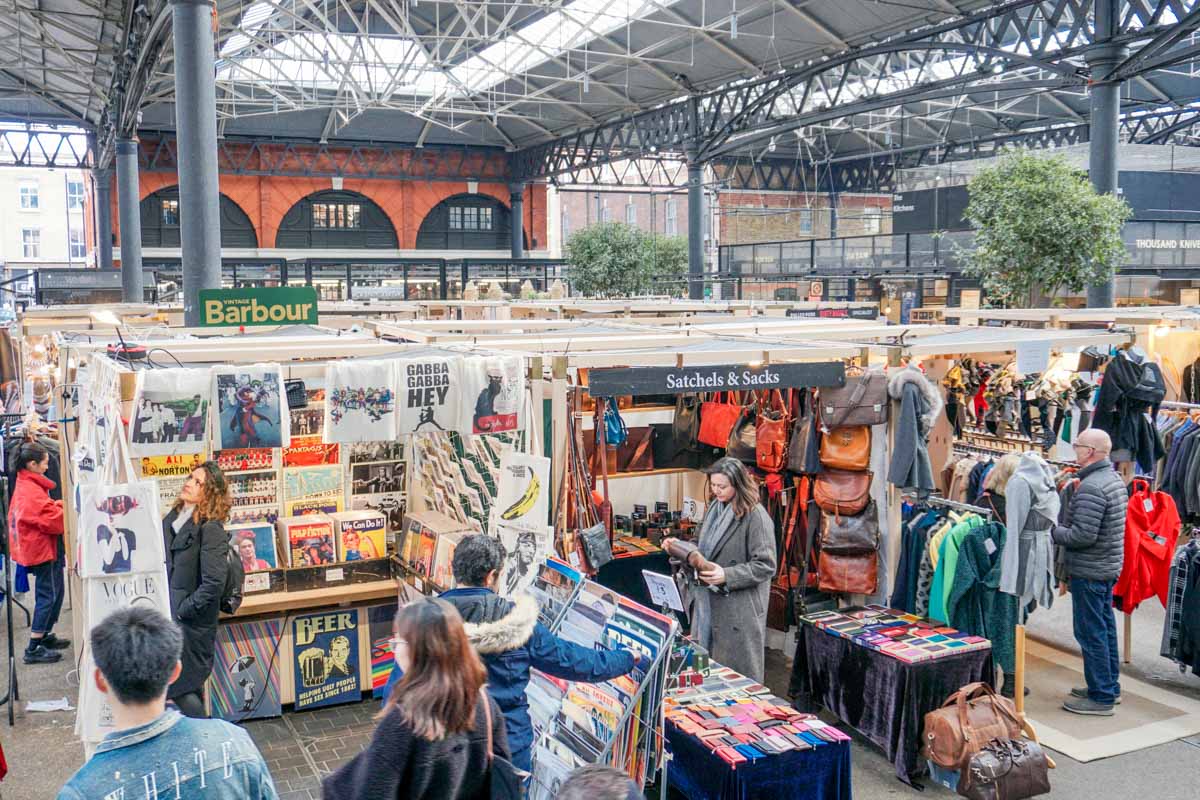 Housed in a cavernous space minutes from Liverpool Street station, Old Spitalfields' rejuvenation saw it transformed from a tired trader hub to a bustling destination and shoppers' idyll. Unlike many other London markets, it's open every day – with a changing roster of traders that guarantees no two visits are exactly the same.
On Thursdays, antiques lovers descend for the Old Spitalfields Antique Market, when you should go early for the widest selection.
Shopping is a big part of the appeal – but so is food, with a host of independent eateries in the small spaces that run along the market's periphery.
When to Visit: Monday, Tuesday, Wednesday, Friday 10am – 6pm, Thursday 8am – 6pm, Saturday 10am – 6pm, Sunday 10am – 5pm
Portobello Road
Notting Hill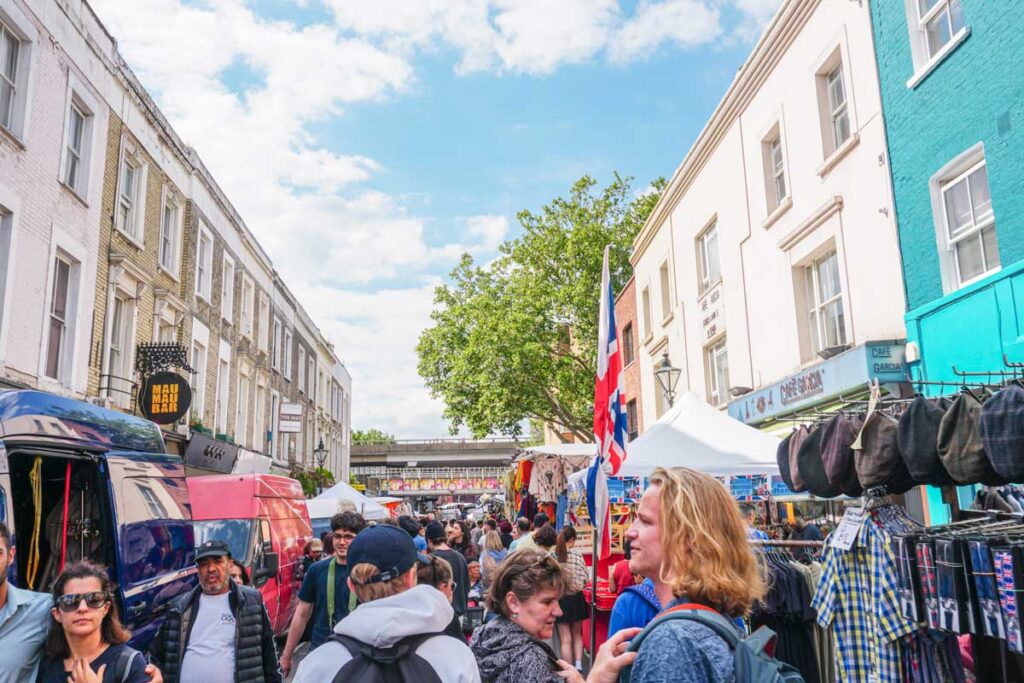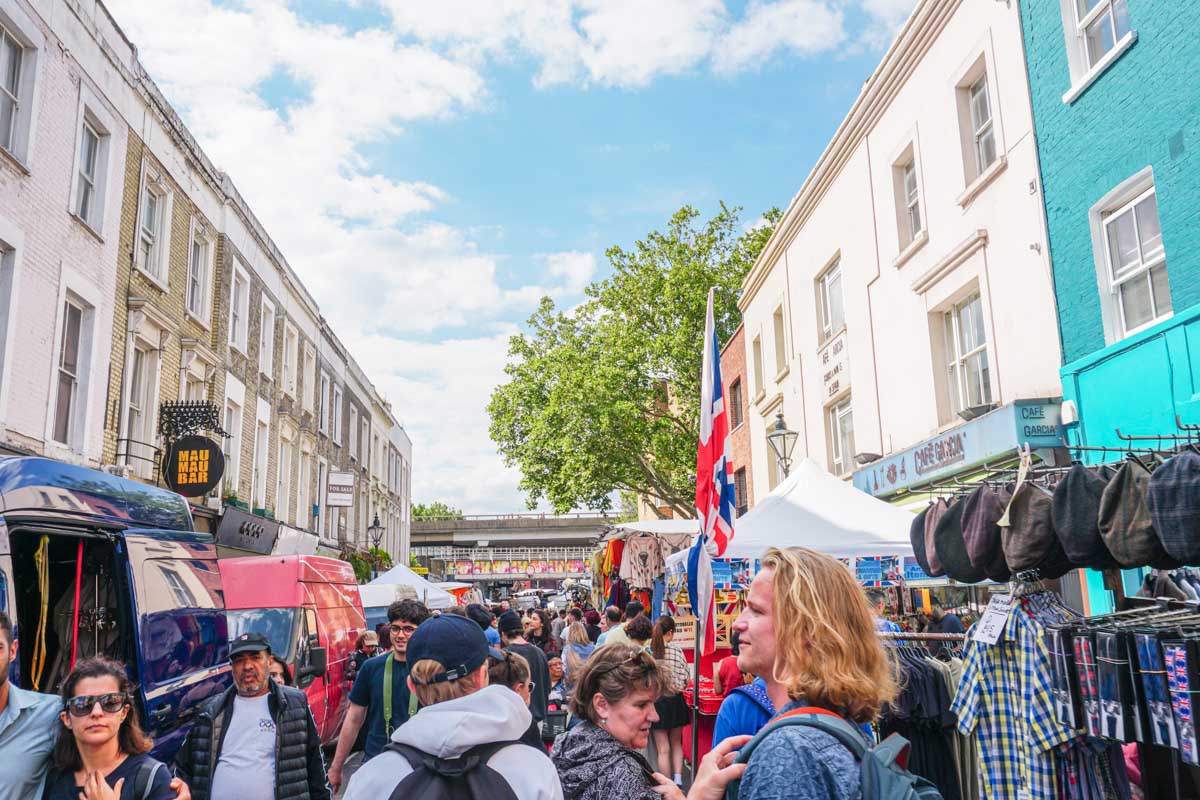 Portobello Road is the jewel in Notting Hill – the world's largest antiques market has retained its sense of charm and friendliness, even as the surrounding area has scaled the ladder of exclusivity.
The market, which wends its way along the sinuous Portobello Road is actually five interconnecting markets – with separate sections for fresh produce, clothing, second hand goods, household stuff, a flea market and antiques.
The antiques section, always sizable, really comes into its own on Saturdays – cementing Portobello's position as one of the go-to Saturday markets in London.
When to visit: 9am – 6pm Monday to Wednesday, 9am to 1pm Thursday, 9am to 7pm Friday (antiques) and 9am to 7pm Saturday (whole market).
Alfies Antiques Market
Marylebone
Alfies Antiques Market is a London gem, a historic antiques market that should be the very first stop for anyone looking for characterful furniture and accessories for their home.
This is London's largest indoors antiques and vintage market and it shows – there are over 100 dealers touting stunning pieces waiting to take pride of place in your home.
Away from furniture, there's also a great selection of vintage art, fashion, textiles and books.
When to Visit: Tuesday – Saturday 11 am – 4 pm
Broadway Market
Hackney
Hackney's Broadway Market is an east London success story – a place where locals and Londoners from further afield mingle amidst stalls selling fresh produce, deli items, clothes and (in normal times, though not currently) street food.
The market's been going since the Victorian times, but an early noughties relaunch made it the hub of Hackney life it is today.
When to Visit: Saturday 9am – 5pm
Greenwich Market
Greenwich
Greenwich's quaint eighteenth-century indoor market really does have a little bit of everything: there are food stalls (of course), joined by antiques, clothing and bric-a-brac.
If you get the feeling that it's a bit of a mishmash, you'd be right, but delving in and seeing what you find is one of the real joys of shopping in this stylish spot.
When to Visit: 10am – 5.30pm daily.
Brixton Village & Market Row
Brixton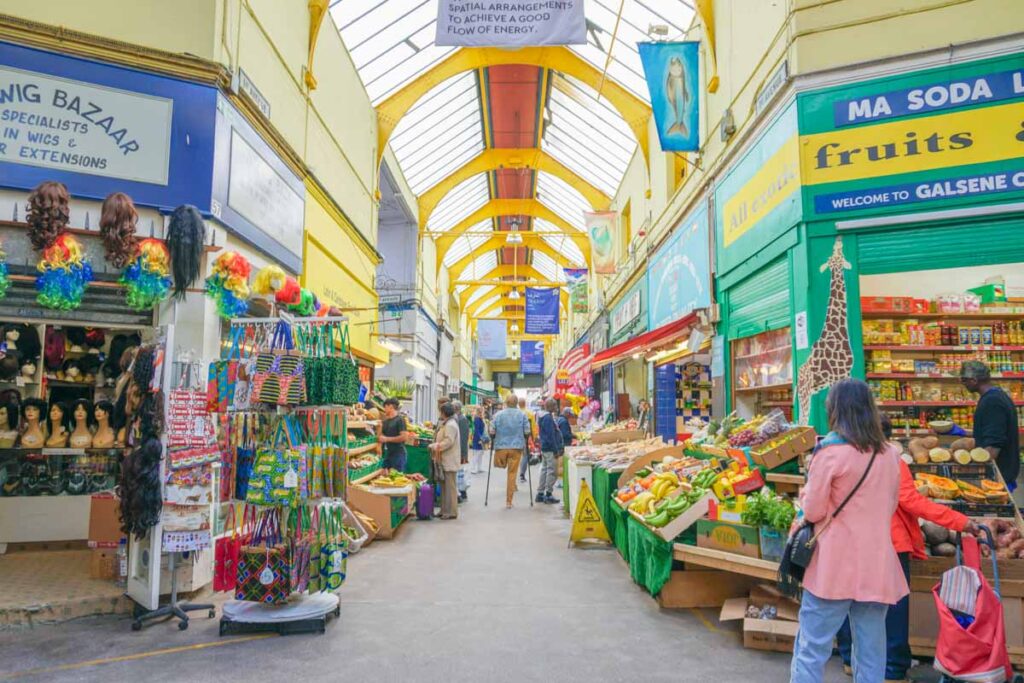 Brixton Village and Market Row might have changed (some would say gentrified) significantly during the course of the last decade but the eclectic array of stalls, shops and people remain.
It's a true slice of South London, where jerk chicken stalls rub shoulders with West Indian produce and upmarket cheese shops. The outdoor market along Electric Avenue is relatively typical – with traders touting pretty much everything you can think of (and a fair few you probably can't).
When to Visit: the arcade is open 8am – 11.30pm except Monday when it's 8am to 6pm – individual trader times vary.
Victoria Park Sunday Market
Hackney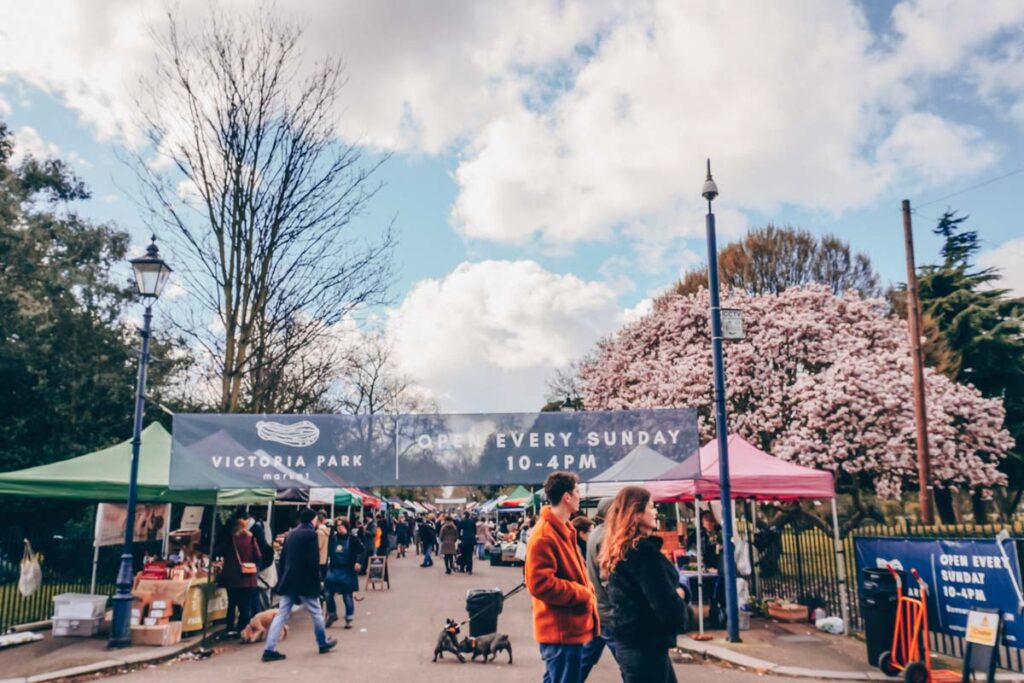 It's no secret that I love Victoria Park's brilliant Sunday market. Head to the section of the park just past the Gore Gate to discover a gastronomic delight. Each week, farmers truck in with their stalls brimming with the kind of fresh fruits and veg you couldn't even dream of finding in the supermarket. That would be appealing enough, but when you mix in goodies from Crosstown Doughnuts, Hoshi Street Food and Calamaria Canteen, you know it's going to pop.
When to Visit: 10am – 4pm Sunday.
Tooting Market
Tooting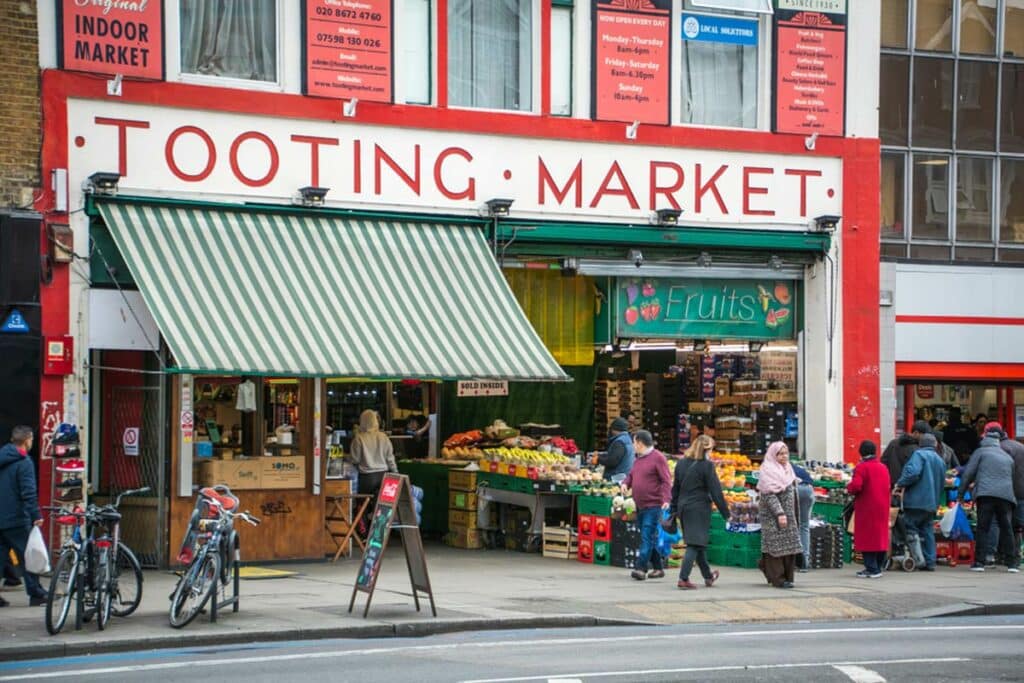 One of London's lesser known markets turns out to be a bit of a gem. Tooting Market has all the trappings of some of London's better known foodie hotspots, but on a smaller, more manageable scale.
You'll still find a host of places to eat from in cuisines that range the world from Guyana to Greece – with plenty of stops in between.
There's also plenty of styles to dine out in. Fancy some traditional, regional food? They've got it. Or do you prefer hip-hop to provide a backdrop to your burgers and craft beers? There's a spot for that too.
When to Visit: 8am – 11pm daily
Seven Dials Market
Seven Dials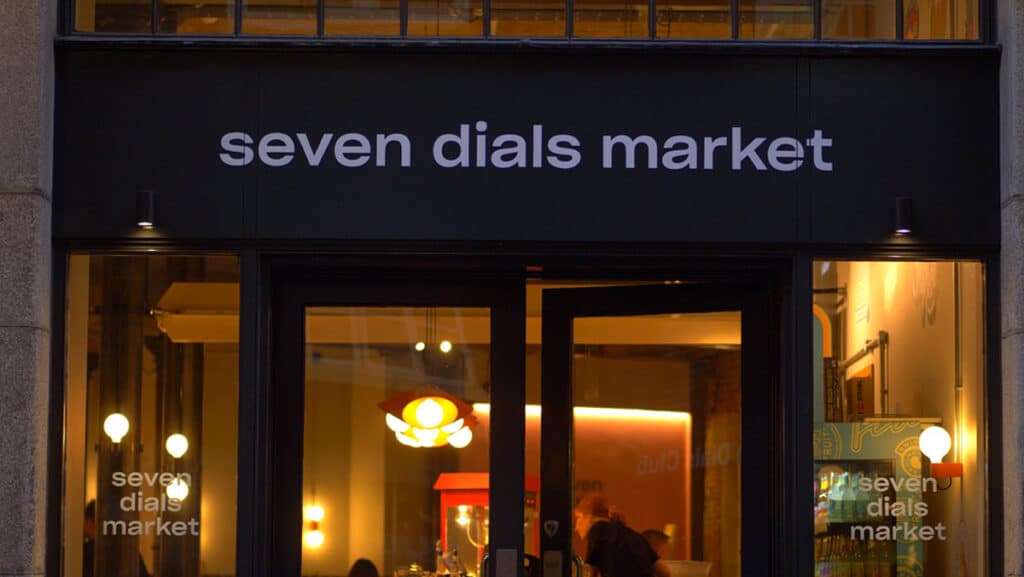 If it's food markets you're looking for you're going to be spoilt for choice in London, but one you definitely need on your radar is Seven Dials Market. Spot its characteristic banana logo and swing in to discover a low-key foodie heaven.
The grub here doesn't get too fancy. Expect to be eating with your hands and trying out the best of fast food from around the world.
They've got truffle burgers and big slices of pizza, New York style. There's some excellent fried chicken that shouldn't be missed as well as a Filipino spot that does some killer adobo. You should also make an appearance at the revolving cheese bar – if you can get a seat.
When to Visit: Mon – Fri 12 -11pm, Saturday 11am – 11pm, Sunday 11am – 9 pm
Lower Marsh Market
Waterloo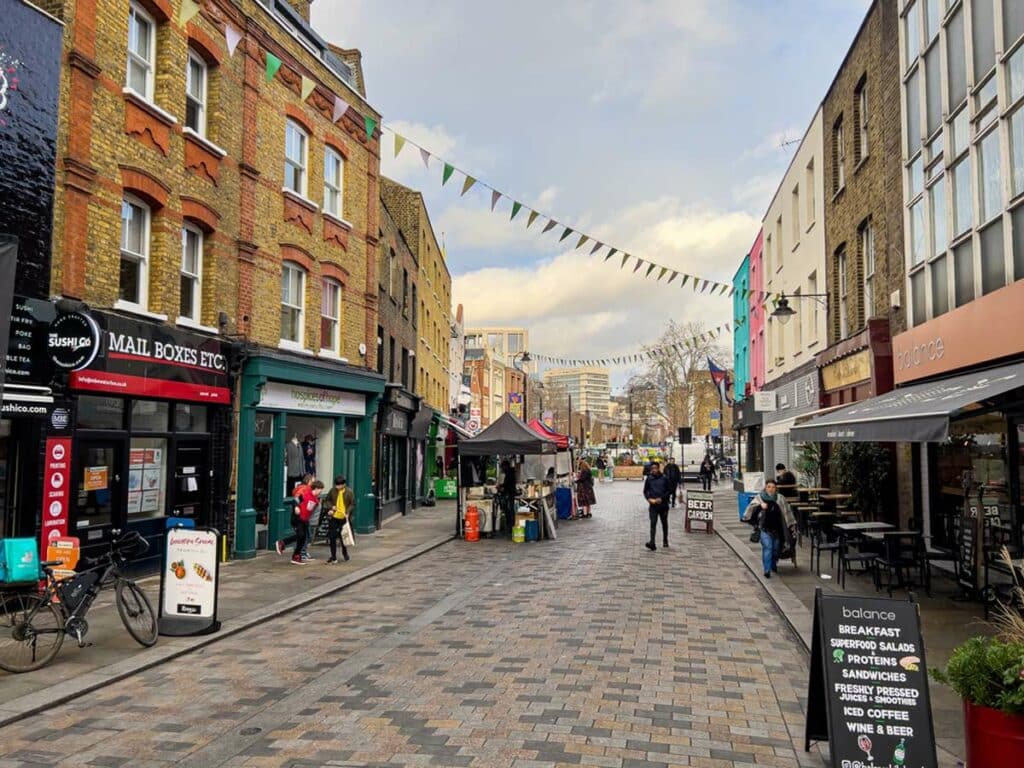 Waterloo's Lower Marsh Market has evolved over the years from a few stalls slinging street food to the hungry masses, into a weekend destination for shoppers of all kinds.
The market runs every day but it's Saturday you'll want to choose for a visit. That's the day where the market gets into full swing with vendors selling everything from trinkets you never knew you needed to vintage fashion.
Of course those original food vendors are still there – and now doing roaring trade – so there's plenty to choose from once you've built up a post-shopping-spree appetite.
When to Visit: Monday – Saturday 10am – 5pm
Leadenhall Market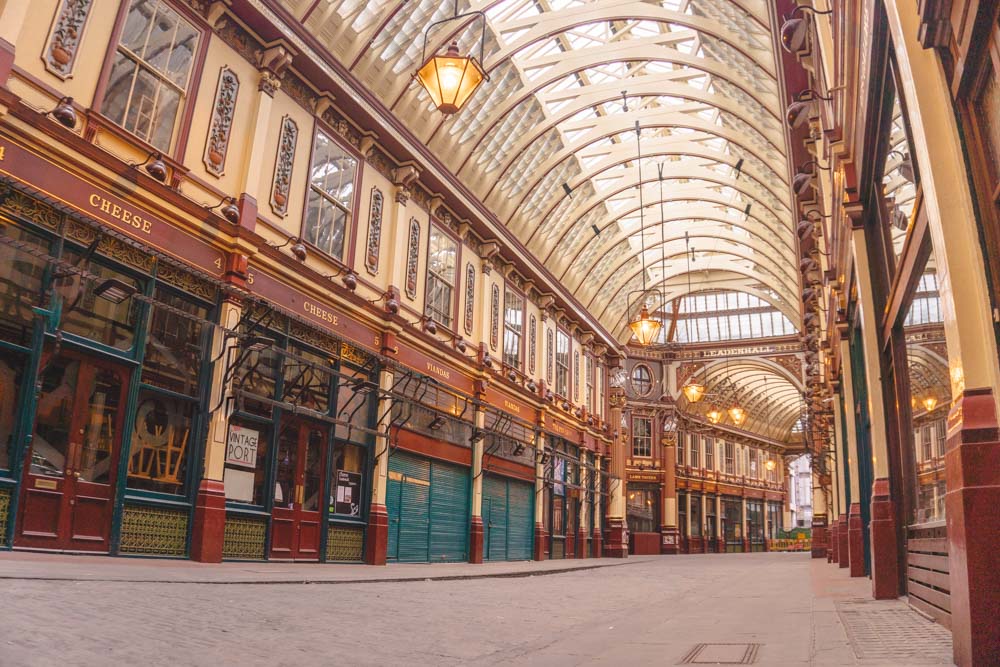 With over 700 years (yep, you read that correctly) of history, Leadenhall Market is a big player in London's rich market heritage. It's not short of glamorous, star-studded names either…
Now owned by the City of London Corporation, the market originally belonged to none other than Dick Whitington. That was back in the 1400s. In more recent history it's featured in the Harry Potter films as the set for Diagon Alley.
Leadenhall market is home to a host of traders that sell everything from bespoke shoes and suits to restaurants that turn out excellent French and Italian fare to pick a few. When you're all done shopping, post up at one of Leadenhall's bars and enjoy a glass of something to take the edge off.
When to Visit: You can walk through the market at any time of the day, any day of the week. Businesses in the market keep their own hours though.
Practical Tips and Map for Exploring the Best London Markets
While a lot of traders have started taking card payments, there are some that are still cash only – bring some cash with you just in case.
It's always easier to get to a market using public transport rather than driving as parking can be scarce and expensive.
Go early if you want to avoid the crowds