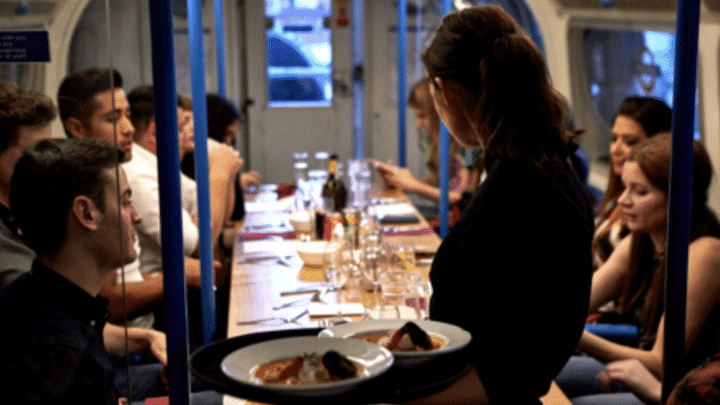 Looking for the best restaurants in Walthamstow? Here are 10 stellar spots serving up tasty dishes in the capital.
London's central bubble gets most of the fuss when it comes to places to dine. But head a little bit further out into Walthamstow and you'll find some excellent places to chow down.
Walthamstow's foodie scene is sprouting by the day – the charming Walthamstow Village is a great option for food and less expensive than central London. What's not to love?
It's also easily located at the end of the Victoria Line, so although it may look far on a map – it's really not.
Ready to explore Walthamstow's best restaurants?
Best Restaurants in Walthamstow
Sodo Pizza
££
Sodo Pizza used to be a local secret, but not anymore. This incredible sourdough pizza joint has really made a name for itself, mostly because every single one of their pizzas are so tasty.
They also boast a great natural wine selection matched with a funky interior with exposed brick and industrial feel. It makes for a cosy candle-light atmosphere which we love.
Whatever you order, make sure you get the garlic bread too. It's so thin and delicious, and no – it's not too much bread. Also packed with great vegan options, this is one of the best pizza places in Walthamstow.
Supperclub.tube
££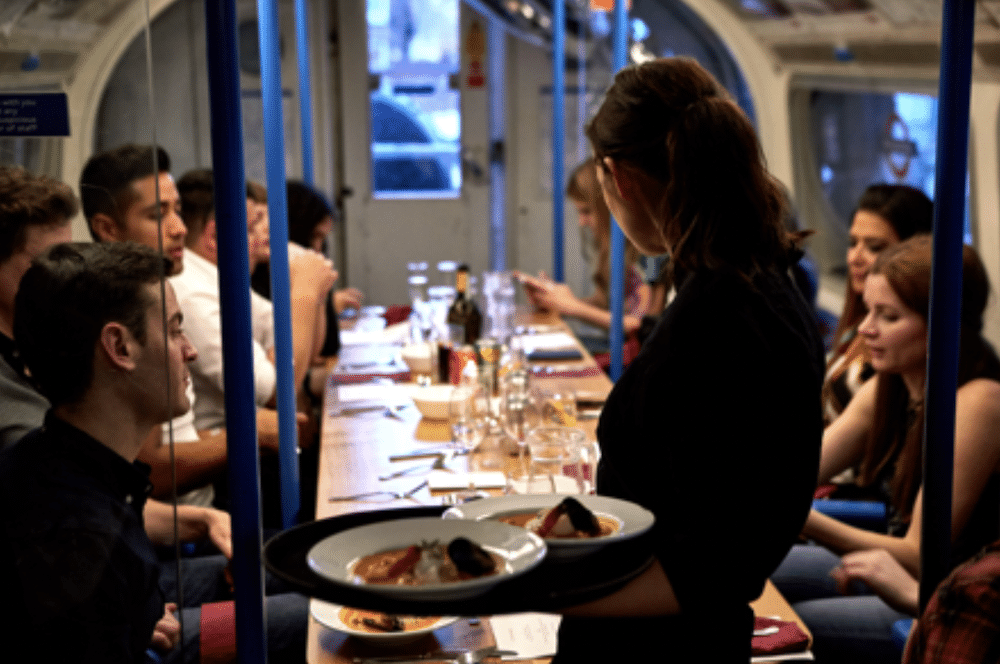 An absolute gem in Walthamstow and by far the most exciting dining experience we've come across – you actually get to eat inside an old Victoria London Underground Tube carriage.
You can find the Supperclub.tube in the Walthamstow Pumphouse Museum, only open on Thursday, Friday and Saturday night – make sure you book early. This has to be one of the quirkiest dinners in London.
Expect a six-course tasty menu, and may we add, one of the most affordable tasting menus in London. The menu is inspired by South American food and will bring you on an adventure with its cacophony of flavours.
The carriage only seats 35 guests and the price includes a drink on arrival. It's one of the best date spots in London and definitely something a bit different for those seeking a little bit more fun in their dinners.
The Kitchen
££
The Kitchen is a beautiful restaurant in Walthamstow Village that serves up tasty and comforting European dishes. It might be a small spot, but it's got exactly what you're looking for in a cosy atmosphere.
It's quite rare to see jerk chicken, green curries and pan fried sea bass on the same menu – when we say there's something for everyone, there really is.
It's usually pretty busy and they have some space outside where people can enjoy the sunshine, but definitely worth booking in advance.
Orford Saloon Tapas Bar
£
Heading to a fun tapas bar in Walthamstow is always a good idea. Orford Saloon has been around for a while, and is known for serving up some of the tastiest sharing plates out there.
If you're looking for authentic paella in London, this is your place. The prices are very reasonable, the food is delicious, and there's outdoor seating in the summer.
Head there for your garlic prawn and jamon fix, along with the very obvious paella choice.
Spice Box
£
If you're vegan, look no further than this fantastic plant based cafe which is serving up some of the best Indian dishes in the capital.
The curries and fresh chutneys are out of this world, and it's a great spot for a healthy(ish) dinner. We recommend trying out the coconut chick'n korma – the ingredients are fresh and you can guarantee you won't get an under-par meal here.
Eat 17 Restaurant
££
In town on a Sunday? Comfort food abound – Eat 17 is the best place for a Sunday Roast in Walthamstow and one of the most popular restaurants in the area.
Mouthwatering meats are served with buttery mashed potatoes and all the trimmings you could possibly want. What's more, the portions are also very generous – wear your stretchiest trousers and get ready to feast.
A restaurant with one of the best atmospheres in Walthamstow and the prices are reason alone to give it a visit.
Etles Uyghur Restaurant
£
Mind blowing North Asian cuisine served in a cosy restaurant is exactly what you'll get from Etles Uyghur. Think tasty kebabs over rice, dumpling soups, bread and stir-fried chicken noodles.
Basically, the menu is packed with all the feel-good comfort food you could possibly crave.
We really love their steamed manta dumplings and we have to say, we're slight dumpling snobs so these have passed some tough criteria.
The restaurant offers real authentic dishes from Xinjiang in Northwest China and are known for their pulled noodles – which are always a must.
Gökyüzü Walthamstow
££
Gökyüzü is one of the best Turkish restaurants in Walthamstow (and in London). The food is flavourful and the seating is spacious.
Get ready to be transported straight to Turkey, with plenty of fresh meats and tasty sides. Do yourself a flavour and order the lamb shish – it's mouthwateringly tender and packed with flavour.
The pomegranate salad is also delicious – they even have a few dishes that are slightly off-pistes, but definitely worth a try.
Other Places to Eat in Walthamstow
Froth & Rind
£
Ever dreamed of a place where you could get beer, coffee and cheese all in one place? Here we have it, the Walthamstow Village Gods have delivered Froth & Rind.
We're not just talking any old cheese, we're talking some of the very best artisan cheeses from East London. There's a big difference.
Similarly, the beers are all from local Walthamstow based breweries. Keep it local and keep it tasty. We love a place that doesn't try and overcomplicate anything, and that's why it's perfect.
Peeld Poke & Acai
££
It's no secret that Poke and Acai bowls are taking over the world – and Peeld Poke & Acai is very much at the forefront of the London scene.
A common issue with poke bowls is that there's just not enough in them – a lot of places seem to stinge out on the fish. Well, not this place. They're huge.
We recommend going for the tuna one with a little bit of Sriracha mayo on top, it's one of the tastiest Poke bowls in London.
Practical Tips for Exploring The Best Walthamstow Restaurants
Make sure you book in advance to guarantee a table. Particularly if you're after a Sunday roast at Eat 17.
Best Restaurants in Walthamstow: Map