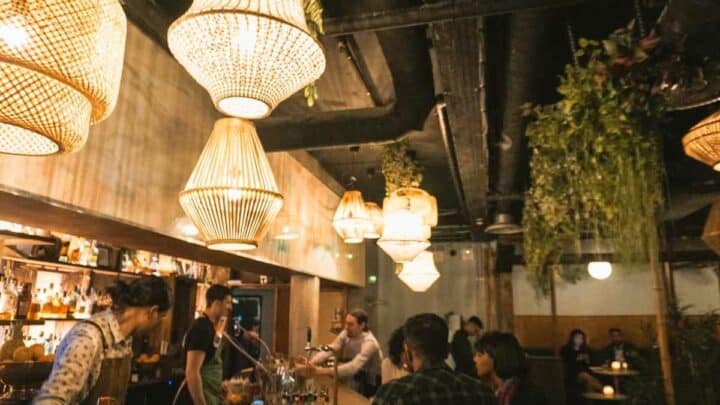 Looking for the best bars in London Bridge? Don't miss these cool spots – hidden cocktail speakeasies, chic wine bars and drinks with a view…unmissable London bridge bars for your little black book.
London Bridge has a surprising number of cool little bars tucked out of sight. What was once a rather dreary area has been busy adorning itself with some pretty cool drinking spots.
Quirky wine bars that serve organic wines on tap? Palm-filled speakeasies serving banging cocktails? Let's just say there's plenty for you to discover.
You might accidentally find a few of these gems, but sometimes you need a little push in the right direction.
Looking for the best bars in London Bridge? We've got you covered.
The Best London Bridge Bars
Nine Lives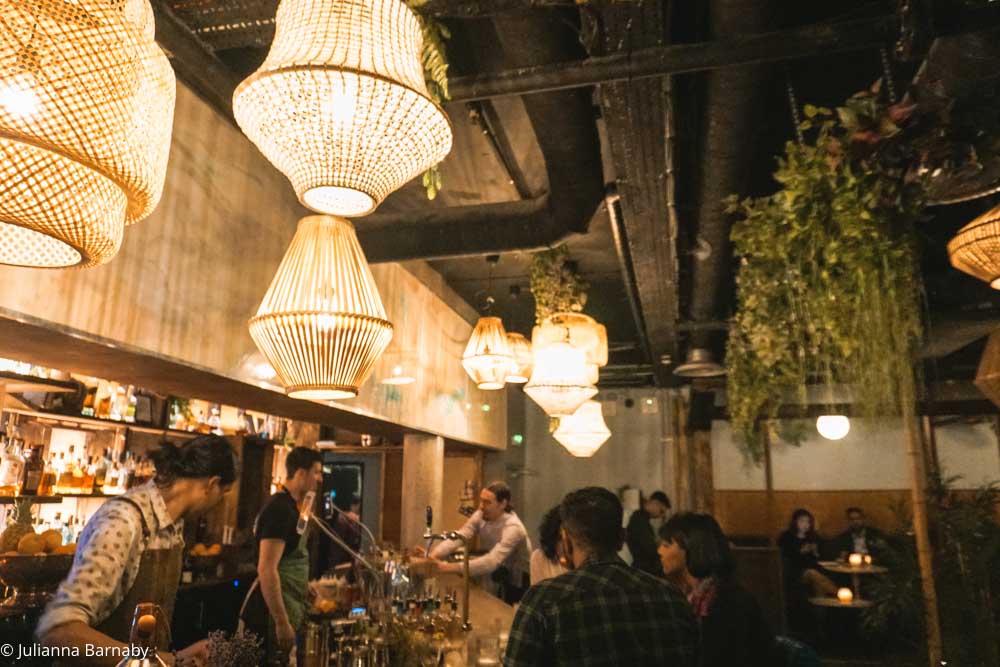 Who doesn't love a cosy and intimate cocktail bar with plenty of unique character? Amongst a sea of sleek, corporate London Bridge bars, Nine Lives offers something different, and we love it for that.
Just a short walk from London Bridge station, it proudly describes itself as a 'neighbourhood bar' with a commitment to doing good for guests and the world.
Walking into a basement filled with tropical plants is the first sign that this is something a little special. The retro-cool tunes, a second. But really, it's ultimately the cocktails that make Nine Lives shine.
Their cocktail list – carefully crafted by "giving a sh*t about everything", apparently – is divine.
There are a few familiar faces on there, but half the fun is going for the specials. Tropicalifornication – a quirky but oh so drinkable blend of banana rum, pineapple rum, bitters, lime and egg white – is one of those cocktails that has you ordering a second before you've even finished your first.
While most of the time it's got a fairly laid back vibe, Nine Lives comes alive on Saturday nights and throws a huge party. Cocktail jugs and dancing? Yes, please.
Whichever night you go, book ahead – it's one of the few bars we've ever seen totally popping on a Tuesday night. We would go as far as to say this spot serves the best cocktails London Bridge boasts.
Read More: Nine Lives – The Fabulous Secret Bar in London Bridge
Gong at the Shard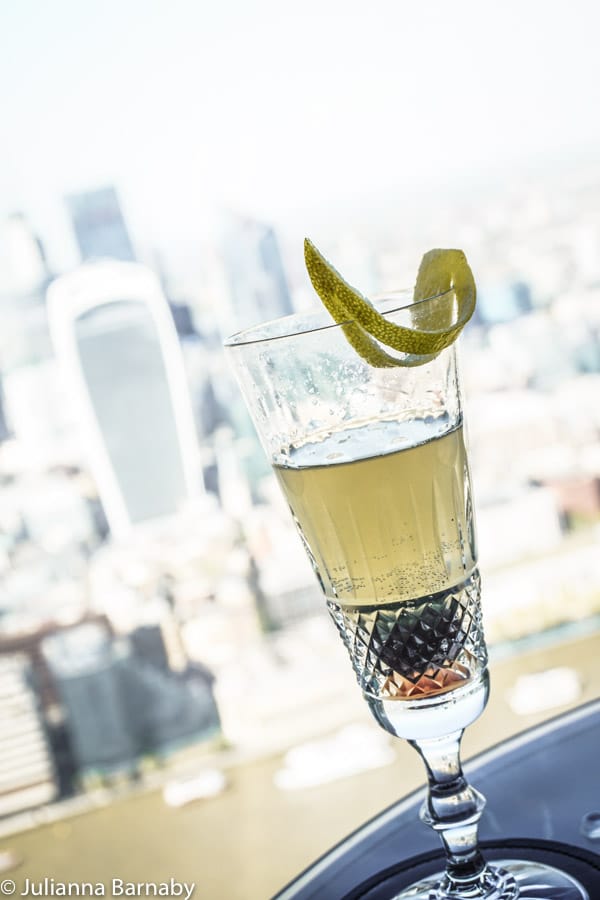 Sometimes you want a drink and sometimes nothing but the fanciest drink will do. In those cases, you should head to Gong at the Shard.
How many bars offer you the chance to sip on your cocktail and feel pretty f*cking fabulous as you gaze on the views from the 52nd floor? The answer is one – Gong.
London's highest bar is perched in The Shard a.k.a London's tallest building – surprise surprise – it has the views to match.
This isn't your bog-standard champagne and cocktail bar. The drinks menu features an array of cocktails spanning the Asian continent, from the Singaporean Tamasek to a bitterly delicious Chinese Jianguo.
Of course, 52nd floor views and fancy cocktails come at a price – around £20 per cocktail the last time we swung by, so best save it for a blow out night. We recommend booking ahead to nab a table with a view for maximum wow factor – you want it at these prices.
Read More: Romantic Things to do in London
Although it's a little lower than Gong on level 31 of the Shard, the views from the Atrium Bar might be even better.
Hovering over the London skyline, it's one of the best places to drink in London Bridge, thanks to the exceptional drinks menu. Oh, and those views – better than any rooftop bar in London Bridge, and cosier too.
The cocktail menu is as impressive as you'd expect, and there's a fabulous wine list featuring top drops from around the globe.
Cocktails are based on the elements, from the fiery sake-based Coalescence to the water-inspired Heavenly Punched – a blend of gin, vodka, peach, orange blossom, tangerine, cardamom, Norfolk sage and a dash of black pepper for good measure.
You can't make a reservation at the bar so you just have to cross your fingers and toes that there's a window seat just waiting for you. It stays open until 3am on the weekends, so it's a particularly good choice if you're looking for a late-night bar in London Bridge.
Atrium Bar at Aqua Shard
Although it's a little lower than Gong on level 31 of the Shard, the views from the Atrium Bar might be even better.
Hovering over the London skyline, it's one of the best places to drink in London Bridge, thanks to the exceptional drinks menu. Oh, and those views – better than any rooftop bar in London Bridge, and cosier too.
The cocktail menu is as impressive as you'd expect, and there's a fabulous wine list featuring top drops from around the globe.
Cocktails are based on the elements, from the fiery sake-based Coalescence to the water-inspired Heavenly Punched – a blend of gin, vodka, peach, orange blossom, tangerine, cardamom, Norfolk sage and a dash of black pepper for good measure.
You can't make a reservation at the bar so you just have to cross your fingers and toes that there's a window seat just waiting for you. It stays open until 3am on the weekends, so it's a particularly good choice if you're looking for a late-night bar in London Bridge.
Jensen's Gin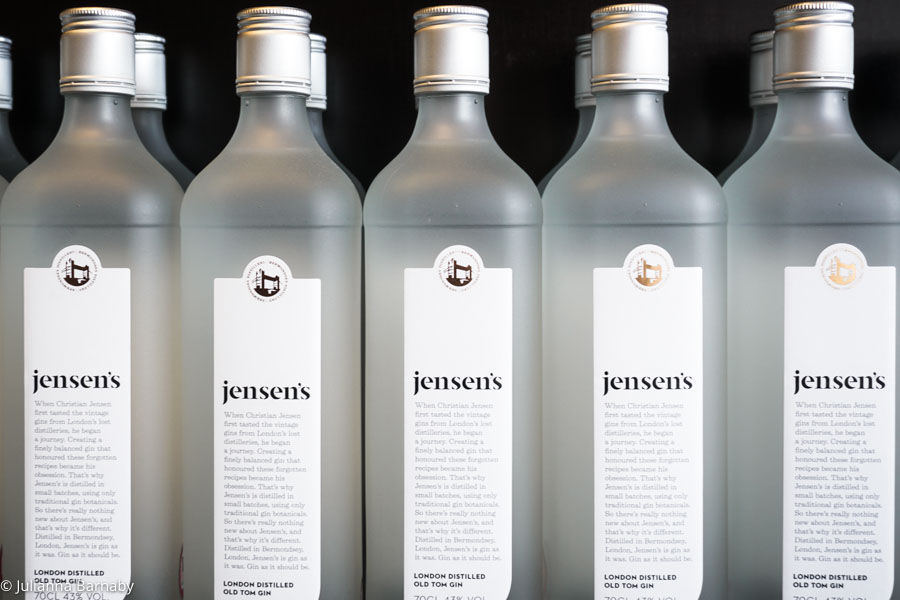 Many distilleries have experimented with all kinds of newfangled approaches to gin making, Jensen's Gin at Bermondsey Distillery has gone very much in the opposite direction.
Instead, Jensen's became obsessed with recreating the flavours and styles of 19th century London gins. Not satisfied with simply being inspired by the gins of old, they took it one step further and tracked down historic recipes.
Their Old Tom gin, for example, is created using an authentic 1840s recipe.
Jensen's offers tours of their distillery (which just so happens to be located near the start of the famous Bermondsey Beer Mile) but you can also try out their gin at their Maltby Street market stall.
Each weekend, tastings and cocktails are available within the bustling market.
Tap & Bottle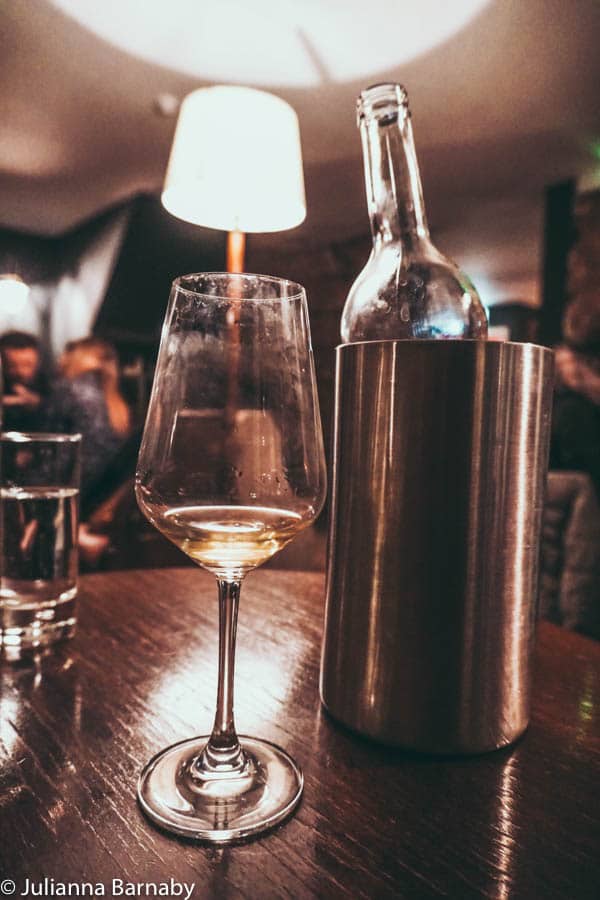 Attention oenophiles (that's a fancy term for wine lovers), the Tap & Bottle is a London Bridge wine bar. It's USP? Wine on tap.
As well as the novelty factor, having wine on tap is more environmentally friendly and it doesn't affect the taste negatively – in fact, it prevents the wine from going off.
The wine is carefully sourced from all over the world, and you're welcome to put a few varieties to the test before choosing your glass (or bottle). Then sit back and enjoy the rustic, charming setting (part of the very cool Flat Iron Square space). There's even a small outdoor courtyard for warmer days.
The wine is so good here that it's pretty tough not to have just that one glass too many as you're ensconced on your cosy pew and having a good old gossip. It's just the kind of chilled out and friendly wine bar that London Bridge never knew it needed until it came.
Read Next: Here's Why You Need to Visit Flat Iron Square
Hide Bar
Located next to the Wine & Spirits Education Trust, it's no wonder that the Hide Bar boasts such an impressive selection of booze, with a heavy emphasis on local offerings.
In fact, the majority of drinks on offer at Hide Bar are sourced from no more than two kilometres away.
Keeping with the local theme, most of the cocktails are inspired by well-known London haunts and icons, such as the Chiswick Flower Market – a silky-smooth combination of vodka, elderflower, lavender bitters, lemon and honey cloud (don't knock it until you've tried it – it's heavenly).
Hide Bar is certainly one of the best cocktail bars near London Bridge station (it's only a five-minute walk), and the focus on locally produced spirits makes it stand out.
Read Next: Cool Pubs in London Bridge
Call Me Mr Lucky
Cool bars in London Bridge are ten a penny – but Call Me Mr Lucky is a little different.
Yes peeps, this is a real speakeasy – you need to tell a staff member that you're "feeling lucky" to get entry into this quirky bar.
Say the magic words and you're whisked through a secret basement, to arrive in an effortlessly cool bar complete with barely-there lighting and eclectic decor.
There's a great cocktail menu serving up "dirty little regulars" (A Melon Love Songs Later is pretty much guaranteed to perk you up) as well as a few ever-changing specials.
The food's great too. Their menu reads like an American diner, you'll be hard-pressed to choose between comfort food classics like jalapeno poppers and their signature Philly burger.
Bar Tozino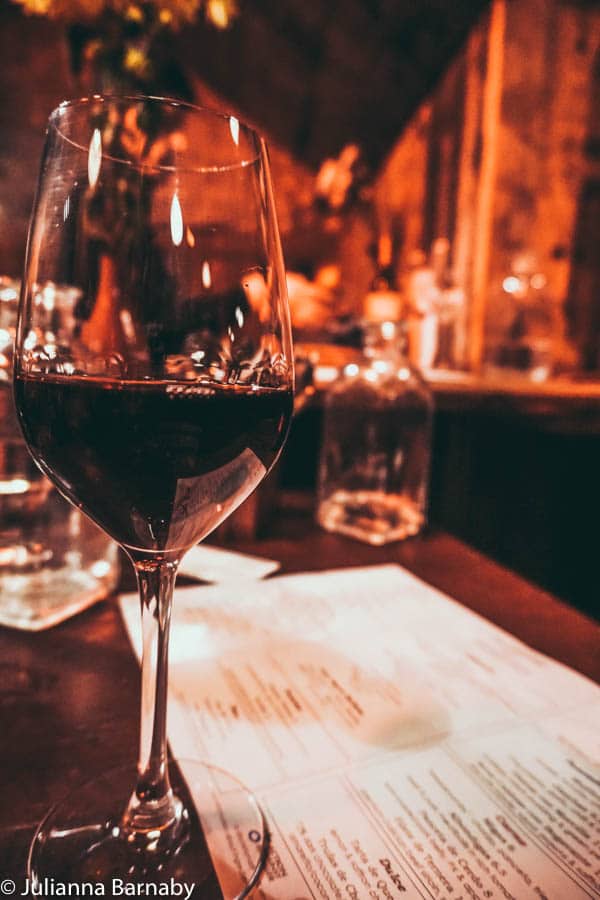 At what point does a bar become a restaurant?
Quite frankly, Bar Tozino does both pretty damned well. It's a tapas bar, but the wines are so good that if you took away the food, we bet the punters would still come in their droves.
Luckily for all of us, you don't have to choose between drinks or food – you can have both. And that, friends, is a very good thing. Because tasty as the wine, bubbles and cervezas (beers) at Bar Tozino, OMG the tapas is mind-blowingly good.
Tapas in London is usually a poor imitation of what you find in Spain – devoid of all the joy and flavour that makes Spanish food so appealing in the first place.
We don't know how they've done it, but Bar Tozino neatly side steps all of that to bring you a proper tapas bar – with all the piquancy and tang of the real deal.
Prosecco House
Who doesn't love prosecco? It's all bubbles and glamour and feeling like you're on top of the world (well, perhaps until the morning after).
Perfect for a special occasion or just a cheeky night out with your friends.
It was really only a matter of time, really, before you found there was a prosecco bar in London Bridge. Enter the Prosecco House, proudly devoted to the art of bubbly.
Located at One Tower Bridge, the simple bar is stylish but not over-the-top. Instead, the emphasis is on prosecco, with carefully selected choices from all over the world. There's some classics as well as some interesting options, like a sugar-free 26° Brut.
The prices are on the pointy end even for London Bridge, but hey, after enough prosecco you pretty much won't care.
Whiskey Ginger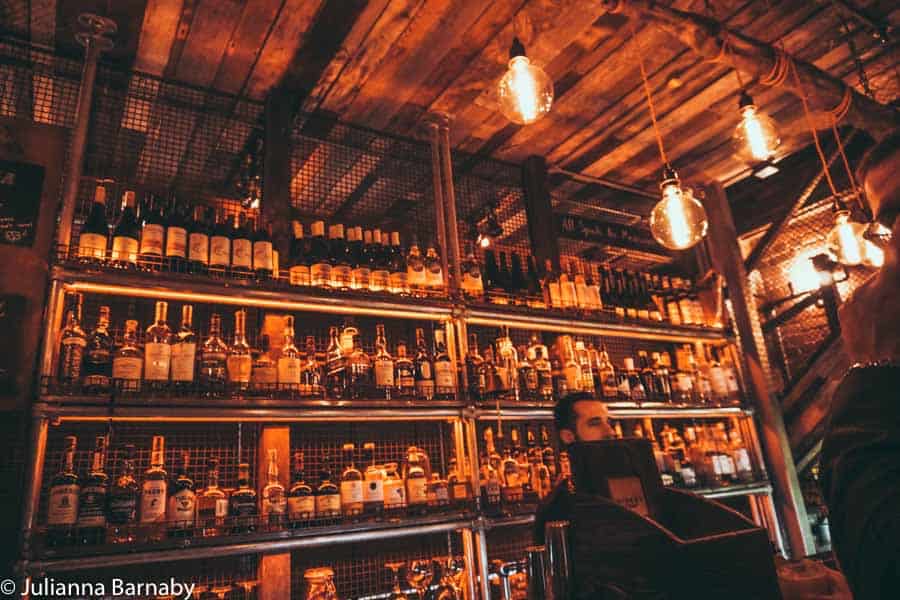 Good bars in London Bridge may be aplenty, but Whiskey Ginger is a particular stand-out.
It boasts a great location next to the bustling Borough Market and a very, very generous list of whiskeys. For novice whiskey drinkers, the staff are on-hand to provide recommendations and advice on how best to taste and enjoy the dark spirit.
There's also an extensive cocktail list if you prefer your drinks mixed. Most are whiskey-based, but there are other options as well.
Now, we'll be honest. The location is a blessing and a curse. On the one hand, it's perfect for a cheeky tipple.
On the other, it gets packed and you may end up sipping your drink with someone's handbag in your face (yay). Don't let it put you off. The whisky is worth the sacrifice.
Bob's Lobster Wine Bar & Kitchen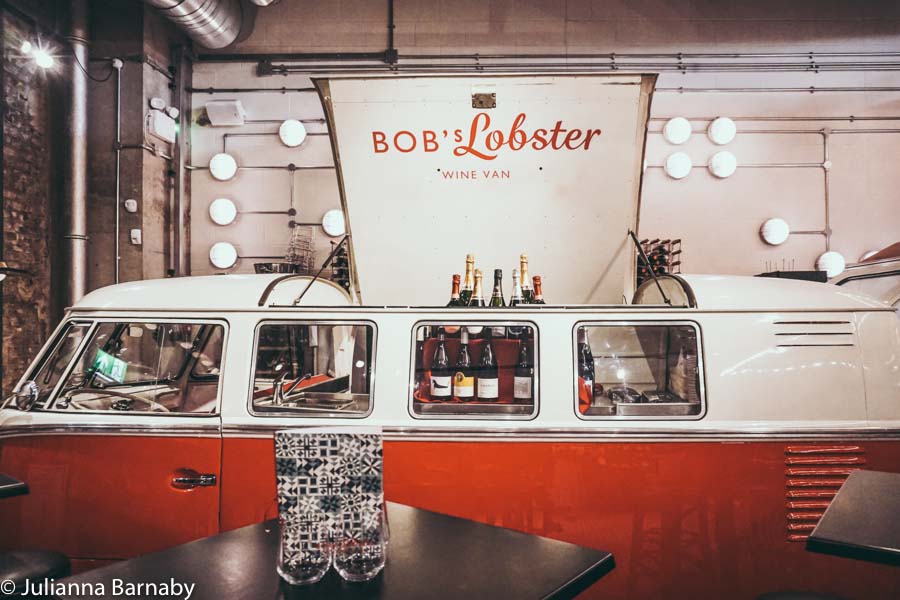 Lobster and wine -it's almost like Bob delved into our gastronomic dreams and created somewhere to suit.
That's short for saying you should definitely head to Bob's Lobster Wine Bar.
While the menu might sound fancy, this London Bridge bar-come-restaurant is actually totally unpretentious. In fact, it started out its life in a food truck.
Not one to shy away from their humble beginnings, their former van is actually part of the decor – you can't miss it.
The food and drinks menu changes depending on the season, but there's always an emphasis on delicious seafood with a bit of a cajun/southern twist (think shrimp 'n' grits and po boys).
The wine list is excellent. Rather than offer an overwhelming laundry list of choices, the drops are carefully selected and rotate often. The list is modest in number but huge in quality.
40 Maltby Street
This London Bridge bar is owned by a winery, so you'd expect the wine to be excellent. It is, of course, but it's almost outshone by its incredible food.
It's the mix of delightful wine and delicious food that makes 40 Maltby Street easily one of the best bars in London Bridge, in our opinion.
Both are true to the ethos of owners Gergovie Wines, who promote fuss-free winemaking that avoids additives as much as possible.
If you fall madly in love with their wine (highly possible) you can buy a few bottles to take home. This can be dangerous after a few glasses.
The no-frills approach also reflects in their food. The charcuterie boards are amazing and a great accompaniment for some evening drinks, but the main meals are truly scrumptious. It's the kind of place you can easily spend a whole evening at.
The Boot & Flogger
Sometimes you just want to visit a bar that makes you feel really fancy. That place could well be the Boot & Flogger.
We know, its name doesn't exactly scream "prim and proper", but its wine list certainly does. Don't make any mistake – this is one of the best wine bars in London Bridge.
Make a point of remembering a few varieties to name and impress your fancy friends later on – the 2010 Valserrano Gran Reserva should do the trick.
Surprisingly, although the Boot & Flogger has enjoyed a stellar reputation since opening as (arguably) London's first wine bar in 1964, the prices are pretty reasonable.
As you'd expect, the food is scrumptious as well, with a proudly British menu with a few innovative twists. The grilled scallops are a particular delight.
214 Bermondsey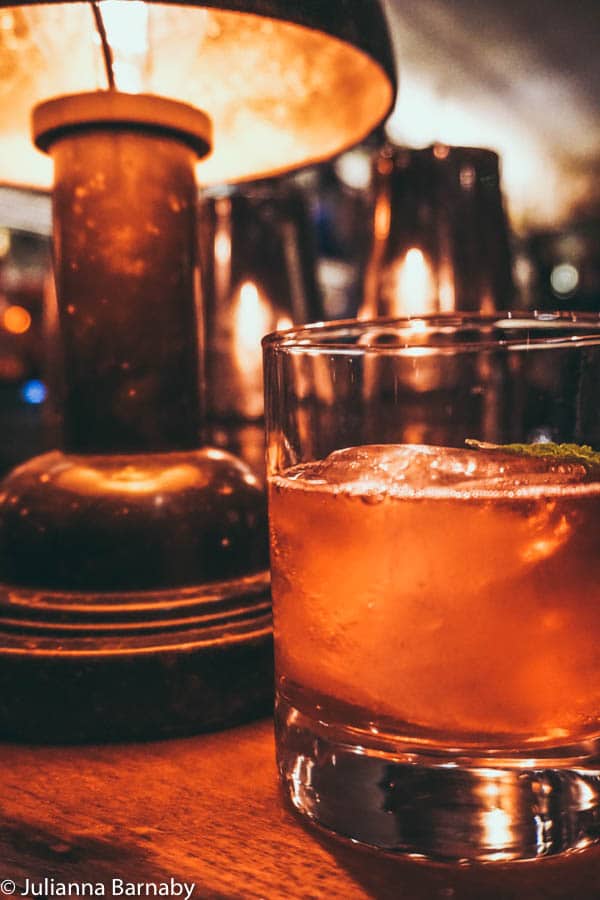 We've already mentioned how London loves a good gin. Case in point: 214 Bermondsey, a brilliant London Bridge bar with more than 100 gins available.
They're so serious about crafting the perfect gin and tonic that they've even created their own Bermondsey Tonic to use in their drinks.
The menu is certainly a who's who of the gin world. With everything from micro-producers of London dry gin to heavyweights like the Tanqueray, you're spoiled for choice. Helpfully, it's divvied up according to style to help you find your ideal drop.
While the crew at 214 Bermondsey are serious about their gin, they're absolutely not pretentious. Everyone is welcome, and every Sunday they hold a fun and friendly tiki party – because nothing says Sunday like reduced price tiki cocktails in an underground bar.
Doodle Bar
Some people may have thought a bar where you could scribble on the walls was a short-lived gimmick. Ten years later, Doodle Bar remains a true London Bridge drinks favourite – albeit one that lived through a short closure back in 2015.
Anyway, the bar is back for good now, much to the delight of locals and visitors. And yes, you can still scribble on the walls – they even provide the chalk.
There's also ping-pong and, of course, drinks. They're tasty and affordable, but it's the activities that really make Doodle Bar such a gem.
They also have a regular calendar of events and workshops from screen printing to movie screenings. Sports matches, too, are often up on the big screen – it's not quite a sports bar in London Bridge, but it comes pretty close on game day.
No doubt, it's a fun and unique offering that's a much-loved gem for good reason.
The Alexander Hay Pub
Established in 1860, you could say that The Alexander Hay Pub (previously Balls Brothers) company knows a thing or two about putting together a great wine bar.
In fact, their Tooley Street offering is one of the best bars around London Bridge, with gorgeous decor. The arched ceilings remind you of London Bridge itself.
Sure, all sounds great, but the bar's biggest selling point is not that well-known… it has its own petanque pitch! Because sipping on wine and playing petanque (a form of boules) is absolutely something that every Londoner should do of an evening.
It's a cosy, elegant place to enjoy some fabulous wines just a stone's throw from the most well-known icons of London – it's in tottering distance to Tower Bridge and only a short walk from The Shard.
They also do some delicious meals in cooperation with independent butchers Ginger Pig, including a steak pie with meat sourced from the family farm in North Yorkshire.
The bar is open mid-week, but on weekends it is only available for private hire.
Gaucho
Not only does Argentinian restaurant and bar Gaucho serve up some incredible meat dishes, but there's also a detailed wine menu to feast your eyes upon.
With drinks spanning from Argentinian reds to exclusive Pommery Champagnes, there's something to suit all tastes (and more importantly, compliment every dish).
The interior is stylish, with an open bar and opulent lighting creating a wonderful atmosphere. But make sure to ask for a table on the terrace for breathtaking views of Southbank and Tower Bridge.
If you do opt for food (and we recommend), their steaks impress – it's easy to see why they are named after skilled Argentinian farmers. The meat is imported from Argentina and fed on fertile pampas-land, so you can imagine the kind of quality you're getting here.
The Telephone Exchange
If something a bit more traditional is what you're after, The Telephone Exchange is the best wine bar London Bridge has to offer.
Recently refurbished, the bar has gone from dated to hip, with colourful walls and comfy red-leather seating as the main focal points.
And the drinks? You've got everything from craft beer, fine wines, an extensive cocktail list, and what The Telephone Exchange calls 'the best G&T in town' – and we have to say, it's pretty good.
TwoRuba
Arguably one of the swankiest cocktail bars in London, you'll find TwoRuba inside The Hilton Hotel at Tower Bridge. The bar is a vision of velvet, neon lighting, and leather, and the drinks don't disappoint either.
The mixologists at TwoRuba really are masters of their craft, and the menu boasts a selection of classic cocktails alongside some more unusual offerings – give the chilli cucumber margarita a chance, trust us.
Excitingly, TwoRuba also has one of those cool machines that prints your face onto a cocktail, or you can get a London landmark of your choice (yes, we're a sucker for a gimmick).
El Vino
If it isn't clear already, we're keen advocates of a tapas bar, and El Vino serves up some brilliant Portuguese, Spanish, and South American wines.
As much as we love an upmarket spot, there's something so fun about a small, informal bar, where you can wear what you want and drink what you fancy (we suppose the delicious food helps, too).
Speaking of food, on the menu here is a selection of classic tapas dishes including a tasty Charcuterie plate and spicy patatas bravas – whether you want to make a meal of it or just grab a couple of plates to go with a glass of wine is up to you.
The location of El Vino means that it's perfect for people watching on the terrace. And, as it's open til 11pm on Friday and Saturday, it's a great place for you to start the night.
The Rake
Hidden away behind Borough Market is a spot completely dedicated to beer – if you're a fan of the good stuff you'll want to make a beeline for this London Bridge bar.
The Rake has a small but perfectly formed menu of Utobeer that changes frequently, so you're never quite sure what you're going to get. But that's part of the fun, we think.
The motto is simple: No Crap on Tap. We love it.
We'll level with you, this is another spot prone to overcrowding. Visit during the week for a calm beer-quaffing experience, or dare to elbow your way to the bar on a Saturday evening.
Practical Information for Navigating Your Way Around London Bridge's Bars
London Bridge covers a surprisingly large area – with Maltby Street and Tower Bridge at one end and Southwark at the other.
There are a number of bars clustered around Bermondsey Street and Maltby Street, so if you're looking to do a bit of bar hopping, they're good places to start.
Even though it's in the centre of London – prices aren't universally high. Tap & Bottle is brilliant value if you're after great-quality wine and 214 Bermondsey serves a mean drink at relatively affordable prices, while Nine Lives pairs banging music and great cocktails. On the other hand, Gong in The Shard is one of London's most expensive bars – but it has the cocktails and the views to match.
London Bridge Bars: Map