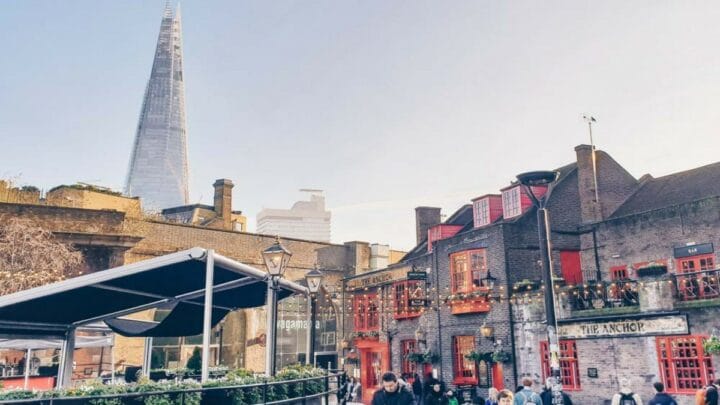 Ready to discover the best pubs in and around Borough Market? Try these stellar spots.
We dare you to try and walk around Borough Market without a smile on your face. It's impossible!
So you've walked around Borough Market and now you're wondering… Where do I get a drink? Well, we've got you covered.
Discover the best Borough Market pubs, and of course, the best pub food in Borough Market.
Enjoy! (Maybe don't try all of them on the same day though).
Pubs in Borough Market
'Blending the hip and the wholesome', and don't we love to hear it. Quirky, laid back and above all, memorable. Oak-floored bar and exposed brick basement dining room, we couldn't love this pub anymore.
The fish and chips are a must and for that reason, the Southwark Tavern has some of the best pub food in Borough Market.
It's not really a cocktail place, although they do have cocktails, we'd recommended sticking to beers and wine for this one.
Busy almost every night of the week, the Bunch of Grapes is a wonderful pub in Borough Market. They take their 200 year heritage very seriously and if you like ale, you'll love their Young's classic ales.
This pub has a fantastic heated, covered garden (some say the secret garden area is one of Borough Market's best kept secrets!)
Fantastic seasonal food and one of our favourites for a sunday roast near Borough Market. Watch out, the roasts are only served between 12pm and 4pm.
Conveniently about a 2 minute walk from Borough Market, this authentic 17th century pub has it all. Oak beams and the best of all, a large outdoor seating area!
It's reasonably priced and packed with good old pub grub, from steak and ale pies to fish and chips or tasty lasagne. If you've got a craving, we're sure they'll be able to satisfy it.
A great place to try craft beers and tasty cocktails.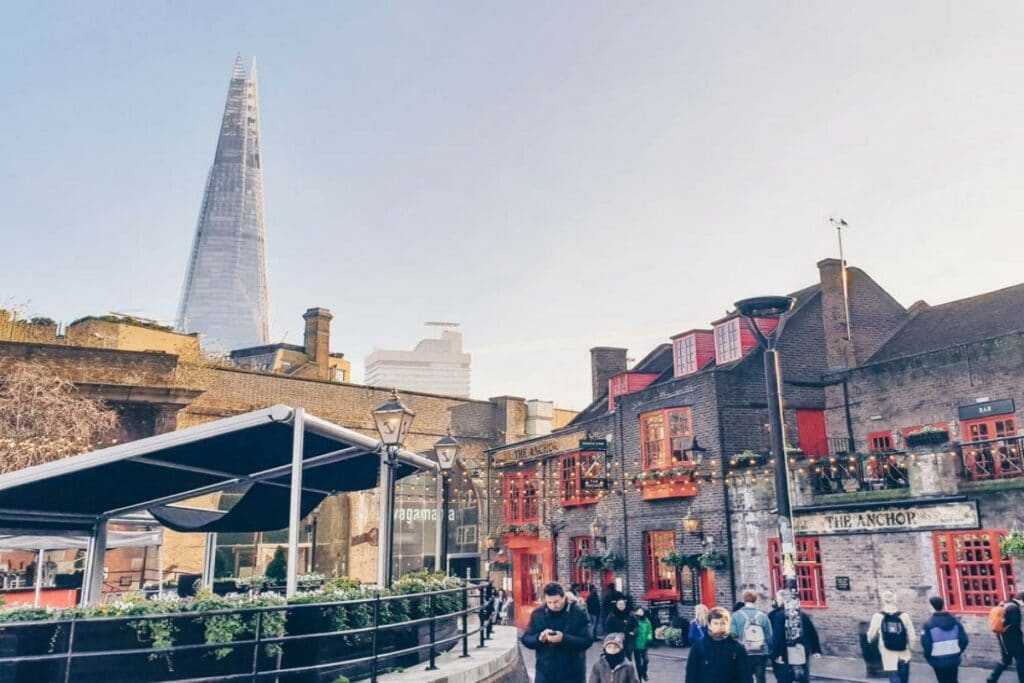 Wondering what it feels like to drink at a pub that's been open for over 800 years? Well, now is your chance to find out. The Anchor Bankside is one of London's oldest pubs!
Not only has it been open for a slightly ridiculous amount of time, it's also the last remaining riverside tavern leftover from the days when London Bridge was the heart of the theatre of London.
It used to be a hub for creatives, where actors and directors would drink together in between shows. A place where you can sit and imagine all the incredible conversations that used to go on, and breathe in the creative energy!
These days it's more of a friendly pub serving great food. Find a sit, grab a martini and reminisce in its 800 years of wisdom.
It's intimate, to say the least. Not quite the place you'd go in a big group, but definitely somewhere you'd cosy up for a catch up with someone. Floor space is pretty sacred in this pub.
If you know your beer, then you'll love this pub. The emphasis is on more American style craft beer but there truly is one of the best selections of beer in Borough with an embedded ethos of 'no crap on tap'.
Also, there's multi coloured chairs outside which might just be some of the cutest chairs we've ever seen and it's worth a trip just for those.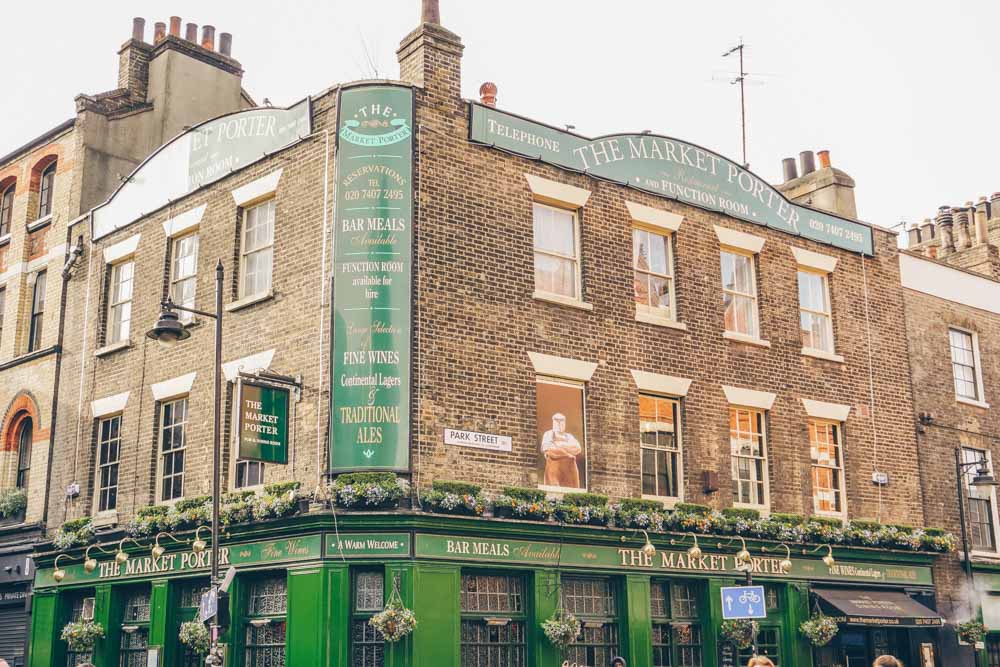 A pub right on top of the Borough Market buzz, this is surely one the prettiest pubs in borough market.
The drinks are great, the wine list is vast but what really makes this pub go that extra mile is the food. The Sunday Roast is an absolute must, but if you're heading over there in the week and are feeling a little peckish, definitely go for the Scotch Egg. It's an experience, to say the least.
Probably the best pub food in Borough market, and being so close to the market makes it extra special.
As you make your way through the hustle and bustle of Borough Market, you'll discover this amazing pub under the arches of London Bridge.
Recently renovated, fresh, locally sourced food and drink, this pub oozes charm.
The biggest selling point of the Glove Tavern has to be that it's the real life pub Bridget Jones lived above in Bridget Jones' Diary. (Serious fangirl moment over here!)
Head on down there after your walk around Borough market, grab yourself a seat by the window and tuck into a good old Borough Market Pale Ale.
Right in the mix of the foody centre of London, this has to be one of the best pubs in Borough Market.
This pub is very confident, claiming to have the best beers in Borough Market. We've got to say, they could be right.
What we love about The Wheatsheaf the most is that they do pizzas and burgers very well. Sometimes you have a craving that can only be satisfied by a pizza, and this pub delivers.
It's also a wonderful place to meet people, great atmosphere and friendly staff. It's got our vote.
Pubs Around Borough Market
The Roebuck is one of Borough's best kept secrets. A few minutes down the road from the market, on the leafier side of Great Dover Street, lives this independently owned rockstar of a pub.
This pub balances being slightly off the beaten track whilst also only being a few minutes away from Borough market.
You'll find anyone and everyone in here, a hang out spot for the unsuspecting actor or writer and stomping ground for many University students whose halls are across the street.
The Roebuck is loved by the locals, and the owners have put a real emphasis on becoming more sustainable with their freshly prepared menu full of locally sourced produce.
The relaxed atmosphere, incredible selection of world renowned beers and ales and the very special pub quiz makes this pub one of the best pubs in Borough.
A daily changing menu full of pub classics, a jukebox and a seriously cool floor. This pub is one to check out if you're wanting to explore slightly further away from Borough Market.
Unpretentious, good value for money and excellent food – what more could you ask for in central London?
Head on down there in the evening to listen to some feel good music and try out one of their cocktails. You'll overhear some very interesting conversations from all walks of life, that's for sure!
Borough Market Pubs: Map