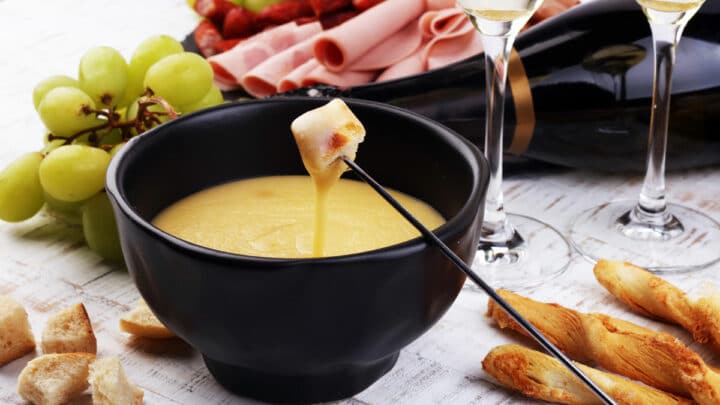 Looking for the best Swiss restaurants in London? You've come to the right place. We've got the complete low down on Swiss food in London.
We're actually quite surprised that there seems to be a serious lack of Swiss restaurants in London. It's strange really, we thought carbs and cheese were an instant hit – turns out the capital hasn't got on board yet.
But, with so few options comes a big positive: It means you don't need to waste time trawling through reviews to find the best spot.
In fact, we've done all the work for you – these are the top spots riding the Swiss wave in London.
All you have to do is pick your favourite and turn up. Hungry.
Brilliant Swiss Restaurants in London
Heritage
££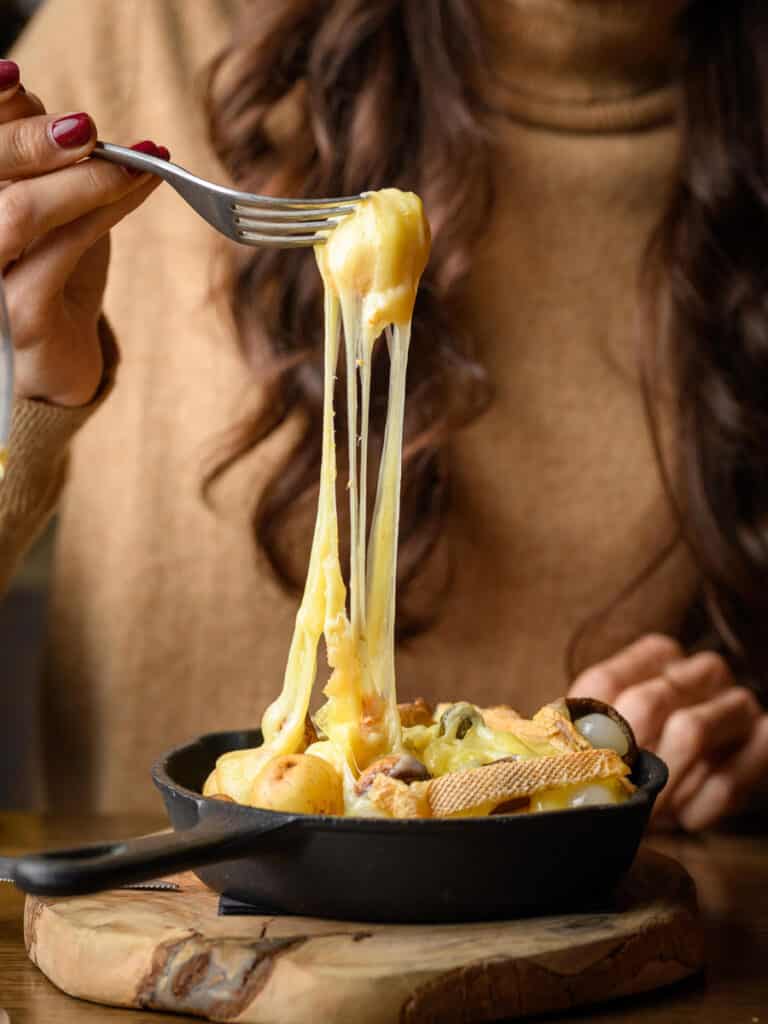 Looking for the best Swiss restaurant London boasts? We have one word for you: Heritage.
This restaurant and cocktail bar might be one of the newer Swiss restaurants to grace the capital, but it has already made waves as one of the very top places to dine.
Don't believe us? This trendy spot is fully-decked out in classy ski-resort decor. We're talking warm wood tones and funky accessories – we particularly love the Keith Haring print.
The food menu is filled with authentic Swiss dishes, though the cheese fondue is very much the star of the show. Though, if that seems a little bit too rich for you, the steaks are particularly delicious, as is the Crispy Skin Duck Breast.
Oh, and if you aren't already itching to make a reservation, Heritage offers bottomless Raclette on Tuesdays for just £21, with a complimentary glass of wine, prosecco, or beer on arrival.
Pearl onions, marbled potatoes, and cornichons topped with cheese? Sounds like heaven to us.
St Moritz
£££
Is it really any wonder that a restaurant inspired by one of the most luxurious ski resorts in Switzerland is one of our top recommendations? St Moritz is London's oldest Swiss restaurant, first opened in 1974, and has been ahead of the trend ever since.
Head Chef Armin Loetscher is responsible for the delightful Swiss menu, which features the likes of fondue, veau zurichoise, bratwurst, and rosti – all cooked using traditional Swiss methods for an extra touch of authenticity. Seasonal dishes like Venison are also available throughout the year.
It's hard to miss this Swiss restaurant in London's Soho district – just keep your eyes peeled for the Alpine-looking home and huge Swiss flag nestled amongst the trendy shops. Or, follow the smell of fondue and you're sure to find it.
Inside, it's like stepping into an old-world cabin in the mountains of Switzerland – huge cowbells hang on the walls, and the furniture is made from dark wood oak. Dining here is truly an immersive experience.
Haugen
Stratford
£
A rooftop Alpine bar and restaurant in Stratford, Haugen certainly has a lot to offer – from stunning views of the Olympic Park to excellent cocktails and an elevated Swiss food menu.
Their fondue offering is one of our favourites in the capital: A gooey, cheesy feast served with plenty of bread and sides for dipping.
Though, if you're dining here, you need to book their Off Piste Brunch for an experience like no other.
On Saturdays from 12pm until 6pm, you can enjoy two courses for £25 or three courses for £29.50 per person, with free-flowing bubbles for an additional £19.50 per person (it's a no-brainer).
What's on the menu? A toothsome herbed ham rosti, grilled sea bass with artichoke, tomato, and spinach in a butter sauce, and an authentic apple strudel, amongst plenty of other divine dishes to choose from.
The White Haus
Farringdon
££
Looking for some seriously Swiss fun? The White Haus has got you more than covered. This pub-slash-restaurant is the home of après ski and a cracking Swiss-British menu of food.
This spot boasts three floors of rustic decor – you'll find cuckoo clocks, vintage cable cars, and chalet-esque corners for you to cosy up in. In terms of decor, you'll struggle to find a Swiss restaurant in London that quite tops it.
What about the food? Well, the food doesn't disappoint. Hearty options like the Hippo Burger with bacon, cheddar, and red onion marmalade, and the chicken schnitzel with coleslaw and chips very much taking centre stage. No poncy portions here, so come hungry.
And, if you need any more reason to dine here, The White Haus' happy hour runs from 5pm until 8pm every day. You can get two Haus cocktails for the price of one – a seriously great deal.
Pssst… The White Haus is introducing a brand-new dining experience downstairs called Off Piste. It looks set to serve up Alpine dishes, fondue, and even more Swiss fun – we are seriously excited for it to open very soon.
La Petite Ferme
Clerkenwell
££
Ok, so La Petite Ferme might be a French restaurant… but you'll forgive us when you try some of their seriously indulgent Raclette – a true Swiss specialty.
Opt for the all-you-can-eat Raclette served with potatoes, cornichons, and a charcuterie selection on the side for total gratification. Or, order something from the French Alps menu – we suggest the deliciously creamy tartiflette – and you'll be equally pleased.
Whatever you choose, this restaurant's cosy yet welcoming atmosphere will transport you straight to the Alps for a little bit of après ski (which is the best part of skiing, in our humble opinion).
Add to this a cracking wine list filled with French vino and you're in for a wonderful evening, we think.
Swiss Restaurants in London: Practical Tips
Check for bottomless fondue options – Heritage does an excellent version of this which really allows you to try out Swiss food in all its glory. Who doesn't want unlimited cheese-topped carbs?
The capital often has Alpine pop-ups during the winter months – keep an eye out for these closer to Christmas (we can't quite believe we've said that word so soon, either).
Swiss Restaurants in London: Map
Swiss Restaurants in London: Read Next