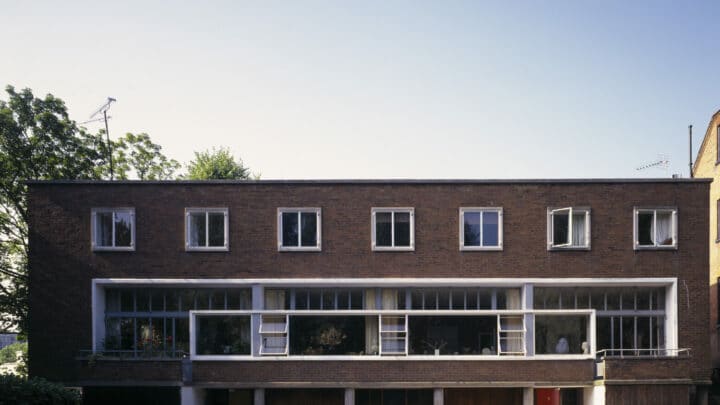 Discover 2 Willow Road: Ernö Goldfinger's modernist masterpiece in leafy Hampstead.
Words by Bradford Watson
If you're like us, you'll take any excuse to visit Hampstead Heath, but did you know that one of London's most surreal houses is right next door?
Admittedly, 2 Willow Road is so unassuming that even we had to double back to find Ernö Goldfinger's Modernist masterpiece of a home.
But hidden just south of the sprawling heath is a house as dreamlike as a Wes Anderson scene.
And while its controversial architect may be known for his larger scale Brutalist high rises, 2 Willow Road stands as a fascinating example of the intricate design and whimsy that made Modernism so appealing.
So why is the Ernö Goldfinger house worth visiting and how did its designer become so unpopular that he inspired a famous Bond villain? Let us fill you in.
What's the Story Behind 2 Willow Road?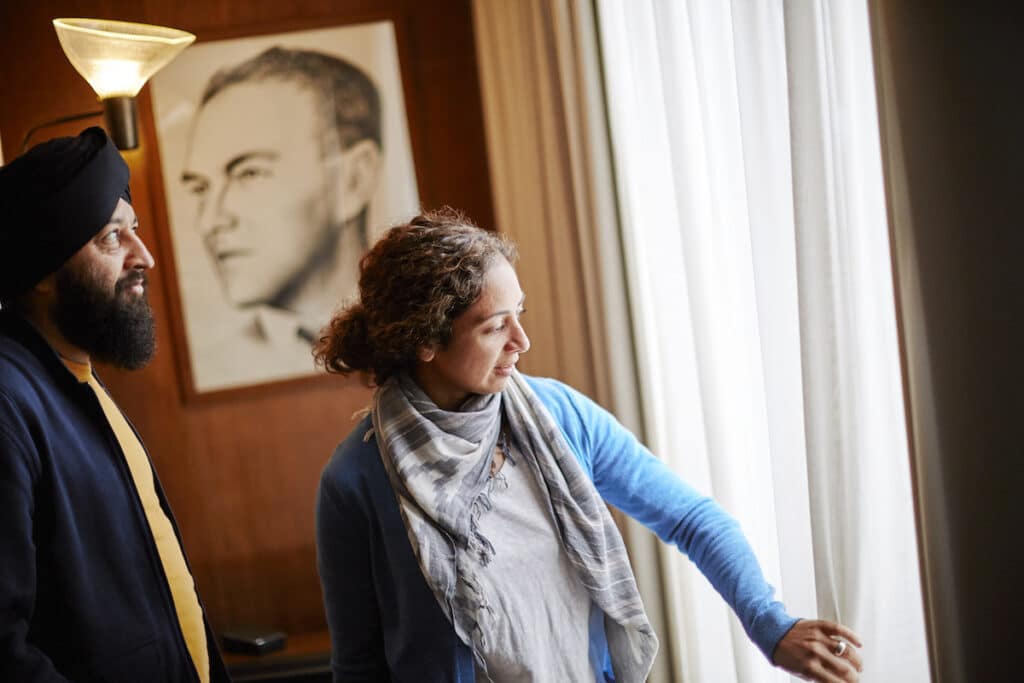 Who Was Ernö Goldfinger?
Ernö Goldfinger was an influential – and divisive – figure in British architecture, whose work wasn't properly appreciated until late in his career.
Born in Hungary in 1902, Goldfinger studied in Paris before moving to London in the middle of the 1930s, where he initially designed building interiors and shop fronts.
Following the end of the second World War, British housing stock was a little worse for wear and as part of the British Modern Movement, Goldfinger began to design elegant social housing as an answer to the housing crisis.
Crucially, he believed communal living could and should elevate working people's lives – a legend's mentality if you ask us.
Ernö Goldfinger and the Brutalist Movement
Overlapping with the Marmite style of Brutalism, which took off in the middle of the century, Goldfinger's bold high-rise design was demonstrated at scale in the Trellick Tower in Notting Hill.
You can also see it in the Balfron Tower and corresponding Carradale House in Poplar, both of which are still standing today and beloved, at least by those who appreciate the – let's politely call it 'moody' – aesthetic
Building Willow Road
Despite his later success, Goldfinger's Willow Road home, one of his first major projects in London, was almost too modern and very nearly undone before it got started.
Initially planned as a tower block, Goldfinger bought a plot of land just south of Hampstead Heath in 1937, which he claimed contained "four derelict worm-ridden cottages" in need of demolition.
After much haggling and several rejected planning permissions from the council, Goldfinger finally got the go ahead to build a terrace of three three-storey houses based loosely on Georgian design. With its scope reduced, Goldfinger would dedicate himself to the project's ambitious interior design.
Ian Fleming: Confirmed Hater
Willow Road's naysayers were not limited to local authorities.
Goldfinger's plan was opposed by many members of the English intelligentsia, many of whom lived in Hampstead, including Ian Fleming, author of the James Bond novels, who took particular offence to the destruction of traditional Georgian buildings in his backyard.
In a very un-Bond like move, Fleming channelled his anger into his work, rather than directly confronting his soon-to-be neighbour, which is how the tall Eastern European modernist architect Ernö Goldfinger became the short, fat Soviet spy Auric Goldfinger, with his lethal bowler hat.
It was not difficult for Bond fans to trace the line from one Goldfinger to the other, and apparently for years after the 1964 film was released, Ernö's home was besieged by prank callers serenading the architect with Shirley Bassey's theme song.
Goldfinger Gets the Green Light
But the council's tight strictures and fierce local opposition only fired up Goldfinger to produce his most detailed and interesting work, producing the surreal practical flourishes that make Willow Road such an impressive home.
Willow Road was eventually built between 1938-9. The continuous terrace was designed so that Ernö and Ursula could occupy the middle and largest of the three houses while the neighbouring units would be sold.
And the Goldfinger home proved more than just a novelty quirk of the period. Ernö and his wife Ursula Blackwell would live for the rest of their lives, raising three children and even housing their elderly parents for a time.
Why is 2 Willow Road so Special?
As unimaginative new builds proliferate across the city, the Willow Road home's resonance is stronger than ever.
Especially behind the symmetrical brickwork lines of the facade, where the interior of the house is a gem for architecture buffs and Instagram enthusiasts alike.
It Has a Spiral Staircase
Who doesn't love a spiral staircase? The pleasingly tight curve of the stairwell as you're corkscrewed upwards, the vertiginous thrill of watching the downstairs disappear through the step slats, and of course the aesthetic snail shell shape of the pictures we snap.
Turns out Ernö Goldfinger was a fan, too.
In what he deemed the "hierarchy of space," there are very few corridors or liminal connecting spaces in 2 Willow Road.
Instead rooms stretch in fluid lines and all three storeys are connected by a beautifully off-centre spiral staircase leading up to the third floor landing and the overhead circular skylight which maintains the light and airy feel of this central spine.
The Rooms Can Expand or Contract
Have you ever wanted to block out your flatmate? We couldn't possibly comment, but it seems Goldfinger had all of us in mind when he created the flexible walls in 2 Willow Road.
The house is supported entirely by concrete external columns, leaving less of a burden for the interior walls, many of which are literally folding partitions that can be drawn or opened to suit.
This comes in handy if you're an artist, like Ernö's wife Ursula, who was able to hive off her studio from the dining room using a collapsible wall connected to a seamless piano hinge. Isn't that just a working-from-home dream?
It's Like Ernö Never Left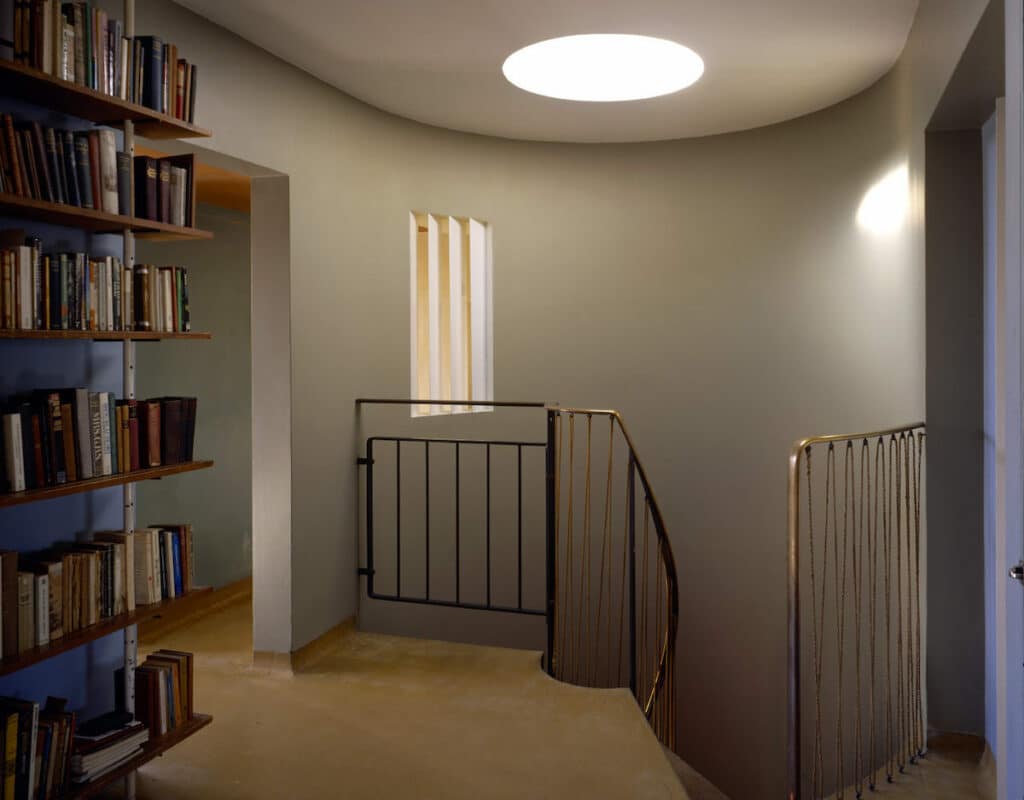 Satisfying the nosy neighbour in us, we love the preservation of the house, with jars of food on worktops, design books lining shelves and papers arranged on his desk, as if Ernö's popped out for a lunchtime wander across the heath.
When the National Trust acquired the property in 1995 they took pains to keep its lived-in quality. So, while there is an archive of Goldfinger's papers, as well as a short film presented before every tour, it feels much more like visiting someone's home than it does a museum.
It's in Goldfinger's exhaustive attention to detail that his personality persists.
The marriage of function and elegance that he attempted at scale later in his career is evident here in the minutiae of the furniture that he lovingly designed: the desk drawers swivel on a half-circle so that the contents of all three can be seen at once, the mailbox is integrated into the beautiful glass brickwork and shelves surrounding the front door.
Even the wall hook for his car keys is not only useful but serves to declutter the hallway.
If you've ever daydreamed about your perfect house (our hands are up – we're saddos) snooping around Erno Goldfinger's Modernist triumph is a great hidden gem.
How to Visit 2 Willow Road? Practical Information and Map
Take the Overground to Hampstead Heath for a five minute walk south, or the Hampstead tube station which adds another ten minutes by foot.
The terrace block is easy to miss so make sure you look out for the playpark on the south-eastern border of the Heath – 2 Willow Road is on the other side of the fence.
Tours of the Goldfinger home are arranged by the National Trust between March and October. Pre booking is essential and we'd advise visiting on a Thursday late afternoon if you can, although tours also run on Saturdays.
Tickets cost £4.50 for a child, £9.00 for an adult, £22.50 for a family ticket, or entry is free for National Trust members.
Address: 2 Willow Road, Hampstead, London NW3 1TH
Discover More of Ernö Goldfinger's London