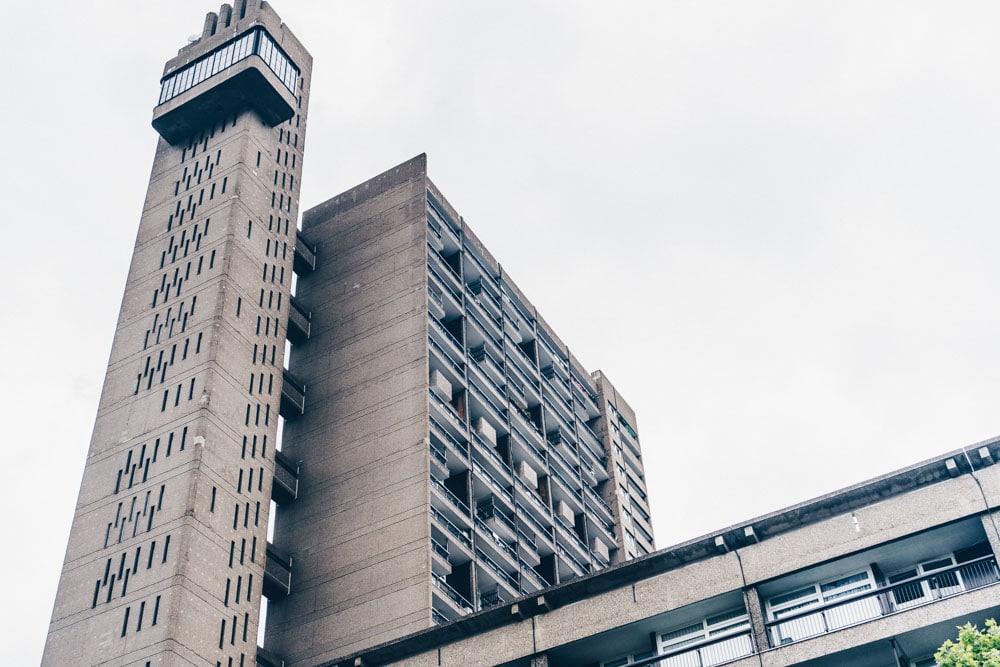 Overlooking the pretty Notting Hill area, Trellick Tower is one of London's most controversial tower blocks… and for plenty of reasons.
Architect Ernö Goldfinger designed the tower based on his previous work, Balfron Tower, which you can find in Poplar. On first impressions, the Trellick Tower apartment block is incredibly striking: standing at 322ft tall and unlike anything you've ever seen before.
But what makes this tower block so special? Allow me to explain all in this guide to Trellick Tower, London's most celebrated (and pretty conspicuous) piece of Brutalist architecture.
Why Visit Trellick Tower?
Whether you love or hate the way Trellick Tower looks, you're bound to have some thoughts – and, in my humble opinion, there's plenty of reasons to celebrate this iconic tower block.
Ernö Goldfinger's Mastery
As the architect responsible for Trellick Tower, Ernö Goldfinger has had his fair share of admirers (and critics).
Born in Hungary in 1902, Ernö moved to the UK later in life and played an important role in the British Modern Movement, claiming that high rise housing was the answer to post-war problems.
This was not without controversy, and James Bond author Ian Flemming even went as far as to name his infamous villain after Ernö.
Ernö once famously said:
"The whole object of building high is to free the ground for children and grown-ups to enjoy Mother Earth and not to cover every inch with bricks and mortar" – and I think that makes him a bit of a legend.
Brutalism
Name a more divisive movement, I dare you. Some people love the concrete blocks, while others cannot stand this architectural style.
Whichever side of the argument you stand on, it's impossible not to stare at Trellick Tower as you walk past (whether that's in awe or distaste).
I'll admit, Trellick Tower does have a face only a mother could love – but I think this ugly charm is what makes it so popular with local residents, who are very protective over their baby.
It's in Notting Hill
Whilst Trellick Tower is worth a visit alone, the fact that it's situated in the gorgeous Notting Hill area is all the more reason to pay a visit.
Once you've admired Trellick Tower, head further into Notting Hill and scope out some of these cafes, or maybe you would like to make a day of it and tick off some of the exciting things to do in the area on this guide?
Either way, Notting Hill is one of the most eclectic areas in London, where pretty streets and cafes meet cool bars and independent shops – not to mention the infamous Notting Hill Carnival that graces the area each year.
This is an exciting part of London bursting with life, completely contradicting the stone cold appearance of Trellick Tower.
It Oozes History
There'll be lots more on this later, but Trellick Tower has an interesting history that makes it worth viewing.
Built in the early 70's, this tower block has had its fair share of ups and downs – from fierce opposition to violent crimes. Trellick Tower has remained strong and played a huge part in the Brutalist movement in the UK, and the housing crisis that faced the country after World War II.
At first, many immigrants from the Caribbean and the West Indies settled in Trellick Tower, as it was a cheap place to live at the time (still a rarity in the capital). Today, however, the residents living in the block come from all different kinds of backgrounds with one thing in common: a deep appreciation for the tower they call home.
The Tower is Controversial
What good is art, if it's not controversial? Well, Trellick Tower certainly gets people talking.
Not only was Ernö Goldfinger a controversial figure at the time, but the tower still has many haters nearly 50 years later.
If you ask Londoners, everyone will have their own opinion on Trellick Tower. Many love it and appreciate the history behind the tower, but others claim it's an eyesore – a blot on the pretty Notting Hill landscape. Which side of the argument do you stand on?
What's So Special About Trellick Tower?
The Great Comeback
By the time the tower was completed, Brutalist architecture had already begun to fall out of fashion and high-rise buildings were looked down upon by most in society.
This led to Trellick Tower becoming a hot spot for crime and vandalism until the 1980's, where a residents' association and concierge was introduced, and security measures put in place.
After this blip, Trellick Tower and its residents really started to thrive – crime rates reduced and apartments in the block were highly coveted. Today the tower is still mainly social housing, although there is plenty of demand for private flats in Trellick.
Trellick Tower is No Stranger to The Big Screen…
Because of its instantly-recognisable facade, Trellick Tower has made it into film and television plenty of times over the last 50 years, including in For Queen and Country starring Denzel Washington, Never Let Me Go, and, more recently, it was used as the apartment block in Black Mirror's interactive Bandersnatch episode.
So pay a visit and snap your own picture of yourself in front of the famous tower block, and keep your eyes peeled for celebs nearby.
… And is A Cool Graffiti Spot
Head around to the side of Trellick Tower and you'll find an incredible legal graffiti spot that rivals the more famous Leake Street.
The community uses this concrete block as a canvas to show support or opposition to important issues – it was filled with messages of solidarity when the nearby Grenfell Tower sadly caught fire.
Community plays a big role in the Ladbroke Grove area, and huge efforts have recently been made to protect the Trellick Hall of Fame wall, which is at risk of being demolished due to planned housing development.
A Brief History of Trellick Tower
When a building serves as the inspiration for a dystopian novel (J.G Ballard's High Rise), you know things are about to get pretty dramatic. Trellick Tower is one of the city's most striking pieces of architecture.
Ernӧ Goldfinger's uncompromising high rise, Trellick Tower, looms over Ladbroke Grove and serves as a reminder of the housing difficulties facing Britain after World War II – where building upwards was the answer to the lack of space on the ground.
Finally completed in 1972 after years of building, the 31-storey tower is one of London's best-known (and by some, most reviled) Brutalist buildings. Although, it's safe to say that the residents of the tower were smitten – many of whom still remain living in the building today.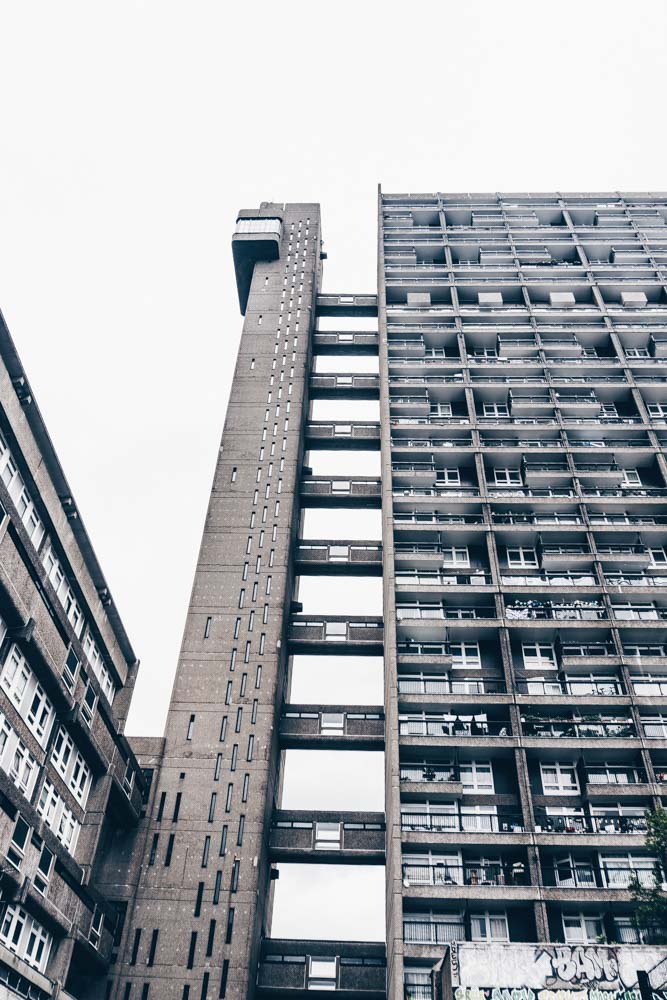 Trellick Tower's unique design combines a main block of social housing with a service tower, connected via covered walkways every three floors. The only curvature is found in the cantilevered boiler house atop the service tower – this harsh-looking design was incredibly popular at the time, although it quickly spiralled out of fashion as the 80's approached.
It was supposed to lead the way in social housing design and it was for a while, before descending into a hotbed of crime and vandalism for a number of decades.
By the 1990s, however, gentrification stretched out its grasping hand over Notting Hill, then Ladbroke Grove, and all of a sudden the uncool was cool again – Trellick Tower being no exception. So much so that it was Grade II listed back in 1998 and is today one of Ladbroke Grove's most iconic buildings, gathering attention from locals and tourists alike.
Practical Information and Map for Visiting Trellick Tower
Getting to Trellick Tower: You can find Trellick Tower around the corner from Portobello Road Market (it's pretty hard to miss). The closest tube stop is Westbourne Park.
Address: 5 Golborne Rd, London W10 5PA
Looking for More Cool Spots in London?
Check these out…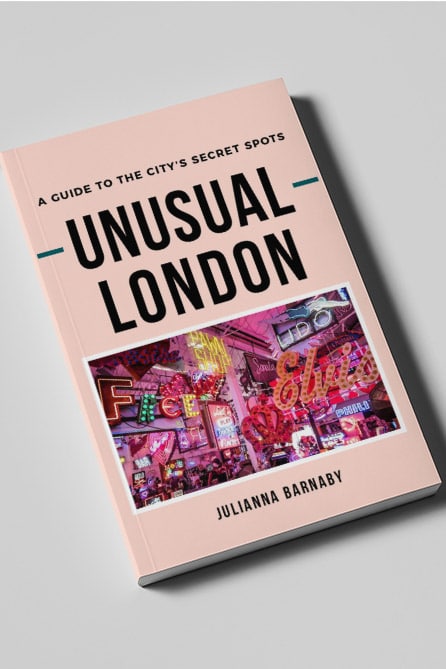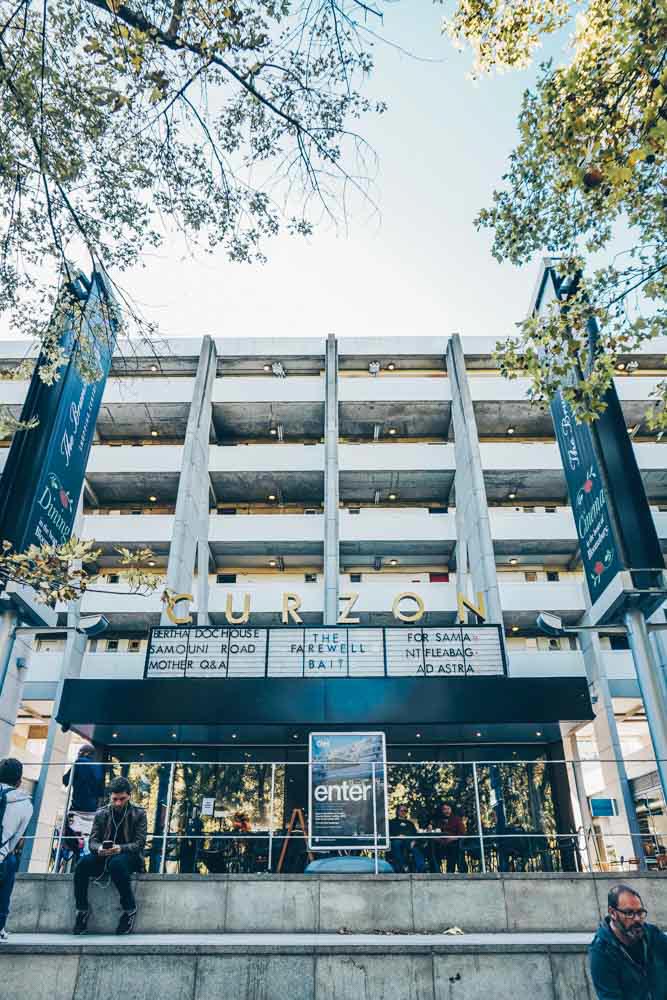 Brutalist Architecture in London