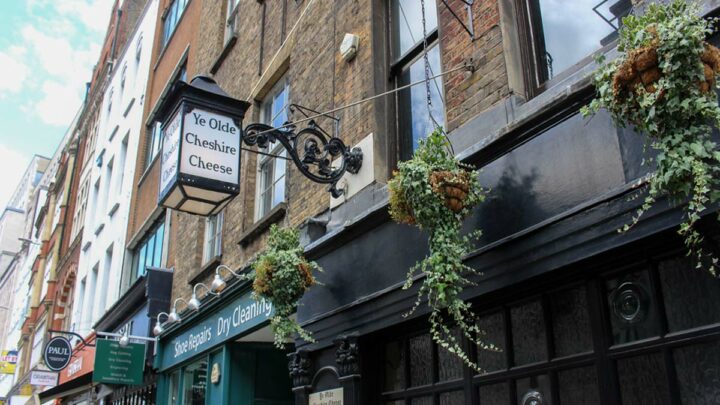 Ready to take on a self-guided walking tour of London's literary hotspots? These are the places you need to visit.
Welcome, bookworms, to London – a city that has been called home by some of the finest literary talents in the English language.
Over London's many years of history, the city has been home to greats like Dickens, Shakespeare and Orwell. It's also been the home of fictional characters that have come to be household names.
We spend a lot of time nerding out about London's literary past and so we thought it would be a good idea to put together a tour of a few of our favourite spots.
From walking in the footsteps of Sherlock Holmes to tracking down the watering holes of the likes of Tennyson and Twain, here's a literary London walking tour that you need to embark on.
Ready?
Practical Information about the Literary London Walking Tour
Starts
Baker Street Station/The Sherlock Holmes Museum
Finishes
Shakespeare's Globe
Distance
10km + short underground trip between Baker Street and Great Portland Street
Time
Walking Time: 2 hours
Suggested time to allow for the tour: 4 – 5 hours.
Difficulty of Tour
Medium: Flat terrain but it covers a reasonable distance.
Admission Fees
TfL fees for underground between Baker Street and Great Portland Street, plus any museums you want to go into on route and maybe a few quid for a pint in a writerly tavern.
Places Visited on the Tour
Sherlock Holmes Museum
Fitzroy Tavern
Senate House
Bloomsbury
King's X
Dickens Museum
The Old Curiosity Shop
Ye Olde Cheshire Cheese
Dr. Johnson's House
The Globe
Stop One – The Sherlock Holmes Museum and Baker Street
Address: 221b Baker St, London NW1 6XE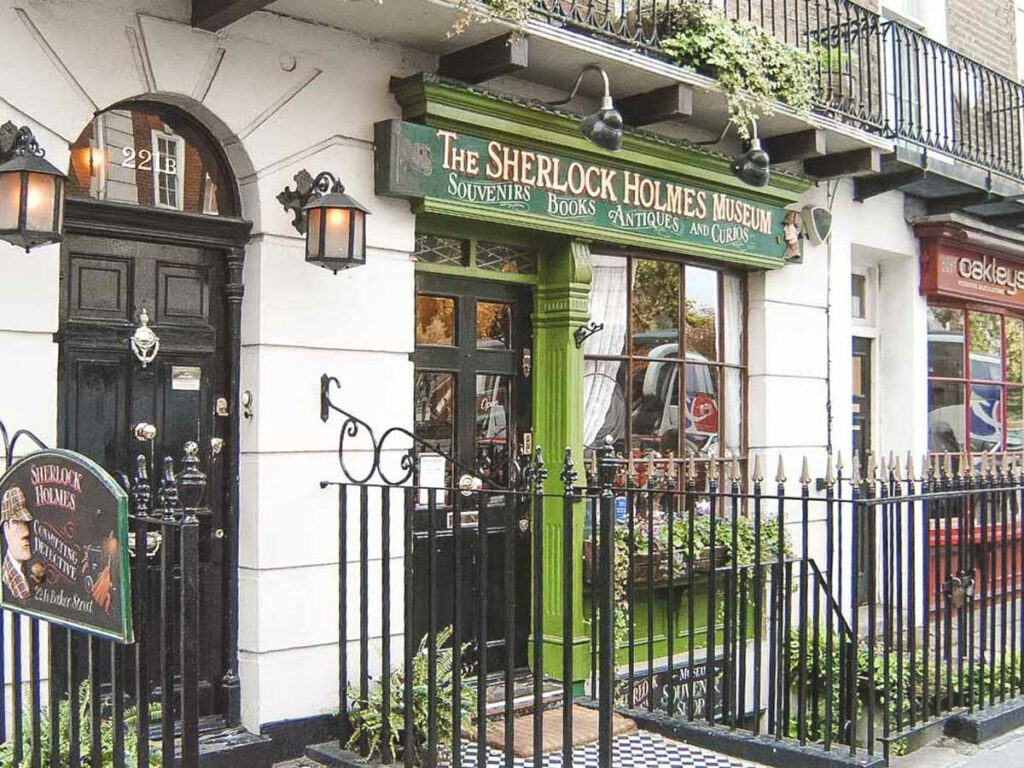 The first stop on our London literary tour is the Sherlock Holmes Museum. Although the detective was totally fictional, some clever bookworm has turned a house on Baker Street into a museum in his honour.
They've revamped the house to look like it would in the Victorian era that Holmes would have been working in, complete with gas lamps, authentic Victorian furniture and curiosities, and a fake address.
Yep, the museum is listed as 221b Baker Street as that's where Sherlock lives in the stories. In real life, the building actually sits between 237 and 241 Baker Street.
The museum has actually received criticism from the Conan-Doyle estate for behaving too much as if Holmes was a real person. This isn't helped by the fake blue plaque above the door listing the "consulting detective" as having lived there.
Controversy aside, Baker Street is heavily featured in the detective's adventures and enjoys its literary cult status. They've even put a statue of Holmes outside the tube station.
→→ →→ 18 minutes to our next stop, the Fitzroy Tavern. Jump on the circle line at Baker Street to Great Portland Street and walk south down Cleveland Street for 600m until you hit Tottenham Street. Make a left there and walk 100m then a right onto Charlotte Street. Keep walking till you see the Fitzroy Tavern on your left after about 250m.
Alternatively, you can walk the whole thing from Baker Street which should take about 25 mins.
Stop Two – The Fitzroy Tavern
Address: 16A Charlotte St., London W1T 2LY
Our second stop is the legendary writer's hangout, the Fitzroy Tavern. The place became famous between the 20s and 50s as a watering hole for many of London's top writers. Nina Hamnett, Dylan Thomas and George Orwell, to name a few.
Here the writers hobnobbed with artists and other bohemians. You can see a few portraits of The Fitzroy's old patrons hanging on the walls.
We wouldn't blame you for wanting to slip in and have a pint in one of the tavern's gloomy corners, discuss your favourite books. You should if you've got the time.
If you want to hold your horses though, know that there will be another literary boozer later on in our tour.
→→ →→ 13 minutes to Senate House. Head down Windmill Street for 150m until you reach Tottenham Court Road where you throw a left. Walk 100m to Bayley Street and take Bayley all the way to Montague Place which you follow along to Russell Square. Senate House is on your left.
Stop Three – Senate House
Address: Senate House University of London, Malet St, London WC1E 7HU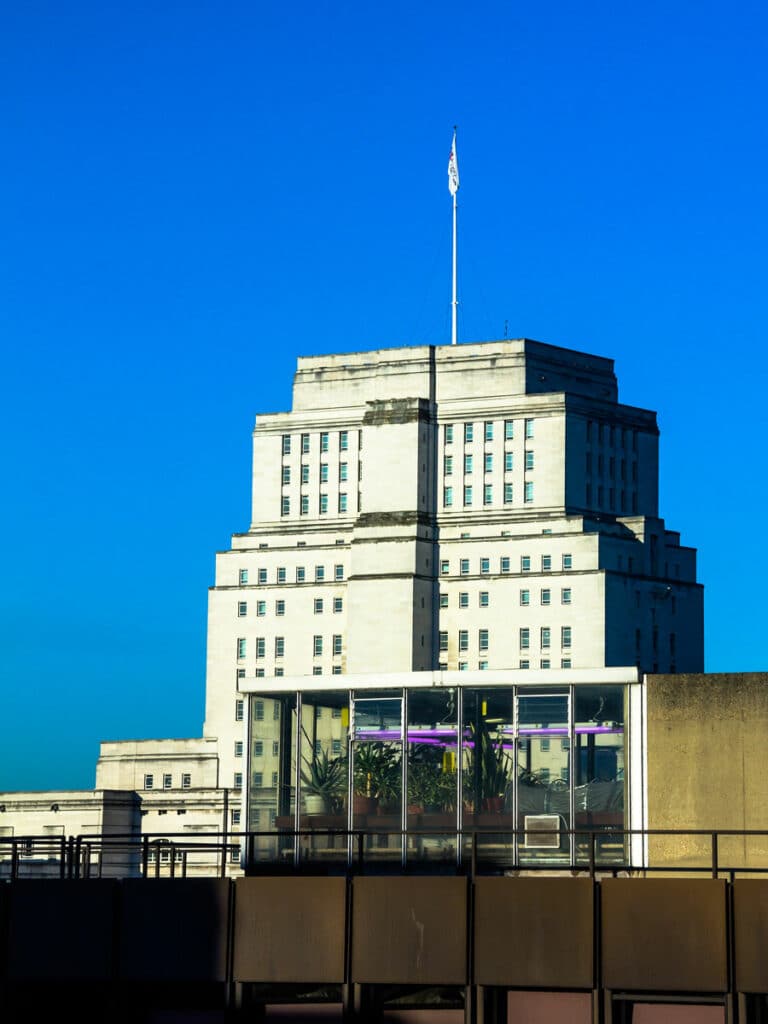 You should now be standing outside Senate House. It'll be hard to miss. The impressive Art-Deco building looms over its courtyard and the other buildings to its wings. It's the type of place that changes with the weather. On a good day, it can look somewhat pretty, but catch it in the rain and it looks ominously oppressive.
That must have been the type of weather Orwell saw it in as he says it was the inspiration for the Ministry of Truth – the manipulative, authoritarian government whose control of public narrative is anything but truthful – in 1984.
Orwell however was notoriously pessimistic about London. He despised the poverty and decay he saw in the city here. Perhaps he would have done well to see this building in a new light, though then we may not have the masterpiece that is 1984.
→→ →→ 7 minutes to Gordon Square. Take Thornhaugh Street on the northwest corner of Russell Square and follow it all the way to Woburn Square. Keep Straight all the way until you reach Gordon Square.
Stop Four – Bloomsbury
Address: 46 Gordon Sq, London WC1H 0PD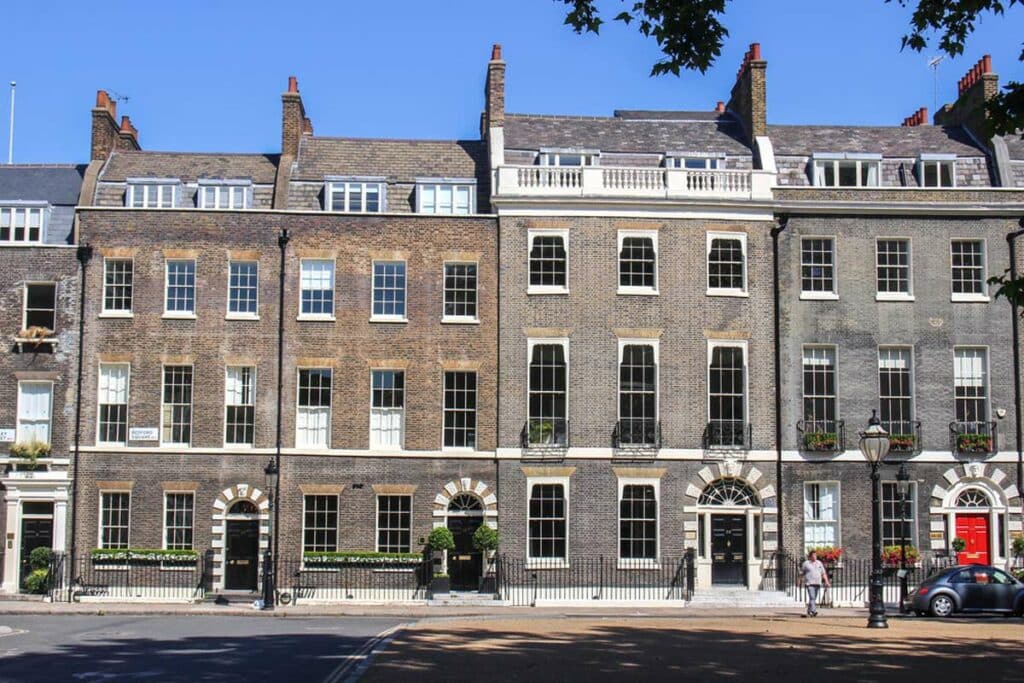 Our next stop is Bloomsbury, once a bustling hub of London's literary past. Our directions will take you to the charming Gordon Square, once the home of the world's most legendary writers: Virginia Woolf.
Woolf was part of a group of intellectuals who took their very group's name from this London neighbourhood. The Bloomsbury Group produced some top literary and intellectual talents like E. M. Forster and Lytton Strachey, and economist J.M. Keynes.
Virginia Woolf lived elsewhere in Bloomsbury too – you can see blue plaques with her name on them at the Tavistock Hotel – but her time at 46 Gordon Square was one of her most transformative.
Her father – a radical free thinker – encouraged Woolf to read, something not common for women at that time. Woolf herself describes this period in her life as one of departure from the 'gloom' and into the 'bloom' of her becoming the woman we know her to be.
→→ →→ 14 minutes to King's Cross Station. Walk along Gordon Square to Endsleigh Place and turn right. Follow it about 150m to Upper Woburn Place and take a left. Follow this road to Euston Road and take a right. Walk along Euston Road 700m until you hit King's Cross on your left.
You'll be walking past the British Library – a book lover's mecca. Nip in if you're in no rush and take in the giant central piece of aged tomes and even the Magna Carta.
Stop Five – King's Cross Station
Address: King's Cross Station, Euston Rd., London N1 9AL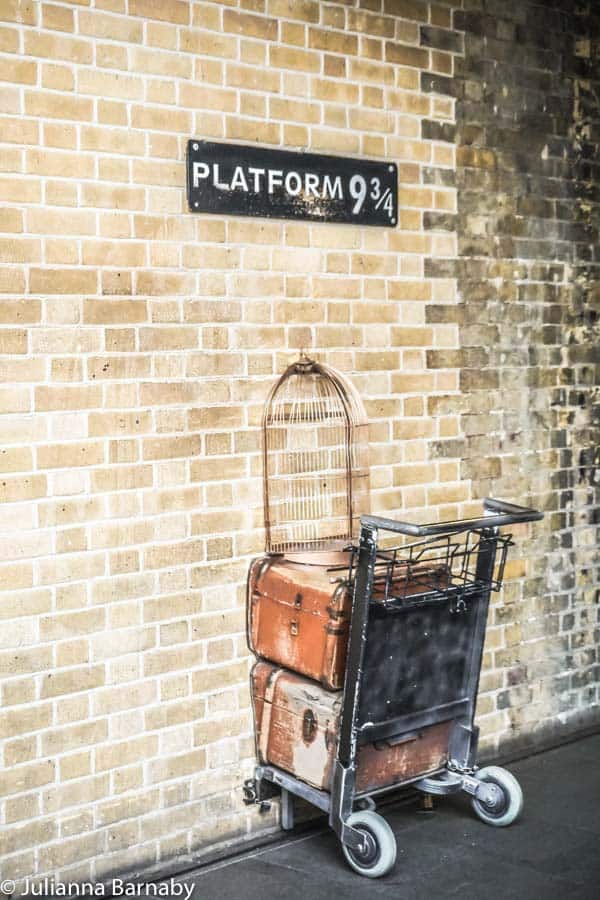 We bet you can already guess why you're here. Yep, this is the very station where Harry Potter sets off to Hogwarts School of Witchcraft and Wizardry.
He does so at platform 9 ¾ which is now a major tourist attraction in the station. They've even put half a luggage trolley into the brickwork that you can hold onto and snap pictures as if you're pushing your things through the magic portal to the Hogwarts Express.
You will of course have to queue for the privilege.
→→ →→ 15 minutes to our next stop. Follow Gray's Inn Road south for 1.1km until you turn left on Guilford Street. Take the next left onto Doughty Street and follow it about 75m until you reach the Dickens Museum.
Read More: The Ultimate Self-Guided Harry Potter Walking Tour of London
Stop Six – The Dickens Museum
Address: 48-49 Doughty St, London WC1N 2LX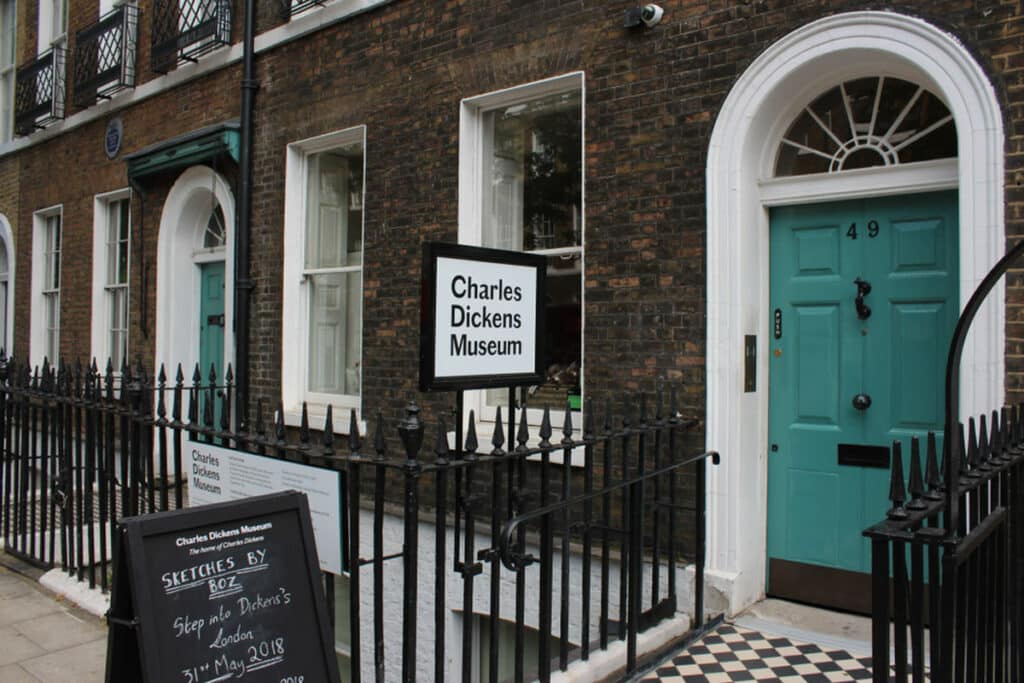 Doughty Street is home to another of this neighbourhood's literary legends: Charles Dickens. He is one of England's greatest writers and shaped the imagination of generations, even long after his death.
His stories of Victorian London are still haunting and visceral today. Walking down this street in the present day it's really not hard to picture the place as he would have seen it in the Victorian times.
This location is one of Dickens' London houses and has now been turned into a museum that's well worth popping into.
You can see many rooms kept as they would have been when he lived there, the desk where he wrote and the stand where he did his famous reading. You can even see his commode and a sick note from his doctor.
You'll also be standing in the very study where he wrote Oliver Twist and Nicholas Nickleby.
→→ →→ 16 minutes to our next stop. Follow Doughty Street and Roger Street to Theobalds Road (80m), take a left and walk 130m along until you turn left onto Bedford Row. Follow Bedford Row making a couple small right-lefts through the alleys until you reach High Holborn. Then cut across Lincoln's Inn Fields to the southwest corner and onto Portsmouth Street.
Stop Seven – The Old Curiosity Shop
Address: 2es, 13-14 Portsmouth St, London WC2A 2ES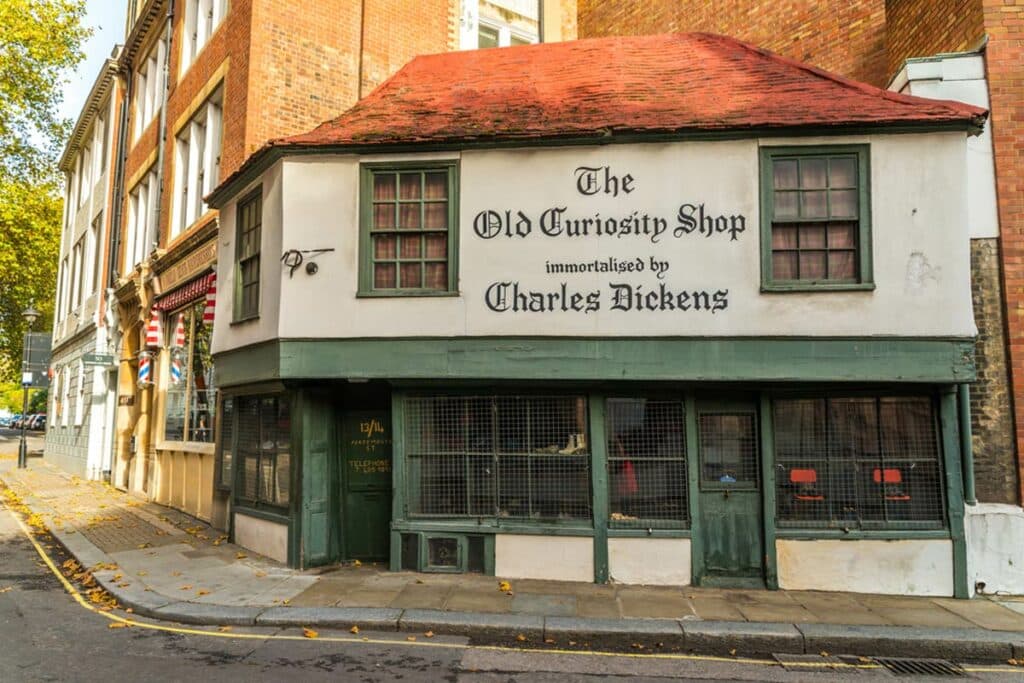 Dickens gets a second hit on our walking tour at the Old Curiosity Shop – a bizarre squat-looking building that is almost out of place next to all the modern stuff around it.
The high-end shoe shop is said to have inspired Charles Dickens' novel of the same name about teenage orphan Neil Trent and his grandfather and their life in "one of those receptacles for old and curious things which seem to crouch in odd corners of this town and to hide their musty treasures from the public eye in jealousy and distrust."
The building actually dates back to the 16th century making it pretty old even by Dickens' standards. Though it's impossible to confirm, it's likely that the big guy actually went here at some point. He only lived a short walk away after all..
→→ →→ 10 minutes to our next stop on Fleet Street. Follow Portsmouth Street for 40m onto Portugal Street and follow that about 50m to Carey Street. Take Carey Street 800m and throw a right onto Bell Yard. Walk 500m to Fleet Street and turn left. Walk along Fleet Street about the same distance to the Ye Olde Cheshire Cheese Pub.
Stop Eight – The Ye Olde Cheshire Cheese
Address: 145 Fleet St, London EC4A 2BP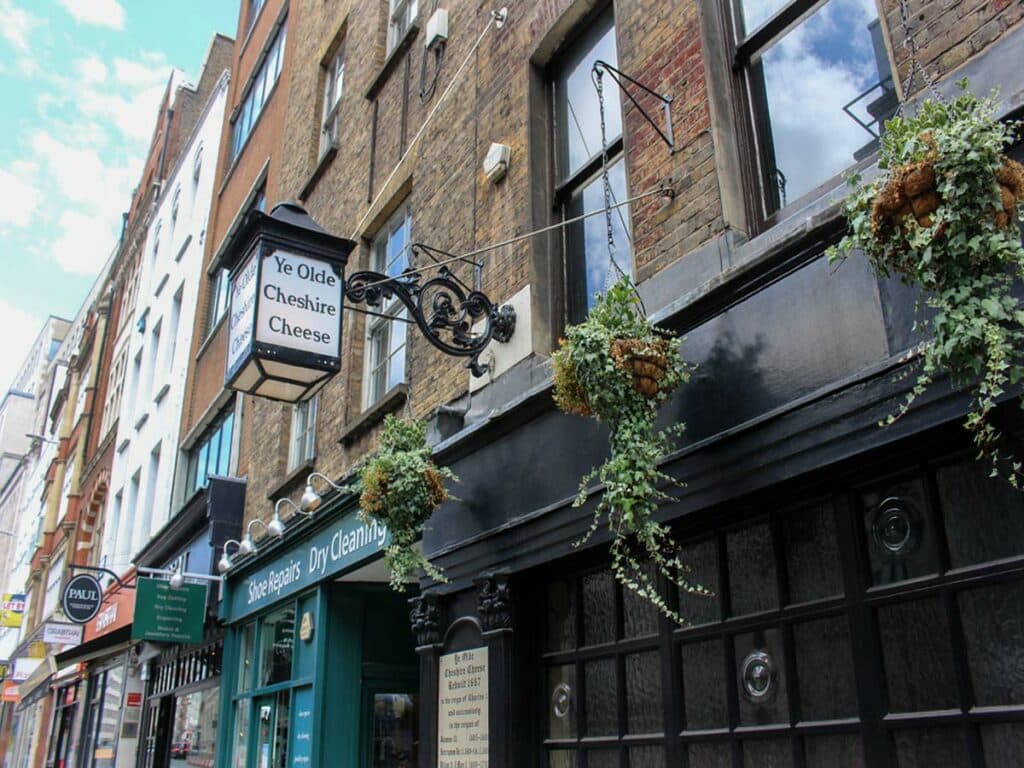 Time for a pint. You've earned it. Sit down among the gloomy corners of this very old pub and soak in the mood. You're sitting in a boozer that has served many famous authors in its time.
Mark Twain is known to have frequented the place, as did G.K. Chesterton, Christopher Hitchens, Yeats, Tennyson, Conan-Doyle and, yes, him again: Dickens.
The literary list goes on. The Cheshire Cheese even features in Agatha Christie's work when Poirot dines with a prospective client in The Million Dollar Bond Robbery. Samuel Pepys also mentions the pub in his writing, and judging by the proximity of our next spot it's likely that Dr. Johnson also sank a few pints here in his day.
Once you're watered, and possibly fed – they do some pretty good food here – it's time to step back out onto Fleet Street, a road synonymous with the printing and publishing industry in London.
Most of the papers have since moved away but you can bet the Cheshire Cheese has been frequented by many of the writers that worked here too.
→→ →→ 2 mins to our next stop. Come out of the pub and turn right onto Hind Court. Follow the alley all the way along, past the dogleg and swing a right onto Gough Square.
Stop Nine – Dr. Johnson's House
Address: 17 Gough Square, London EC4A 3DE
After that short walk, you should be standing outside the house of the legendary Dr. Johnson. As writers go he had a lot of accolades. Dr. Samuel Johnson saw success as a poet, a playwright, moralist and essayist.
He's most known, though, for writing a very influential dictionary. A Dictionary of the English Language was completed in 1755 and until the release of the Oxford English Dictionary 173 years later was the most influential dictionary in the English language.
The house you're standing in front of is the very place he wrote this dictionary and is now a museum. The style of the place has been maintained and very well kept and home to manuscripts in Johnson's hand, oil paintings and prints of his contemporaries as well as some very fine furniture.
→→ →→ 19 minutes to the Globe. Head back to the pub and turn left on Fleet Street. Follow it all the way along to the bottom of Ludgate Hill, turn right at the crossroads and head for Blackfriars. Take the bridge to the other side of the river and turn left. Take the riverside walking path along the Thames until you reach the Globe.
Stop Ten – The Globe Theatre
Address: 21 New Globe Walk, London SE1 9DT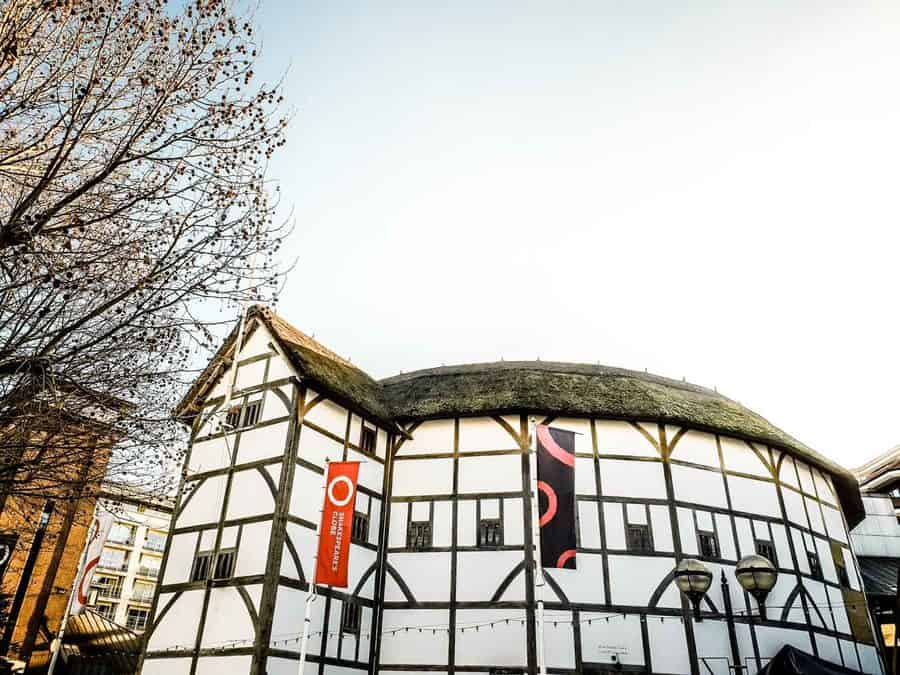 If you've made it this far, well done. You're at the final spot on our literary London walking tour. This is, of course, the Globe Theatre – home to the plays of probably the greatest writer to employ the English language, and one who shaped it into the form we use today.
The Globe you're looking at isn't actually the same place that Shakespeare put on his many plays, it's a very faithful reconstruction that was actually completed in the 90s, and only 230m from the site of the original playhouse.
You can even watch Shakespeare's plays performed here and the present-day production team does a great job with them.
A lot's changed over the years. Females are allowed to act, you can't throw rotten fruit at the performers. You can still get tickets for the standing section like the common folk did back in Bard's day – a great cheap option for some very historic theatre.
Read More: 14 Interesting Facts About the Globe Theatre We'll Bet You Never Knew
Literary London Walking Tour Practical Tips and Map
Make sure you're wearing comfortable shoes, you're going to be putting in the distance tracing London's literary talent across most of central London.
Check the weather. We're sure you know as well as anyone that the weather in England can be as fickle as any. It might be smart to pack a raincoat.
You may not want to hit all the museum spots on your tour. It might be smart to pick one or two you want to see and come back for the rest another day.
You're in central London, so you're not going to be short of places to grab refreshments. No need to worry there.
Literary London Walking Tour: Map