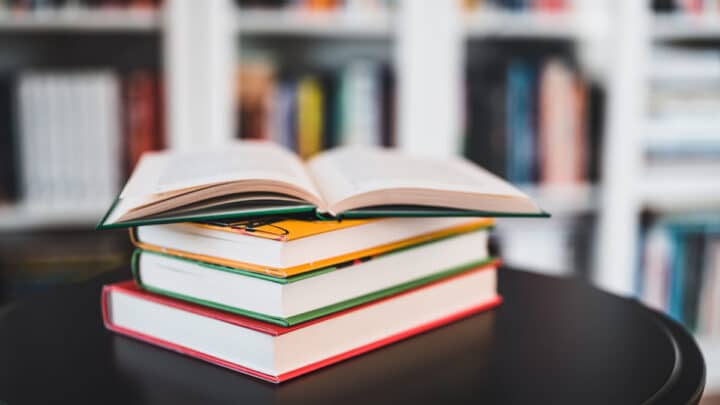 Discover the contemporary London authors you need to add to your TBR list. From intergenerational tales to complex love stories, we've got you covered when it comes to reading inspo.
Words by John Rogers
From the days of Jane Austen and Charles Dickens, London has been the setting for many of English literature's finest novels. And, luckily, this has carried on throughout the 21st century.
Great stories involve dynamic characters, addictive plots, and mesmeric settings. Bringing a place to life is something all authors strive to achieve, with very few managing to do so successfully.
Several London-based authors have brought the capital to life in the pages of their work in recent years. Here's a guide to our favourites.
Best London-Based Authors
Zadie Smith
Zadie Smith is unquestionably one of the 21st Century's literary greats.
Her debut novel White Teeth, which centres on Britain's relationship with immigrants from its Commonwealth in mid-1970s London, quickly became a modern classic.
Smith, born to a Jamaican mother and English father in 1975, has continued to explore the themes of cultural integration, class, and race in post-colonial London in her books.
A couple of standouts include the story of Jewish-Chinese London autograph collector Alex-Li Tandem in her follow-up The Autograph Man in 2002, and the melting pot of characters in 2012's NW, which is named for London's "NW" postcode area.
The outstanding works of Smith are essential reading for anyone wanting to gain an understanding of the culturally diverse city we love today.
Kazuo Ishiguro
Kazuo Ishiguro is one of the most famous British contemporary authors, with London featuring heavily in his work – which also regularly confronts feelings of love, loss, and regret felt by characters as they look back over their lives.
Indeed, this is the central tenet of Remains of the Day, where Ishiguro uses London to explain cultural and social shifts in post-World War II and post-colonial England.
Although Ishiguro rarely sets his novels in London as we know it today, the city is used throughout the 20th Century and even in a post-apocalyptic near-future to provide the reader with familiarity and stability.
In Never Let Me Go, London creates a sense of familiarity gone wrong with its common naming of London landmarks such as St Paul's Cathedral.
Anyone wishing to chart London's shift throughout the 20th Century pre-World War II and into the post-imperial age will find Ishiguro's work a marvel to behold.
Bernadine Evaristo
We simply couldn't write a guide to contemporary London authors without including Bernadine Evaristo.
She has written about London throughout her career, beginning with her 2001 novel The Emperor's Babe, written in verse about a black teenage girl in Roman London coming of age.
Other novels, such as Lara and Mr. Loverman, are also set in London and examine the themes of race and sexuality in less progressive times than we find ourselves now.
For us, it is her 2019 classic Girl, Woman, Other, a story of 12 primarily black British women aged 19 to 93 that charts each person's loves, lives, gender, and sexuality, neatly intersecting their lives.
Although not uniquely set in London, Evaristo uses London as a space where different communities co-exist, sometimes harmoniously and sometimes not, while emphasising the rich history and diversity that makes London a city like no other.
Haroun Khan
The Study Circle, by Haroun Khan, is an outstanding novel set on a South London council estate where Ishaq, a semi-autobiographical character, is part of a study circle studying the Qu'ran.
Set amidst a background of EDL marches in London, fear of being under surveillance by security services, and watching European politicians discussing a "final solution," the book is an incredible look at life underneath London's affluent facade.
Khan's work uses his experiences of encountering extremism on a South London council estate while providing the reader with a compelling viewpoint into modern Britain through the lens of urban Muslim youths.
The book is a reminder that as much as London has to offer, there is a murky underbelly of simmering prejudice and extremism contained within.
Caleb Azumah Nelson
Caleb Azumah Nelson is a British-Ghanaian author who released his debut novel, Open Water, in 2021. And we're not ashamed to say we devoured it in one sitting.
The story, written after Azumah Nelson suffered the loss of several close friends and family members, takes the reader on a journey through a rapidly changing London as the two central characters, a couple of young black artists, struggle to find their identity and place in an ever-shifting space.
Azumah Nelson uses the rapid gentrification of inner-London areas to amplify the displacement often felt by working-class and minority communities as their communities change around them.
However, the feelings of comfort and solace provided by the rich diversity of London's art scene is something that those of us who find a sense of belonging through London's rich cultural heritage can relate to.
Jade LB
It's barely credible to think that Jade LB wrote Keisha the Sket, a story of a 17-year-old girl from inner London whose life consists of parties, tragedy, predatory men, and sex, when she was 13 years old.
The story initially went viral in 2005 when LB uploaded it onto a blog site called Piczo and word quickly spread.
Less than 20 years later, LB's tale of teenage lust and patriarchal power was turned into print in 2021 and has become a tome to the experiences of Black women in inner-city London.
The beauty of the original version is that it's written in its original idiomatic language that combines Jamaican patois and text-speak that is full-on 21st Century.
For example, "sexy" is deliberately misspelt as "sexxxxxi" or "sexc". This grants the story an extraordinary, raw authenticity that brings Black London unashamedly and brilliantly to the page.
Ellery Lloyd
Ellery Lloyd is the pseudonym for London-based husband and wife authoring team Colette Lyons and Paul Vlitos. Using the old writing adage, "write what you know,"
Ellery Lloyd uses London to portray the complex and often contradictory feelings that many Londoners experience regularly. For example, while London is described as a city of frantic excitement and bustling energy, it is also the setting for loneliness and disconnection.
This is best illustrated in People Like Her, where the main character Emira Tucker – a successful social media influencer – uses London as an endless source of inspiration for the veneer of her perfectly presented life to the world.
Meanwhile, London also forms the backdrop to her struggles of maintaining her online persona at the detriment of her ability to create meaningful connections in real life.
Candice Carty-Williams
Candice Carty-Williams' 2019 debut novel Queenie was marketed as a "black Bridget Jones." Take it from us – that does Queenie Jenkins, the book's central character, a monumental disservice.
Although Carty-Williams acknowledged that, at first, she thought of Queenie that way, she is much more political because of who she is.
Queenie is a 25-year-old Jamaican Brit going through a tough year in London. Carty-Williams also adeptly uses London as a city of contrasts and contradictions.
Discrimination and prejudice are still rife and experienced by Queenie. Yet, she also finds a sense of community and belonging among the rich multi-cultural mix that thrives within the city. Queenie is an aching portrayal of life in London for a young Black woman.
Monica Ali
Bangladesh (then East Pakistan) born author Monica Ali moved to Bolton in 1970 at the age of three. Her portrayal of Brick Lane, the eponymous title of her 2003 novel, brought Ali to the consciousness of British people.
Known throughout London for its rich array of curry houses and South Asian influences, Ali digs deep into the heart of London's East End from the perspective of Nazneen, an 18-year-old Bangladeshi woman who moves to London to marry an older man.
Although the novel itself provoked controversy, particularly among the Sylheti community of Brick Lane, for the way they were portrayed in the book, it has since become synonymous with the struggles faced by immigrants to integrate into London life.
Her 2022 novel Love Marriage also uses London as the backdrop for the love story of a junior doctor engaged to be married to a fellow doctor.
Kamila Shamsie
Kamila Shamsie is a Karachi-born author who grew up partly in London and uses the city as a setting for many of her novels, including Home Fire, Broken Verses, and In the City by the Sea.
Shamsie uses London to examine the city's role in shaping the lives of immigrants, their struggle to navigate identity and belonging in a new country, and how it affects their sense of identity for different generations.
Contemporary London is the setting for 2005's Broken Verses, where the central character, Aasmaani, searches for her mother, who disappeared. London's diverse cultural heritage and landscape is a theme that runs through the book.
Shamsie's descriptions of the city make the atmosphere, energy, and diversity that make London such a great place to live jump off the page.
David Nicholls
David Nicholls, known for his novels Starter for Ten, One Day, and Us, has regularly used London as the setting for his tales of love, relationships, and journeys of personal growth.
The use of the city in One Day provides a running commentary for the passing of time throughout the 20 years of the novel, as it provides the stage through the 1980s, 90s, and early 21st Century for the lives, relationships, and enduring friendship between the two protagonists.
Meanwhile, in Us, the protagonist, Douglas Peterson, embarks on a rich journey of self-discovery and healing as he confronts the challenges he's experiencing in his life head-on.
London illustrates the contrast between Douglas' current and previous life, being portrayed equally as a place of solitude and introspection and a vibrant, exciting, wonderful city. And that, it certainly is.