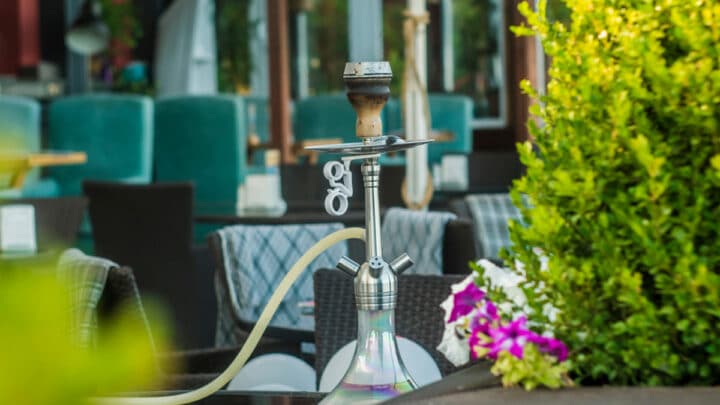 Whether you're a seasoned toker or are simply looking to kick back and relax in the Big Smoke, London's shisha bars don't disappoint.
If you're not already familiar, shisha is the social activity that might get you hookah'd.
Enjoy a delicious fruity smoking experience while chilling with mates, or maybe even on your own with a tea or coffee.
London's shisha lounges offer top-quality shisha from all the big brands, with superb food and drink that only enhance your experience.
Here are the best shisha lounges in London – they're sure to be a hit.
Best London Shisha Lounges
The Banc
Tottenham
One of the premier hookah spots in London, The Banc is a classy restaurant with a two-floor shisha bar. It's been around for 10 years and still going strong – which says a lot.
With a tasty menu packed with grilled meats, burgers, fish and curries and a generous range of signature cocktails, classic cocktails and mocktails, The Banc has everything you need for a top-class smoking experience.
The shisha bar serves top-quality brands like Savacco and Bear Smoke at standard prices – around £25 per person.
Mamounia Lounge
Mamounia Lounge is a high-end shisha lounge located in the heart of Mayfair. Featuring luxurious Moroccan-inspired décor throughout, Mamounia offers an upmarket shisha experience – perfect if you have something to celebrate. Or not; you deserve it.
The menu is delicious, with Moroccan and Lebanese classics like Farruj Meshwi (butterflied chicken) and Castellatta Ghanam (lamb cutlets). The small meze dishes are perfect for sharing, and there are plenty of veggie and vegan options, like veg moussaka and super-fresh Moroccan salads.
A massive range of high-quality shisha brands and flavours are available, and there's a lively calendar of DJs, dancing and other entertainment. It's no wonder that this is one of the best shisha lounges in Central London.
Tigerbay Shisha Lounge
Kingsbury and Ealing
One of the most popular places for shisha in London, You'll find the original Tigerbay Shisha Lounge in North London's Kingsbury and a second location in Ealing, to the west.
First off, it's a gorgeous venue, with plush seating and tiger-themed decor throughout. The dress code is smart casual at the weekend, but it's pretty chilled on the whole.
Tigerbay serves authentic Indian cuisine with classic curries and heaps of delicious starters, sides and desserts. The cocktail and mocktail menu is extensive – they serve alcohol.
The shisha delivers on every account, with a whopping selection of flavours from top brands like Savacco, house flavours, and the opportunity to upgrade to a colossal glass shisha pipe with ice pipes.
Easily amongst the top shisha lounges in London, Tigerbay has a stellar reputation and won't disappoint.
Blacklist Lounge
No surprise that the ultra-cool Camden boasts one of the capital's top places to unwind. On Camden High Street, Blacklist Lounge is a modern shisha bar with beautiful decor throughout.
The food menu is superb, with a mighty fine selection of burgers that includes El Chapo, the Notorious Thug Burger and the starkly named Steak Cannibal Burger.
Up for a really fancy burger? The Blacklist Golden 24CT Burger delivers the goods – no spoilers from us.
There are plenty of other options, like veggie wraps and grilled meats. For drinks, you'll find mocktails and milkshakes – there's no liquor licence, but you can BYOB for £5 per head.
The shisha menu features plenty of premium flavours like Al Fakher and Savacco. Prices are as expected, at £20 to £40 per person.
A smart, intimate venue for shisha, drinks and food – and BYOB helps keep costs down. The best shisha in London? Definitely a strong contender.
Mevali Shisha Bar
Mevali Shisha Bar is a Lebanese cafe-restaurant with a gorgeous courtyard shisha bar. It's warm and authentic, with a tasty menu of chicken wraps, halloumi and mixed grills.
Traditional Lebanese teas blend wonderfully with shisha, which is inexpensive compared to some of the fancier bars on this list.
Plus, this shisha spot opens nice and early – perfect for afternoon sessions. And, the courtyard has heaters, so you can sit and smoke come rain or shine.
A cosy, no-frills venue with a relaxed and friendly atmosphere. All in all, Mevala is a genuinely authentic and non-pretentious shisha lounge in London.
Amouage Lounge
Cricklewood
In North London, Amouage Lounge is an authentic Lebanese shisha bar that offers homemade cakes, shakes, smoothies and tea. There's no food menu, but you'll still find plenty of snacks and drinks to enjoy with your shisha.
This is definitely one of the cheaper shisha bars in London, and they do loads of great deals like shisha + tea + cake for just £15. They have a late licence, too, opening until 4 am on weekdays and 6 am on weekends.
While many shisha bars can have a club vibe, this shisha bar is far more laidback than most – a no-fuss venue that isn't trying to be flashy.
Laika Shisha Lounge
If you're searching for top-quality shisha, Central London's Laika Shisha Lounge is situated on the 'secret terrace' of the renowned ZIMA Restaurant. It's bang-smack in central London in a fantastic location on Frith Street.
The shisha menu is predictably classy, with flavours divided between "Earth," "Venus", and "Mars". You can upgrade with a fruit head or a tea base, but that pushes prices past the £50 mark – but that's for two, so the prices are actually very reasonable given the location.
The Russian food in Zima is well worth trying, with a spectacular range of delicious traditional Russian and modern European dishes.
Temple Lounge
Shisha with epic views? Yes, please. Temple Lounge is located in Canary Wharf on a stunning riverside setting.
This shisha lounge serves a selection of premium shisha flavours and a superb Indian food menu. Shisha and curry is a decadent combination – you've got to try it.
The location is sublime, with views across Canary Wharf's skyline and the docklands.
Habibi Shisha Lounge
Archway
Fancy a shisha lounge where you can order pizza and pasta? Look no further. Habibi Shisha Lounge in Archway is next door to Il Mio Mosaic, an Italian restaurant, and they essentially share the same venue (though they are different companies).
There's a fantastic courtyard shisha bar serving top-quality shisha at reasonable prices, and you can grab gorgeous Italian food, including stonebaked pizzas, pasta and some incredible desserts.
Italian food and shisha. It's the combination you didn't know existed – and the combination you didn't know you needed. If you're looking for a chilled shisha garden in London, Habibi Shisha Lounge ticks all the boxes.
Syon Lounge
Brentford
Sure, Syon Lounge might be located in Brentford, but it's worth venturing out for a luxurious shisha experience with modern Pan-Asian cuisine.
From beef fillets to noodles and delicious sushi, this popular shisha bar is as much about the food as the shisha. You'll also find an extensive drinks list, with cocktails, mocktails and shakes – so yes, Syon Lounge sells alcohol too.
Premium shisha is available from top brands like Al Fakher, Starbuzz and Savacco. Savacco offers some seriously jazzy flavours like Picasso and Magna Carta that will get your tastebuds bouncing.
Undoubtedly one of the best shisha bars in London.
Practical Tips for Exploring the Best Shisha Lounges in London
Shisha London is easy to find, but note that you have to be 18+, as shisha is classed as a tobacco product. The cost of smoking at your average shisha lounge in London varies from around £20 for two at the lower end to over £70, especially when you factor in hookah accessories like ice pipes, specialist flavours and fruit heads.
When you head to shisha bars in London, you'll generally have around 2 hours per shisha slot. So, when checking out prices, remember you'll get around 2 hours of smoking time.
Not all shisha bars sell alcohol, so check before you go. If not, ask about a BYOB policy.
London Shisha Lounges: Map