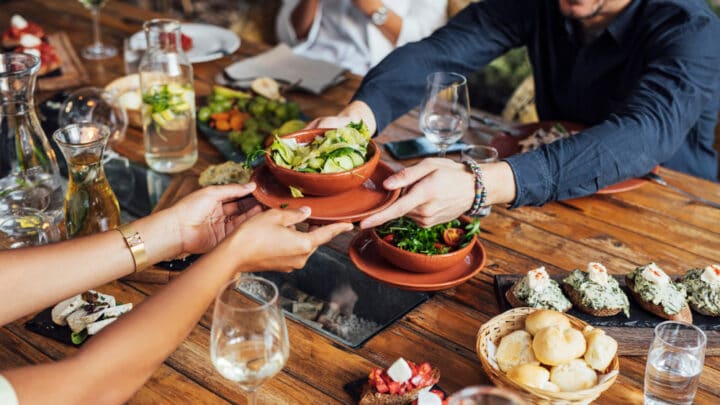 Looking for some delicious food that's Celiac safe? We've got a list of some of the best gluten-free restaurants in London.
Finding food that's allergen-safe can be tricky in a big city. Fast-paced dining and high-end cooking don't often cater to gluten-free and vegan diets. But, as awareness of healthy eating has grown, so has the availability of gluten-free London restaurants.
Ready to discover the top gluten-free dining options in London?
Andina
Spitalfields
After their restaurant in Shoreditch had become one of the area's best, Andina restaurant brought its Peruvian spirit to the Spitalfields market. They're open seven days a week for lunch and dinner and open a little earlier on the weekend for brunch.
South-American flavours inspire Andina's menu – with delicious ceviches and small plates such as the more-ish artichoke and kale fritters, pork belly bites, and potato chips with amarillo mayonnaise. They also have many meals for vegetarians and vegans and plenty for gluten-free diets.
Dishoom
Multiple Locations
Dishoom may have a few locations dotted around the capital, though the one in Covent Garden is our favourite.
Their restaurants are a tribute to the Irani cafes that once populated Bombay – and what better city to celebrate a multitude of cultures than London? For the ultimate experience, order 2-3 dishes per person and share between your table.
Without a doubt, Dishoom is the best place to find Indian-inspired gluten-free food in London. From their gluten-free menu, try the spicy lamb chops and gunpowder potatoes with a bowl of raita on the side – you'll be gutted that you have to share.
Niche
Clerkenwell
After Marc, the co-owner of Niche, got diagnosed with Celiac disease, his restaurant underwent some impressive adjustments and became London's first and only completely gluten-free eatery.
Although Niche is no longer alone in the world of London's gluten-free restaurants, it continues to serve fresh, gluten-free food and desserts to the city. Besides being one of the top Celiac restaurants in London, Niche is also 100% nut-free.
English cuisine makes up the bulk of Niche's menu, but it also features flavours and techniques used by neighbouring European cultures. The NFC – or Niche Fried Chicken – is a particular favourite, spicy buttermilk chicken served with garlic aioli and BBQ sauce for dipping. Though, we struggle to resist the beer-braised beef short ribs either.
Indigo at One Aldwych
Covent Garden
Phenomenal British Chef Dominic Teague heads Indigo restaurant. Chef Teague's food adds a modern twist to classic English cuisine – and his completely gluten-free and allergy aware menu provides a comfortable dining experience for all guests.
Situated at the One Aldwych hotel, Indigo also practices sustainability. All ingredients used at this restaurant are sustainably and locally sourced from independent British farmers, butchers and fishmongers.
Head to Indigo to experience a new take on a traditional Sunday roast – we particularly love the warm celeriac terrine, or join them for afternoon tea to indulge in gluten-free cakes and pastries.
Rossopomodoro
Covent Garden
Finding Italian, gluten-free London restaurants can be tricky. But, Covent Garden's Rossopomodoro delivers a variety of gluten-free pizza and pasta options without compromising on South-Italian taste.
Although not all of their menu is gluten-free, you can look out for the little 'gf' symbol to spot the Celiac safe dishes.
Rossopomodoro's slow-cooked tagliatelle al ragù' Napoletano is a fantastic choice if you're in the mood for fresh, hand-made pasta. Try the Ventura and add buffalo mozzarella for extra cheesiness for pizza lovers.
Station 26
Station 26 offers an entirely gluten-free fusion menu in the heart of Brixton Village Market. The team at Station 26 are passionate about food and flavour and committed to delivering delicious Celiac safe food. Besides that, locals love the restaurant's warm and welcoming environment.
Station 26 features classic European, Mediterranean, and Asian flavours. Whether you're a frequent at Station 26 or a first-time visitor, there are always new health-conscious dishes to try.
Out top picks? Try the chicken schnitzel, crab cake salad, or the duck confit and you certainly won't be disappointed.
MOMMI
MOMMI in Clapham is a lively and homey restaurant that serves a unique blend of Latin American and Japanese cuisines. Its calm, urban atmosphere is popular with young professionals and those who appreciate incredible fusion food (that includes us, FYI).
This restaurant has an assortment of dishes for gluten-free, vegan, and vegetarian diners. If you're looking for gluten-free dining, London has a handful of options, but few as unique as MOMMI.
Try their MOMMI Chirashi Sushi power bowl, a magical concoction of salmon, tuna, seabass, and wasabi caviar with seasoned sushi rice and veggies.
Where the Pancakes Are
Multiple Locations
Although the name might fool you, you'll find a lot more than simple pancakes at this trendy joint. Where the Pancakes Are uses local and seasonal ingredients to make every dish from scratch. Their signature 3-in-1 batter is wheat and dairy free and vegan.
Head there for brunch and order the Boulder Breakfast: two vegan pancakes, smashed avo, cherry tomatoes, chipotle roasted squash, and a toothsome chickpea salad thrown in for good measure.
Where the Pancakes Are is a great option for eating gluten-free in London. Though it's important to note that this restaurant labels items on the menu as 'wheat-free.' Be sure to ask staff about dishes that are safe for Celiacs.
Zizzi
Multiple Locations
Around twenty years ago, Zizzi Italian restaurant opened the doors of its first establishment in Chiswick. The locals loved it so much that those signature pizza ovens couldn't handle the crowds. Now, Zizzi has over 130 restaurants all over the UK and Ireland.
Zizzi boasts a special menu for gluten-free mains – here you'll find plenty of pizza and pasta options that are Celiac safe. Try their non-gluten king prawn pasta or non-gluten primavera pizza for a whole lot of Italian indulgence.
Zonzo
Zonzo is one of the best gluten-free restaurants London has to offer. This Italian-influenced restaurant in Marylebone undoubtedly aims to cater to all its guests. In fact, Zonzo has vegetarian, vegan, gluten-free, and halal options available.
This restaurant often hosts special deals and events – for example, you can scoff burgers and chips for only ₤9.95 every Sunday to Thursday, or 15% off on takeaways. They also have set menus available for groups of up to four guests.
Their classic carbonara is a stellar option, as is the creamy wild mushroom risotto. Wash down with a glass or two of vino from their extensive wine menu.
Tip: It's best to make reservations during busy times and on weekends to ensure you've got a table at Zonza.
Bella Italia
Multiple Locations
Just minutes away from many of the city's top attractions is another fantastic Italian and gluten-free chain restaurant in London. Bella Italia restaurant lives up to its name by serving beautiful, authentic Italian dishes.
While not everything on the menu is gluten-free, the chef can prepare most of their dishes gluten-free on request. Bella Italia's website has a nifty tool that lets you filter out all the items that oppose your diet, leaving you with the gluten-free, vegan, or vegetarian dishes on offer.
If you visit and do not order the caramelised onion flatbread starter, you deserve to be thrown in the Thames. 'Nuff said.
Paladar
Paladar restaurant is a homage to both Latin America and the city of London. It sits on London Rd at the historic St George's Circus, the city's first functional intersection. The monument here marks one mile to important points like the Houses of Parliament, London Bridge, and Fleet Street.
To the South lies London's Latin American community. Paladar restaurant celebrates this combination of culture through its menu and spirit. Their 100% gluten-free menu is a hit with both celiacs and 'gluten eaters.' The pulled jackfruit, criollo-corn empanadas, with serrano chilli salsa truly is something special.
Paladar is definitely up there with the best gluten-free London restaurants – they've even got gluten-free beer and a 'gf' Mexican whiskey for you to quaff.
Detox Kitchen
With health in mind, Detox Kitchen prepares delicious meals that are free from dairy, wheat, and refined sugar. Easily one of the best gluten-free restaurants in Soho, this restaurant is a lively location at lunchtime in London.
Back in 2012, the team behind Detox Kitchen recognised how difficult it can be for regular people with busy lives to prepare and eat healthy food. So, they made it easy and delicious.
At Detox Kitchen, you can build your own salad by picking a base, a protein, and some extras, or opt for a pre-built salad bowl.
Try their Chasing Rainbows bowl if you're in the mood for Asian flavours. If it's Mediterranean you're after, go for the Cool as a Cucumber option instead.
Sweet Treats: Gluten-Free in London
Grom
Piccadilly
A pair of friends founded Grom Gelato in 2003 in a small Italian city at the base of the Alps. These days you can find Grom gelaterias all over the world. They offer gelato in an array of forms and flavours.
The best part is that Grom is 100% gluten-free. They're all about using the best ingredients and no artificial flavouring or colouring to create silky smooth and delicious gelato. All components are ethically and sustainably sourced from Italy and around the world.
Grom has chocolate bars, pralines and cones, a selection of spreads, and about forty-five flavours of gelato. This chain of gelaterias makes their gelato right there in the store, no matter where you are in the world.
Cookies and Scream
Highbury East
This little bake shop on Holloway Road first opened in 2016 and has since offered a relaxed and homey experience. Cookies and Scream is a completely vegan and gluten-free bakery.
Finding baked goods that are gluten-free in central London can be a little tricky. But, Cookies and Scream have a selection of treats for every occasion. Their menu is constantly changing, so it's best to pop in and have a look at what's on offer.
However, they've always got a steady flow of delicious cookies and 'Thick 'Scream Shakes.'
Lola's Bakery
West Hampstead
Lola's Bakery has brought a breath of fresh air to West Hampstead's restaurant scene. The team behind this establishment built Lola's with more than ten years of baking experience. Their idea was to bring honest and wholesome food to this part of London.
Almost everything on the menu at this bakery in London is gluten-free and vegan. There is also a wide variety of egg-free and dairy-free dishes and sweet treats. Though, we adore the mini cheesecakes and the marble loaf.
Gluten-Free London: More Restaurant Guides
Gluten-Free Restaurants London: Map