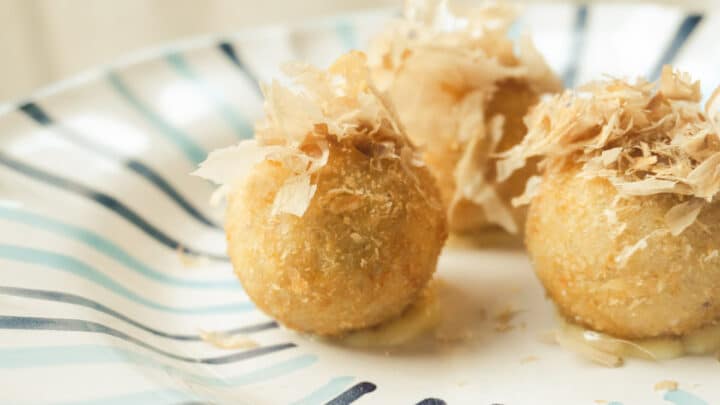 Want to eat out in Marylebone? Here's where you need to be booking.
Marylebone is one of the swankiest neighbourhoods in London.
But there is far more to this area than celebrity spotting and designer shopping. Marylebone is home to some of the best restaurants in the entire country.
This guide showcases 25+ of the best eateries in Marylebone, ranging from fine dining Chinese cuisine to hand-made Italian pasta, and everything in between.
Best Restaurants in Marylebone, London
Chiltern Firehouse
Chiltern Firehouse embodies the luxury of Marylebone, but in an incredibly understated way. Therefore, you will find it included in nearly every list of the best places to eat near Marylebone.
The Michelin guide describes the Chiltern Firehouse as 'glamorous and contagiously fun', which perfectly summarises this fantastic melting pot of American cuisine. The menu spans from the light Smoked Trout Salad to the upmarket yet surprisingly reasonable Grass-Fed Ribeye Steak.
Chiltern Firehouse gets booked up weeks, if not months in advance. So, if you're struggling to secure yourself an evening table, we recommend trying to snag an early weekend brunch spot. The grilled Lobster with eggs is amazing.
Additionally, Chiltern Firehouse has the most incredible outside courtyard, perfect for the warm summer evenings.
Lurra
Whilst we're not going to pretend to be experts on the Basque region, this restaurant's history and ethos are enough to have Londoners gathering at Lurra every night of the week.
Lurra offers a minimalistic menu with a clear focus on excellent produce and perfect presentation. The menu varies with the seasons and accessibility of ingredients, but expect the likes of 'whole wild Cornish turbot' and 'Crab and trout caviar pintxo' to be regular features.
Phenomenal food paired with even better wines, in a fabulous location makes Lurra the perfect dinner in Marylebone.
108 Brasserie
Tucked in the heart of Marylebone, 108 Brasserie is an all-day dining joint that makes for a brilliant pitstop for breakfast, lunch, dinner or even for a casual drink in the bar.
It's a friendly spot, with a modern European menu that has a big emphasis on fresh flavours and healthy meals – with plenty of vegan options too.
Delamina
Husband and Wife duo Limor and Amir Chen opened Delamina in Shoreditch before bringing their brand of eclectic healthy dishes over to Marylebone where it's been a hit ever since. The food is loosely Israeli (thanks to Limor's hometown of Tel Aviv) – incorporating a broad range of flavours from around the world.
Dishes – like Moshe's Herbed and Spiced Angus Beef and Venison Koftas – are brimming with flavour. Wash them down with an unusual pick from their wine and beer which features picks from Lebanon and Israel.
28°-50°
We've long been a fan of 28°-50 °'s ongoing matrimony between great quality food and even better quality wine and the Marylebone outpost is no exception.
Wine bars abound in London, but few offer such a perfect food list to go with – the European menu features delectable dishes including lamb shoulder with barley, squash, onion soubise and jus and a dip-your-face-in-it-good Autumn Mess.
The Italians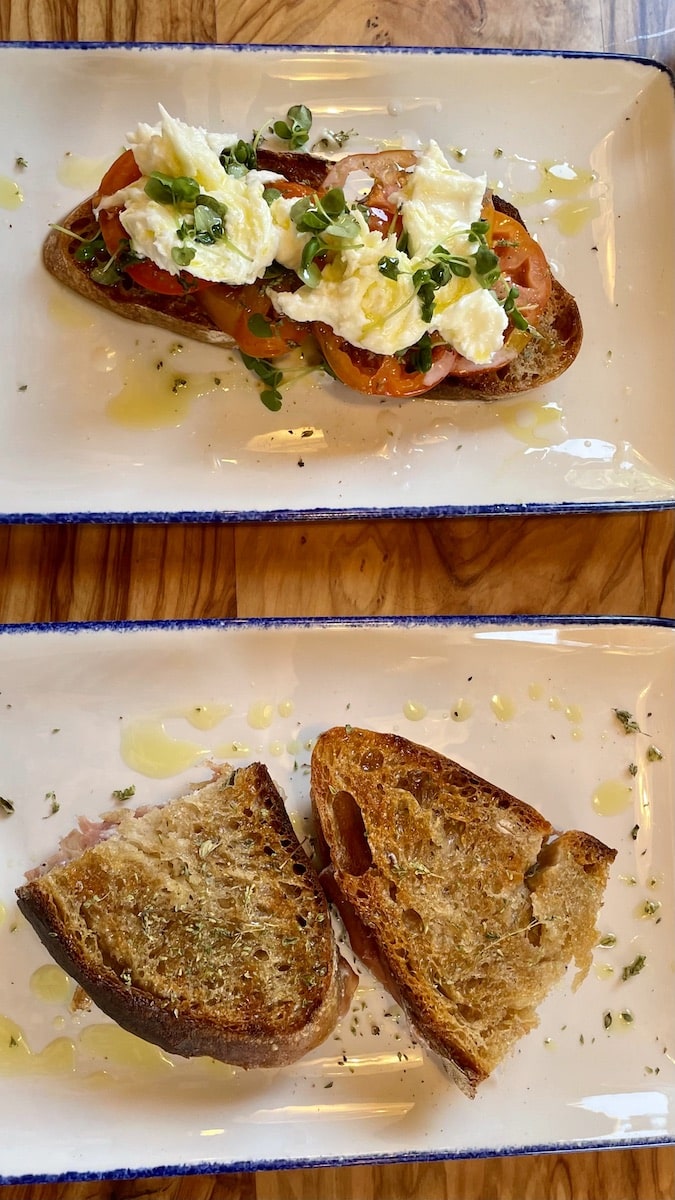 Craving fresh Italian food? Head to The Italians' intimate wine bar and deli for hearty dishes and an Aperol Spritz or two. With a few tables for outside dining, it's not too difficult to get your al fresco fix in the heart of Marylebone Village.
What to order? Opt for the moreish bruschetta with mozzarella, the parma ham toastie, and the Caprese salad and share with pals (there's a whole lotta cheese going on… and we love it).
ZOILO
Contemporary Argentine grill ZOILO combines the punchy flavours and simple dishes of its homeland cuisine. It's small dishes, giving diners the chance to try a cross-section of plates they may never have come across before (as well as many they have). The empanadas are a must, as is the steak for the meat eaters. Unsurprisingly, the wine list is rather brilliant too.
Portland
'Approachable fine dining and the world's best wines.'
We're sold.
No list of the best restaurants near Marylebone would be complete without a big shout-out to Portland.
Portland offers a three-course a la carte menu available at both lunch and dinner, as well as a fantastic tasting menu for the evenings. There is nothing showy about this place, but it has every reason to be.
Portland has managed to perfect a comfortable, laid back atmosphere whilst serving superb fine dining paired with world-class wines. Truly outstanding.
Jikoni
It is fair to say that Jikoni has evolved from a restaurant and has grown into an empire.
The focus here is on cross-border foods, transforming recipes passed down from generations before.
The location itself is an Instagrammer's dream, with its pastel pink shopfront and floral soft furnishings. However, this place has so much more to offer than the way it looks.
Jikoni blends flavours and cuisines in a way many chefs struggle to perfect, taking influence from South Asia, the Far East, the Middle East, East Africa, and Britain. There are plenty of vegan options here, with an emphasis on foods that nourish the soul, making it a confident contender for one of the best Marylebone places to eat.
Caldesi
Many label Caldesi as the best of the Italian Marylebone restaurants. After one visit, you will understand precisely why.
Caldesi has an extensive menu covering everything you would expect from an authentic Italian spot. Pappardelle Ragu is a best-seller among the meat-eaters, whereas the Fettuccine Truffle is popular with vegetarians.
All pasta at Caldesi is homemade. Incredibly, the restaurant is proud to offer gluten-free versions of its pasta dishes, that are equally tasty.
Opso
Situated on the junction of Paddington Street and Nottingham Place, Ospo is the most loved Greek restaurant in Marylebone.
The ethos of Opso revolves around turning authentic Greek dishes into perfectly curated plates for the London customer.
They offer upscale versions of all our holiday favourites, including moussaka, tzatziki and of course, Greek salad. To accompany the wonderful food is an extensive Greek wine list and a perfectly crafted cocktail menu.
Dinings
Ex-Nobu chefs offer their unique style of Japanese tapas at Dinings in Marylebone. They work extremely hard to separate themselves from the wealth of fantastic Japanese restaurants in the capital.
The Sashimi, sold by the piece, is truly remarkable. However, for something exceptional, try the seared A4 wagyu beef open roll.
This place is small, so make sure you book in advance to avoid disappointment.
The Gate
The Gate blows all preconceptions surrounding 'boring' vegetarian or vegan food out of the water.
The menu offers an eclectic mix of food from around the world, including truffle & mushroom arancini, Thai curry, and beetroot burgers. The menu centres around emphasising the beautiful flavours and textures of vegetables rather than trying to replicate meat.
Royal China Baker Street
If you're in search of restaurants near Marylebone station, then just a 10-minute walk will lead you to this incredible Chinese eatery.
As every Londoner knows, finding excellent Chinese food can often feel like throwing a needle into a haystack.
Authentic food, a relaxed yet beautiful ambience and attentive staff make dining at the Royal China Baker Street a wonderful experience.
For those, like us, who simply cannot decide when it comes to Chinese food, try the 'House Special'. This is a selection of their bestselling dishes, including Szechuan Style prawns, black bean chicken, and of course, crispy duck and pancakes.
Briciole
Briciole is another favourite on the Italian Marylebone restaurant scene.
There is nothing pretentious about this joint. Instead, the focus is on authentic, hearty food in a relaxed atmosphere.
The menu offers the traditional dishes that you would expect: calamari, lasagne and ravioli.
However, the true highlight of this venue is the antipasti selection. The extensive choice of cheese and meats include an excellent 12-month cured ham and an impeccable Burrata.
Hoppers
Hoppers is a Marylebone hotspot that takes inspiration from the Sri Lankan architect Geoffrey Bawa. The concept is apparent in their décor and menu, culminating in a fabulous restaurant that guests simply don't want to leave.
A hopper is a Sri Lankan bowl-shaped pancake, often served with an egg. Whilst this might not sound the most extravagant of dishes, the way 'Hoppers' have perfected it is genuinely remarkable.
The highlight of Hoppers is the 'family style' concept they promote. For £35 per person, your table can enjoy a feast of the delights Hoppers has to offer. This is the perfect (in our humble opinions) way to enjoy this extraordinary food.
Kintan
Just a three-minute walk from Oxford Circus underground station sits Kintan, London's favourite Japanese BBQ.
You might be shocked to see a restaurant where you cook for yourself, making it to a list of the best restaurants, Marylebone. Whilst we appreciate grilling your own food at the dinner table isn't for everyone, the atmosphere and excellent produce at Kintan make it all worthwhile.
Kintan offers two options where ordering is concerned. First, each item can be requested separately, allowing guests to perfect their combination of meat, seafood and vegetables.
Alternatively, they offer bundles for groups of either 2, 4 or 6. This is a great way to sample many of the choices available, especially for those on their first visit.
La Fromagerie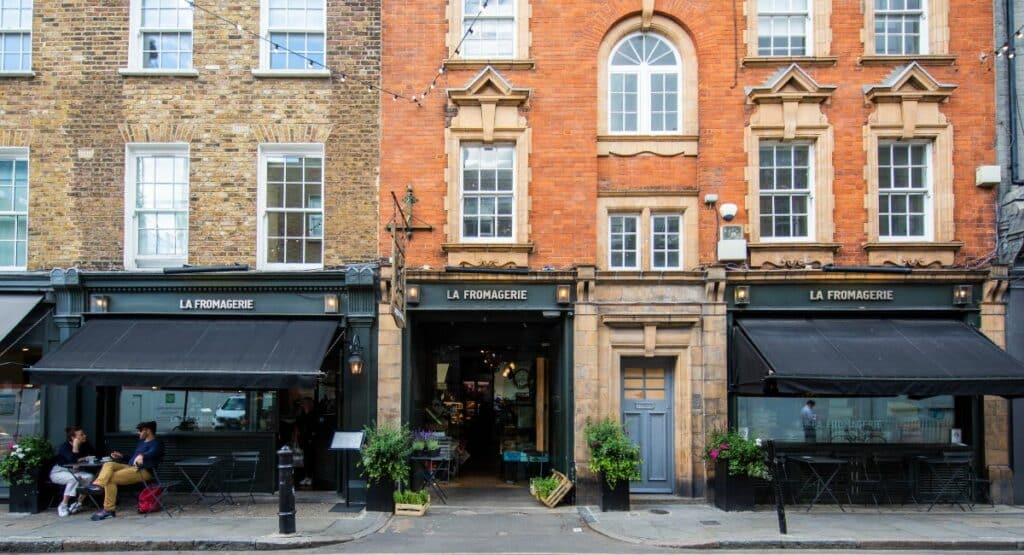 La Fromagerie has a clear speciality… Cheese.
Many come for the cheese and stay for the atmosphere.
The Monday night supper club at La Fromagerie is nothing short of perfection. A different set menu is presented every week, centring around fresh ingredients, cleverly blending flavours from the UK, France, Italy and Spain.
Of course, every menu includes a cheese board, focusing on the finest La Fromagerie has to offer.
Meat Liquor
Sometimes a great burger, crispy fries and delicious milkshake simply cannot be beaten. For a classic that delivers every time, visit Meat Liquor Marylebone.
Separating itself from some of its more exclusive neighbours, meat liquor offers a wide selection of beef, chicken, and veggie burgers.
The venue has a clear, no-nonsense menu, meaning guests know exactly what to expect from this popular chain. Favourites include the 'Dead Hippie' beefburger and the 'Tempeh Tantrum' for the veggies.
Orrery
Authentic, elegant French food in the heart of London. You will struggle to find a Marylebone guide that fails to mention this delight.
The minimalistic menu at Orrery focuses on excellent quality ingredients rather than overwhelming their guests with choice. The staff are polite whilst remaining professional and are more than happy to recommend wine pairings for your course choices.
Should the weather permit, request a table on their terrace, which is the perfect setting to enjoy these beautiful dishes.
Pachamama
Pachamama is every millennial's dream. The venue encourages guests to dine on a selection of small plates whilst sipping on delicious cocktails.
This Peruvian restaurant has another home in Shoreditch, and each base offers a comprehensive menu at both lunch and dinner service. The most popular dishes include Galician octopus, Peruvian fried chicken and the yellowfin tuna, all packed with astonishing flavours and presented impeccably.
Les 110 de Taillevent
Any restaurant that offers over a hundred different wines by the glass was sure to make it to the list of the best Marylebone restaurants.
Les 110 de Taillevent is a decadent and extravagant French eatery, encompassing everything many expect from a restaurant in this area. Since opening their doors in 2015, Les 110 de Taillevent have received six awards, including 3 AA Rosette Stars from the AA Hospitality Awards and 'Best Wine List in the UK' from the Star Wine List.
Locanda Locatelli
Locanda Locatelli is another great Italian restaurant that manages to stand out in the crowd.
This venue doesn't try to add a hipster twist to its dishes. Instead, it focuses on perfecting the classics, which keeps guests returning for more.
The restaurant itself is crisp, and the staff are incredibly knowledgeable and attentive. Of course, pasta features heavily on the menu, but there is also a range of fish and meat dishes for those looking to go easy on the carbs.
Trishna
If you're searching for an Indian restaurant in Marylebone, look no further than Trishna. In 2012, this restaurant was awarded a Michelin Star, and it doesn't take long to understand precisely why.
Trisha manages to add a fine dining element to the Indian food we all know and love, without spoiling the authenticity. The restaurant is relaxed, and the menu is extensive. The soft-shell crab starter is a personal favourite.
The Wigmore
The Wigmore is part of the Langham Hotel but will wildly exceed your expectations for a hotel eatery. The gastropub menu is small but perfectly formed, offering the ideal drinking accompaniments.
The ploughman's garden platter is perfect for sharing with friends over a chilled bottle of wine. Alternatively, try the Masala spiced scotch-egg to complement one of the many summer cocktails the Wigmore offers.
St. John Marylebone
It was big news back in 2022 when St. John announced they'd be opening a third branch of their iconic restaurant – in spite of having a waiting list for tables that reaches months long, they've never thought it necessary to expand the empire to more than a couple of London locations.
The food here is as good as either of the other two spots and follows the same theme. That's British cooking at its roots, using animal parts that usually end up in the butcher's bin and some expert techniques to bring the offcuts to life.
The style championed the nose-to-tail movement, one that has influenced the world of cooking, and no doubt a few of the chefs working at kitchens in this guide. You'll be in very safe hands.
Cavita
At Cavita Mexican fare gets elevated to the level of the Marylebone's other great restaurants but still manages to retain its down-to-earth charm – That's, in large part, due to the talents of Mexican-born chef/owner Adriana Cavita.
She turns out an ever changing menu of street-food-inspired small plates that take advantage of seasonal produce to make sure everything is super fresh. Mix that with the punchy flavours of Cavita's cooking and you're on for a winner.
Other Places to Eat in Marylebone
Patty & Bun
If you're looking for something a little more relaxed and easier on the purse, give Patty & Bun a try. This burger joint might not exude the same luxurious vibe as some of its neighbours, but the food is packed with flavour.
Patty & Bun have a fantastic mix of meat and vegan burgers and even offer gluten-free buns.
Paul Rothe & Sons
If you're in Marylebone and fancy a quick bite to eat, make a bee-line for Paul Rothe & Sons. This deli has been here since 1900 doing much the same trade that they always have: high-quality deli food.
This isn't just hampers of jam and cured meats though. Paul Rothe & Sons make some excellent sandwiches and other dishes that are the ideal option if you're looking for something a bit more casual than Marylebone's usual high-end offerings.
They have seating if you want to eat in, but we'd recommend grabbing your sandwich to go and strolling up to Regent's Park for a bit of lunch al fresco.
Practical Tips and Map for Exploring The Best Marylebone Restaurants
Marylebone is one of the most accessible places in the entirety of London. Local stations include Marylebone Station, Edgware Road, Baker Street, Great Portland Street and Bond Street.
There are a vast number of things to do in the area besides sampling the best eateries. Consider making a day of it and exploring nearby Kensington Gardens and Hyde Park.
Marylebone is a hugely popular area of London, meaning restaurants get booked up extremely quickly. Be sure to book in advance to avoid disappointment.
Marylebone Restaurants: Read Next