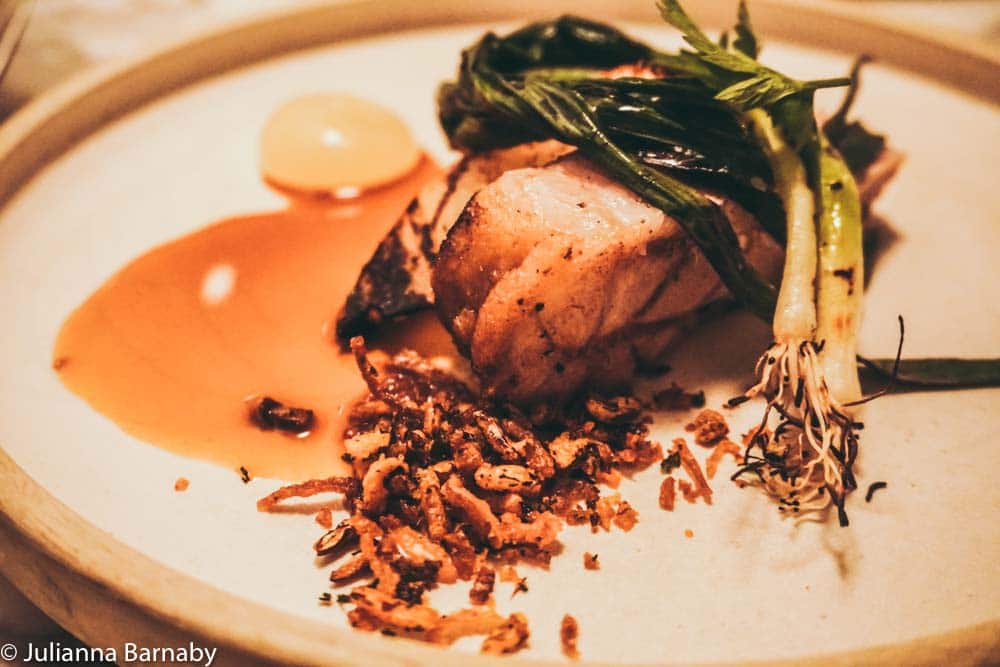 Looking for a delicious lunch in London? We've got you covered with this handy guide to the London lunch spots you do not want to miss.
We might be biased, but we think that London is one of the most vibrant, fun, and varied cities in the world – especially when it comes to the food on offer. Whether you want a Michelin Star set tasting menu or a relaxed family-style meal, London has got you covered.
Looking for somewhere to enjoy a midday meal? Take a look at the best spots for lunch in London below.
Best Lunches in London
Morito
Hackney and Clerkenwell
Morito is the perfect spot if you're looking for a super fresh and high-quality meal. Sevan Tchivitdji, the head chef at Morito is well known for producing beautiful food with influences from Spain, North Africa, and the Eastern Mediterranean.
Their menu changes frequently according to the availability of local and seasonal ingredients – so don't get too attached to a particular plate. However, their menu is always extensive and never disappointing.
In fact, the menu caters well to both vegetarians and meat-eaters. If you visit with a group it is recommended that you eat tapas-style, so you can try as many of the dishes as possible.
If the wild garlic croqueta and the black bream ceviche is on the menu when you visit, to not give it a try would be criminal.
Angler
If you're a lover of seafood and are looking for something a bit up-market, you will not be disappointed with Angler – it might just offer the best lunch in London.
Perched right at the top of South Place Hotel, this Michelin-starred restaurant showcases the best sustainable seafood from British waters.
The executive chef, Gary Foulkes, focuses on using only seasonal and carefully sourced British produce. As a result, the menu at Angler is always being transformed, so you should never expect to be able to eat the same dish twice.
If you are trying to find a restaurant to cater to a large group of people, don't worry – Angler serves some of the most wonderful meat and vegetarian dishes in addition to seafood dishes. In fact, it arguably boasts some of the most delicious vegetarian plates in London.
Club Gascon
Clerkenwell
The name of this restaurant pays homage to the traditional Gascony region of southwest France, which is where Chef Pascal calls home. His passion for food and attention to detail makes this spot one of the most wonderful places to eat in the whole city.
In 2002, the restaurant was awarded a Michelin star, and it has managed to retain it every year since. Chef Pascal has also been named 'Restaurant Chef of the Year', so you know that you're in good hands when you visit Club Gascon.
The menu here is designed to take you on a journey across the southwest of France. They have an excellent selection of tasting menus, including a wonderful vegetarian tasting menu.
This is a great lunch spot if you fancy a romantic or intimate meal.
Padella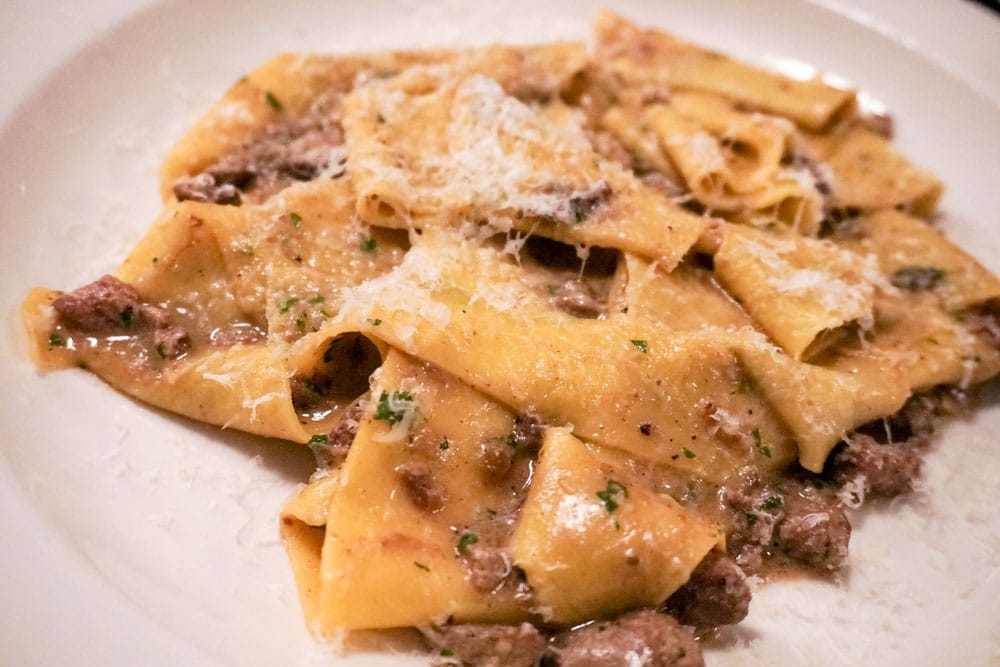 This one is for all of the fresh pasta lovers out there. Padella, situated in the bustling Borough Market, is a wonderful pasta bar serving hand-rolled pasta with a range of homemade sauces and fillings that have been inspired by the owners' trips to Italy.
This is the perfect spot for lunch if you need a bite on the go but you don't want to sacrifice the quality of your meal.
They offer a huge range of antipasti, pasta, puddings, and beverages, so there should be something for everyone. Though, we recommend the fettucine with nduja, mascarpone, and lemon.
They don't accept bookings at their Borough Market bar because it is very small. However, you can join the queue virtually by using their QR code, so you can continue to browse the market whilst you're waiting for a table to pop up.
Frenchie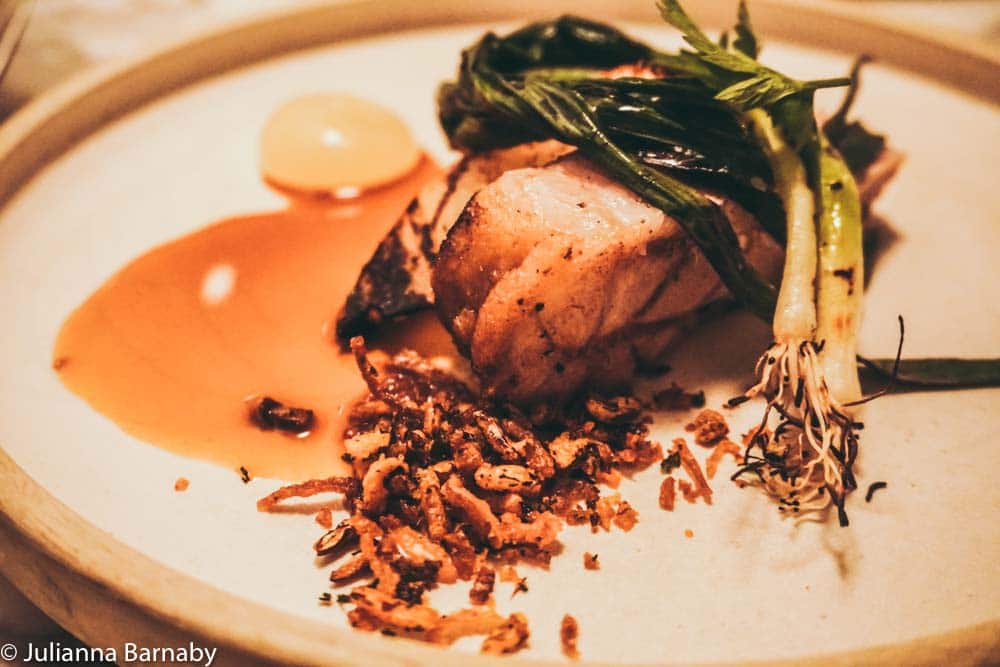 For lunch in central London, Frenchie Covent Garden is like a modern French brasserie. It has a notably elegant Parisian spirit, but an electric London atmosphere. Their menu is seasonal and dishes can change daily, but this only adds to the restaurant's sense of excitement and thrill.
They have a range of different menus, including a 5-course tasting menu, a 5-course vegetarian tasting menu, a set menu, and an al a carte menu. They also boast an impressive list of wines to pair with the delicious dishes.
This is the perfect lunch spot if you are looking for a fine dining experience that can cater to a huge range of tastes and preferences. If you visit when they are in season, you definitely need to give the barbecued leeks a try.
Read More: Frenchie Covent Garden Review
Caravan
Bankside
Caravan is a chain with many wonderful restaurants dotted across the city. You'll find a Caravan in King's Cross, Exmouth Market, City, Fitzrovia, and Canary Wharf. However, the one at Bankside has a particularly lovely atmosphere.
If you're a coffee lover and need a caffeine fix with your lunch, Caravan is the perfect spot for you. They serve breakfast until 11:30, brunch until 16:00, and a selection of 'all-day' dishes.
Their 'all-day' menu is particularly great if you prefer a tapas-style of lunch. Their small plates and starters are all absolutely delicious and ideal for sharing – though one bite of the nduja and goat's cheese wontons and you won't want to share at all.
Brother Marcus
Brother Marcus has three restaurants in London: one in Borough Yards, one in Angel, and one in Spitalfields.
Whilst all three are wonderful places to eat, if you fancy getting away from the touristy hustle and bustle, we recommend checking out the Angel restaurant. It offers the best lunch London has to offer.
The restaurant in Angel is a hidden gem sat at the heart of Camden Passage and it serves some of the most delicious food in the area. This is a great place to enjoy a laid-back lunch with friends or family. The atmosphere is calm and the staff is super friendly.
If you visit, you should definitely try their mezze dishes. Specifically, their grilled asparagus with crumbled feta and the saganaki kefalotyri cheese with a bacon relish are absolutely to die for. Make sure to save room for their super tasty desserts, too.
Noble Rot
If you're looking for a restaurant for an intimate affair, Noble Rot is perfect. The largest table they can accommodate in their main dining room is for a maximum of 6 people, so this is one for small parties or romantic dates.
Their menus change according to the seasons. At the moment, they offer a spring set lunch menu that can be ordered as either 2-courses or 3-courses. They also have a regular a la carte menu that is absolutely packed with decadent and extravagant mains.
They don't have a huge number of vegetarian options, but what they do have is super tasty! With a menu of this size and quality, it can be easy to get carried away. However, you will kick yourself if you don't save room for one of their freshly made desserts.
For those looking for an upscale meal, Noble Rot is one of the best lunch restaurants London boasts.
The Breakfast Club
Hackney Wick
If you're looking for a super relaxed, fun, and friendly spot to enjoy some breakfast or lunch, The Breakfast Club is one of the top lunch places London boasts.
Each of their restaurants (which are all across London) has an unrivalled atmosphere. Each one is friendly, warm, and homely.
However, the Hackney Wick restaurant is ideal for lunch during the summer months. They have a range of tables outside, so you can overlook the canal and feel like a part of the buzzing atmosphere on the Olympic Park as you enjoy your food.
Their all-day menu is packed full of classic dishes, including big breakfasts, stacked sandwiches, sweet and savoury pancakes, and chicken wings. The food, atmosphere, and ethos of this restaurant make it a truly great place to take your friends.
Never For Ever
Kentish Town
If you're looking for a lunch spot that will also make for a gorgeous Instagram pic, you will not be disappointed with Never For Ever. This restaurant is absolutely gorgeous – and the food they serve here is pretty special too!
This London lunch menu is full of classic dishes. From brunch plates to pizzas, there is certain to be something for everyone. Alongside the food, they also have an impressive wine and cocktail menu, so this is a great place to enjoy a boozy lunch with some girlfriends.
Never For Ever also hosts a wide range of events. For instance, every month they hold a Jazz Session in collaboration with young and talented musicians. You can also attend their Brush and Bubbles event – a painting and prosecco class!
Dinings SW3
Sushi is an acquired taste. However, if you couldn't think of anything more wonderful than enjoying some high-quality, super-fresh sushi for lunch, then you need to check out Dinings SW3 in the Knightsbridge area of London.
At this restaurant, you can expect an ambiance that exudes warm Japanese hospitality. You can choose to be seated on the counter or on banquettes. Either way, you will experience excellent service and a totally relaxed experience.
If you're going on a date or catching up with a friend and want to experience something unique, you should reserve a seat at the sushi bar. You will enjoy fresh sushi and watch the talented chefs prepare your dishes right in front of you.
Brat
If you're looking to treat some friends or family to an upmarket lunch in one of the hottest and coolest areas of London, you need to check out Brat. This spot is one of the best places for lunch in London.
Chef Tomos Parry cooks the dishes over a fire, giving every plate a wonderful character. Regardless of what you order, you will be taken aback by the quality and flavour of the food. Remember, sharing is caring – try as many dishes as possible by dining tapas-style.
Brat also boasts a great selection of wines that pair perfectly with the menu. This restaurant is the perfect mix between sophistication and fun! Make sure you book well in advance because tables tend to be reserved very quickly.
Vardo
Vardo was founded by the creators of Caravan (mentioned above), and it was inspired by the travelling wagon that spans the globe and collects spices, flavours, and influences along the way. Its slogan is 'dining with no boundaries'.
If you want to experience something different for lunch, Vardo is a really great option. Their all-day menu is extensive and caters to a wide range of preferences. It doesn't stick to one cuisine – in fact, there is a huge range of innovative fusion food on offer at Vardo.
As such, it's a great spot to visit if you need to cater to a range of tastes. They also do breakfast and brunch if you fancy going out for food earlier in the day. Be sure to book ahead, especially if you plan on dining as a large group.
Best Lunches in London: Practical Tips and Map
Most of these spots don't require reservations for lunch, however, if you're looking to dine at the likes of Angler, Noble Rot, and Brat, we recommend booking a table in advance.
Looking For More London Food Guides?