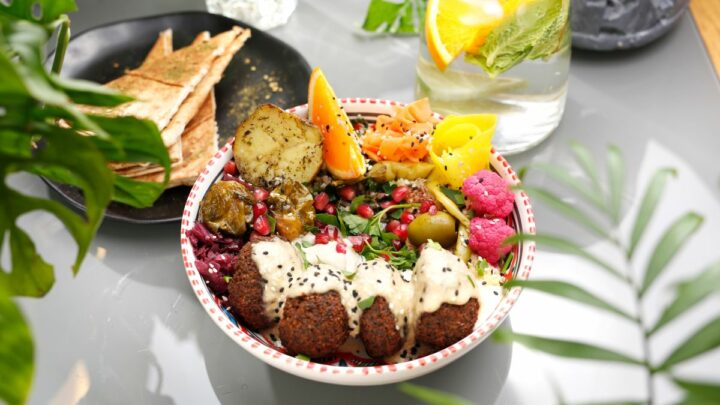 Ready to discover the best vegetarian restaurants in London? It turns out that the capital puts on a stellar display when it comes to plant based food.
We might be biased, but we think that London has the best food game in the world. There are so many brilliant restaurants (not to mention a whole host of Michelin-starred ones) serving up innovative dishes.
And you'll be glad to know that a fair few of these restaurants are dedicated to vegetarians.
Whether you're an established plant foodie or an inquisitive carnivore, we're here to steer you in the right direction when it comes to the best vegetarian restaurants in London – and there's not a sad, soggy salad in sight.
You're welcome.
Best Vegetarian Restaurants in London
Mildreds
££
Of the vegetarian restaurants in west London, Mildreds is easily one of the top-rated. With internationally-inspired dishes that delight the senses with splashes of vibrant colour and taste, you'll have a hard time choosing just one thing to eat.
Their all-day menu is vegan-friendly with plenty of delicious Asian options, but their brunch menus are simply sublime. The gorgeous decor adds to the culinary experience of this charming locale.
As one of the top vegetarian restaurants London can boast, it fills up fast, so booking in advance is highly recommended.
Bubala
Spitalfields
£££
Inspired by the moody cafés of Tel Aviv, Bubala is a vegetarian restaurant in east London that's an oasis for people seeking quality vegetarian Middle Eastern cuisine.
It's a dark and cosy spot with sporadic lighting, which adds to the intimacy of your dining experience. Don't miss the set vegan tasting platter (the mushroom skewers are a firm favourite).
At £38 per person, it can be a little pricey, but the bevvy of scrumptious food you receive is well worth it. It's easily one of the best veg restaurants in London for those seeking an extraordinary culinary adventure.
Farmacy
££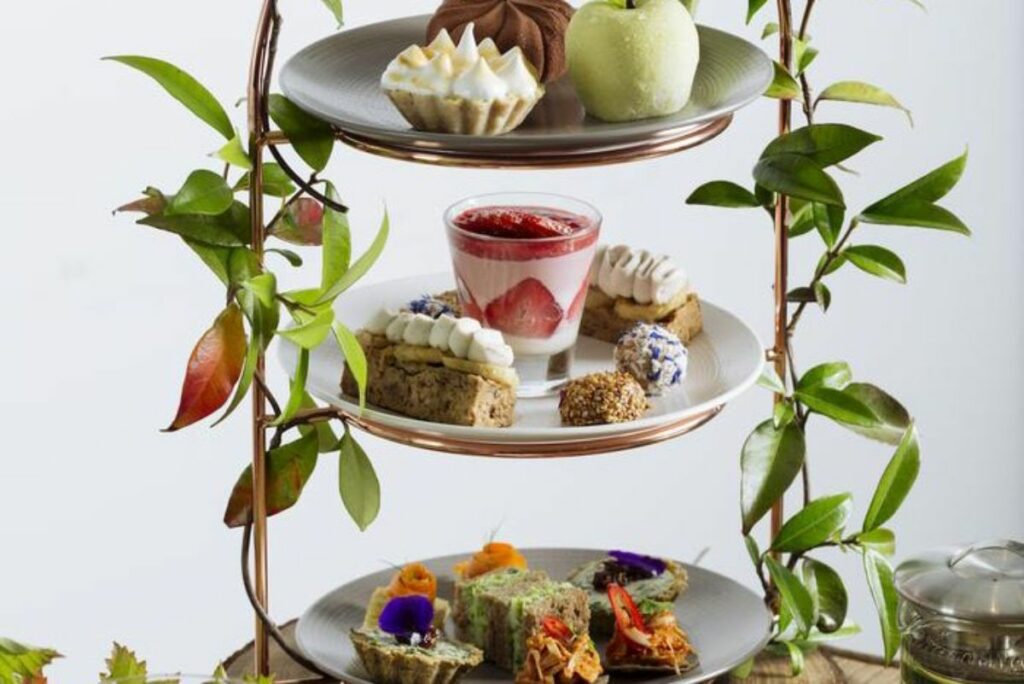 Farmacy is one of the best vegetarian restaurants London offers when it comes to plant-based cuisine. The decor is chic and modern, with warm wood tones that feel like an embrace as you walk in.
They grow their ingredients on a farm in Kent, ensuring the quality of everything that passes through their vegan kitchen is without comparison. The savoury items are superbly tasty, but their desserts are the real showstoppers.
Start with the moreish cauliflower popcorn and finish with the chocolate brownie – you'll have zero regrets. Their high tea is also a special spoil for the vegan palate that not all London vegetarian restaurants​​ offer.
Itadaki Zen
£££
With a cuisine filled with tender meat and fish, it can be difficult to find veggie-friendly Japanese spots – so Itadaki Zen has a lot to offer this niche market.
Whether you're craving sushi, ramen, or crispy tempura, this cosy little restaurant offers it all, and it's completely vegan.
Even the most hardcore carnivore will be converted with items like vegan Japanese nuggets, miso-glazed aubergine, and vegan calamari on the menu.
Sip on a cup of plum wine with your meal to round off your Asian experience and relax in the ambience of the warm earthy decor.
Oh – and don't even think about leaving this vegetarian restaurant in central London without trying the mochi ice cream – it's life-changing.
Sagar
Hammersmith
££
If you're looking for a vegetarian restaurant in London that serves authentic South Indian cuisine and a lot of it, Sagar is where you need to be.
Their chefs hail from Udupi. It's a small town in India renowned for its traditional vegetarian dishes, and locals are happy to share the fruits of their heritage with the patrons of London. The decor is charming and the food is plain incredible.
Their menu features an extensive range of vegetarian and vegan dishes, including lentil pizza, more than a dozen curry dishes, and even vegetarian wines (not all wine is vegan, FYI).
If you haven't tried South Indian food before now, whether you're a vegetarian or not, now is the time and Sagar is the place.
Govinda's Pure Vegetarian Restaurant
Soho
£
ISKON runs this vegetarian Indian restaurant in London, so they prepare their dishes without onions or garlic. Even so, the food is downright flavourful and not too heavy on the spice either.
They serve a fantastic thali menu and an à la carte menu with international delights such as pizza, lasagna, and quiche. They have plenty of vegan options and are happy to make recommendations based on your dietary requirements.
Govinda's Pure Vegetarian Restaurant makes a splash at such reasonable prices as one of the best cheap vegetarian restaurants in London.
The Vurger Co
££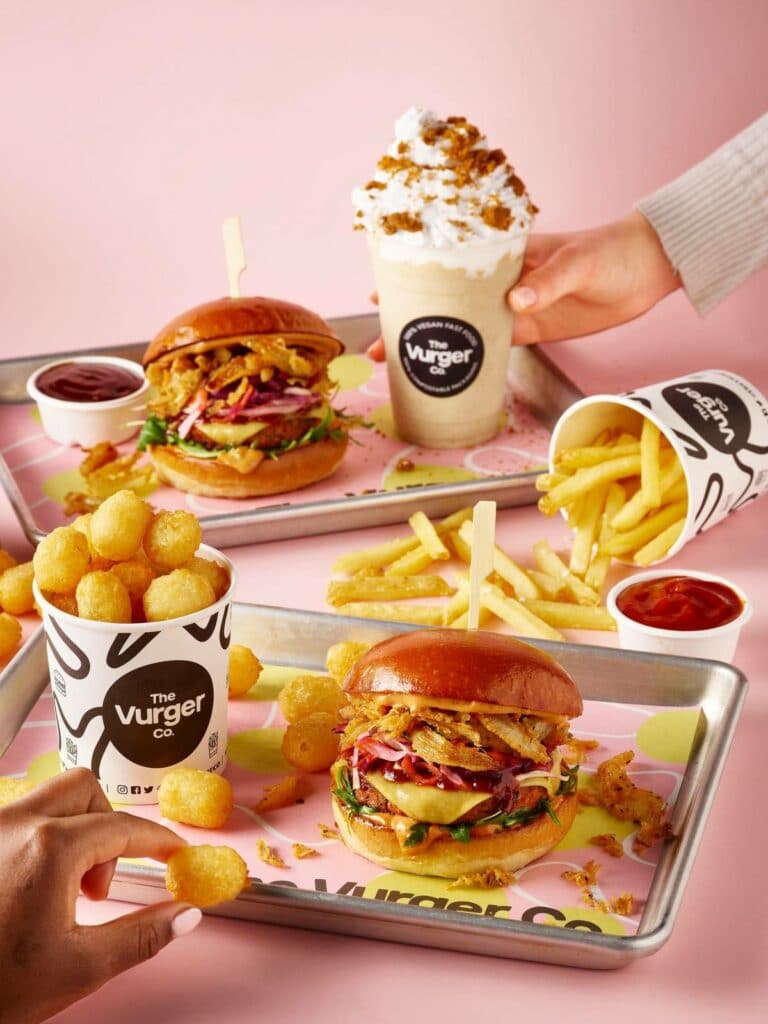 When searching for the best restaurants for vegetarians, London has many fantastic (and indulgent) choices – it's not all about salad, you know. One such choice is The Vurger Co.
The menu is distinctly American, and the decor is a big hit with patrons. You'll find plenty of delicious vegan burgers to sample. They also have US classics like tater tots, mac and cheese, and mouthwatering mile-high milkshakes. And yes, it's all vegan.
You can ask your waiter for a gluten-free bun option for your burger and they'll be happy to oblige. If you're craving a cruelty-free burger, The Vurger Co is the best place to pop in.
Buhler and Co
Waltham Forest
££
If you're browsing east London vegetarian restaurants, we highly recommend stopping in at Buhler and Co.
It's more of a lunching and brunching establishment with a great cup of coffee, but they still classify as one of the best veggie restaurants in London. Inspired by cuisine worldwide, their flavour combinations and delicious coffee are praiseworthy.
From brioche french toast to their famous veggie fry-up, there's something for every craving. The decor in every one of the three seating areas is fresh and bright, making it a chic spot to enjoy the masterful plates of food before you.
Temple of Seitan
£
Camden
If you have a hankering for popcorn nuggets or some good ol' fried chicken, Temple of Seitan is the place to go. It's easily one of London's best vegetarian restaurants.
Aside from their hilarious name, their vegan chicken is hands down the closest to the real thing you can get: the texture is near perfect, and don't get us started on that crisp fried coating. Their mac and cheese is pretty impressive as well.
You could almost walk past the plain exterior, but you'll get a kick from the cheeky wall art on the inner white brick walls. The food is beyond imagination, but it's still very reasonably priced.
Wulf and Lamb
££
Wulf and Lamb pride themselves on offering vegan-friendly versions of classic comfort foods such as burritos, pies, chillies, and even burgers.
They've nailed their recipe for dairy-free mac and cheese, so we recommend giving it a try. It's just as creamy and moreish as the real deal, baked in cashew cream and topped with gooey vegan cheese.
They also serve salads and soups, and their menu features a delightfully long list of cheeky cocktails. Clean lines and a modern aesthetic dominate the interior design, and the outdoor area is a delight on a warm day.
Kin Café
Fitzrovia
££
In London, the best vegetarian restaurants aren't hard to come by if you know where to look.
Kin Café specialises in breakfast, smoothies, and brunch foods (their waffles are the real deal, trust us) and the portion sizes are generously large, even if the menu is a little small. In fact, the items on their menu all sound so scrumptious that you'll have to come back time and time again just to try them all.
The moody yet modern decor is the perfect setting to sit back with a tasty cuppa and an acai bowl and listen to the vibey music.
Manna London
£££
Are you looking for something other than health bowls and meat-free burgers? Then you should give Manna London a try.
It serves a posh take on vegan and vegetarian nosh, and every plate is a visual masterpiece of cuisine – their sausage sarnie is delightful. You won't leave the restaurant without at least a dozen new photos for your Instagram.
The space is chic with a black and white aesthetic, and the Sunday lunch roast and puddings are a big pull with locals.
The menu and hours are a little limited still post-Covid, but they plan on opening up for evening service again soon, so mark your calendar.
The Gate
Hammersmith
££
Almost hidden from view, The Gate is one of Hammersmith's many gems when it comes to vegetarian food. They tend to lean towards a fine dining experience with smaller portions, so the presentation is superb, as is the taste.
The homemade gnocchi is unbelievably creamy for a vegan dish, as is the chocolate orange mousse that's well-worth saving some room for.
The price remains very reasonable – it's a couture experience at an affordable rate. The interior is chic and thoughtful with vast amounts of natural light, making it a sophisticated place to have a meal.
Practical Tips and Map for Exploring The Best Vegetarian Restaurants in London
Many of the substitutes used to create vegan dishes include such items as nuts, sesame, and soy. If you have any of these food allergies, make your waiter aware before ordering so they can make accommodations for you.
Not all wines are vegan – ask your waiter to check for you before you dine.
Discover More London Food Guides (With Options for Veggies)