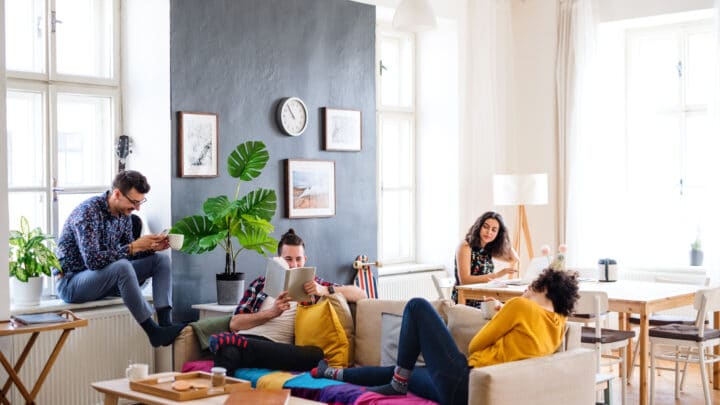 Co-living apartments in London are paving the way to the future with community living — minus the squabbles over bills and bathroom time.
What exactly is 'co-living', you may ask? It's something between a hotel and a fraternity, where you share communal spaces like kitchens and lounges, and bedrooms and bathrooms are private.
Many have recreational areas and events planned to facilitate socialisation and a higher quality of life for members, who tend to be 20-somethings working from the comfort of, well, anywhere.
Ready to explore the best co-living spaces London boasts?
Best Co-Living Spaces in London
The Collective
Old Oak
Flexibility is the name of the game when it comes to co-living in London at The Collective, with rooms you can rent by the night. Long-term occupants have the best experience though, with morning yoga sessions, ping-pong tournaments, movie marathons, and after-work drinks with neighbours.
There's a communal library and rooftop terrace, and you can host private dinner parties in one of the themed dining rooms. French Bistro or Japanese Tearoom? It's a hard choice.
All rooms include Wi-Fi and cotton bedding, en-suites with rain showers, TVs, and regular cleaning.
Gravity Co-Living
When it comes to co-living, London has several options that you should consider. Gravity Co-Living is perfect for young professionals wanting to live an eco-friendly lifestyle and access some networking opportunities.
This co-living space in London also boasts fast Wi-Fi, well-being support, and regular events and activities for mingling. If you're moving to London from another country, there's even a move-in buddy to help make the transition easier and show you the best restaurants in Camden.
With five locations—two of them fully occupied—Gravity Co-Living is proving to be one of the most popular of London's co-living spaces.
Noiascape
West London
Noiascape offers a 'city in a building' experience with emphasis on modern urban living and design with events to keep the community entertained. Every apartment in Noiascape's High Street House is different, though on the smaller side. Yet the spacious communal kitchen and coworking lounge more than make up for it.
There's even a staircase that functions as a library, revealing how space-efficient the design is — think multifunctional and minimalist birch plywood furniture. Most of its tenants are students or workers on shorter-term leases, staying an average of three to twelve months.
Mason & Fifth
Community living in London doesn't get more tranquil than at Mason & Fifth. This co-living space focuses on the wellness of both mind and body, with meditation workshops, running clubs, and spaces filled with lush plants.
There's a garden for residents to nurture, and you can book a private appointment with a nutritionist for some gastronomic advice or simply relax in the home cinema. Revel in the waterfall shower in your private suite, and get your work done in the quiet working spaces during the day.
Lyvly
Lyvly is all about community and building friendships and connections between young professionals, so you'll be bunking with housemates. They screen everyone before moving them in to help you find your perfect roommate, and the flats are uber chic.
Events organised by ambassadors across locations will help you meet more than just the people in your building.
LifeX
With locations across Europe, LifeX is fairly new to the UK, but it's already making an impression. Its Nordic design, including tonnes of natural light and plants, enhances the aesthetic lifestyle. They also offer flexible stay options that allow you to leave within a month.
LifeX offers intimate co-living homes for four to eight people, turning your life into an episode of Friends. You won't need a Monica to tidy up for you, though, as rent includes weekly cleanings.
Vonder
Wembley
Shared living in London—or Berlin or Dubai, for that matter—has never been easier for those who travel frequently. Furnished flats across various cities offer a range of social gatherings. Pilates, pop-up tattoo parlours, and language classes are all popular events designed for you to connect with like-minded people.
The minimum stay at Vonder is three months, and you can choose between stylish penthouses or modern studios. Cafés, private cinemas, chic coworking spaces, and a rooftop terrace all facilitate a luxurious lifestyle for travellers and digital nomads.
Fizzy Living
Lewisham
With over 1000 co-living apartments in London, Fizzy Living offers a unique renting option that people love. Property managers known as 'Bobs' organise everything for you, from pet-friendly accommodation and dry-cleaning to games nights and summer activities in London.
They're even there for emotional support should you need it. Otherwise, sit back and enjoy the lineup of pottery classes and whiskey tastings with your new neighbours.
Practical Tips for Choosing a London Shared Living Space
Check the proximity to your favourite local haunts. Consider what types of transport are available nearby, whether it's bus stops or tube stations.
Choose a place where your interests and social energy resonate with the other residents. The types of events held by each space are often specific to their ideologies, so choose a place where you'd find most of the events interesting.
Discover More Shared Spaces in London
Co-Living London: Map