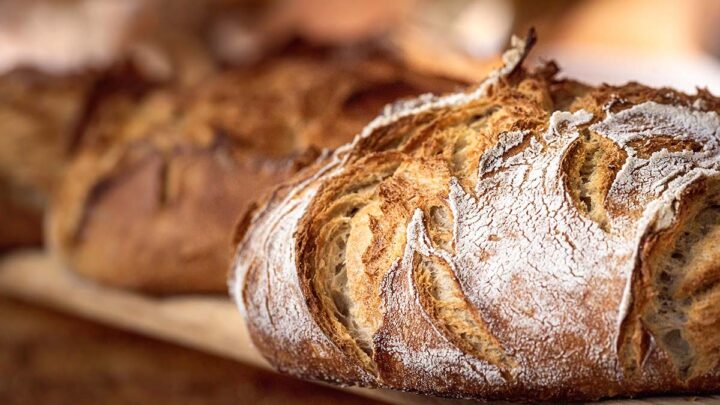 From melt-in-your mouth pastries to hand-crafted sourdoughs and sweet treats, these bakeries in London never fail to deliver.
Best Bakeries in London
Cutter & Squidge
Cutter & Squidge is one of London's most popular bakeries, known for their decadently delicious cakes and pastries as well as vegan and gluten-free bakes.
Their menu is ever-changing, but you can always expect to find mouth-watering treats like their Biskie (a biscuit sandwich filled with buttercream = all the yes), sticky toffee pudding cake, and lemon meringue cupcakes.
All-natural and freshly made, Cutter & Squidge's treats are definitely worth a visit.
Can't make it down there? They also deliver…
Primrose Bakery
Do one thing and do it well. Primrose Bakery is an excellent example of what happens when you put your focus on perfecting something and do it better than anyone else.
It doesn't hurt that their thing is cupcakes. Wonderful, wonderful cupcakes.
Their cupcakes are whimsical, delicious, and coated in a generous spread of buttercream icing. As a result, you get the perfect ratio of icing to cake in every single bite.
These works of art are almost too pretty to eat…but we'd never let that stop us.
From blackberry and lavender to chocolate and salted caramel, there's a flavour for everyone here.
If you're a cupcake lover or simply want to taste something new and exciting in London, definitely head on over to Primrose Bakery. You will not be disappointed.
Bread Ahead
Several locations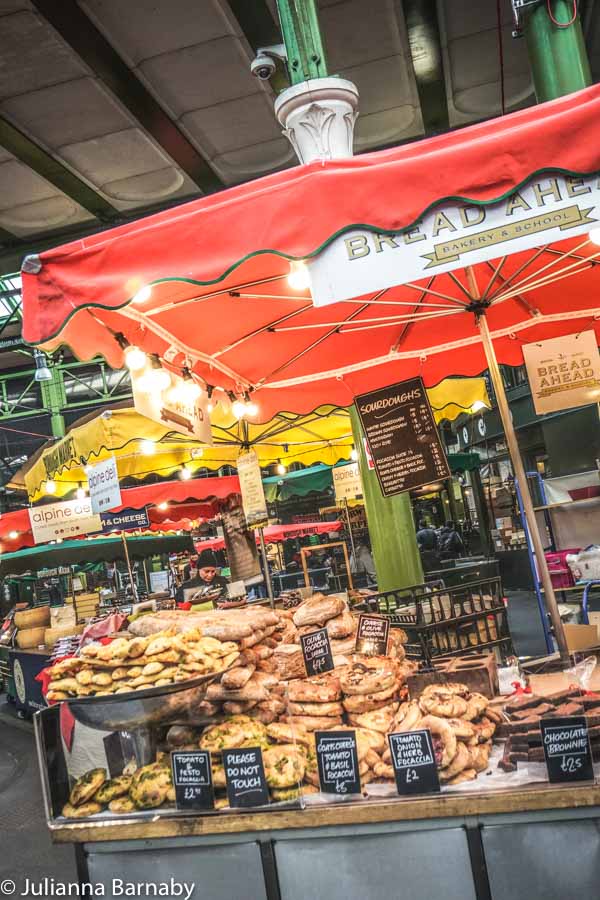 Bread Ahead is one of the most famous bakeries in all of London, and for good reason.
Not only do they have some of the best bread in the city (the sourdough is a must-try), but they also make some killer pastries.
We're talking croissants, doughnuts, and tarts that will have you coming back for more, again and again.
The doughnuts deserve a special mention. Freshly-made several times a day, we've been known to finish one then head straight back in for another.
Even better? You can take baking classes at their baking school, so you can recreate these goodies in your own kitchen.
Grodzinski
Stamford Hill
Grodzinski is one of the best (and not uncoincidentally, the oldest) Jewish bakeries in London, so if you find yourself in Stamford Hill, make sure that you stop by for one of their amazing cakes or freshly baked bread.
If you don't find yourself in Stamford Hill, take this as a sign that you should do so pronto.
This is the place to go for pillowy soft challah that's so good you'll do well not to devour it on the way home. Their bagels are delicious, made to order, and always fresh.
The sweets err on the traditional side – think buttery and crumbly Viennese Mini Fingers and Shells that dissolve in your mouth no sooner do you look at them.
An extra tip – because Grodzinski is a kosher bakery, they aren't open for most of Saturday, so keep that in mind if you're planning a weekend visit!
Beigel Bake
This 24-hour bakery is a London institution, and for good reason. As the name suggests Beigel Bake is famous for their delicious bagels, which come in all sorts of flavours (we're obsessed with the salt beef – as is half of the city).
If you don't want to try the salt beef, their salmon and cream cheese are excellent too.
Plus, it's open round-the-clock, so you can always get your fix, no matter what time of day or night it is.
Be prepared to wait in line. It's completely worth it.
The Good Rice Italian Bakery
Euston
Suppose you're craving exceptional Italian bread and pastries (in reality: every moment of every day), head to The Good Rice Italian Bakery.
It's the best Italian bakery in London for authentic Sicilian sweets and cakes in the city.
Load up on Bombolone – Sicilian doughnuts so delightful that you'll never want to go back to plain old jam. Oozing with unctuous fillings from nutella to pistachio creme, they're a sweet (but not too sweet) indulgence.
Do try the other, less familiar dishes too – the cassata al forno being a prime case in point. It might not be winning any Insta-pretty awards but the blend of golden shortcrust, filled with ricotta and chocolate chips, isn't one you're likely to forget in a hurry.
Bageriet
Bageriet is an excellent Swedish bakery in London serving top-notch Nordic specialties and comfort food items like cinnamon buns and breakfast pastries.
Not only is the pastry superb, but their fillings are lovely too. Expect to find fresh jams, homemade cream, and delicious marzipan at Bageriet.
When you go, make sure that you try their cardamom buns. The portions are generous, and the combination of vanilla and cardamom is absolutely divine.
Bageriet also offers a variety of seasonal specialties for Christmas, Lent, and Midsummer! During Lent, you'd better get there early if you want to lay your hands on their Semla cakes – native Swedes buy them by the dozen for that traditional taste of home.
Golden Gate Cake Shop
If you've never tried Chinese baked goods, we can tell you that you're in for a real treat. The Golden Gate Cake Shop is the best Chinese bakery in London, and it's the place to visit for fresh, authentic buns.
There's as much emphasis on savoury as there is sweet here – as evidenced by their standout dish – a bouncy Char Sui Pork Bun that is so freaking good.
Unlike the traditional steamed buns you'll find all over town, Golden Gate's are baked, lending them a slight chewy crust that offsets the meltingly tender pork to perfection.
Ole & Steen
Multiple locations
By now a familiar fixture in many parts of the city, Ole & Steen is the premier Danish bakery in London, making delicious bread, cakes, and sandwiches.
While they do serve savoury dishes like stews (and jolly good they are too), it's really in the sweets that Ole & Steen really shines.
Not sure what to go for? You can't do better than one of their Cinnamon Buns, which locals swear are some of the best in the city.
We're also partial to an Apple and Caramel Spandauer (Danish pastry) too.
Miel Bakery
You don't have to go to Paris to get French food, or even the freshest French patisserie.
Miel Bakery is an exceptional independent French bakery, patisserie, and boulangerie in London serving delicious pastries made from scratch.
The seasonal menu is constantly changing, but their classics – like their croissants, cream choux and chocolate chunk and sea salt cookies – almost always make an appearance.
In summer, those in the know have been known to trek across the whole city to lay hands on their sacred French apricot tart, which makes but the briefest of appearances during the peak of the apricot season.
Bake
Bake is an exceptional Japanese bakery in London serving drool worthy Japanese pastries. You haven't had vanilla sponge until you've had theirs. The fish waffles are a thing of wonder too – filled with creamy vanilla custard.
You can also try their green tea-flavoured pastries for an authentic Japanese treat. Locals love their delicious decorated puddings with whipped cream and fruit on top.
St. John Bakery
Multiple locations
St. John Bakery bakery is all about simple, classic flavours – and they do them incredibly well.
From sourdough to rye bread, St John's has something for everyone.
Still, if you're looking for something sweet, their pastries are where it's at. We're talking Chelsea buns, Eccles cakes, and jam doughnuts that will make your mouth water.
Vida Bakery
Brick Lane
Vida Bakery is a great vegan bakery in London, specialising in yummy vegan, vegetarian, and gluten-free treats.
People have been known to rave about the banana caramel cake. The twin flavours of caramel and banana work well together and give the cake a decadent twist.
Want to experience these delicious "free-from" cakes, but not in the area? Vida Bakery delivers nationwide – and they even sell their cookie dough for those who want to recreate the magic at home.
The Hummingbird Bakery
Multiple locations
It's no secret that The Hummingbird Bakery is one of the best bakeries in London, serving up incredible, innovative bakes with beautiful presentation.
Although everything (and we mean everything) is excellent, their red velvet cupcakes are nothing short of iconic – the perfect marriage of fragrant vanilla and chocolate cake with cream cheese frosting.
Gail's Bakery
Multiple locations
Gail's Bakery is a London institution, and for good reason. This bakery is all about freshness and quality, with a focus on simple, delicious flavours.
From classic morning items like croissants and muffins to afternoon treats like cookies and brownies, it's a hungry person's delight. Need a recommendation? Go for the pistachio muffins – you won't regret it.
Libby's Sugar & Gluten Free Bakery
Notting Hill
If you're looking for a good gluten free bakery in London, Libby's Sugar & Gluten Free Bakery is just the spot for you. Most of their items are totally gluten free, and you can ask their friendly staff about specific things if you're unsure.
Try any of their breakfast pastries if you're looking for a real treat. They go well with a steaming cup of coffee or a fresh pot of tea.
Agora Greek Bakery
Hornsey
Agora Greek Bakery is an oh so authentic spot that also happens to be one of the best Greek bakeries in London. It's a local gem that hasn't quite hit the tourist map yet, and you can find all of your favourite Greek pastries and treats there.
This up-and-coming bakery is sure to become your new favourite spot – and rumour has it that they've got the friendliest staff in town!
Bakehaus
Hammersmith
For a taste of authentic German food, stop by Bakehaus, one of the top German bakeries in London. They bill themselves as being seriously German about bread and we couldn't put it better ourselves.
The sandwiches at Bakehaus are something to rave about – a matter of pleasingly rich dark rye, in which delicious traditional German cured meats sit with a smear of tangy remoulade. There's also a wide selection of vegetarian and vegan dishes too.
Practical Tips for Exploring London's Best Bakeries & Patisseries
Here are some of our practical tips for exploring the bakeries of London and dining like a local.
Visit outside of mealtimes or on a weekday to avoid massive crowds
The city's weekend farmer's markets are a great place to shop local bakeries in one spot. South Kensington Market is one of our favourites.
London's Best Bakeries: Map
Explore More London Food Guides